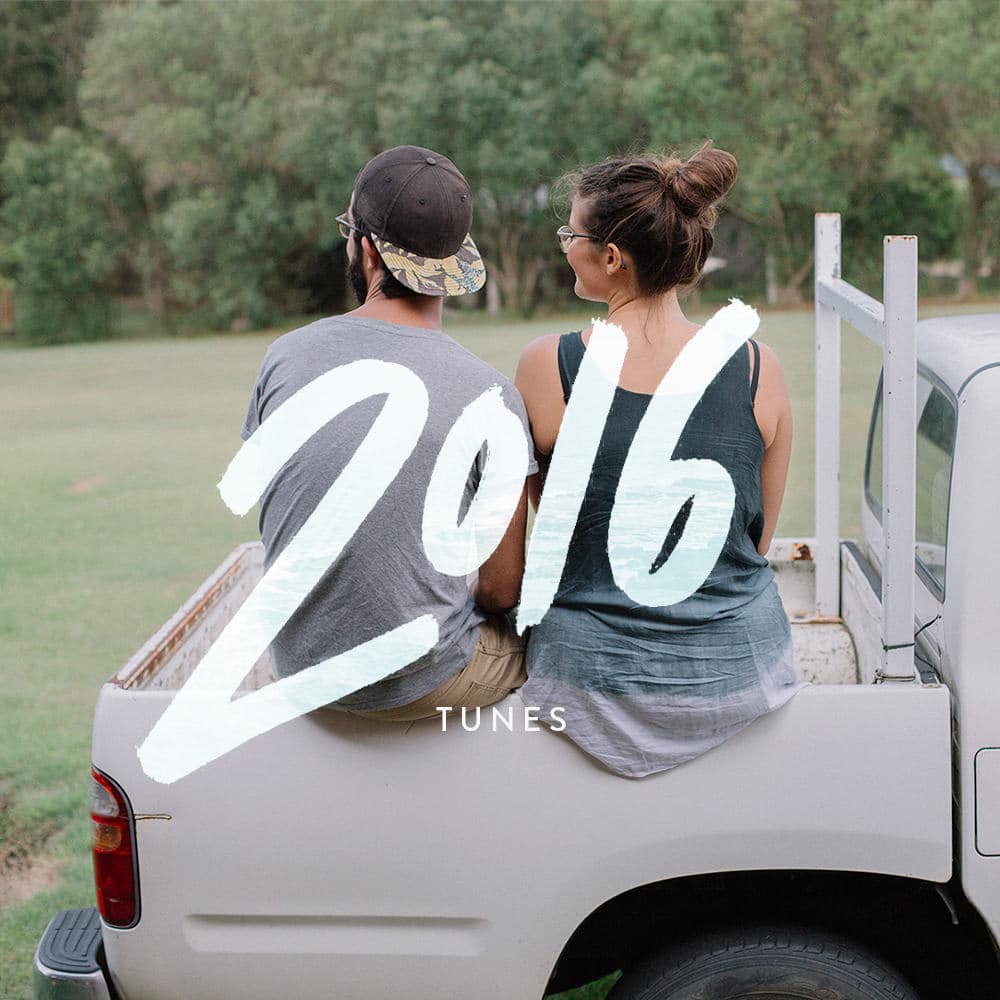 The year 2016 seems to end on a very negative note for many people. For so many reasons, it feels like we could burry this year and not talk about it anymore. Although, I must admit that it was one of the best years (if not the best) in my life. And I simply cannot put all the political events and important losses in that same pot. Maybe I'll go selfish on this one, but at least it makes me think positive and looking forward to all the beautiful things this life has to offer.
Music is a beautiful thing, of course. It's something that can inspire and guide us throughout the years, give us a morning boost… or it can simply be a way to dig into memories. Some songs remind us of major events that happened to us this year. Listening to them allow us to immortalize this year as something extremely positive. So to end 2016, we gathered a little playlist of tracks we listened to (a lot) and that will always have a special meaning to us.

Daughter is definitely one of our favorite bands, and this particular song reminds us of the first months of 2016 working in our lovely apartment in Luxembourg. We re-decorated our place in May (just before renting out and going nomadic) so the old setup was a little more cluttered but we loved to worked in the evening with this type of eerie, dreamy music.
–

Music also means gigs. We had the chance to see the amazing band Tame Impala in Cologne, also in the beginning of the year where we spent the night crashing a friend's place. That was a lovely weekend and that gig was mind-blowing. The trippy element in some of Linda's illustrations? That's all Tame Impala.
–

Crete is a place and a name that you might see a lot in our blog and throughout our work. It's where we left a big part of our hearts and we're always looking forward to visit it again. This year we spent a little month there in April and it was of course epic. Since we had decided to shoot a little video for our collaboration with Jolie Laide, this song 'Climbers' by The Migrant is the ultimate reminder of that period.
–

Oh yes, you didn't know? We got married this year. About a month after our stay in Crete, in mid-june, we eloped like two little birds and had the most wonderful time in the Netherlands. Linda introduced me to this song by The Morning Benders a few years ago and I felt instantly in love with this simple chord sequence although beautifully arranged. I always felt like this song represented all I felt for Linda, so we had to romantically dance to it alone in our cosy hotel room.
–

He's young and he blew our minds as well. Petit Biscuit is basically a wonder kid that creates very inspiring music. This song 'Sunset Lover' is a great summer song that we listened in loop during our roadtrip in the UK. It wasn't our most sunny summer at all but this song brought some good mood during the few sun rays nevertheless.
–

You don't hear too much rap and hip hop in our playlists but to be honest, we do listen to a variety of things. We have some Snoop Dogg moments for example, and this year during our week-end trip in Antwerp I discovered Kendrick Lamar with this insanely good song 'King Kunta'. We're still a lot into it… It makes us go a little nuts.
–

I probably mentioned many times that I'm a huge fan of Spotify and their 'discovery channel' which is the base of our Sound Collection Playlist, but I'm very thankful once again that I discovered this great 80's cover from Womack & Womack, here by Roosevelt. It was while co-working with our friends from 'The Great Anomaly' in Chiang Mai that this song came up as a suggestion. We haven't really stopped being in a summer mood since we went to Indonesia and Australia now, so this song fits still perfectly to the present moment! Plus, it's such a motivating track to start ANY creative process. If you listen to this on any given morning, I promise you, you'll be productive + happy the whole day.
–

On an awfully rainy day in Bali – Canggu, we heard this great track 'How it Ends' in a beautiful coffeeshop called 'Sprout'. Listening to it is a great way to remember our great time spend on that island.
I sure hope that you will enjoy this little selection of tracks as much as we did. Maybe they'll inspire you to create your own memorable musical moments in the upcoming year.
Do you also have some songs that symbolize any awesome memories from 2016? Let us know in the comments – we're curious 😉
If you like our playlist, feel free to check out some other ones on our blog or subscribe directly to our channel in the link below – we add stuff in there all the time!
---