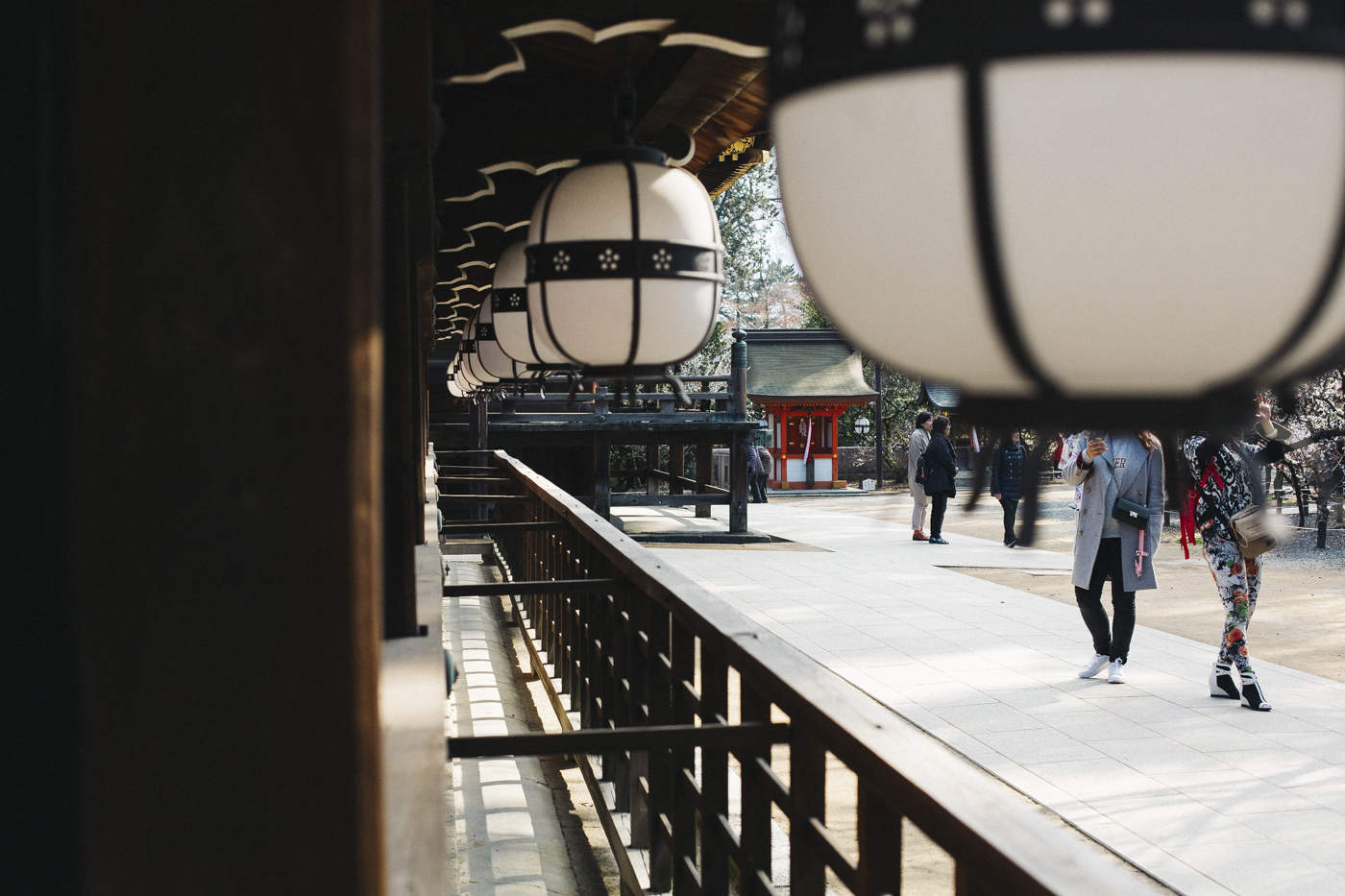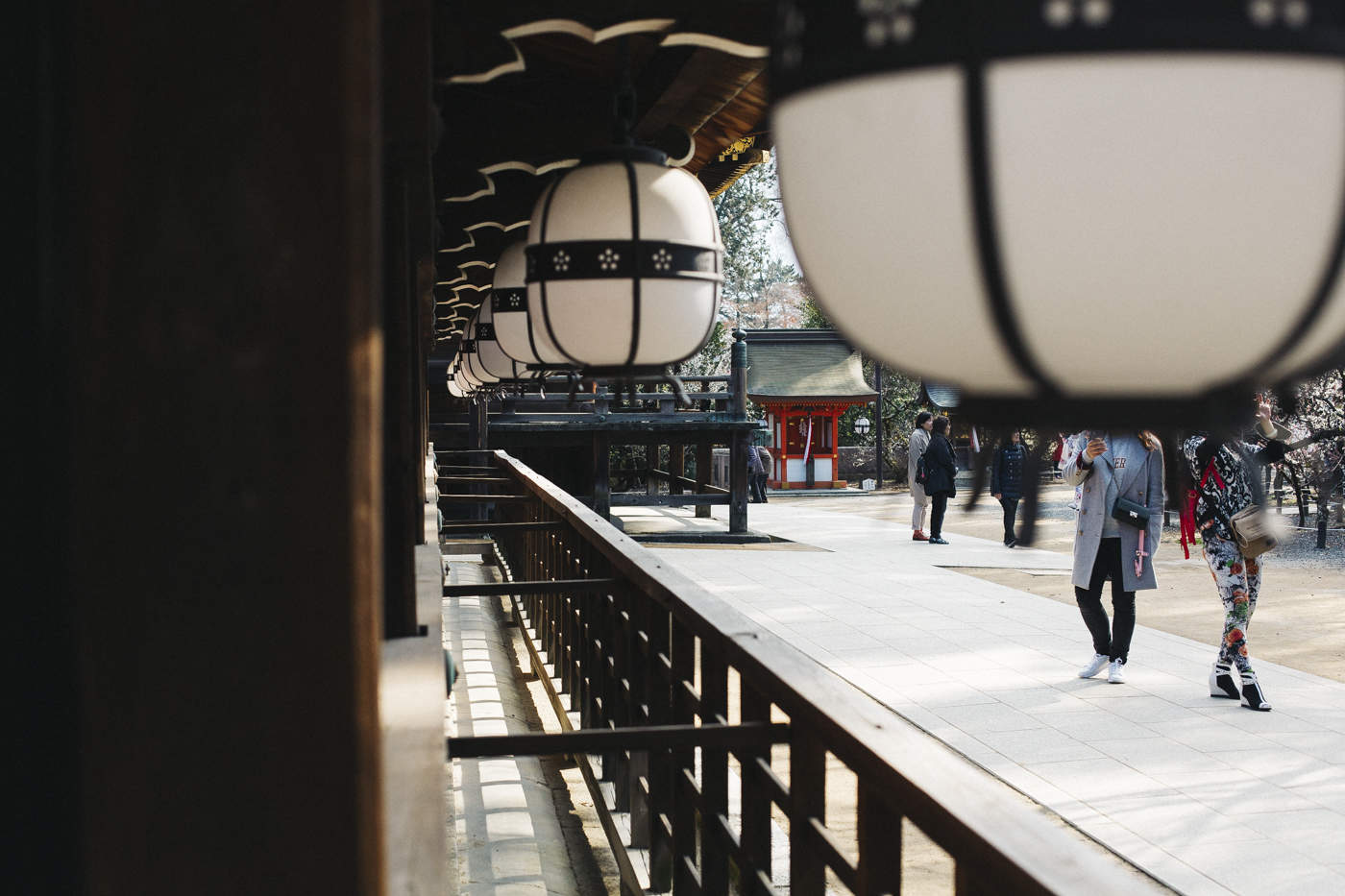 Hello from beautiful Kyoto!
As I'm writing this post, we are coming towards the end of our 2-month long stay here in the old capital of Japan. So much has happened since we took our first steps in the here. So many sights and experiences that have served to open our minds, inspire us creatively and transform us as human beings. I must say, it will be hard to combine it all into one post, but as usual – it would be a pity not to share what we have documented. This endeavour will serve as a visual memory of ours, and hopefully it will inspire some of you to come experience it all for yourselves some day, because this place is undoubtedly …magical.
We arrived here on a late February evening, when it was dark and crazy cold outside. Winters in Japan are usually quite harsh – in fact it's so bad, that some people complain about their toothpaste hardening up, haha! We were not quite prepared for that after going through an Australian summer (in Sydney, Newcastle & Melbourne).
Our friend José waited for us nearby the house where we'd be staying. Thanks to him, we had an accommodation sorted out for the whole duration of our stay, as he was happy to host us if we help him re-decorate his house in exchange. That was a lovely deal for us as we're always happy to do something creative. His house, where we stayed at, was tiny but it had everything we needed. It was also quite traditionally Japanese, as it was floored with tatami. Even though we had to brave the cold temperatures, the whole experience of rolling out our futons was so cozy and made us feel right at home. In fact, I knew from that moment on that we'd fall in love with living here.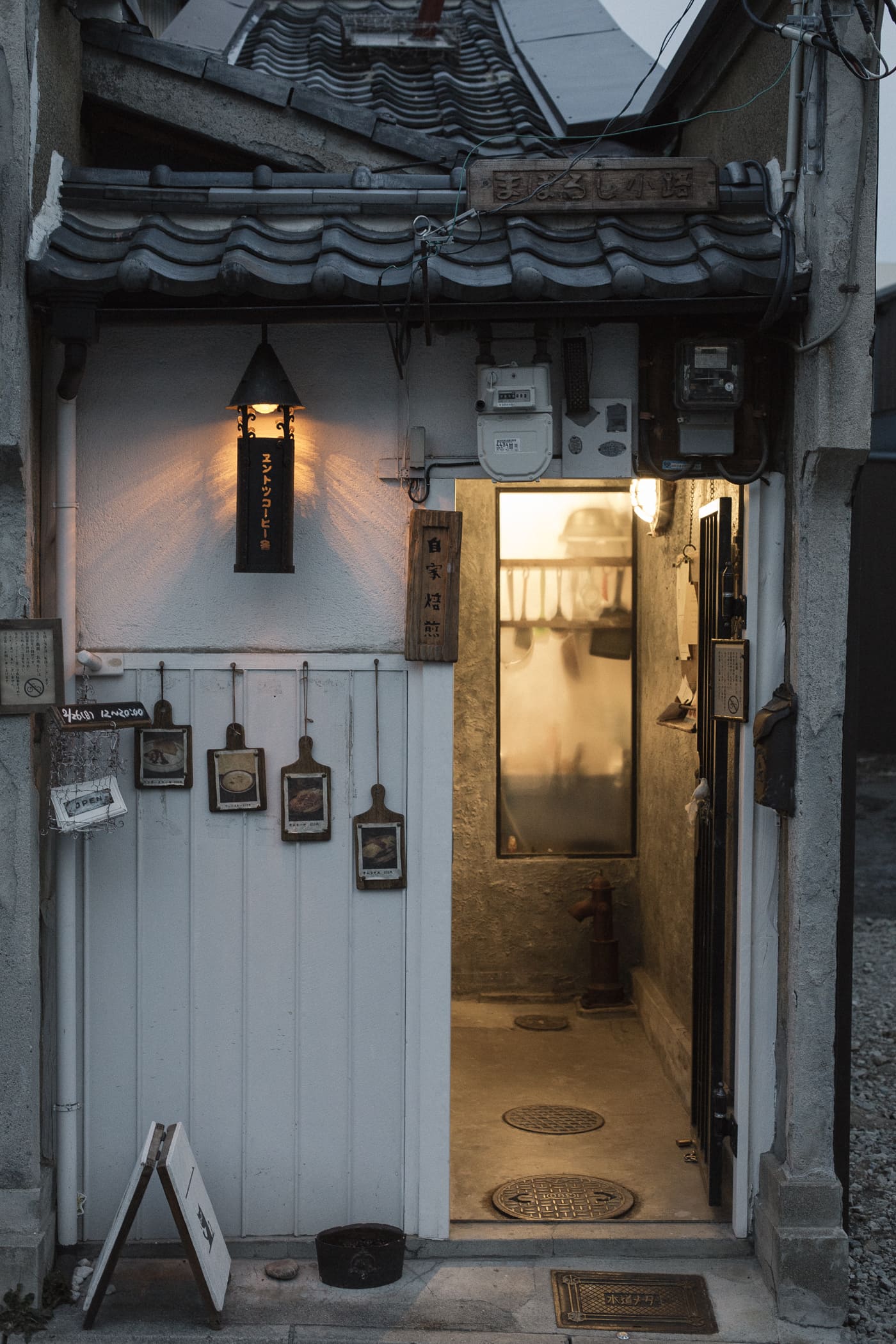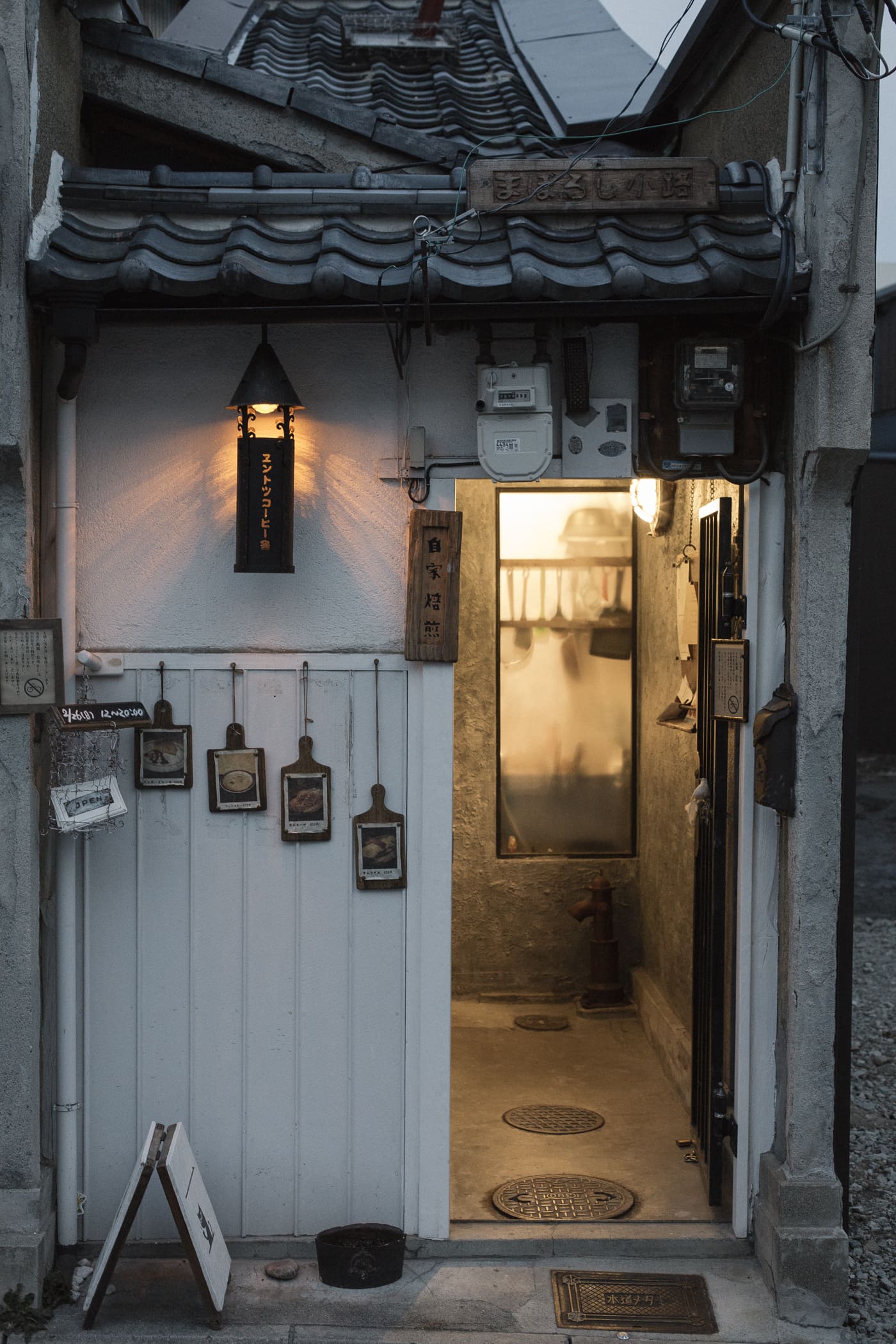 The day after, we headed out to explore our neighbourhood, to get accustomed to our surroundings and to find out where we can do everyday things such as grocery shopping, having a coffee and so on. We did not have to go too far to witness a strong connection with this place. Everything just felt like we were in another planet, just so different, so unique, with a very present heart-warming element about it. Even though we had seen Tokyo before that, this experience felt very special because we would not be here just for a few days, but for two entire months. Like locals, or almost.
Our curiosity was so overwhelming at first. We just roamed through each and every little alley and street surrounding the house, and noticed so many details like how people decorated the outside of their homes, how buildings are made, and how there are temples and shrines scattered everywhere. One minute we enter a konbini (convenience store) to buy a snack, and two minutes later we lose ourselves in yet another temple ground filled with Japanese vegetation and a "wabi-sabi" beauty all to its own. Just that contrast is hard not be intrigued by.
Our friend José stayed with us during the first few days and showed us around as well.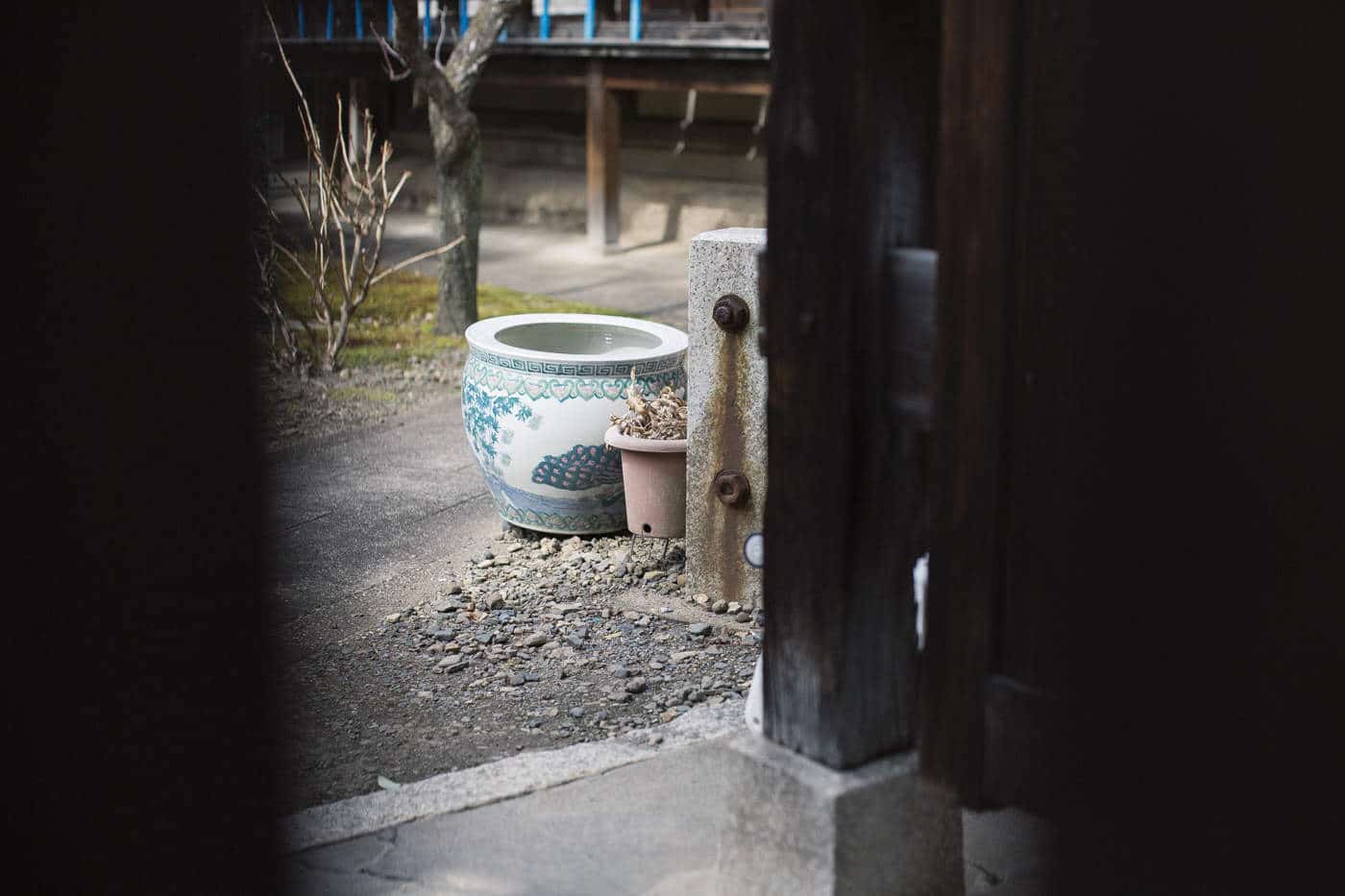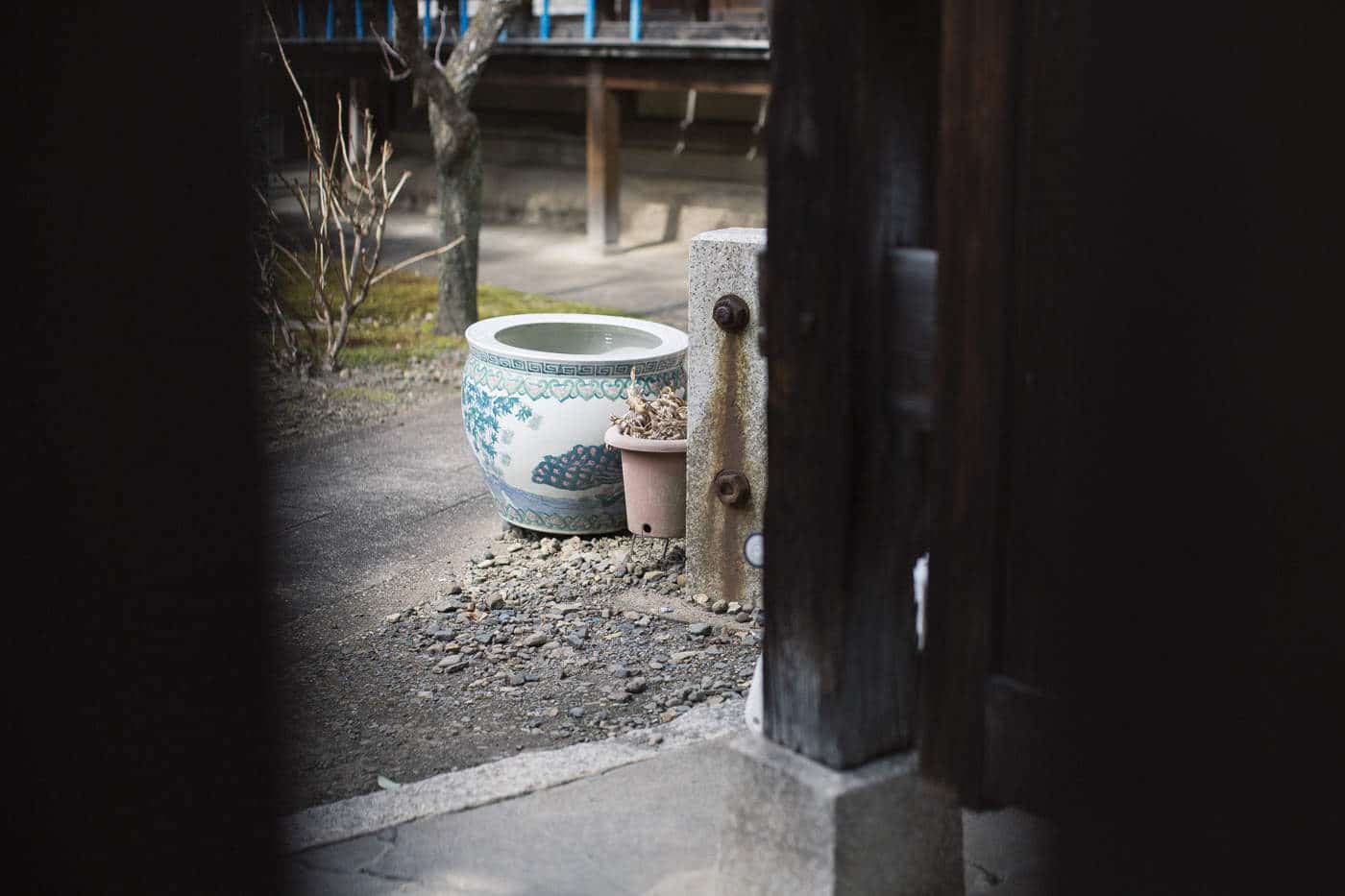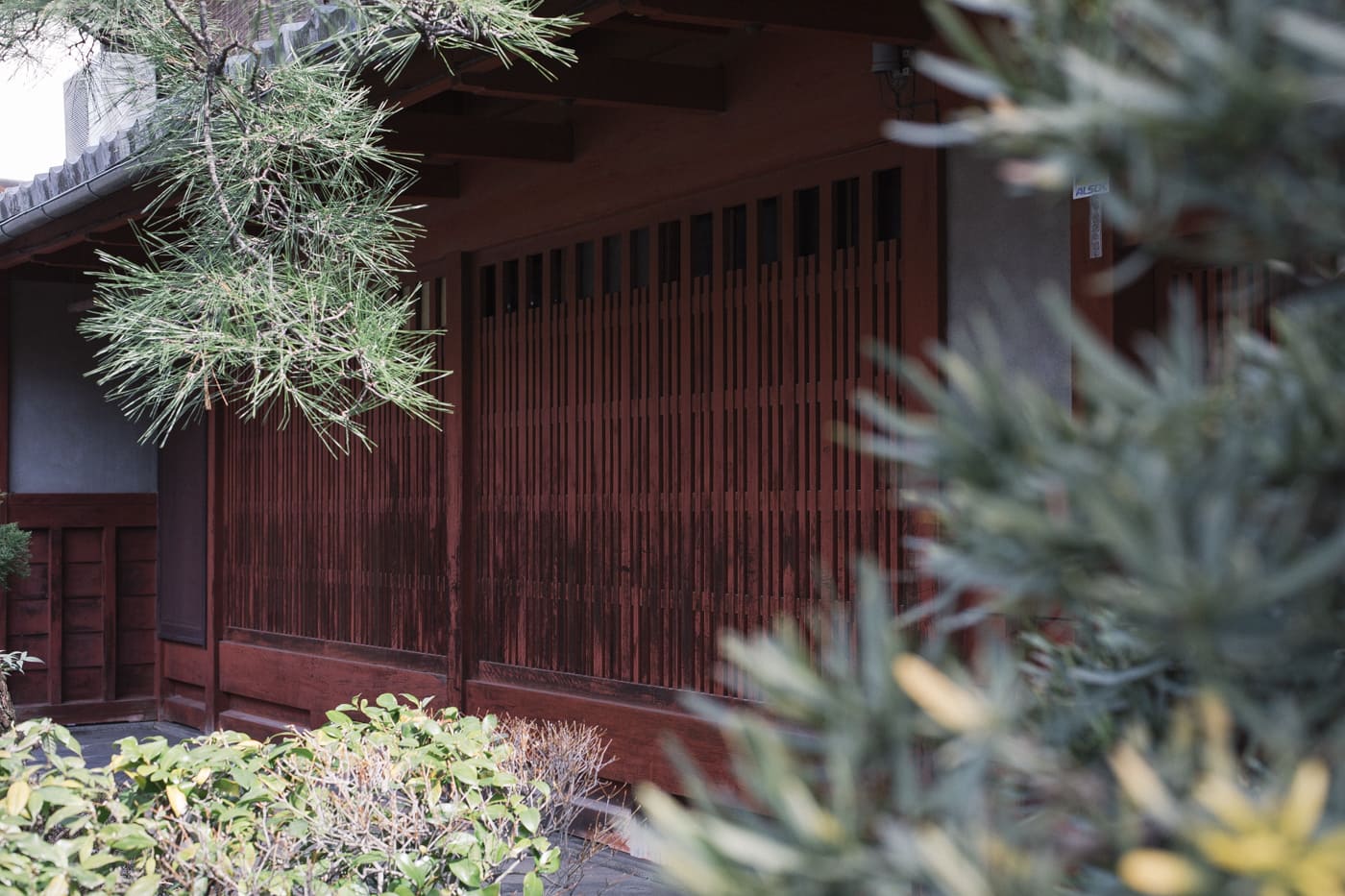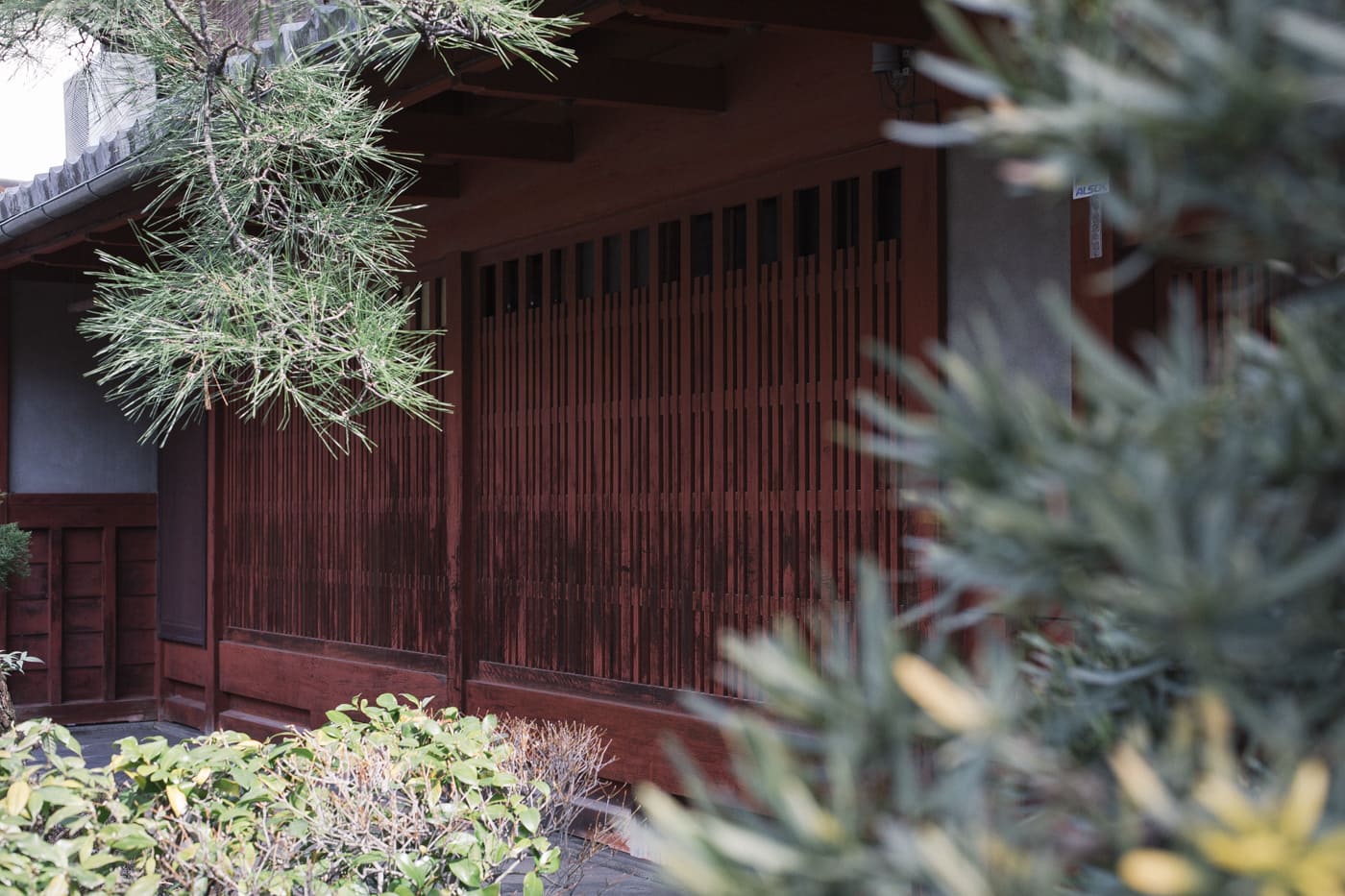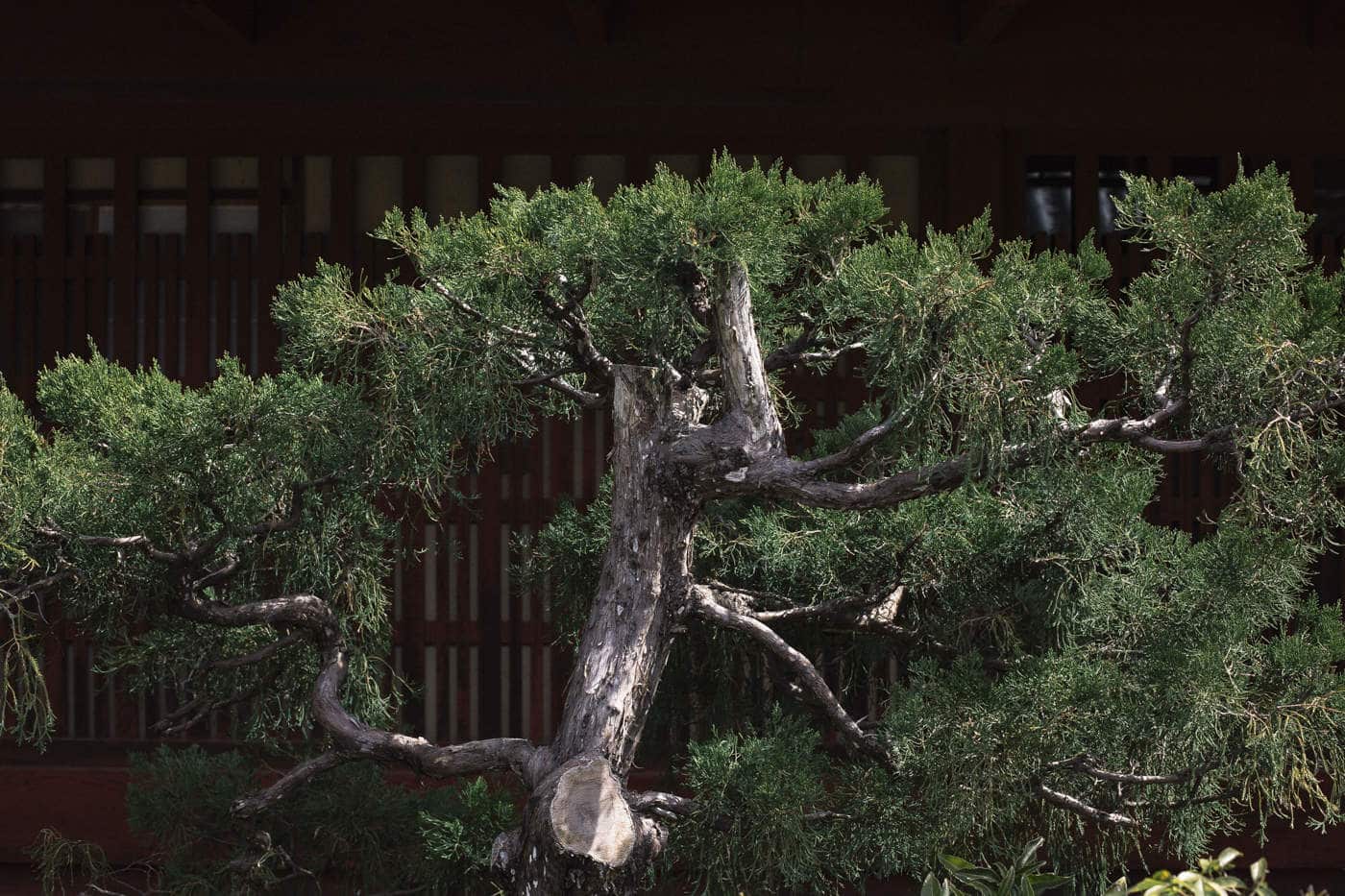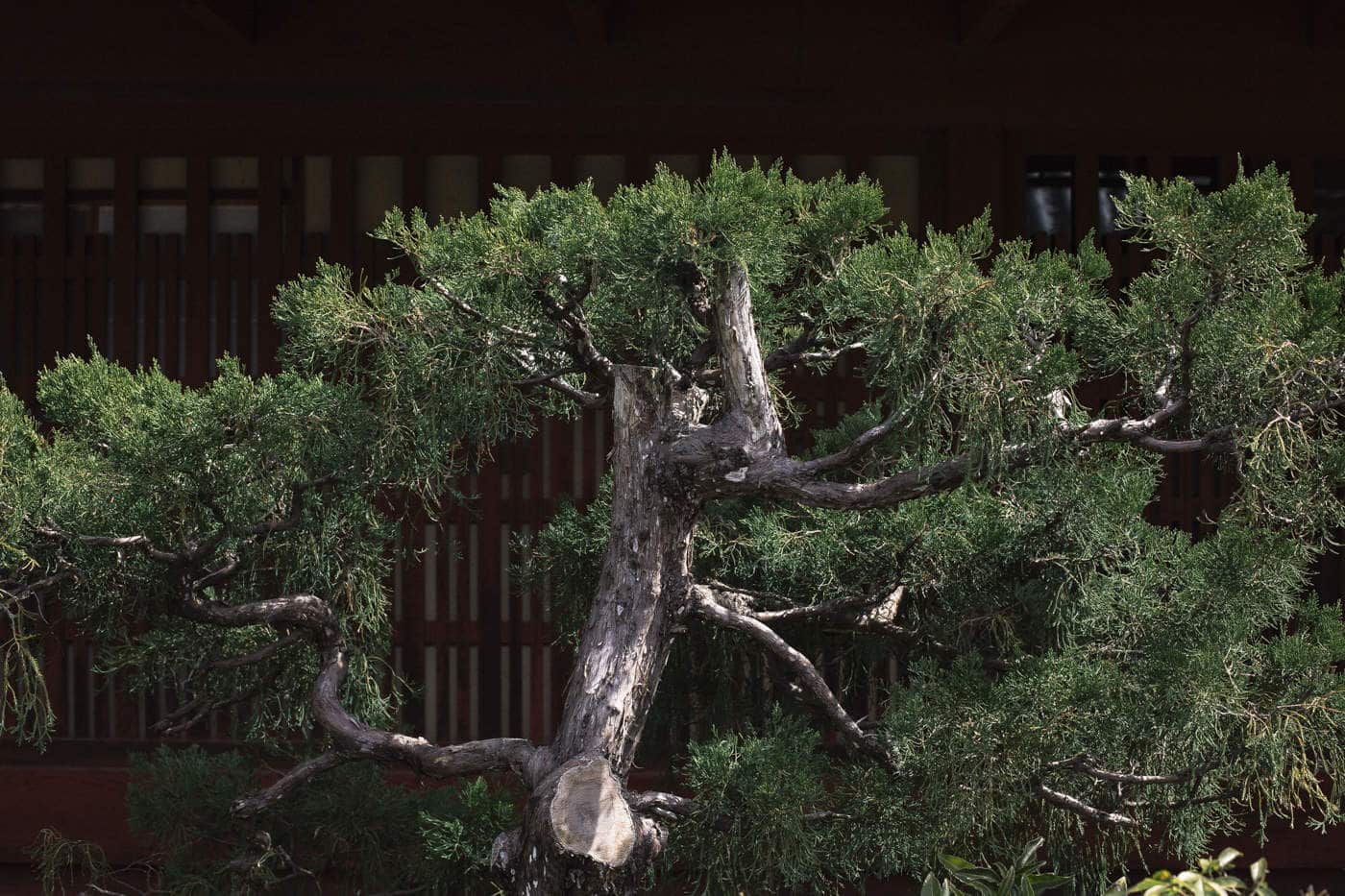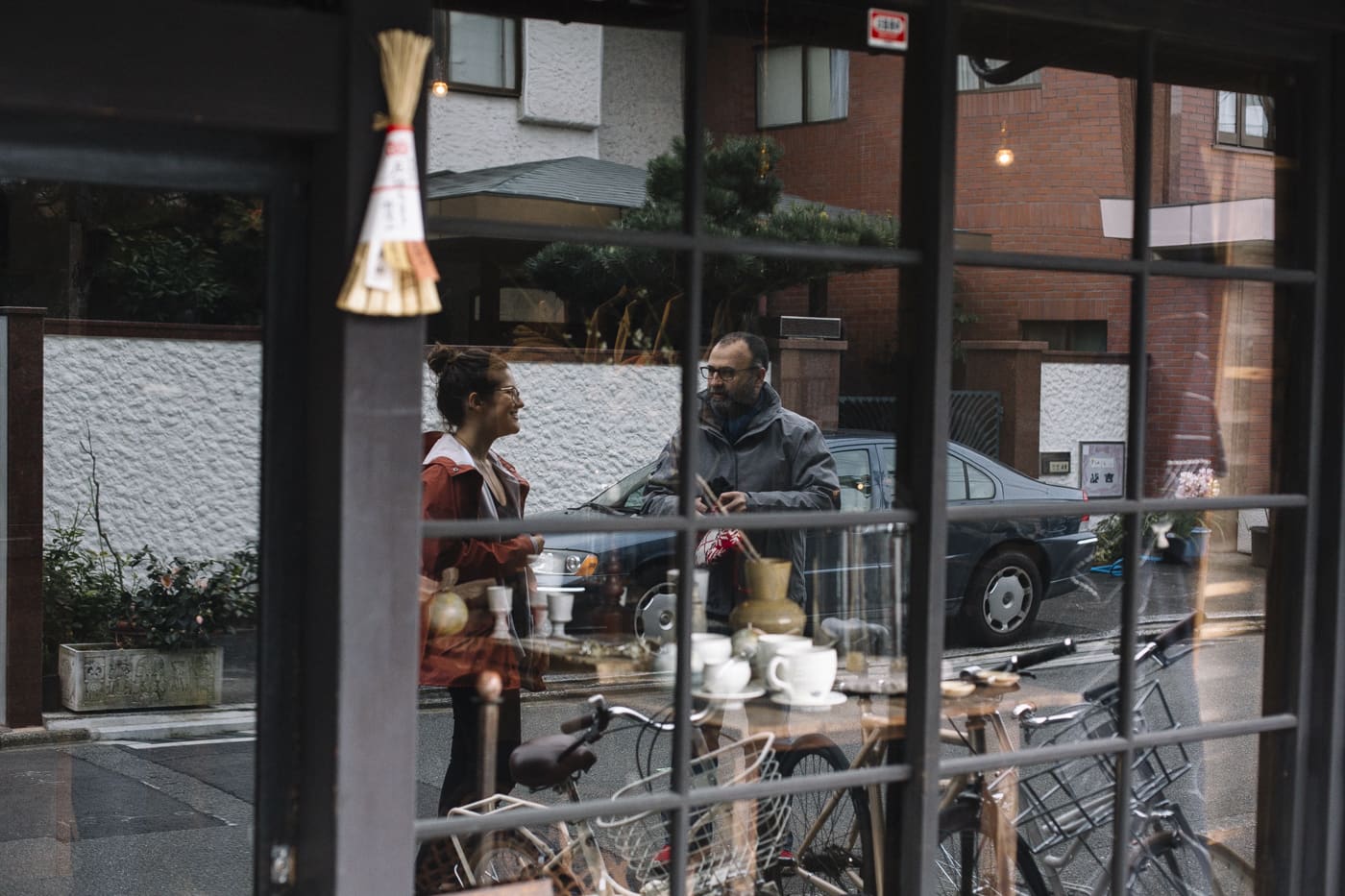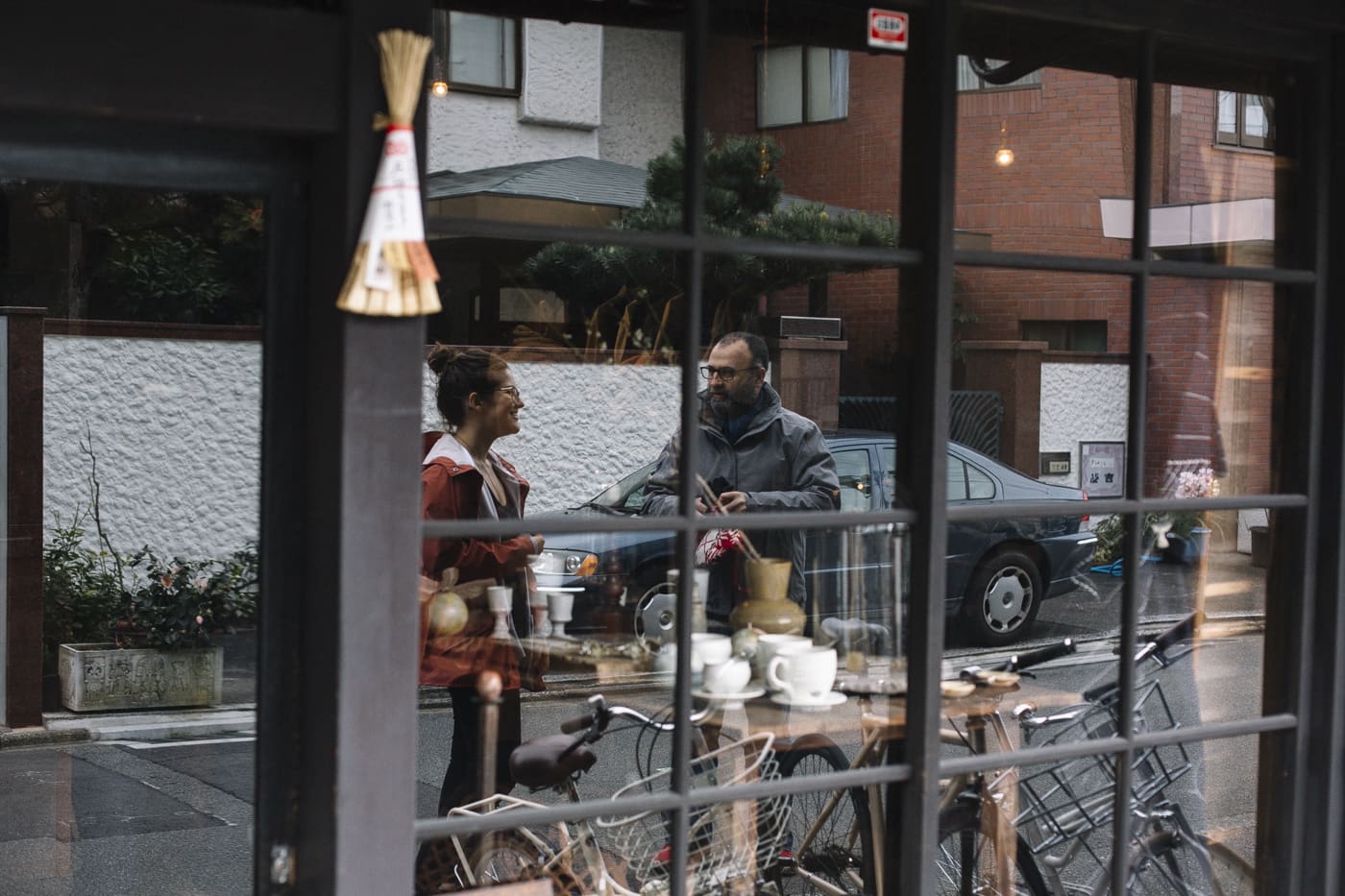 Getting used to living here was an experience all to itself. At first, I remember how we couldn't stop looking at the people around us, their ways, their habits and just being amazed at it all. We just observed local life and it helped us understand many things. The cool thing about it was also that even though there's clearly a language barrier (as most people do not speak english), there was never any awkwardness in communicating with people. Everybody here is so incredibly nice, polite and generous. And if they ever "really" have trouble talking with you, well, they will go out of their way, and call someone or use google translate to be able to help.
We lived in a northern neighbourhood of Kyoto, where there are definitely fewer tourists and foreigners than other areas down south. Living here came with an authentic "neighbourhood" and "community" feel to it. One day as we were walking in the street and peeked inside what looked like a japanese pickle shop, an old lady came out and welcomed us inside. She was so sweet – even though we did not understand a word of what she was saying, she was happy to have us try everything and even served us tea!
About that. Oh yes, tea is served EVERYWHERE here. Wherever you go, whether it's a restaurant, café, shop or even a gallery – the tea will get poured to welcome you right in. I loved this so much, it was such a simple act of generosity as well as a lovely window to Japanese culture and love of tea! Finding cosiness was not at all a hard thing to do.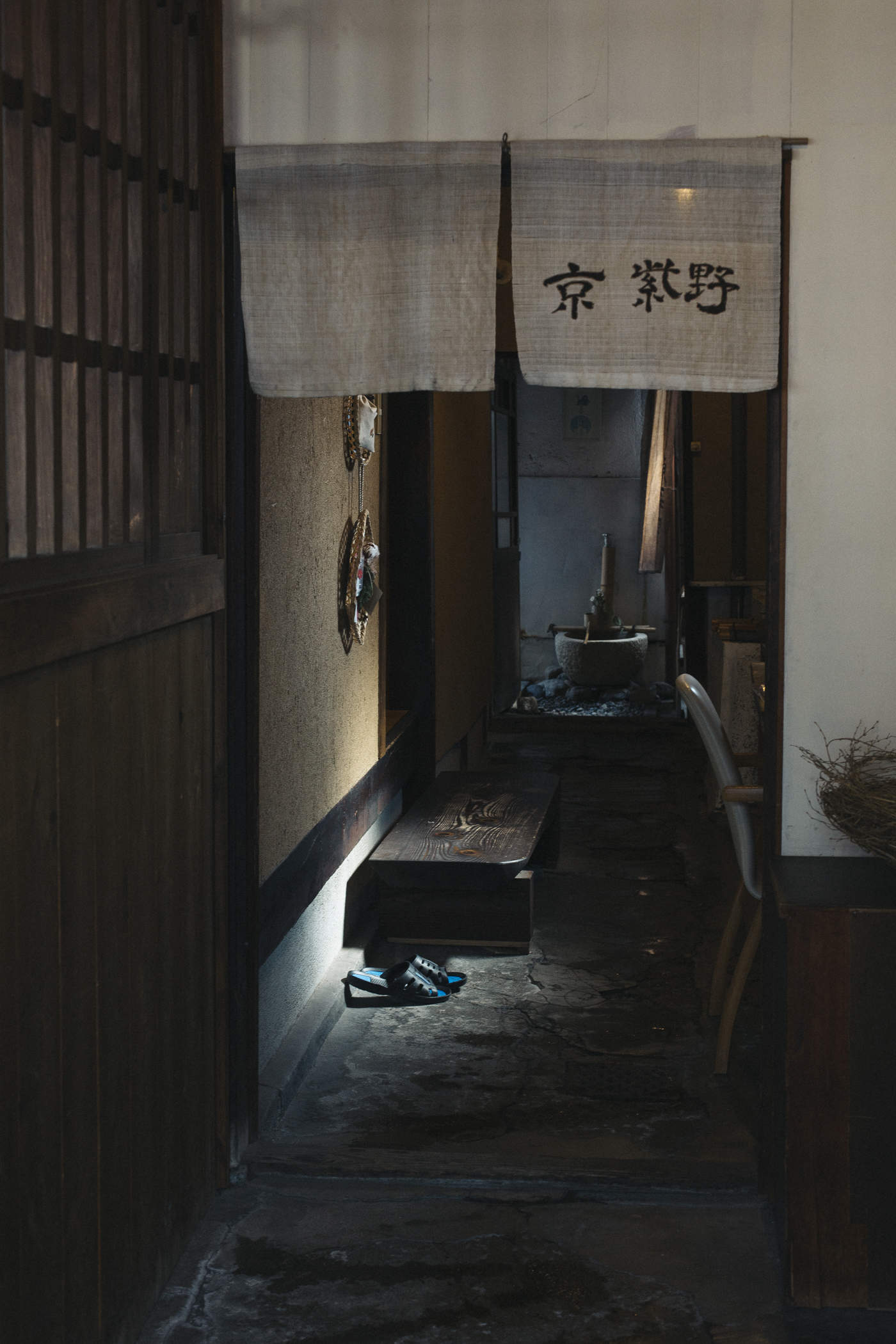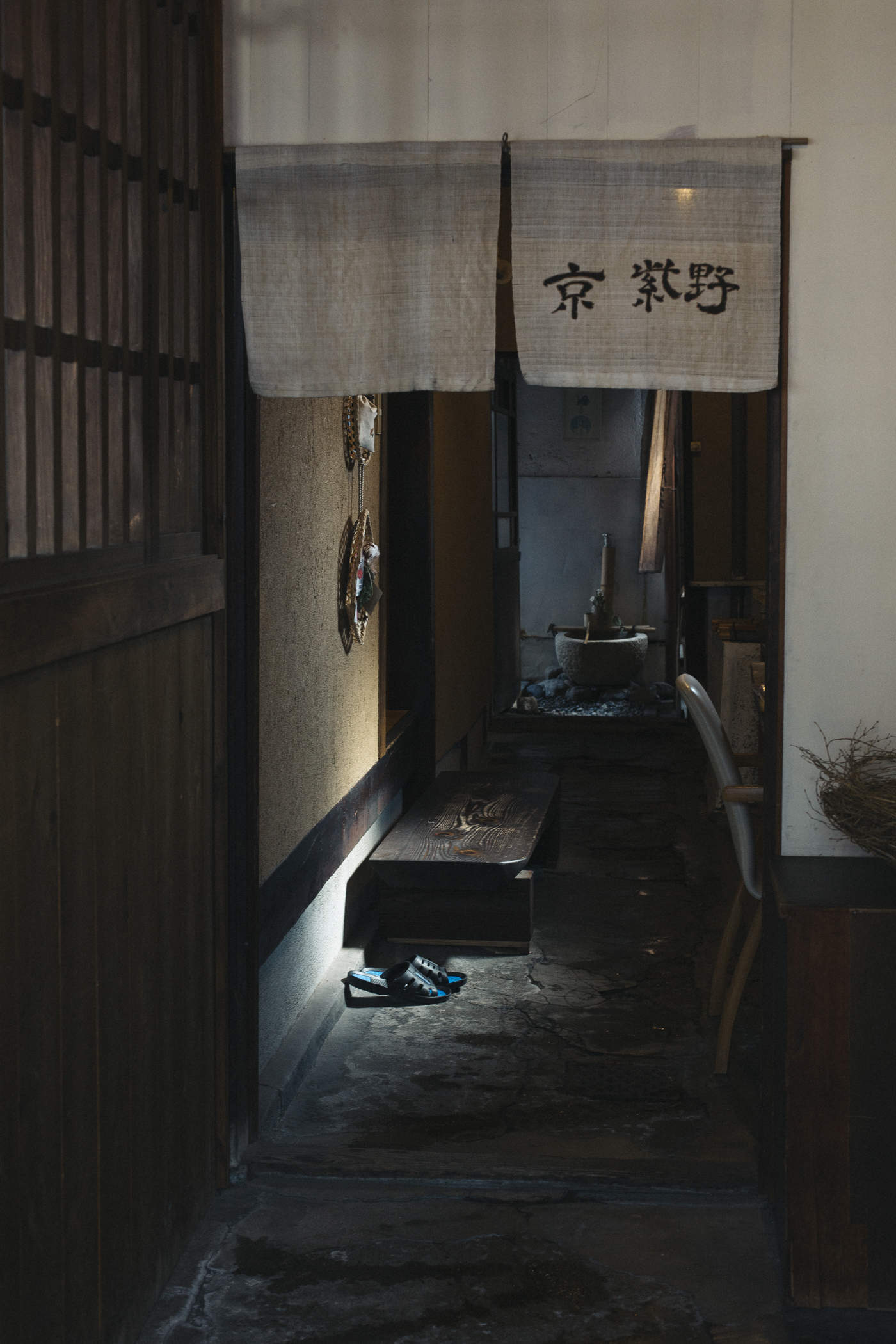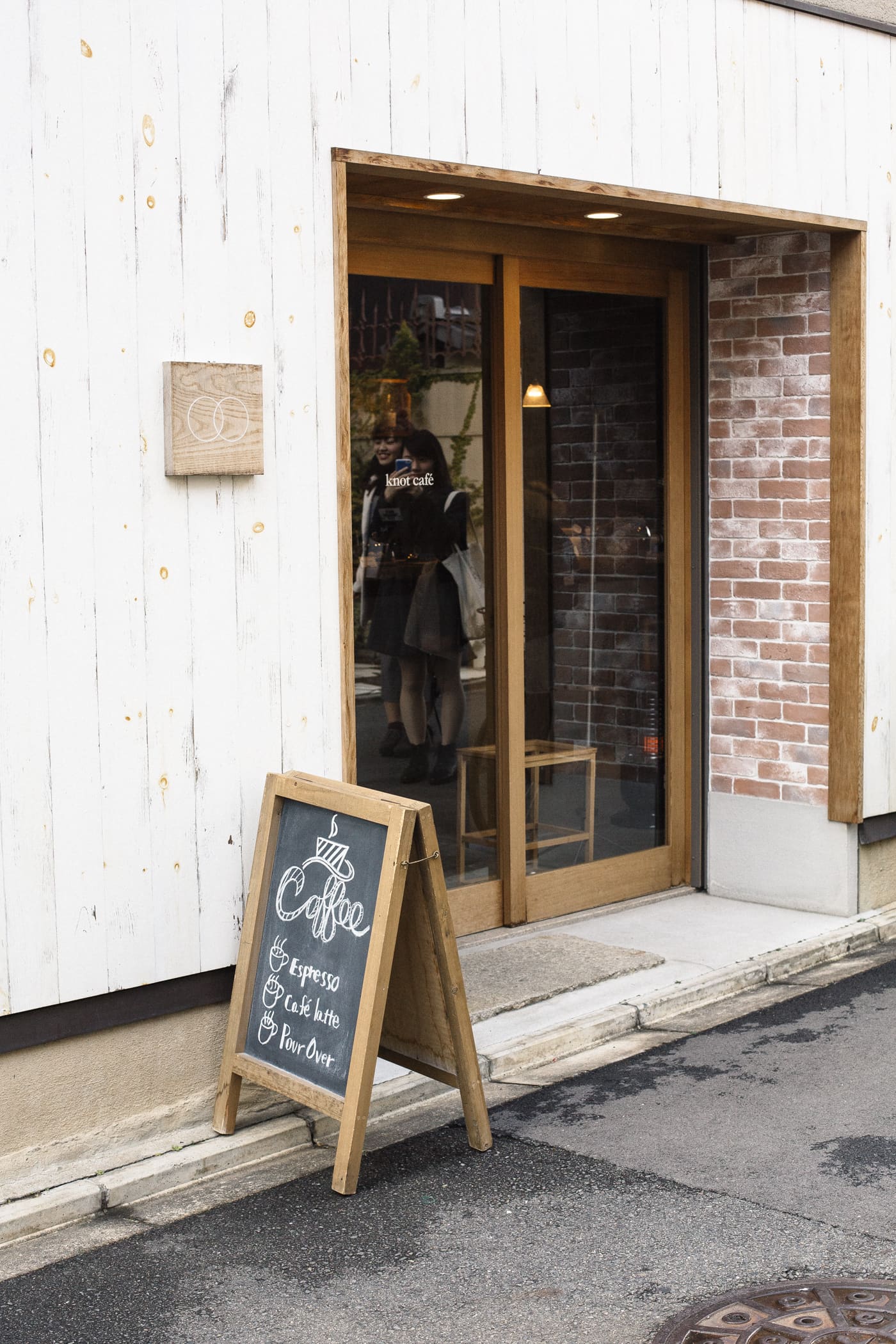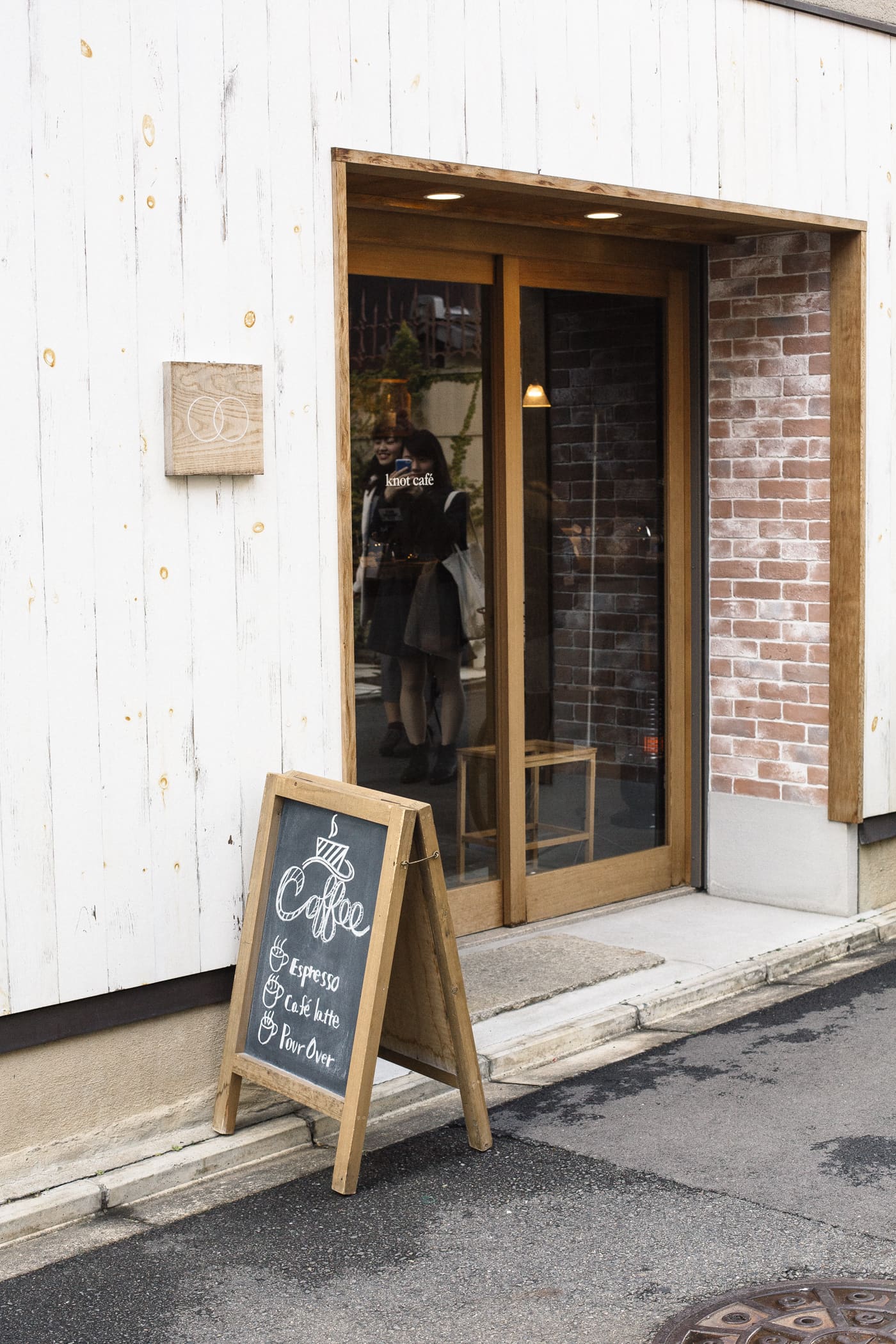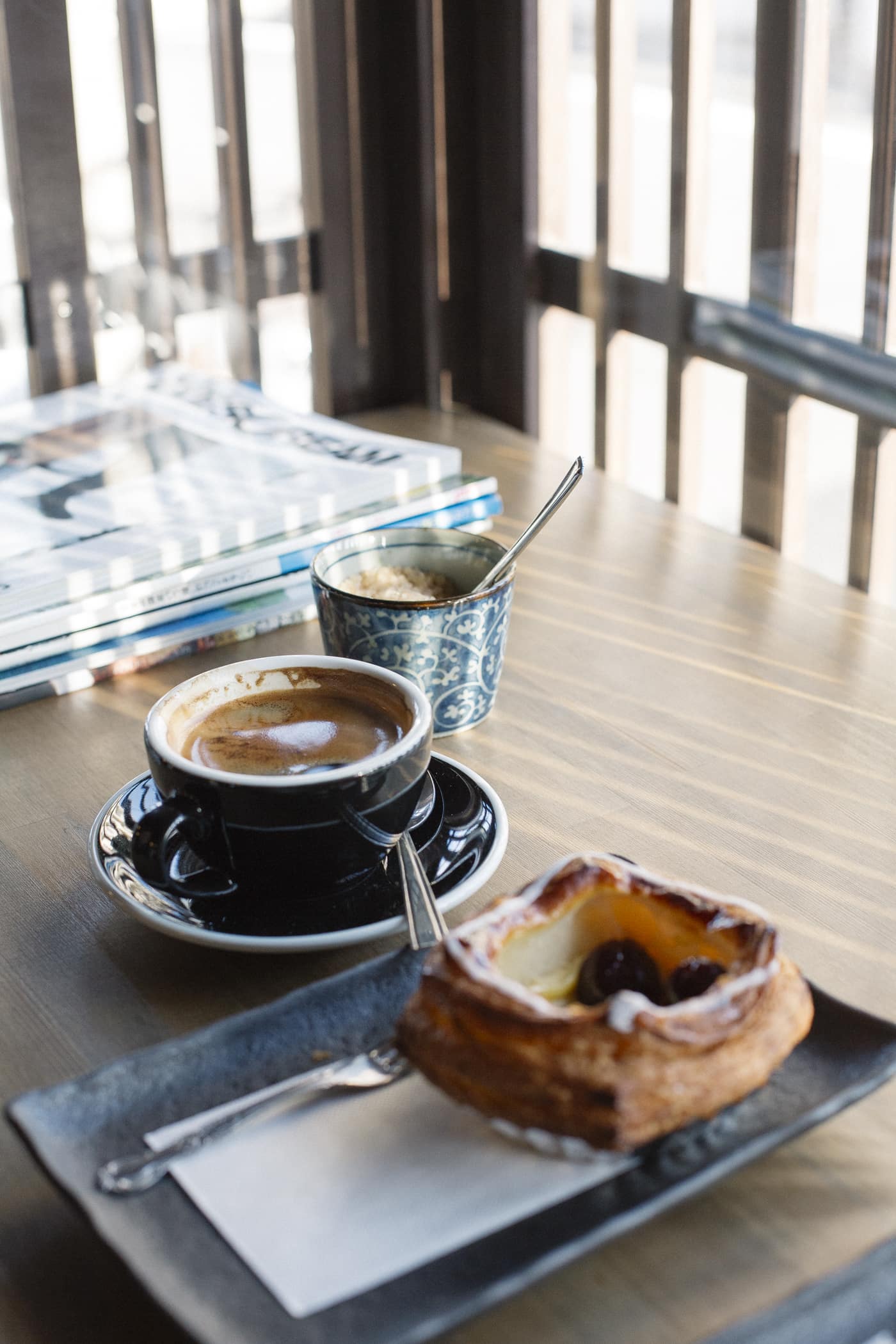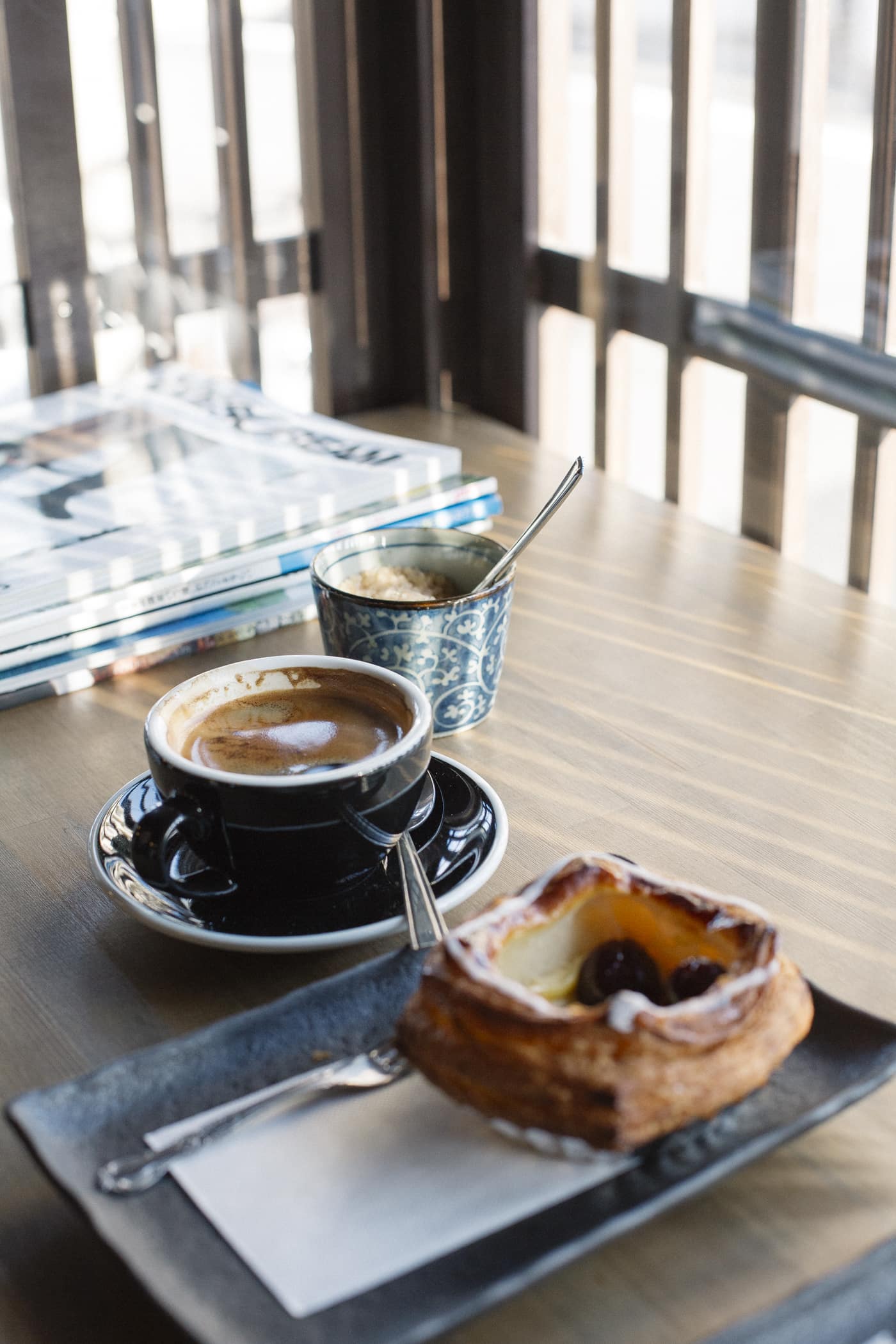 Little by little, we got to feel at home in our little temporary Japanese house. Sleeping in futon beds became more and more comfortable, and we enjoyed creating a new lifestyle routine. We cooked lots of comfort food and quick lunches at home, using new ingredients, or familiar ones that somehow tasted Japanese (haha!). We got ourselves a couple of bikes so we could get around very easily around the city, and even though we worked on tons of projects while living here, we made our schedule super flexible so we could head out spontaneously whenever we felt like it.
Every day there would be something special. A new food to try, a new street to walk through, perhaps a new hidden temple to discover. Sometimes we'd go all the way across the city to a whole new neighbourhood. There was so much to take in, and it brought so much inspiration for our work!
Finding a routine in a new place, however, is something that's particularly special and that not a lot of people value, as travel is supposedly all about seeing "new" things all the time. I'm not a big fan of this busy mentality and I believe that especially when you're staying somewhere for two months, you can allow yourself to have a much slower approach to it all. In fact, it's by going back to some familiar places that you can allow for a deeper experience to happen.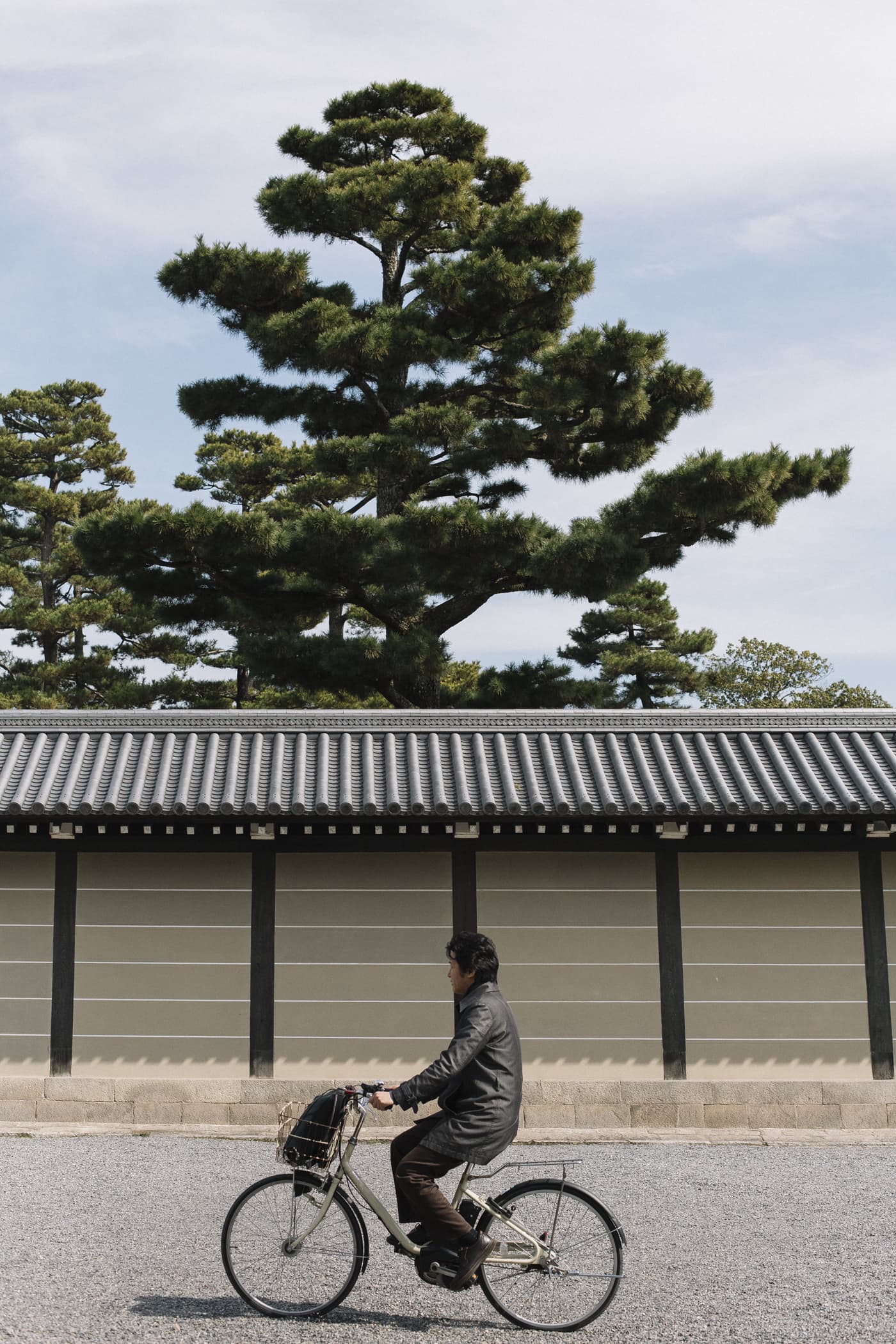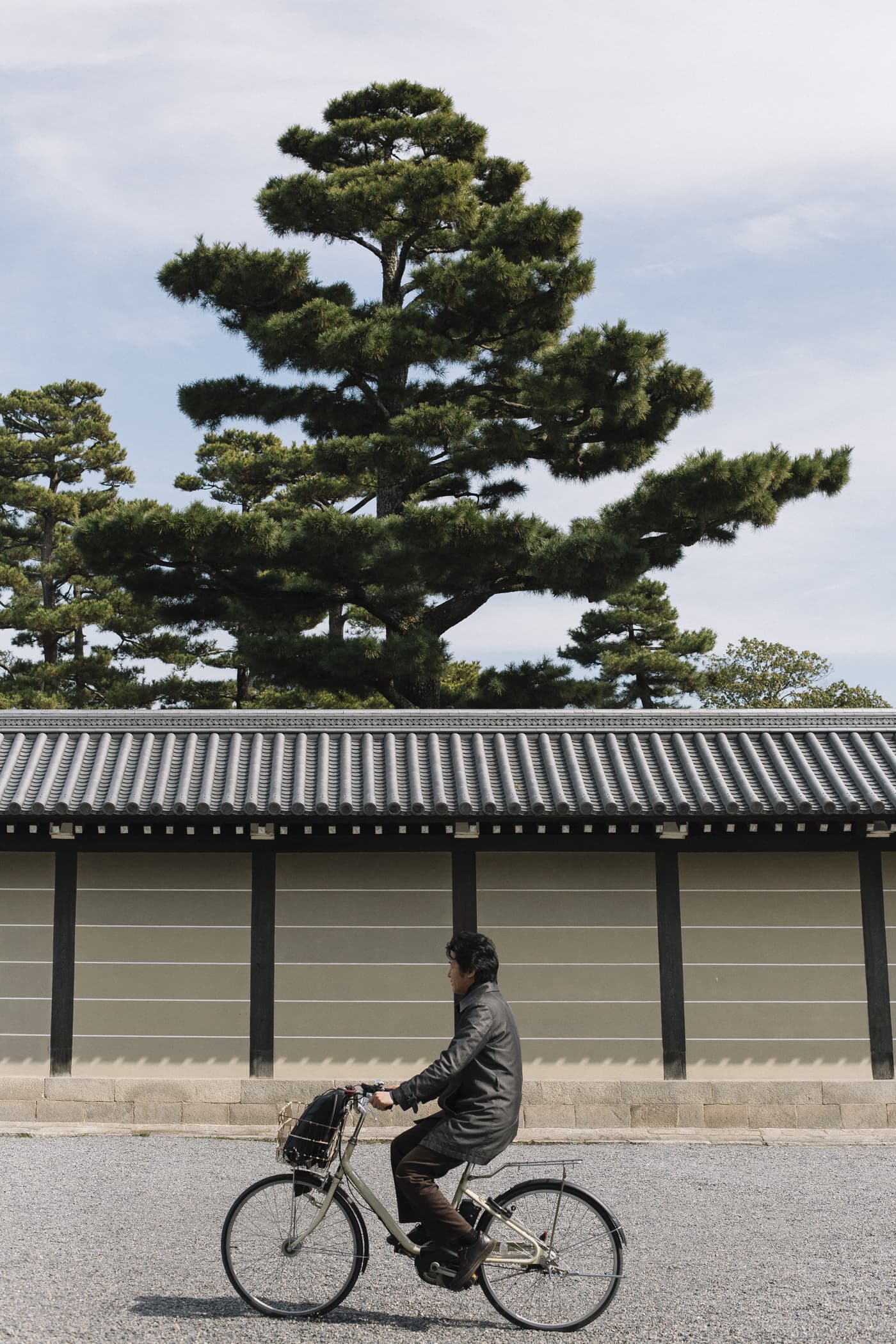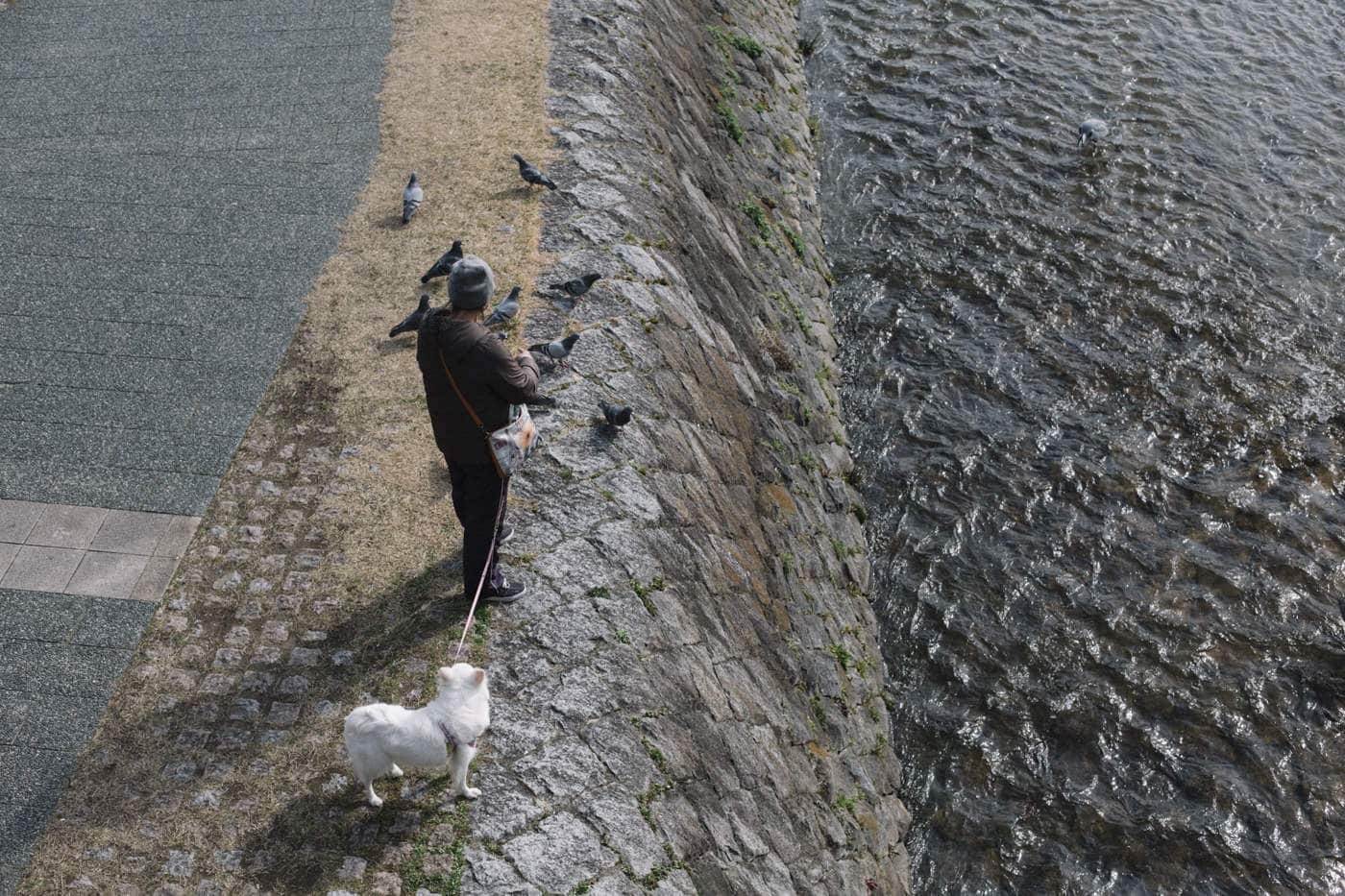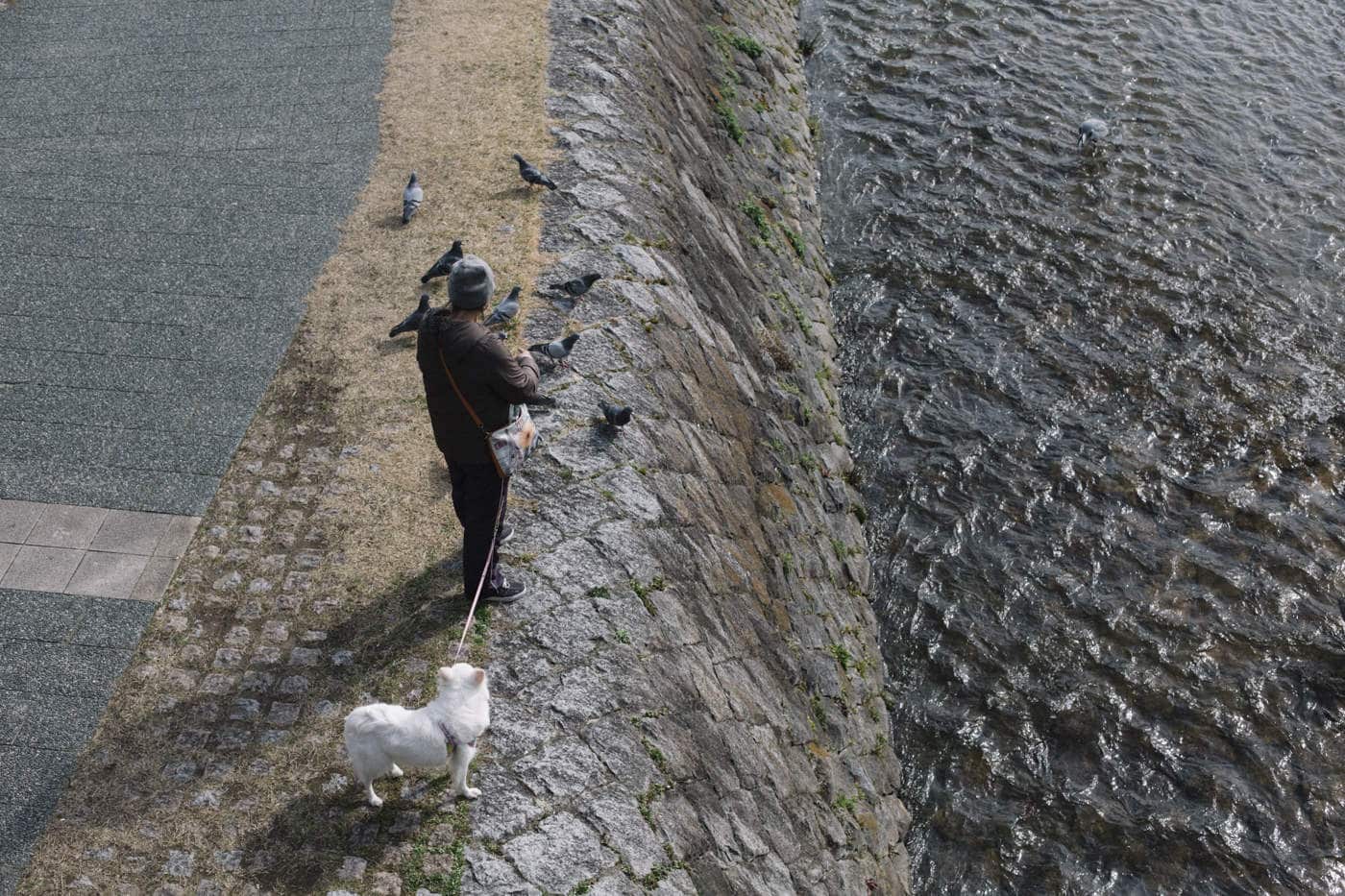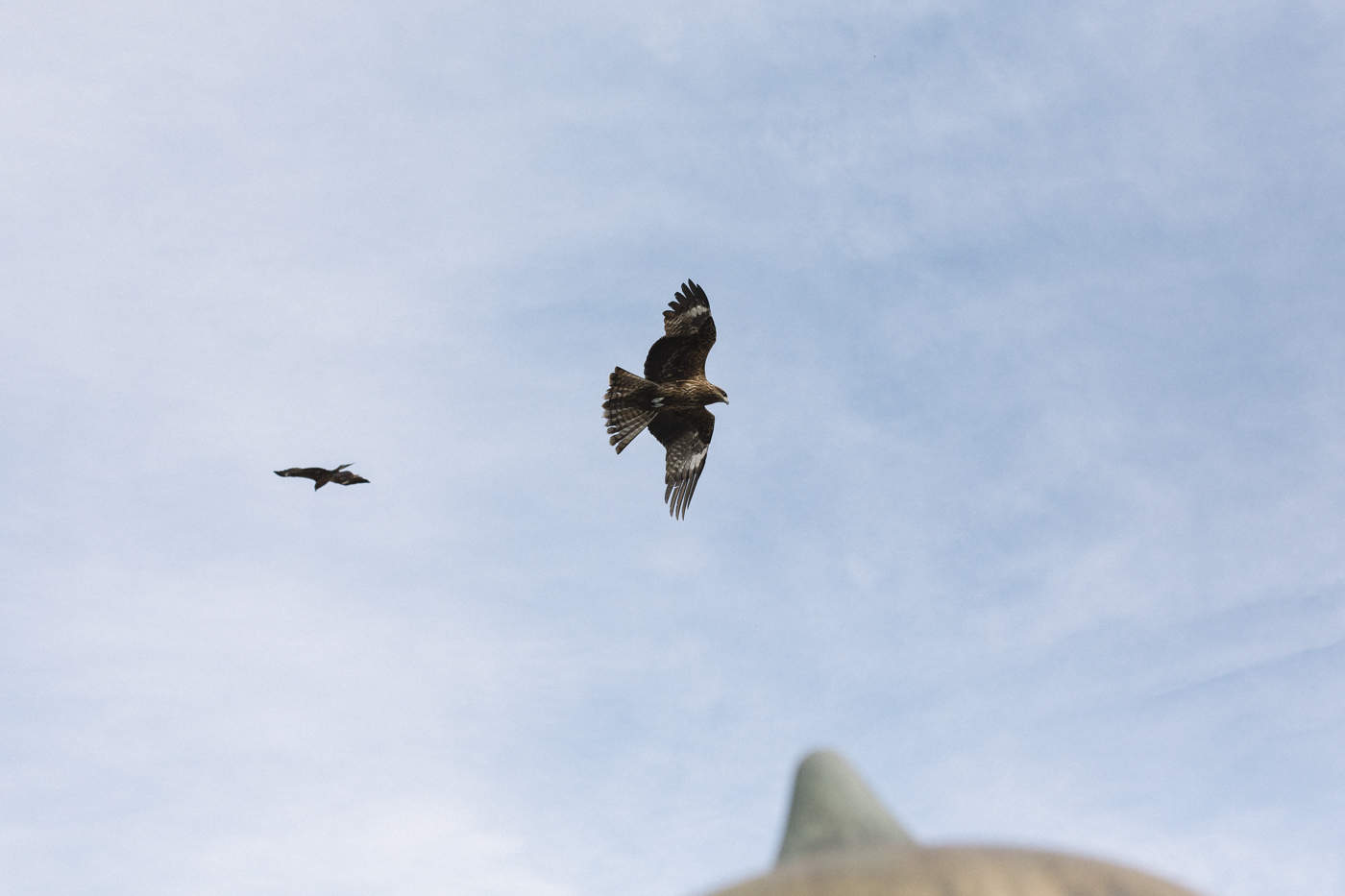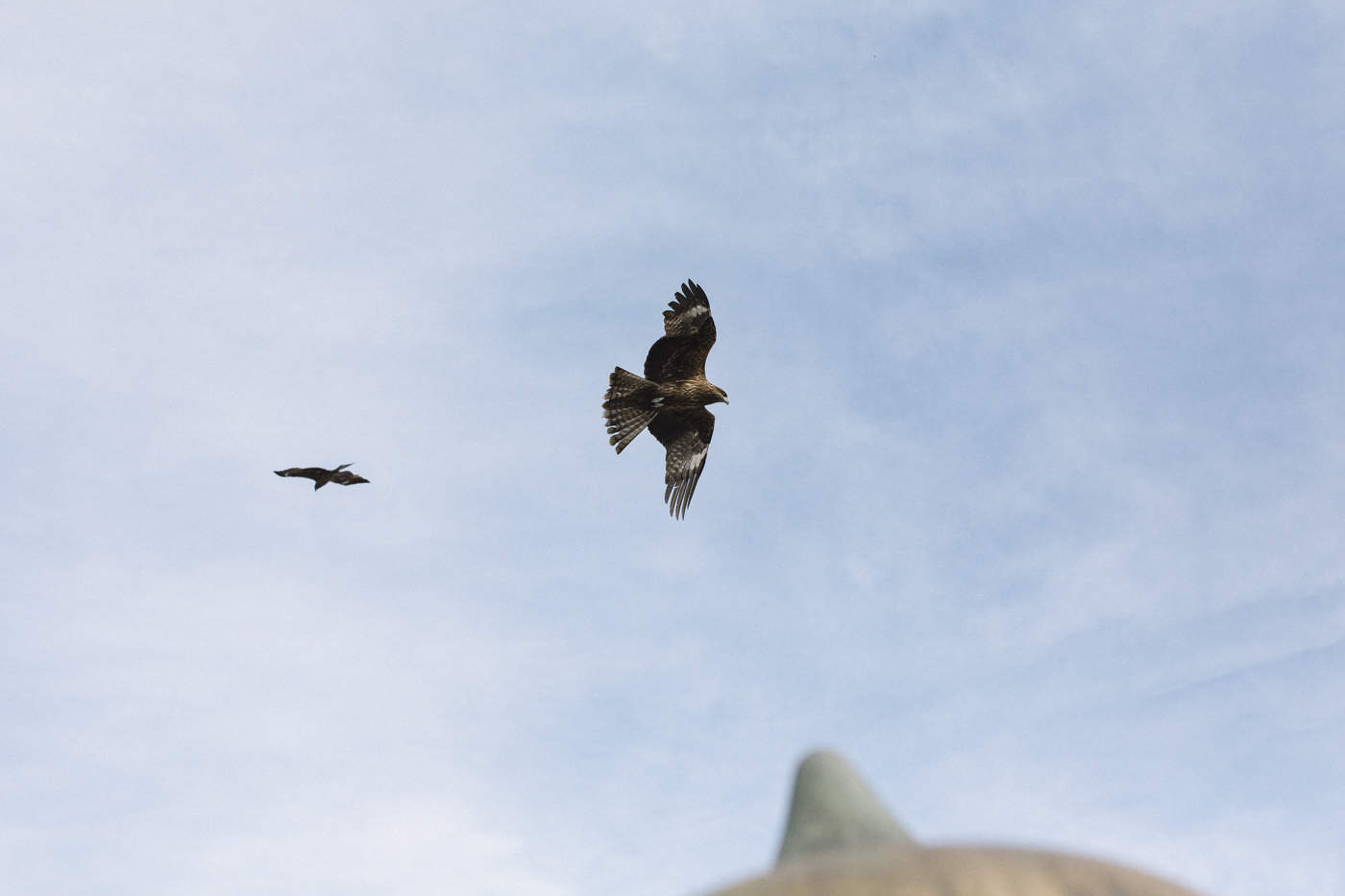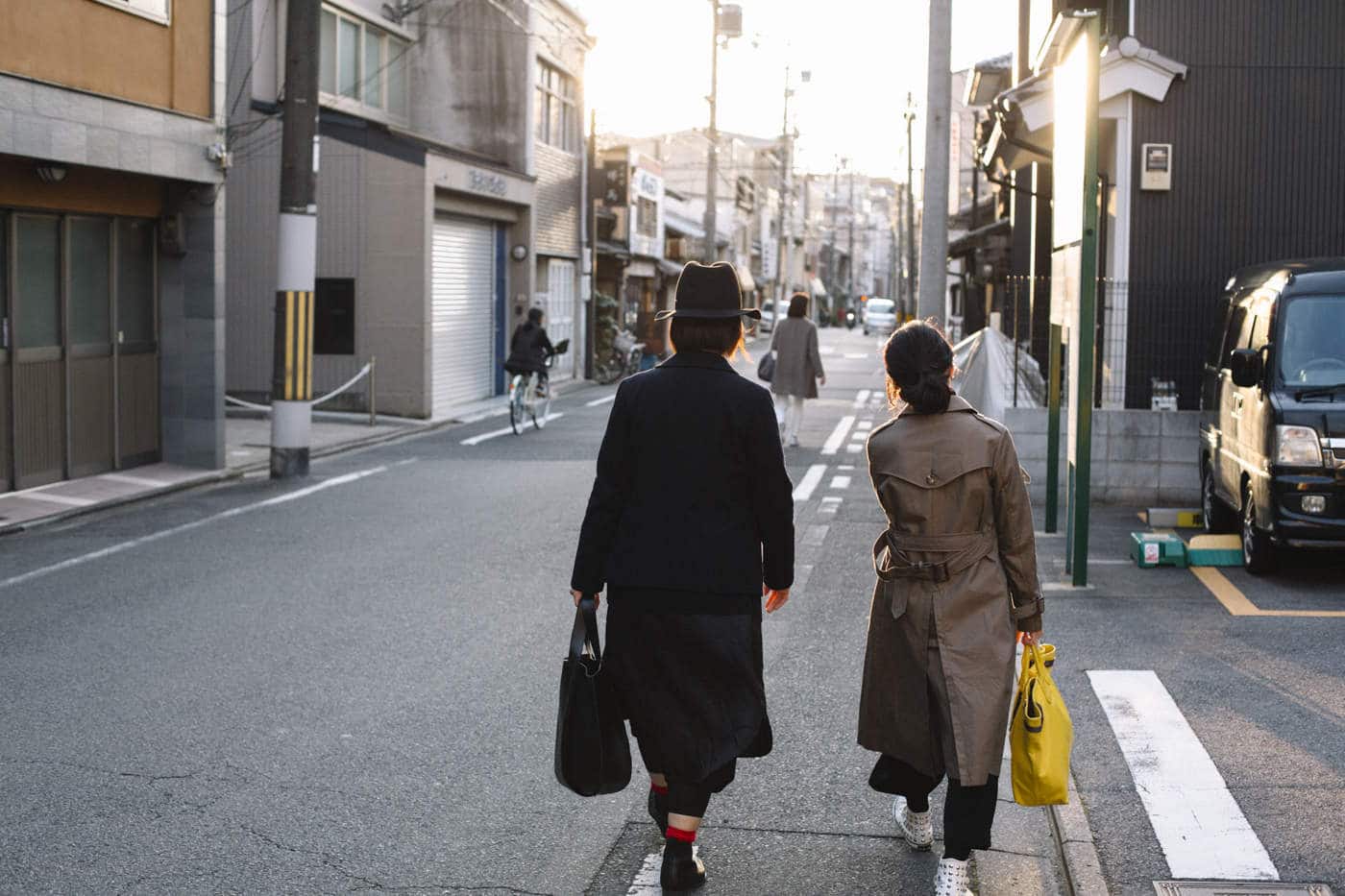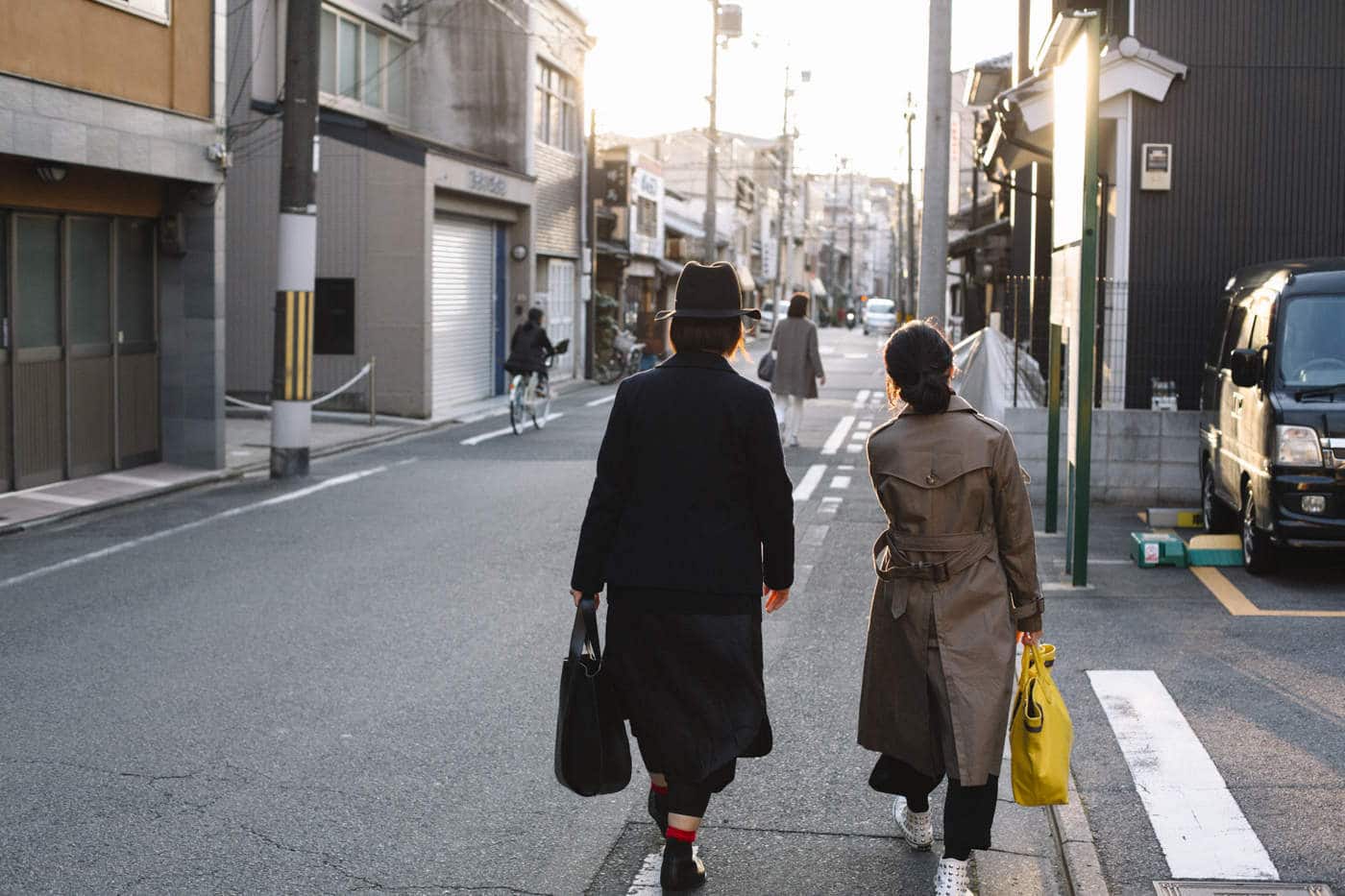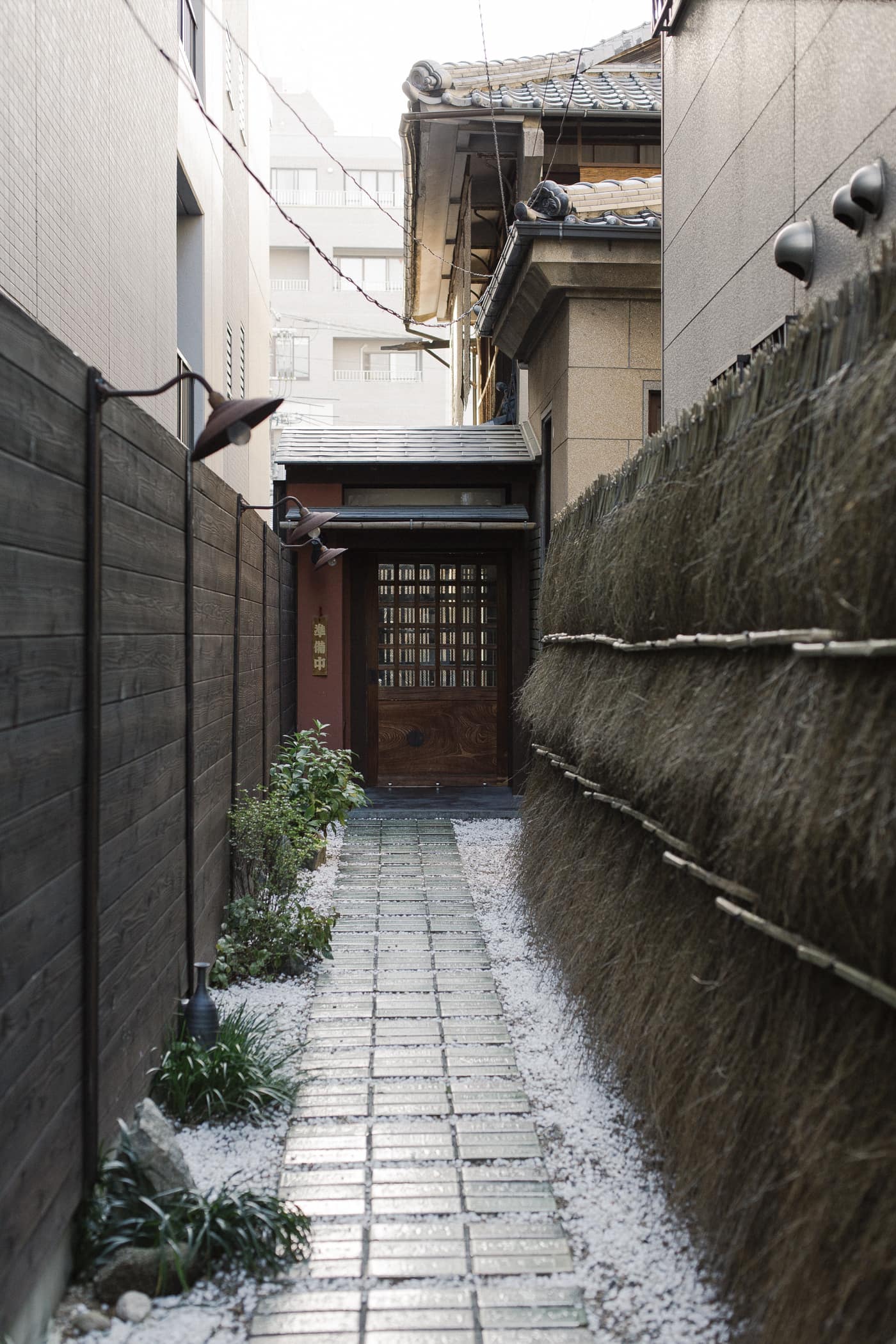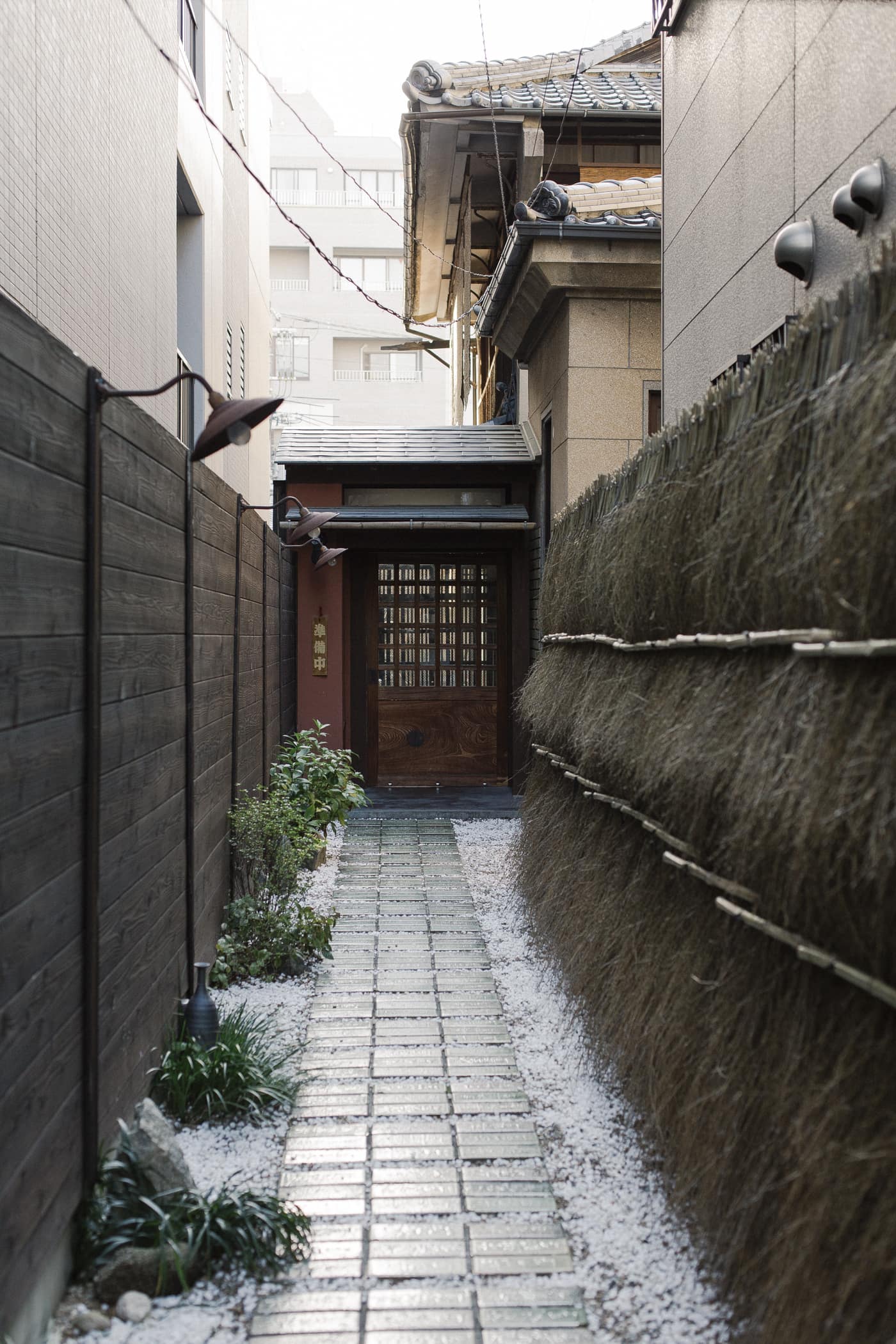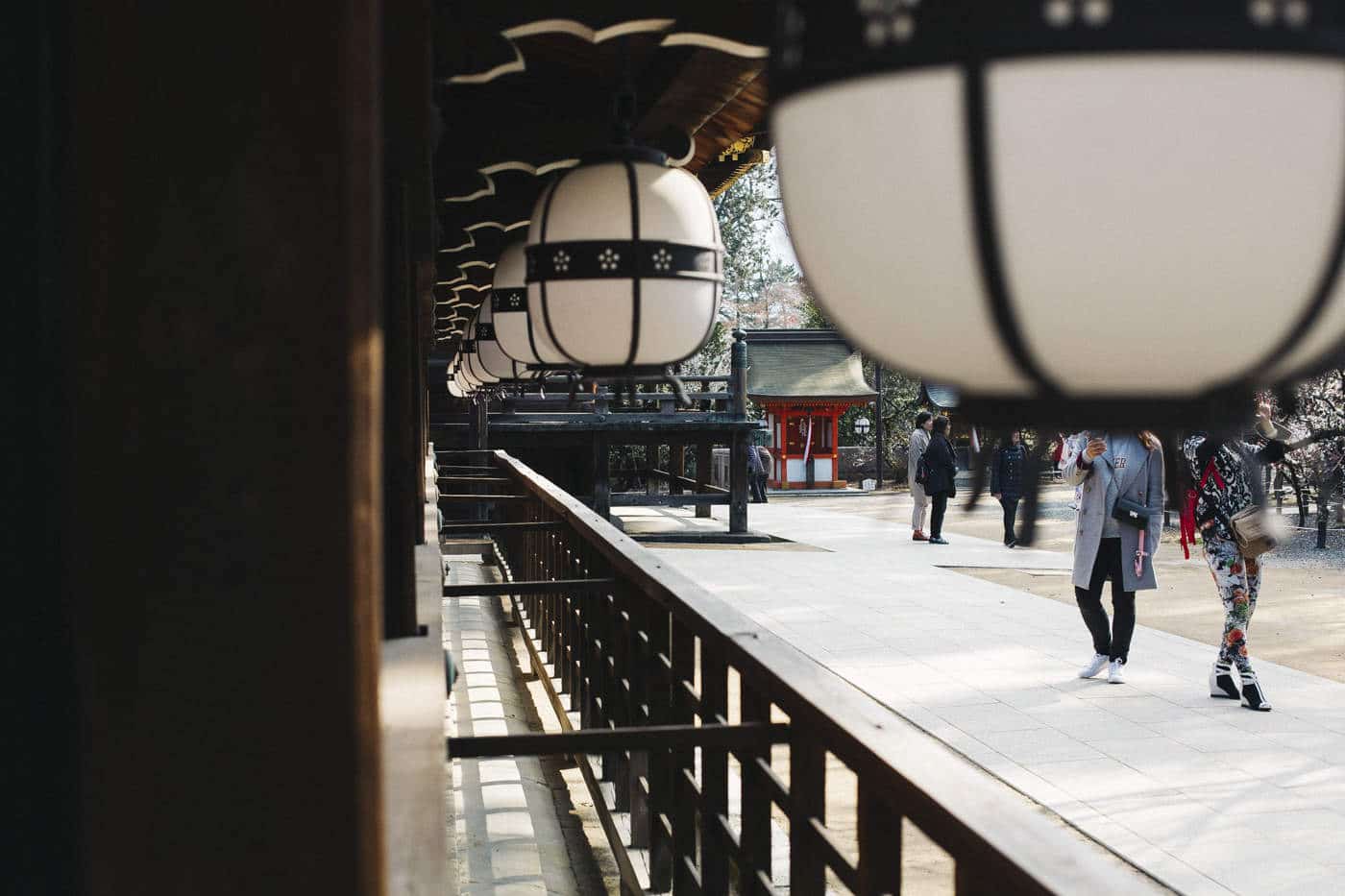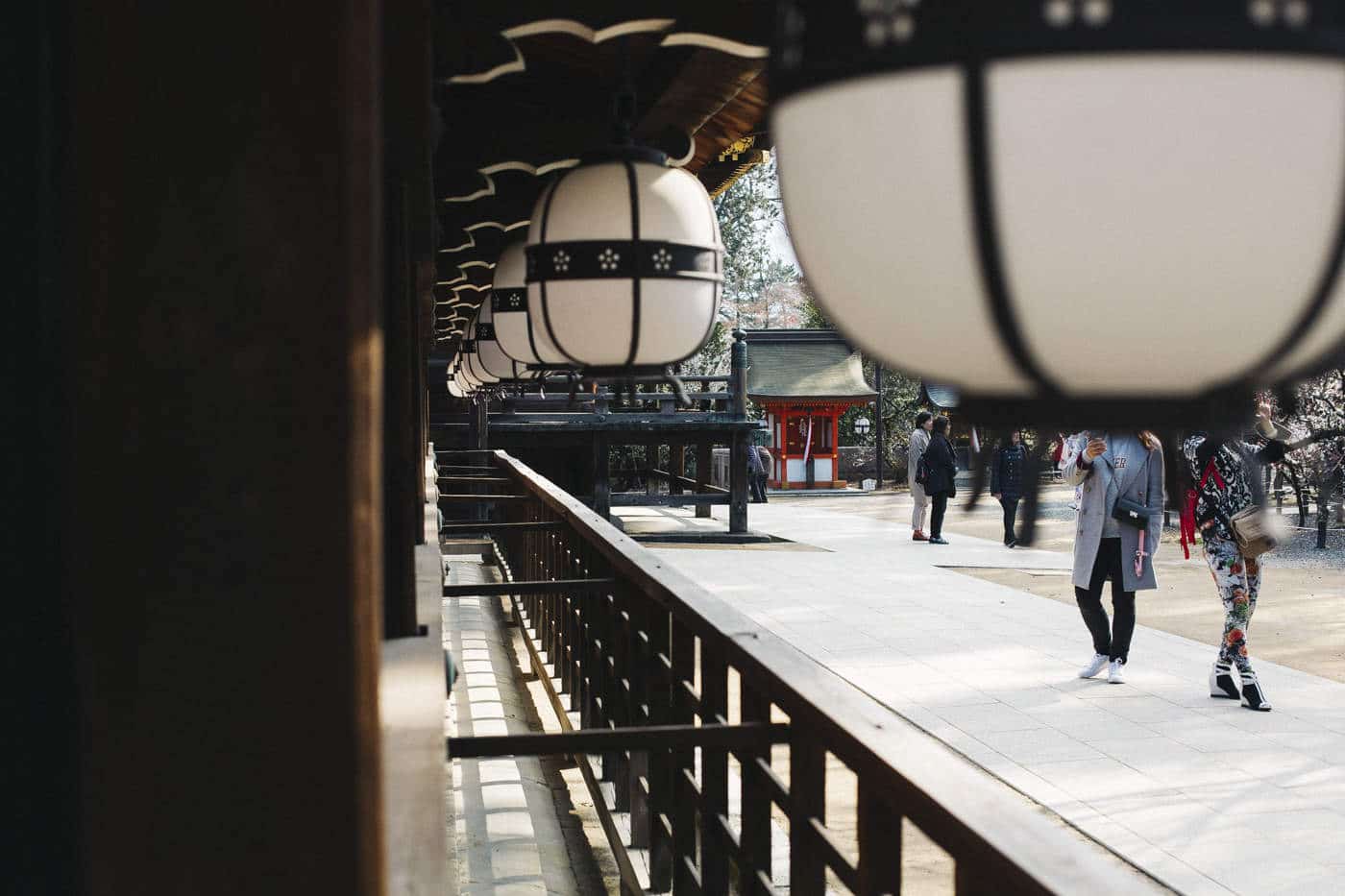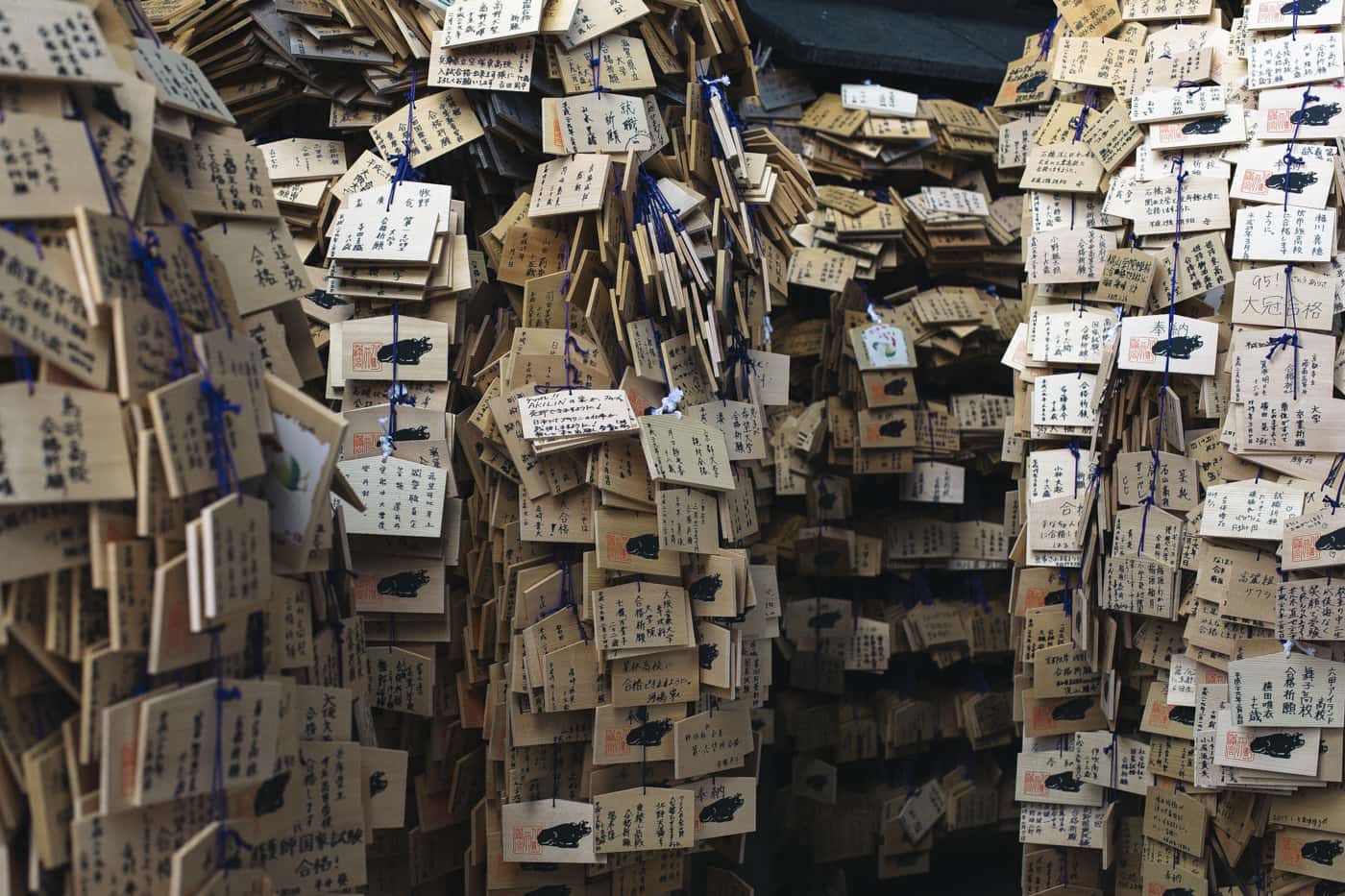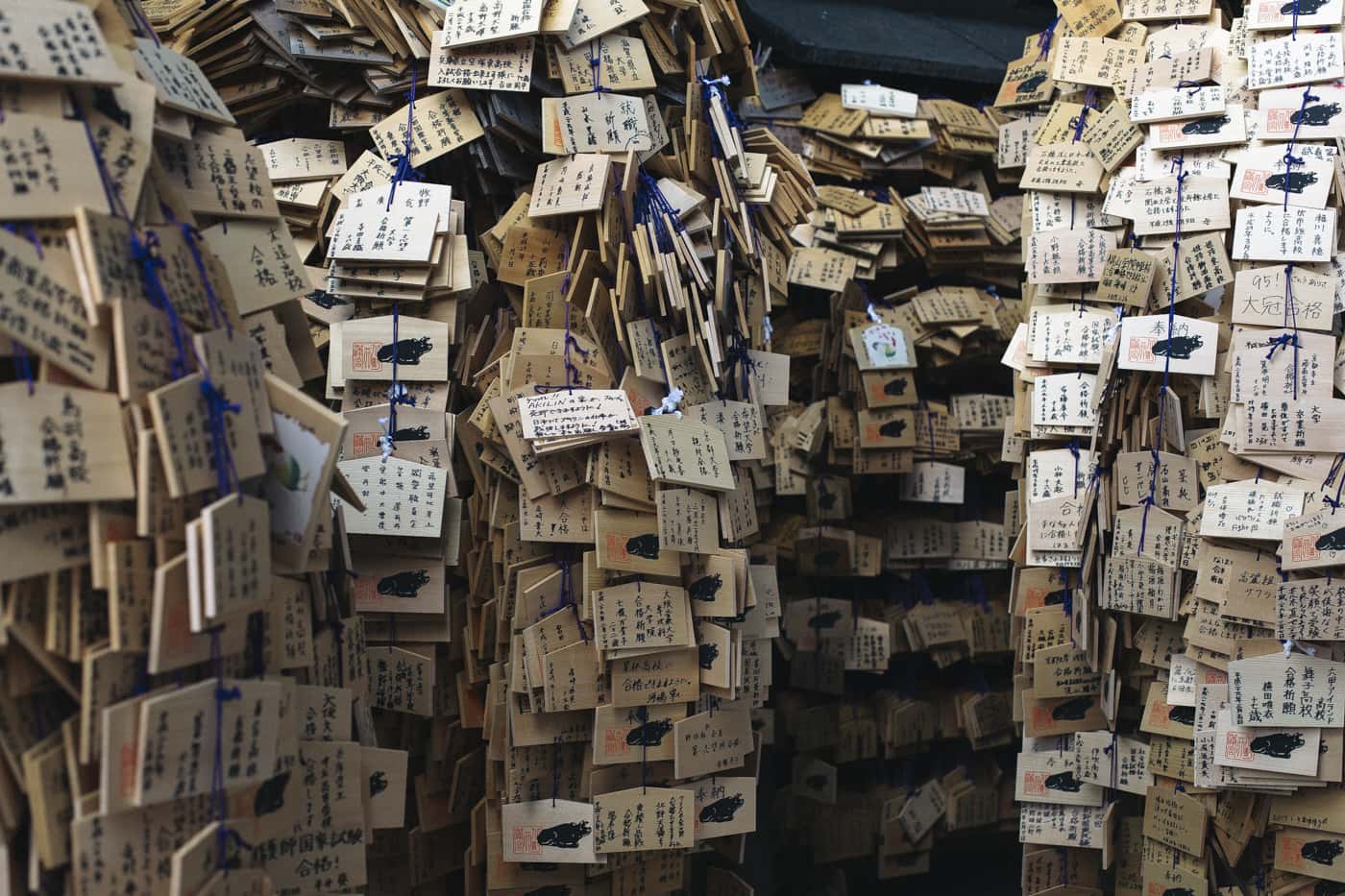 There were some of those places that we kept going back to, like certain coffeeshops in our neighbourhood. Certain spots on certain days, just out of habit. That's how we got to connect with their owners, who started to then know our names and what our favourite orders were. And sometimes those introductory conversations ended up in longer talks that resulted in new friendships! If you don't allow the time for that to happen, then how will it even begin, right?
One day we went back to our favourite little café called Frosch and stumbled upon the owner of The Barn Coffee, a super hip artisan coffee brand from Berlin. Crazy! The guy was such an interesting person to talk to, such an authentic being despite all he has achieved – we really connected. He also prepared some coffee for us to try – it probably one of the best brews we ever sipped.
Recently, our sunday "coffee + cake" ritual also turned into an interesting experience, as we got to enjoy our coffee with a geisha who happened to be there at the same time, sitting on the counter. I couldn't take my eyes off of her. She was so beautiful and had such a bright smile. These are the encounters that can happen when living a simple life and enjoying the little things in Kyoto.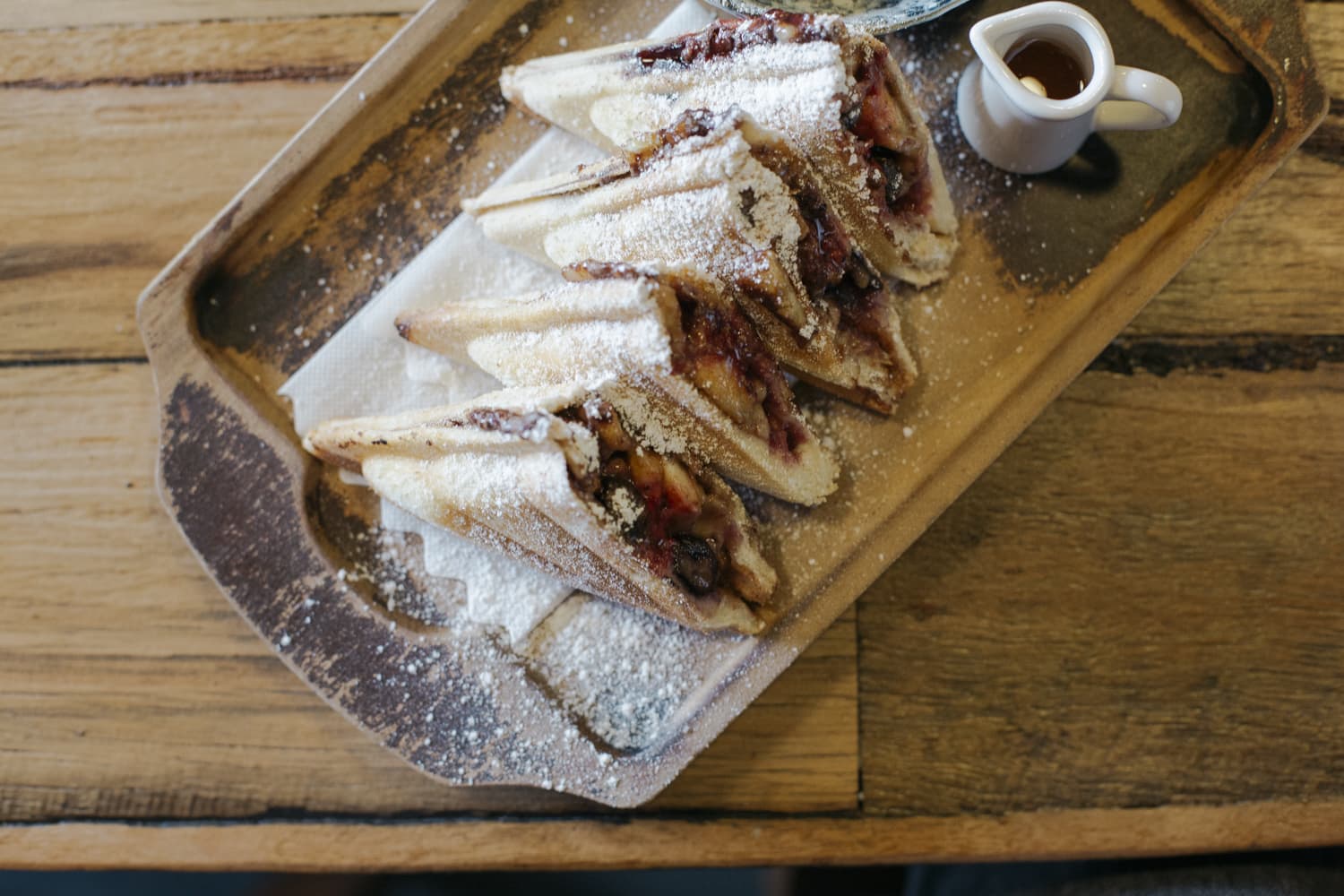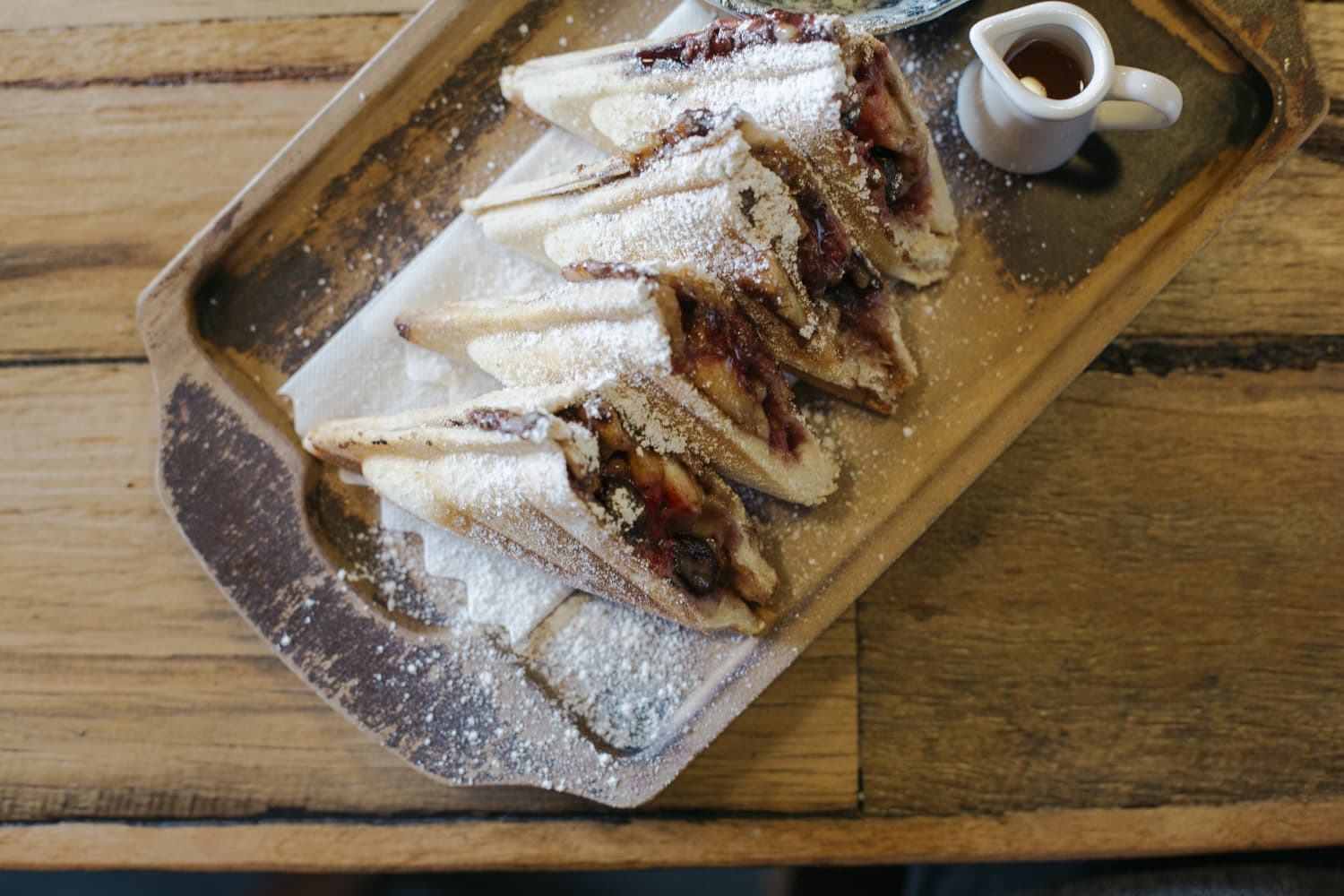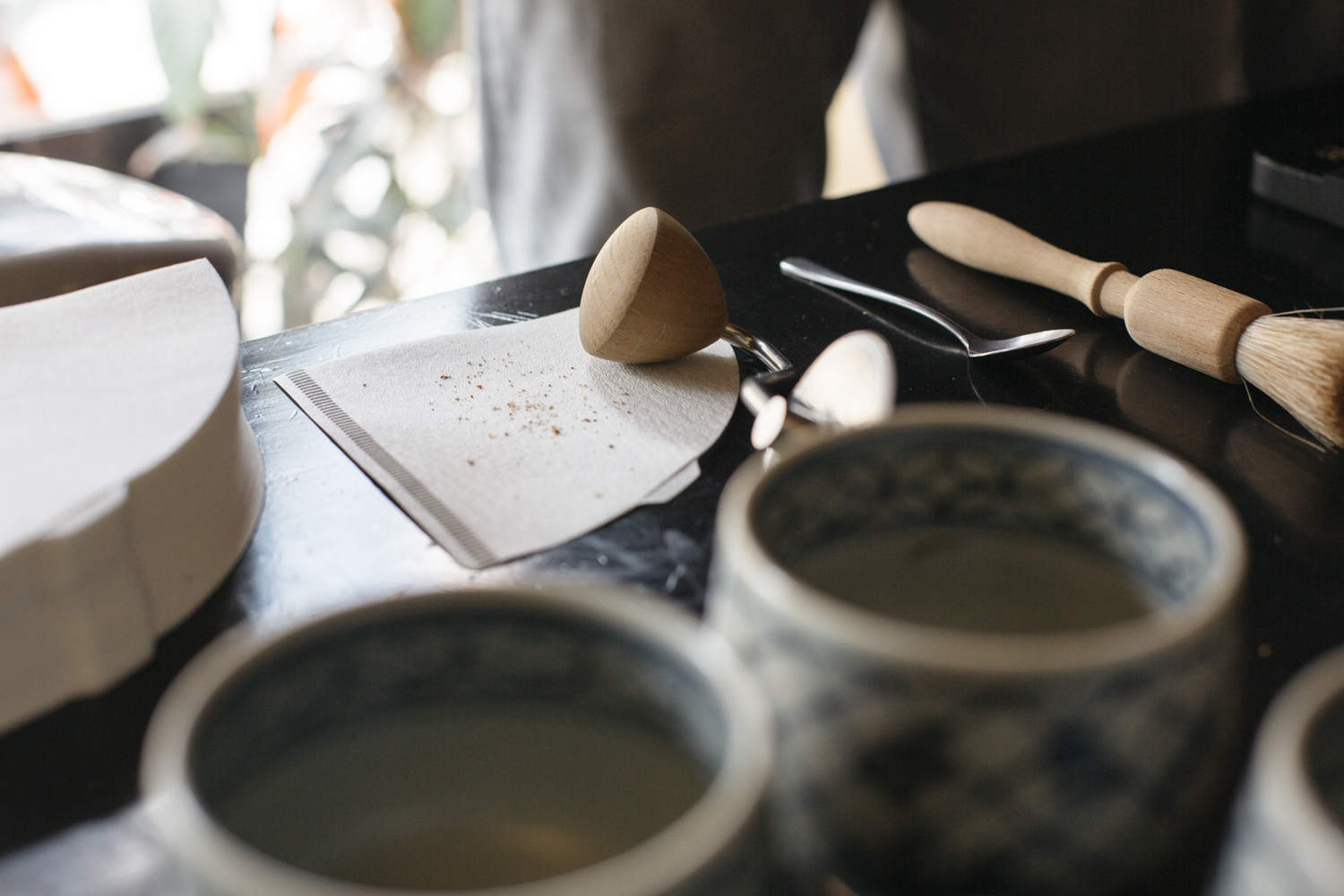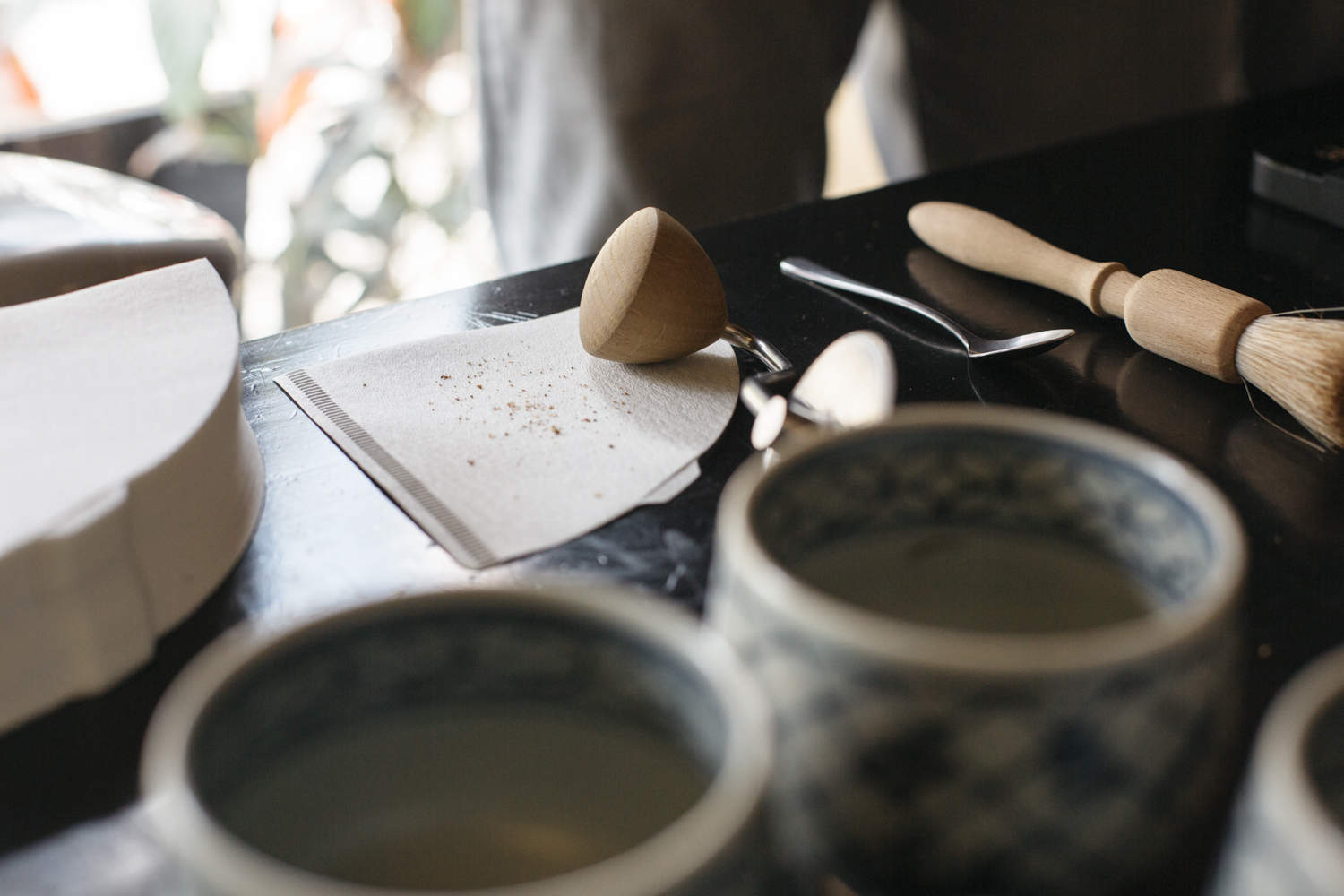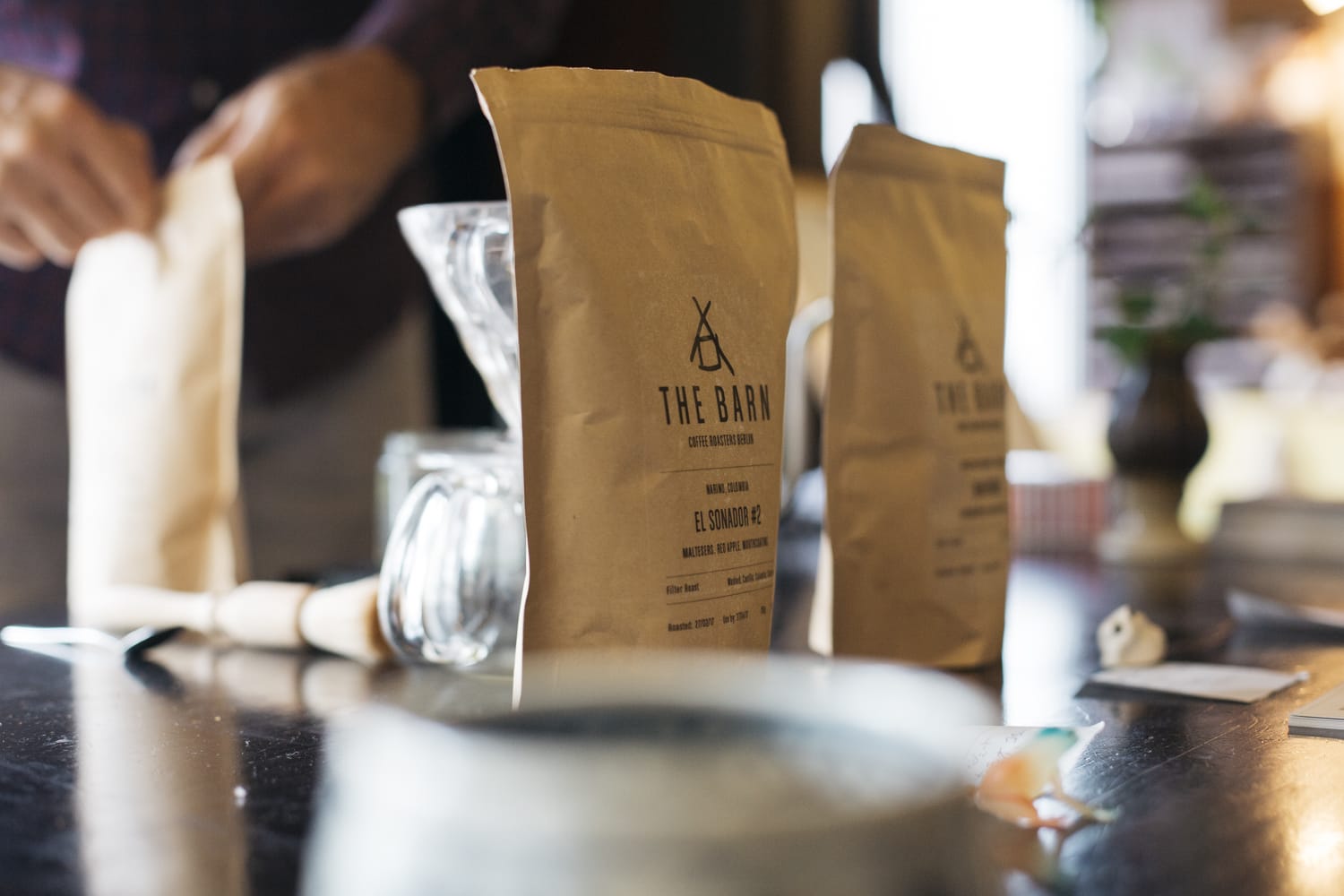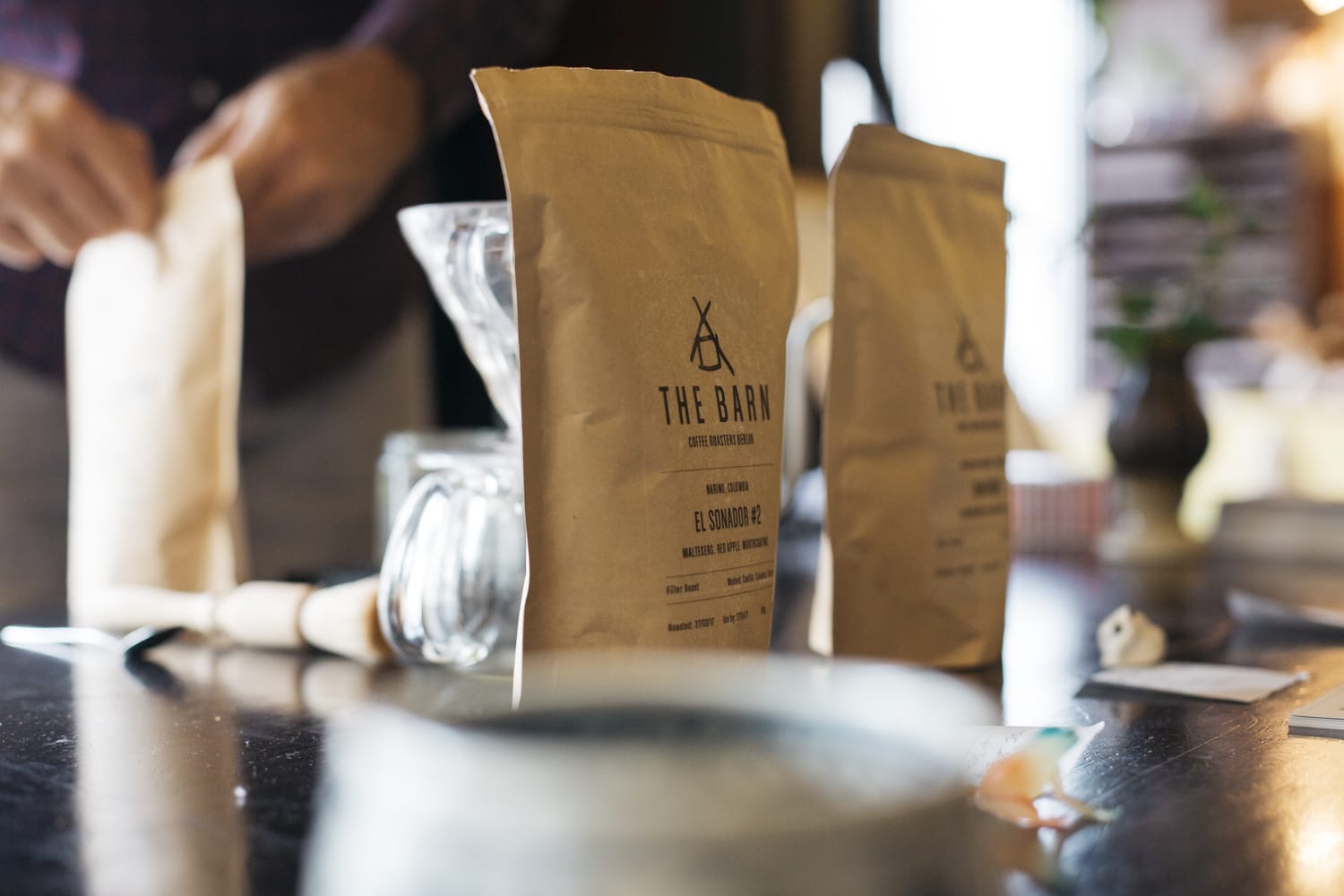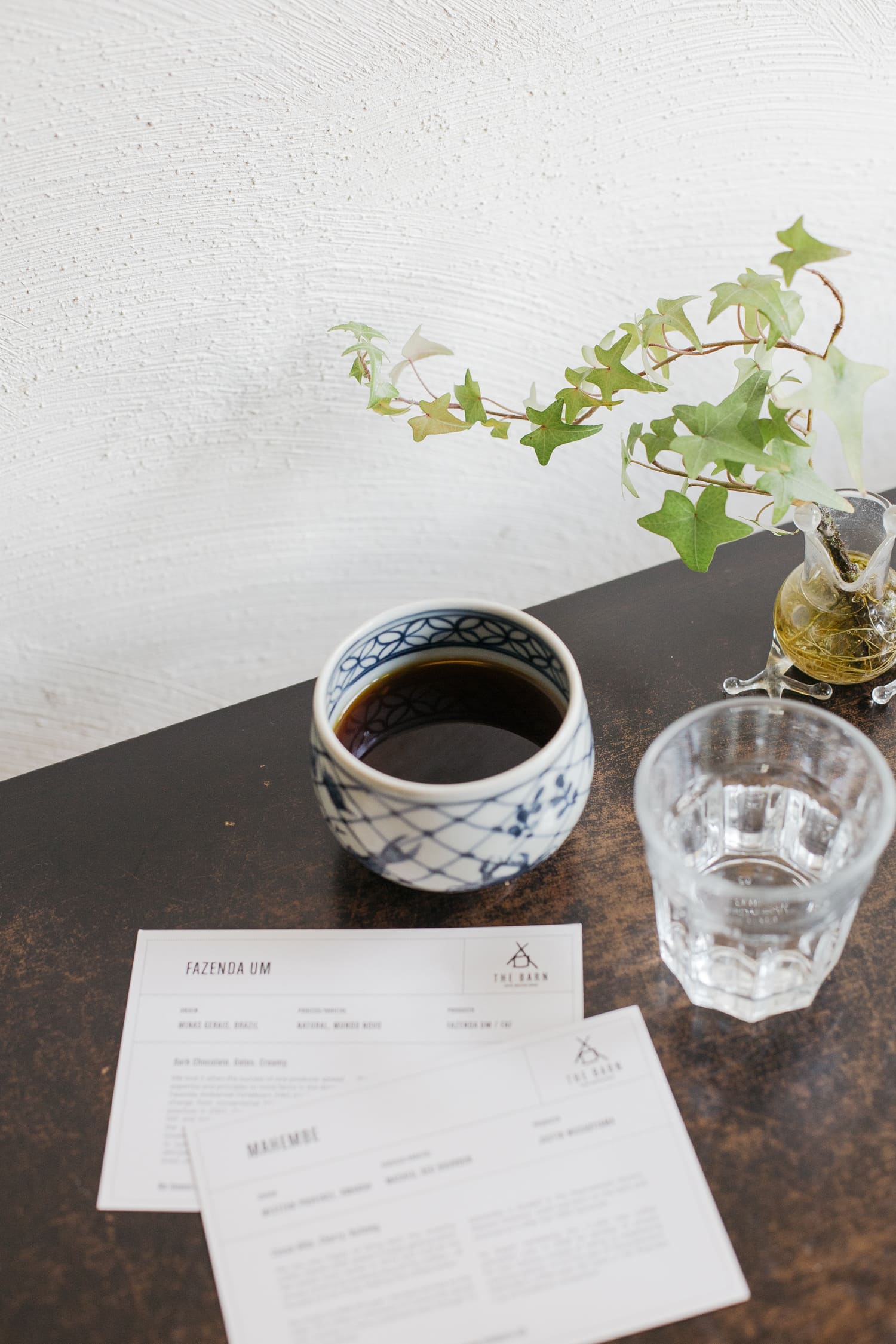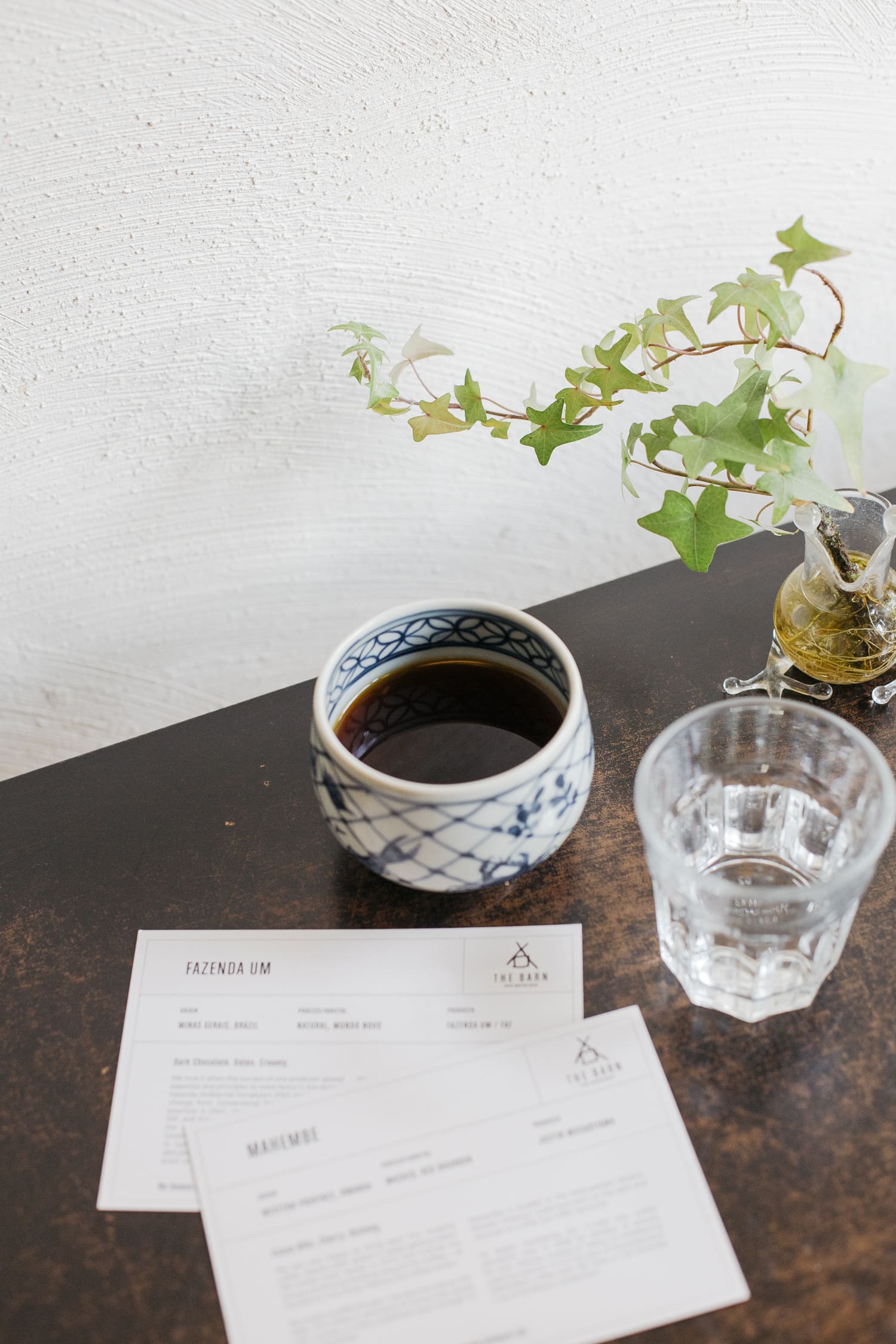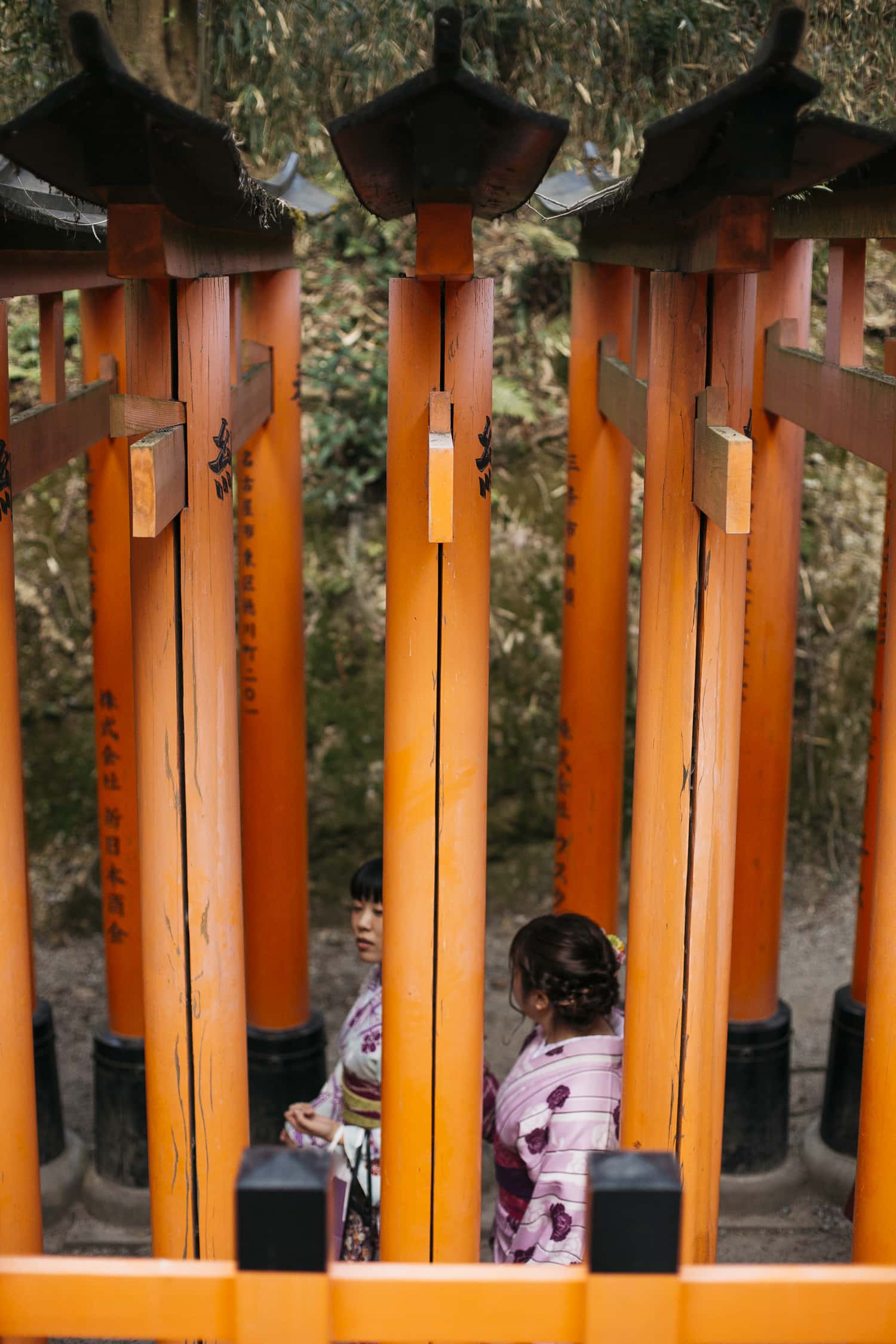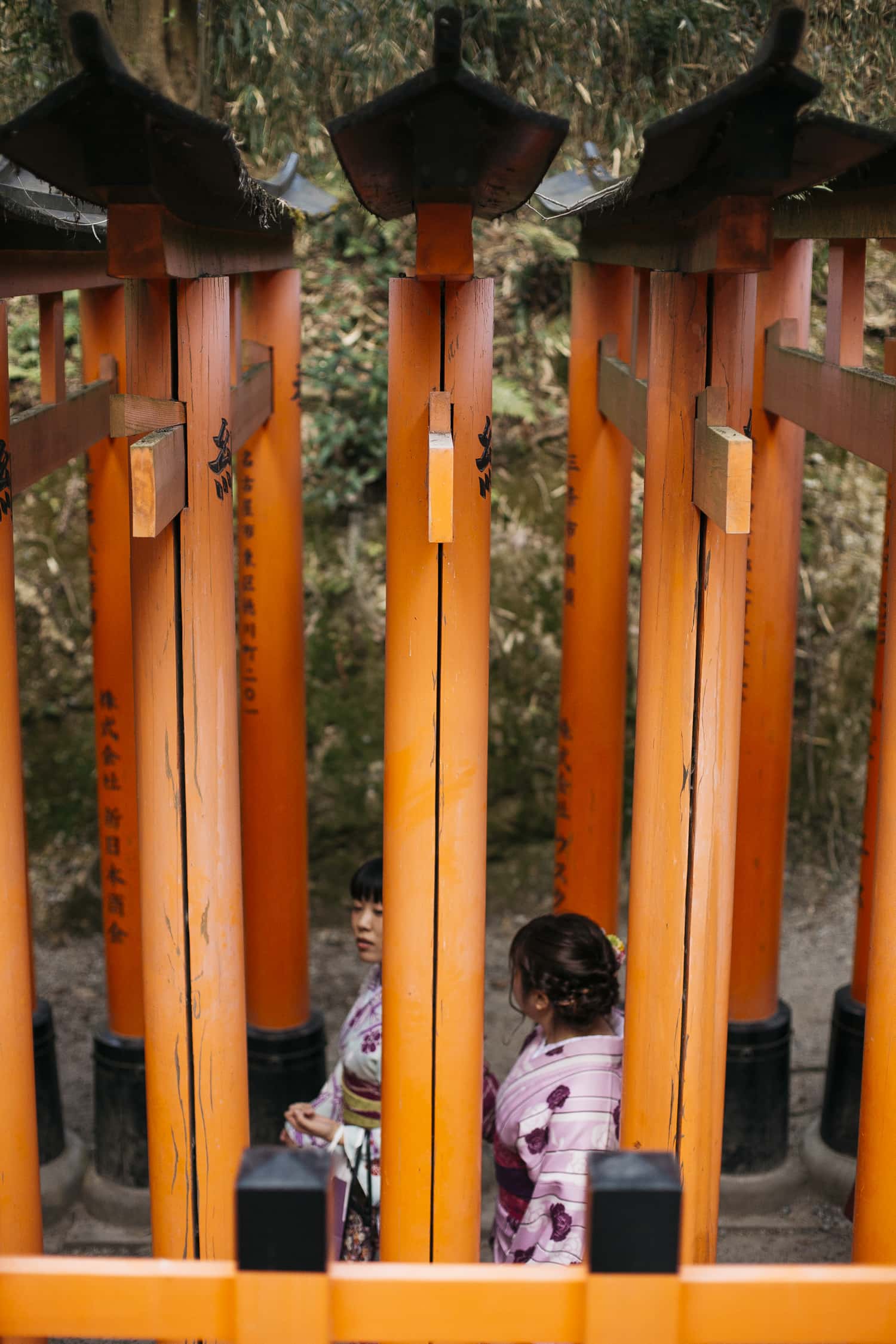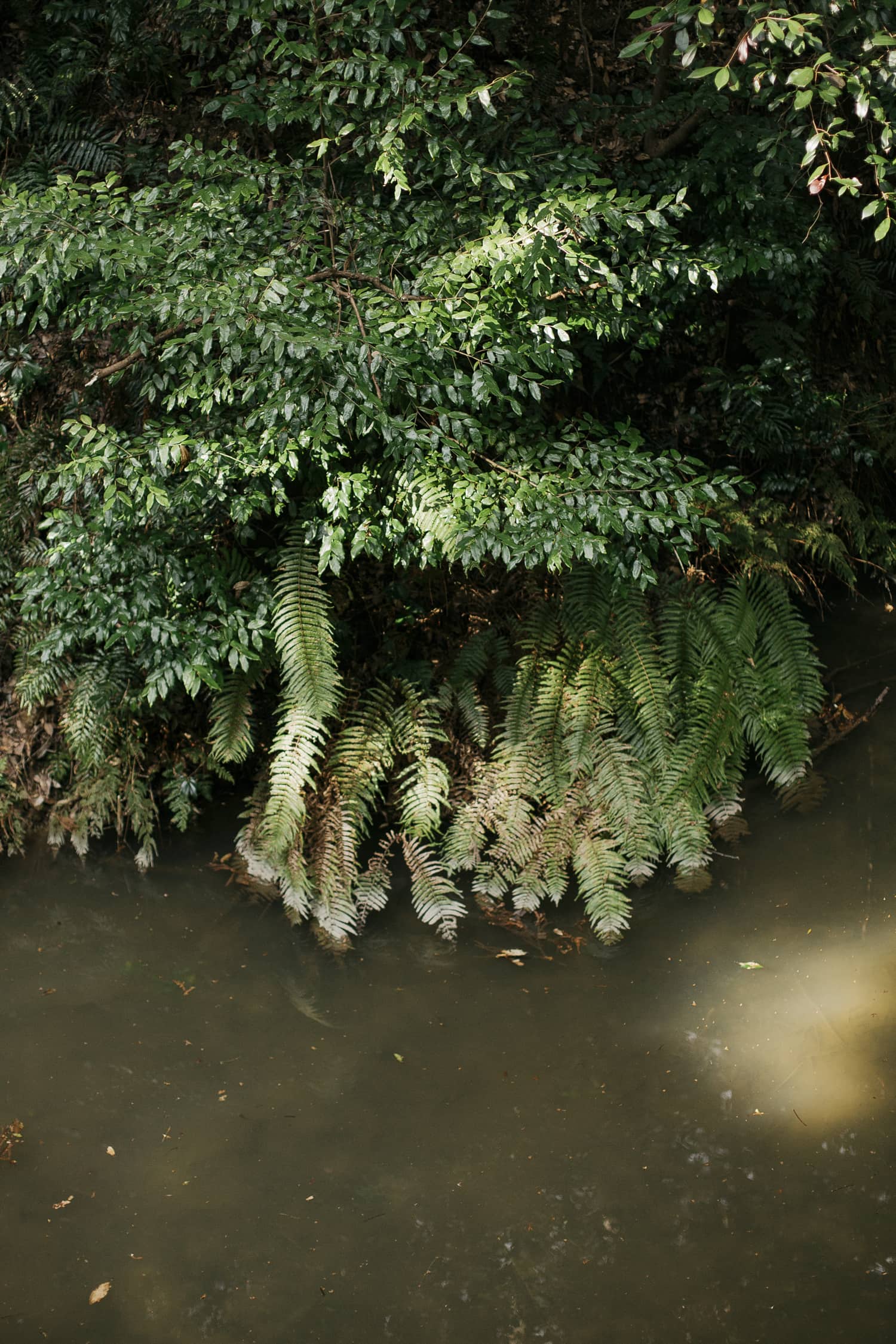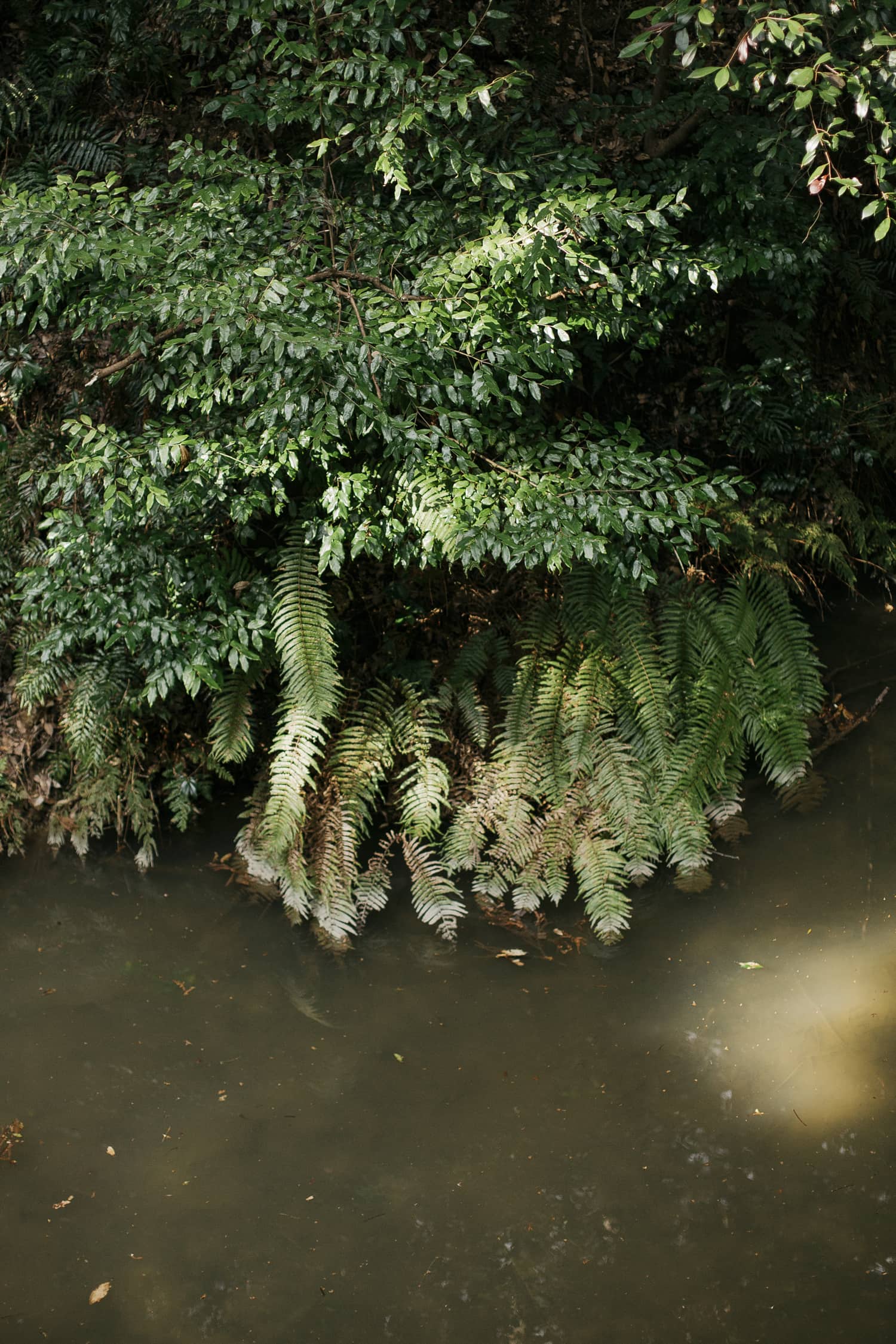 Outside of these two people, we hung out with more lovely folks while living here. We met some new faces, as well as catching up with some of our old friends who happened to be here at the same time. I love when that happens. Meeting new people in a new place is fantastic. But seeing old friends in a new place is also very special.
Of course, this also created great opportunities to go explore the cultural aspects of Kyoto together. We got to see some famous sights such as the Fushimi Inari shrine, which was stunning. We also took advantage of those places to enjoy the nature surrounding them.
Meanwhile, I read a book about Old Kyoto which José had in his bookshelves – which totally blew my mind. There's so much information in there about every single detail which makes japanese culture so special. From explanations about japanese aesthetics, to why some temples have really particular things like …noisy floors. It made me see every temple we visited in a completely different way. The truth is, nothing in a temple (from the roof, to the floor, to the gates) is made randomly. Everything has an explanation and a very particular purpose and symbolism. When you get into it and research the facts, you are guaranteed to be amazed.
One of those places that I found particularly fascinating was the zen garden of the Daitoku-Ji temple (Daisen-In). Such an incredible masterpiece of zen buddhism. So much food for thought in every single thing that is part of it.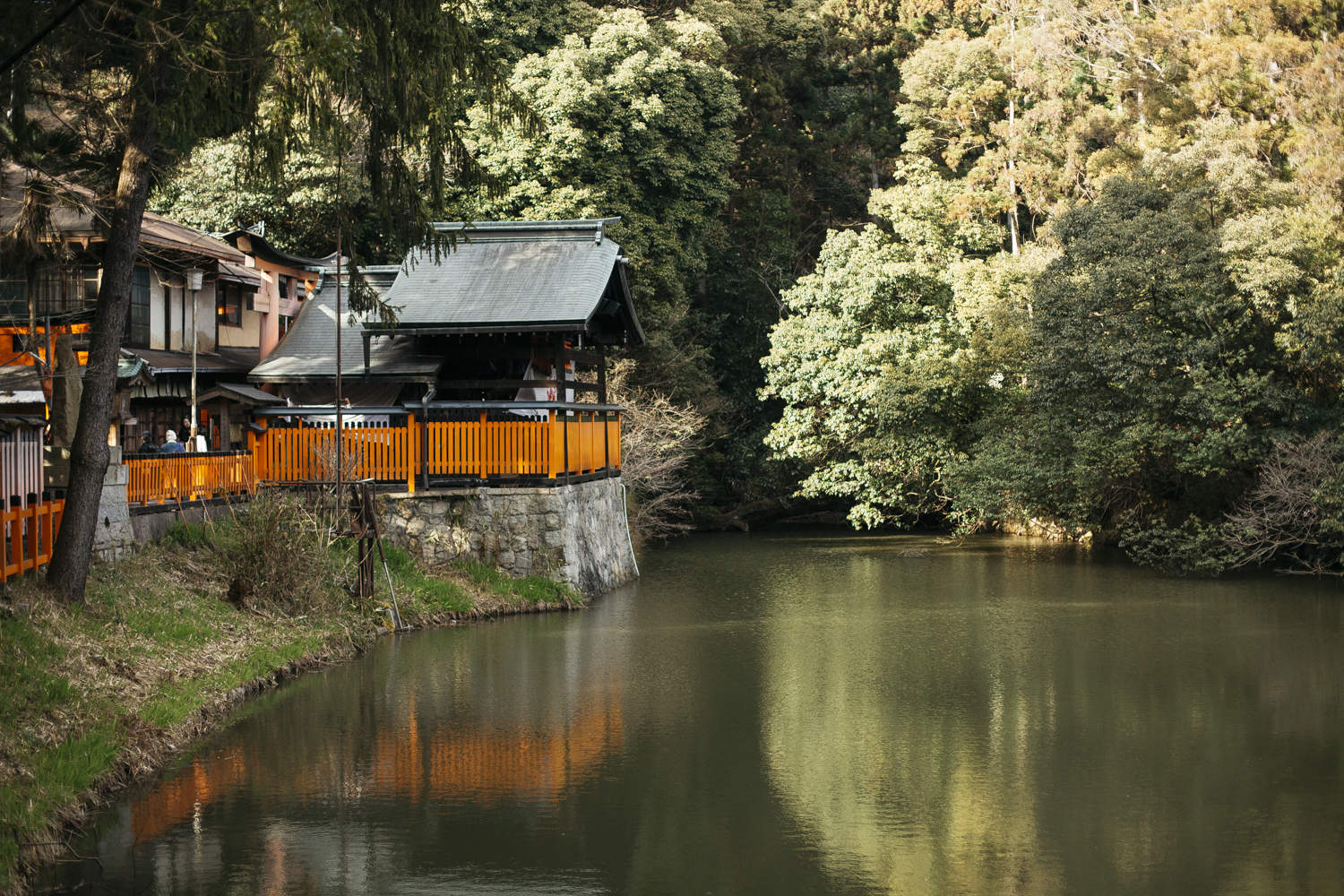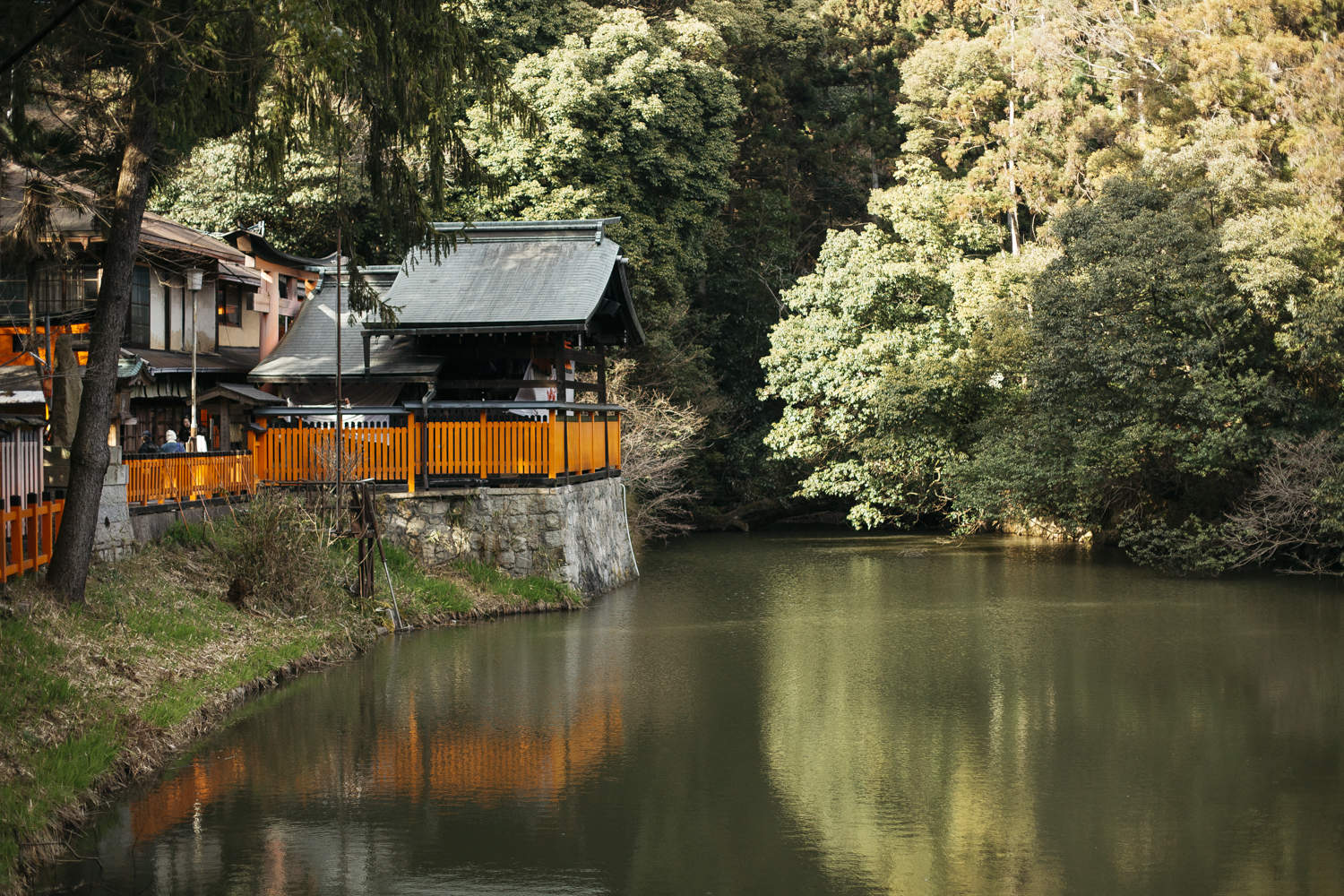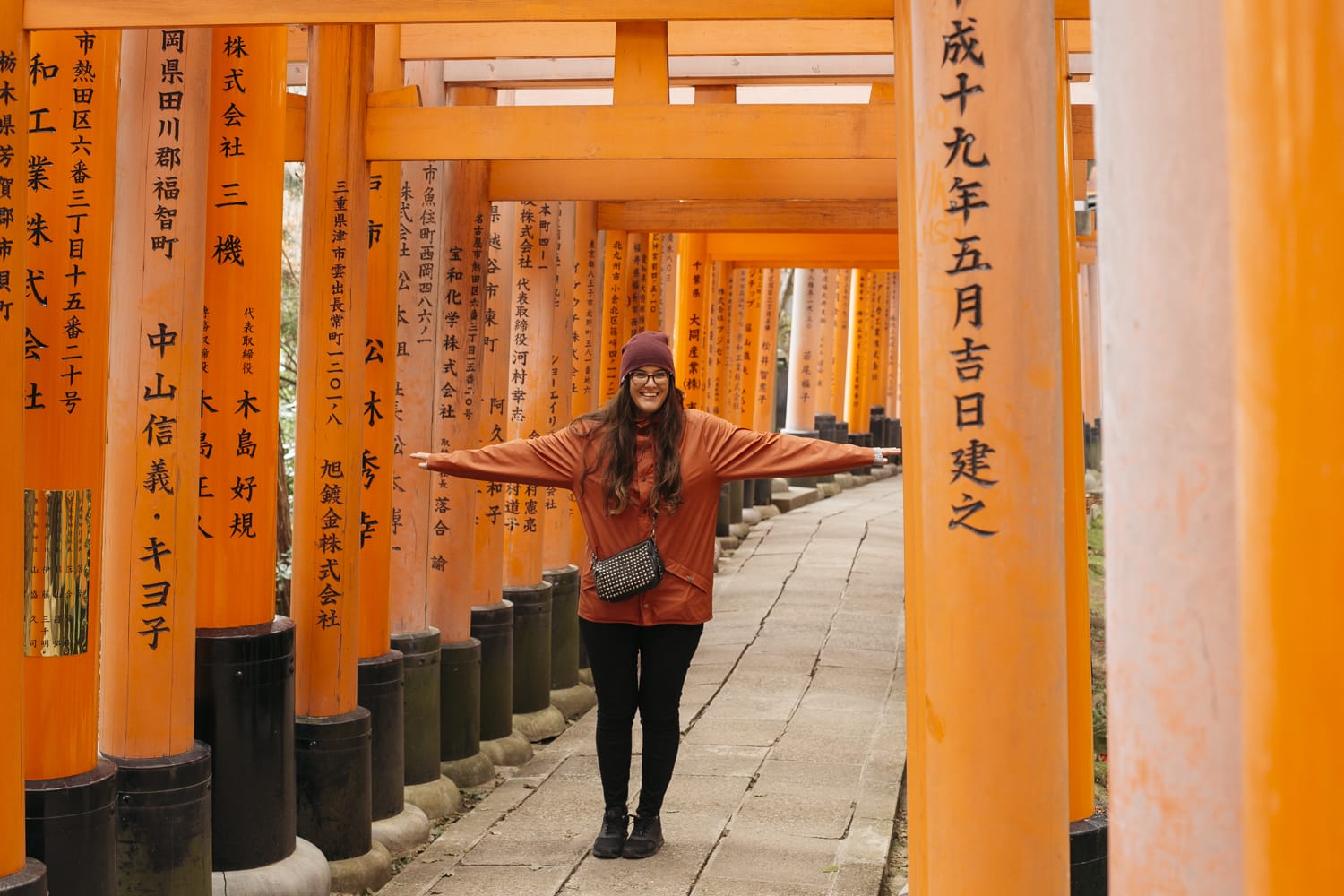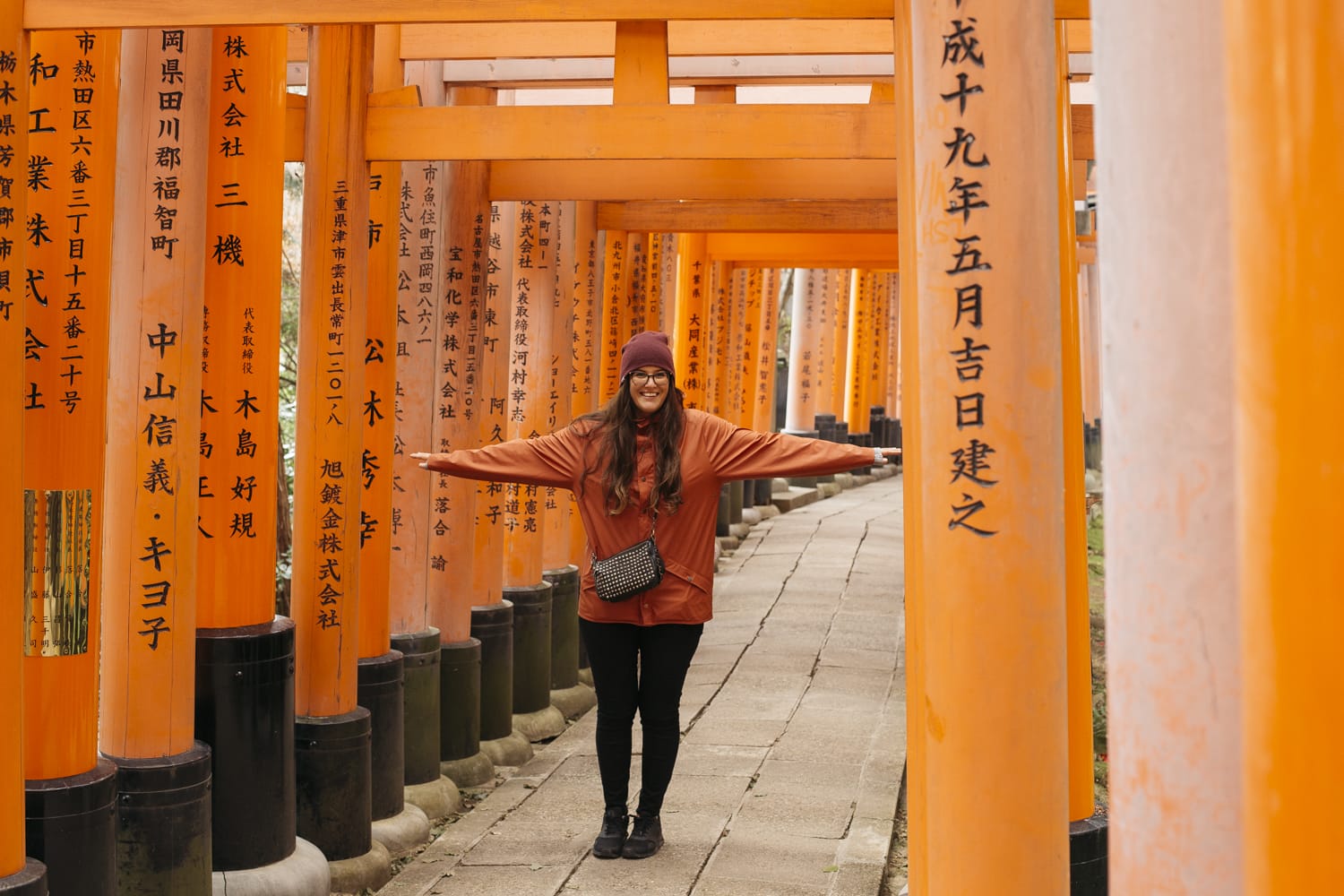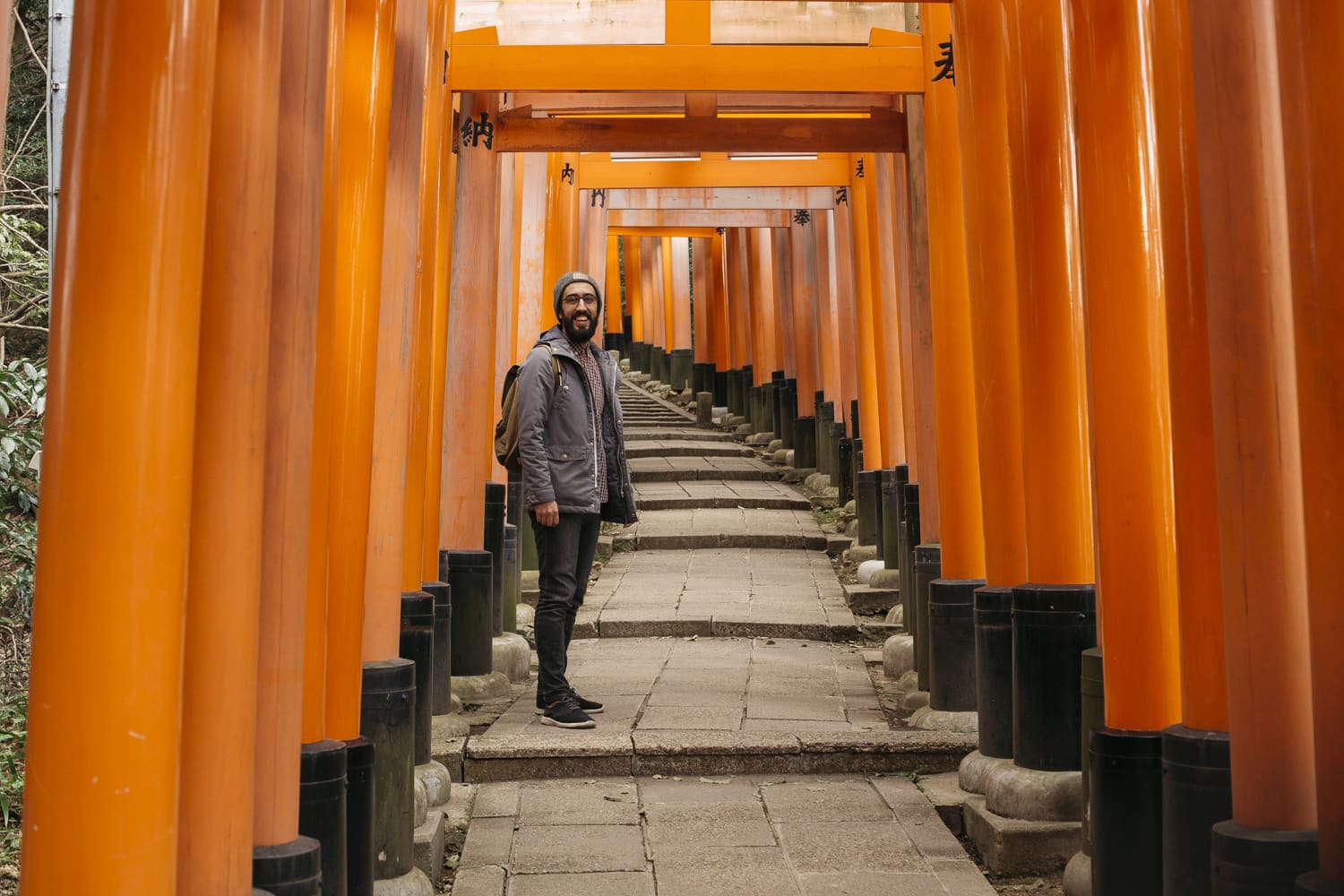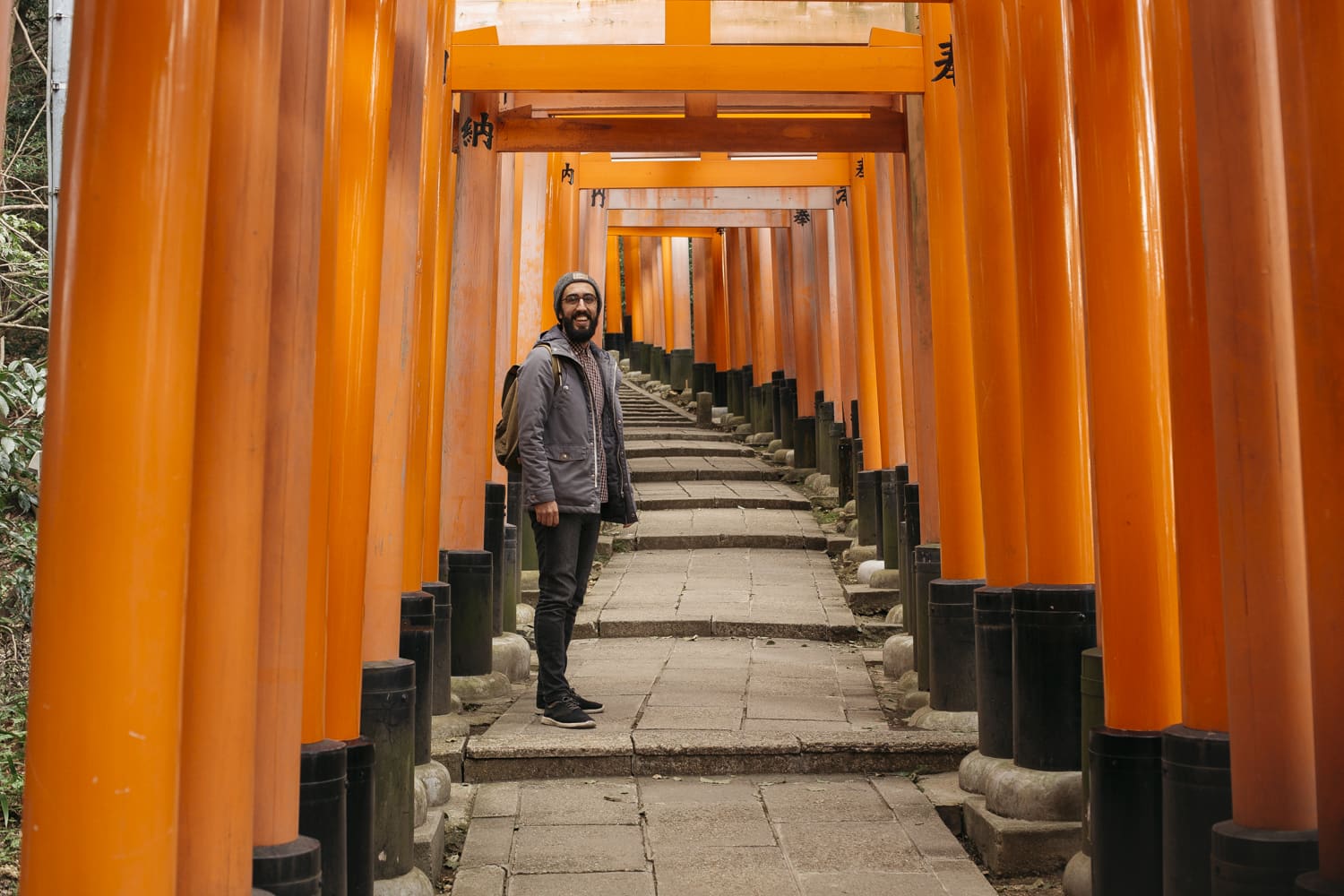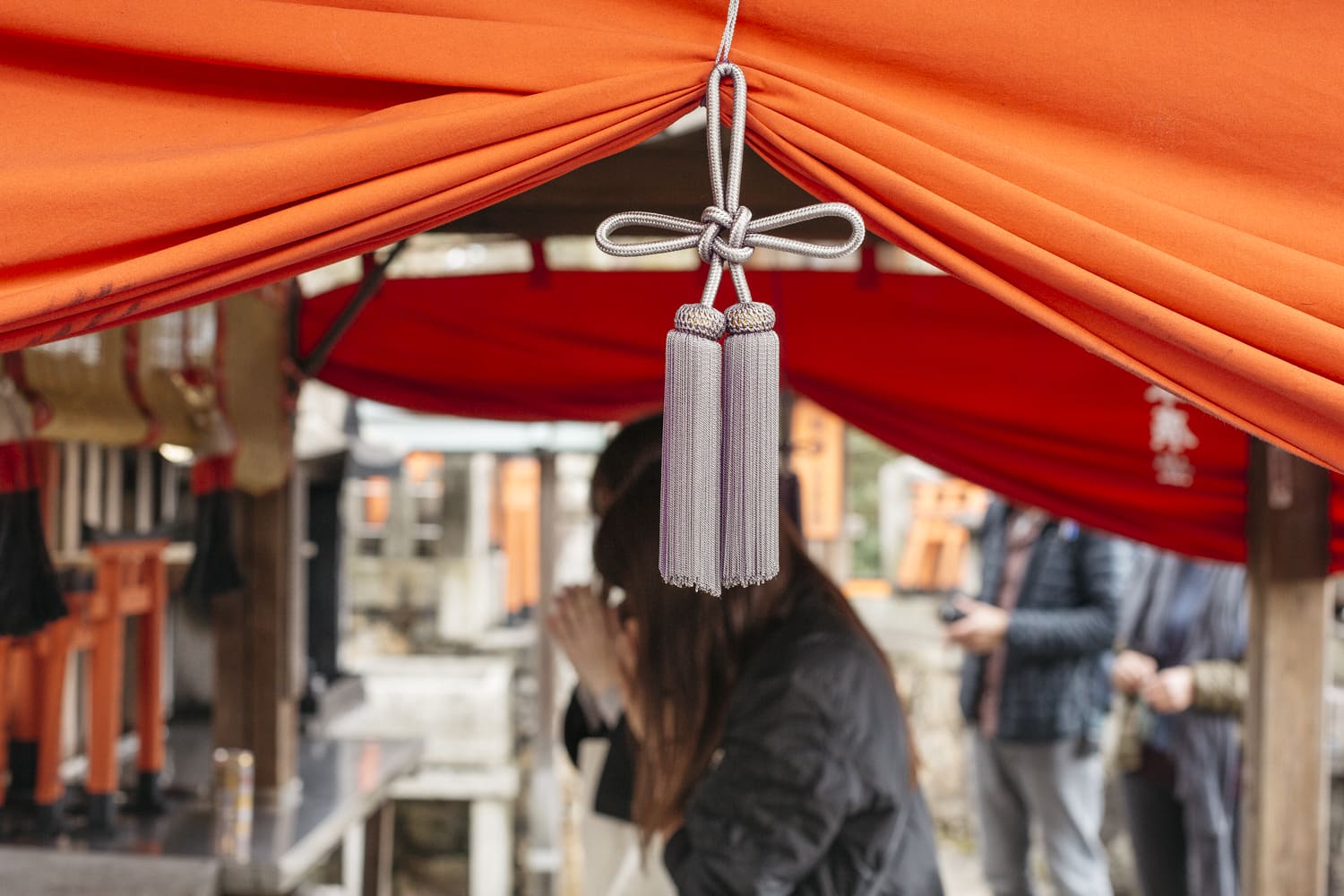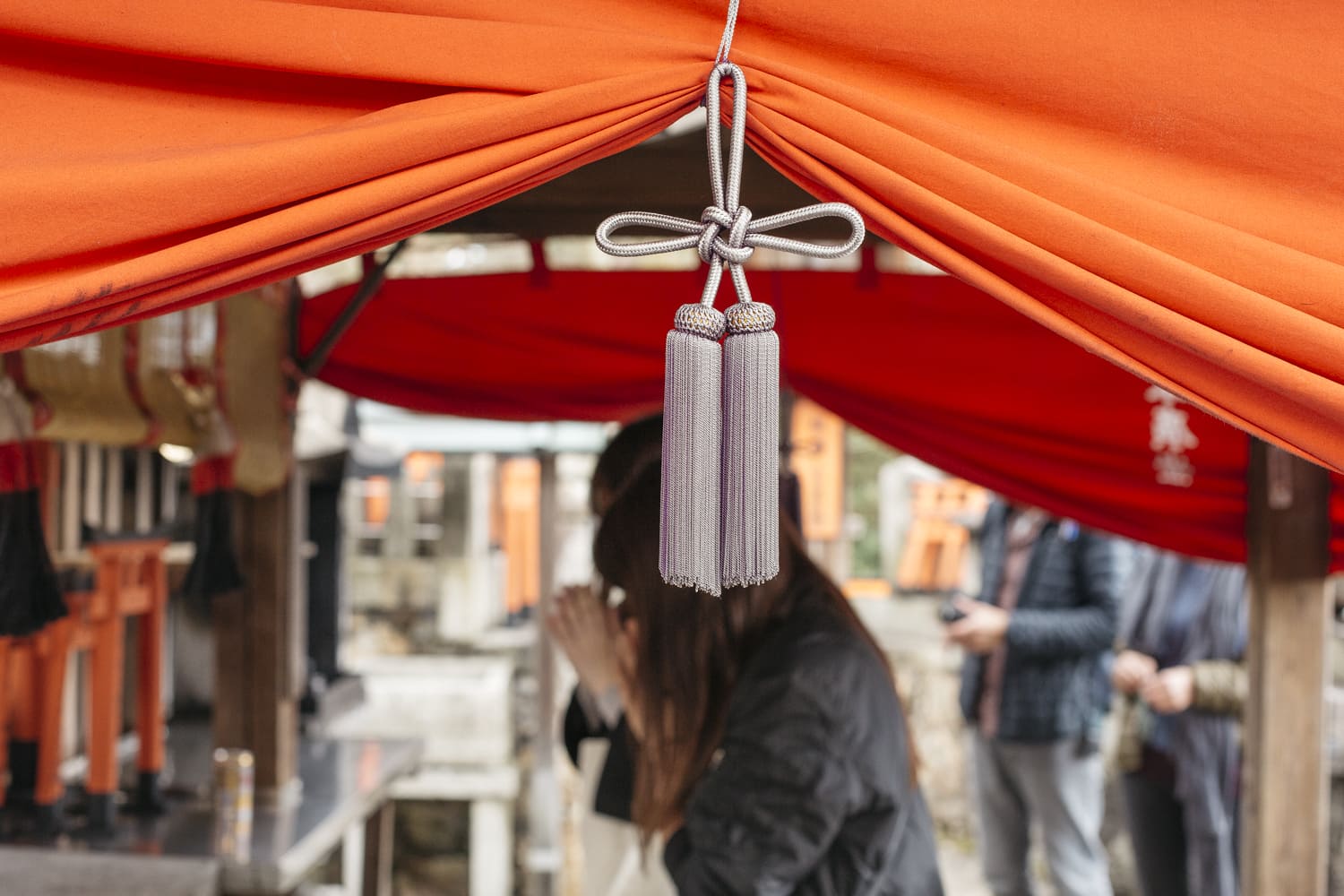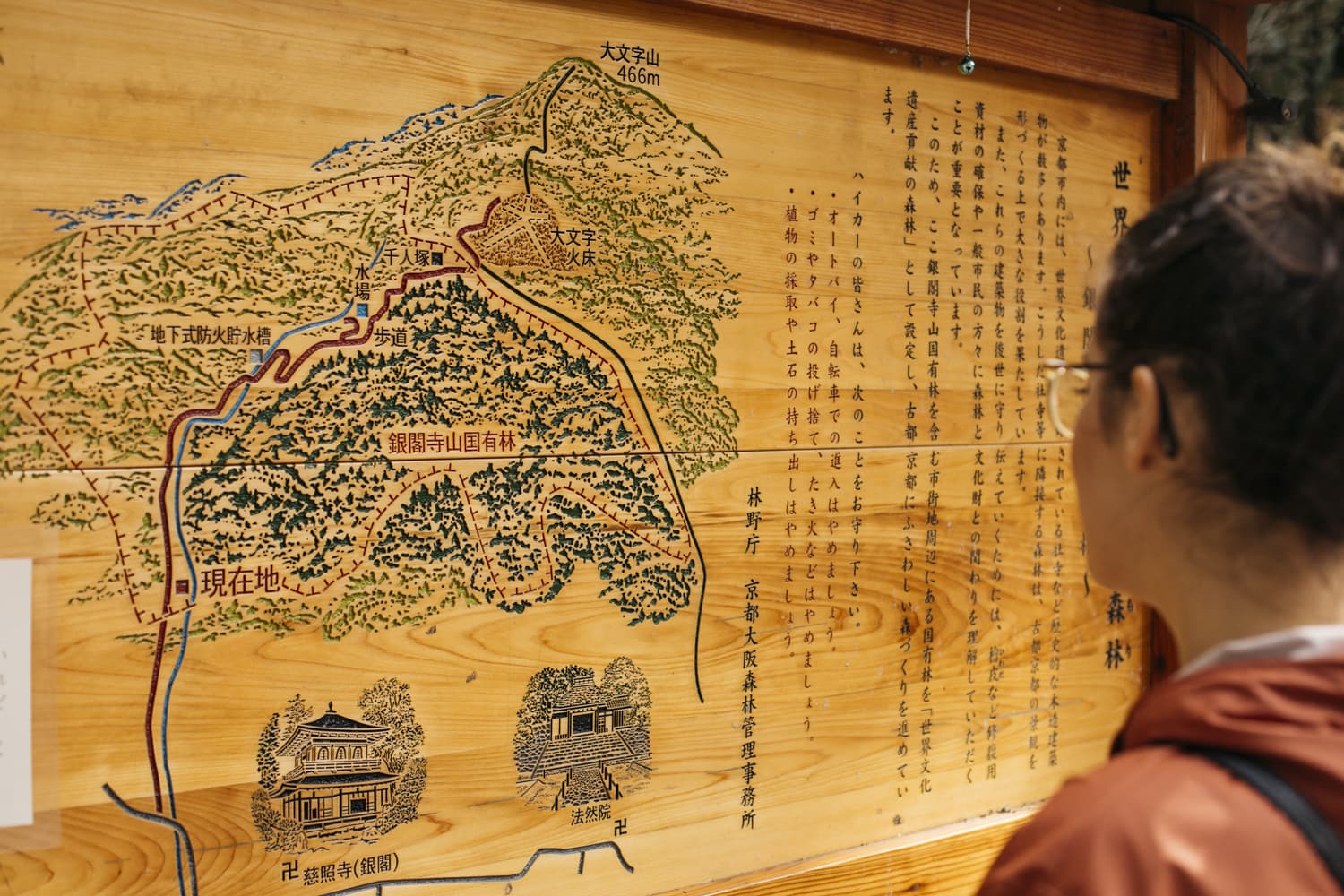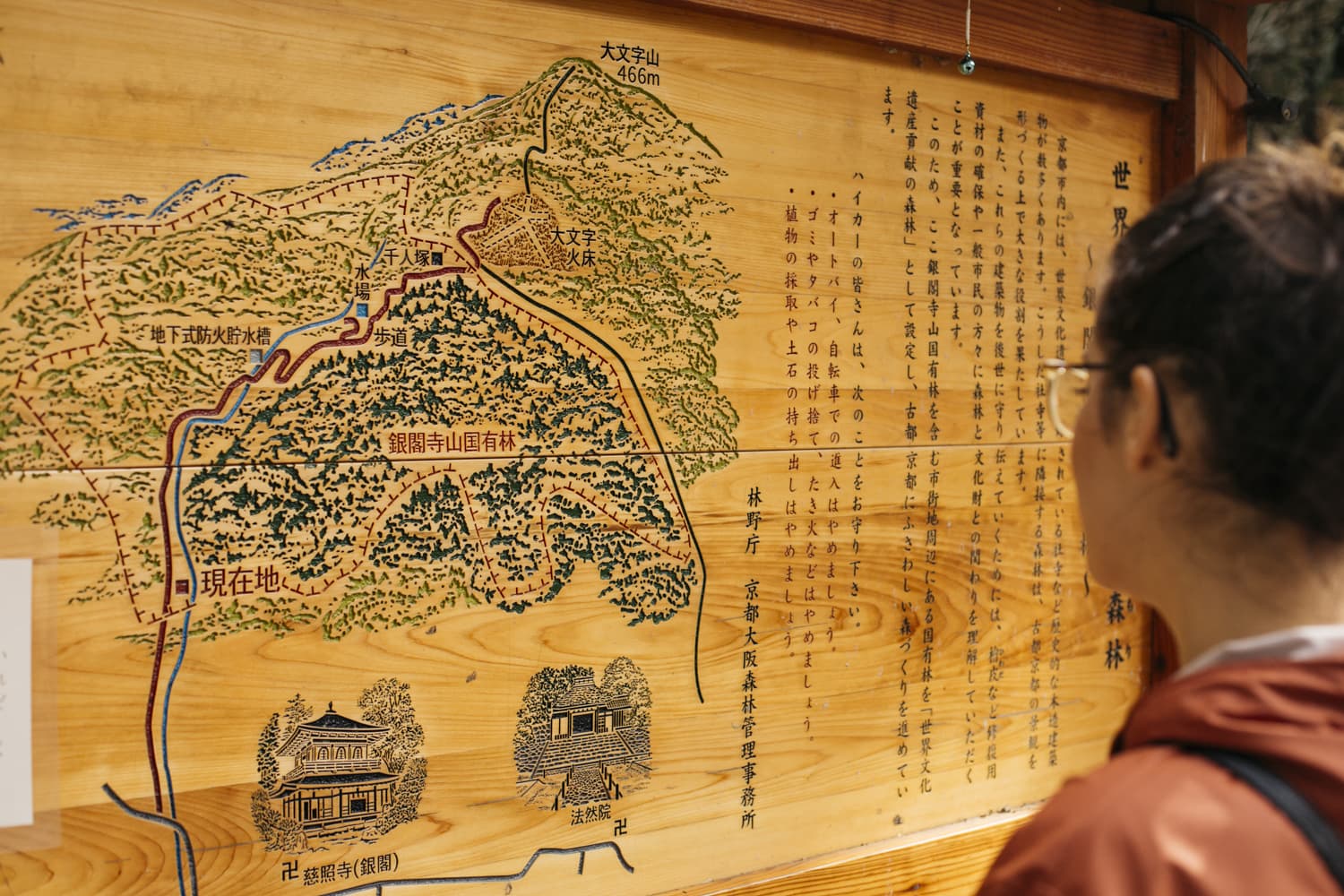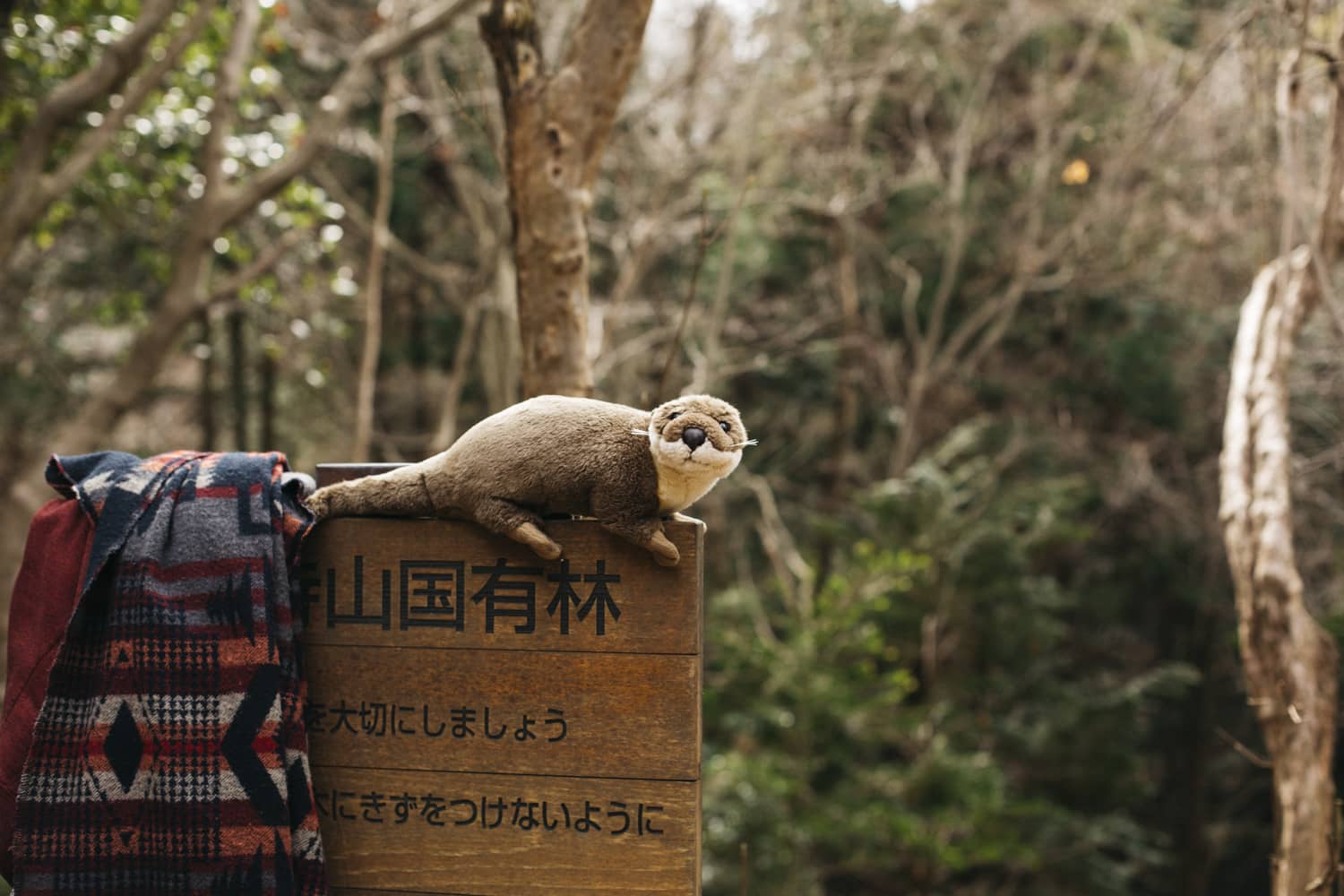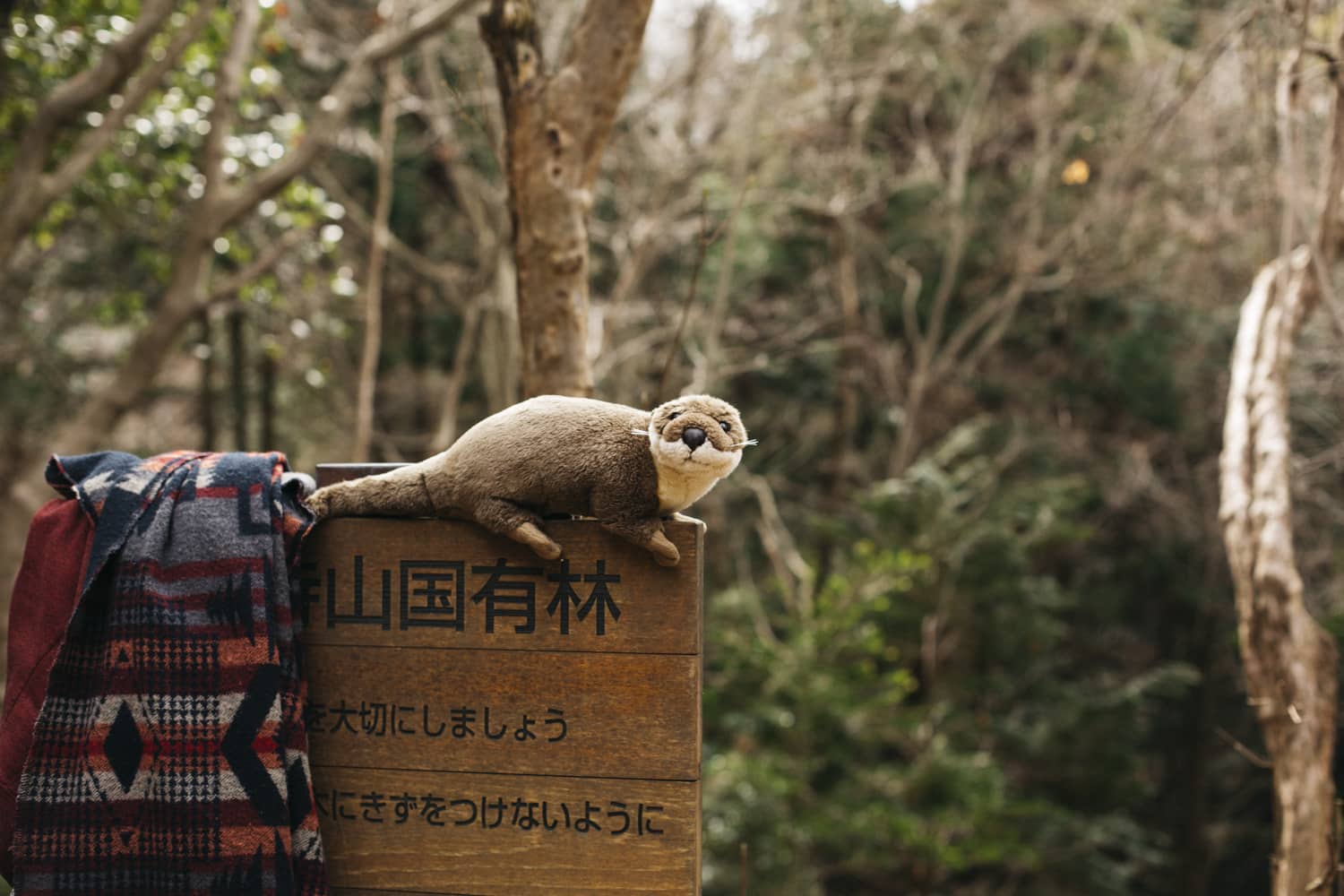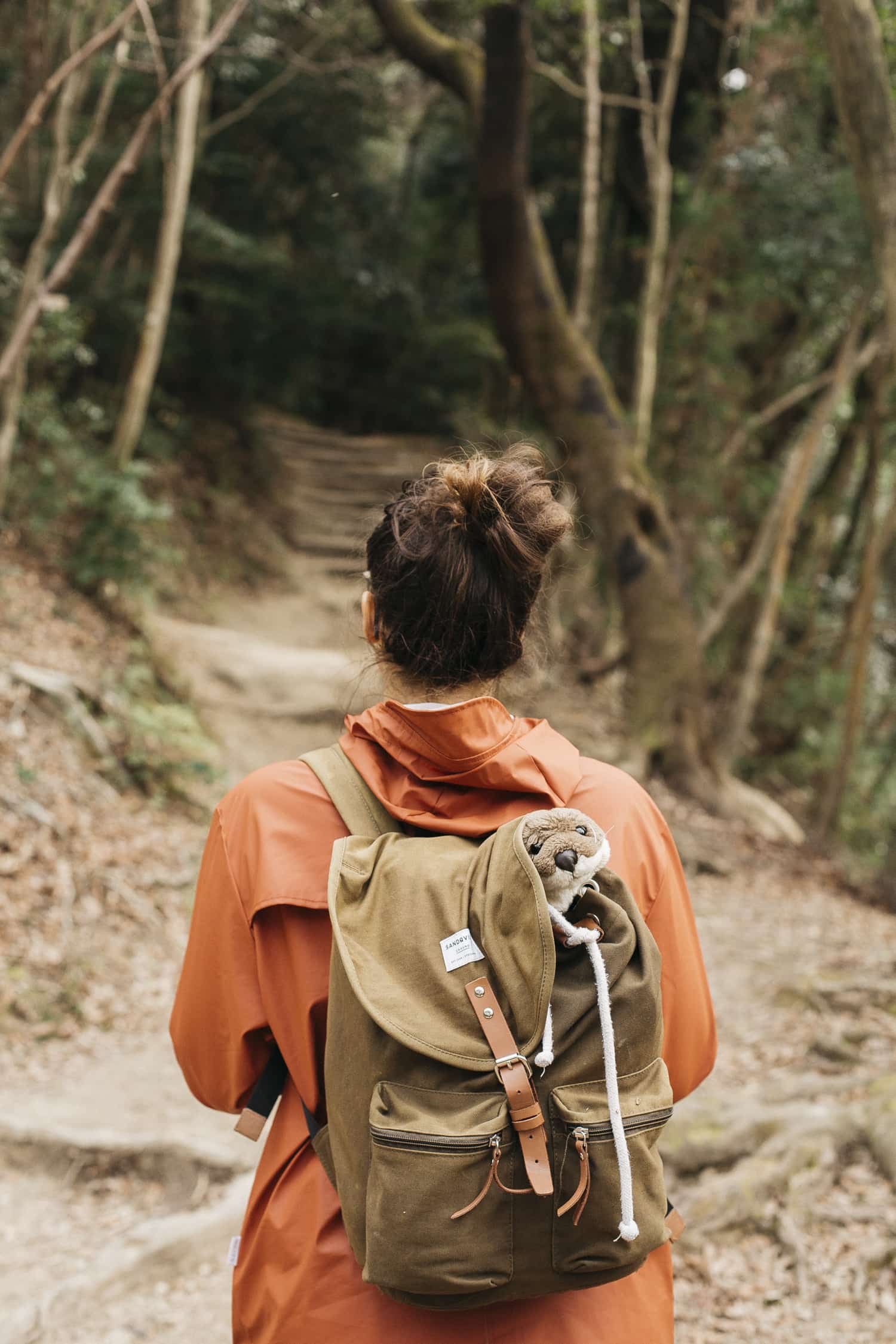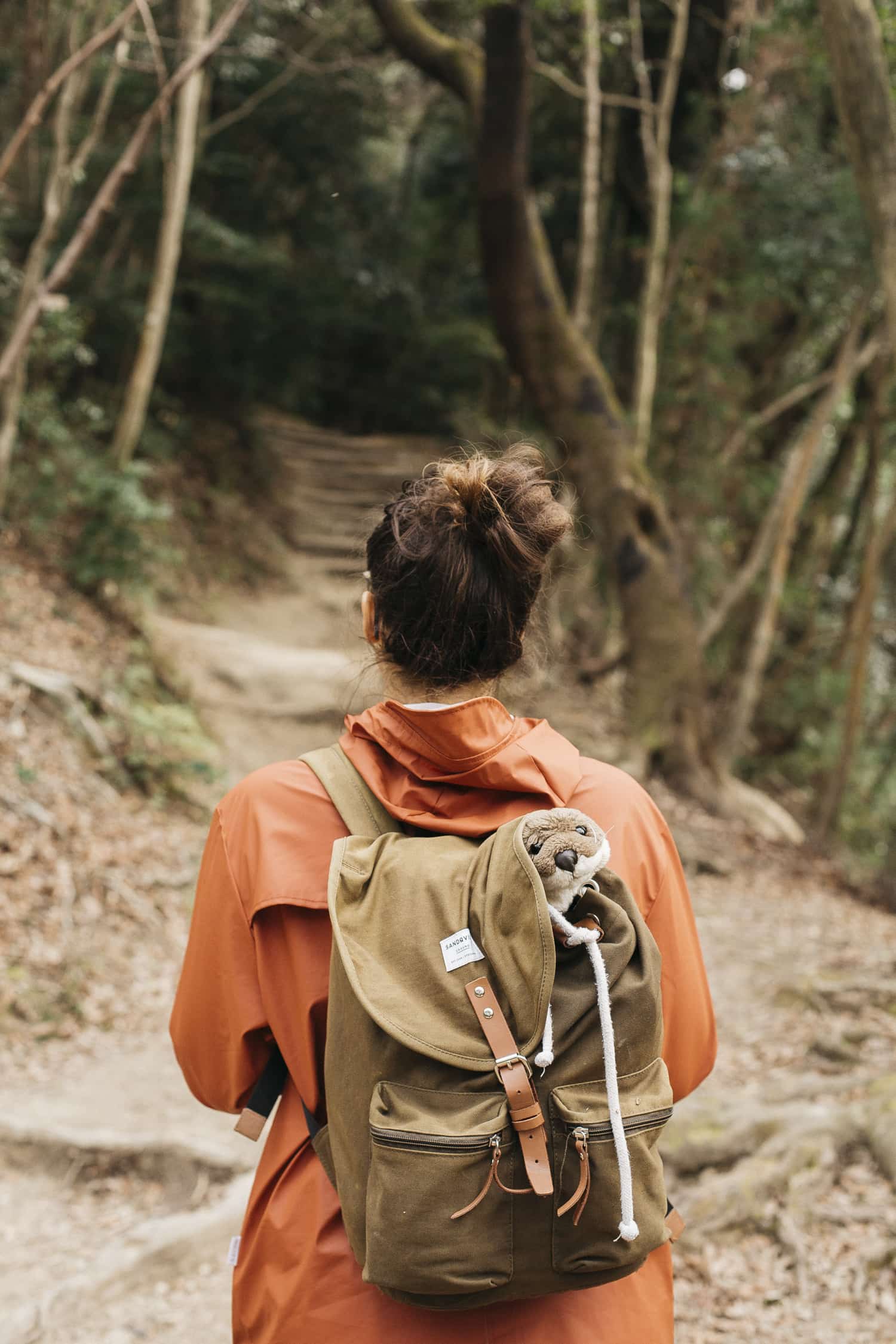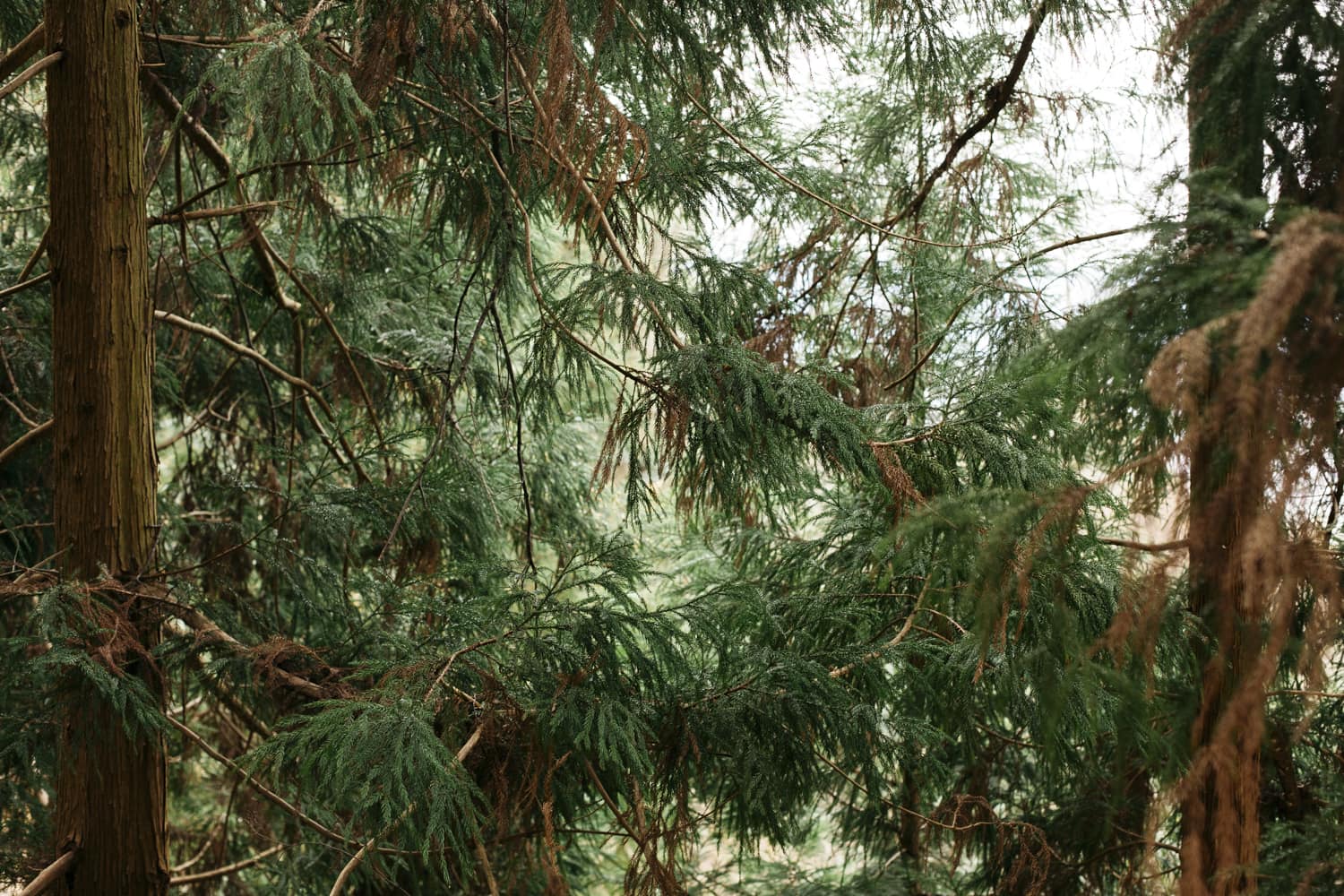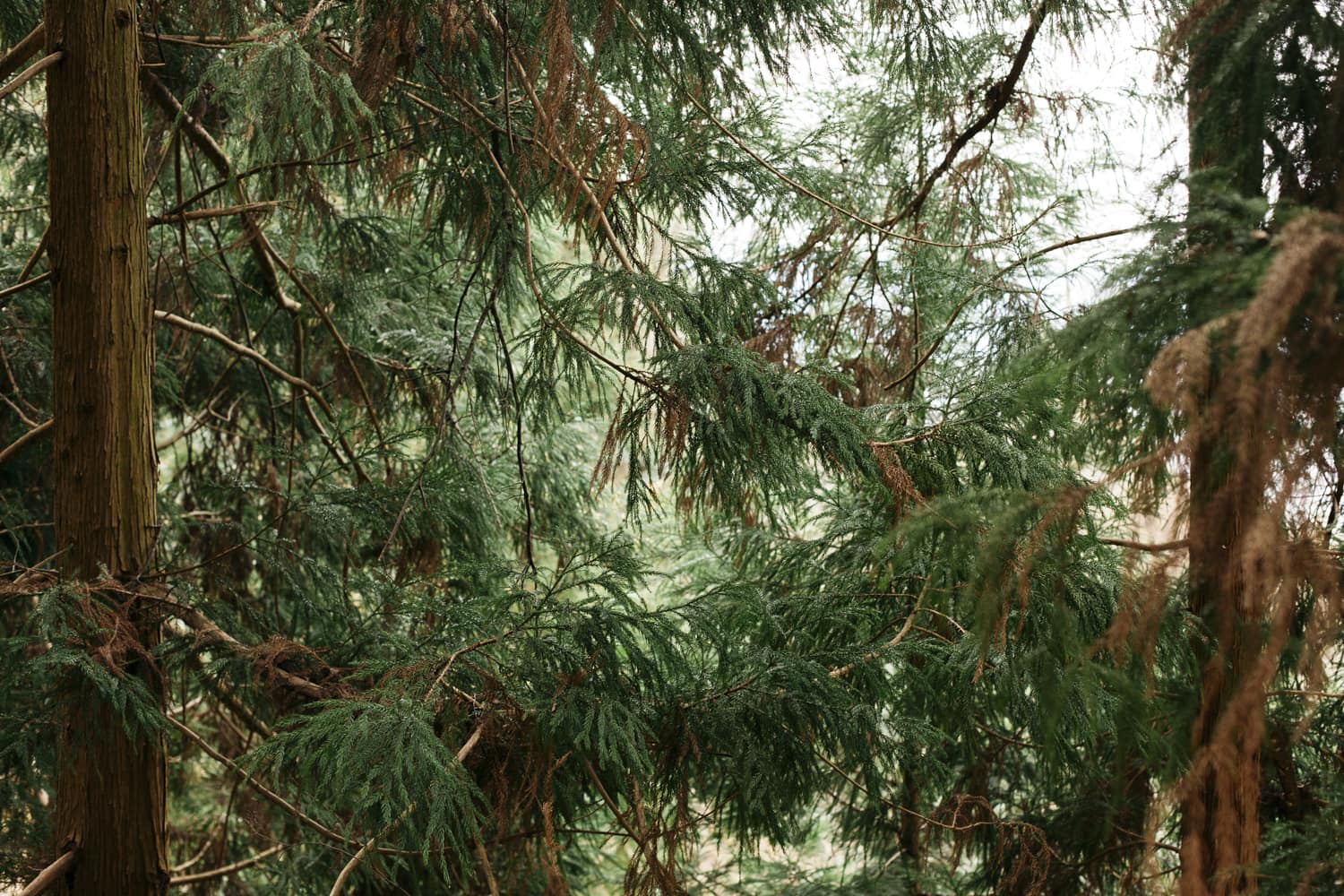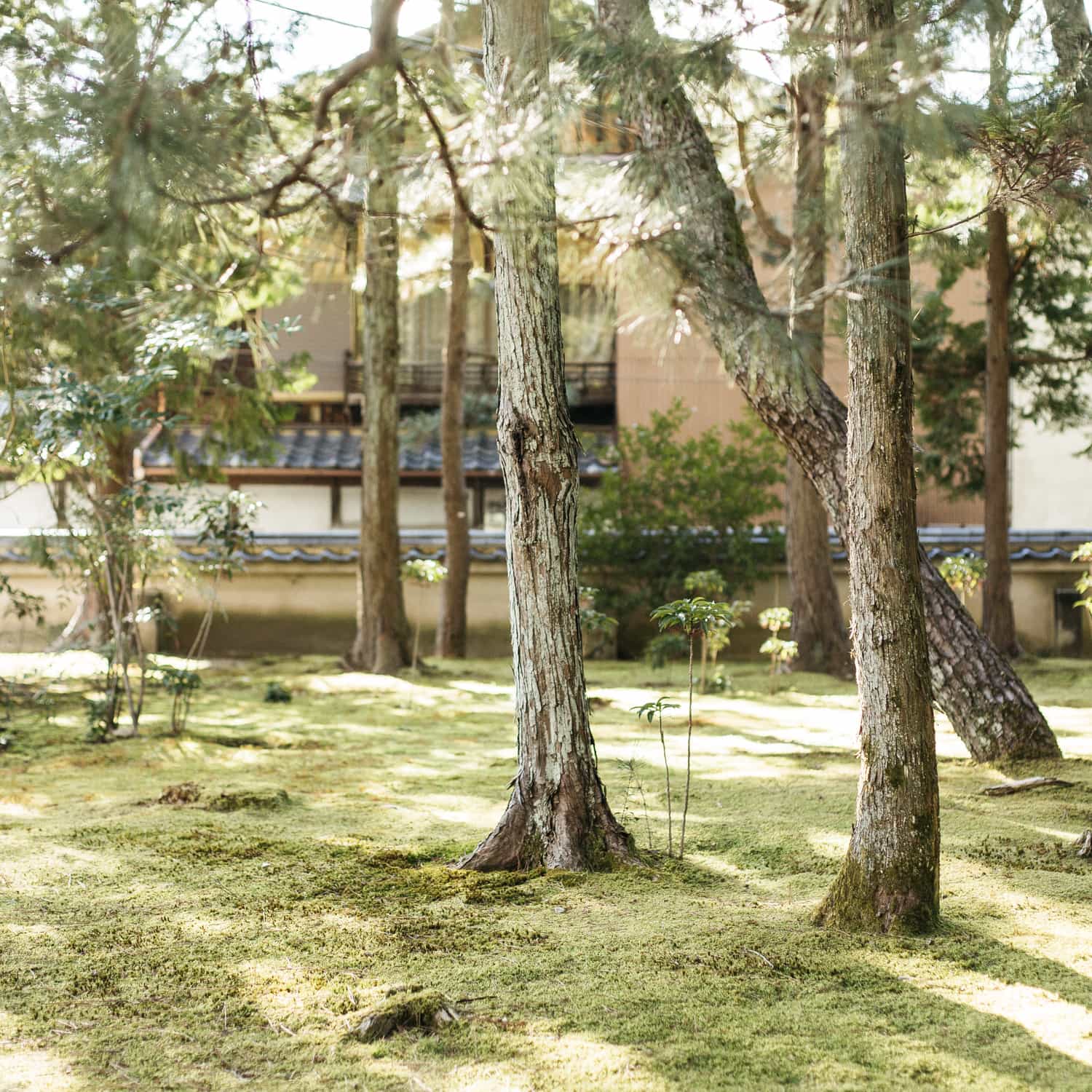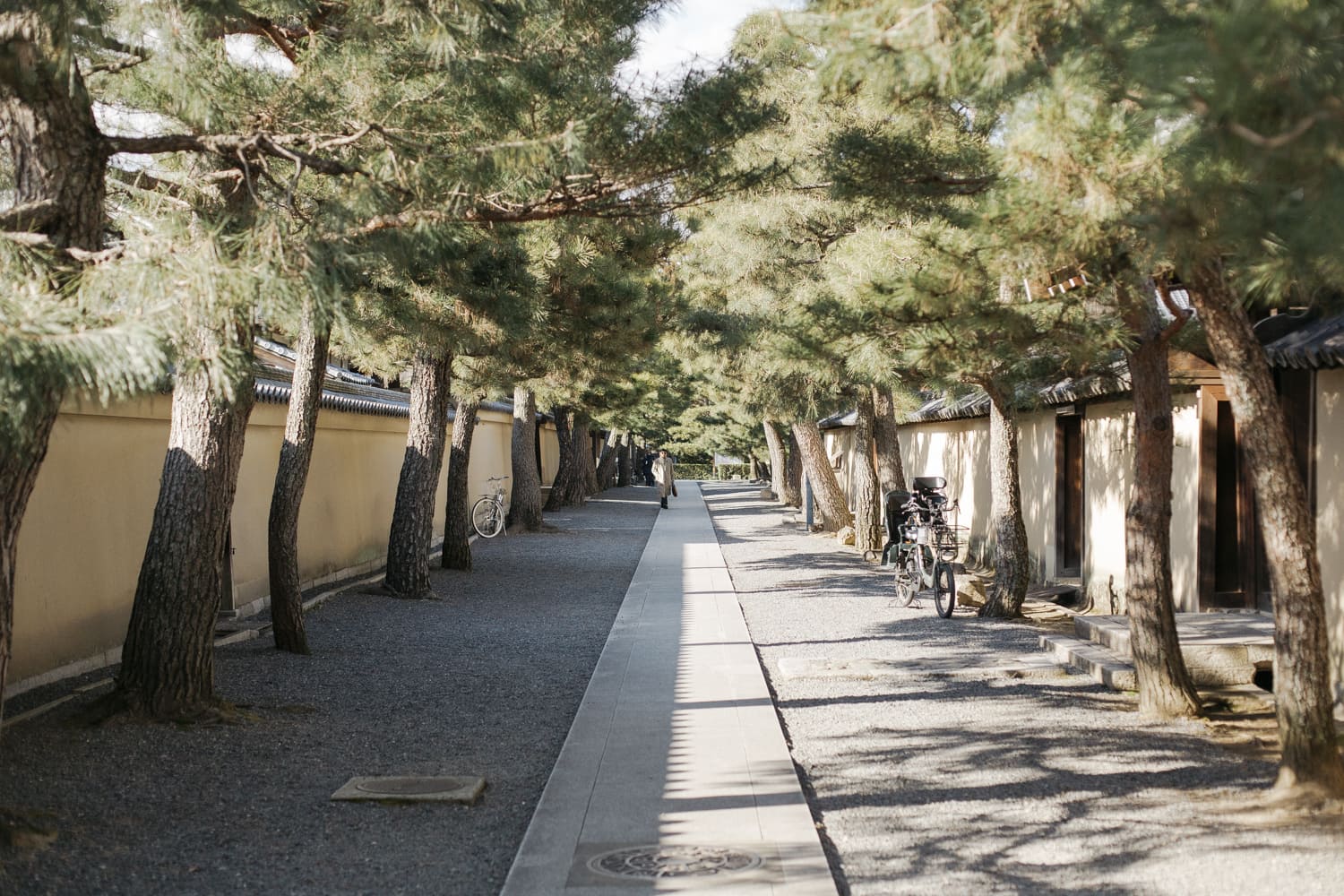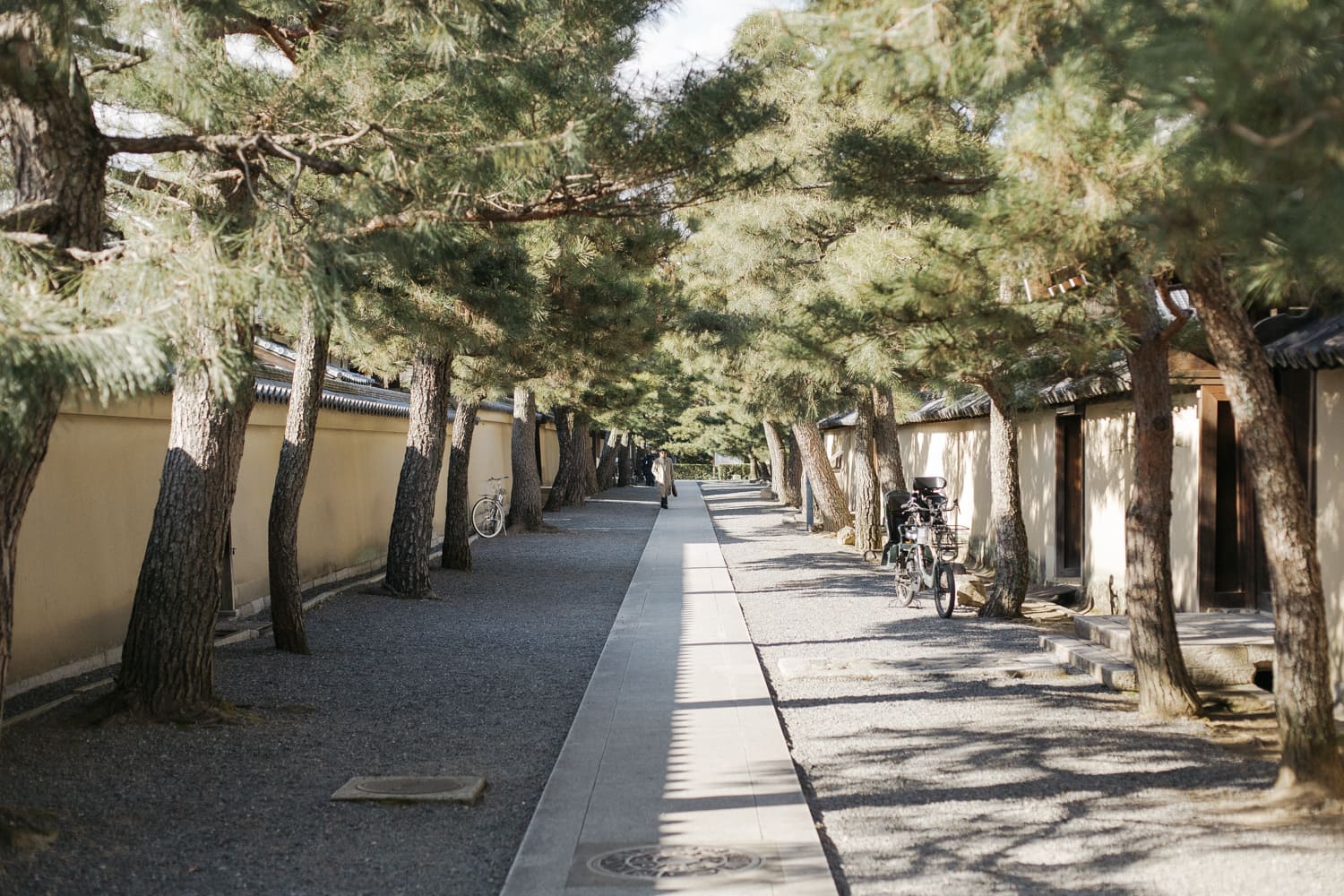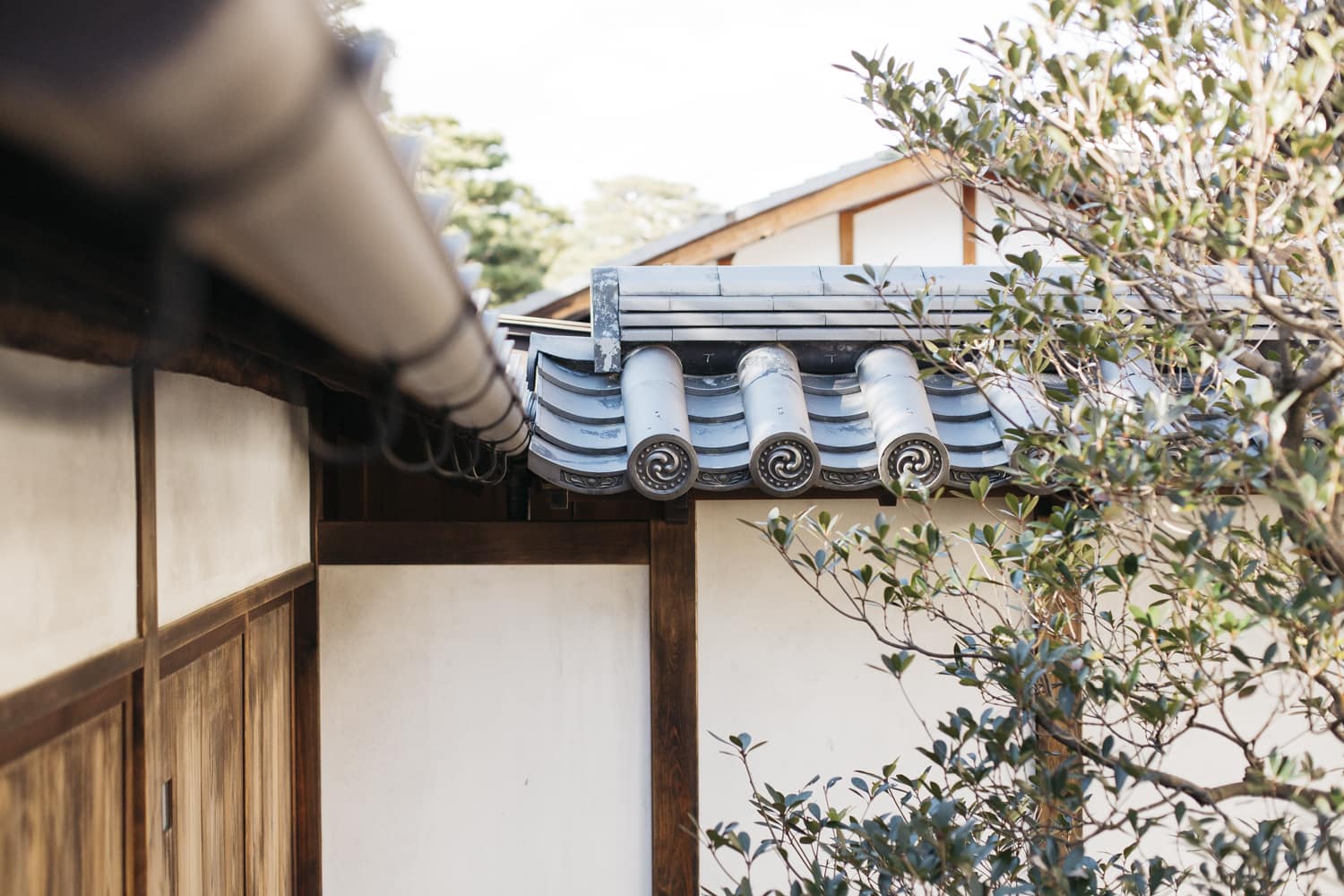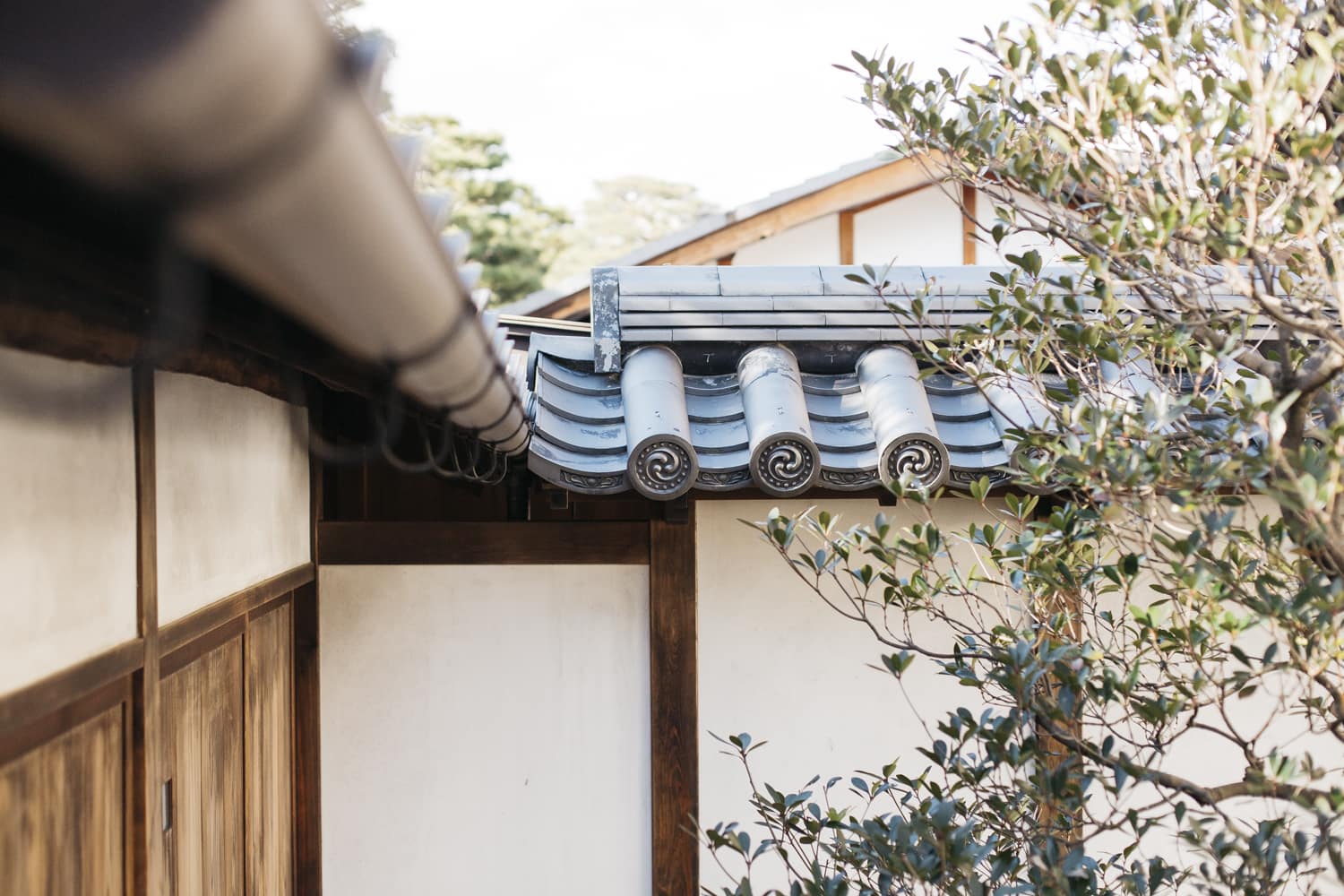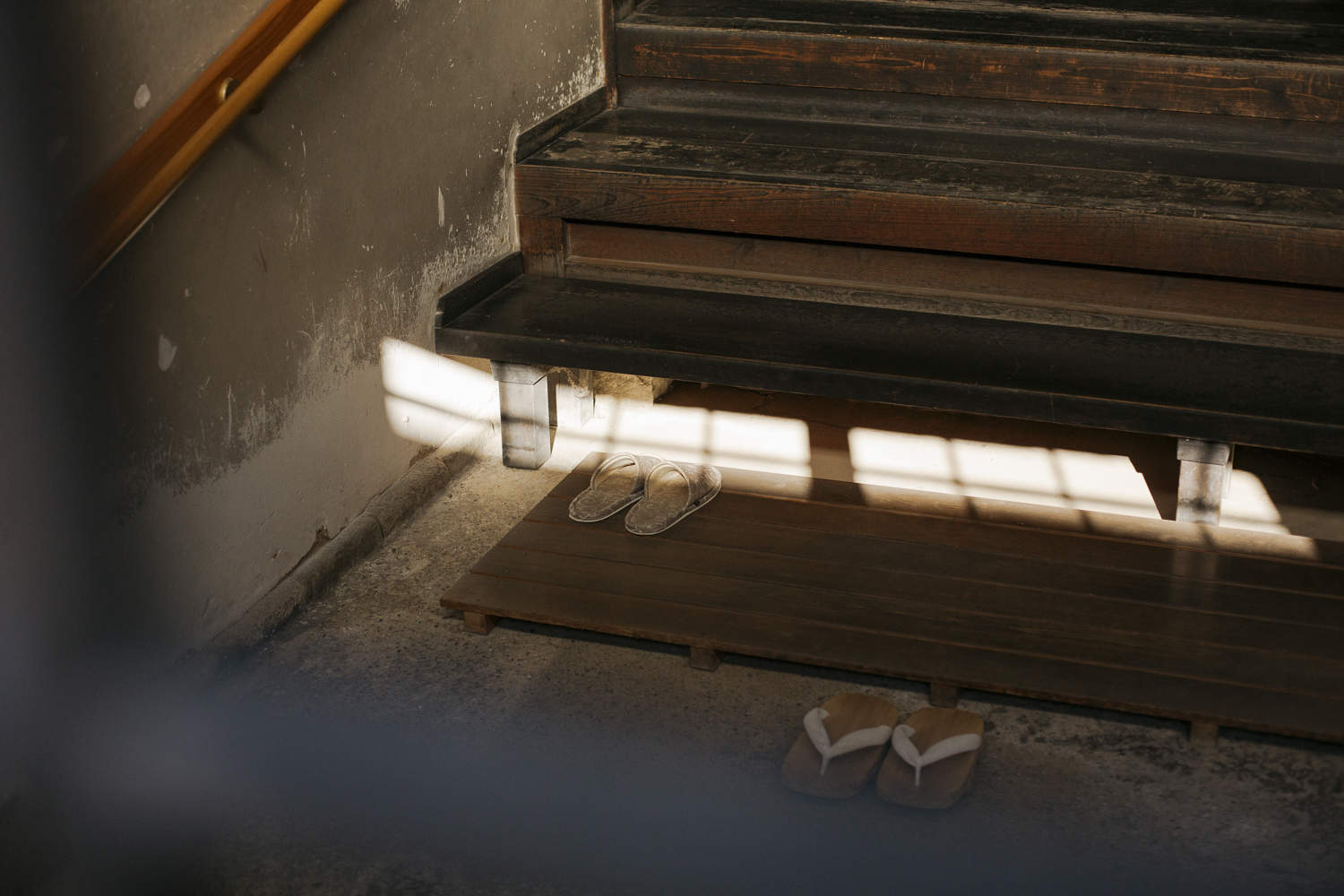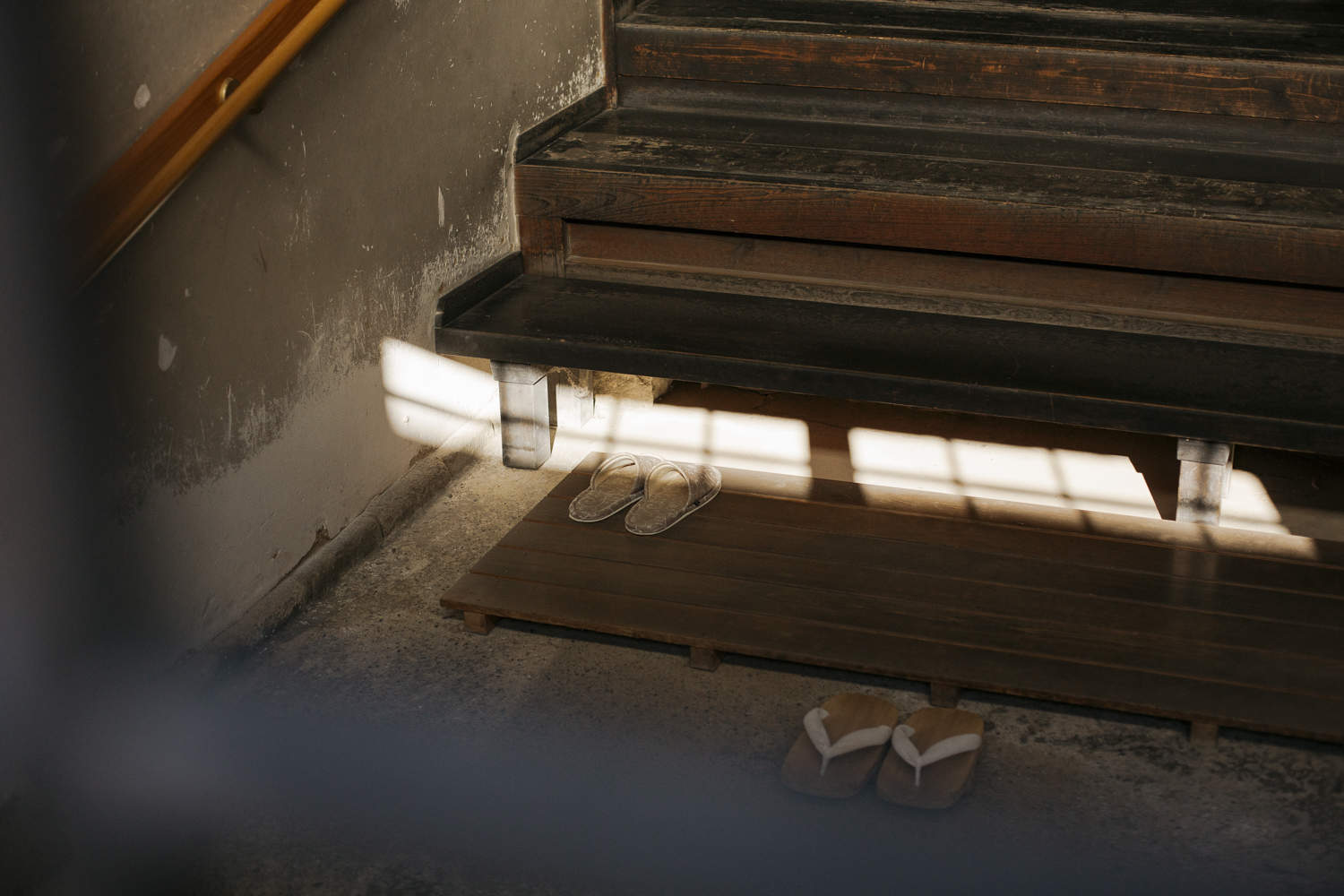 The great thing about Kyoto is that it is rather flat (so it's very easy to get around by bike) but it is also surrounded by beautiful mountains. As lovers of mountain views, we knew we could not miss out on that. We've climbed Mt Inari (when we visited the Fushimi Shrine), Mt Daimonjiyama (which was surprisingly crowded with very fit japanese grannies!!) and then we also went up Mt Hiei, the tallest mountain of them all. Home to a series of mountain temples, an eternal flame, demons of folk tales and marathon monks!
Even though we decided not to climb that one on foot and rather take the cable car all the way up, the view from the summit was absolutely mind-blowing. I'm so sensitive to the power of such things, I even cried when we got up there! The nature surrounding it is mesmerizing as well. We had a picnic of onigiri (rice balls wrapped with nori) right there, and felt the warmth of the spring sun on our skin. Pure bliss.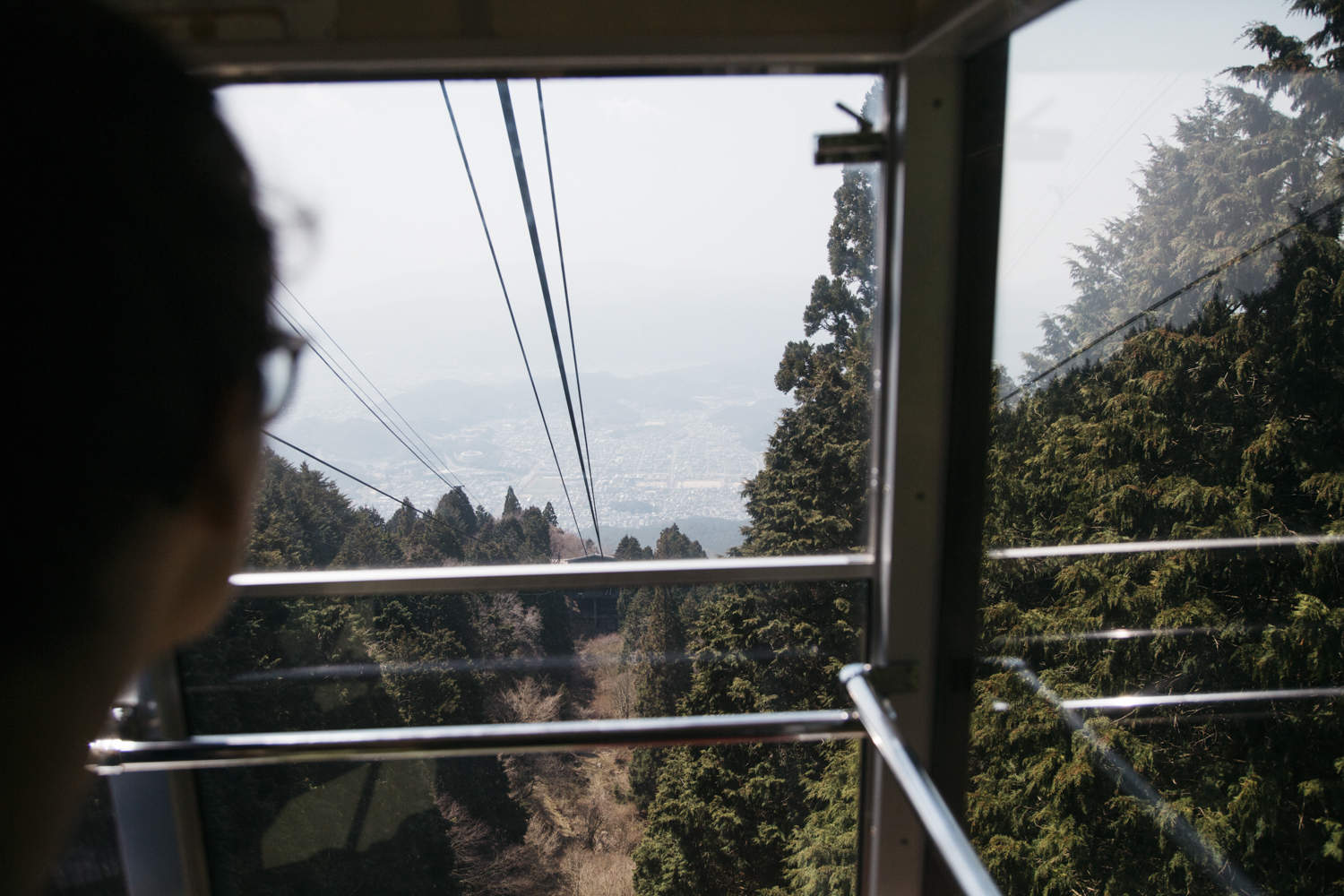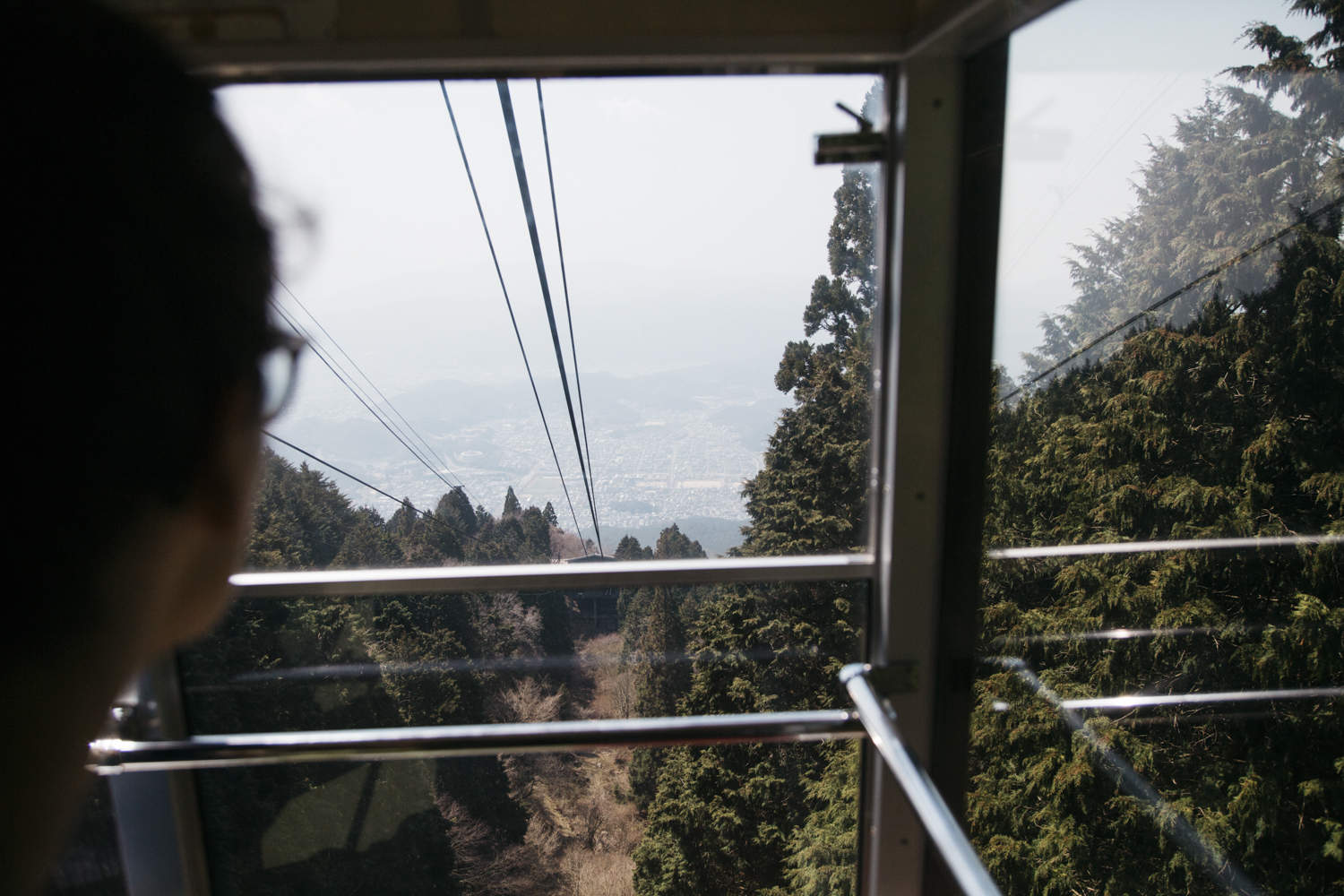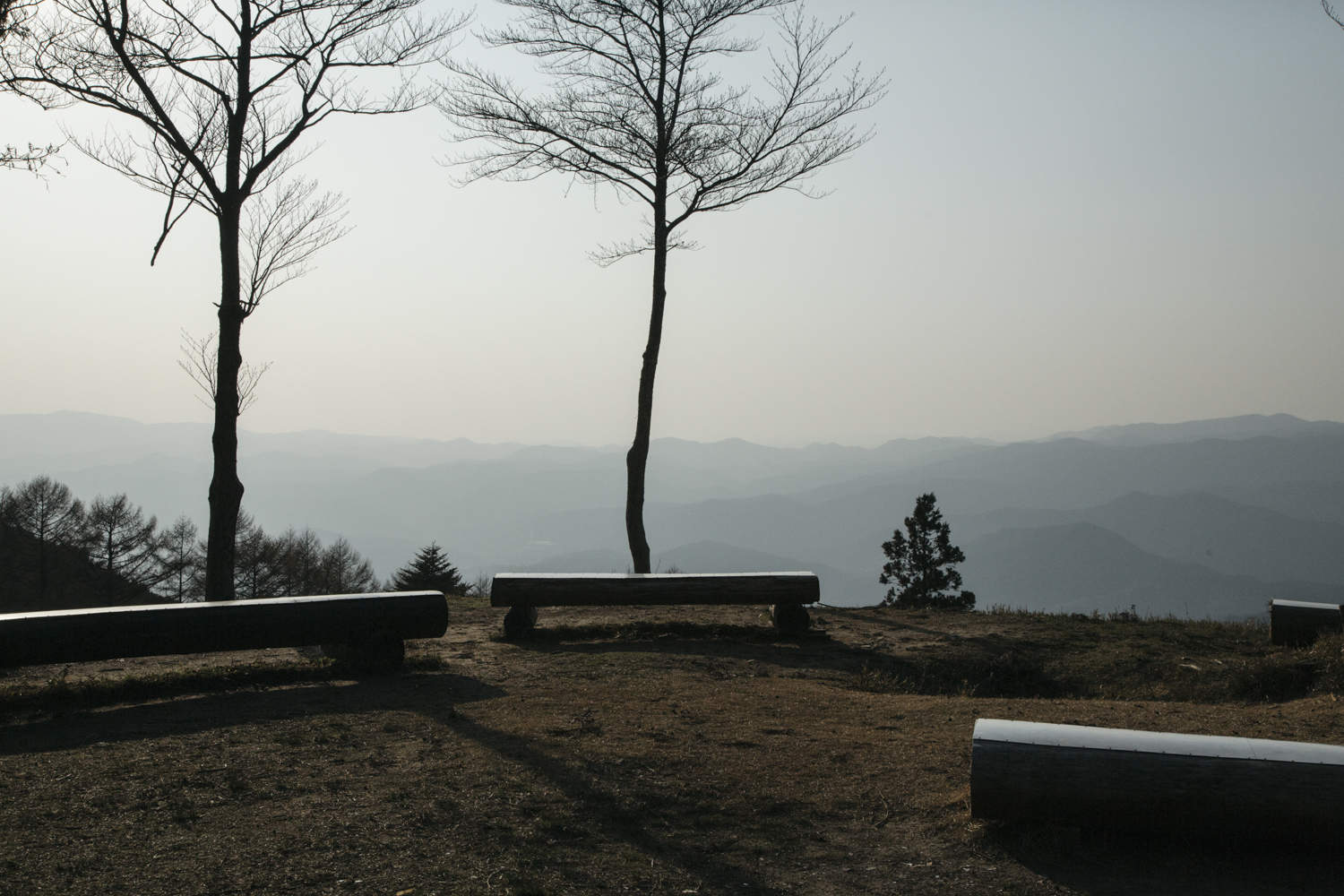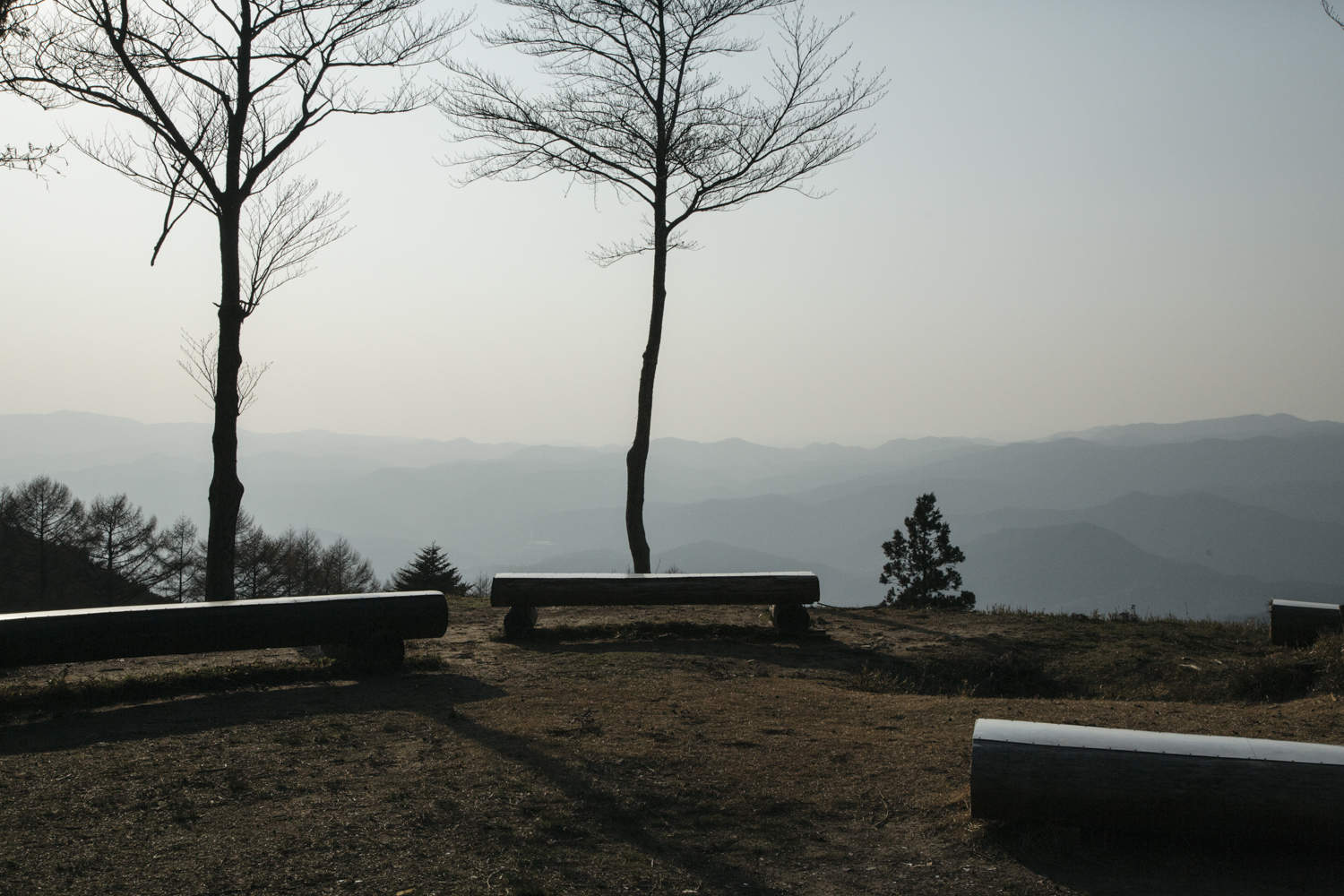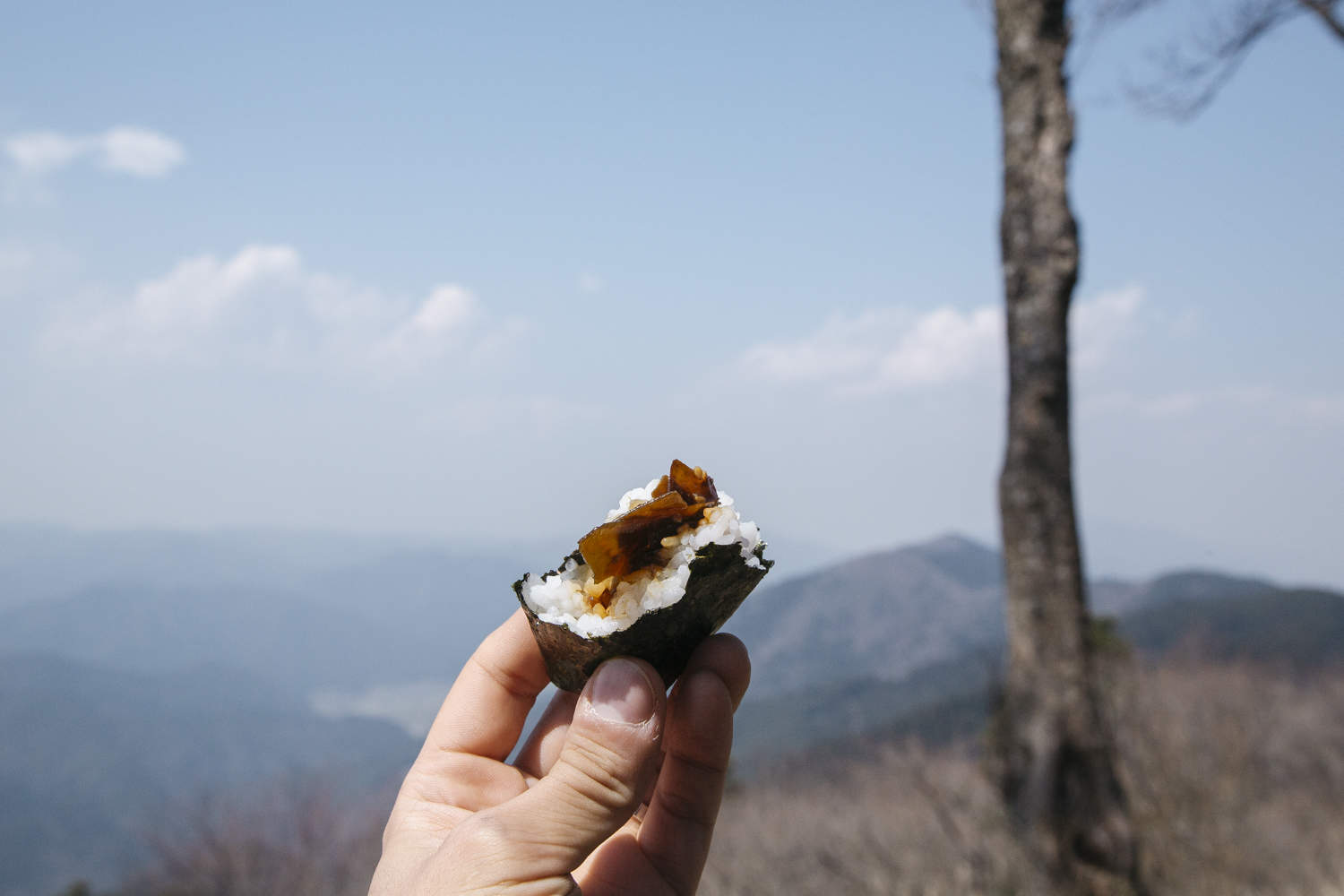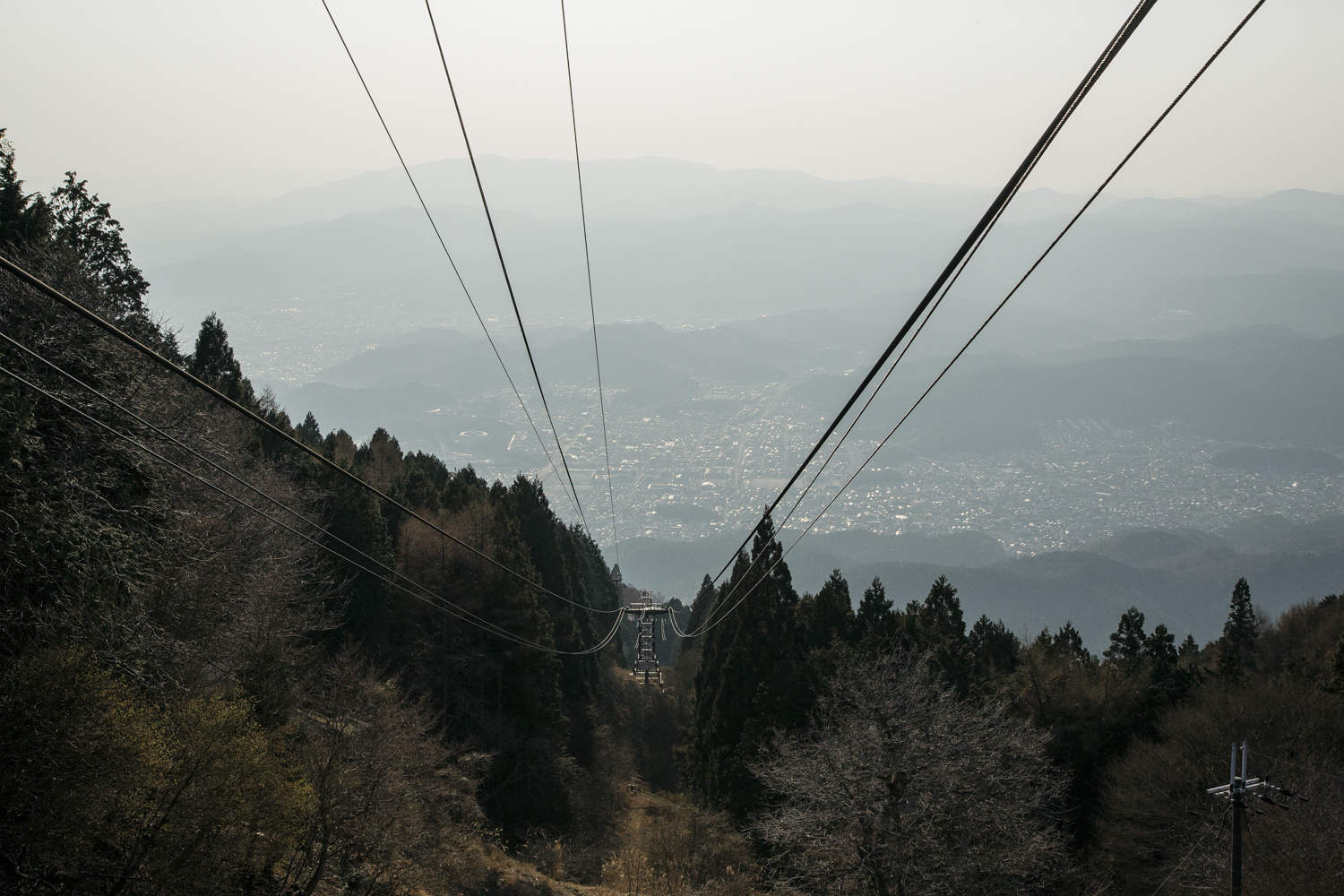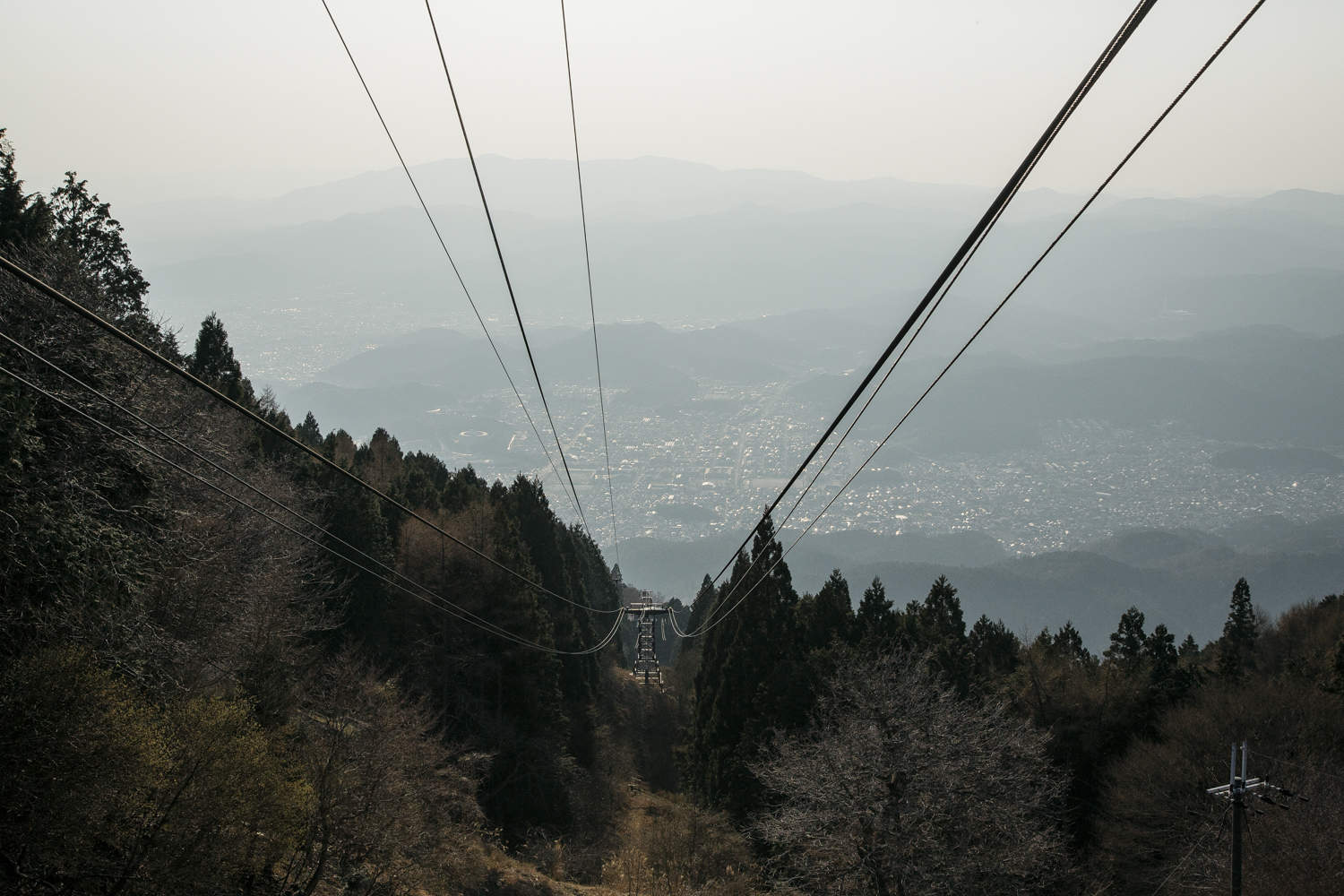 Kyoto has inspired our soul and our creativity, that's for sure. It inspired us for our designs and creative endeavours, for both our personal projects and our those of our clients. It was even a perfect breeding ground for new ideas, new photographic styles to try, new approaches to illustration and composing visual things. Having to re-decorate the home we lived in was also a great opportunity to experiment.
But in some ways, what we reaped out of it was even deeper than that. While living here, many things happened in our minds, which served to transform the way we think about life, and what we consider important to be happy. There was something very ingrained about being here that forced us to think through all the things that we used to consider as obstacles – to just get them out of the way and imagine what can happen next.
Kyoto life was based on simplicity and on the little things, so it made us realize what elements in our lives are superfluous and heavy. Responsibilities, commitments, material things, expectations to get rid of. It made us start conversations about things like selling most of our belongings and our appartment itself, to live a simpler life which would allow us to live up to our full creative potential. These are thoughts that we could not have imagined considering before, but make they make so much sense and bring so much clarity.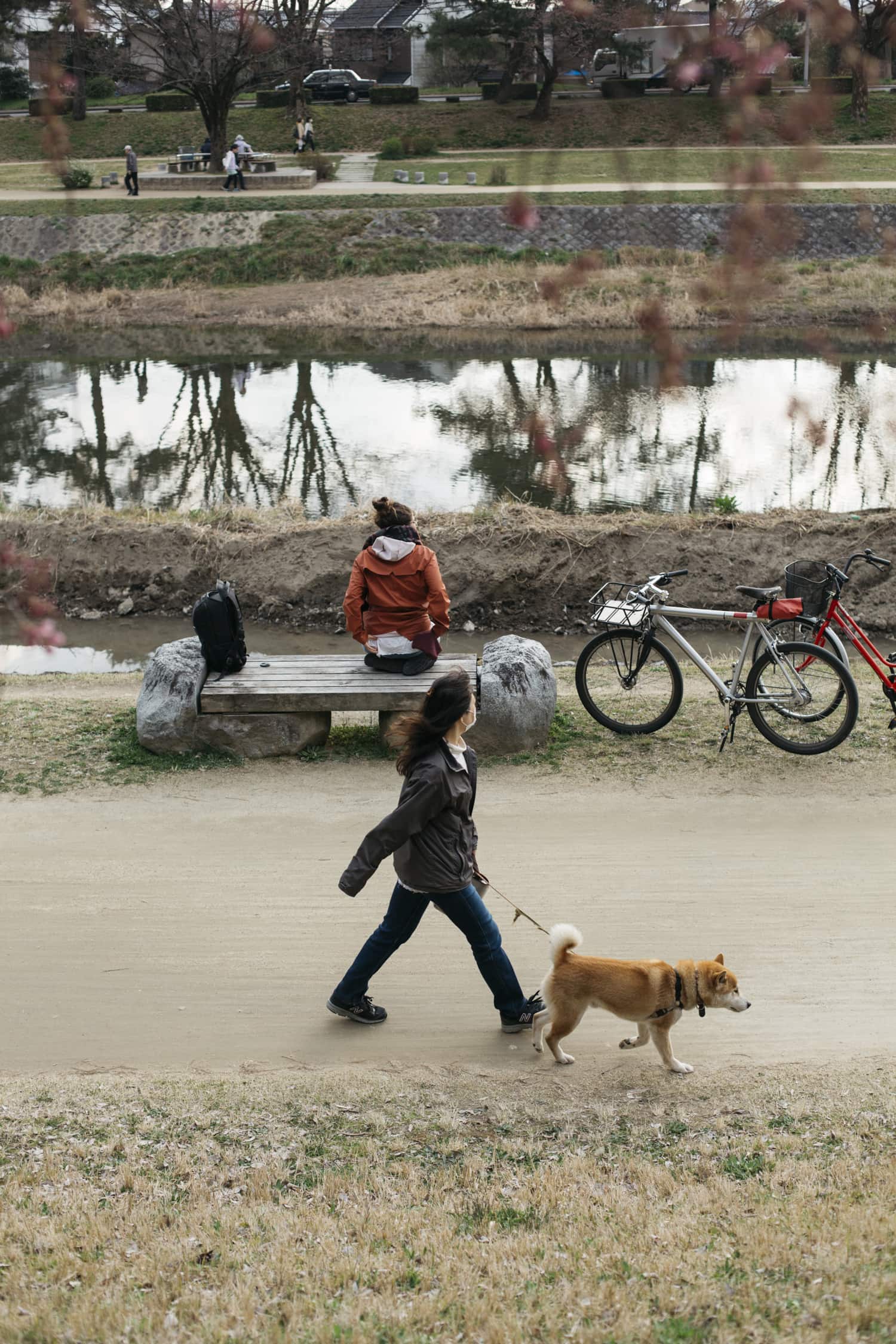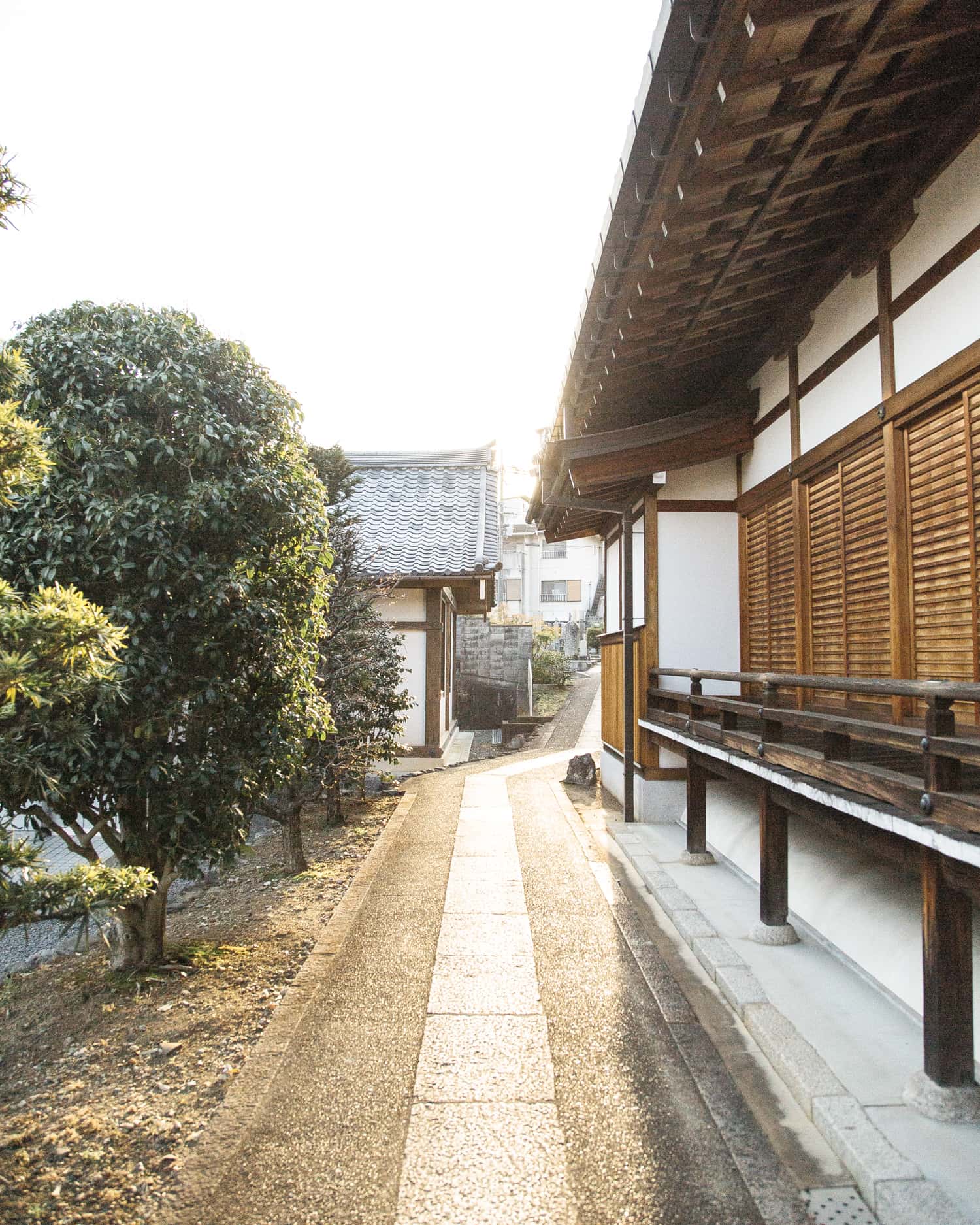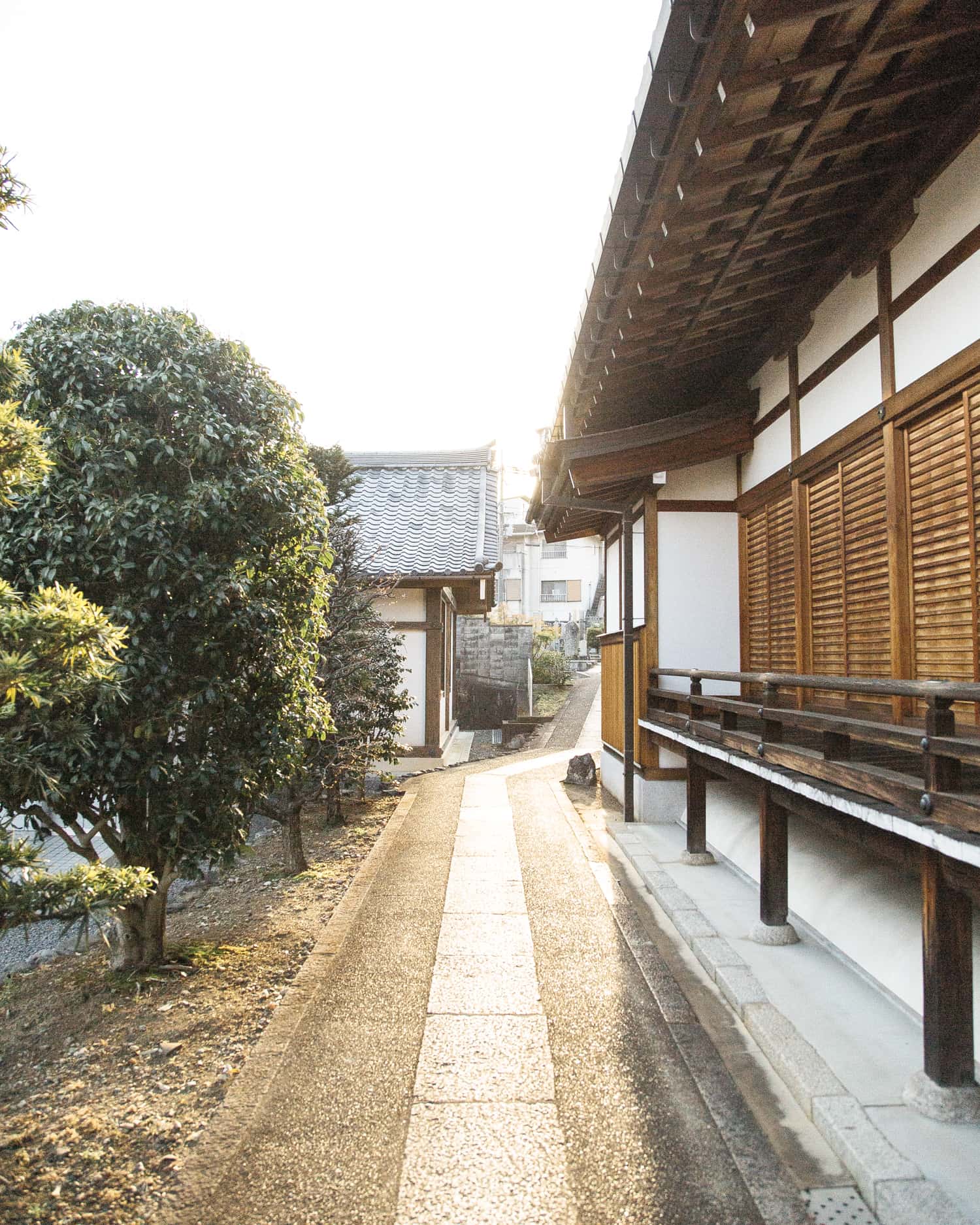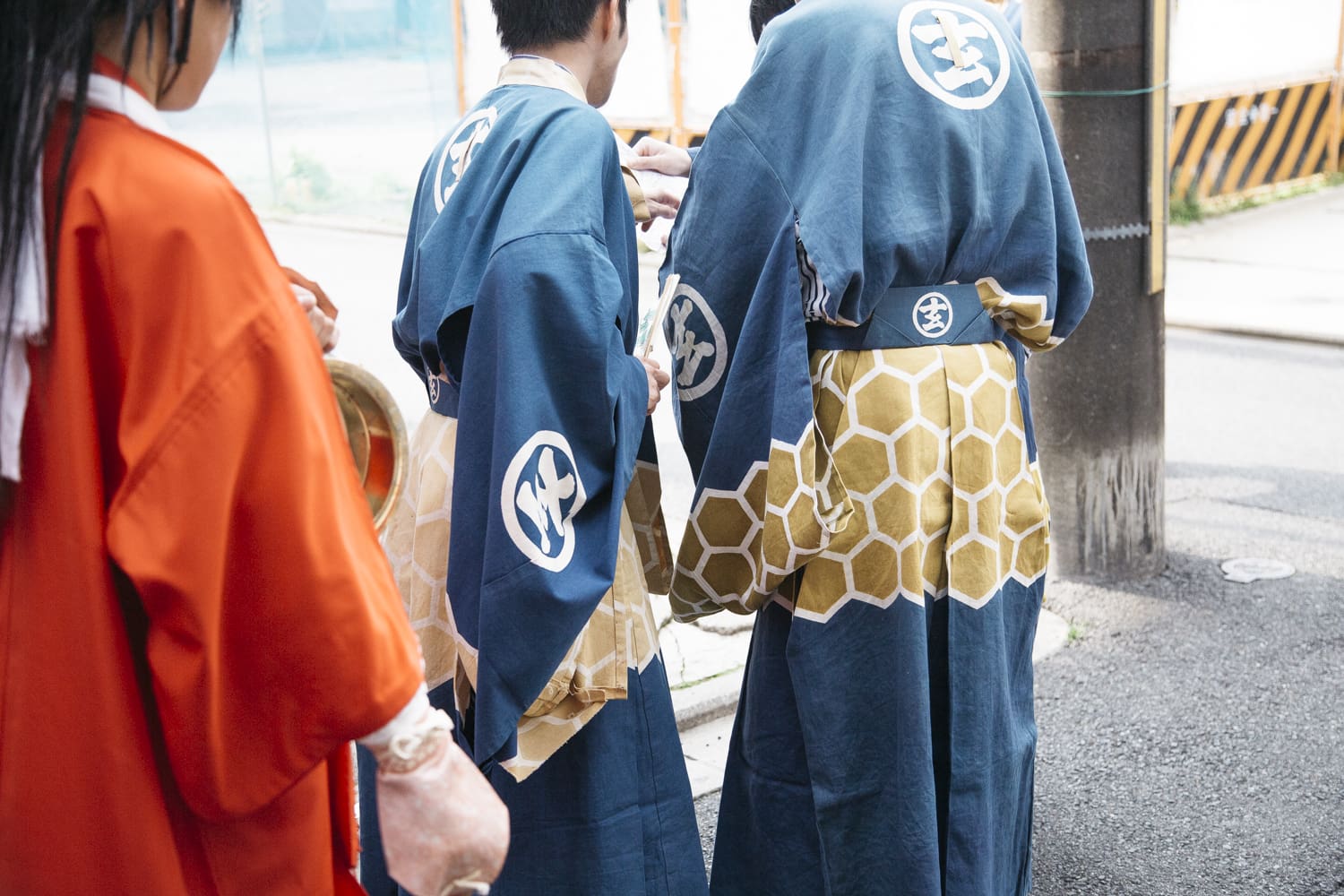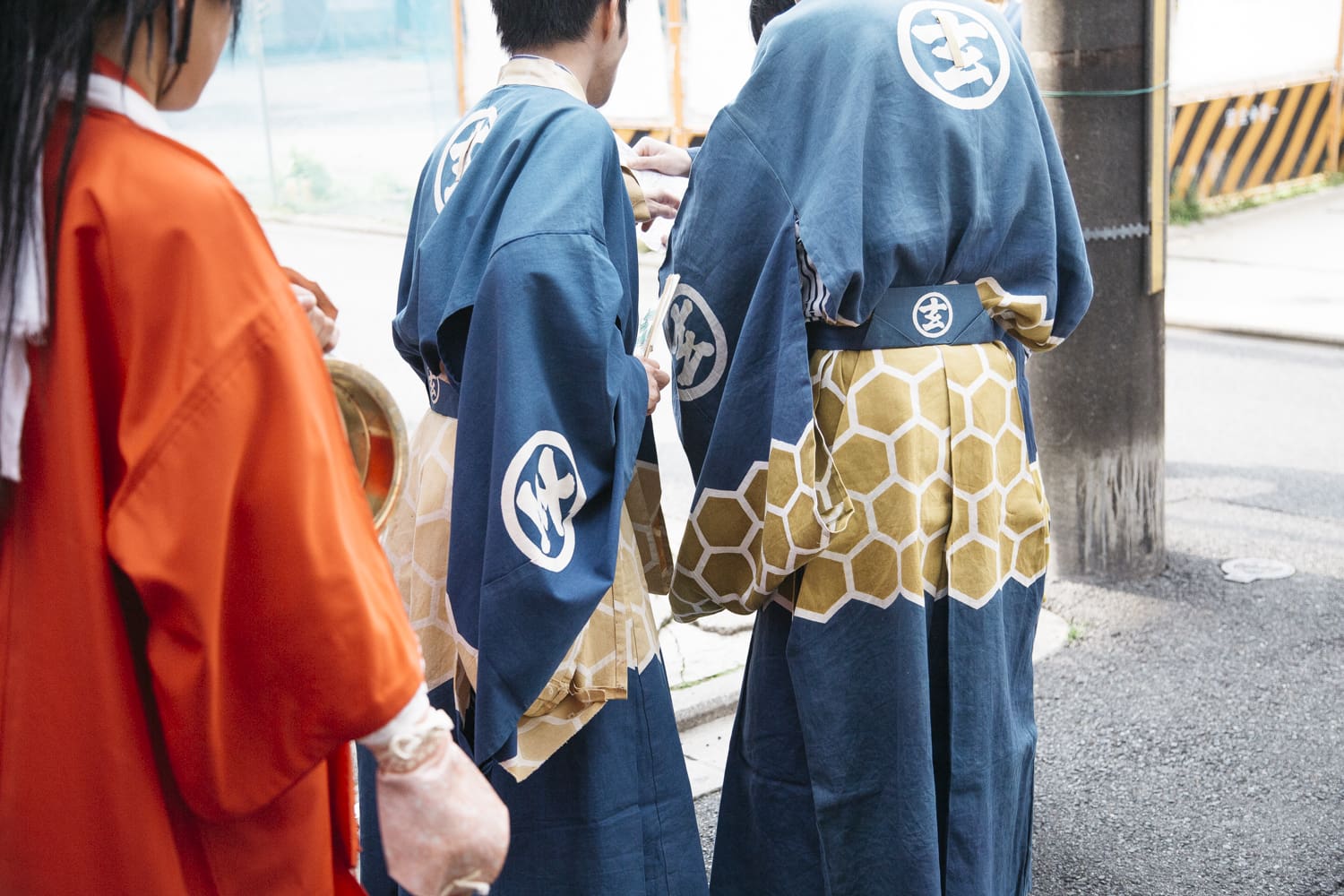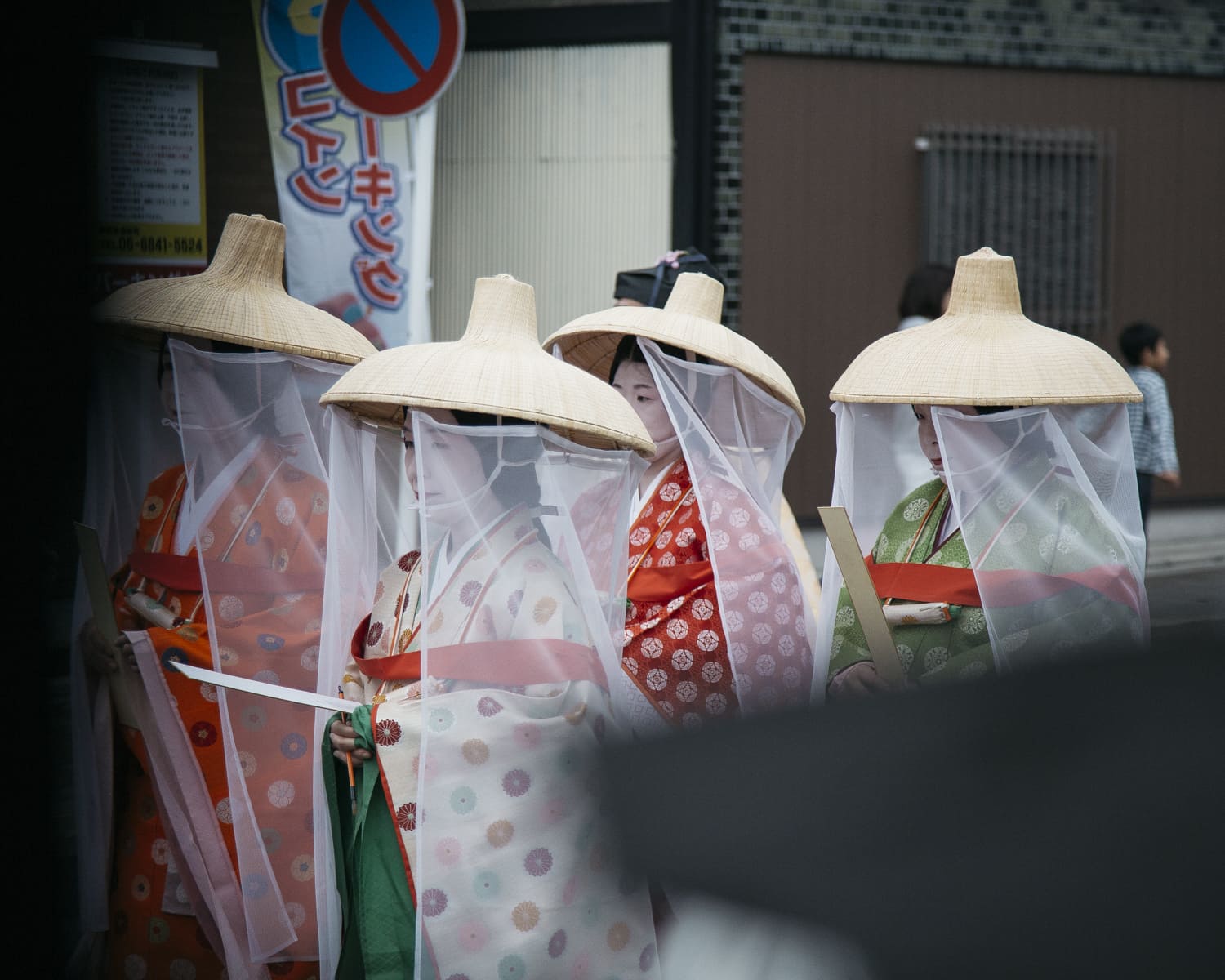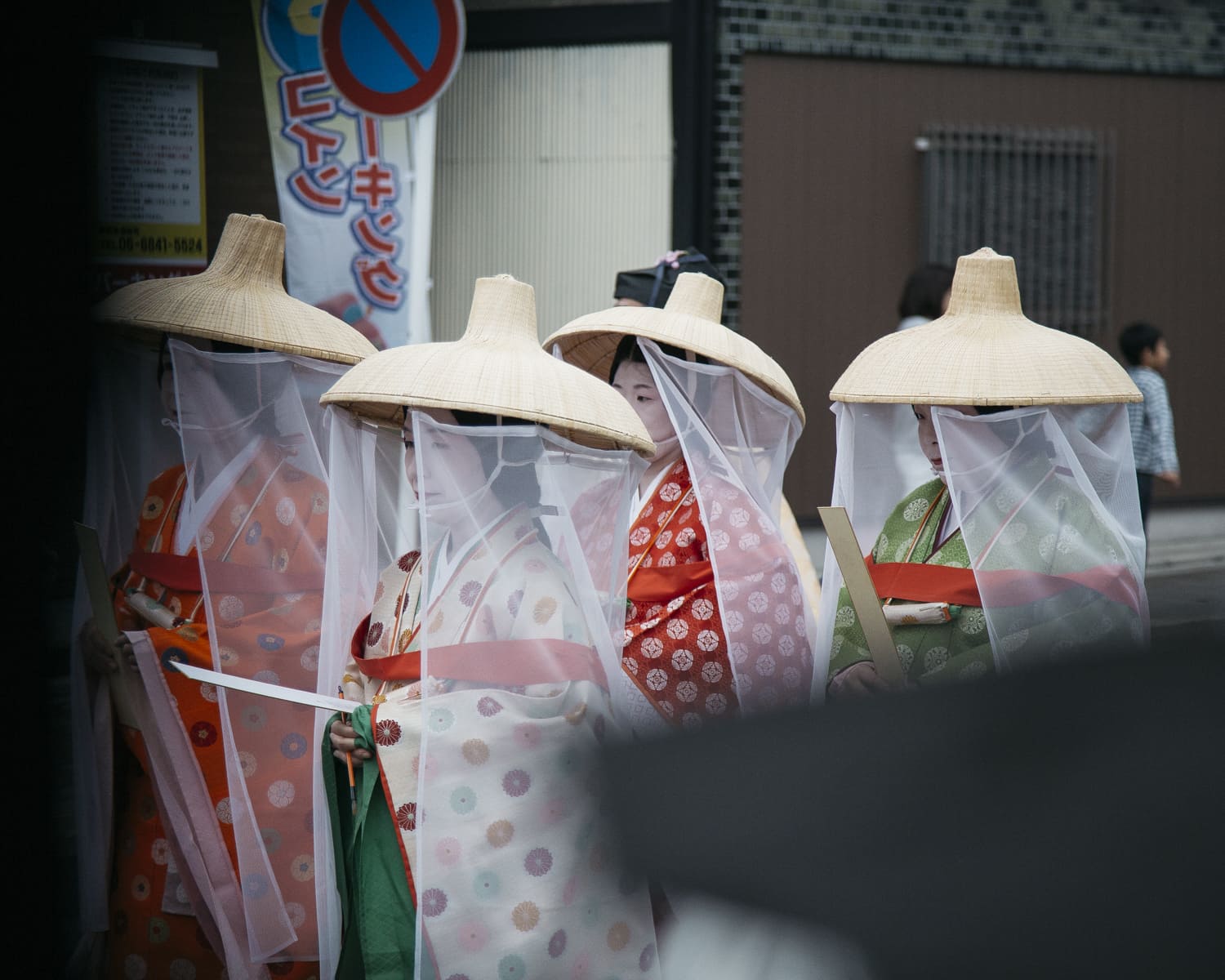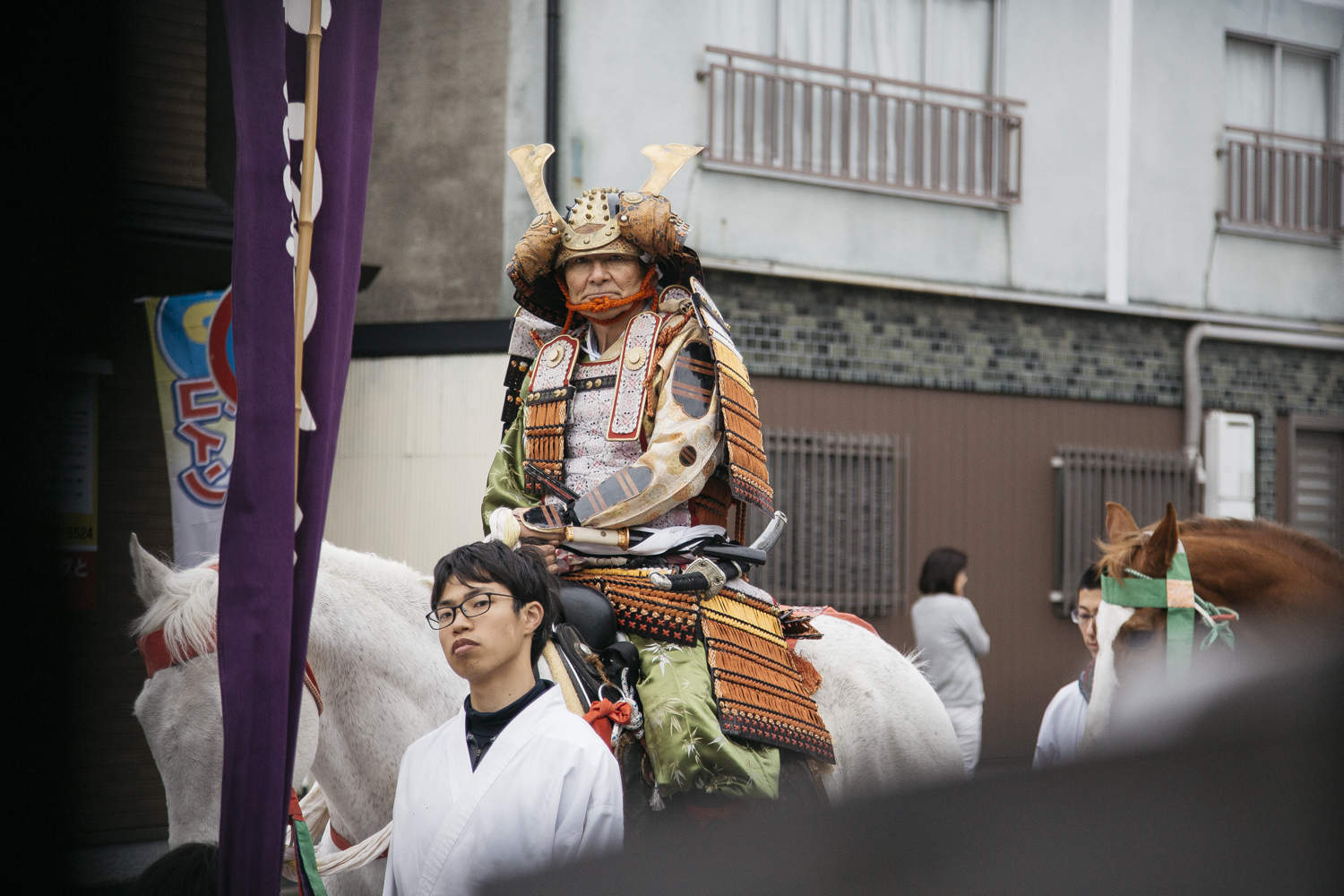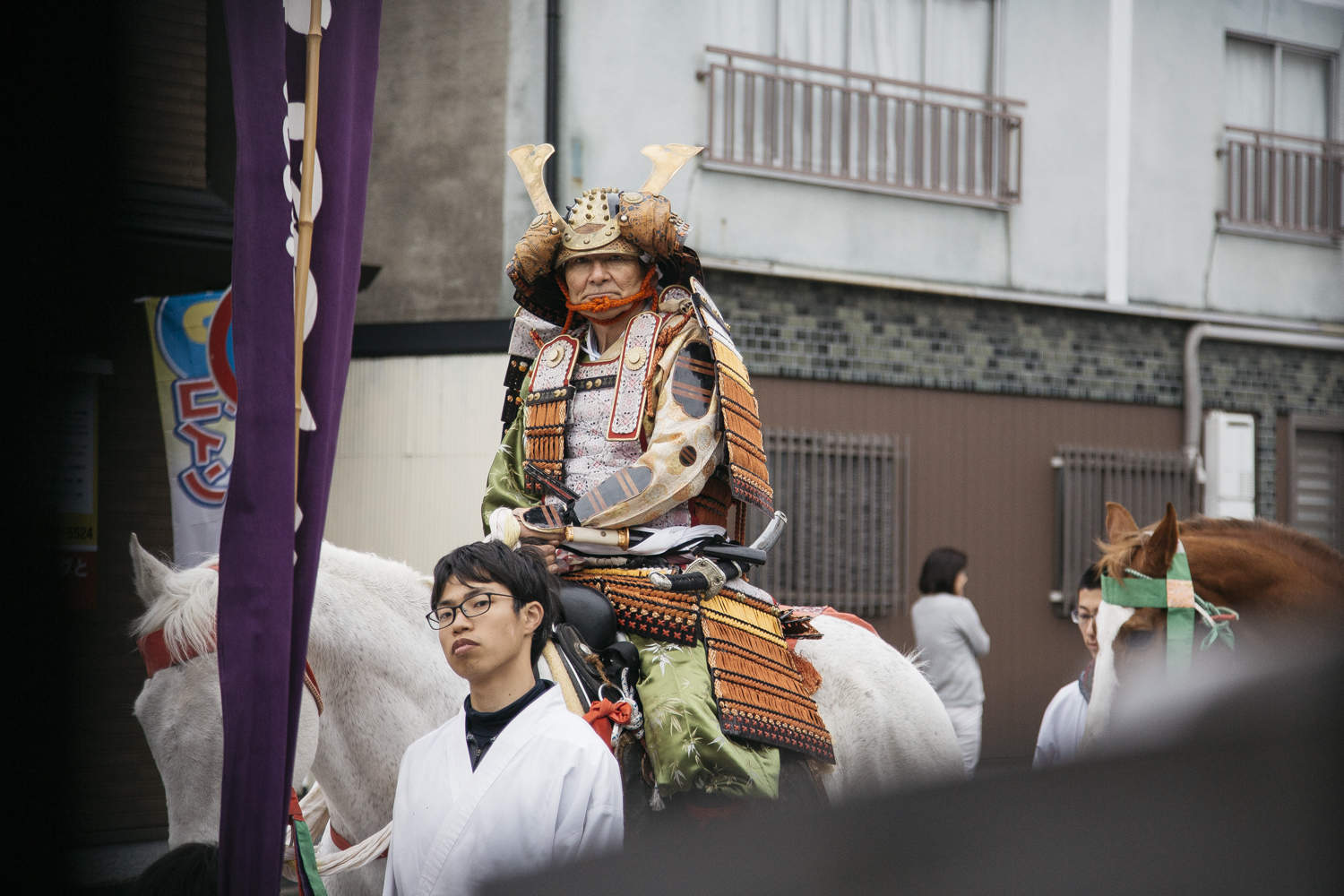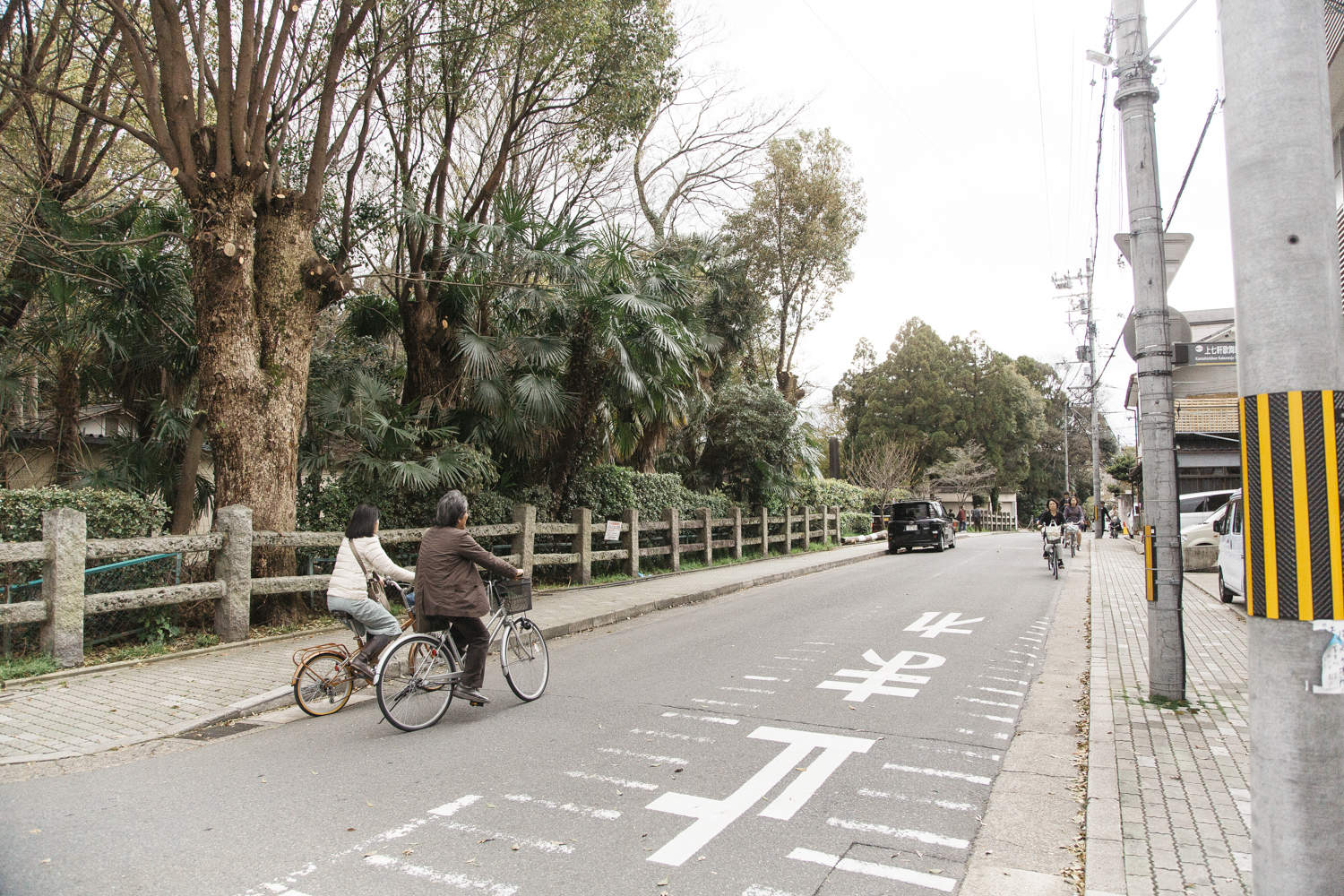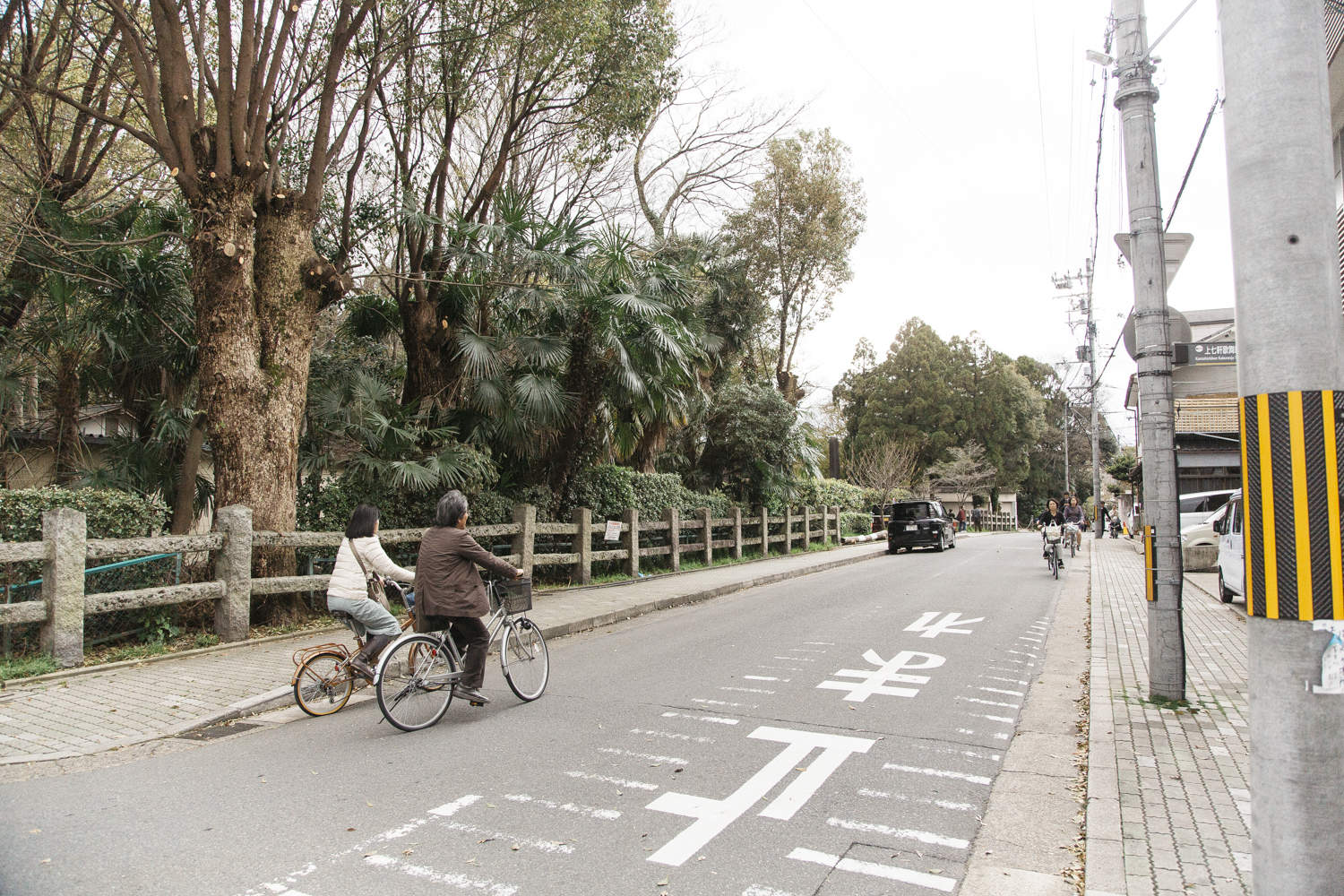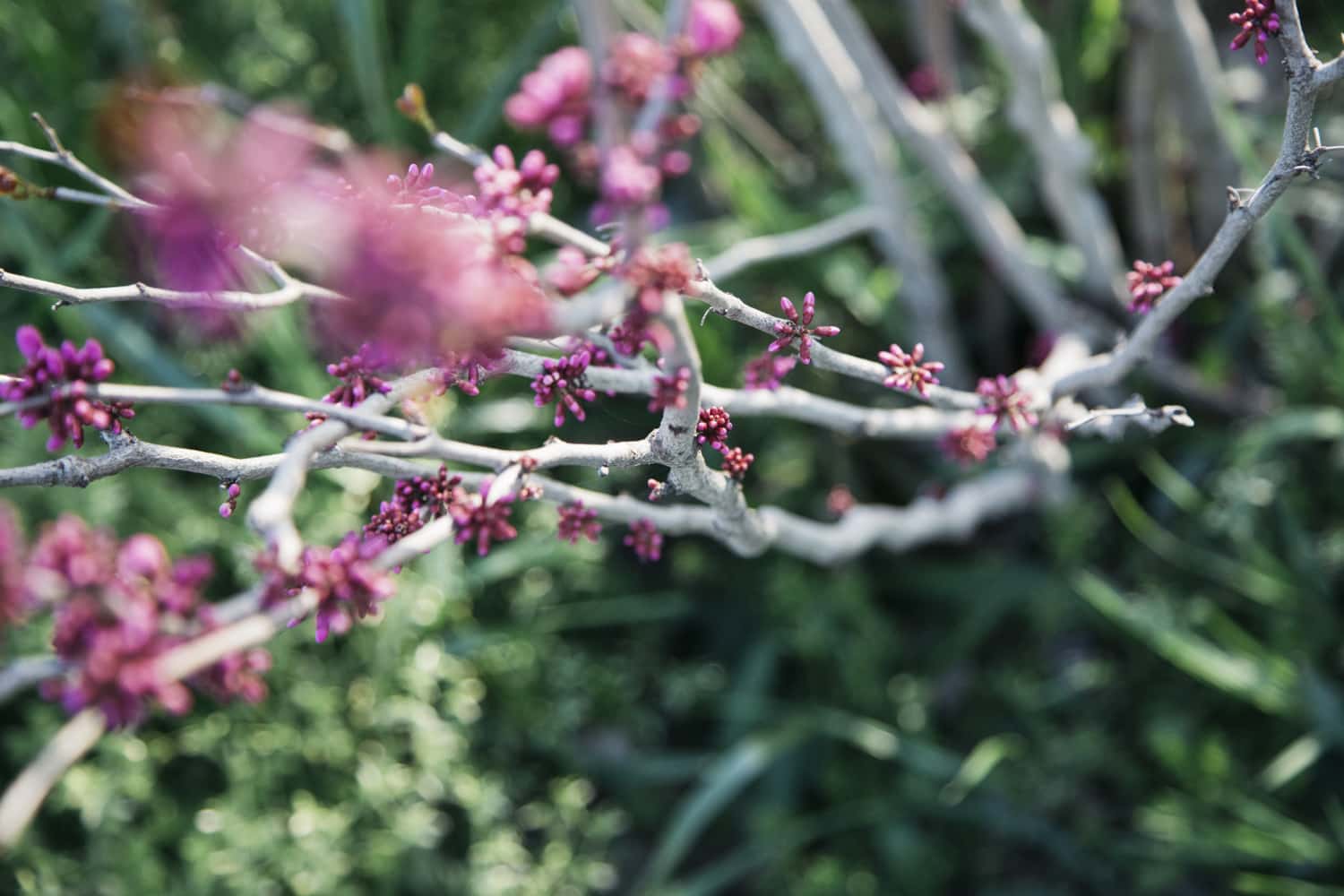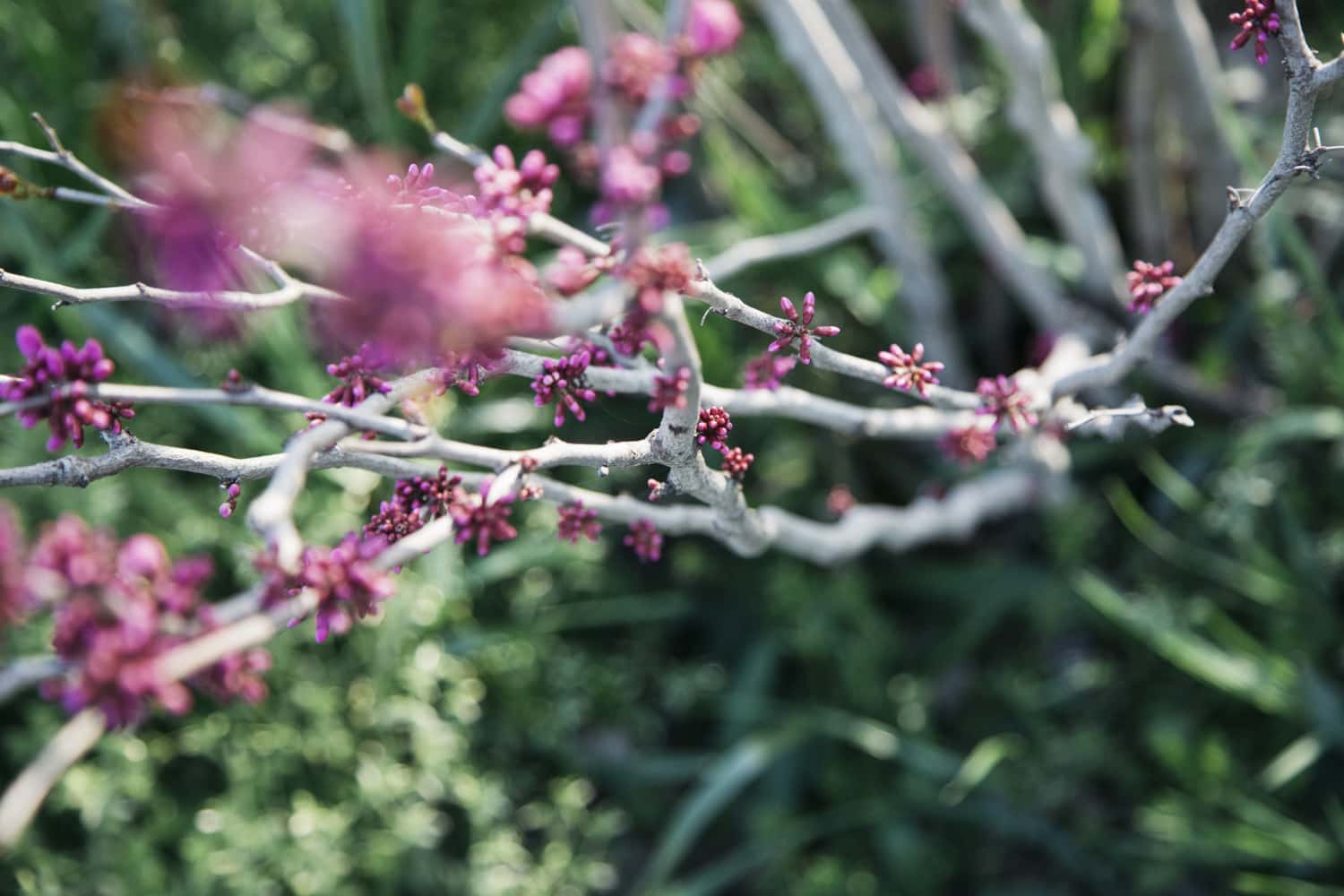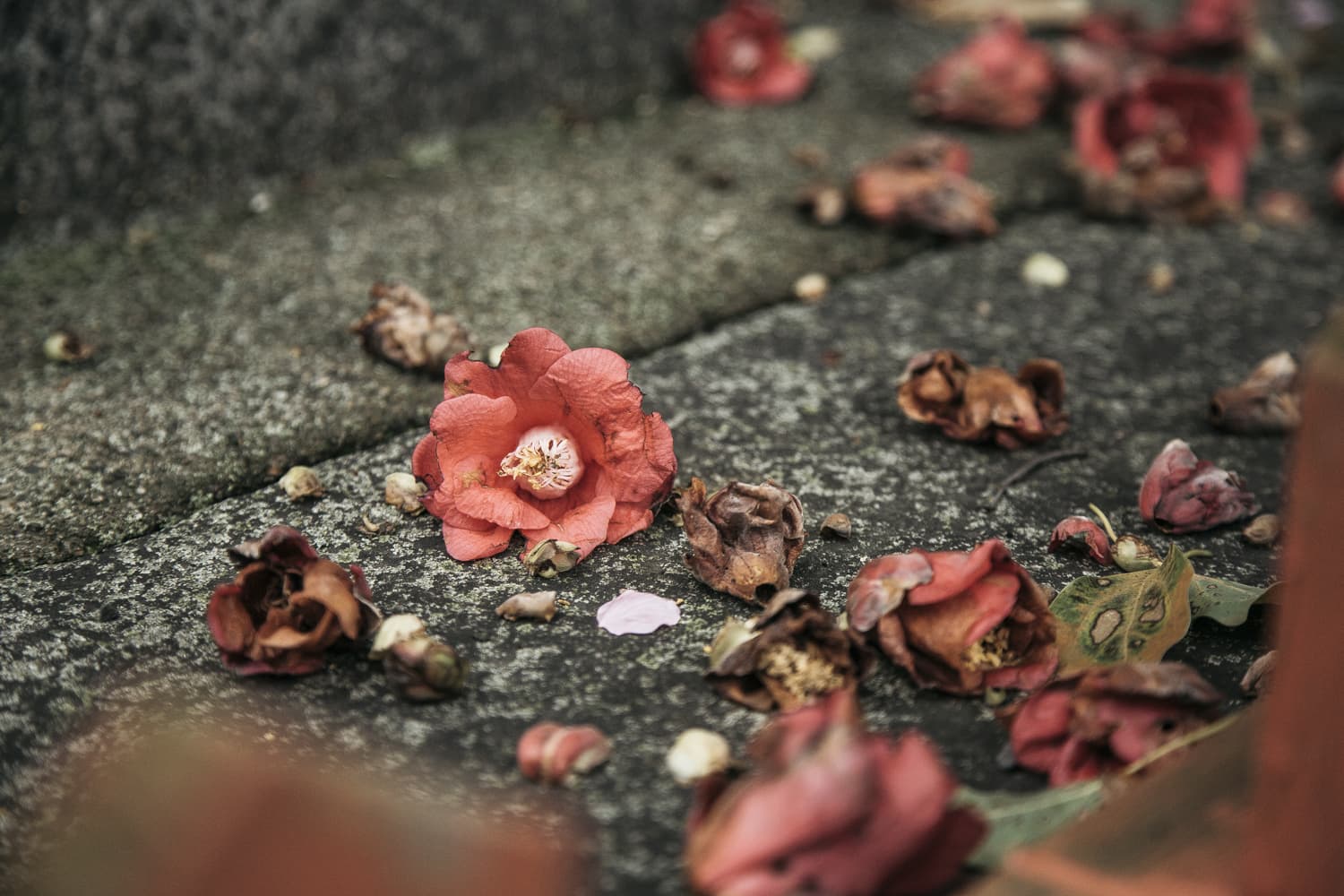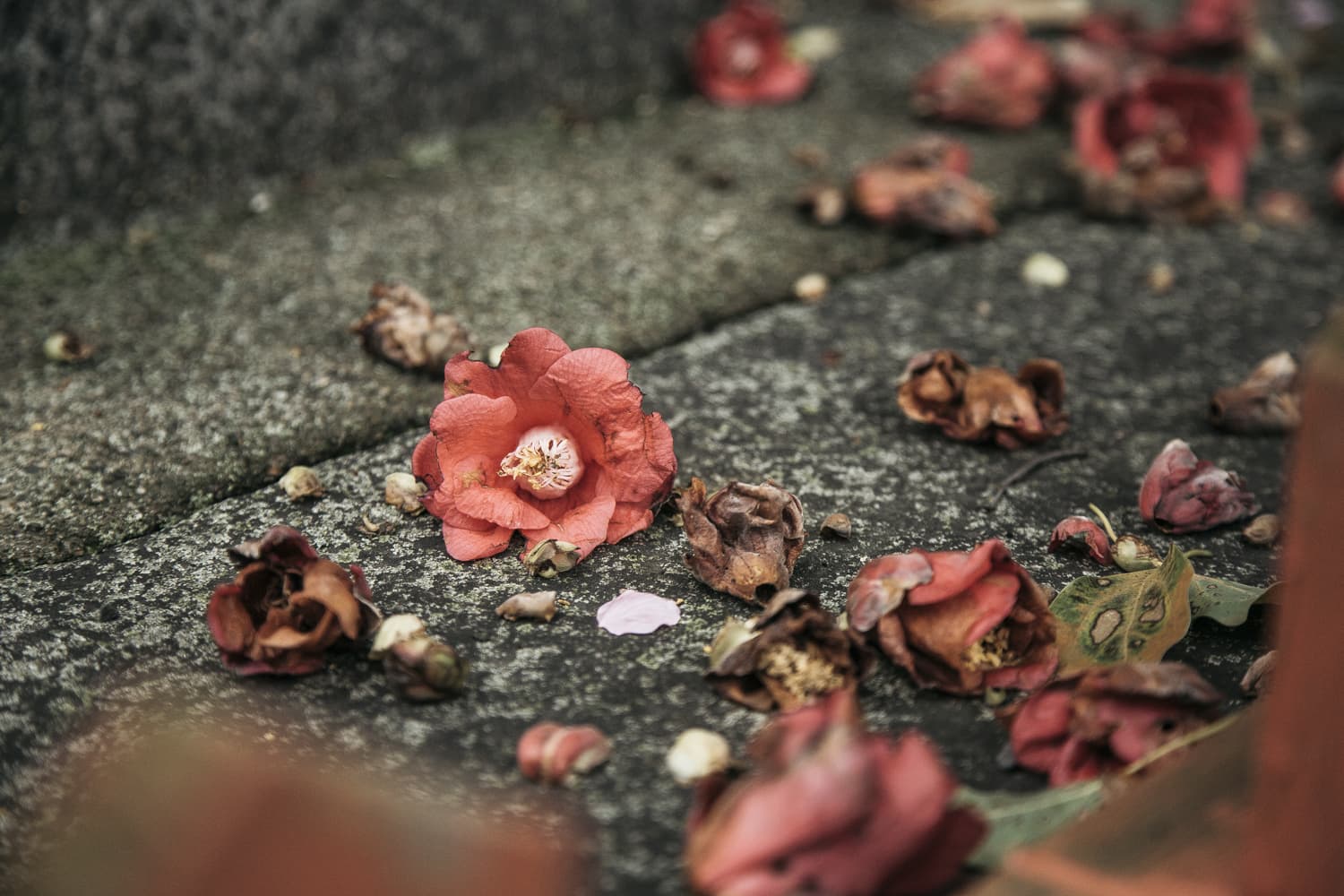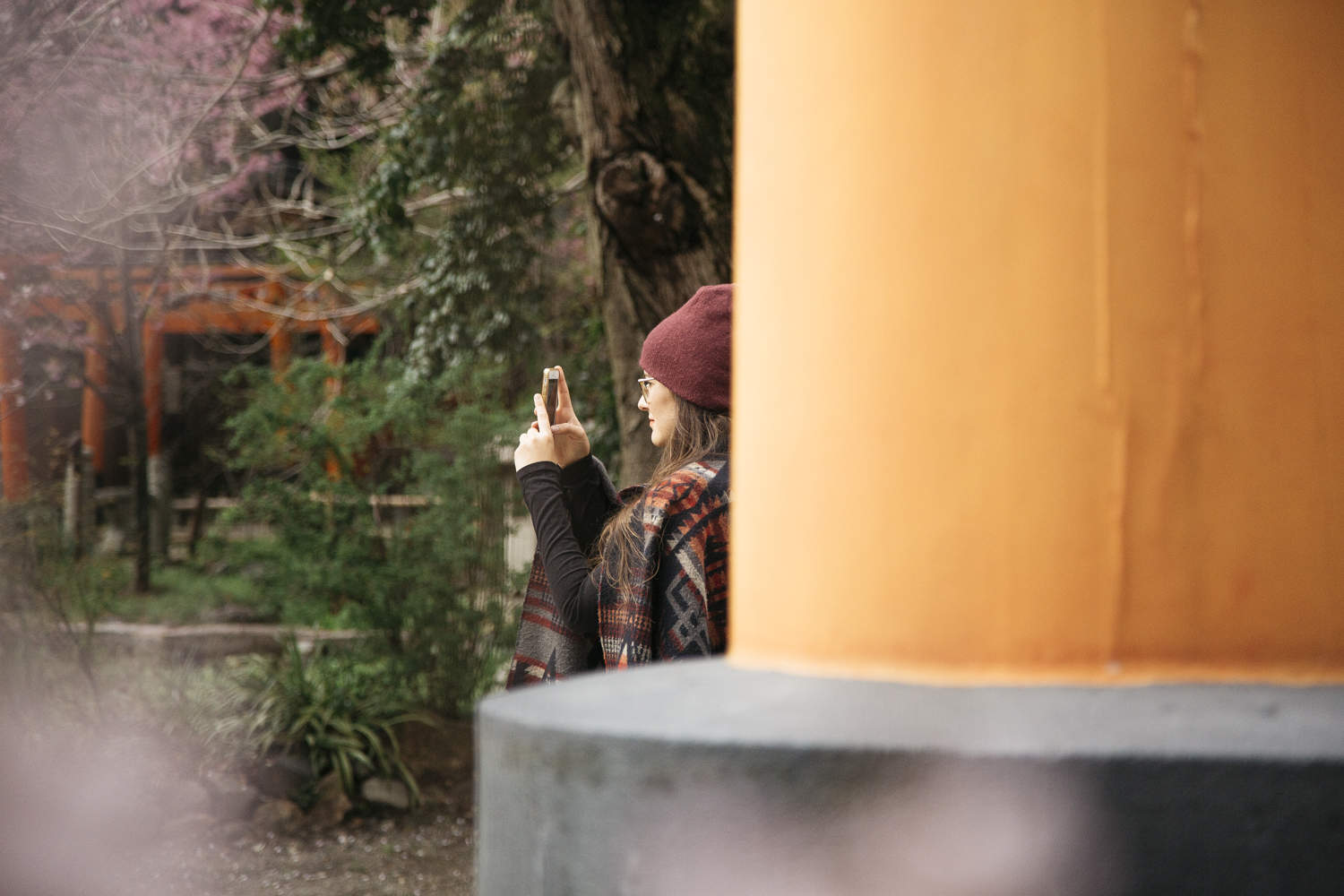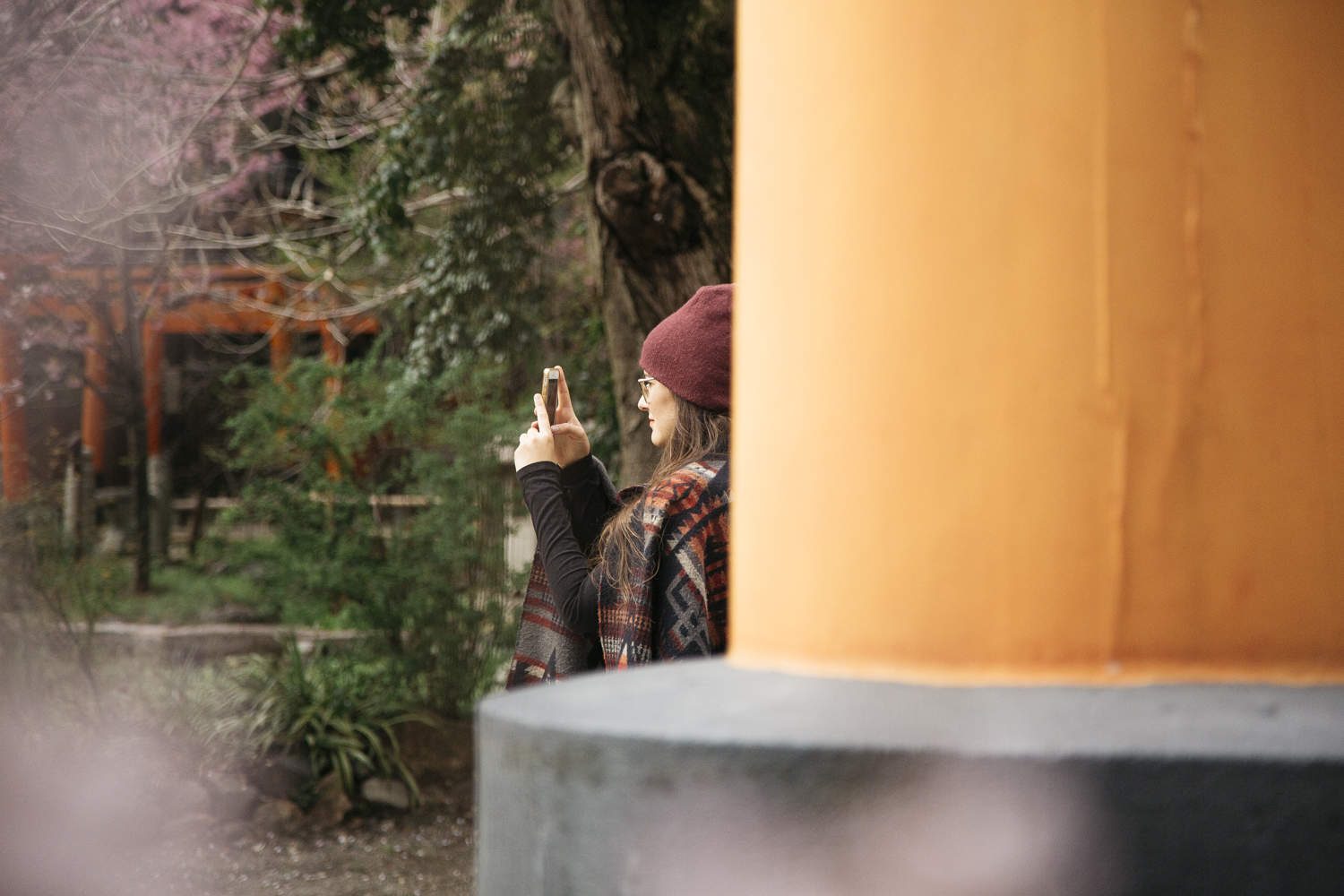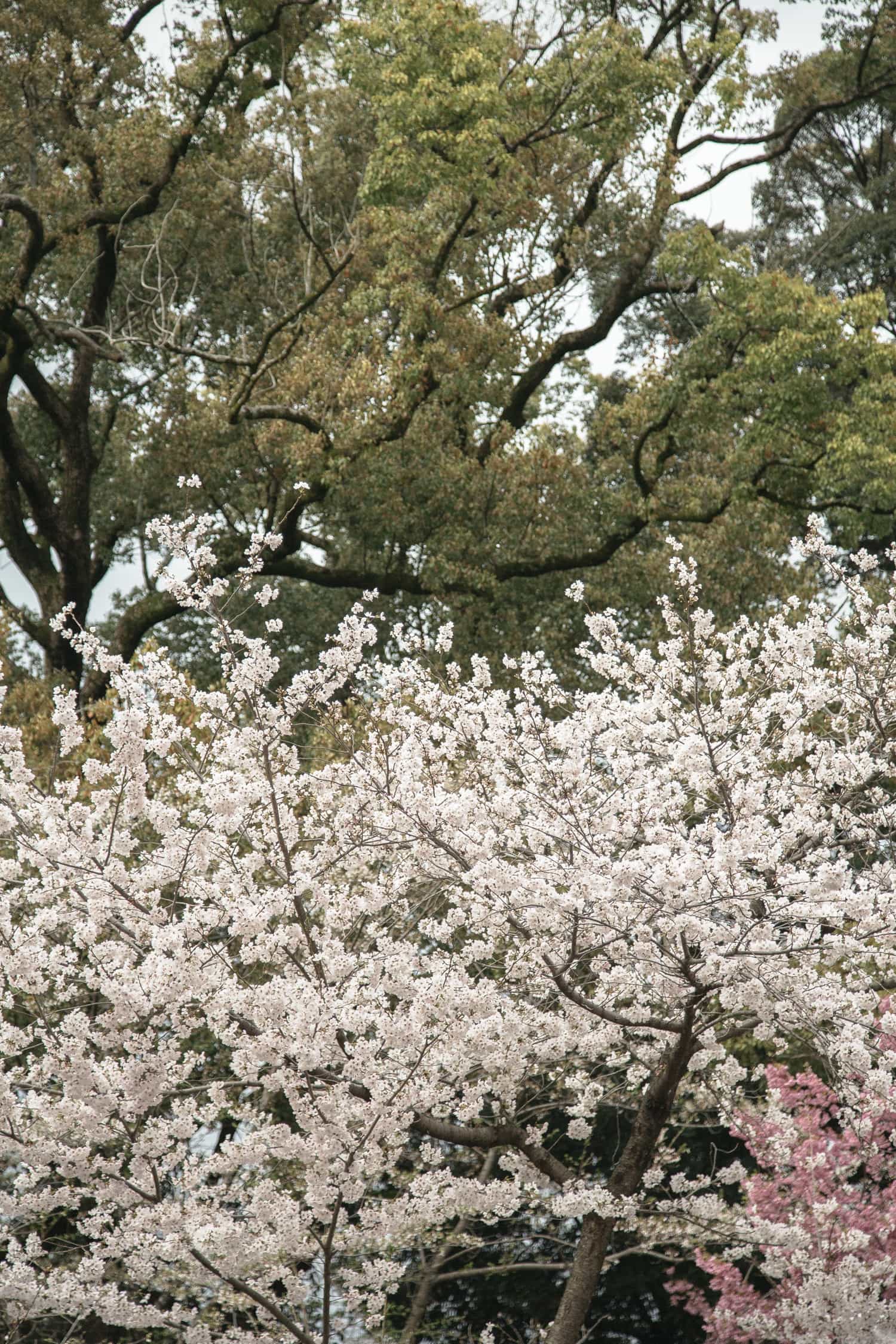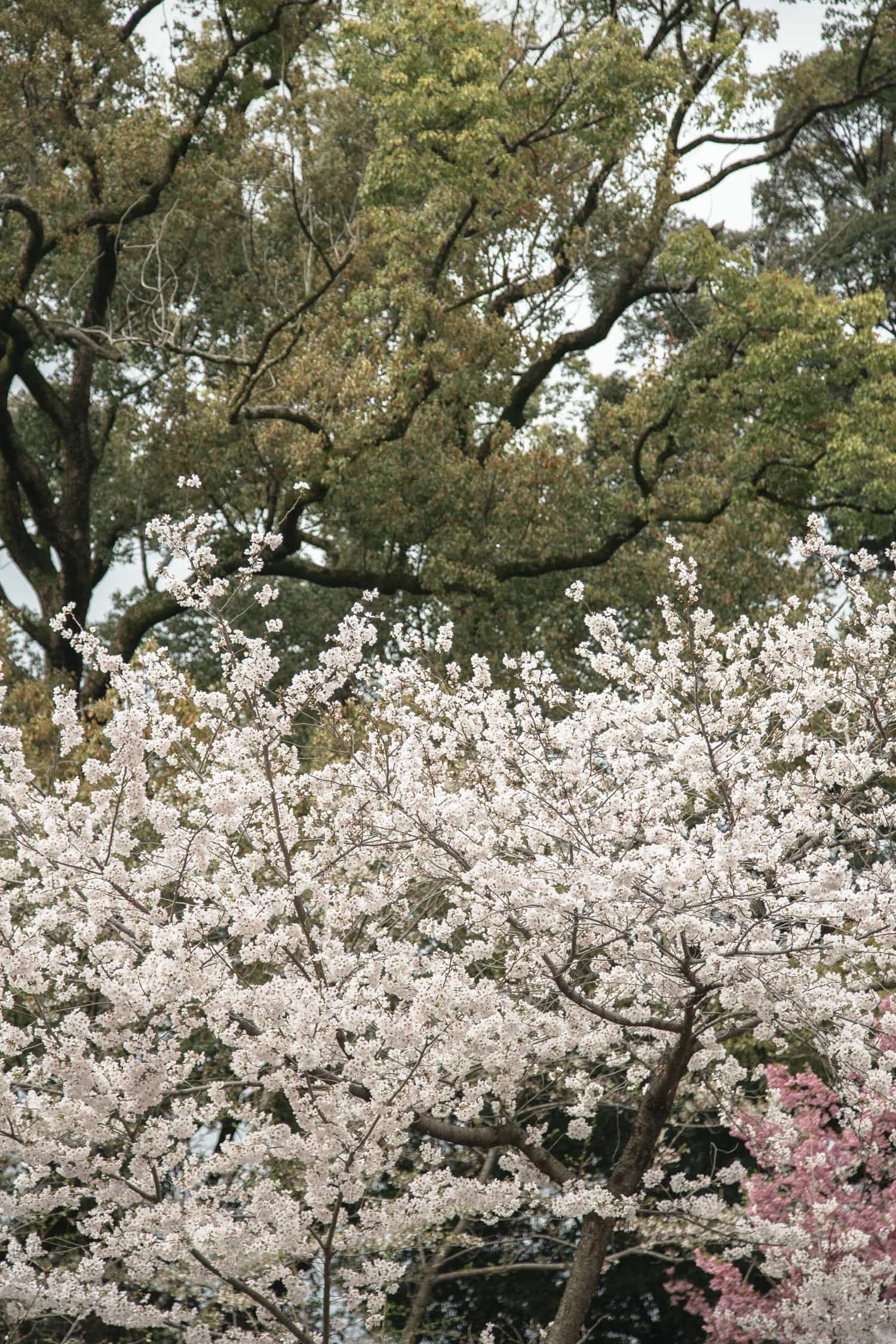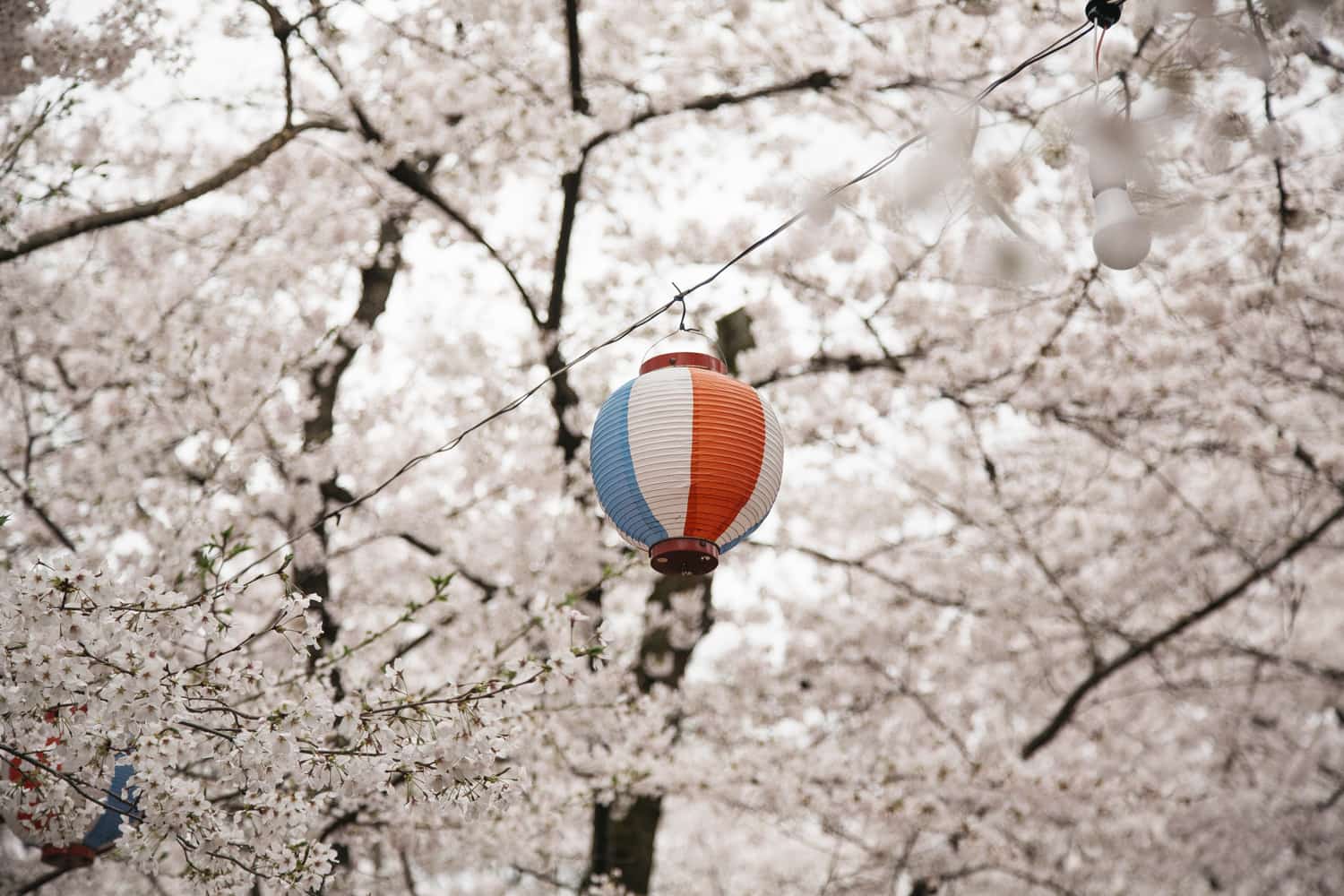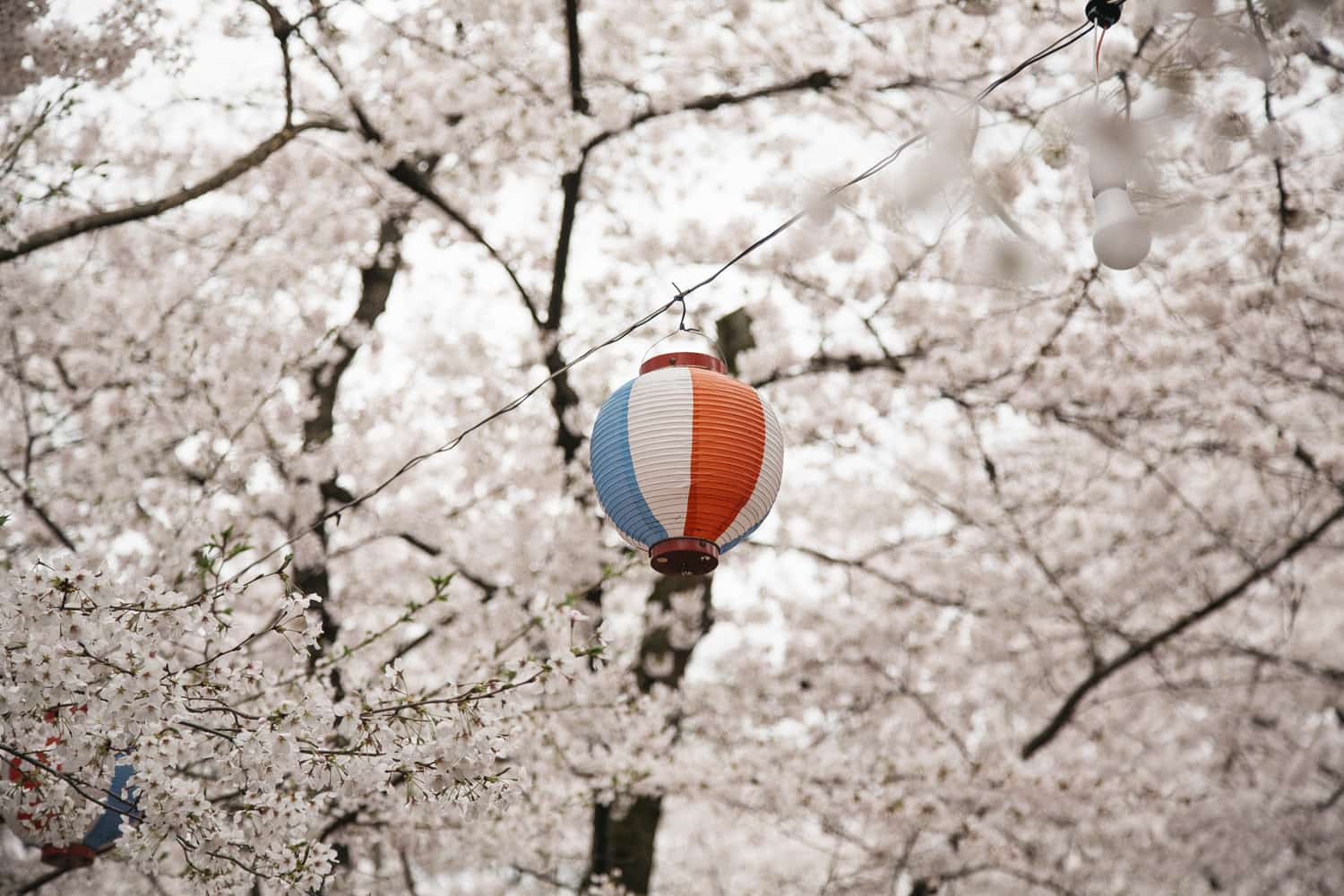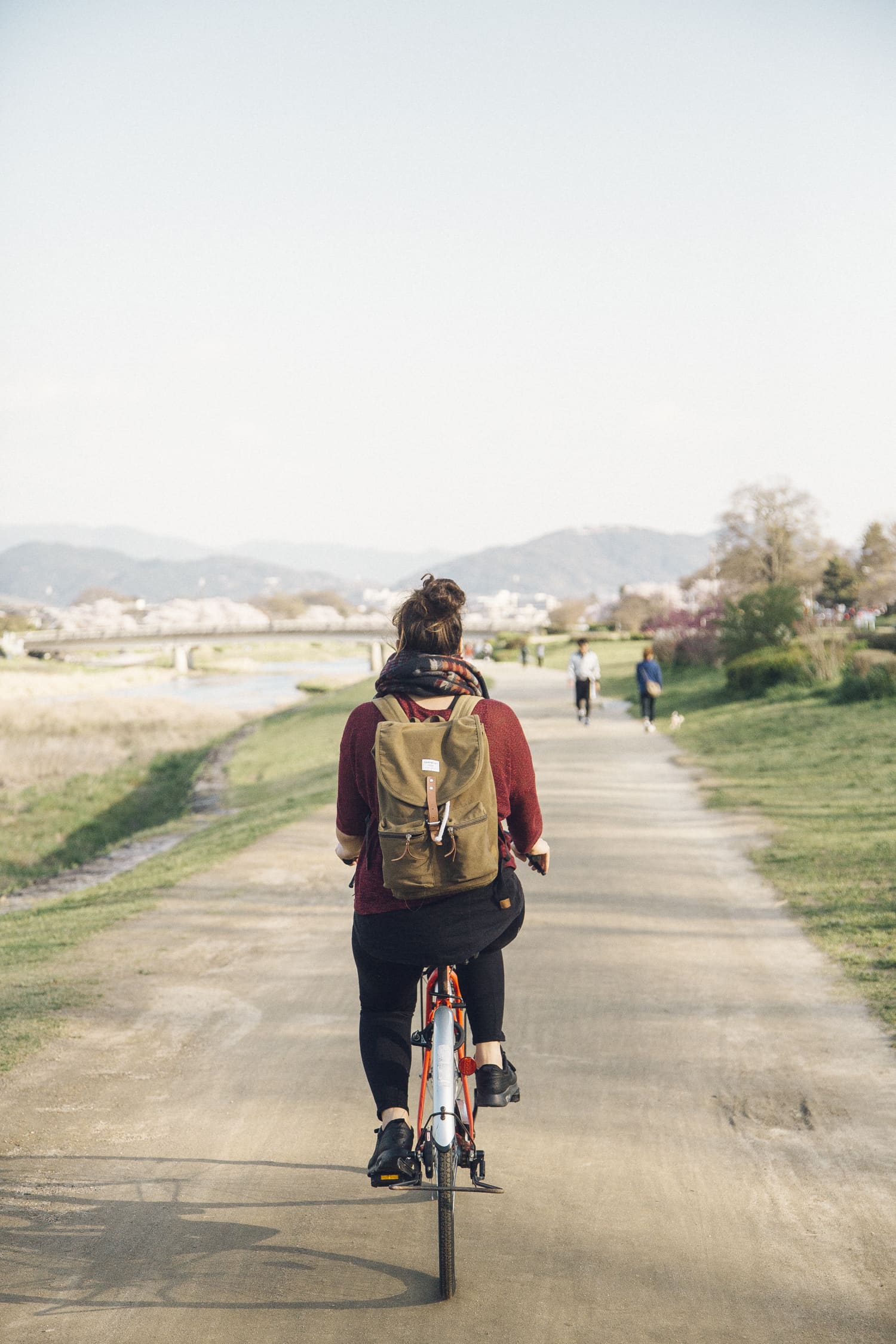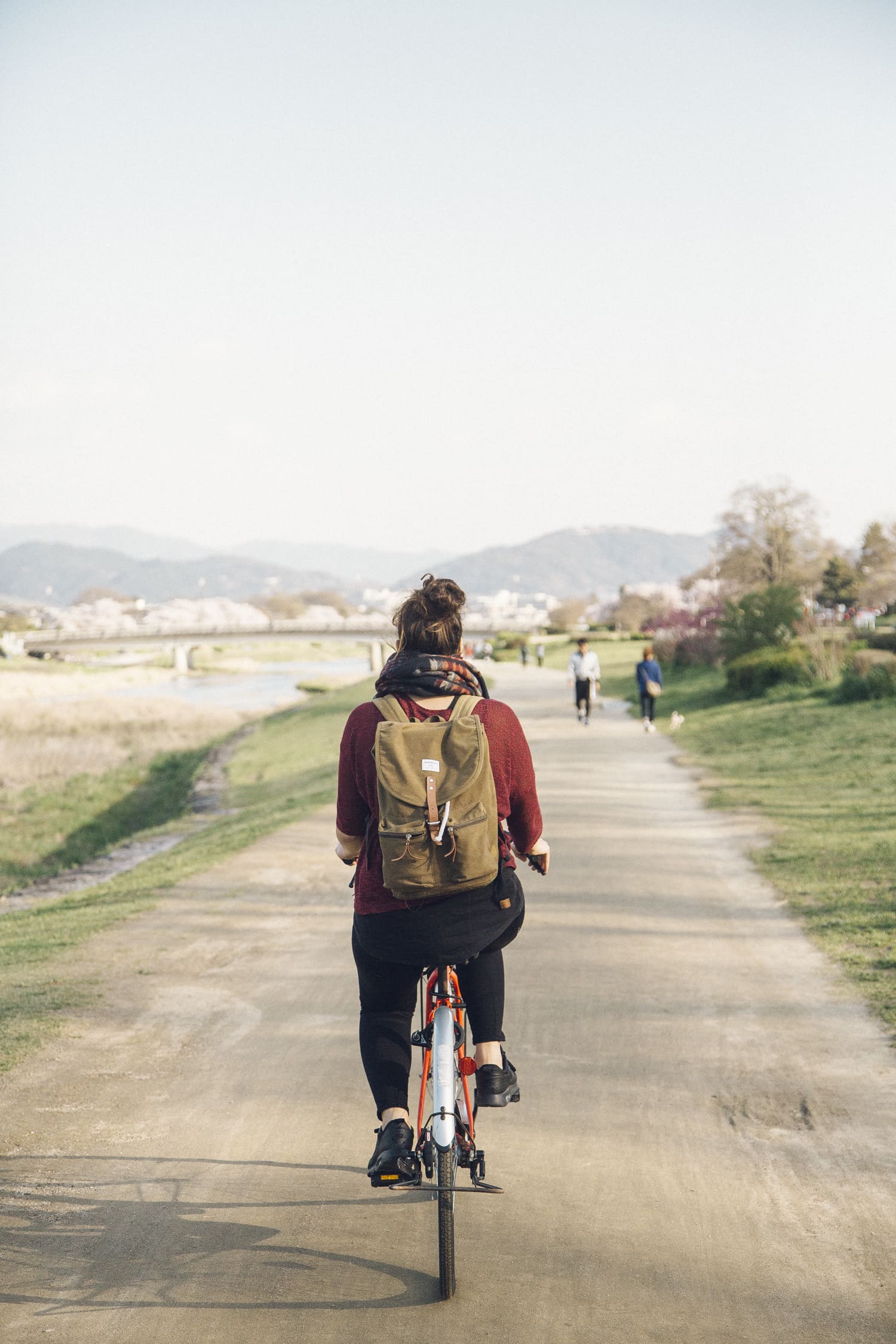 We're currently just enjoying our last days here. Having to leave Kyoto is a little bit heartbreaking, but  we're thankful for what it brought us. I also just realised that there was something quite special about the timing of our stay here: we arrived in the cold before the cherries blossom, and we'll be leaving literally just after those blossoms have fallen. We experienced this ephemeral moment first-hand, from it's beginning to it's end. A gentle reminder of how life is fleeting and that every single moment matters.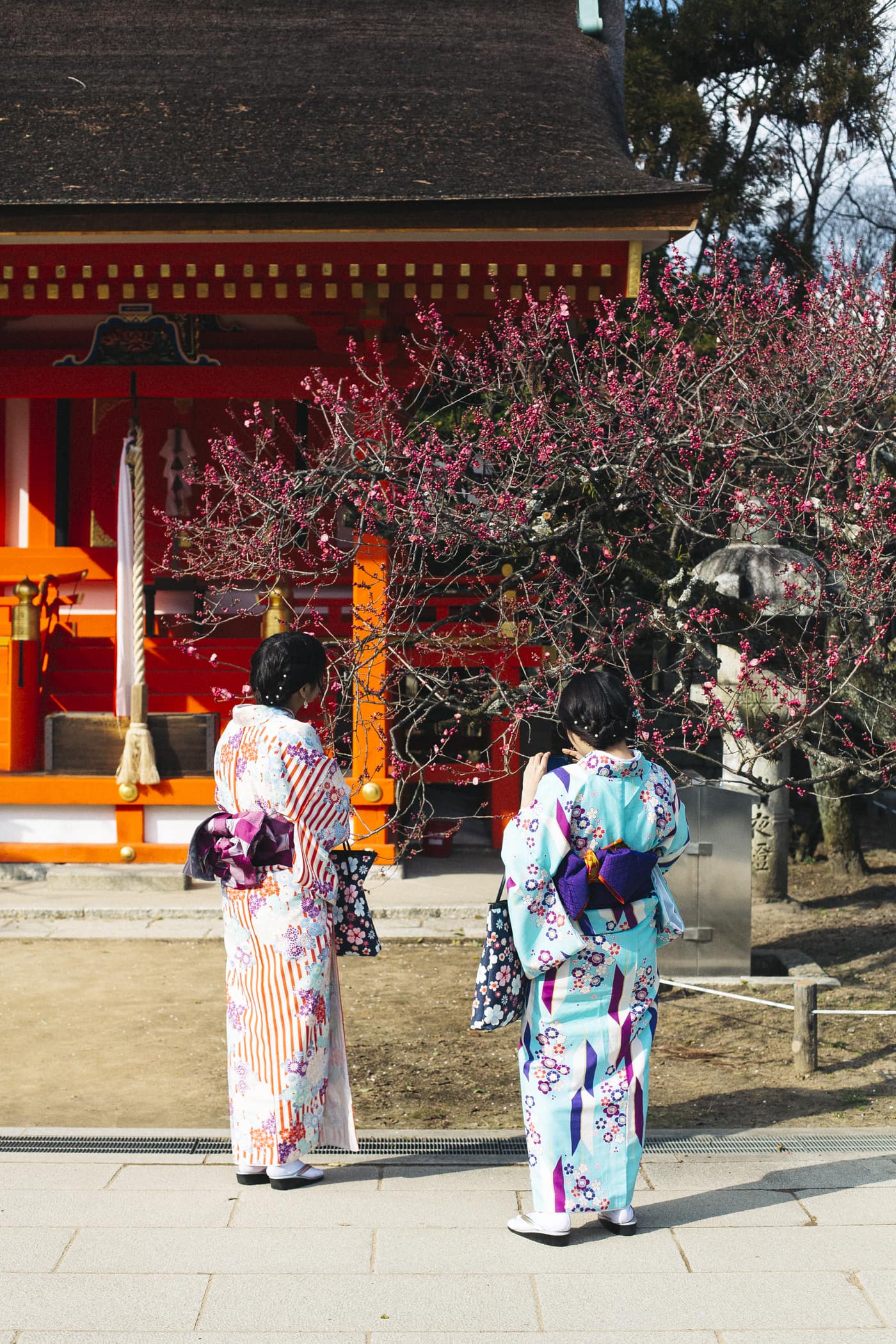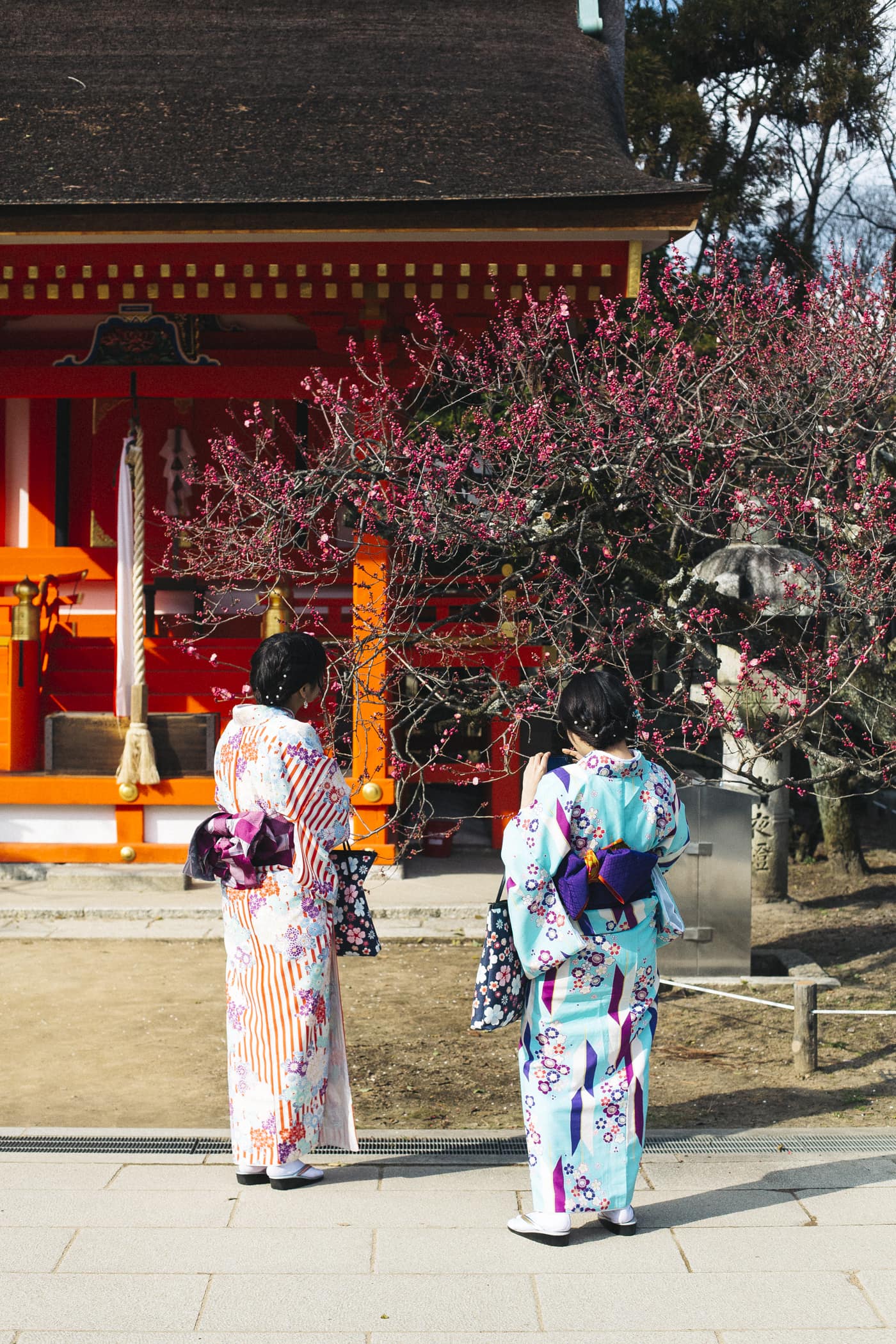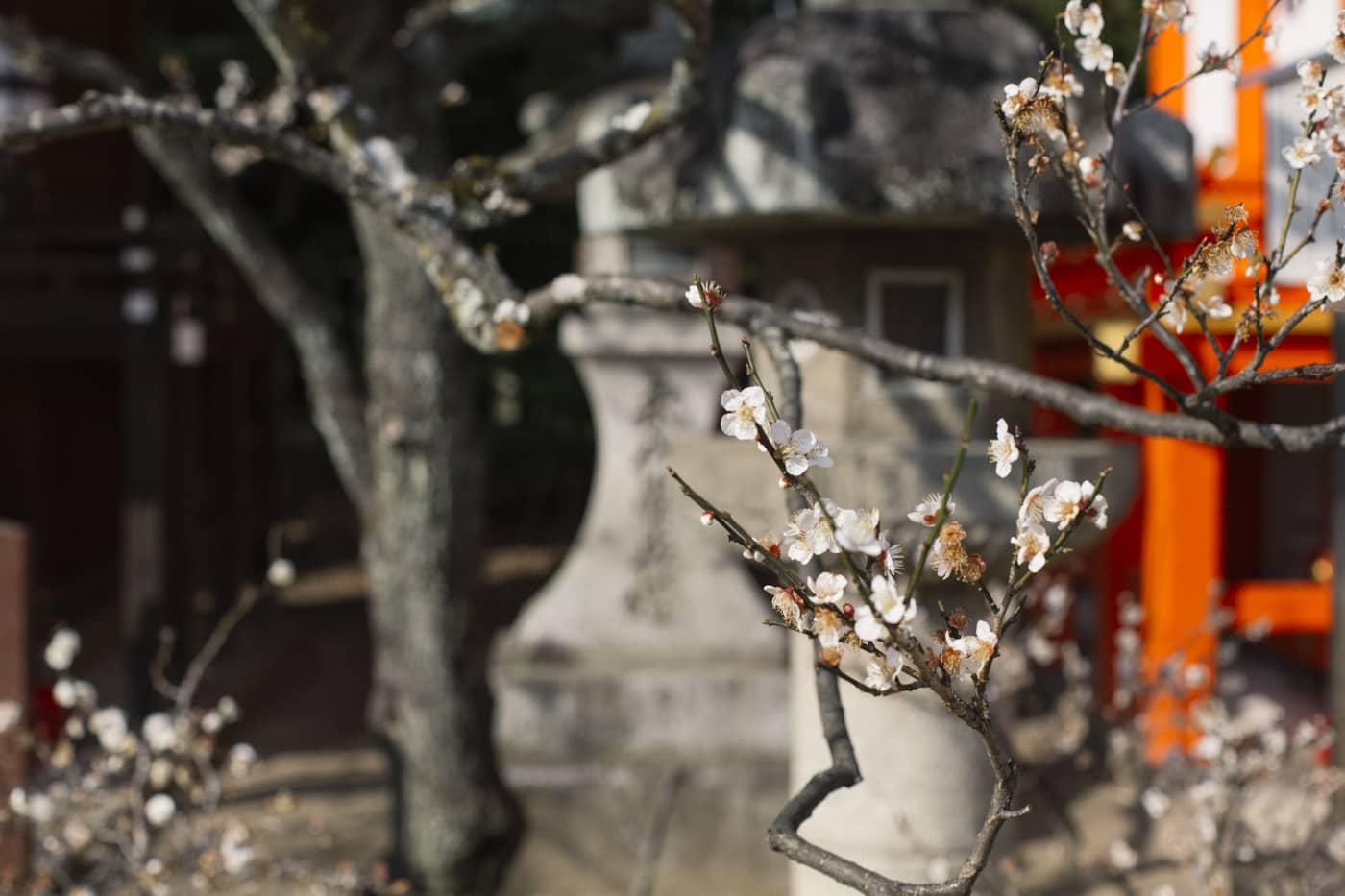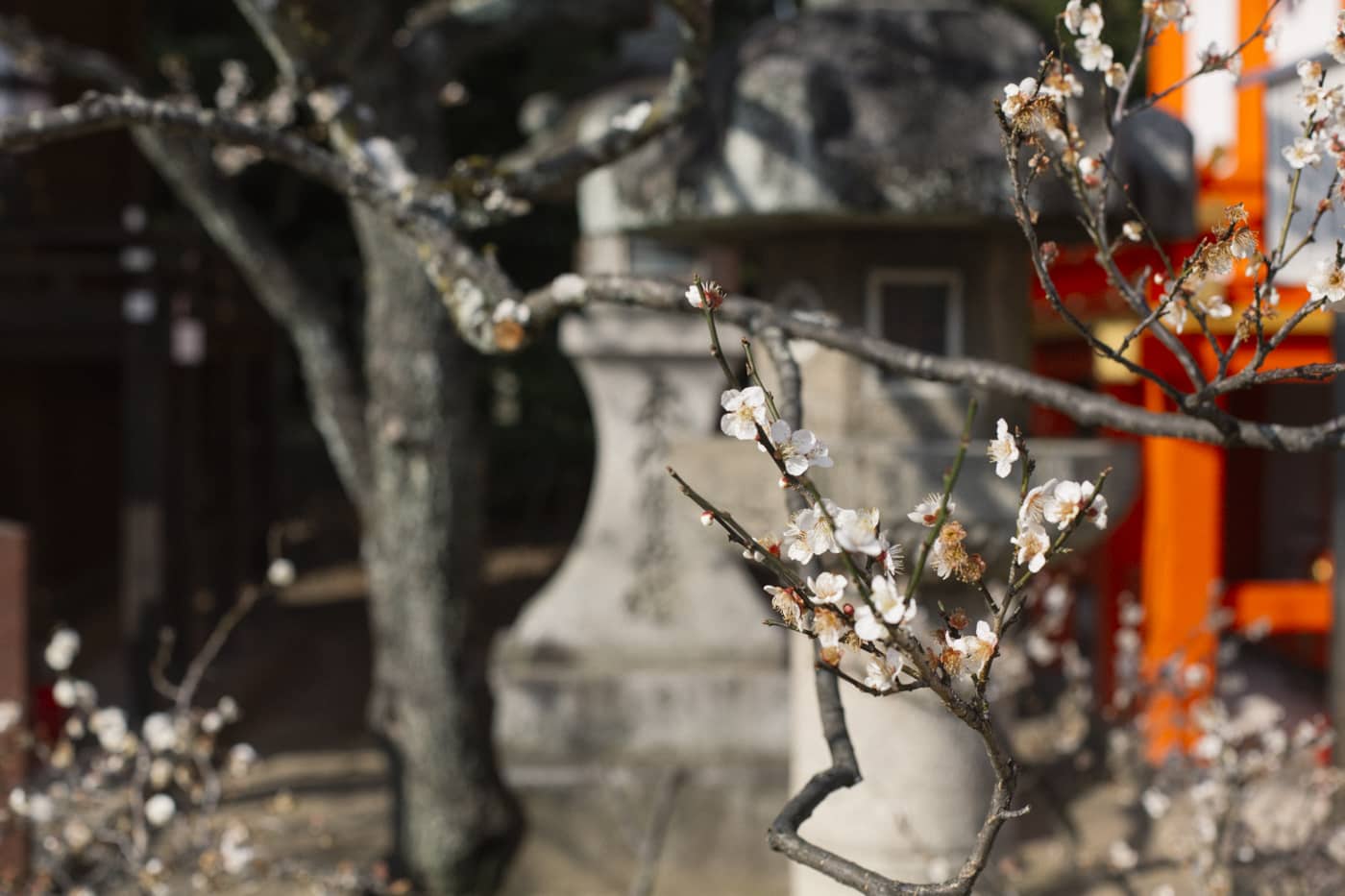 In a few days, we'll be moving to a completely new scenery. A little less poetic, a lot more warm: Chiang Mai! We're really looking forward to it, as it means that we'll be able to catch up with new friends there, and the familiarity of the place will allow us to focus on those new ideas and projects we want to work on. More on that soon.
In the meantime, I will make sure to share a Kyoto guide with you folks. I know that many of you want to come here, so I have been working on a little list of our favourite places to eat, favourite activities to do, and some practical details so you're all set when you'll be crossing it off your bucket list or even coming here longer term like us. This one will be posted friday of next week. Stay tuned! -> UPDATE: You can find it here!
---