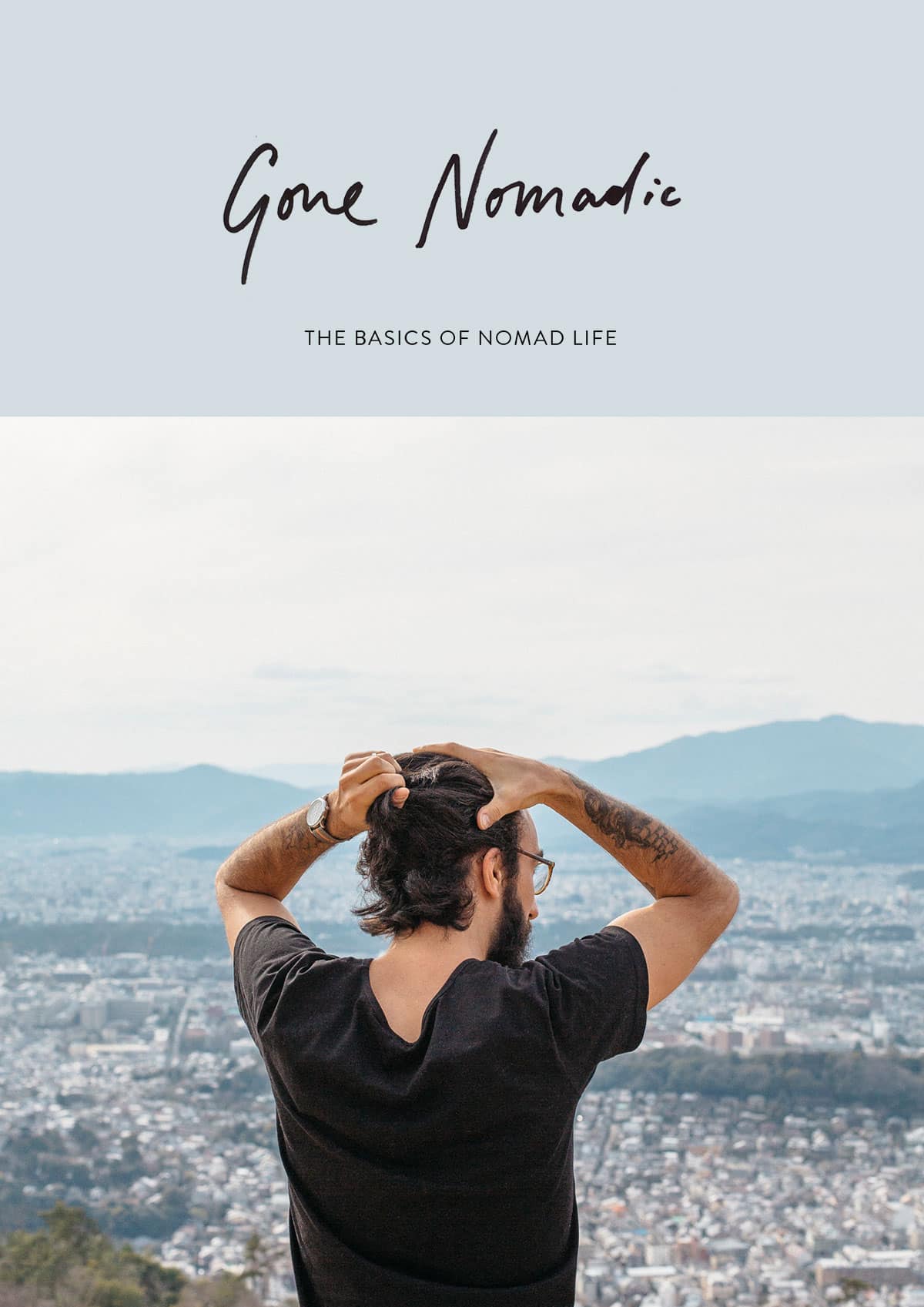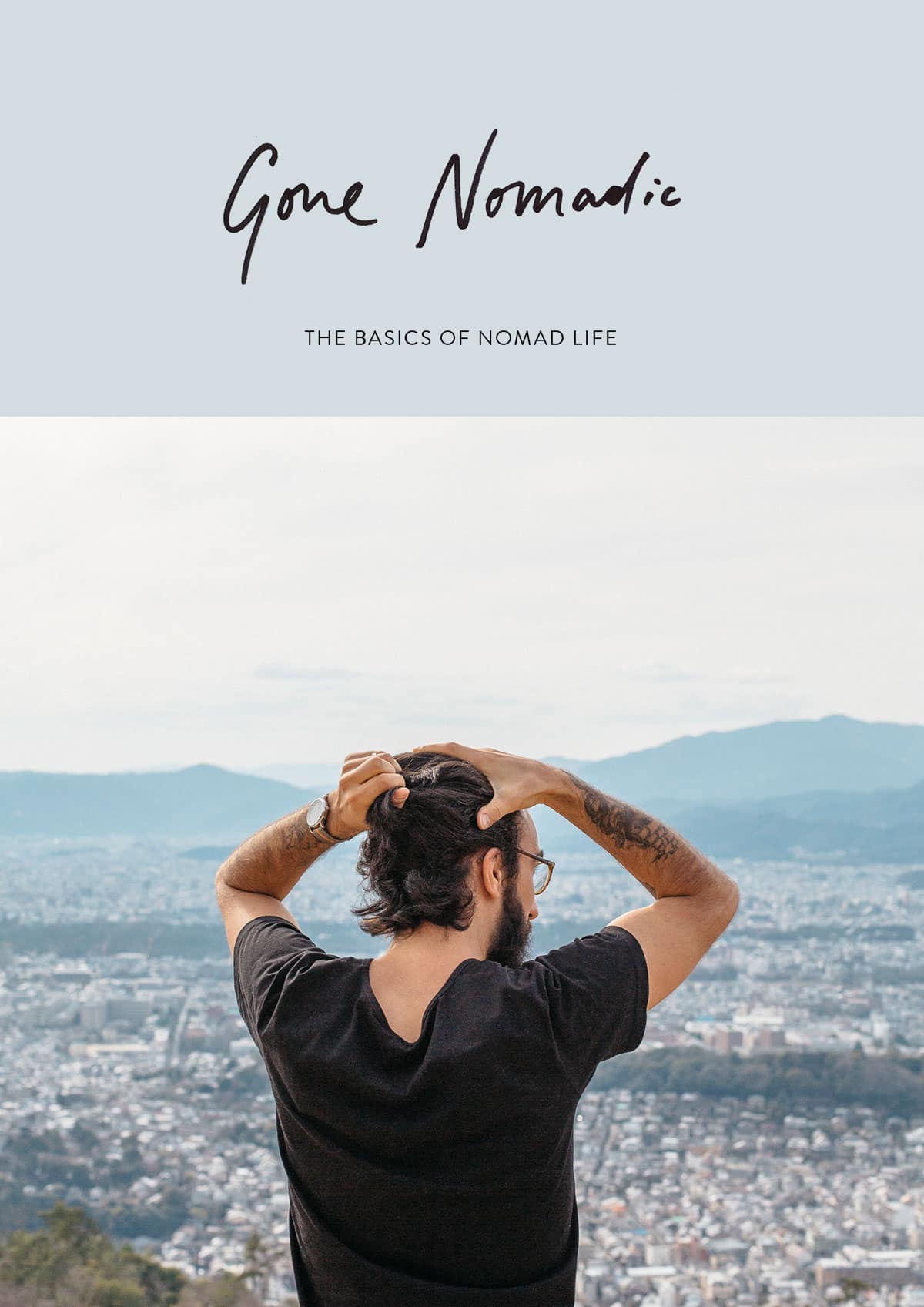 My goodness. David looks hot in this picture. And that view of Kyoto is stunning. It was taken on one of those beautiful moments where I was proud to be this awesome man's wife… and a NOMAD! Yes. Because if I want to, I can go back up on this mountain and see this view again, tomorrow. Because I currently live here and I am not just on a quick vacation. This is my life – I still can't get over how incredible this is and I'm so very grateful about it.
On today's post, I will get to tackle this topic and what really makes one's life easily location-independent. In our last post, I shared the story of how we became nomadic – if you haven't checked it out yet, I do recommend you have a look, as today's post is a bit of a continuation of that in more practical terms. Each person's story is different, so is ours, but in this post, I would like to share of what I consider to be "the essentials" of nomadic living and what sort of things are worth figuring out before making the plunge. I will also give examples of how we did in every area!
So, let's just get to it: what exactly makes a location-independent lifestyle possible? What are the KEY things to think about before… or while going nomadic?
Having a location-independent job so you can #workhardanywhere
Let's be realistic – life has its expenses, whether you are in one location or moving around. Therefore, being able to make an income on the road is at the core of living a nomadic lifestyle – in my opinion. Or at least, this is what marks a clear difference between being a nomad and a backpacker (please don't despise me for labelling things, I usually hate doing that). Backpacking around the world with no intention of working while at it, is usually based on having some money set aside then travelling till you run out of it – giving the wanderlust factor an expiry date. If you have a way to make your income while travelling though, you can technically just live like this forever. Or at least, just have the flexibility to wander about whenever you feel like it!
How to make your job location-independent is a whole topic to itself. There are so many ways to do this! If you're already a business owner like ourselves, you might want to think "Is my activity something I can do from wherever? And if not, then why, and how can I make it so?". It might require you to change some things around, like the format of your work – how can you make it easier to transfer your skill, service or product to the online world, or at least, make it location-independent? For us that part was rather easy, as all we had to do was just get our clients accustomed to the fact that we are working from different places, and come up with a different ways to handle our projects. But to be honest that didn't change anything in our usual workflow so I can't really say it was too drastic of a decision to make.
Our friends at Ubuntu wear, though, had it a bit differently. They are small business owners who started out by having a shop in a set location, and this is how they grew their brand. It was however also very stressful for them, and over the years they realised that wasn't the best deal, as they started dreaming up a location-independent life. So they made some major steps like giving up their physical store, turning it to an e-shop and moving all their activity online. A good thing to do, as they are currently in Bali and this has been a huge inspiration for their designs.
If you are employed somewhere, going location-independent can result in different case scenarios. "Working from home" or telecommuting is something that has become more and more normalised, so you might want to see if this would be doable for you. Take it one step at a time, who knows what you can work out of this. Another option is to take up jobs wherever you travel, which is particularly interesting for people who have language skills and can resort to things like teaching english abroad.
Another way: starting from scratch. Learning about how you can turn your passion or skill into a good activity that you can do from anywhere. A passive online business? A service that you offer to clients worldwide? It won't happen overnight, but hey, there are tons of resources about it out there – might as well just get started and see where it brings you.
When there's a will, there's a way! And if nomadic living is something that makes your heart flutter, then you will find it.
Defining your idea of living nomadically
Not everyone's idea of living a nomadic lifestyle is based on the same principles, and there's not "one" way to do it. You can tailor it to fit your needs. Going through some questions and analysing that a little bit (like a fun quiz – all to yourself) is what will make your lifestyle choices personal to you.
Questions to ask yourself:
How long would you like to travel at a time? And what is your idea of "home"? You might want to travel for just a few weeks/months at a time, alternate travel with being based somewhere, or become a full-time nomad. You know what… it can even change along the way. When we had our first thoughts on going nomadic, we were talking about alternating 2 months of travel and 1 month of being "home" in Luxembourg. Turns out that these two months became longer, because travelling long term just felt right. We also managed to rent out our own place on airbnb, so that actually financed our life elsewhere. As a result, the whole concept of home is something we are disconnected with – we feel home wherever we are in the world. But of course, this can be different for everyone.
What sort of setup would you expect from this life? Are you on the comfy & luxurious side, or are you a very flexible minimalist? What exactly do you need to be a happy, functional human being?
For us, these things are pretty clear. We love being immersed in a local culture and have beautiful authentic experiences, but we also like to feel safe & have access to modern commodities. We need good wifi in order to work and share things on our blog, as well as a workspace or coffeeshops where we can go and get some work done on our laptops. We like to eat out and taste local food, but we also like to have access to a stocked kitchen so we can cook, and a good bed to sleep & recharge. Nothing fancy, and we don't mind living in share spaces either, but we do need our privacy and our own schedule. All of these things helped us define "where" and "how" we could live abroad. It also helped us define the cost of it.
All of this can be quite daunting to think of at first. But no worries – that's what a "work-cation" is there for. A work-cation is essentially a working vacation, or… a test that you can do for 1 or 2 months, to help you dip your toes into what nomadic living feels like, then figure out what it ultimately means to you. We did plenty of those – this is how we got here!
Getting your shit together & having systems in place
Get yo' shit together! – said ol' wise Linda & David. NOT. Well, we all learn by doing, right? One of the first things that we would recommend to anyone, whether they want to live like a gypsy nomad or just have a normal household – get your budget on track.
I know, I know, it's terribly boring. Or at least it sounds like that. But trust us: figuring out exactly how much your life costs, is something that's truly eye-opening. We used to be utterly clueless about this – and guess what: this is precisely the reason why we were afraid to go nomadic earlier. Simply because we had no idea where our money was going, so in all vagueness, this sort of lifestyle decision sounded "crazy". As soon as we figured exactly how much our monthly expenses are in terms of food, living, (and all of the other hidden costs) we had a sum that we could play around with. Seeing it there in front of us allowed us to see which expenses were super easy to cut as well. We sold our car and THAT was a biggie. You don't need to do this if you don't want to, but I guess you see what I mean.
What it also helped us do? Seeing what expenses "could" actually be lowered by living in an affordable country for a part of the year. Yes – being a nomad can actually be cheaper than living a conventional life. Once you've got your average life expenses sorted out, you can do yourself a favour and check "cost of living in -country of your choice-". Bingo.
Keep in mind that it also helps to know how long you want to be in each destination. Slow travel (aka staying in a place for at least a couple of months) is always cheaper and more relaxed than moving around every few days. It also helps to spread out your costs for bigger expenses like plane or train tickets. Do consider it!
As a nomad, getting your shit together is about: doing your research, comparing different case scenarios and budgeting those different possibilities. David and I like to say that making a travel plan is like making a business plan. One thing is sure: having this sorted out allows you to wander about with a true peace of mind.
Removing obstacles & being flexible
Is there something in particular that pushes your wanderlust away? Something that feels like an obstacle or something a little bit difficult to sort out? Something you are afraid of? Question it and make it a point to find a solution to it so it doesn't stand in your way.
For us, those were a few things: 1) the commitment of our own place 2) the unfamiliarity of working while travelling and not having "a" specific place to be creative  3) the fear that friend/family relationships would suffer from the distance
We found a solution to all of these things. For the first, we lessened the commitment and financial weight by renting our place out on airbnb. For the second, we spent a lot of time questioning what we need to be creative/productive, and came up with a portable toolkit. This, along with having a schedule and knowing exactly what pushes our creative buttons, helped. As a musician, it was a bit tricky for David to imagine himself making music while travelling, but even he managed to make that activity travel-friendly. For the third, well, that had more to do with the mindset. We learned to cultivate all important relationships via distance, because we live in a time where this is possible. Of course, some relationships did not survive it as well, but hey, we've met so many new friends along the way so that counter-balances very well. We practice non-attachment and that's the best thing we could do about it!
Non-attachment: To people, to possessions and everything else that keeps you stuck into one place, as well as the status quo. This is what it's all about. We have it easy, as we didn't have to take too many difficult decisions. But I know that this could be the start to an adventure for everybody, including people with families. It is totally doable, you just have to question what keeps you from doing it and how you're going to face the current obstacles by thinking outside the box. This is what it's all about.
Embracing minimalism
With thinking outside the box and living a life of wander comes MINIMALISM. Or, as I prefer to say, essentialism. Having to fit your life in a luggage forces you think like one, whether you want it or not. Those luggages get heavier and more annoying to handle every time you pack and unpack, and you feel every kilo of everything you own! There is literally no room for extravagance, or those extra sparkly shoes that you brought just for that "one" evening. Some people would hate the thought of this, but we've definitely come to love it. It makes life so damn easy. We travel with just a few clothes, just our essential work equipment, and our essential hobbies-turned-travel friendly (I am in love with my Kindle). That's it! We've essentialized everything, it gets no simpler than that. There are people out there who are even more extreme than we are with this sort of stuff, but as beginners in the field we've already had to de-clutter several times. All the rest we need can be found in the places we're staying in – wherever we go in the world, I love having access to a well-equipped kitchen for example, so that I don't have to travel with a blender, haha!  I remember when someone had asked me "don't you miss having all of your own stuff" and it came as a shock to me. Not being attached to stuff and not having to feel concerned about it is truly refreshing.
A shit-defying, easy-Going mindset… and plan B's
Whether you're an ultra-organized, budgeting, well-seasoned nomad or a newbie, shit scenarios can happen to the best of us. Actually, you know that? It doesn't just happen to nomads, it happens to everyone, even people who live a more conventional lifestyle. I mean yes – "shit happens". Of course. A nomadic lifestyle is full of beautiful travel discoveries, intense authentic experiences, eye-opening thoughts but it also comes with a few sprinkles of disappointment. You may arrive into a new city and realize it's not as exciting as you expected it to be. Or you may have troubles in your new home abroad. Our friends Nick & Gen have a really melodramatic story about how their airbnb in Serbia got raided by…bees. You can do all the research in the world to avoid that this happens, but it's good to have a plan B and be a little bit flexible just in case shit comes your way, you never know. A nomad is a person who should easily be able to face such situations and move from place to place without too much hassle.
We find our ideal balance with slow travel (which gives us enough time to feel comfortable somewhere new), and NOT planning or booking our whole year ahead. This can save you if you change your mind due to an inconvenience, but also if you end up in the opposite situation and… fall in love with a place. You may want to be able to change your plans/ideas and stay there longer, who knows? I'm gonna be cheesy, but…what if you meet the love of your life there? Like I met THE raw pizza of my life in Ubud?
Flexibility is at the heart of a nomadic lifestyle. Some of us are more flexible than others, but ultimately, it is also what gets you the good prices for plane tickets – have I told you that we flew from Paris to Bangkok for only 210€/each? Hell yes to being flexible! Sometimes this can go the other way though, that's life. Have flexibility in your schedule and in your mind – and you'll be a happy wanderer!
I hope this post helped you curious folks have an overview of what the nomadic life is made of 🙂
It has all been a huge learning process for us, and to be honest, this is exactly how it should be – we all learn by doing! Let us know if you have any questions or more things that you'd like us to cover around the topic!
---