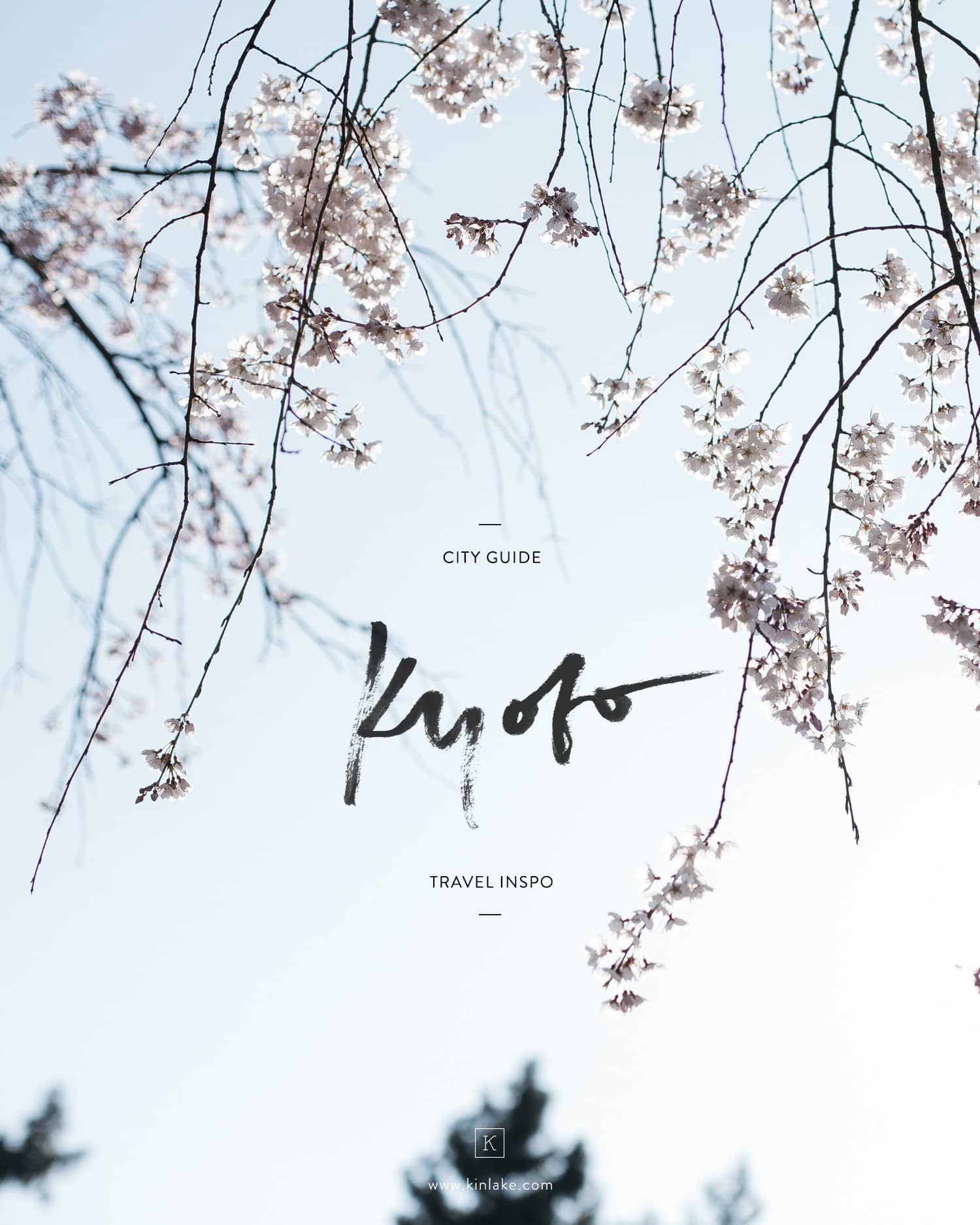 David and I have undoubtedly fallen in love with Kyoto.
We're pretty sure that we're not the only people who are in this situation, and many more will be, because Kyoto is a wonderful place to witness.
Many of us seem to have Japan in our bucket lists, and almost every first trip to Japan includes a visit to the old historical capital. The first time I came here in 2009, I experienced it like many others. I was visiting for a couple of days, mapping out every highlight I'd seen from a guidebook. It was fun, but I knew in my heart there was way more to it.
This year when David and I came to Kyoto, our experience was vastly different, as we stayed for a whole two months. We really managed to live here like locals, and so we witnessed many more subtle, authentic things that this city has to offer. We wandered in hidden streets, marvelled at unique sights, and took time to discover little coffeeshops, eateries and shops held by locals, that all have a very special vibe to them or something comforting to offer.
All of which I want to share with you today, so that you too, can have a beautiful (and different) experience when you come here.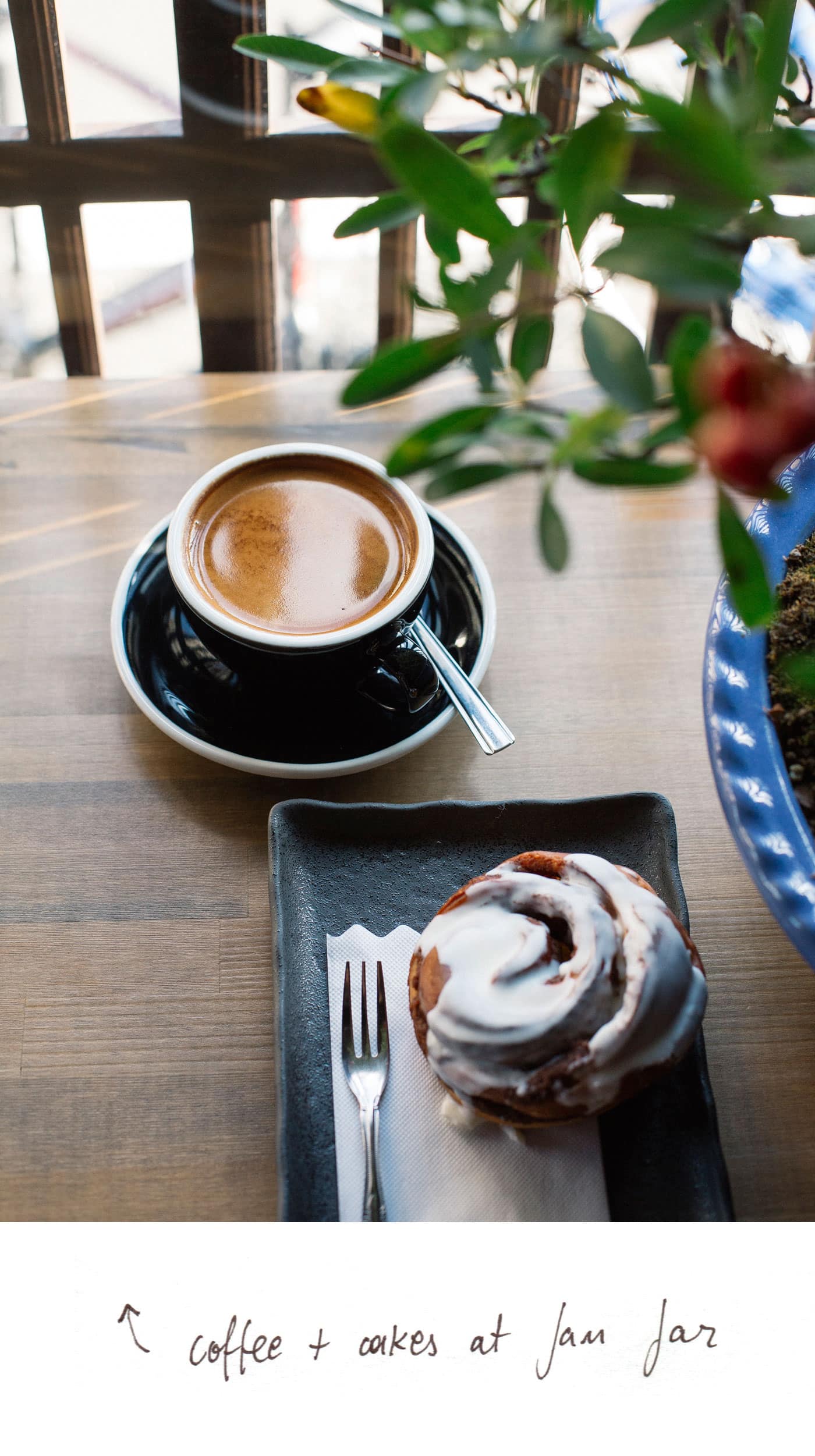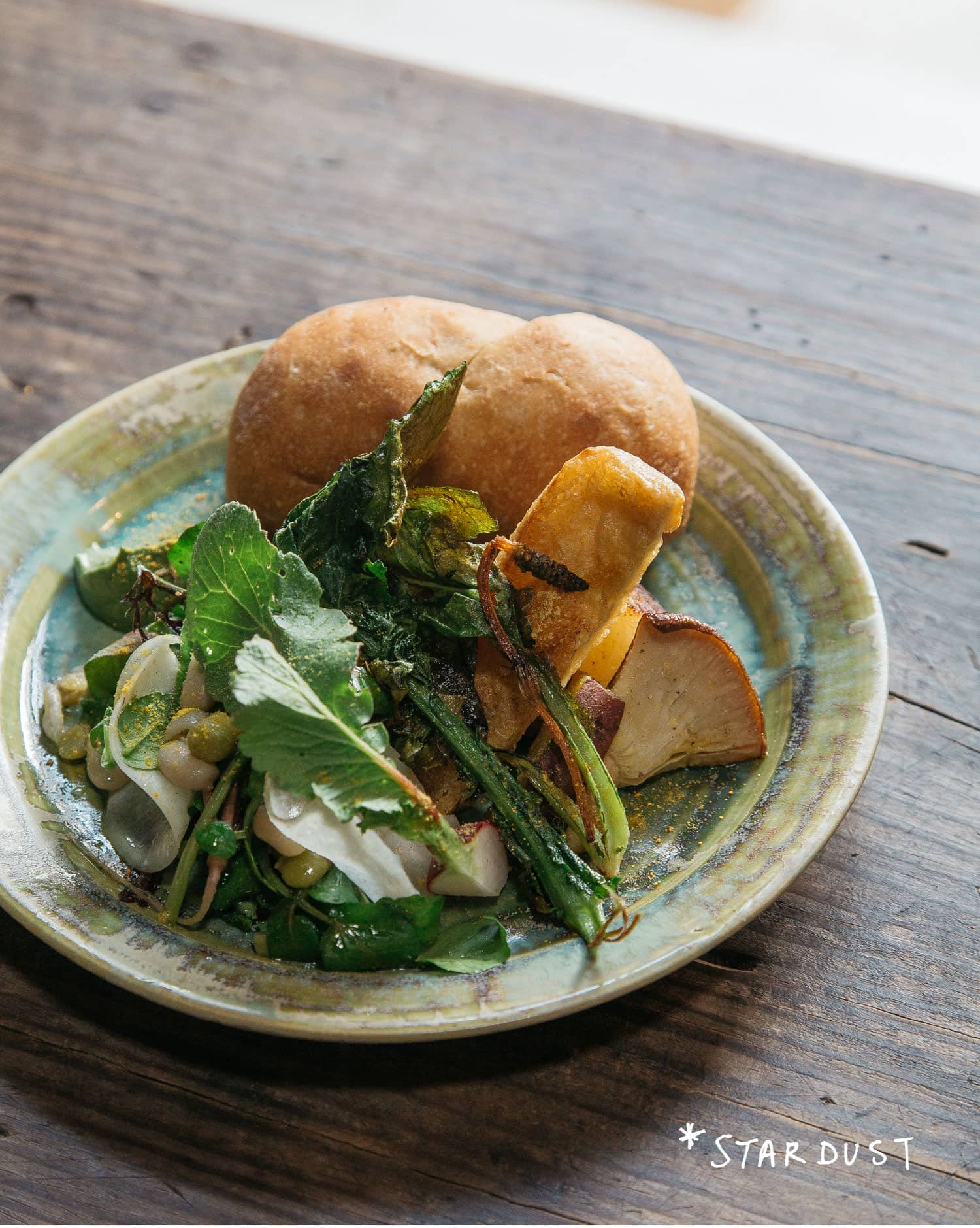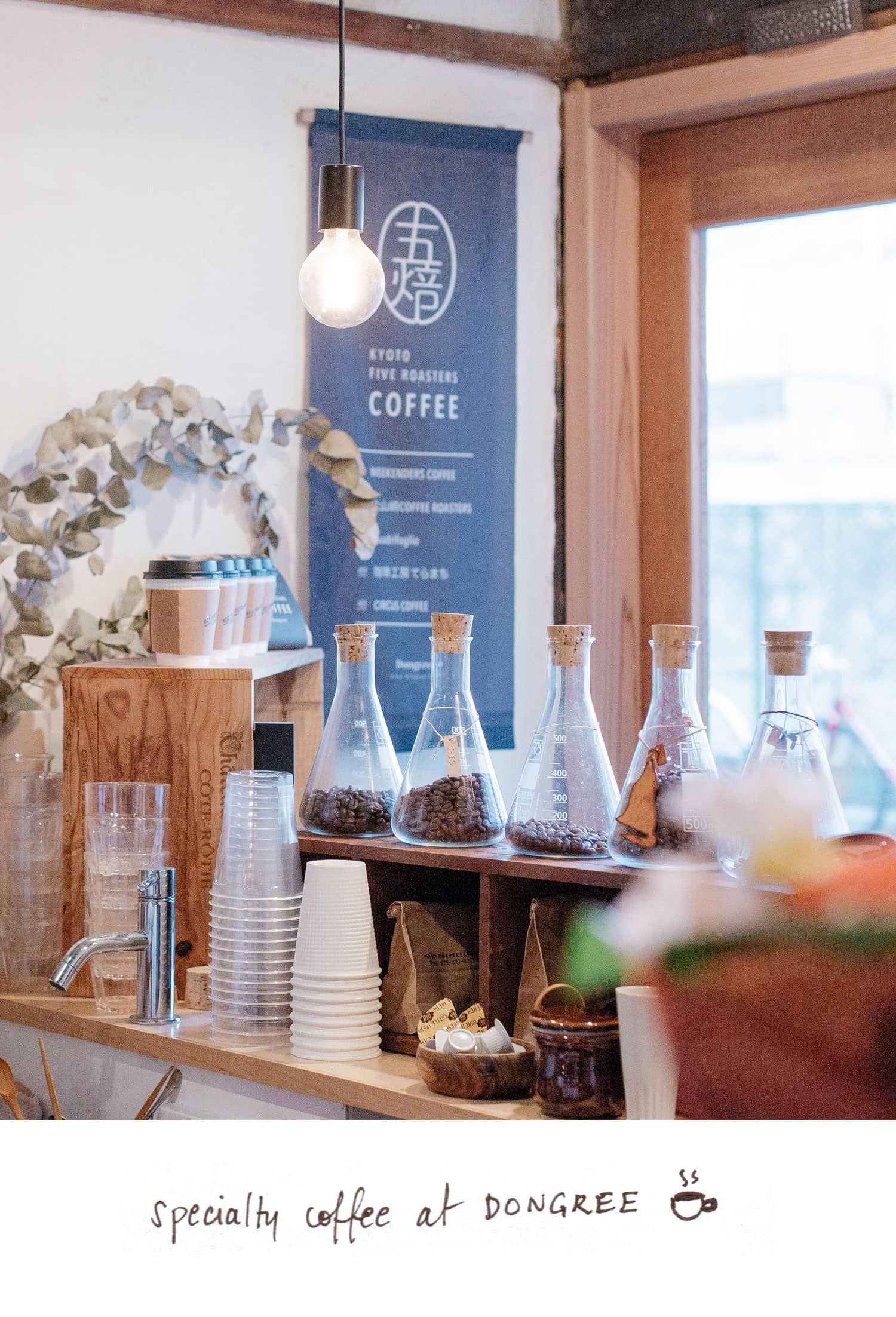 Favourite Places To Eat & Drink
It's not hard at all to find good places to eat in Kyoto. There are so many little local eateries – my tip to any traveller would be: "don't be intimidated to just go in there". If you see a little eatery packed with locals, chances are it's a foodie gem you have to try. And don't be scared of the language barriers – many places to have an english menu if you request it. You can find just about anything, any type of food, for any budget (by the way – let me clarify one thing: Japan is not expensive and can absolutely be budget-friendly). I am personally a huge fan of Udon restaurants, as they are affordable and yummy. There are many in the city which you can find just by walking around – most of them make their own noodles by hand. The great thing about Japan is that you're never likely to be disappointed with the flavours of your food, as high quality just seems to be the standard everywhere you go.
Kyoto is also an excellent spot for people who have a sweet tooth. Wherever you go, you will find authentic little shops making japanese confectionary (such as yummy mochi) and serving the most delicate green tea. Don't miss that.
These are types of places which you can find just by walking around (and I highly encourage you to!). However, we do have a few favourites when it comes to some more alternative spots we fell in love with, such as coffeeshops and restaurants with a particular concept.
JAM JAR LOUNGE | This beautiful lounge café is located in a renovated machiya (traditional japanese house). It's held by a sassy Aussie guy called Danny and his japanese partner. The coffee is excellent, their pastries and jaffles (a sort of grilled toast) are scrumptious. Go there, sit by the window, sip a coffee or espresso martini, listen to the jazz music, read a book from the shelves, relax …and don't forget to say Hi to Danny from us!
CAFE FROSCH | This is an adorable little place, held by a lovely beret-wearing owner and it's full of froggy things (even the wifi password is associated to a frog's sound in Japanese). They serve affordable and yummy breakfast and lunch options, and they make their own bread with koji (a japanese fermentation starter which is also used for making saké). Get the breakfast bread + jam set so you can try it out. It's only 650Y and so tasty!
KNOT CAFE | A beautiful coffeeshop with stunning interior design and many modern wooden accents. They are known for serving little buns with a huge chunk of tamago (japanese omelette) in them, but also for their excellent coffee. It's more expensive than other places, but their brews are spectacular. A must for a coffee geek.
DONGREE | This one is also a top spot for coffee geeks. There are many good independent coffeeshops in Kyoto (including the famous 100% Arabica), however, many of them are often crowded as a result of being overhyped. This one is sort of hidden and very small, so it feels quiet and intimate. Have a slow coffee sipping session there while sitting on the tatami mats. It's magical.
STARDUST | Stardust is a place that's out of the ordinary. The moment you will get in there you will feel it. Everything in there is pure serendipity. It is located in an old barn-like house with high ceilings with textured walls and an ethereal type of light beaming in, making you feel like time has stopped. Jònsi & Alex is playing in the background to accentuate that even more. Handcrafted ceramics and textiles carefully adorn every corner. The owner has a gracious presence, is kind-hearted and greets people with a slow, warm voice. You can have an exquisite tea there as well as a slice of homemade raw cake, served on handcrafted plates and vintage crockery. Upon reservation, Stardust's owner also cooks homemade vegetarian food made of seasonal greens from her friend's garden. Sheer, transformative perfection.
ANTEROOM | Anteroom is an artsy hotel, located on the south of Kyoto station. It's apparently a great place to stay, but what we particularly enjoyed of it was the breakfast buffet which is also open to non-guests. There is a salad bar where you can create your own salad with homemade dressing, and you can also choose 3 (!) of the day's specialties, which rotate often and include seasonal goodies. You also get a complimentary fresh smoothie and as many drinks as you want (coffee, tea, juice). All this for only 1000Y per person (less than 10€). The place itself is beautiful and often has an art exhibition being part of the decor. It's one of Kyoto's best kept secrets for artsy foodies 😉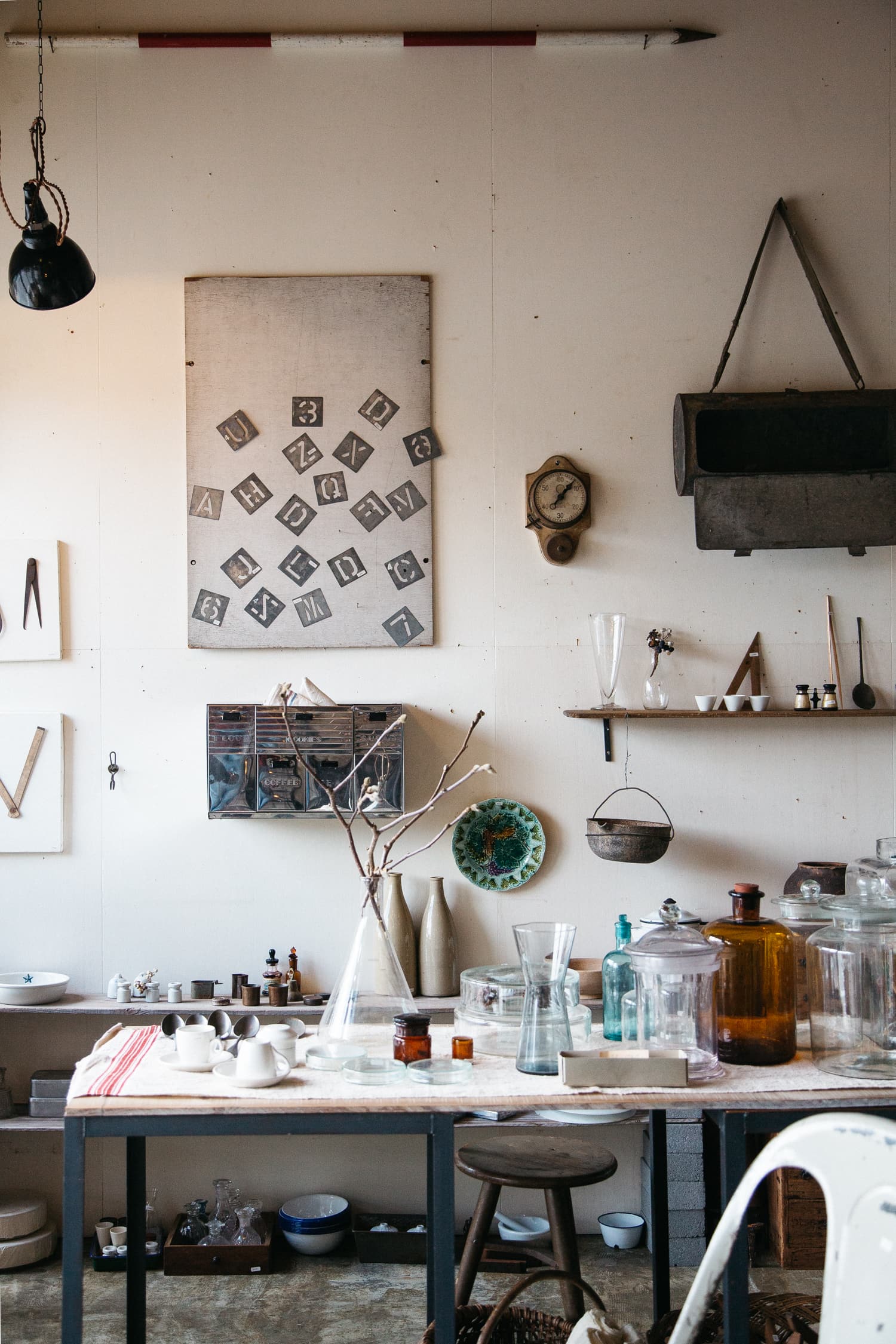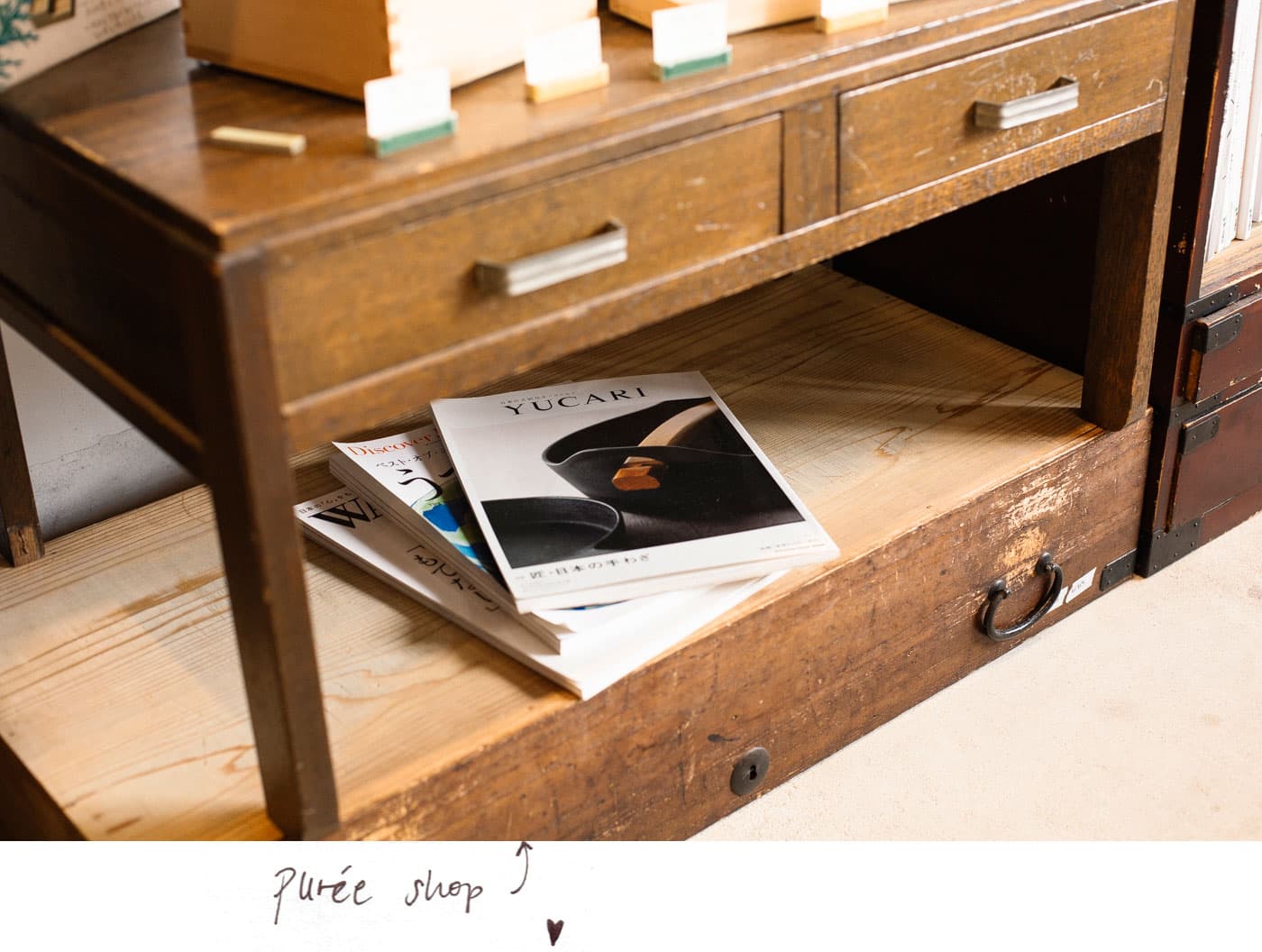 Favourite Shops
There are so many nice shops in Kyoto. And what's very special about them is that they are usually very connected to the local craftsmanship. Take your time and lose yourself in little streets, you'll likely find some exquisite handcrafted food, ceramics, textiles and more. These are some of our favourites:
PUREE | Here, you'll find an incredible collection of handmade ceramics and textiles, most of which are made in Kyoto and produced right in the back of the shop! Watch out for the hot tea kettle in the room – you'll probably be served some delicious brew while you're there, too.
HANAMIZUKI | A beautiful little shop, located nearby the Kitano Tenmangu shrine. If you love unique vintage furniture & objects, be prepared to fall in love. Here are a few words from the curator: "I love the texture of old tools. I could make use of them in my daily life, placing antique objects in a room space just the way they are, and paying attention to the balance and color of each one."
MUMOKUTEKI | This is an uber-cool, multi-concept place in the heart of Kyoto. At the top you will find a vegan café, on the ground floor you'll find a lovely selection of handcrafted and sustainable decor, fashion & accessories (including many gorgeous indigo dyes!). And on the underground floor, a magical little area filled with a collection of retro finds such as old decorative suitcases, lamps and tools. Love it!
SOU SOU | Modern, japanese-inspired fashion with a creative twist. This brand is from Kyoto and now has some branches in the US as well. Among one of their most unique items you'll find the "Tabi" (split toe) shoes, which you can either love or hate, but do make sure to check that place out. It's very interesting to get an innovative, creative interpretation of japan's traditional attire!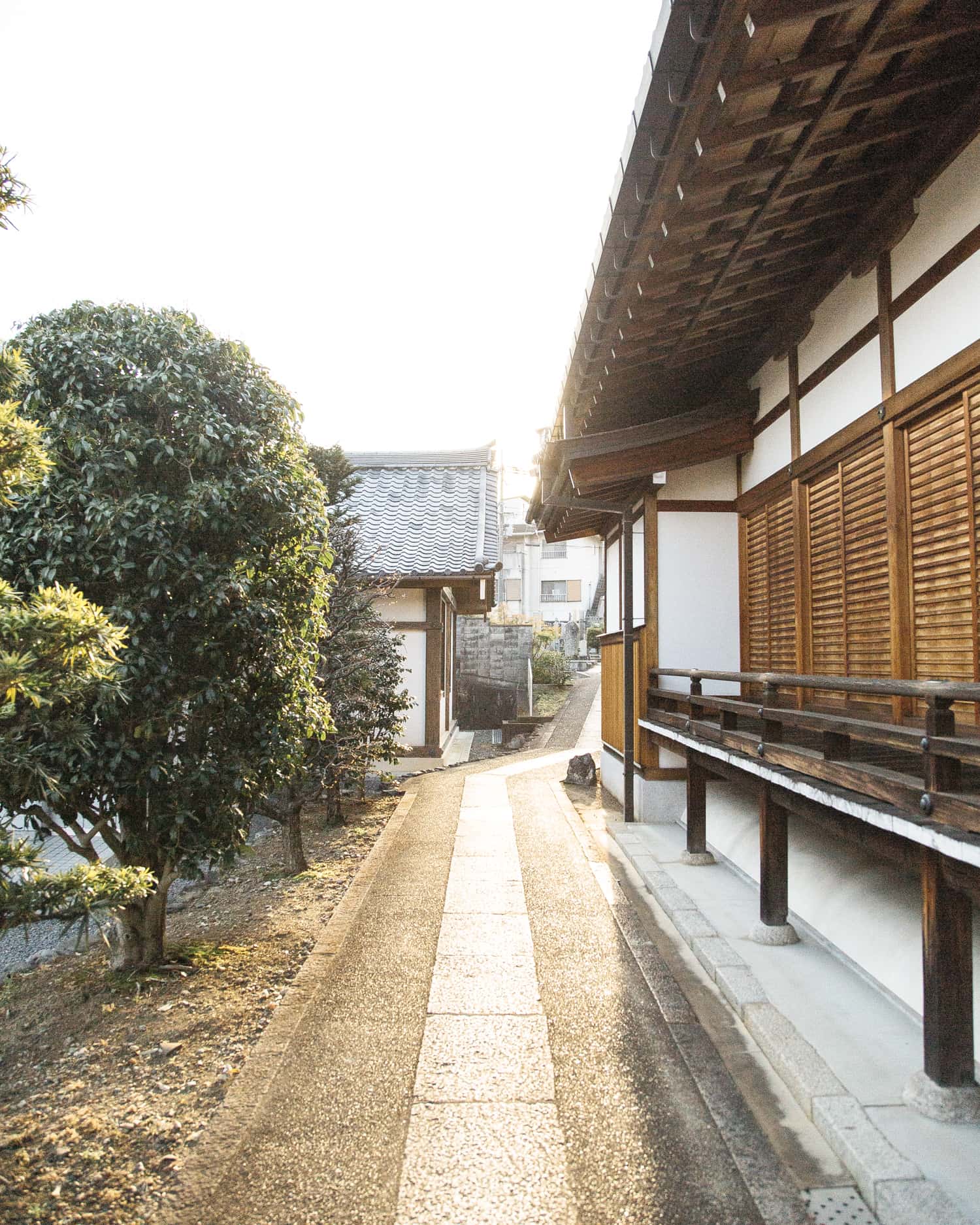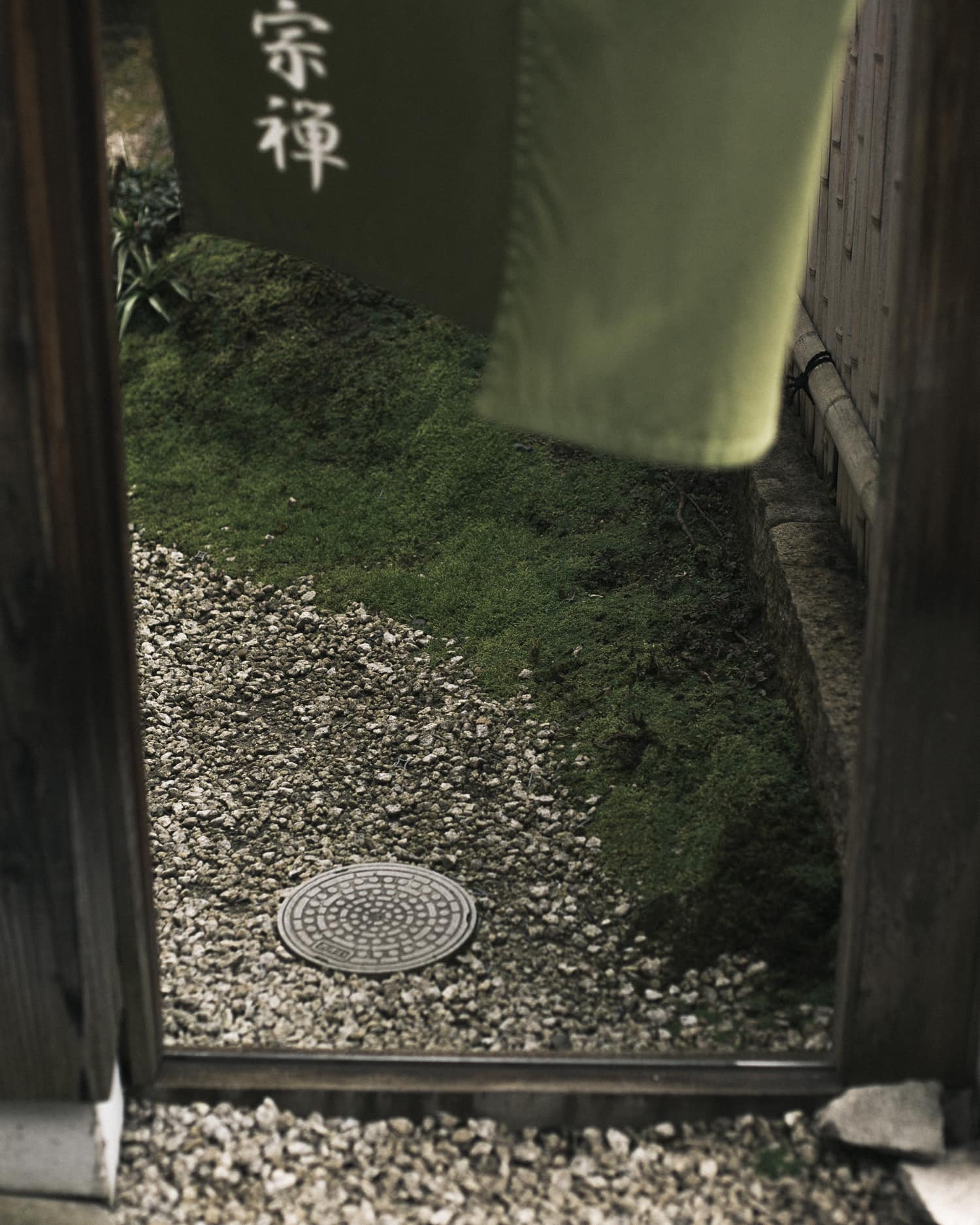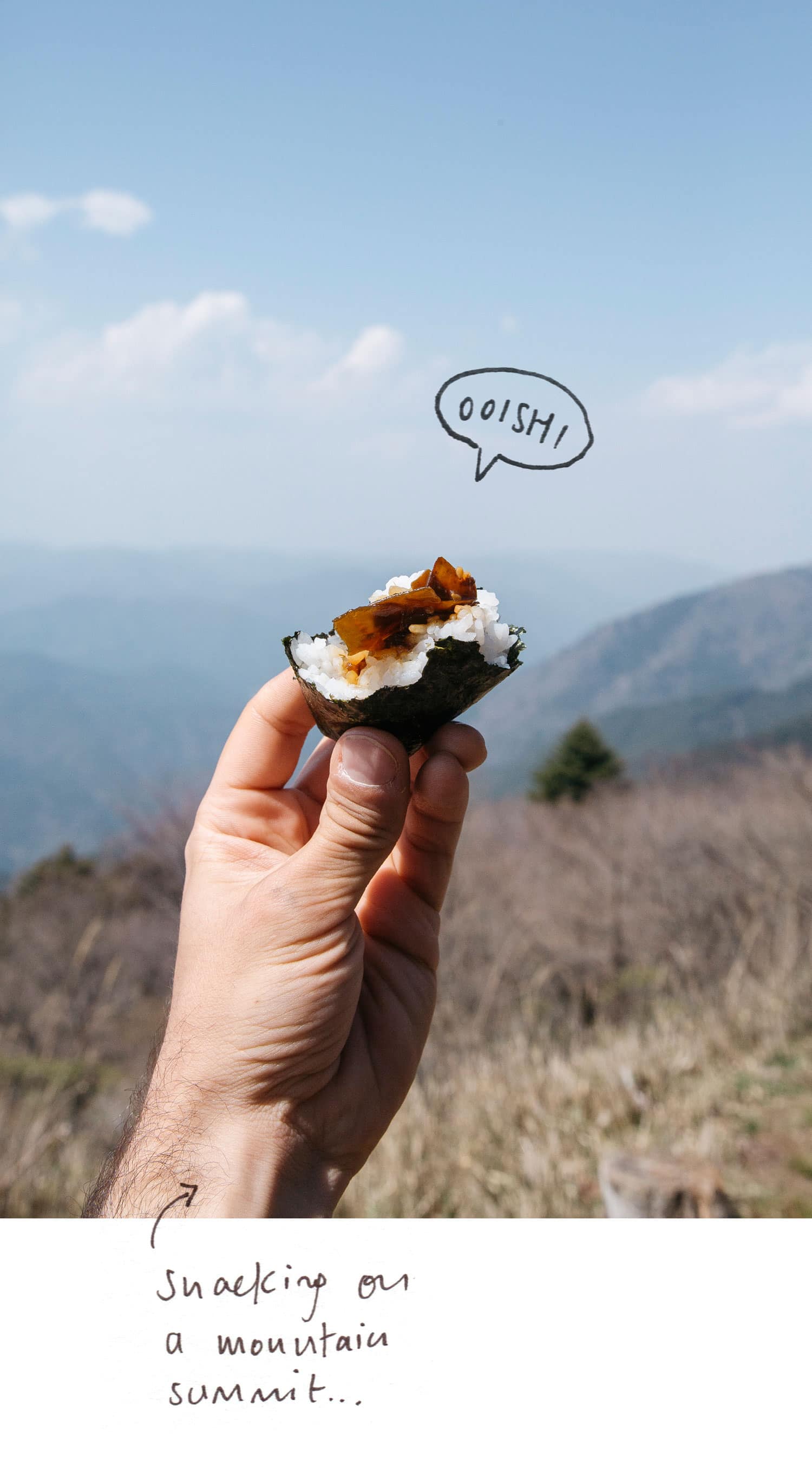 Favourite Things To do
As the historical heart of Japan, Kyoto has a fair amount of stunning temples and famous sights, such as the Golden Pavillion (Kinkaku-Ji), the Arashiyama bamboo forest, or the super photographed Fushimi Inari Shrine. However, due to their enormous popularity, these are spots that are constantly flooded with tourists, which can make it feel like they lose their charm. Some particular areas, such as Gion are also constantly very crowded. Although we experienced these spots when we lived in Kyoto, those weren't the ones that felt special enough to stay engraved in our memories. Instead, what we found magical and way more authentic happened just by taking time to get lost in Kyoto's streets and alleys. That's how we found the more hidden, unique temples and places were the locals go.
VISITING A ZEN GARDEN | The zen spirituality & teachings originated from Kyoto. One of the most important places of Zen is Daitoku-Ji, which we were lucky to live close to! I highly recommend visiting it, as well as its zen garden, Daisen-In. Every single thing you will see there has a very deep symbolic representation about life and its impermanence. When you will get there, you will receive a very informative pannel which will explain every single detail – nothing there is made without purpose, even the floors have a very specific role. Just so interesting to take time to walk around, read about it and absorb it all. On the weekends the temple also organizes "zanzen" (traditional zen meditation). Those are not your usual casual meditations but very strict seated ones according to zen teachings. If you're feeling adventurous, give it a try!
CLIMBING A MOUNTAIN | Another great thing about Kyoto (which is not to be ignored) is its landscape. As it's placed in a valley surrounded by mountains, it's a wonderful opportunity to go hiking and explore that natural scenery, often associated with historical myths of spirits that protect the city. A rigorous but short climb is Mt. Daimonjiyama – it's very popular with locals, who will politely greet you along the way (look out for the fierce Japanese grannies who are fitter than you, haha!). The view up there is stunning and panoramic. Another mountain which you can either climb in several hours or reach by cable car is the mighty Mt.Hiei. It's the tallest mountains of them all. At the top, you will find a collection of temples and you might see some monks (some of which are famous for being "marathon monks" – mind blown). If you're a nature lover and summit views shake your soul, don't miss an opportunity to go hiking in Kyoto, there are so many incredible trails and mountains to explore.
HAVING A PICNIC BY THE RIVER | One of the simplest yet most authentic, truly "Kyoto"-like things you can do in Kyoto, is to get a bento and have a little picnic by the Kamogawa river. In spring, when the cherries are in blossom, the river sides are packed with locals who eat and drink together to celebrate the sakura. But even in more quiet times, it's always a beautifully calming experience to just spend some time there, observe the locals who go for a jog or walking their dogs (often shibas!), parents and their kids, students or retired folks just having a relaxing time… And if you're lucky, you'll likely spot some wildlife. Majestic-looking packs of hawks often cirle the river looking for something to eat, as well as ducks and herons.
TAKE A SIDE-TRIP | To me, it's not always necessary to get out of Kyoto because there is so much beauty to it (and so many things to see/do!) – but it would be a pity not to. Kyoto is close to many interesting cities and towns that are worth visiting as well. We took a daytrip to Nara, which I highly recommend as it's one of the most fun experiences to have in Japan (read our post to see why!). Next time around I am thinking about going to Uji, as it is famous for the highest grade Japanese green tea!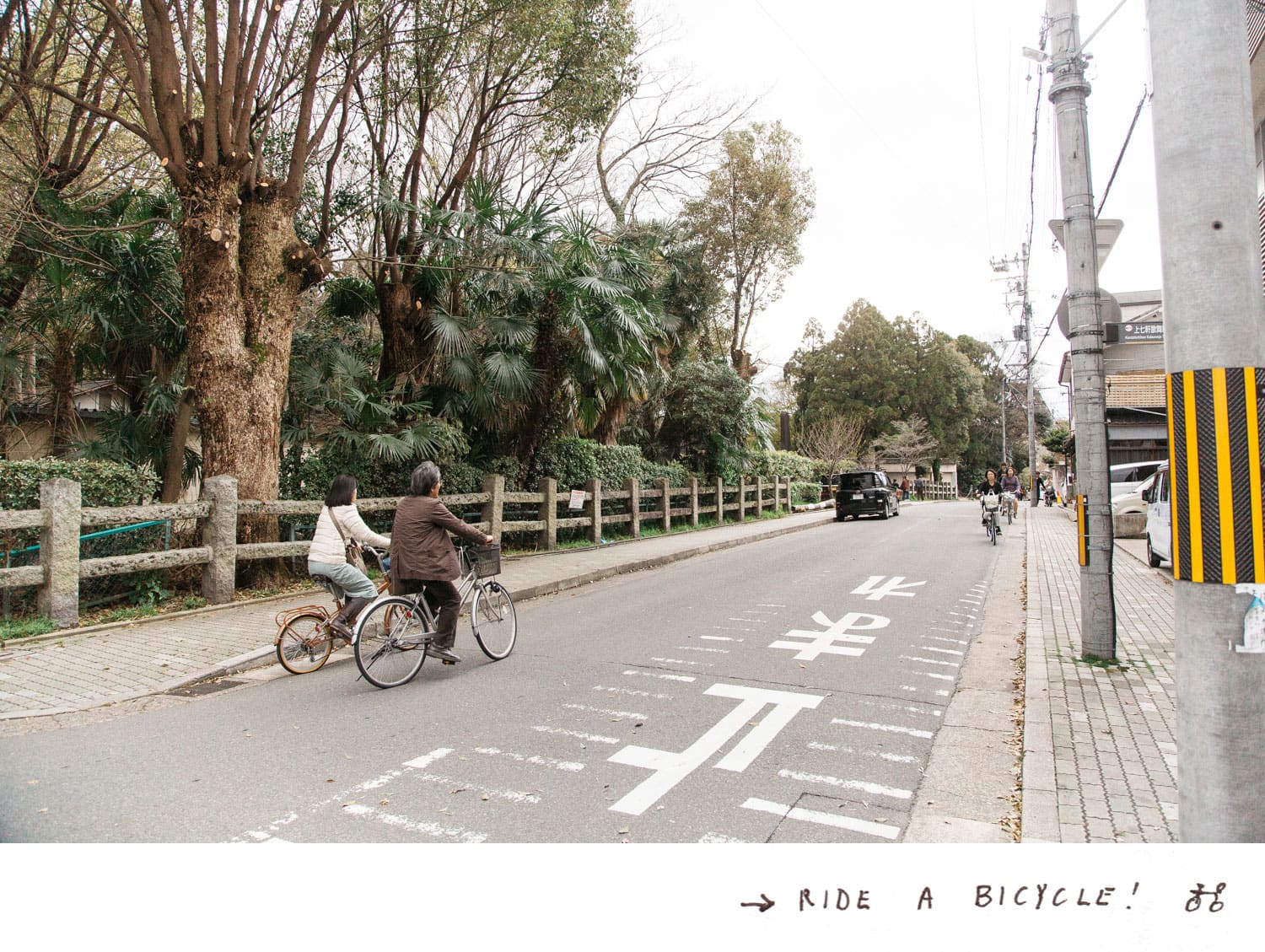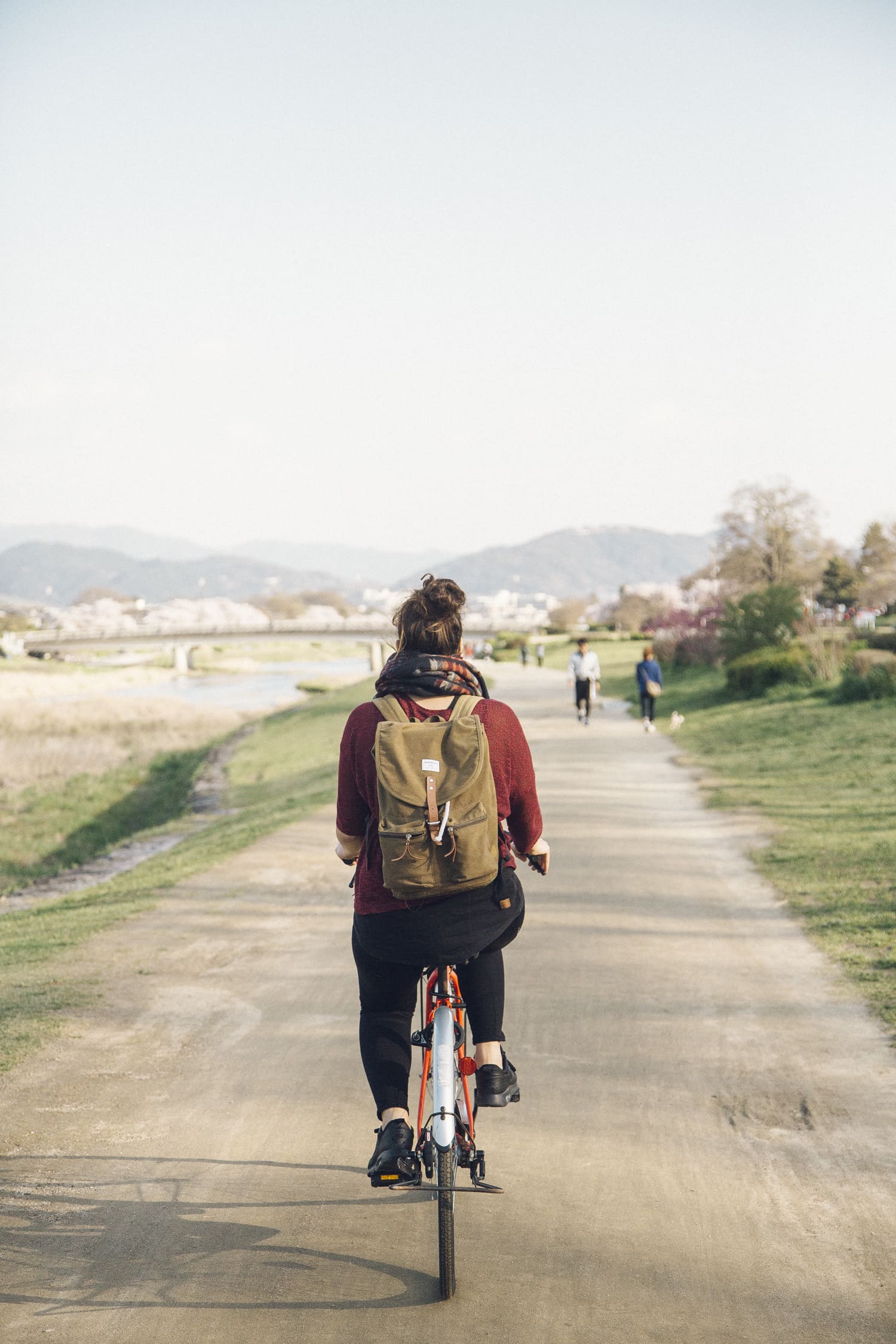 How To Get Around
Kyoto is not so big and it does have some reasonable public transport connections (as well as a few underground metro lines) but the best way to get around is definitely by… bicycle! As it's rather flat, this city is very bike-friendly. So much, that the abundance of bicycles is more controlled than other places. In popular areas around the centre of Kyoto, it's advisable to park your bike properly to avoid any issues. If you just keep this in mind, then cycling in Kyoto will be a breeze. It is so safe, so easy and you can easily get around everywhere!
You can easily find a bike rental shop anywhere around you. But if you intend to stay in Kyoto for longer than 5 days, then I would recommend you buy one. That's what we did, and we just sold it when we left. This is a very easy thing to do as there are many online buy & sell communities as well as second hand shops which can help you out!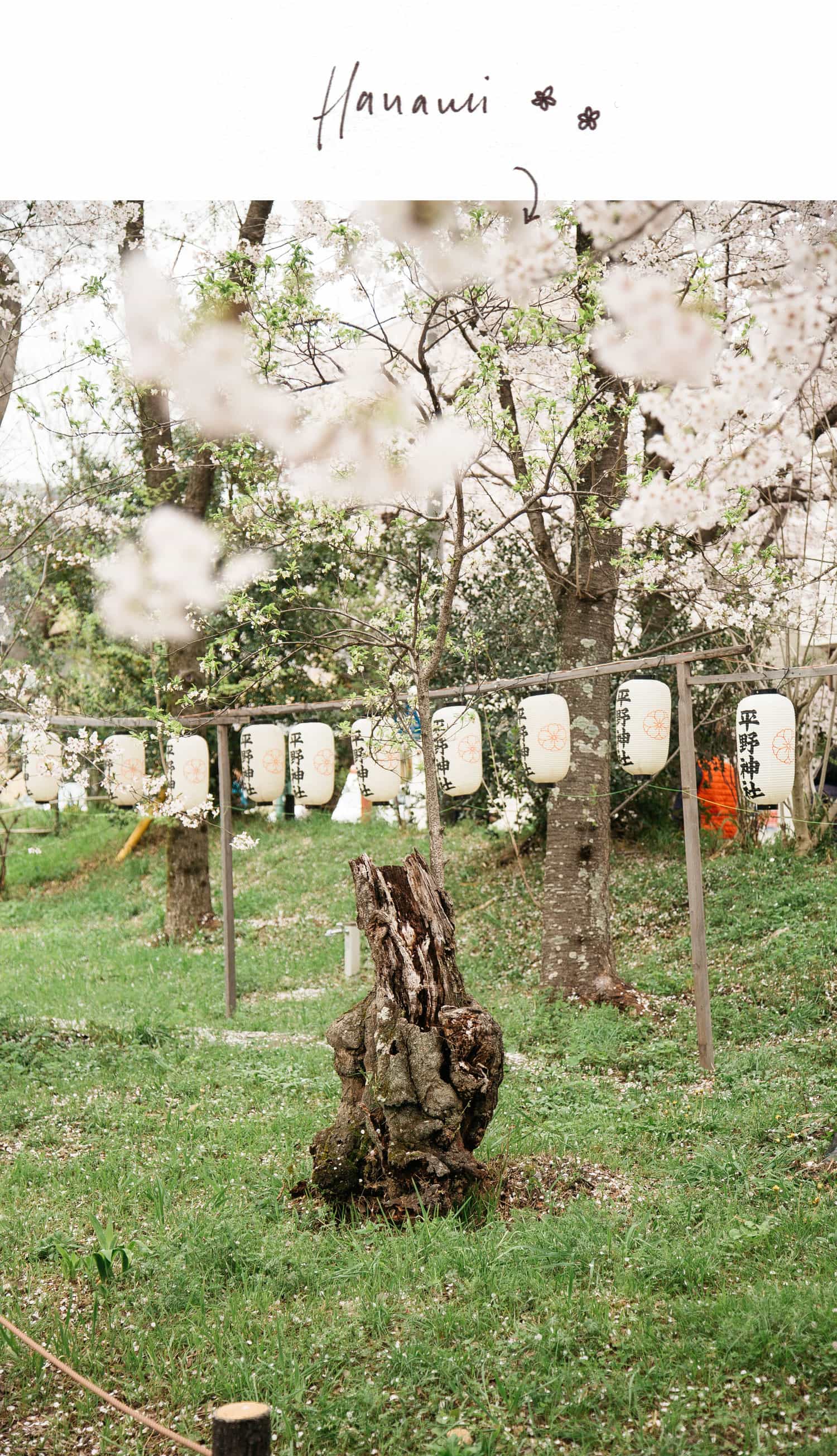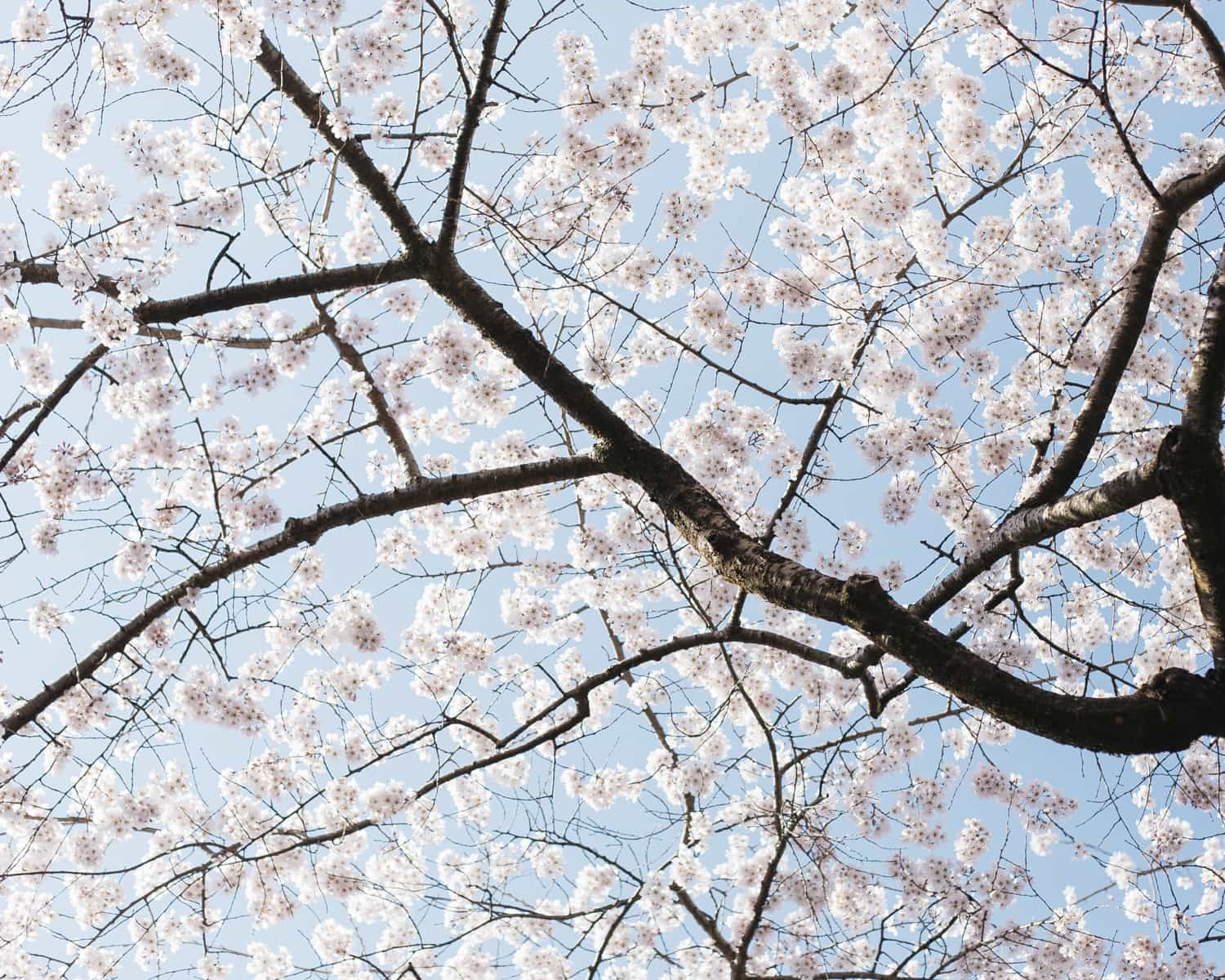 Best Time To Visit
Shoulder seasons, such as spring or autumn are the best time to be in Kyoto. Kyoto looks beautiful every season of the year, but summers are very warm and humid, and winters can be very harsh. In spring, the weather is lovely, the temperatures get warmer and of course, there's a huge highlight which turns the whole city into a pink wonderland: the sakura! However, due to that, it's also very crowded at that time of the year. It is manageable though, if you are happy to avoid tourist traps (like we did most of the time).
Autumn is less popular but just as beautiful and filled with seasonal delicacies. As I've mentioned in this post about the 5 things that inspire us about Japan, the Japanese are very connected to nature and seasonal changes – there's always something special going on in the fashion, food or events in the city. Keep your eyes peeled when it comes to that!
_
I hope you guys found this post useful to plan a little trip to Kyoto (or a longer one)! If you'd like to read more about our personal experience living there for 2 months, make sure you have a look at this post as well. We hope it will inspire you even more. Let us know if you have any questions 🙂
---