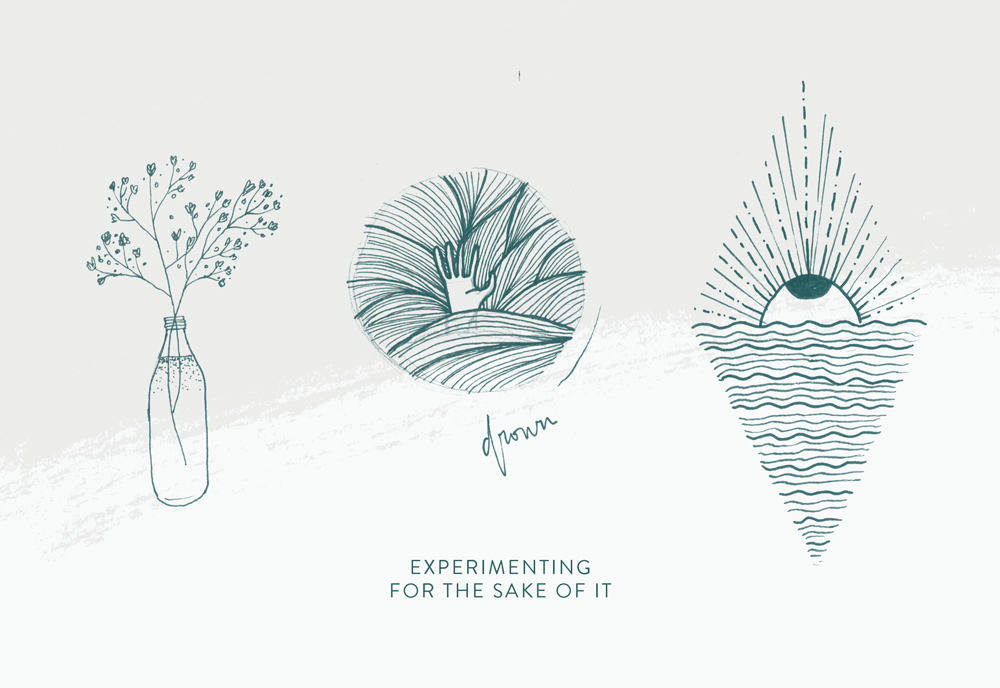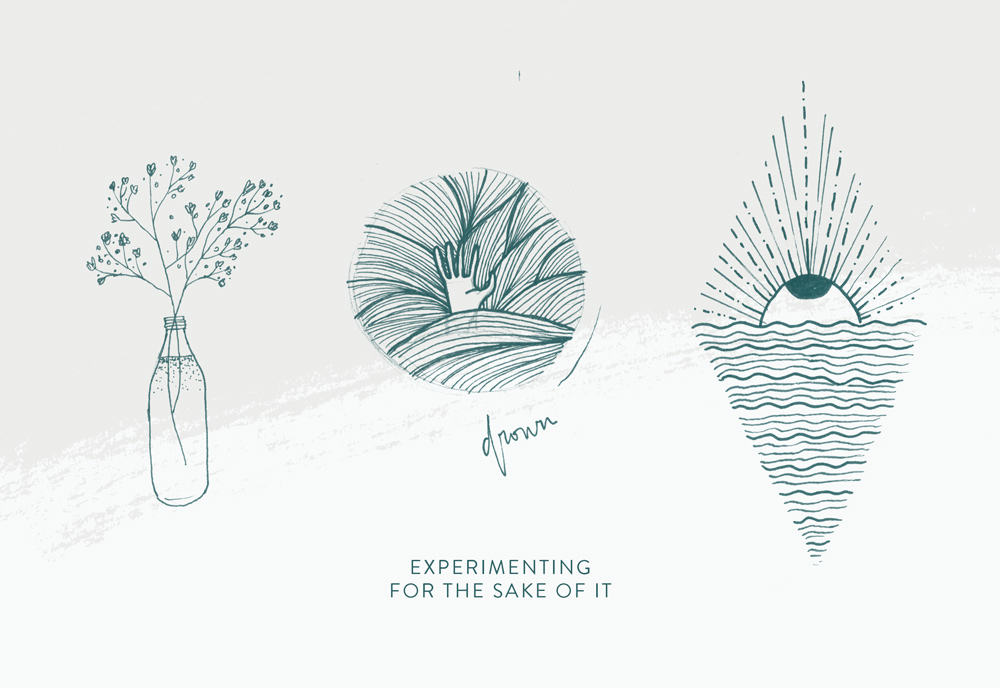 Creativity. It's something that we decided to put at the core of our lifestyle.
However, it can be frustrating sometimes. You know, the creative mind can be a bitch. As creatives, we are aware that experimenting is a huge part of evolving our craft and…having fun. We even have a motto: #creativityeverydamnday.
There is a certain pressure around that though. Like many like-minded folks, we get quite judgemental with ourselves and that can make us feel restless. We then find ourselves in a strange place – we experiment, but we don't quite accept the idea of experimenting without making something out of it. Everything we do has to turn into something that we can share with the world. Otherwise, it feels "useless", like…clutter.
A few days ago, I experienced this feeling, and I realized that I put my expectations high with my goal of doing more illustration. Illustration always has a space here on our blog – it appears whenever I like to create handcrafted visuals for our articles, or share some personal experiments that thankfully turned into interesting results. Sometimes my illustration work also appears in our client's branding projects. I get a huge kick out of creating something with my own hands, that can later be used and shared – it feels so epic to create something that can be released.
On the other hand, however, I often feel self-conscious in the experimenting process, when not all my ideas turn into something. Not all of it always comes to the surface – and that felt increasingly stressful for some reason. From not becoming something, it then felt to me like they mean nothing. In the meantime of always wanting to make more stuff that can be finalized, I lost touch with a big part of my creative experimenting: the process itself.
Experimenting, just for the sake of it. With no expectations whatsoever.
In the creative field nowadays (heck, even all entrepreneurial fields in general), we are encouraged to take every skill we have and to turn it into a real project. Something worth sharing. Something awesome. Perhaps even profitable. The issue with that is that the process is not really glorified, only the result.
Today, when cleaning up my desk – I thankfully managed to take a bit of perspective and to think about this.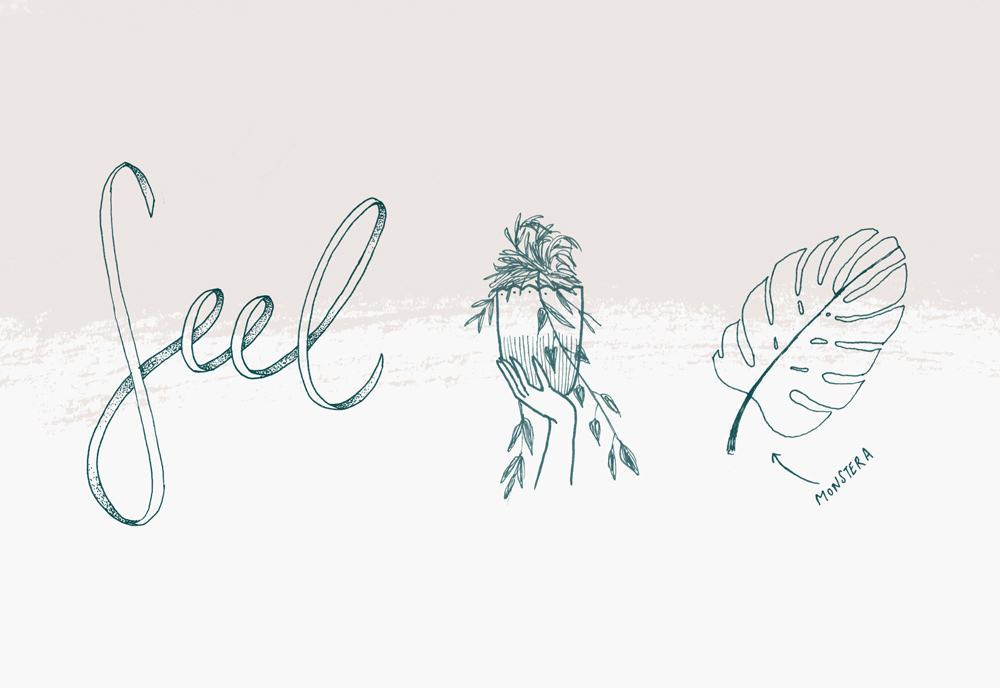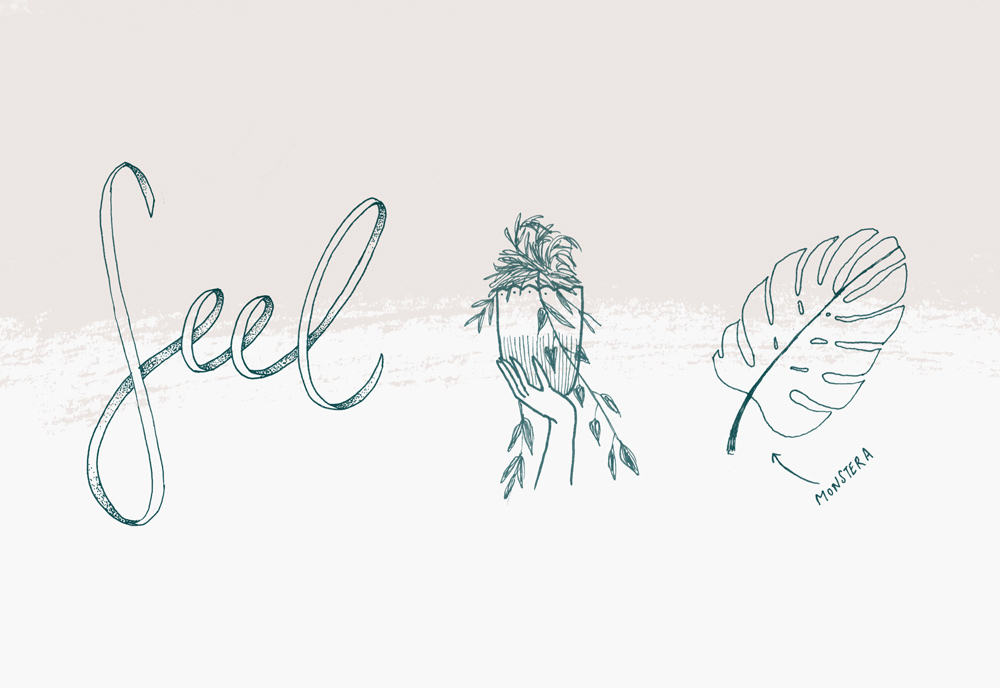 I found tons of my unused sketches. Random plants I drew while staying in coffeeshops. Sketches of weird ideas I had. Awkward little hand lettering experiments. All little imperfect fragments of an unfinished process. All those personal creative moments captured in a piece of paper. Just by seeing the amount of stuff that was there, I realized that they were more than little useless scribbles – they all contributed to my creative path in a way or another. And so I suddently felt a huge wave of gratitude towards them.
Some of those failed experiments allowed me to understand things I dislike doing, and some of those "not so satisfying" drawings shaped my personality, allowed me to see what I enjoy, to perhaps try it in another way later. Or not. It really doesn't matter. At least, they provided me with a moment of self-discovery, when I tried to connect the dots between thoughts, paper and pen. All those experiments, they meant something.
If you don't experiment intuitively, how can you figure yourself out?
_
On the visuals above, you can see some of those unused drawings. I thought I'd give them a chance here in the context of this article – some look so awkward to me, I even cringe when I look at them. There were so many more, it was kind of overwhelming! In the same spirit, I have decided to start a little instagram account just so I can share those illustrations. Not everything there is of a share-worthy status in my opinion, but I thought that I might just try to release my experiments anyway, just so I can reflect upon them!
_
Today, I want to encourage you to do the same. If you have a creative outlet that makes you happy, that gives you joy: do experiment, just for the sake of it. Don't put pressure on yourself, just try to enjoy the process, see where it brings you. If you only expect it to bring you to a result, you might miss the magic.
---