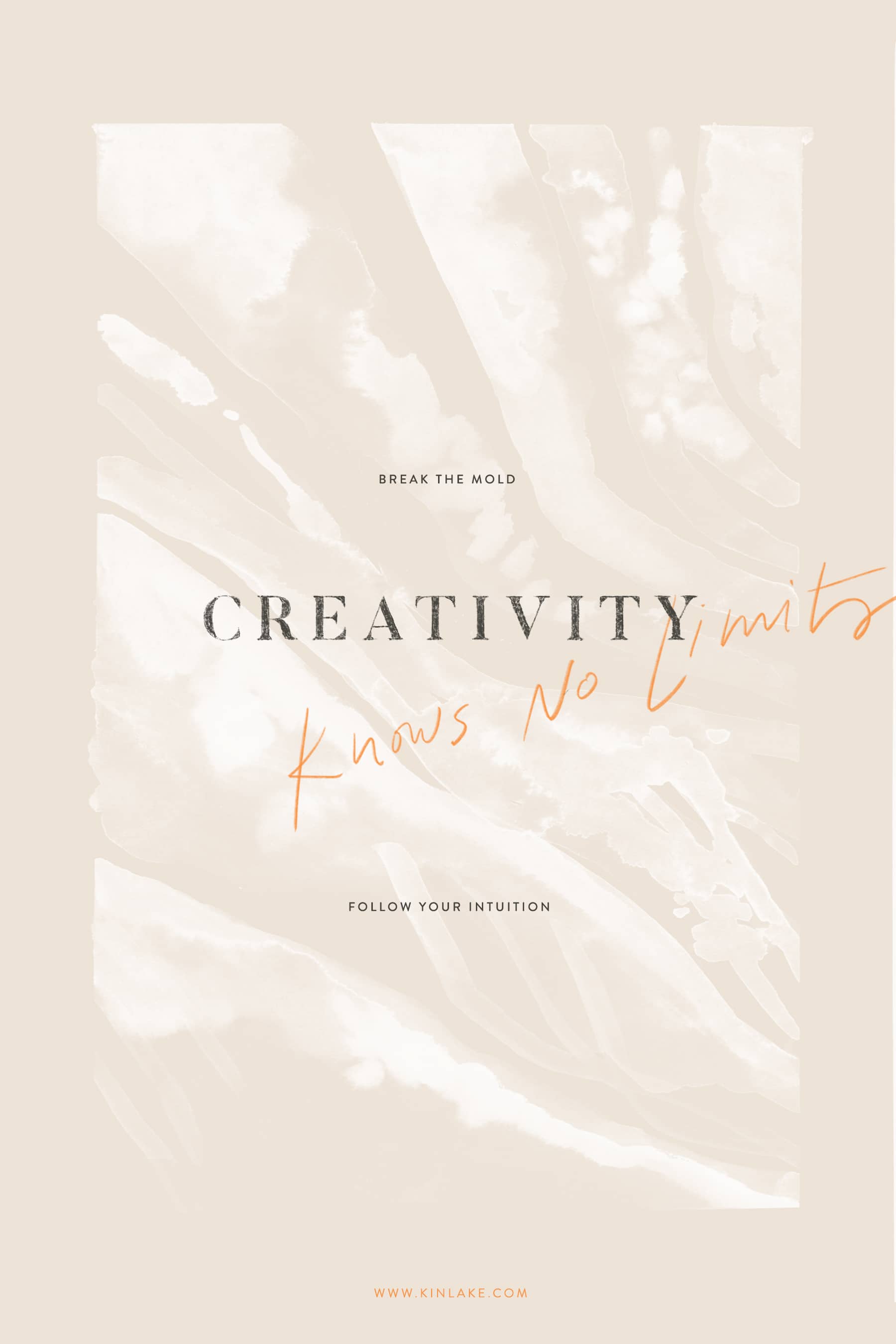 Making a living out of what you love is fun, and if it involves creativity, well, that's even more enjoyable. Every day is an opportunity to create – what's not to love, right?
If you've hopped on that wagon, you might find that sometimes it's kinda tricky to find what to call yourself. But thankfully there's an umbrella term that you can always use: "creative business". And boy do we love that one. David and I have never loved using restrictive labels to define ourselves, so we just call ourselves a couple of "creative folks". As some of you may have noticed, it sits right under our logo like a little baseline. 🙂
"Creative business" is a vast term. It means you make a living out of something creative. It doesn't matter how.
We're not alone. There are many other creative businesses out there, doing all kinds of things – and so that definition actually allows us all to connect with other creative people around the world. As a result, there's a vibrant creative community present both online and offline. It comes together through people who make stuff and that are there to inspire each other, and help each other out. There is so much knowledge and experience to be shared and that happens very generously, which is so wonderful! There are tons of resources online for example, readily available to help any newcomer navigate the world of being a creative freelancer. Long blogposts, tips, how-to's, courses, online groups. You name it. It's all right there at our fingertips.
As wonderful as it sounds, there's a little issue with that. As with anything, it can be a case of "too much of a good thing", because that much information can also generate a massive wave of confusion. Combine that with the ubiquitous comparison trap that almost every creative freelancer has to deal with at least once in their lives ("oh but this designer/photographer/maker is so more successful/talented/creative than me!") and you've got quite the overwhelming cocktail. It's ok though, we're all our own bosses right? So after the wave of self-pity, there might be a chance that we wanna gain control, clarity and get our sh*t together. What happens then is that we roll up our sleeves, get into full research mode and try to grab even more information about exactly how the most successful folks do it.
Little by little, as we go through this insecure journey, things might get a little deeper and more specific. Refining, refining, refining. We might want to start to following specific do's and don'ts. Foolproof strategies. Defining our niche. Building a crazy cohesive instagram feed. Only posting our best work otherwise nobody will hire us. Being very selective with everything we post and everything we do. Maybe even deciding to focus all our creative energy into one thing and this one thing only, so that people will know what to hire us for, and so we can avoid being a "jack of all trades" or a "master of none".  And many more such decisions that we feel are right. At least it feels like we've got it all under control.
So within our beloved creative community we end up finding many designers who just focus on branding and who's entire world revolves around that, for example. Sometimes even an extremely curated color palette seems be guiding it all, all the way to their instagram feed, which honestly blows my mind sometimes. And yes, I notice that scenario often, but it also happens to photographers, who choose to focus on one type of service or industry. Or makers who just focus on one kind of material or product. It's like an embrace of the mono-concept, meant to bring clarity and harmony while speaking to ideal clients or an ideal audience. Well why the heck not? As somebody who absolutely loves the principles of essentialism, I get it. Focusing all your attention into one direction and having a really good strategy can be a great way to succeed at it. If somebody truly enjoys this and it brings them the clarity they need within their creative business, that's awesome.
… Does that suit everyone though? Well, no.
Remember earlier when I said things get a little deeper and more specific through the journey? For you, this might not feel this way. It's possible that you tried doing that, tried following some guidelines or focusing your attention one one thing and …that you did not exactly thrive while at it. That it made you feel stiff. And let's get real – nobody really likes to feel stiff. You wanna feel free, open, so that you can be the best (and obviously most creative) version of yourself.
In the sea of strategy + resources provided to creative people around the world, and the many attempts of following them, well, some of us actually end of feeling extremely "uncreative". And if you're one of them like me and many others, I want to assure you that that's ok.
Your creativity is not made to fit a cookie-cutter model. And you don't have to feel obliged to put all your eggs in one basket.
You know how we're told we're all unique? It's true. Your whole journey is your own, including all of your insecurities which are also your own. Your intuition is what you have available to respond to them and guide yourself to grow, especially creatively. That is the only true tool that you'll ever need, and the great thing is that you already have that right there with you. All the answers to your questions and "what ifs" are literally within your own possession.
Technically that means that at any time, you should feel free to take a giant step away from what you're told to do, and every little seed of doubt that external info is planting in you. And just start listening.
What it means to just do your thing.
As a business we are of course pressured to get our shit together and know exactly what we stand for. What will people hire us for? That's essentially the difference between somebody who does something as a casual hobby or someone, who like us, dedicates their lives to their craft, tries to make a living out of it, to inspire others or build a community and so forth. It can be one of the greatest motivations to just keep making it all happen, right?
But… should we let that drive to be successful take over our creativity and govern our intuition, essentially acting as a band-aid to our insecurities? Or can we actually work with it and make our own rules?
Let's say for example, that your creativity is naturally all over the place and that you keep having tons of ideas going in every direction, perhaps even cravings to play with different mediums. At first glance, it might seem that some ideas or dreams of yours will not easy to connect together. But wouldn't it be shitty to let that be a reason to stop yourself from pursuing them or even giving them a try?
That sort of feeling when you're so excited and overloaded with inspiration that you don't even know where to get started and your mind wants to explode? Sounds unhealthy but no, think of it as your heart beating a little bit faster when you run. That's your creative fire boiling. And no, you don't wanna put that in a box. 
Let's say you're an illustrator, but drawing  isn't your only love in life. You're also interested in experimenting with pottery, and starting a limited edition collection. Perhaps you're totally into cooking as well, and you wanna have a food blog or (let's go crazy) a cookbook. Maybe in the evenings you like to sew and repair clothing – and you've been secretly dreaming about creating a limited edition of quilts.
What would happen if you actually listen to your intuition and start dedicating a bit of time to each of these things? Would it be like having too much on your plate and spreading yourself too thin? Or would it create an absolute bliss of a life, that you, as a multi-potential creative being would love? Hey, you won't know till you try!
It seems to me, that many creative people I know and follow, are actually very "blocked" creatively because they might be afraid to do so. And I think that's a pity, as it means that a whole lot of potential fun exploration is set aside. Our minds as creative people can be scary as fuck sometimes, so what we do to feel safe is to try and tame them – just so things can get a little bit more manageable. After all, there are only 24h in a day and that makes absolute sense. But I do blame the rules that this thriving creative community has created. We are told for example, that having too many projects to share might confuse our audience.
David and I are primarily designers. Or at least that's what we studied and start our business "with". Before Kinlake, we interned/worked at design agencies – and from the very start, what helped us know what we wanted to do with our own business was to know what we did NOT want.
We did not want to become a design agency. We did not want Kinlake to become a business that is focused on one thing only and that wouldn't allow us to explore the rest of what inspires us. We wanted to learn new skills and have personal projects. We did not want to have an office that runs from 9 to 5 – as we want to be allowed to talk about these creative ideas at bedtime. We did not want to focus solely on attracting clients, we wanted to attract friends and people that we can connect with, that inspire us and who we can inspire. 
Starting our own creative business was a way for us to set our own rules. In short: we wanted Kinlake to become a vehicle for us to be able to live creatively. That's very broad …and we realize now, more than ever that it will always be.
We started as a design studio focused on branding. Which we still do today and that we're extremely passionate about, as it allows us to design bespoke, meaningful brands for some really cool small companies. We love it because it's analytical, social & creative at the same time and it keeps challenging us. Through that, we expanded our design skills to be able to make websites, packaging, and sometimes we also help our clients on social media. But we also do photography, without calling ourselves "photographers", for our clients and for ourselves, as we are fascinated by creating and capturing images. That even generated some side projects like David's @davidonanisland project. Sometimes photography becomes videography, too. And we learn more about video by occasionally making short experimental videos, as well as creating our courses. Since the beginning we have this blog, on which we sometimes spend a huge amount of our time, documenting our thoughts and our lives, as it allows us to reflect, and because it's yet another opportunity to be creative with thinking, writing, photographing and designing.
That's not all, as there's usually some more stuff cooking up that we might not always talk about. I make art on the side, which I sometimes share on my personal instagram account. David shares some more photography on his own and is currently working on his solo music project. And soon we'll be working on our house which we will also treat as a whole new creative challenge.
We've got a lot on our plate. And shit gets confusing sometimes, I won't lie. But has our business allowed us to live out of our creativity? Has it allowed us to make our lives exciting and be extremely happy to get up every day? Yes, absolutely so.
This broadness means that every day is different – every day is a new adventure. In fact as I'm writing this I am reflecting on today which was really a lot of fun. We did a photoshoot in the morning, then we worked on a brand design, then at this very moment David is editing some video as I'm writing this very blogpost.
This blog, AND all our other side projects AND all these varied skills we are being playful with, through our studio and for ourselves, have allowed us to flourish as creative people – to find our own voice and to get a positive response from people who like to follow our journey. On the other hand, we are totally aware that it might not please or attract somebody who would expect to see something more niched and direct, but, we think this is not our ideal audience. We like that people get to see us as two creative human beings and not just as a couple of brand designers making pretty logos for small businesses. With as many people are doing that – it really IS starting to feel boring.
We like this life. It's not the life of a designer, but it's that of a creative person. Speaking of which – it never stop flowing and fluctuating like as life itself. Like I said, we started as designers, but with all of this exploration, I don't even know if David and I will actually be designers forever. Kinlake might transform into something completely different in a few years, with our main activity shifting. Maybe we won't do as much design and we'll do a little bit more videography or we'll create some textiles, hey, who knows. When David and I were little, we did not know what we wanted to be when we grow up. Later in life we figured part of it out of trying, but even today we don't know exactly where we'll be in 5 years – and we find that such a joy. 
The core of us working together, is that we'll always be doing a thing that's creative and that we are both involved in, with our own voice. That's about it. Yes, it's way more general than we're told we should be but thinking differently is part of us too, and instead of seeing it as a weakness we see it as a strength.
What if we want to launch a pop-up collection of ceramics one day? What if I, as an individual, want to make tattoos or David wants to experiment with crafting soap? It can happen. Anything can, and we will allow it to, because whatever we'll do, it will always be connected to us because we'll do it our way.
What made me want to write this article was what the frustration that I have seen happening to some extremely creative, talented people in the creative community. On top of that, we recently had one of our followers asking our advice on the topic as her concern echoed with me: she felt insecure about starting a blog, because she wanted a creative outlet on the side of her branding business and wasn't sure "how" and "if" she should pursue it.
My answer went something like this:
My dear, if you want to start a blog, just do so. And not just that: anything else that sparks your creative fire and makes you feel excited. Whatever it is. Just experiment, do stuff, put it out there. It will always be yours in the end and people will notice that. It's such a vulnerable thing to do and yes, it might confuse you at times but you're essentially using your intuition to bring you somewhere where your soul feels at "home", as the multi-disciplinary person that you are. That's what being creative is all about and people find that inspiring. Amongst these people your potential clients too. You're a business, but more than that you're a creative person and you shall allow yourself to experience all the beautiful lessons that come with this adventure!
Dear reader – if this resonates with you too, I would more than advise you to follow your heart and do the same. 
Also, thank you for making it all the way down here. This is probably the longest post I've ever written, so it really warms my heart that you took the time to read it. I would love to hear what you think, and continue the conversation on living creatively. 
Love,
Linda
---