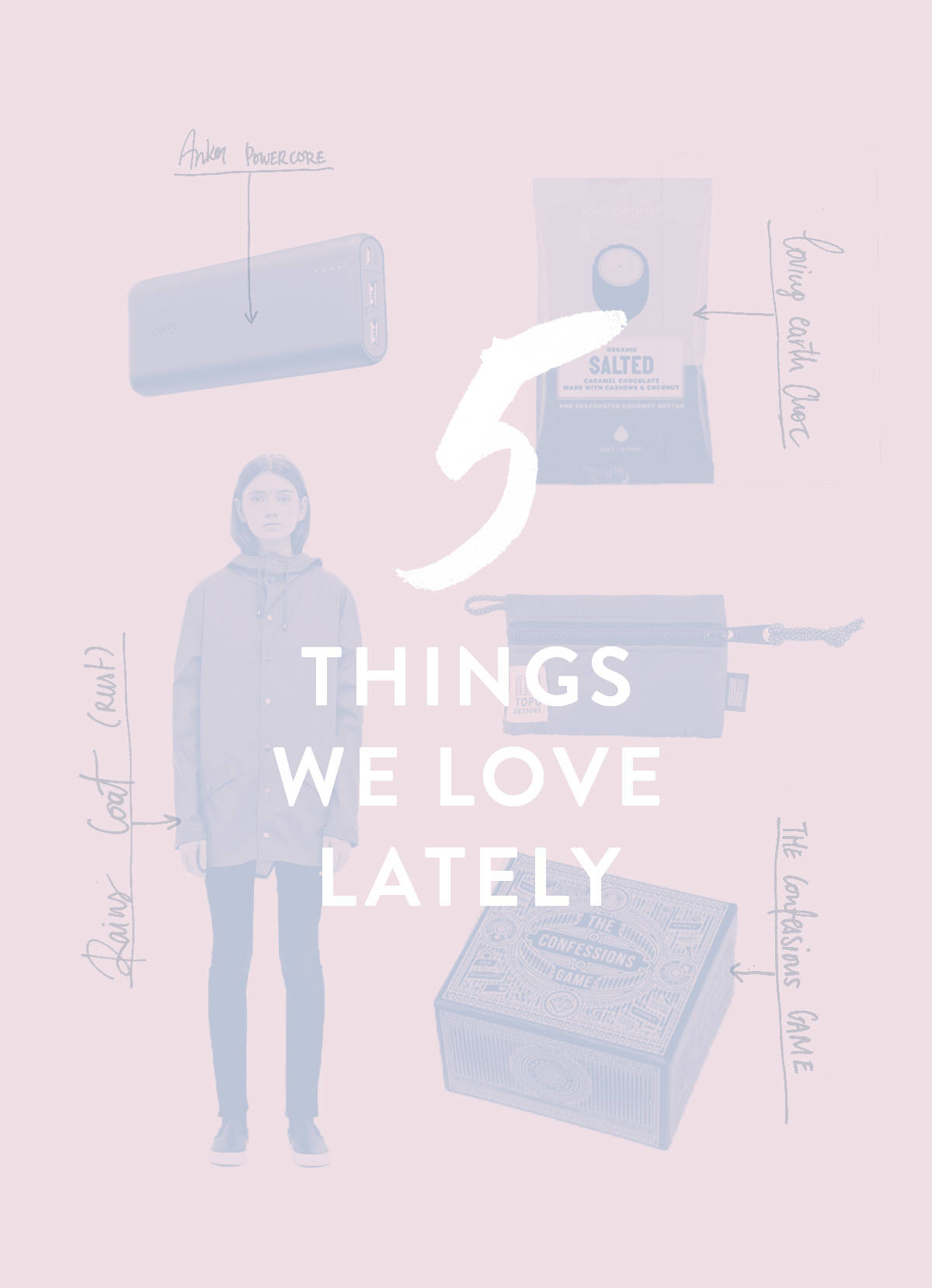 Hello from fabulous Melbourne!
It's been about a week since we moved to our new place in Fitzroy, a super creative neighbourhood. We love it here and can't wait to tell you more about it! In the meantime, I noticed it had been quite long since we last did a "5 favourites" type of post. We shared the last one when we were in Edinburgh in the summer, and boy did we discover plenty more awesome things since then, after roaming through SE Asia and spending time here in Australia. It's honestly hard to put them all into a list of just 5, but that means we'll have some more to share along the way. Here we go:
I've been eyeing Rains Denmark for a while now, as I've seen their beautifully crafted jackets in many places and every time I couldn't stop myself from feeling their awesome texture. I'm really not that much into fashion or any material things of that kind, but I do appreciate getting my hands on a piece of clothing that's well made and that will last me for years to come. Buying less but better is my motto. Since we recently made plans to move to Japan after Australia, it was a good opportunity for me to think about getting a jacket (as we are not currently well-equipped for colder climates!). And I did. I got it my Rains jacket in a rust color and I honestly can't wait to actually wear it!
THIS. This is our savior. It's an essential for any nomad, but also anyone who's out and about and ends up with a dead phone too many times (yep, that represents us, very often). There are many portable power banks out there, but this is the one we have and we love it. It's nicely designed, built to last and it's powerful enough to charge several devices at the same time at a super fast speed. We carry it with us every day because we never know when we might need to re-charge our devices. It's so annoying when you want to snap a photo of something or call someone but you're out of power. Well, that doesn't happen anymore!
Neither of us have been a fond of bulky wallets, nor separating coins/notes/cards in different holders. It gets awkward, annoying and we never really seemed to find ONE good way to hold our money + essentials in one place without the bulkiness. Till now. Well, what we have at the moment is not technically a wallet but a pouch. The smallest size from this Topo collection. It's simple, but so damn perfect for storing bits of what you need for the day. It's also made of durable waterproof materials. David also has a nifty trick: he secures it to his trousers with a metal clip and then slips it in his side pocket. Accessible yet discreet. And it's impossible to lose + get it stolen. Jackpot!
Because food always makes me happier than anything material – this food discovery has to be part of the list. While David and I are not true chocoholics, we love to have a sweet bite of something after dinner. Let's admit it, it's especially nice when doing a Netflix evening!! But… we've tried to cut down on sugar so we can stay healthy and keep our immune systems thriving. We sometimes like to make healthy (refined sugar-free) desserts, but we also like to try new things from the health food store. Here in Australia we found this awesome organic vegan chocolate from the brand "Loving Earth". We tried the salted caramel flavour, made with cacao butter, cashew milk, coconut nectar and sea salt. It doesn't feel like real chocolate, but it's definitely a pretty yummy thing to eat!
Let's talk about games! Yeah! We love playing games at parties. Cards against humanity for example is pretty hilarious. Too bad it's not very portable (it's quite heavy) so it cannot travel with us. Could've been fun to play with the new people we met along the way!
While visiting a local book shop recently, we found another card game – a little more serious, but incredibly interesting. The Confessions Game is basically just that: a set of cards with very targeted personal questions about life, relationships, family etc. A lot of those can be hard to answer, but a game like that can definitely break the ice, bring people closer together and create fascinating conversations. Yes, this is what we live for. Bring it on, baby!
Hope you guys liked this list and that you found some interesting things in there! Let me know what you think in the comments, and feel free to share anything cool you've also discovered lately 🙂
---