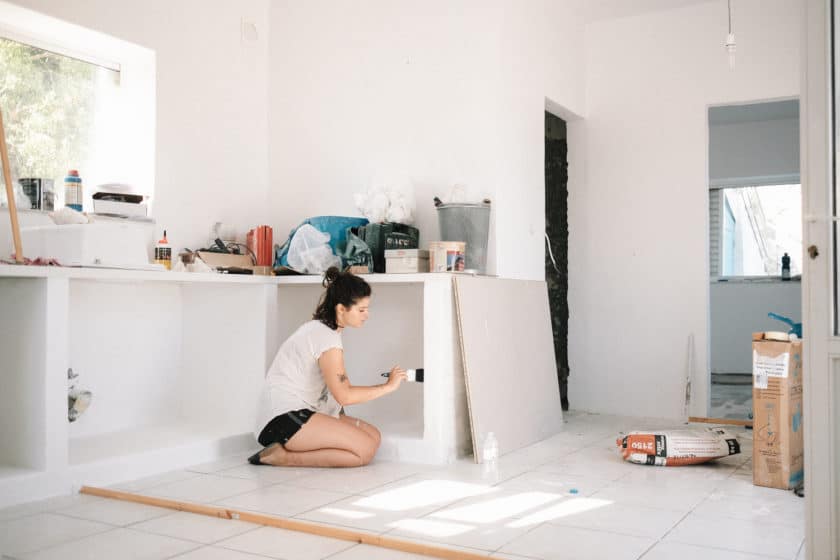 Woah, it's been a while since I have properly sat down to reflect and write a blogpost! I did mention that this summer would be a little slow here on the blog, but oh my, David and I sure didn't expect the house to keep us SO busy. On top of that, we are still running our creative studio as normal. And our personal projects. And enjoying the delights of summer like going to the beach every now and then and hanging out with family. Or making gnocchi in our little "camp kitchen" (which consists of a portable stove).
When I sum it up like that, it really sounds like we're superheroes. Or just a bunch of crazy people, really. We won't deny that we're actually quite proud of it. Never in life did we think that we could "get our shit together" in such a devoted and versatile way. As you can imagine, it's not easy to balance all of that, and still find the motivation to renovate an entire house with our bare hands. But I think we do it because: 01) it's the most fun project we've ever had to do 02) we don't mind failing at it.
We have made some ENORMOUS progress on the house in the last couple of months. Electricity has been changed completely. We sweated our asses off taking every rickety old thing out, from furniture, to tiles, to crazy invasive plants. We brainstormed every last detail. We learned to plaster, paint, repair, build, and become more and more confident in the process. It's such a rewarding experience, that it's not hard to keep our focus as we always come back for more. And today, I want to specifically share more about THE most important place in the house – the one that we're intending to finish building as soon as possible: the kitchen.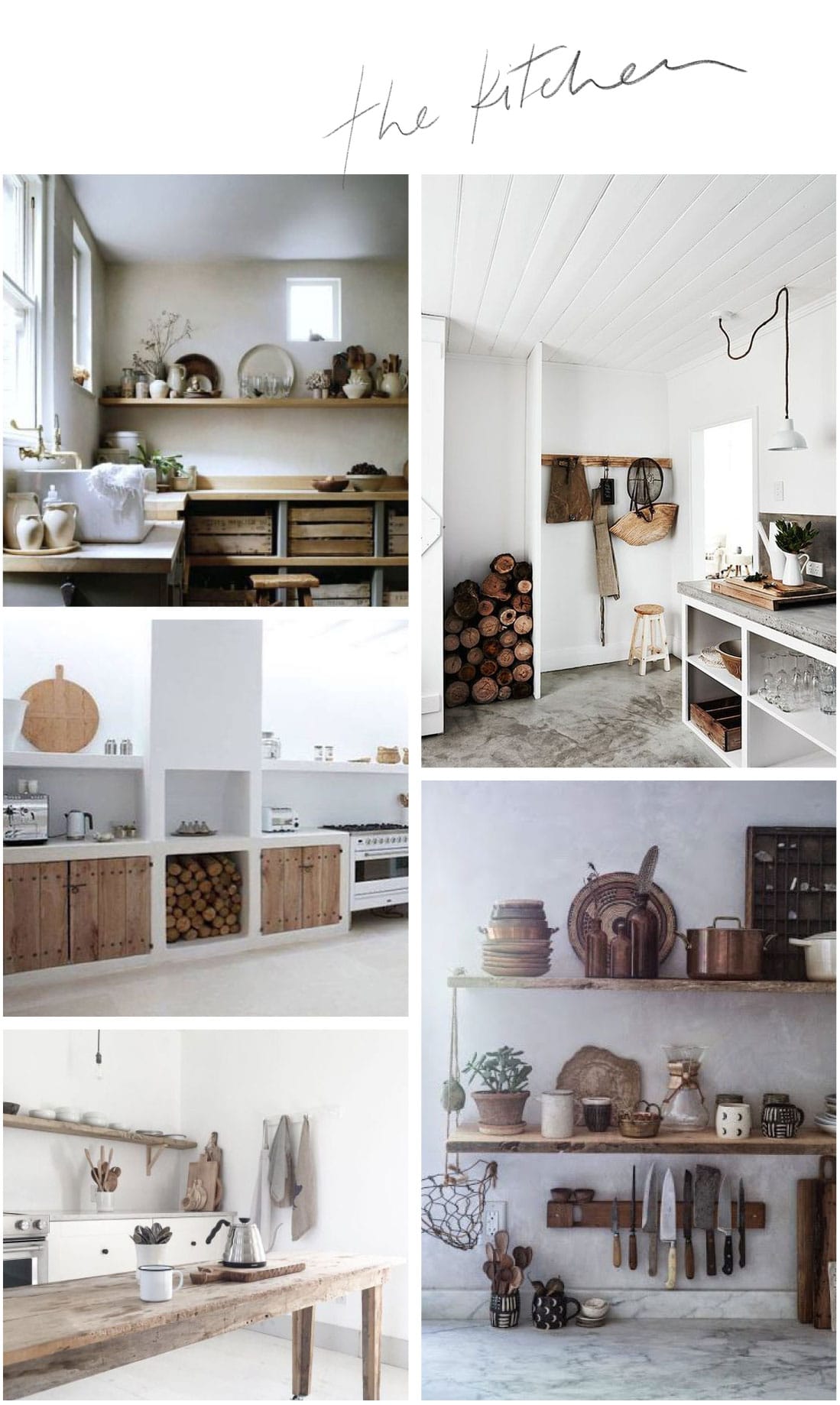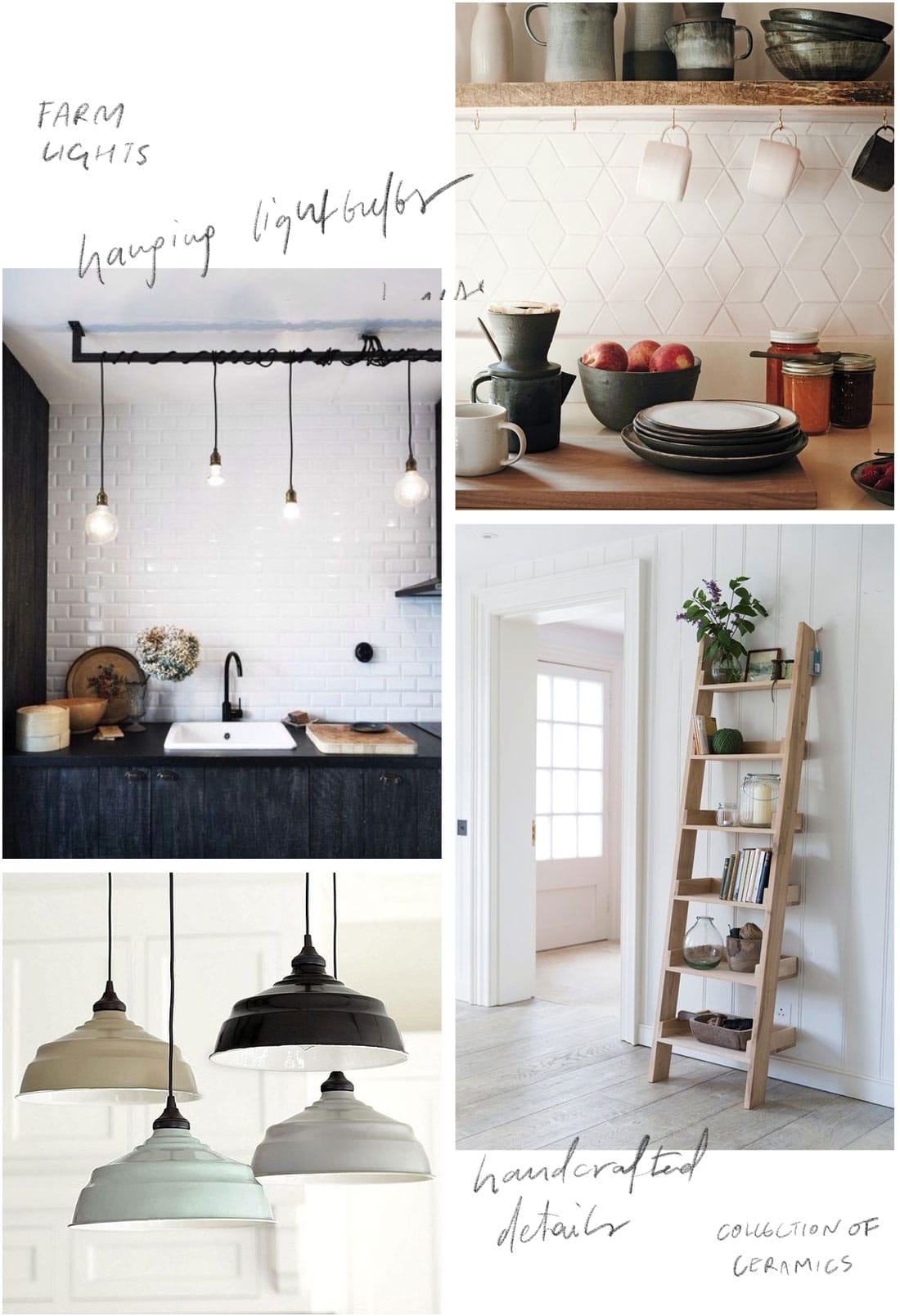 As with every space in the house, we started with a lot of visual research and making a ton of mood boards. The pictures and notes that we have for our kitchen, however, have been collected months and months before we came here. Many things were inspired by our travels and the many beautiful spaces (cute coffeeshops, eateries and the like) that we have witnessed there, as well as ambiances and moods that we were interested in re-creating in our own way. The idea here is to find the right balance between things we have seen and loved, and making it appropriate for ourselves and the lifestyle that we want to have here on the island.
Mediterranean Slow Life Vibes
This is definitely the key here, as it will be throughout the whole house. But the kitchen especially, should be a place where we feel inspired to play with local ingredients, where we have lots of room to create a mess (say, a lovely tray of roasted summer vegetables), where we can honour the seasons, hang herbs around and prepare a bunch of preserves. Our lifestyle here will be much different than it could be anywhere else around the globe and this is a wonderful way for us to slow down, and for me (as a greek!) to tap into my own roots. It should be a place of ease, mindfulness, slowness, where imperfections are more than welcome. Which brings us to…
Organic Minimalism
We love minimalism. And decluttered spaces. It's so pleasing visually, and we did not sell 80% of our belongings for nothing! But that doesn't mean that we want to strive for perfectionism and having to keep angle and surface neat and tidy – that's not like us at all. So we got very inspired by the look of the Cycladic islands here in Greece, and their organic, imperfect edges. Having this as an inspiration actually allowed us to find easy ways to build our kitchen structure, without worrying too much about getting everything right – as the idea here is to welcome roughness as it comes, in all its simplicity.
Rustic Touches
We do want to honour the fact that we are in Crete, and that we are specifically in the heart of the cretan wilderness, living in a village in the cretan countryside. The locals here have a beautiful heritage that you can still find in some old houses – such as beautiful wood stoves to keep the house warm, wooden benches, handwoven rugs that were also used as textiles to cover those benches, stunning ceramics to preserve the harvests as well as many other tools from years of homesteading. Here is a beautiful example of a wall we witnessed the other day in one of our favourite eateries.
That rustic touch is also present in how houses are built, from the stones their walls are sometimes made of, to the wooden beams that go across the ceiling. We love all of this so much, and we also recently watched the show "Anne with an E" which inspired us even more with its beautiful farmhouse interiors. Everything feels homely and rustic without the kitsch factor, because it is based on function and because it's welcomed in a raw, rough state that gets even more beautiful with time – just how "wabi sabi" is that?
We were analyzing this in our minds a lot and thinking of terms to describe what we're looking for. We must have been in synchronicity with our friend Eleni from Myparadissi (also living in Crete!) who summed this up very closely in her post about "contemporary rustic minimalism".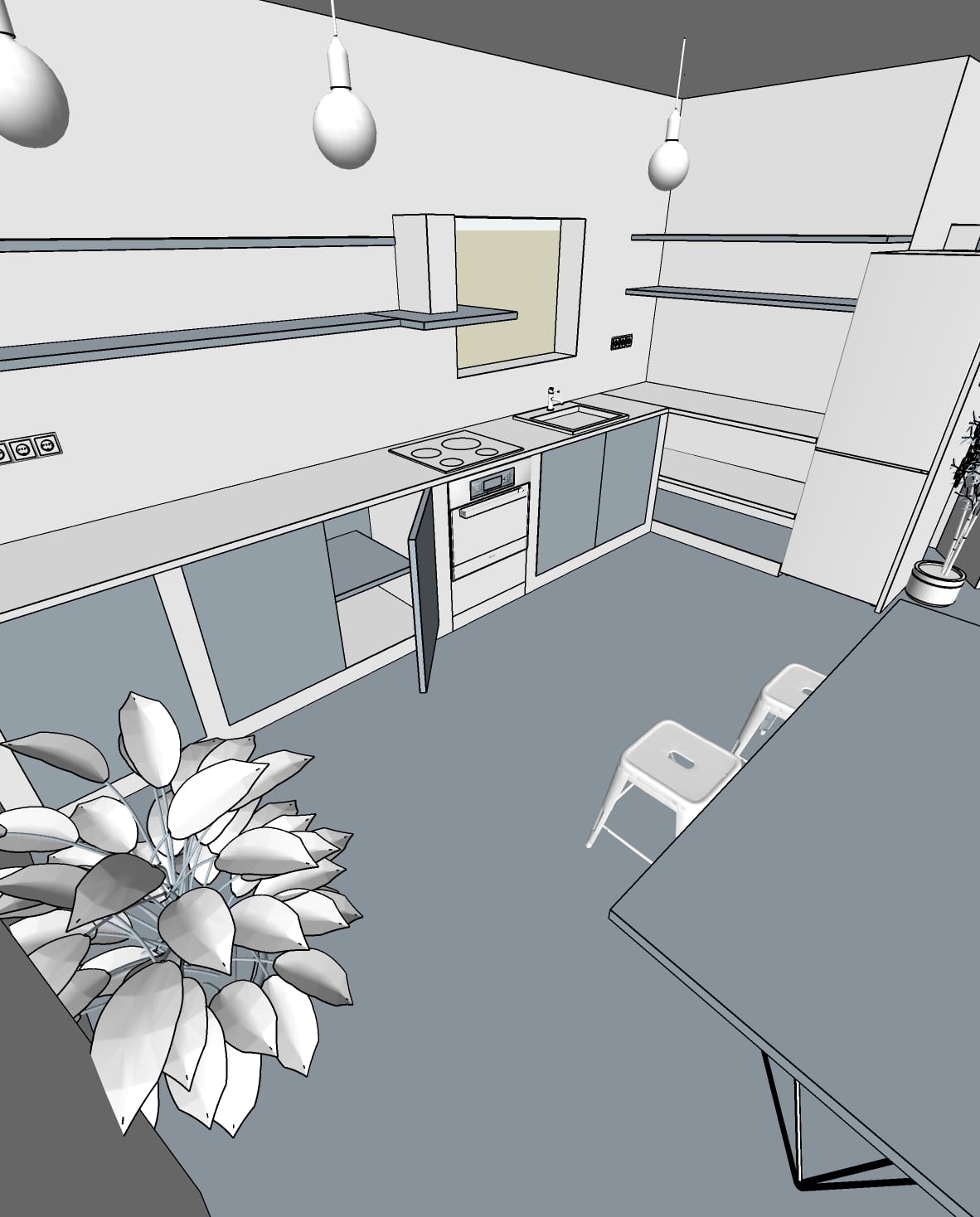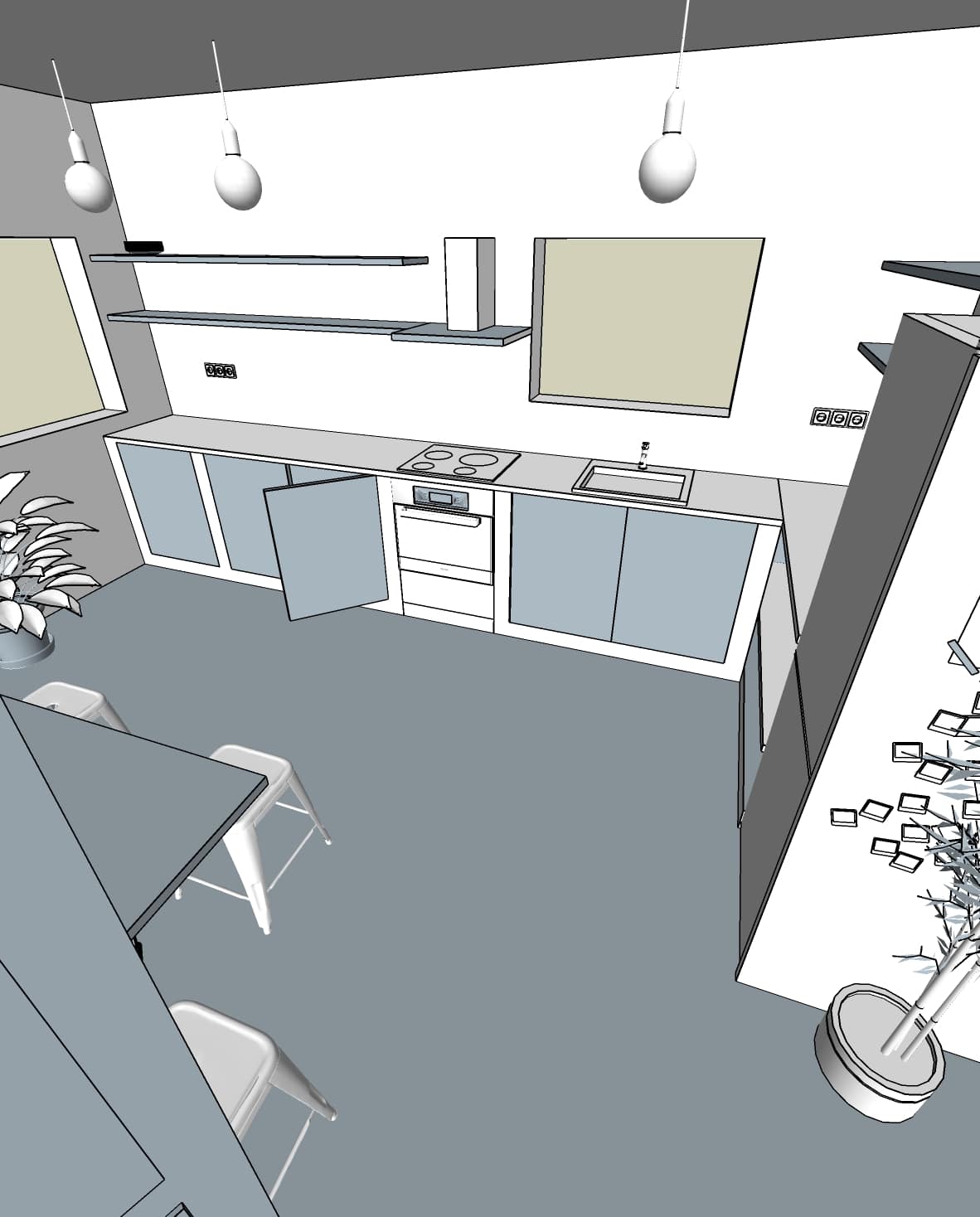 Aside from making mood boards and brainstorming like crazy, we also geeked out and planned the layout of the space with Google Sketchup. That totally helped us to see what we could create with the real volume and dimensions of the space.
Our kitchen is not really big, in fact it will feel kind of small and cozy, but we really wanted to optimize the space as much as possible in order to have lots of counterspace. We decided to only put cupboards for the bottom half of the kitchen, and have the rest exposed through open shelves – as I mentioned in this post, it's a great way to keep clutter at bay and be more mindful about what we own. It also allows the more beautiful things (such as ceramics, salad bowls and jars) to be seen and part of the decor!
On the other side of this flexible "foodie workspace", we will create a little area for eating, relaxing and working. Our house will not have a living room in the most classic sense, or a couch, but what we'll do is to create a really cozy bench where we'll incorporate a mattress where we can lay back if we want to. Ah, I can totally imagine slow mornings with a hot cuppa right there 😉
The idea behind this space is to serve as a functional place to experiment with food, to nourish ourselves, to gather and slow down. In the summer, it will be a place to cool off and prepare fresh salads before heading back outside, and in the winter it will be a place to gather and really spend some time reading books, relaxing, get work done on our laptops and invite friends over to scooch around for a cozy dinner.
Our Kitchen At The Moment
& our most recent progress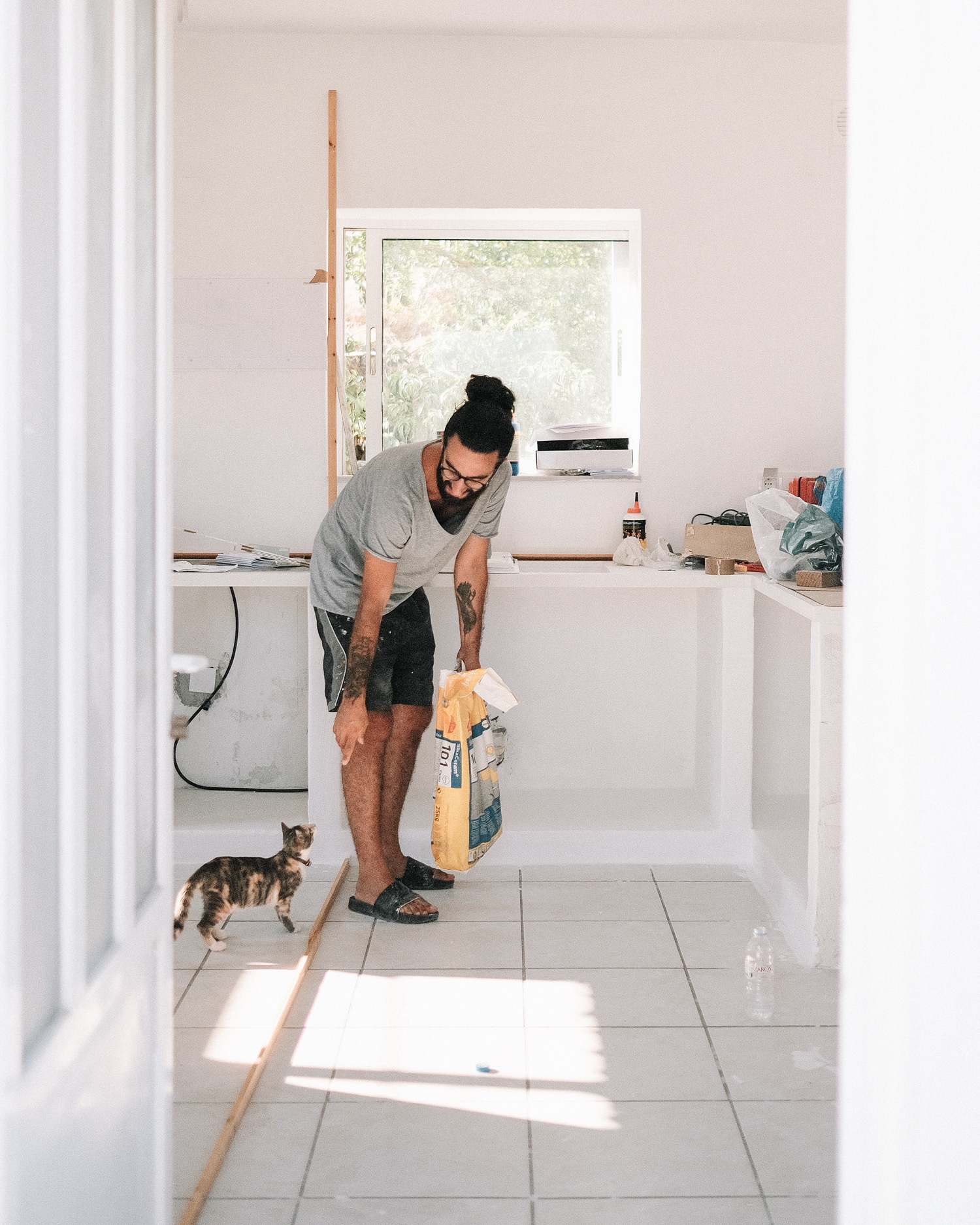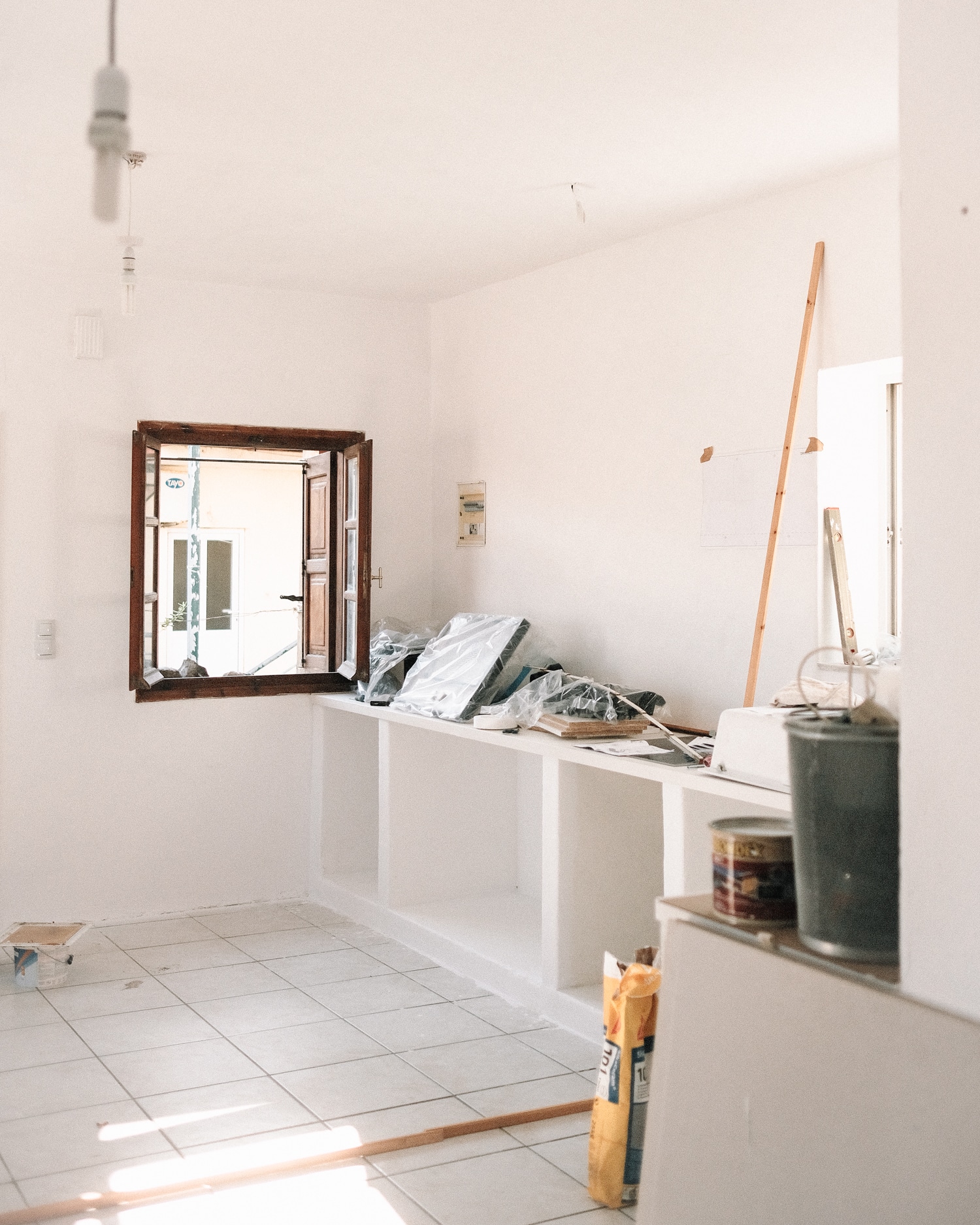 Last but not least – the reality and the true state of our kitchen as it is NOW! Ha! As I mentioned, a huge amount of progress has been made so far.
The old kitchen has been completely torn off (we're repurposing some parts of it for construction!)
Tiles have been taken off
Electricity has been renewed and setup well for the new layout – that's the only thing we did not do ourselves, by the way.
The walls have been re-painted, ceiling included
The backsplash of the kitchen was also just sorted with a bunch of waterproof paint
The kitchen's structure has been made with our new favourite technique: just bricks + tile glue – which is easy to do and results in that organic minimal look I mentioned earlier. David is becoming such a pro at this and we're so happy with it!
And there's still a few things to do obviously:
Prepping the new floor, which will just consist of self-leveling concrete – a trick to make the concrete look a little more affordable & easy. Wish us good luck!
Finishing up the cupboards inside the kitchen structure (shelves, wooden doors etc)
Setting up the wooden shelves around the top of the kitchen
Hooking up the sink & oven
…All of which we aim to finish within this next month. As much as it is, we feel pretty confident about it as we set time to work on that almost every day – it's that exciting! So hopefully we'll be able to share a massive update soon. We literally cannot wait to see this space ready, filled with beautiful things and warmth, as a kitchen should feel like 🙂
If you're not following our project on Instagram yet, feel free to have a look! We try to post lots of updates (and especially instagram stories). So much will be coming up in the next few weeks and we'll do our best to document & share it there!
---