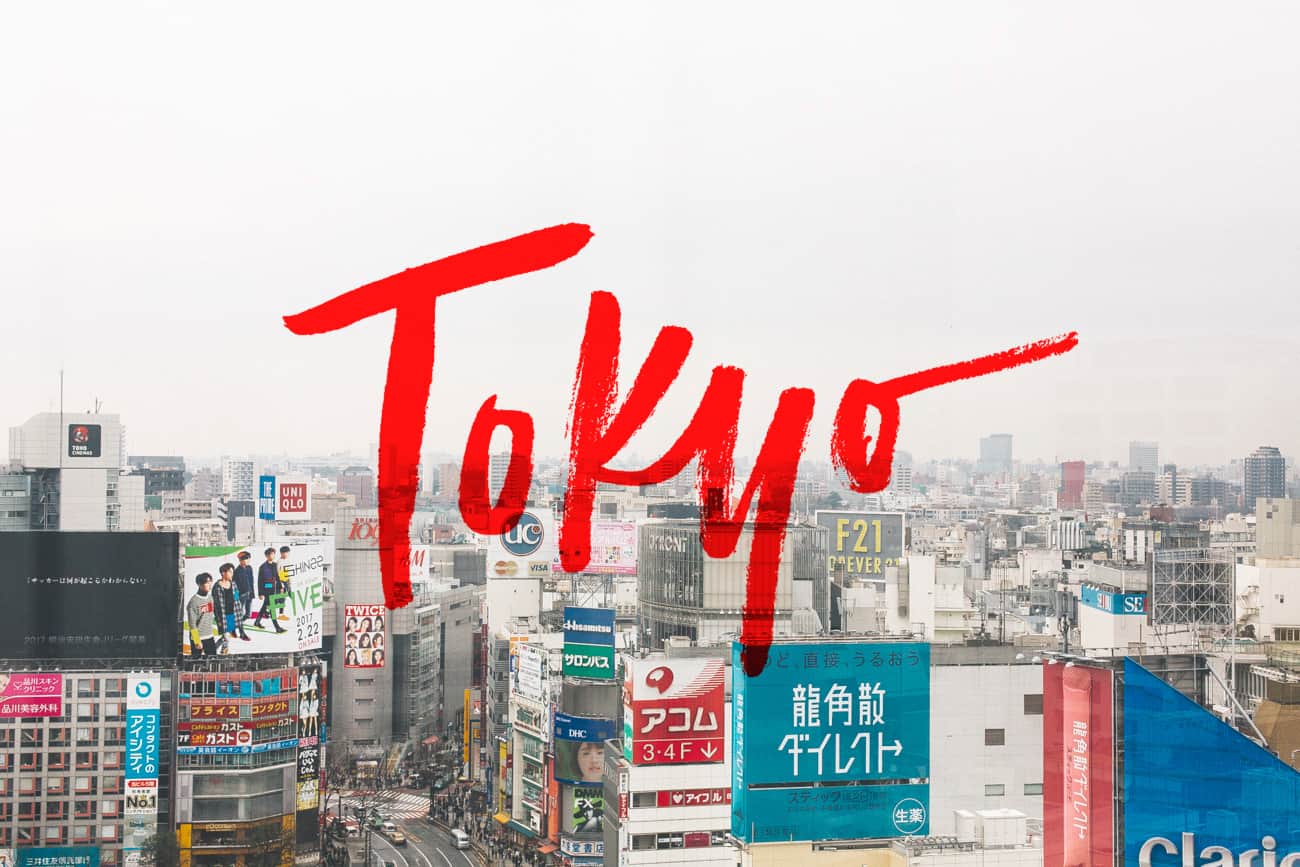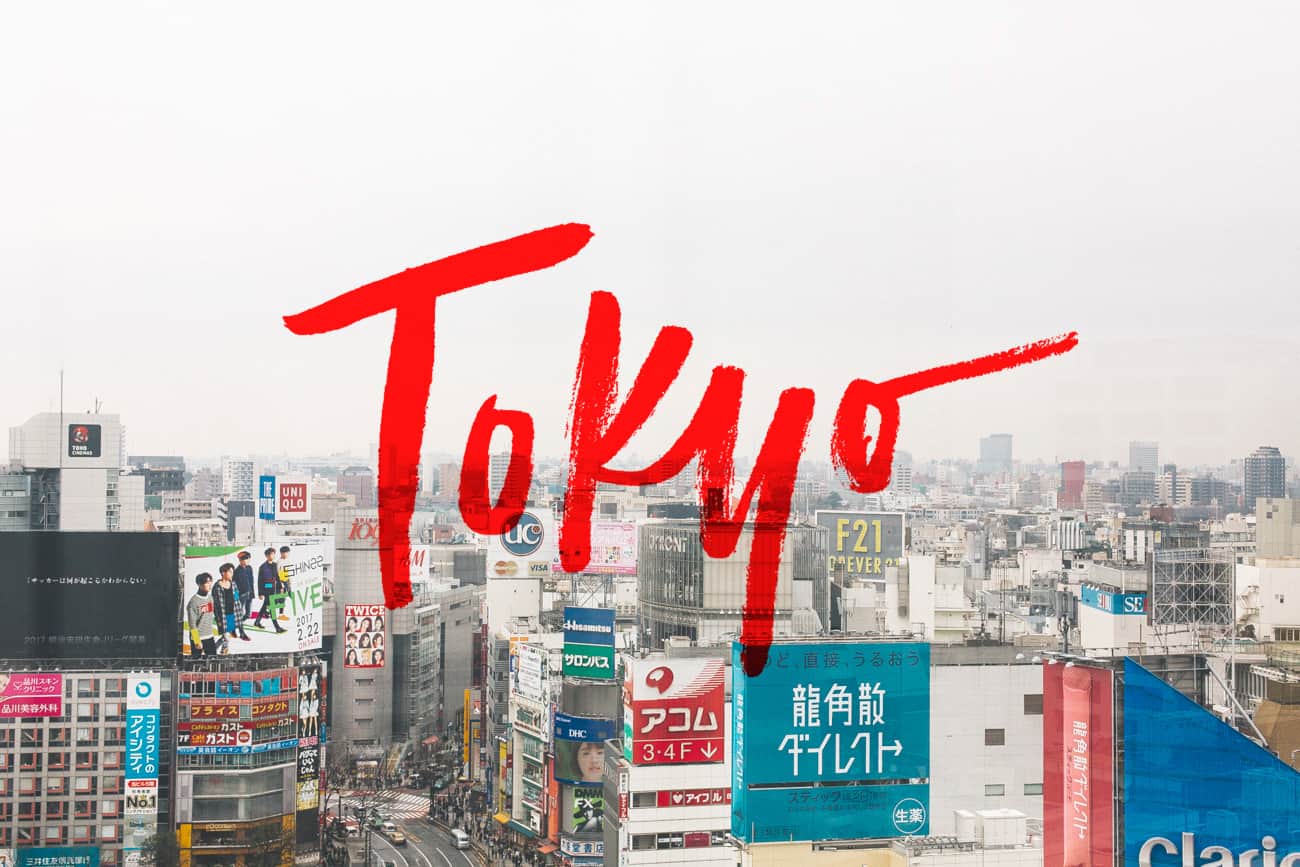 Several years ago (in 2009), I had the chance to travel to Japan with my dad. I had been incredibly intrigued by this country's culture ever since I ate my first sushi, read my first manga and watched a few random japanese shows. That trip back then was amazing. There was so much I experienced and so much I brought back with me, so much that I wanted to actually share with David. There was no way I wouldn't go back there just to share this amazement with him!
Japan was a place we just had to go to and experience together. And after staying around this side of the globe, in Melbourne, we thought: "the time is now". Therefore, we made it a point to spend a couple of months here, and with the help of a friend/previous client of ours who offered us a stay in his house in Kyoto (in exchange for creative endeavours like re-decorating his place), that was made even easier. I couldn't be more grateful of how life ends up unfolding these possibilities.
About a week ago, we flew into Tokyo. We decided to take that week off entirely, to be able to adapt into this completely new change of scenery and of course, to explore the thousand facets and cool bits of this gigantic megalopolis.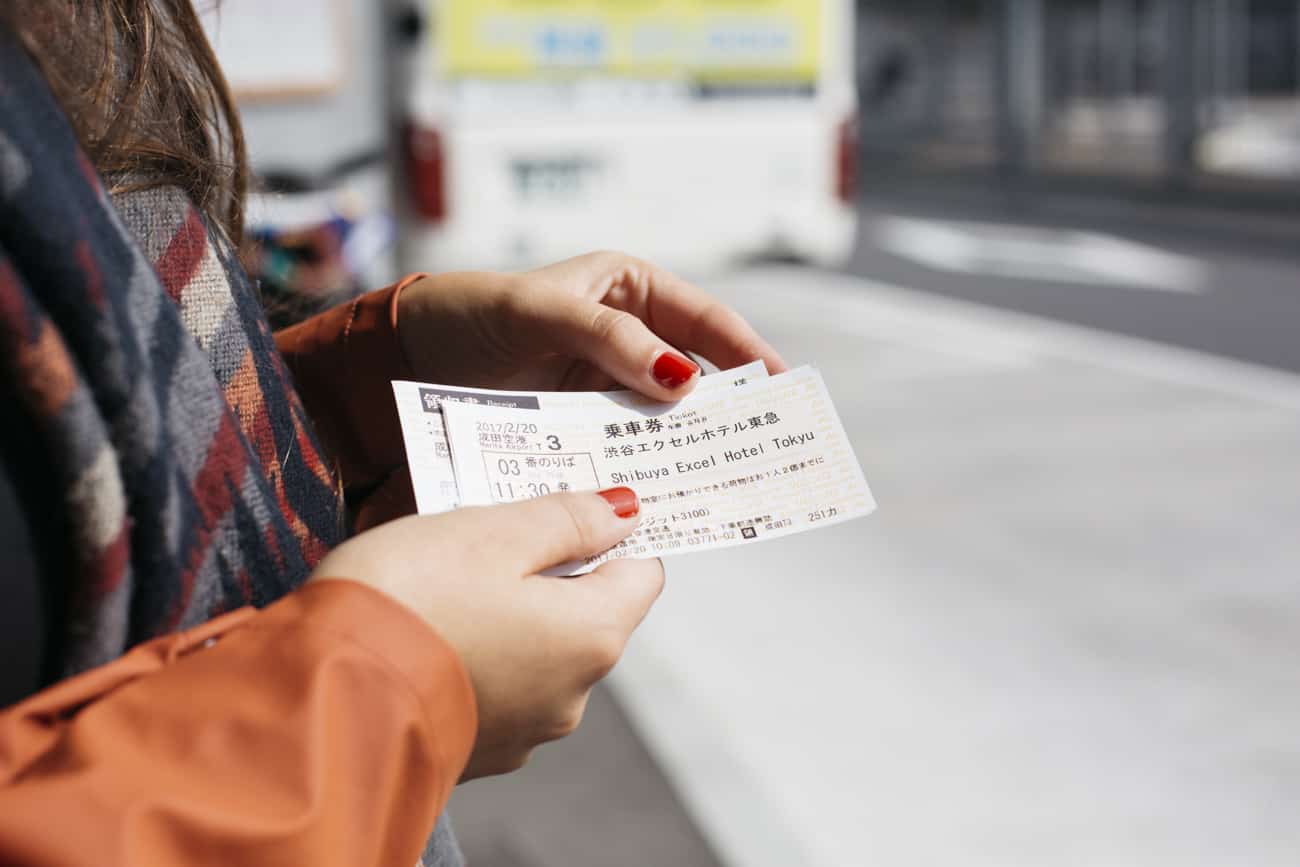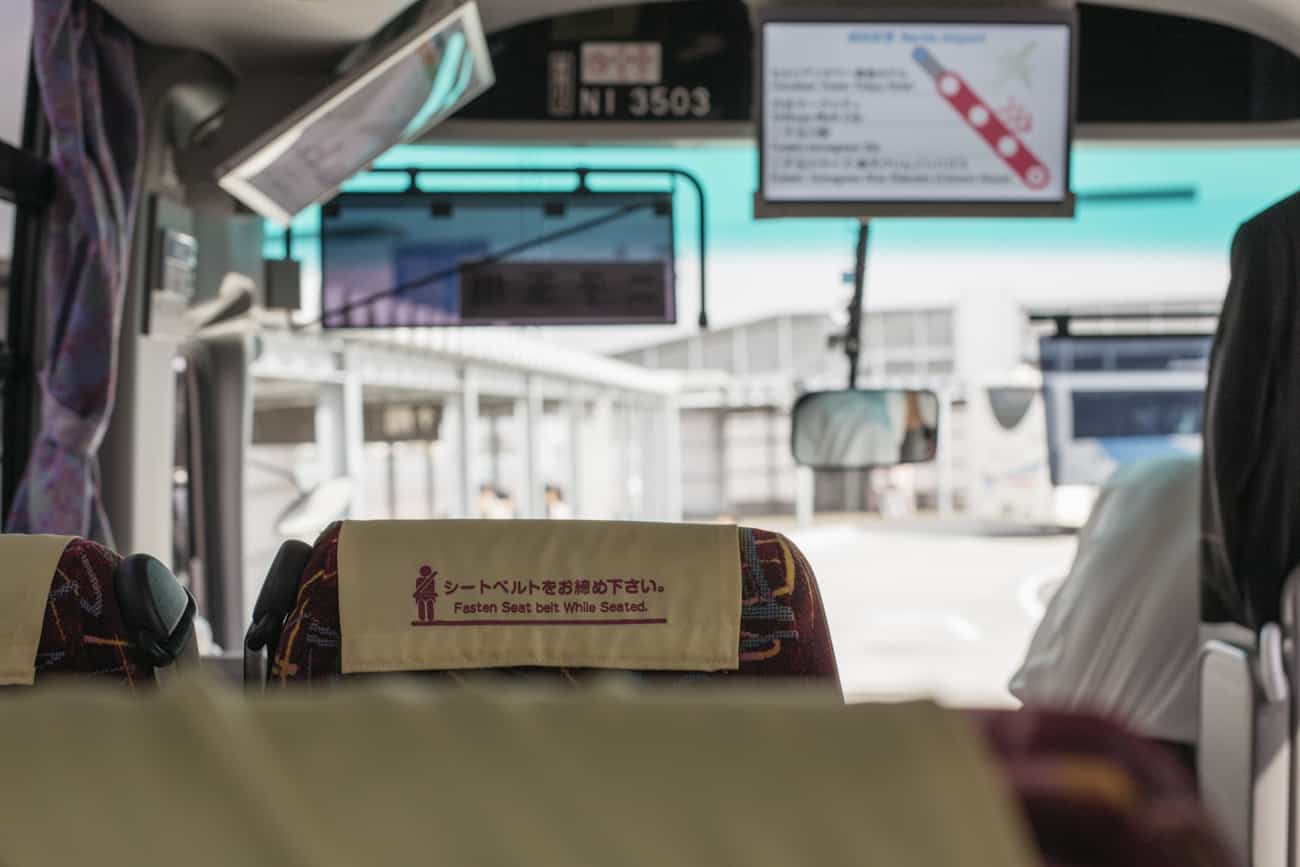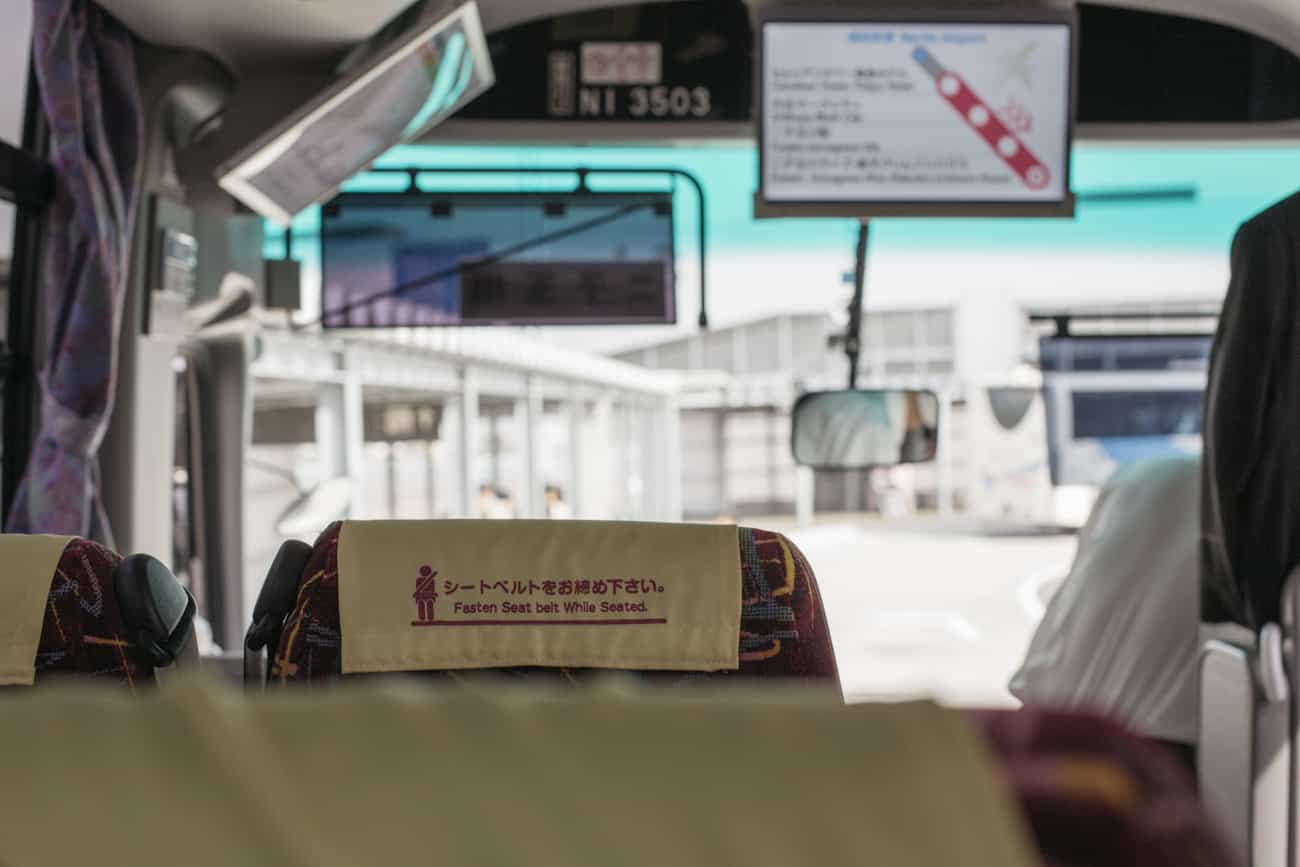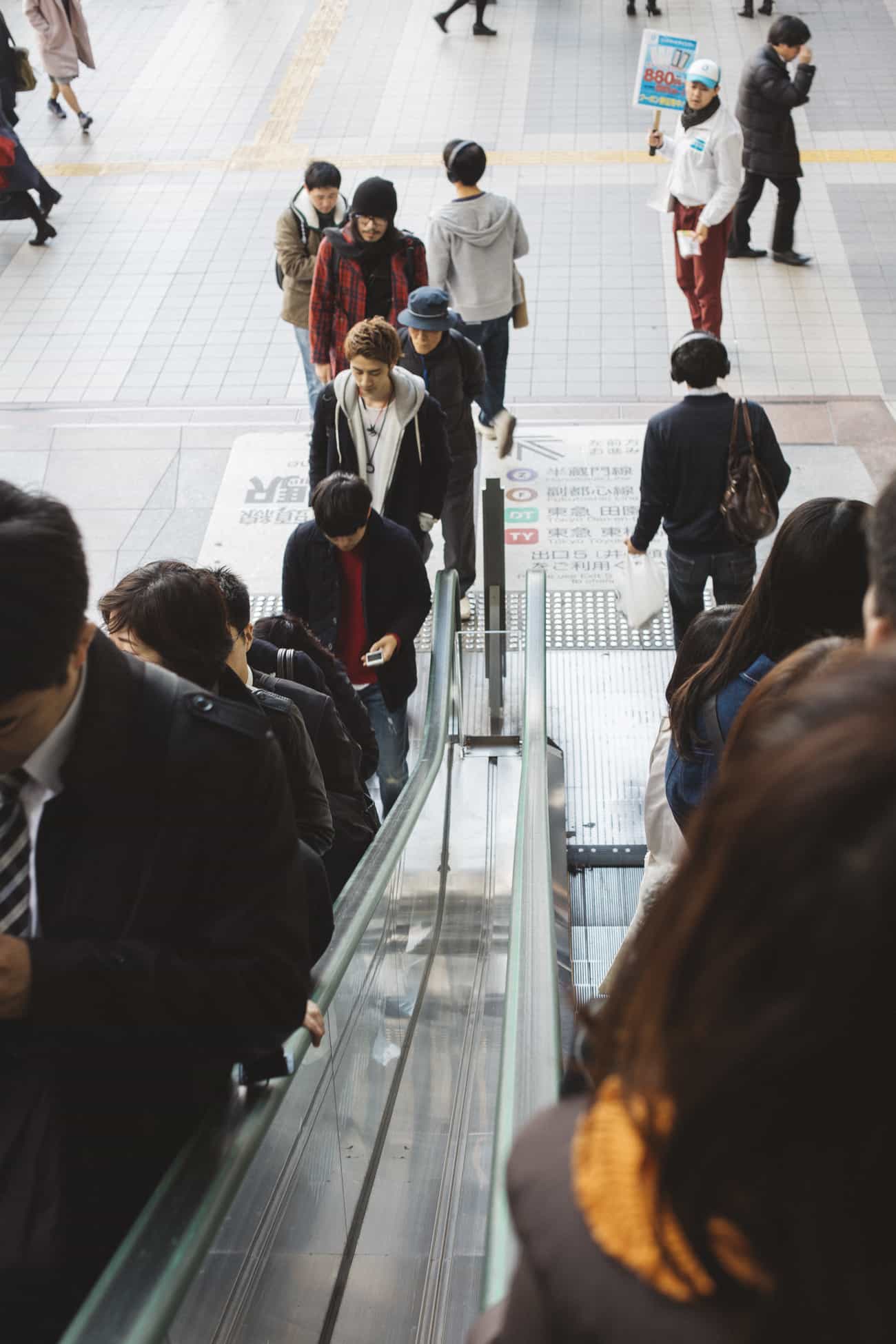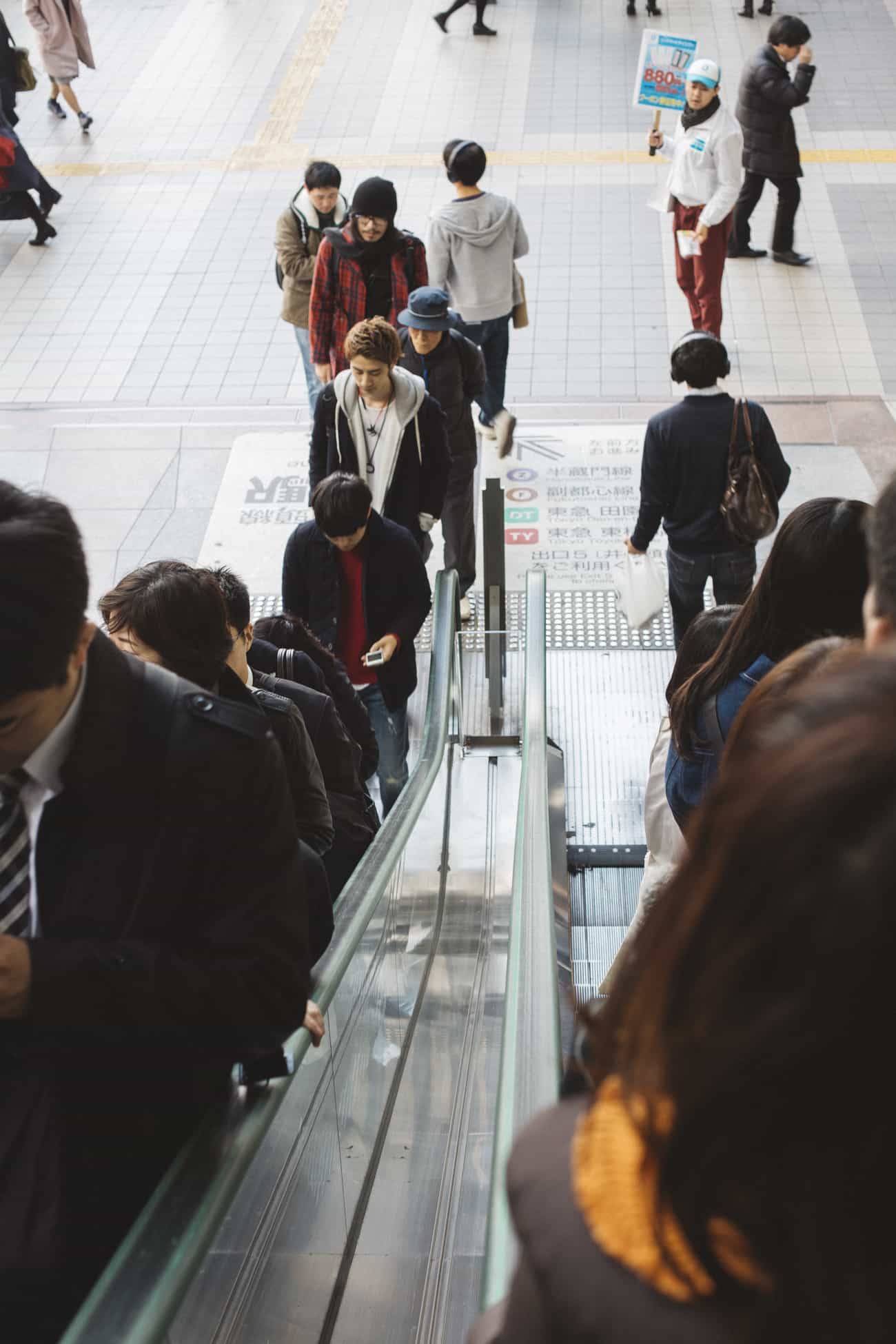 The first thing you notice in Tokyo, is its vastness. It's such a large city, populated by 13,5 million habitants. And there's no better way to feel this massive crowd than arriving in Shibuya.
I am definitely agoraphobic and do not like to be in crowded places at all. But… crossing the street right there, in the heart of Tokyo is an experience that can't be missed. It feels like being high on a heart-palpitating drug – there are suddenly so many things to look at, up, down, left, right. So many people, signs, advertisements, so many things to listen to, to smell, to feel… sometimes it's as if your whole being is about to explode. Yet, you feel comfortable just blending in. It doesn't quite feel like a chaos despite all of the activity, because of the japanese way of "structure" and "order". It's like walking through a well organized urban flock.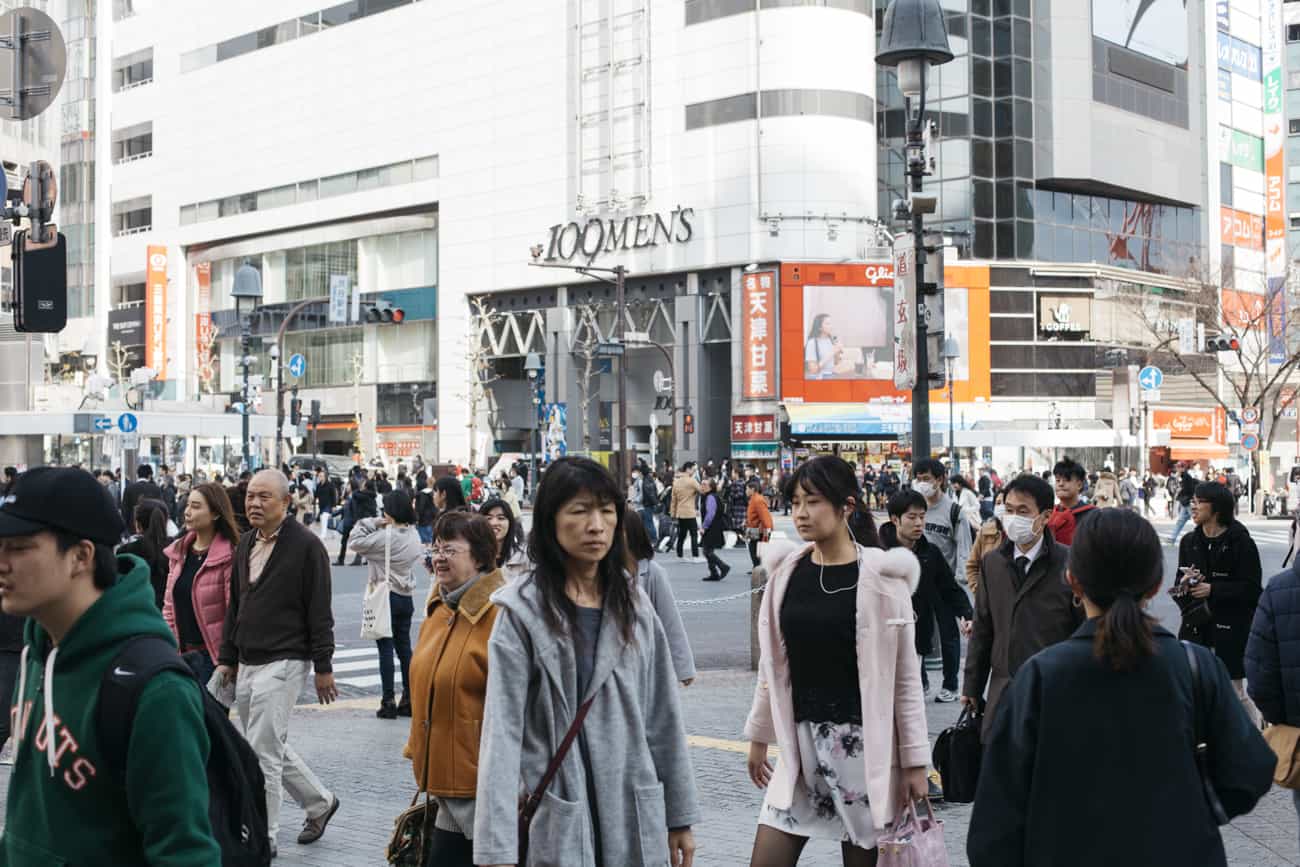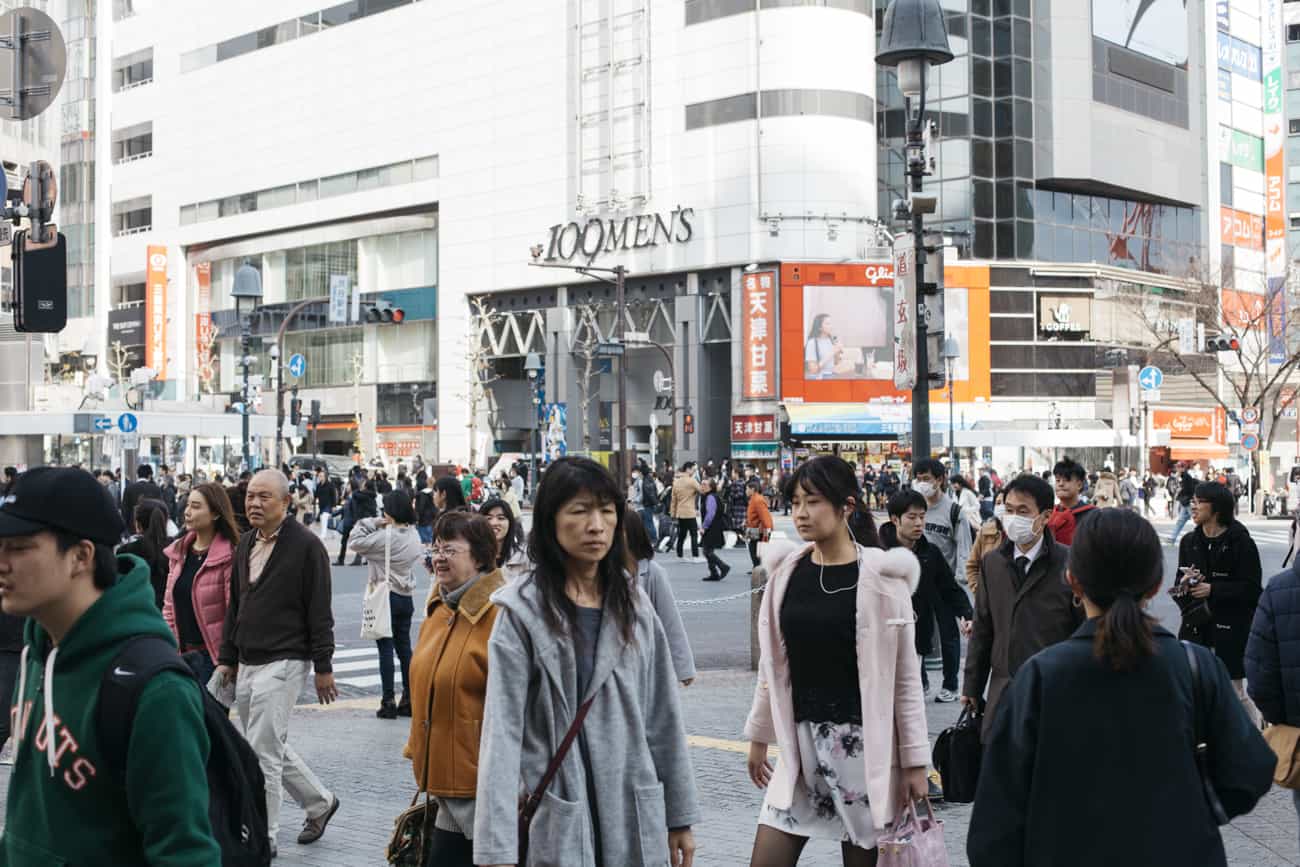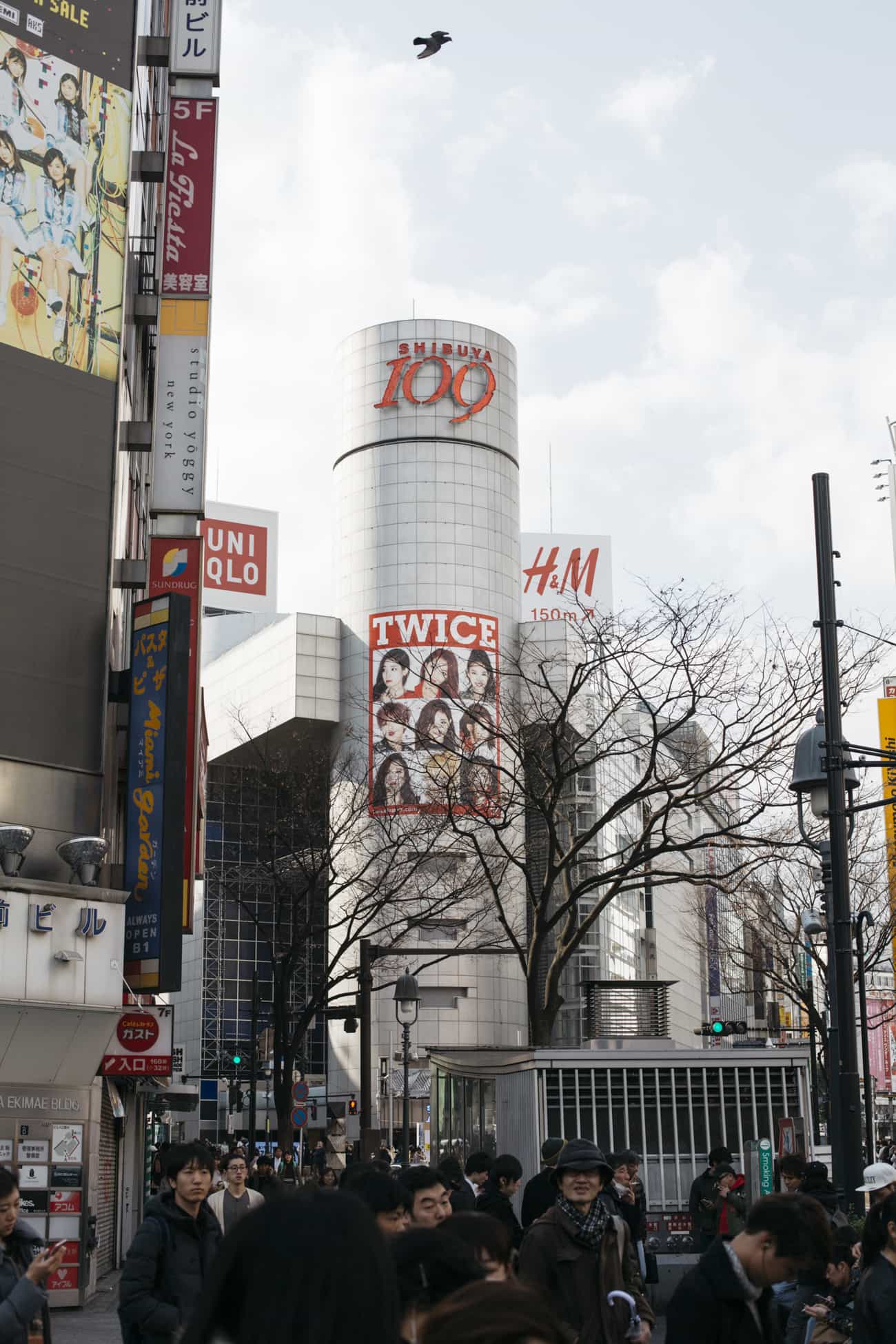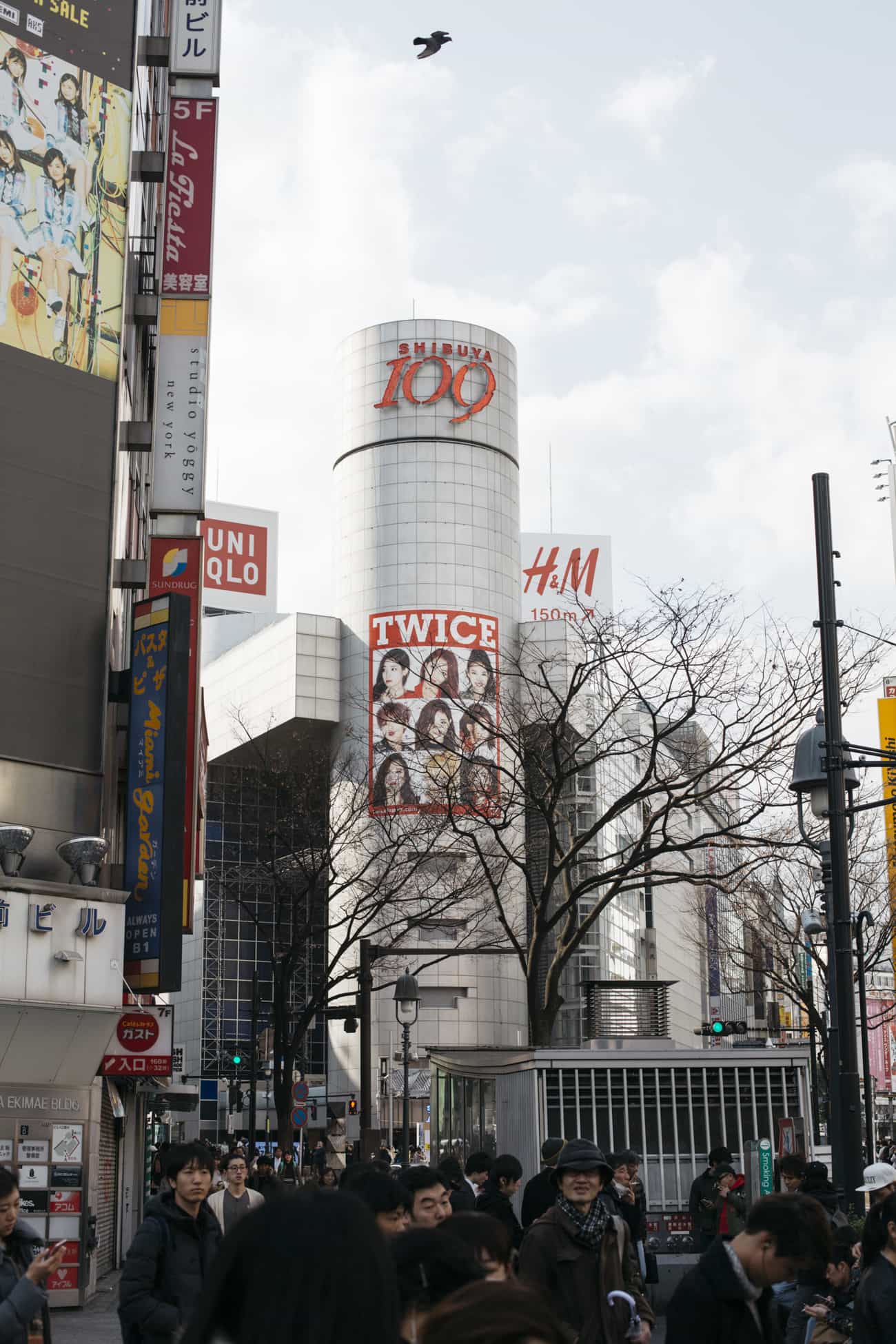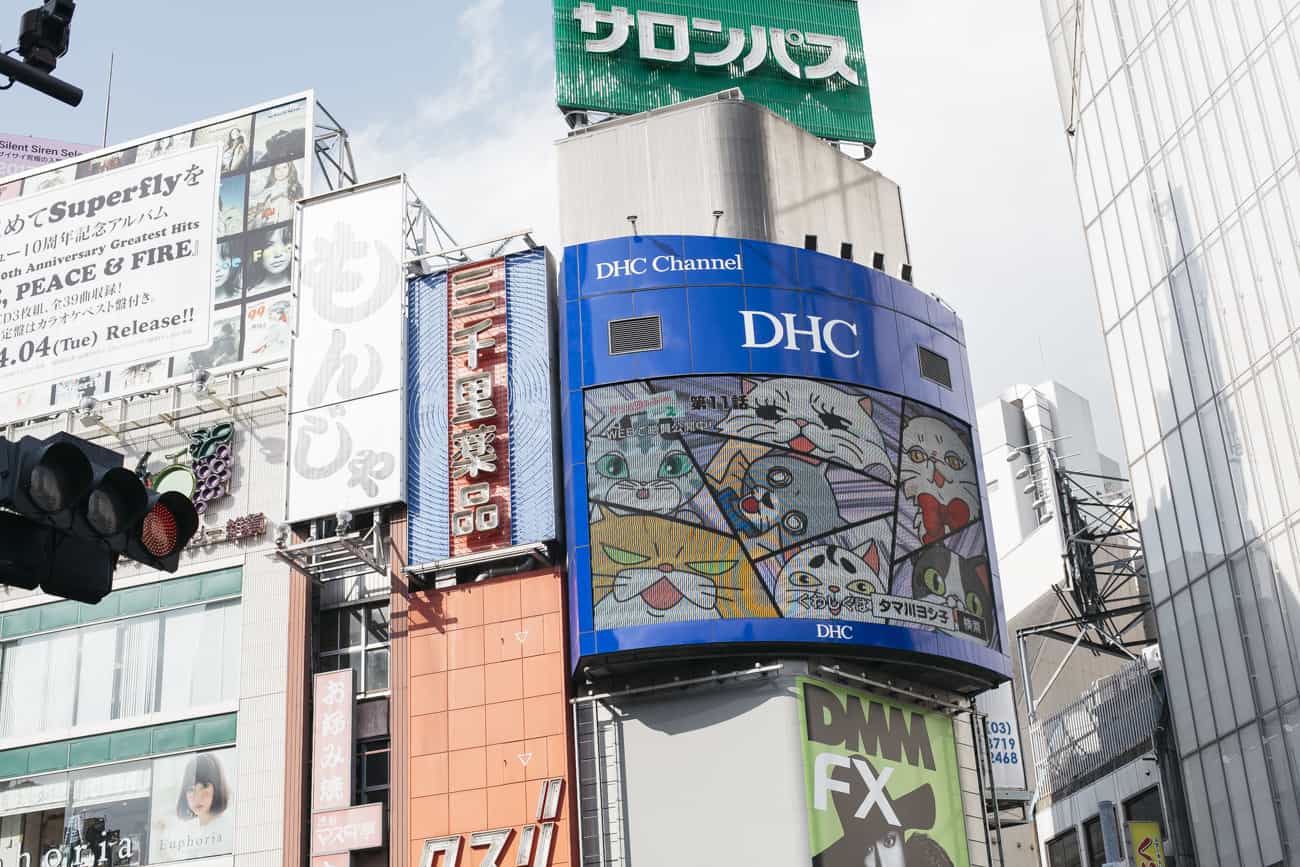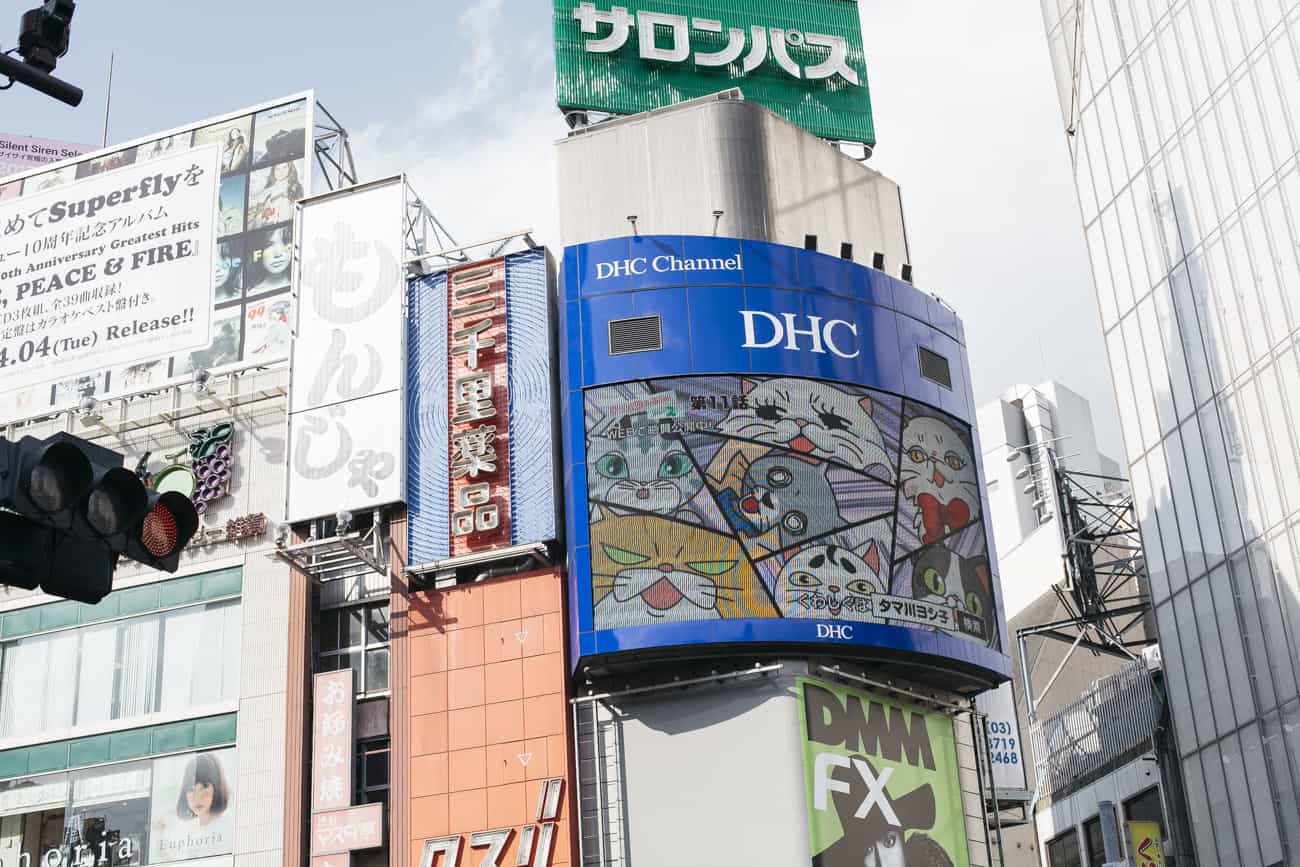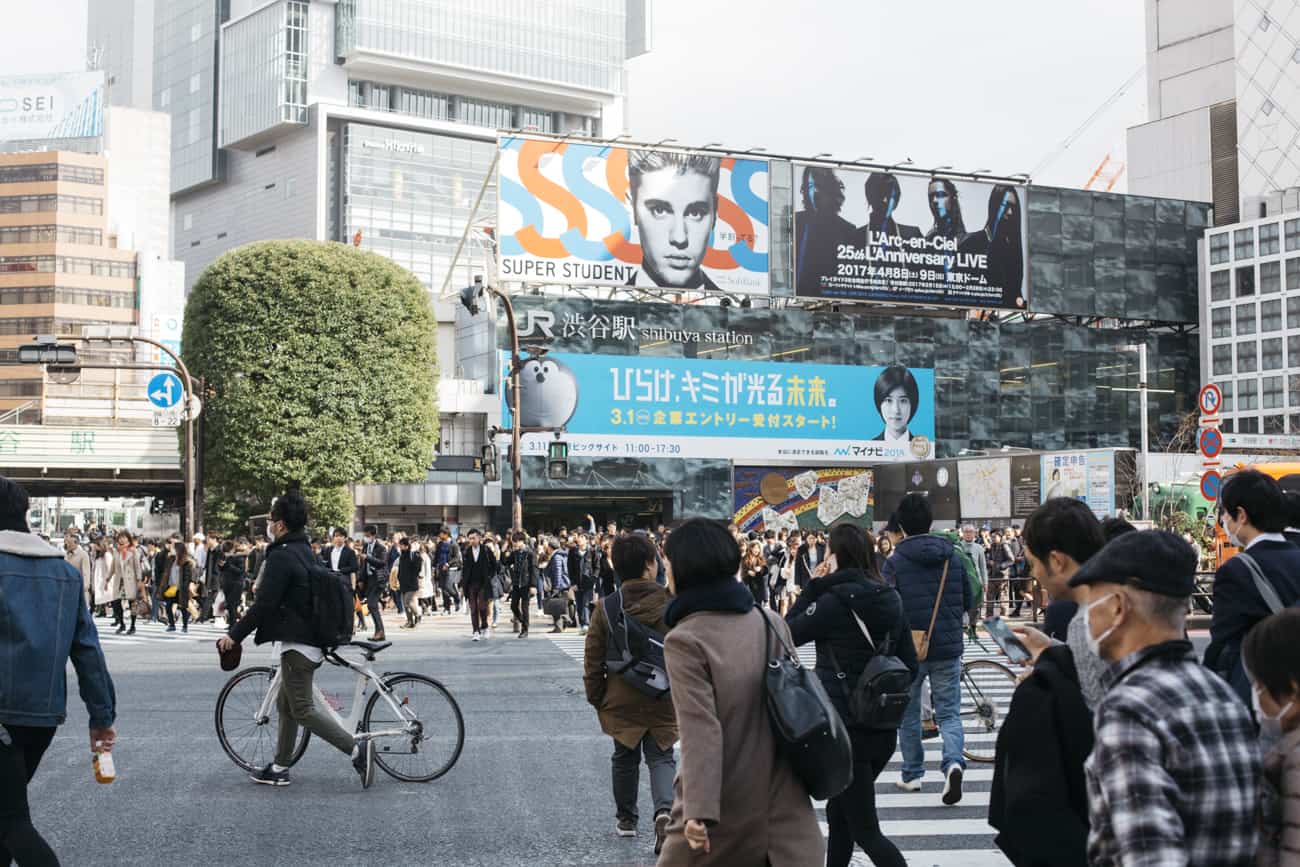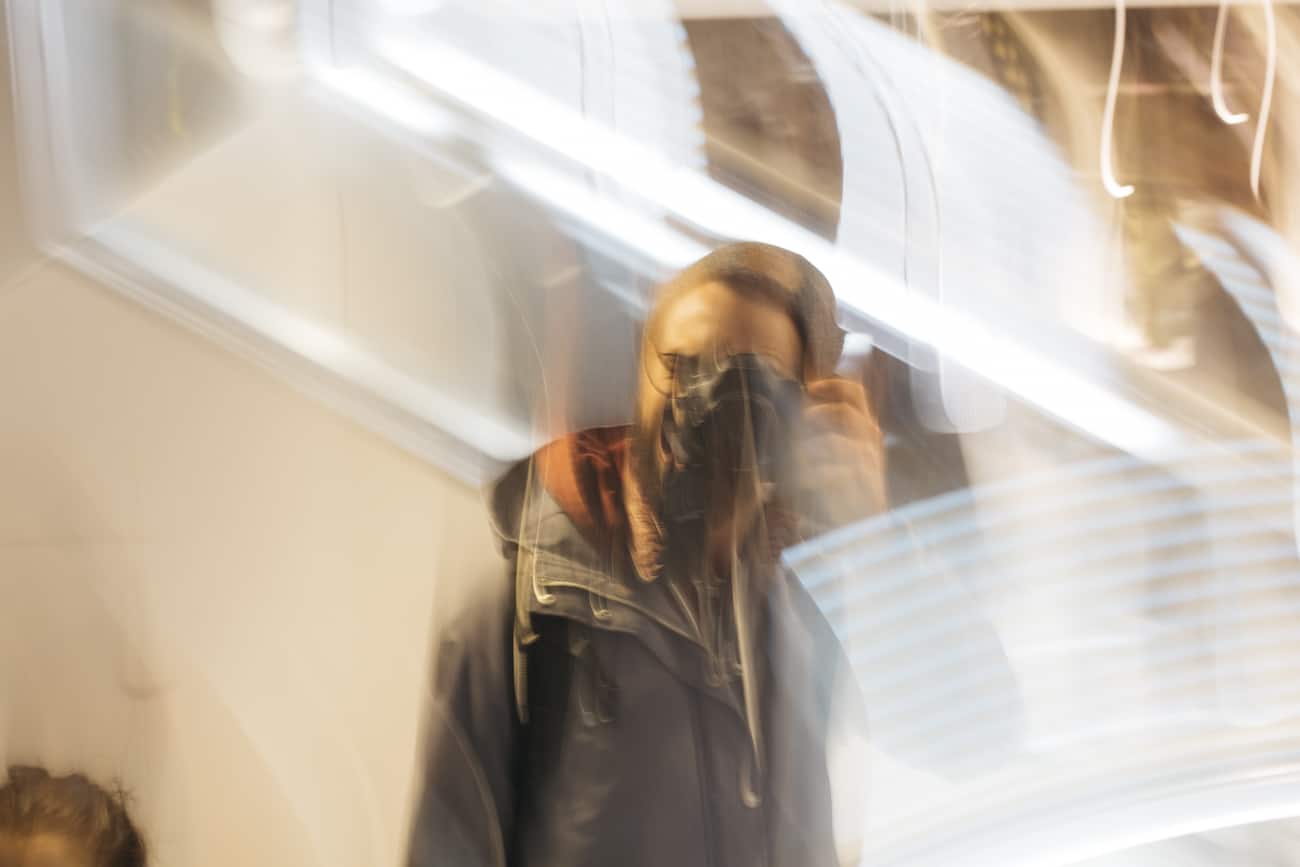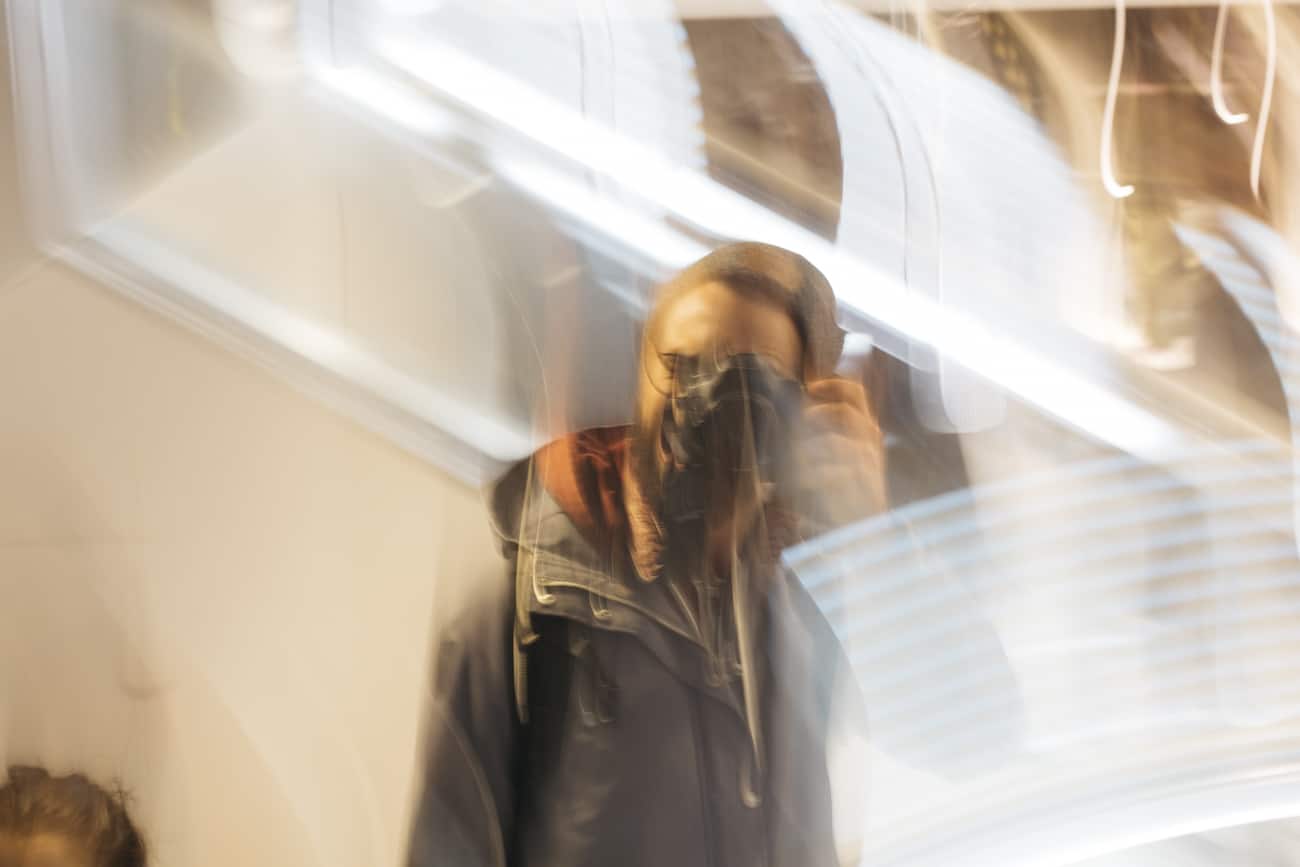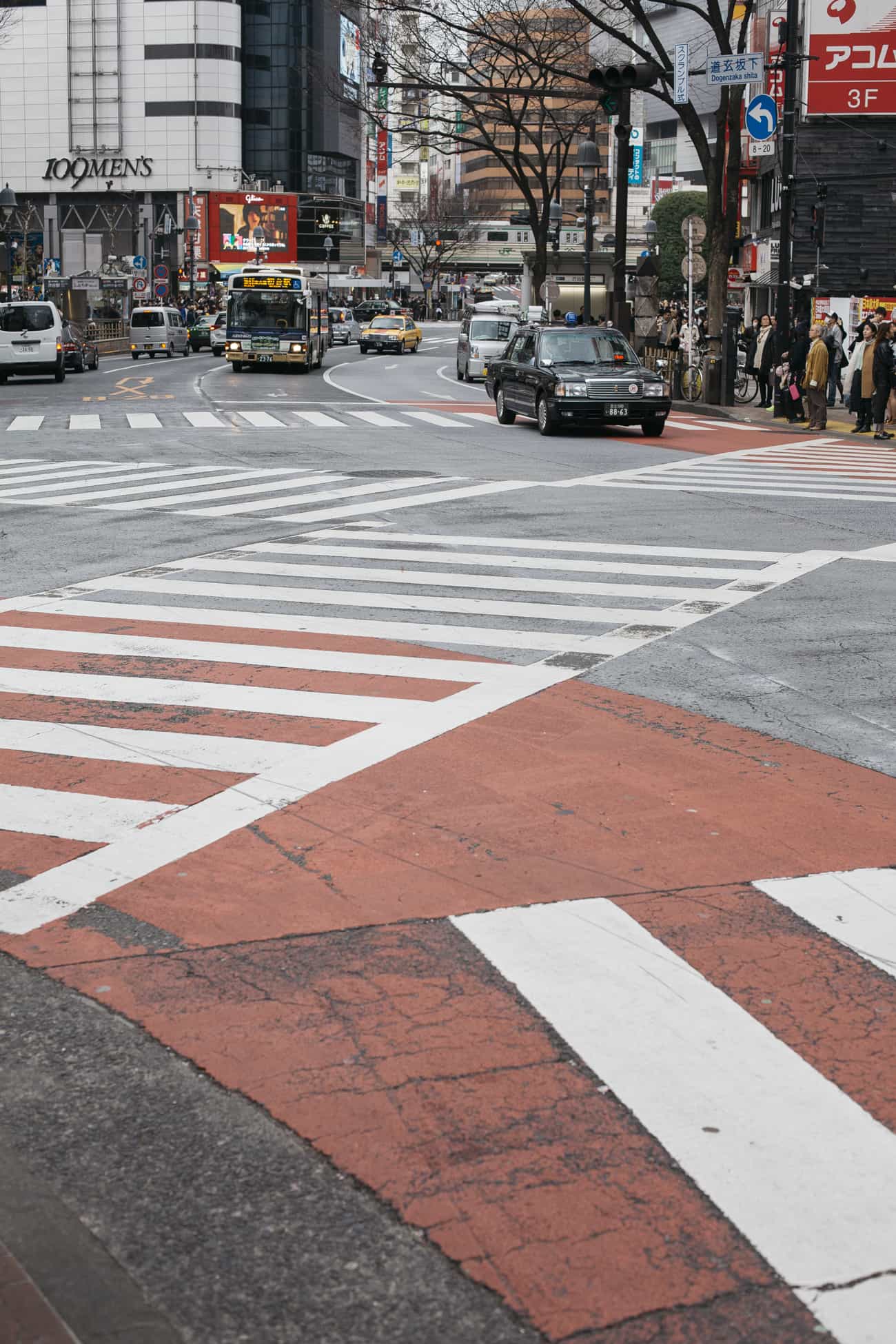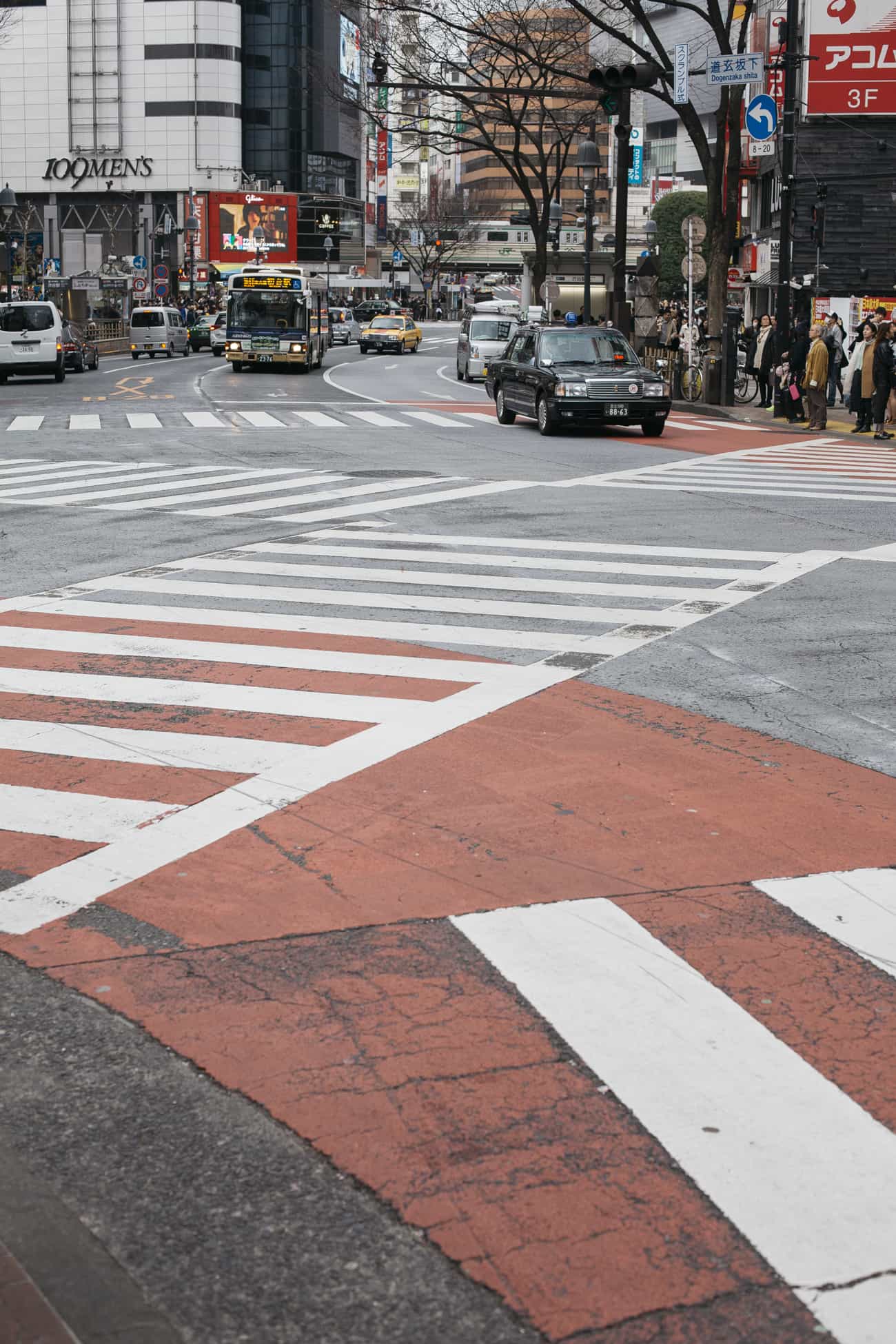 During our stay in Tokyo, we rented an airbnb – an adorable tiny appartment in a japanese house. Apartments and houses are very small here in Japan – but indeed well organized most of the time. In my opinion, it never really feels cramped – in fact it really made me think about how things are back "home" and how everyone could indeed live happier with far less space. With less space, you can think more functionally, and apply principles of minimalism, to de-clutter and live only with what matters. To me that's a very inspiring thing – I guess I could definitely dedicate a whole blogpost just about that topic!
The neighborhood we stayed in was Shimokitazawa. It's not too far from the centre, easily accessible by train, yet it there are so many things to do right there. It's definitely a location for the boho/artsy/creative types as it is full of vintage shops, indie fashion, quirky cafés & eateries, live houses and artist studios. We loved it there and we highly recommend it if you're looking for a more alternative spot to stay in Tokyo!
After a red-eye flight to Tokyo, all we wanted to do was to just take it easy and slowly explore our own surroundings. We tried this awesome little place called Ojiyan Cafe where we tried some plum wine (they also have yuzu – japanese citrus – wine) while trying to understand the japanese kanji characters on the menu with our google translate app. No worries though, they do have an english menu, so you wouldn't have to do this if you don't want to 🙂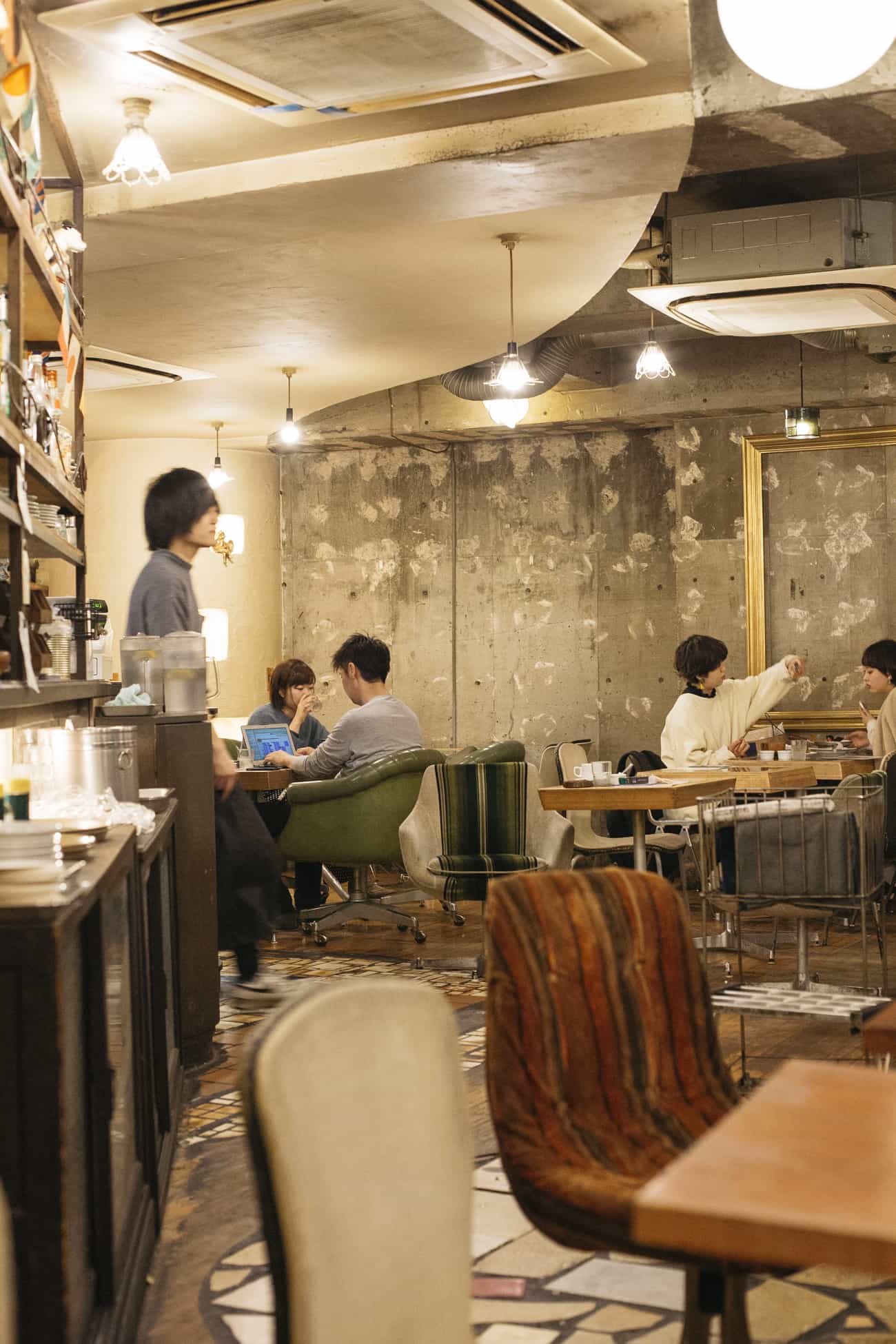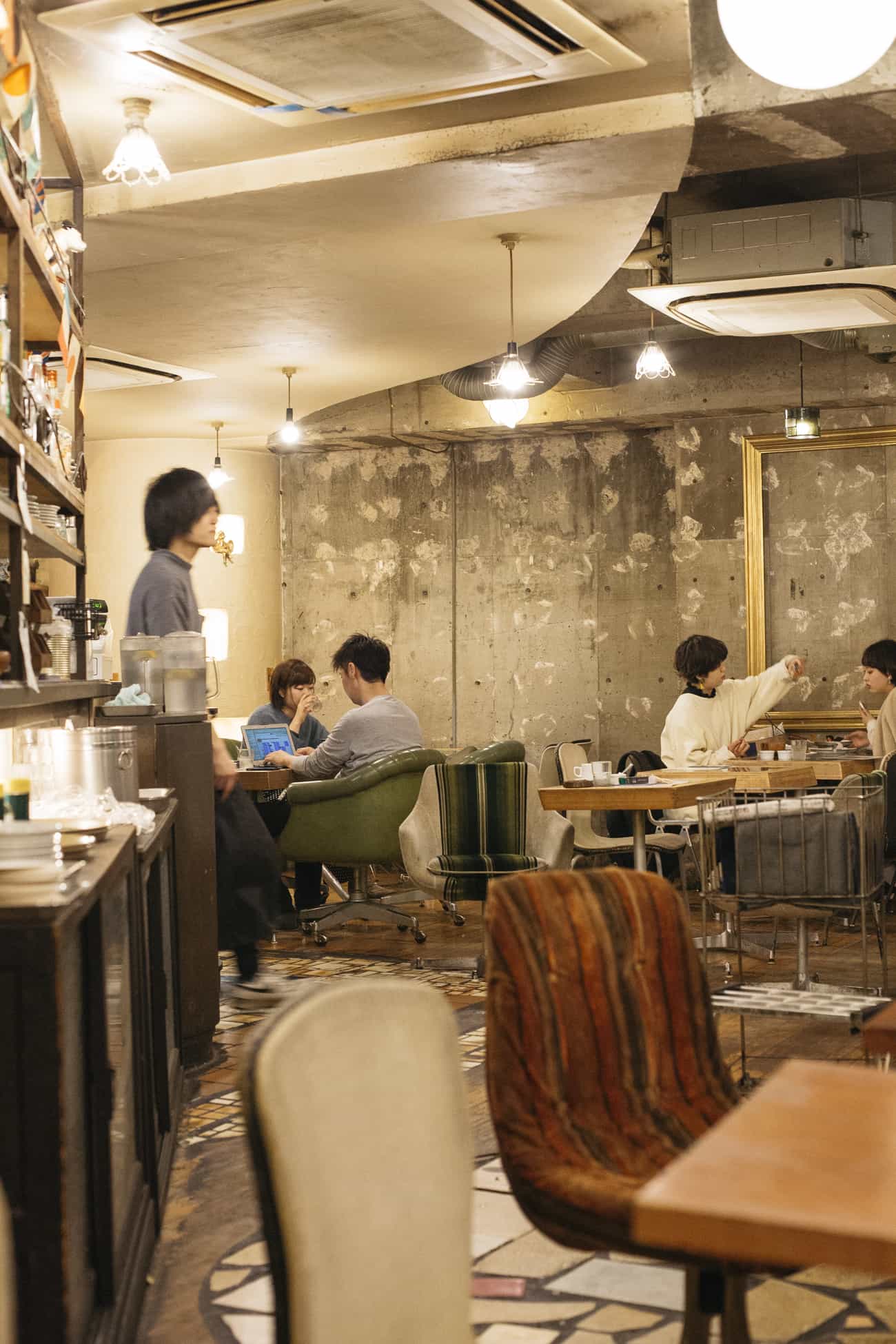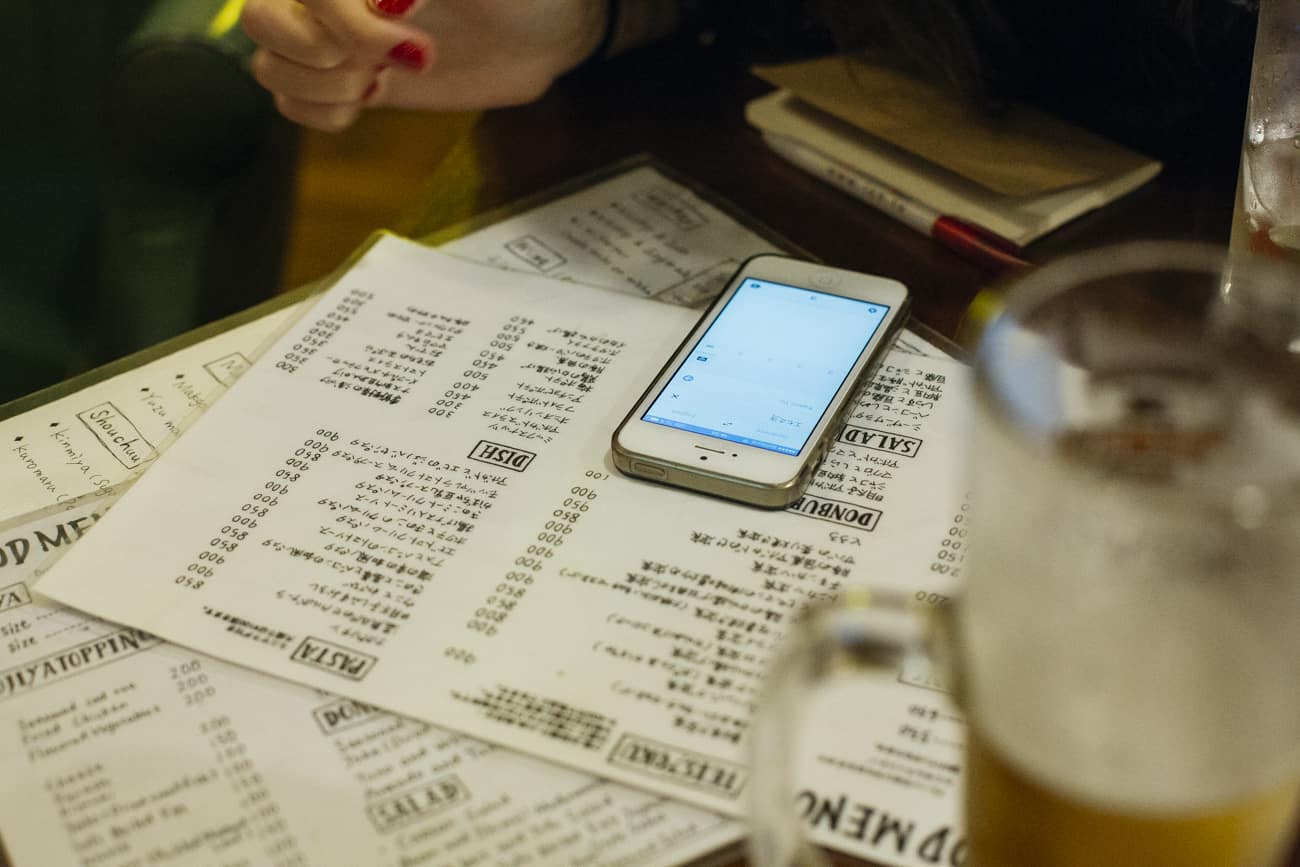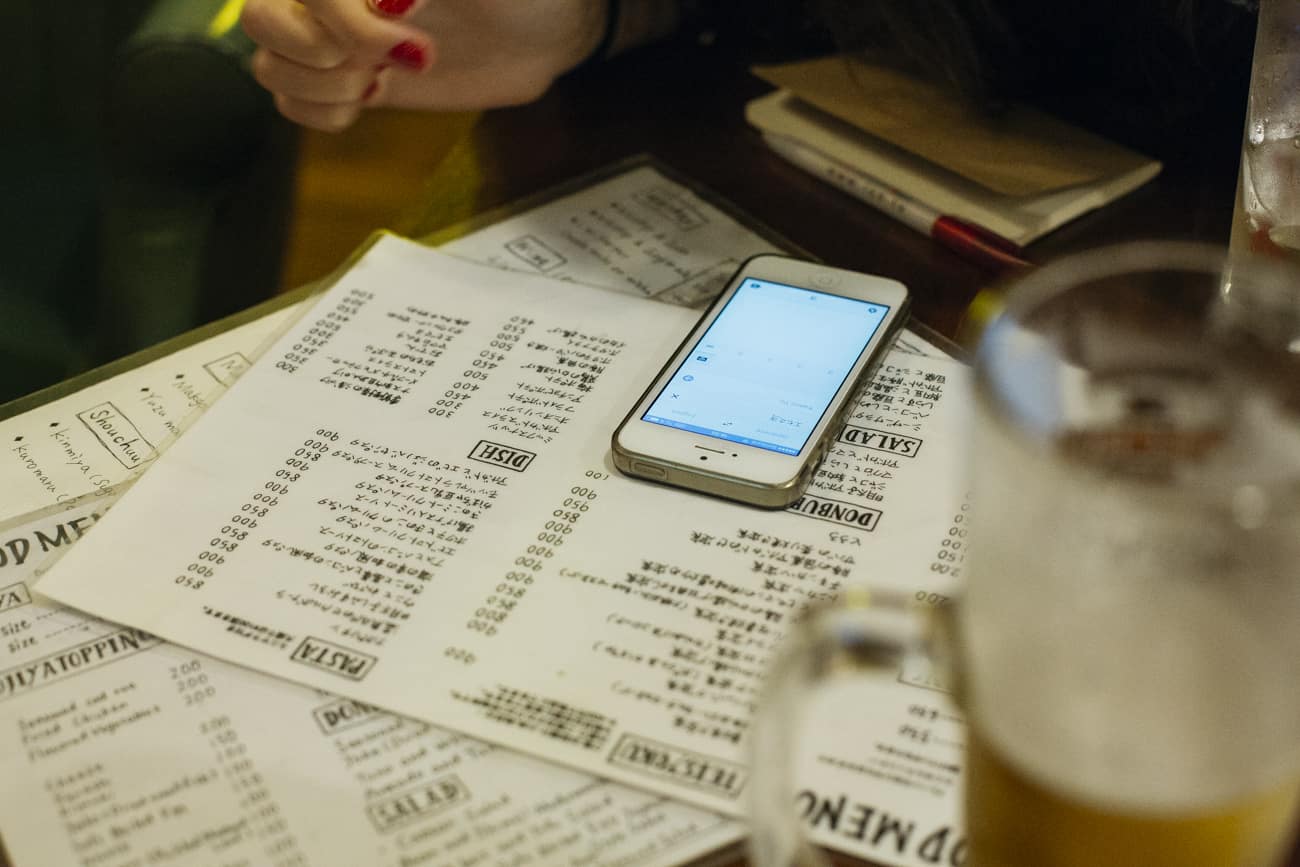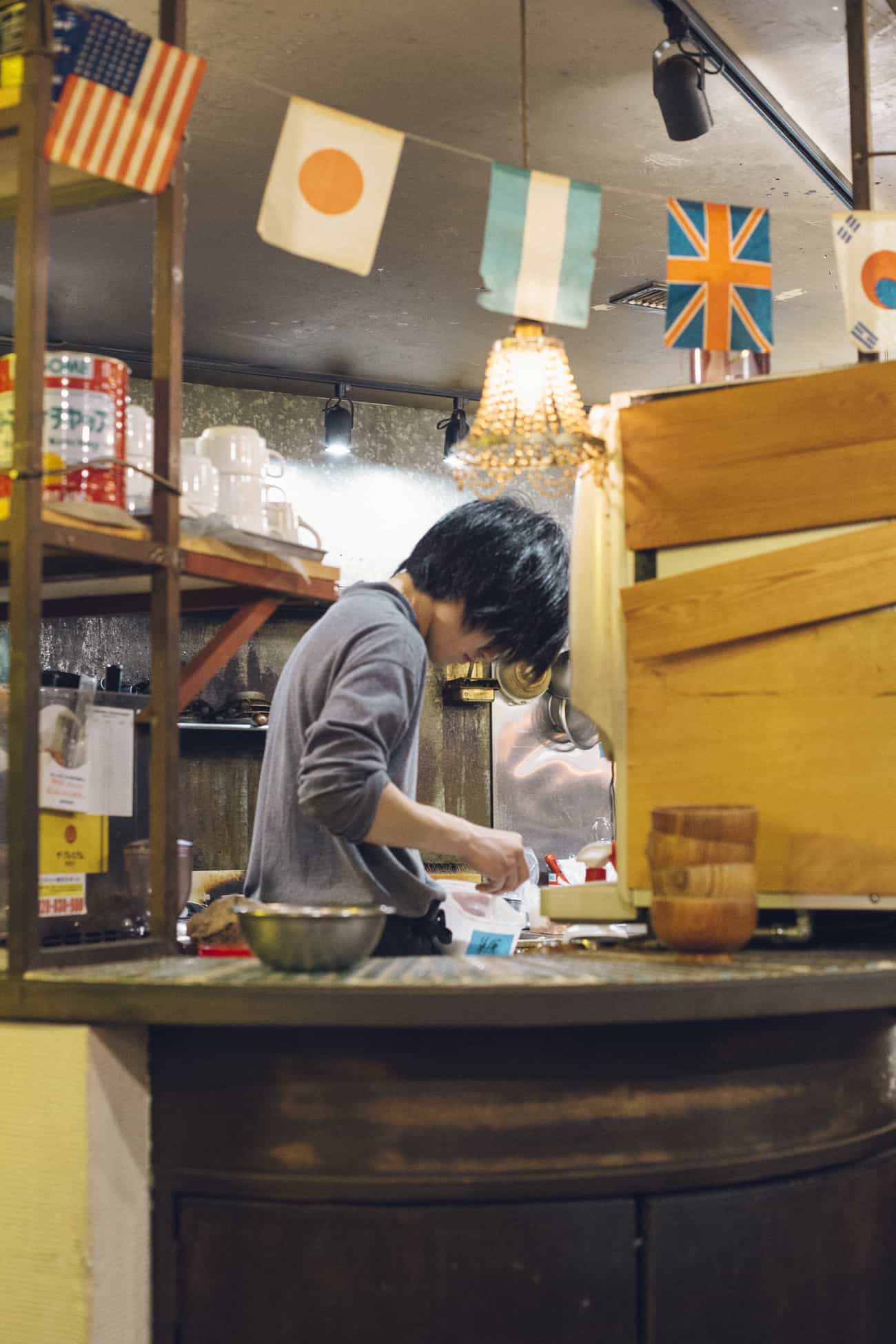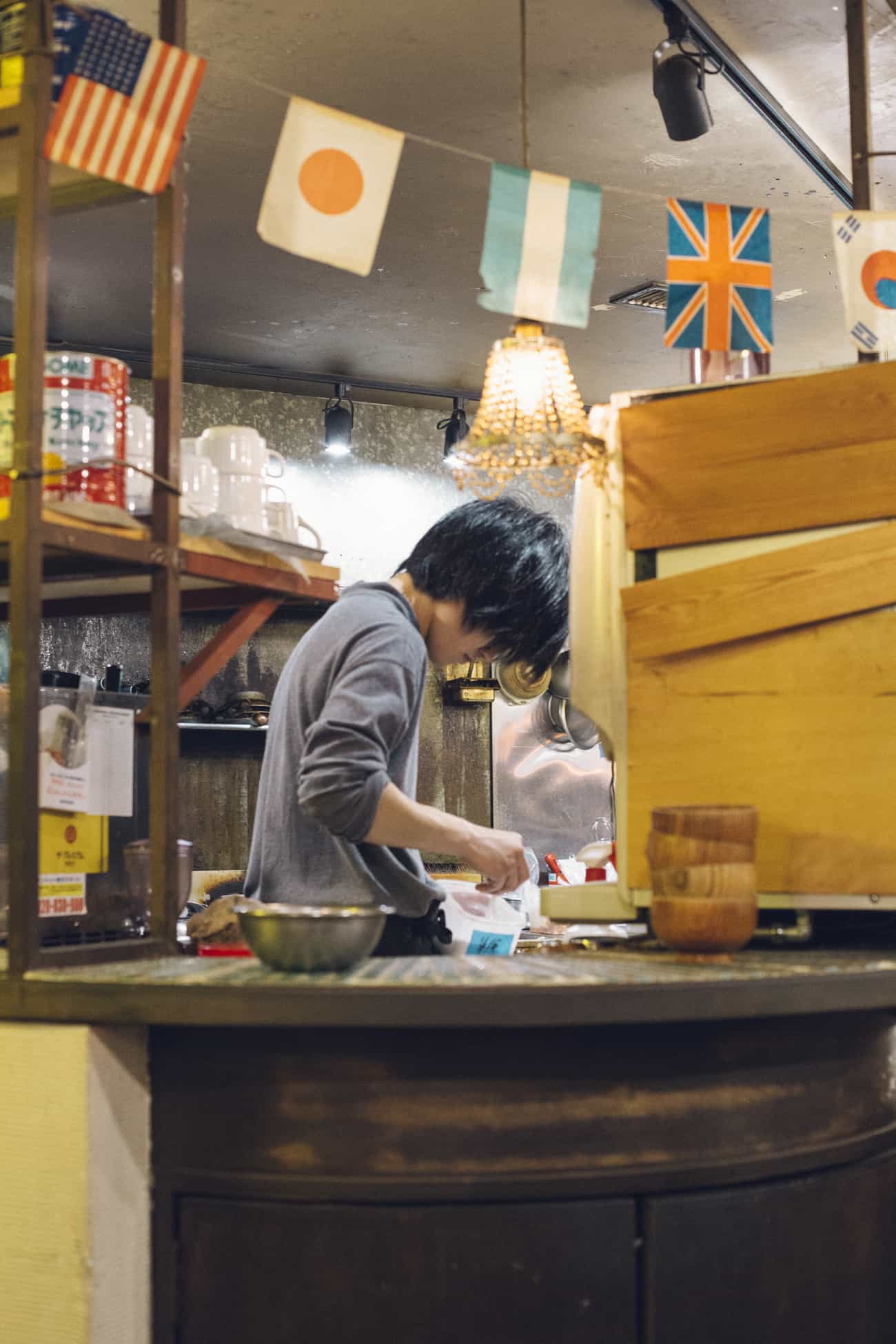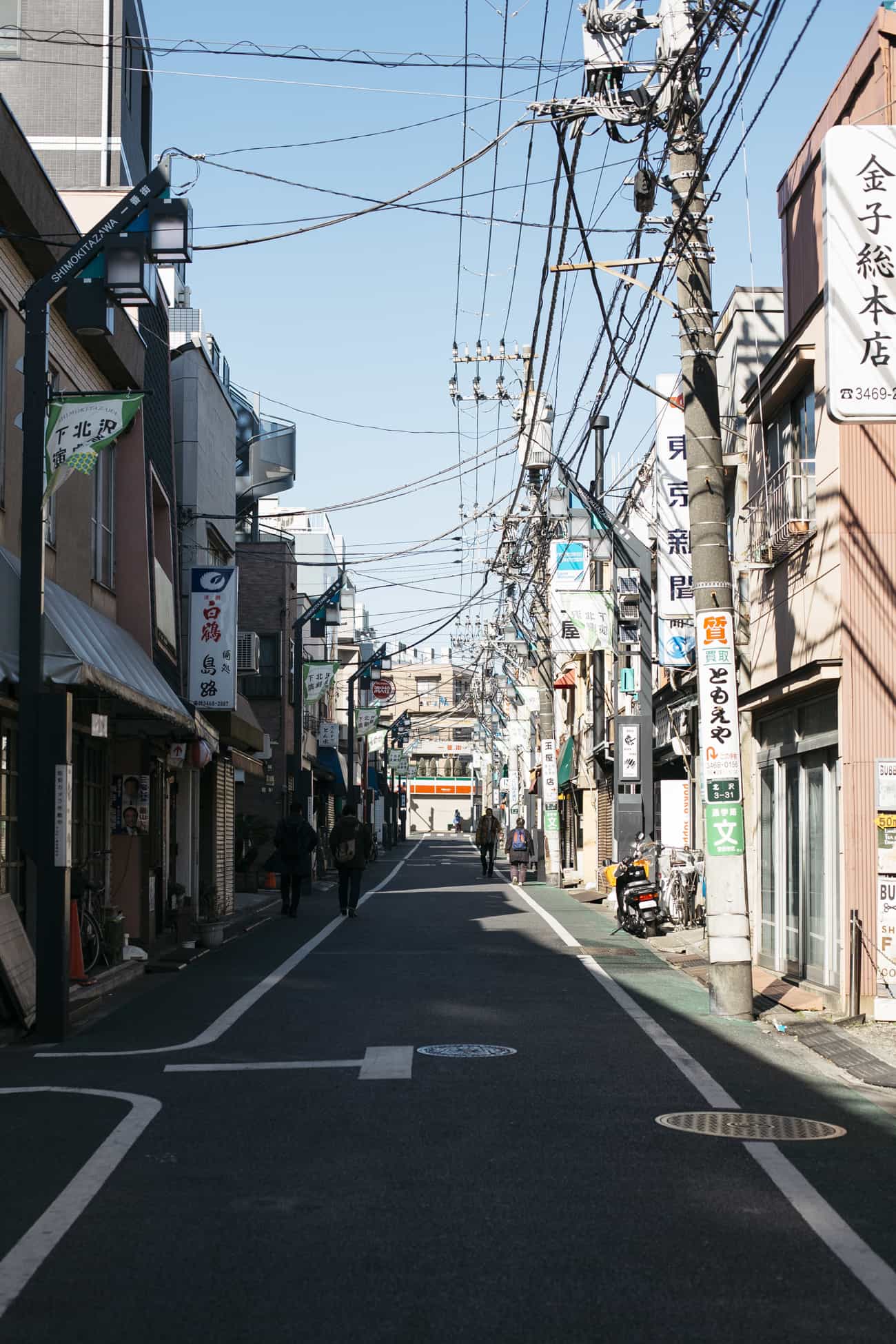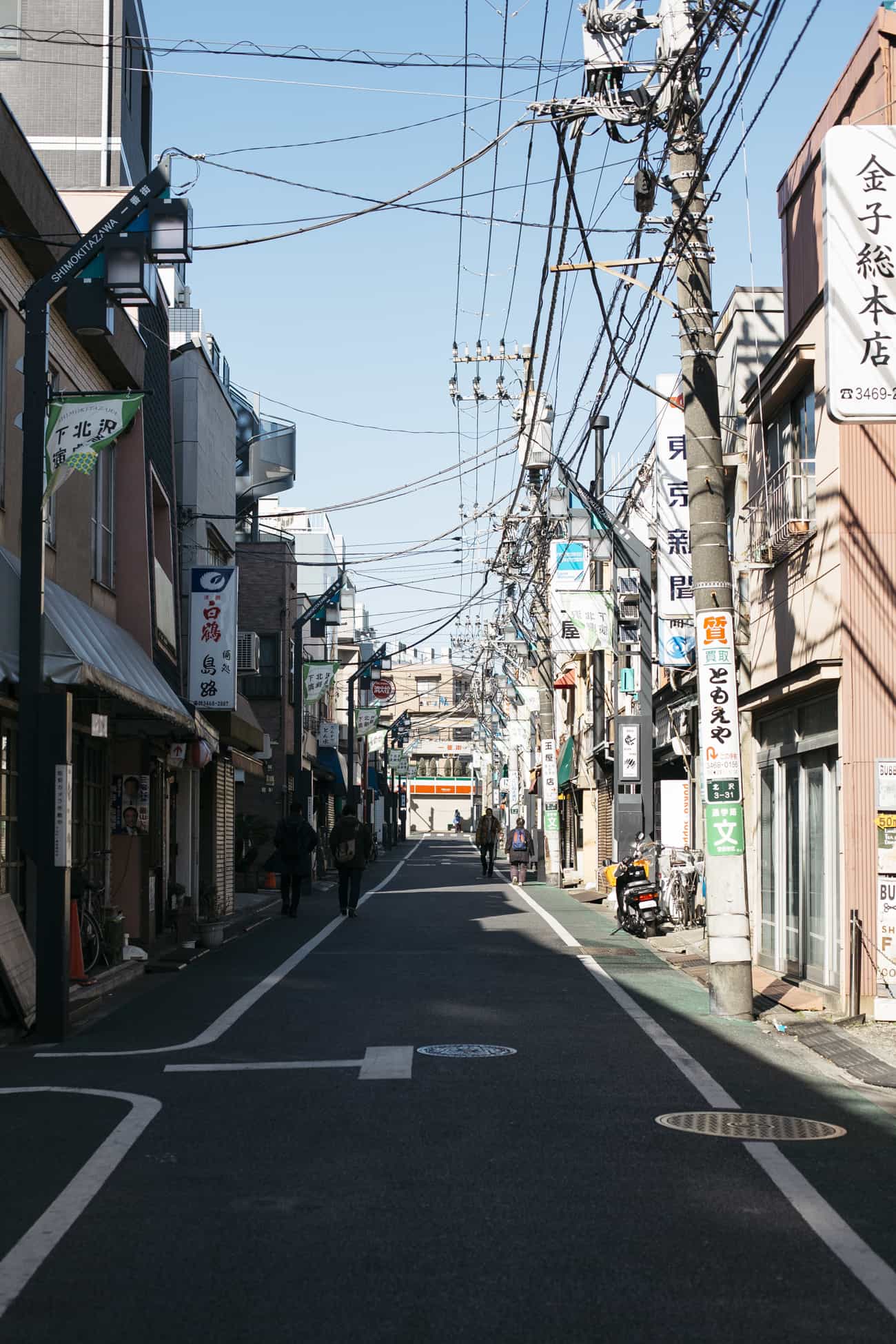 On the next day, we needed a breath of fresh air and some exercise, so we walked all the way from Shimokitazawa to Yoyogi park. Boy, those few days in Tokyo were full of walking… We found that the city is quite walkable and you get to see the best little things when walking to places instead of taking the subway just for a few stops.
Right in front of Yoyogi park to its west side, we discovered this really cute coffeeshop called Little Nap Café. It was simply adorable. Tiny, but with a couple of sitting spots right by the window. So if you're lucky, you can consume your warm latte on that wooden counter while looking outside. That was blissful. Their coffee was excellent and their muffins were scrumptious as they had heated them up for us.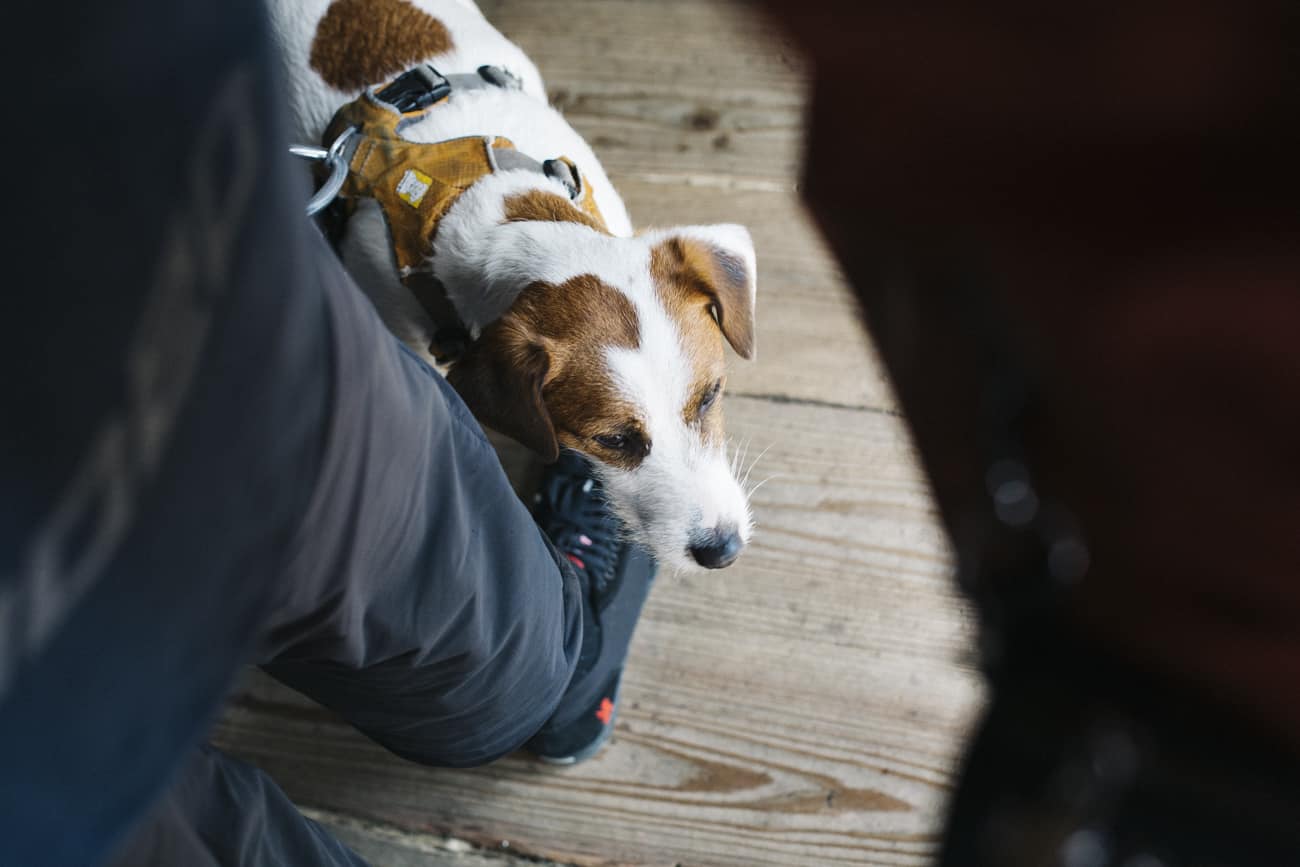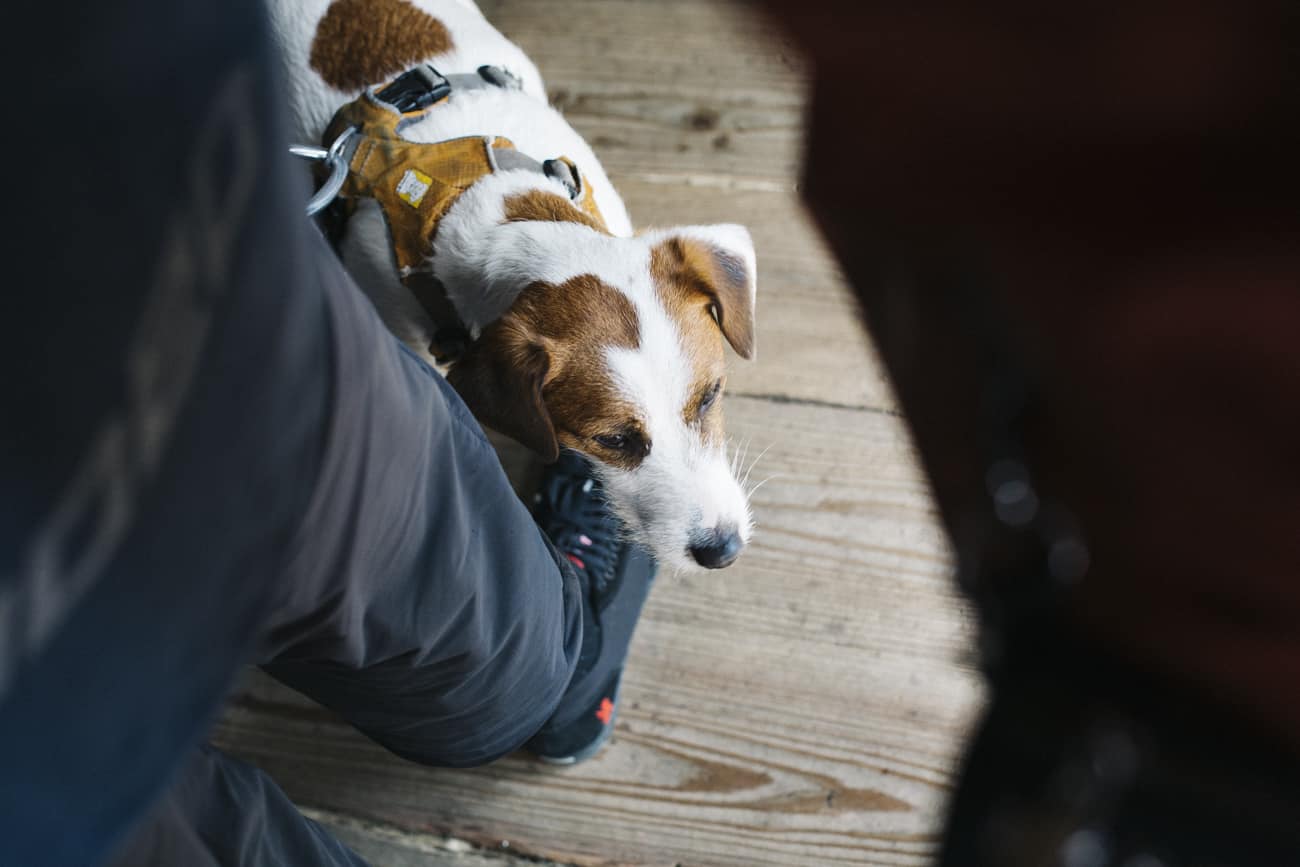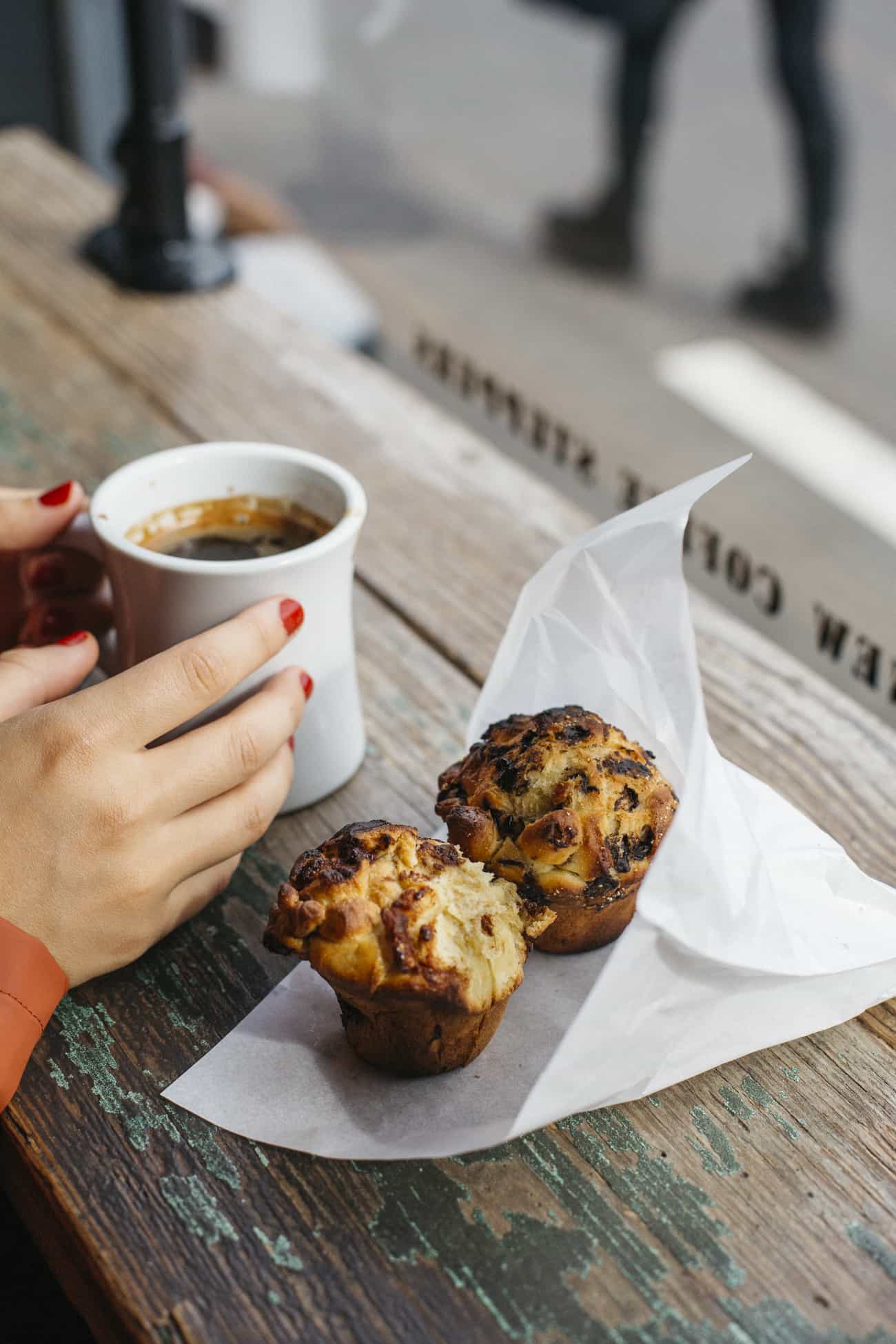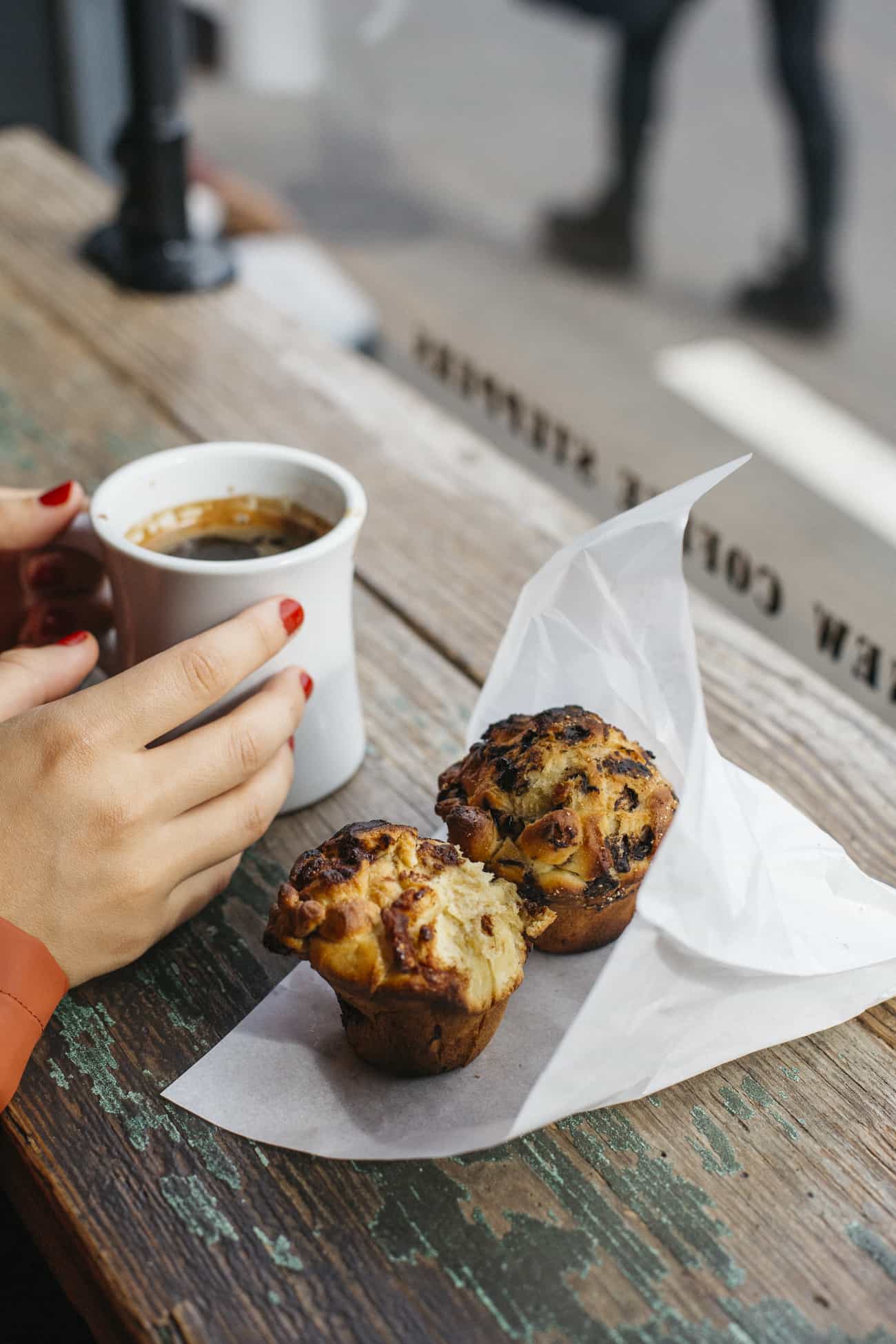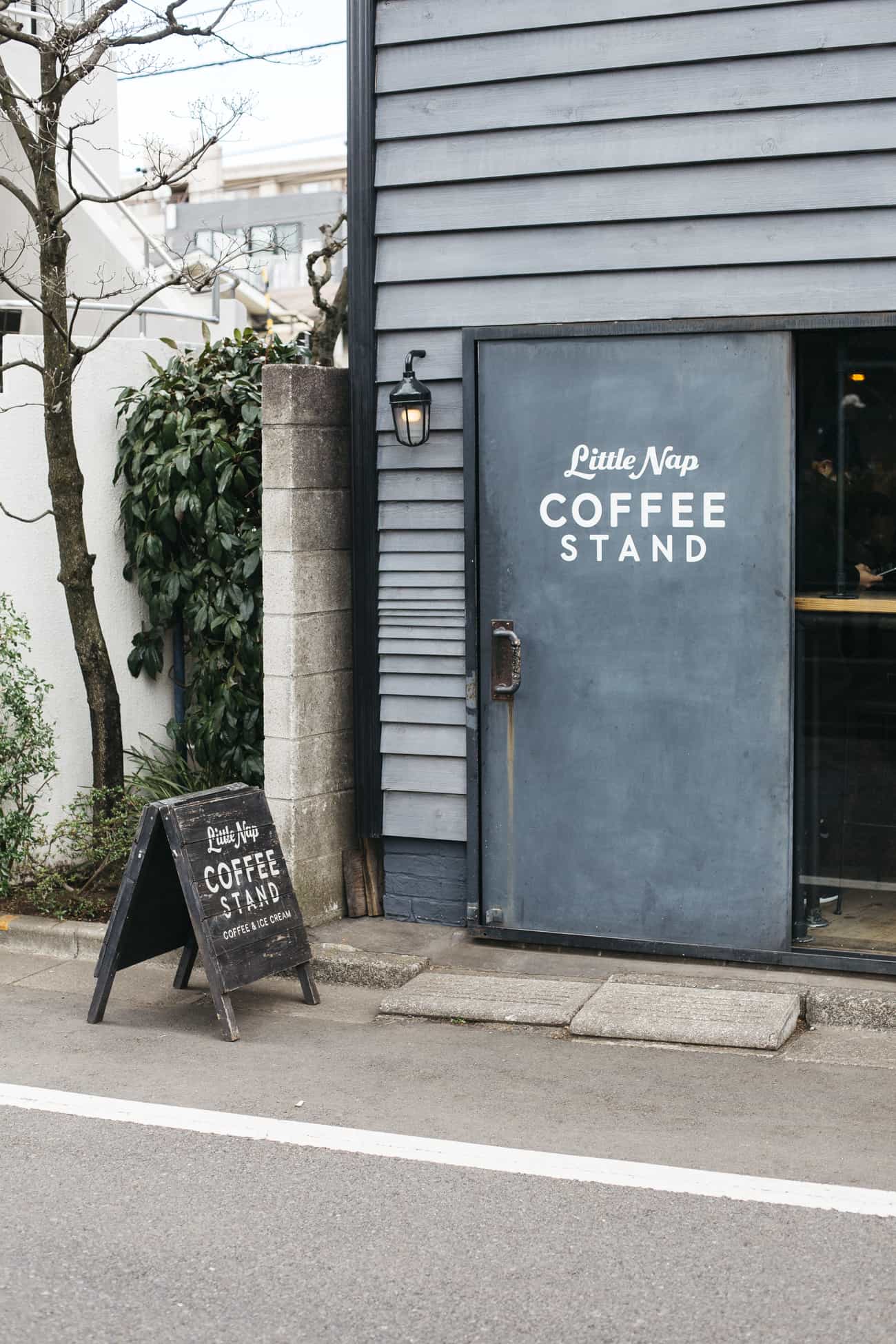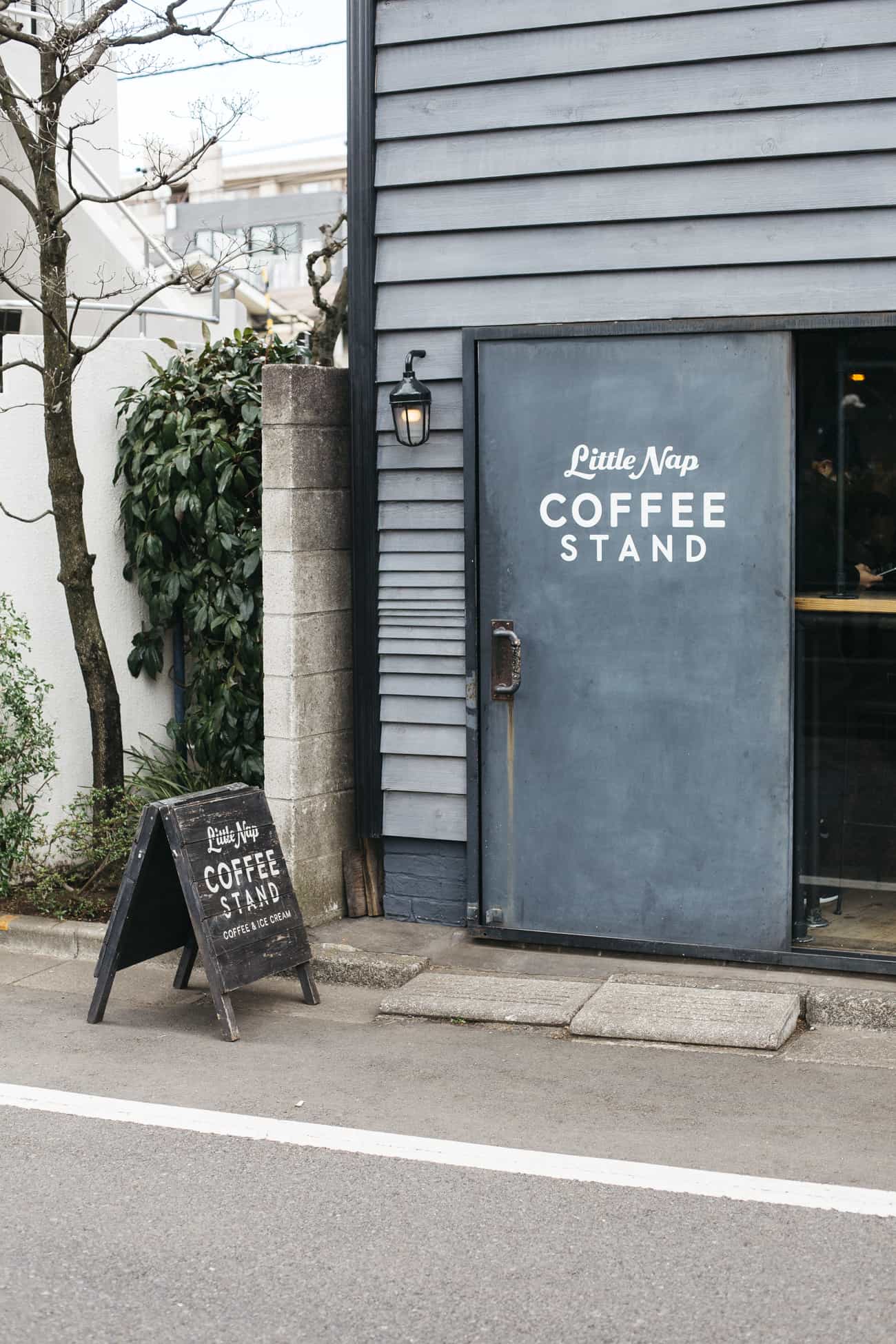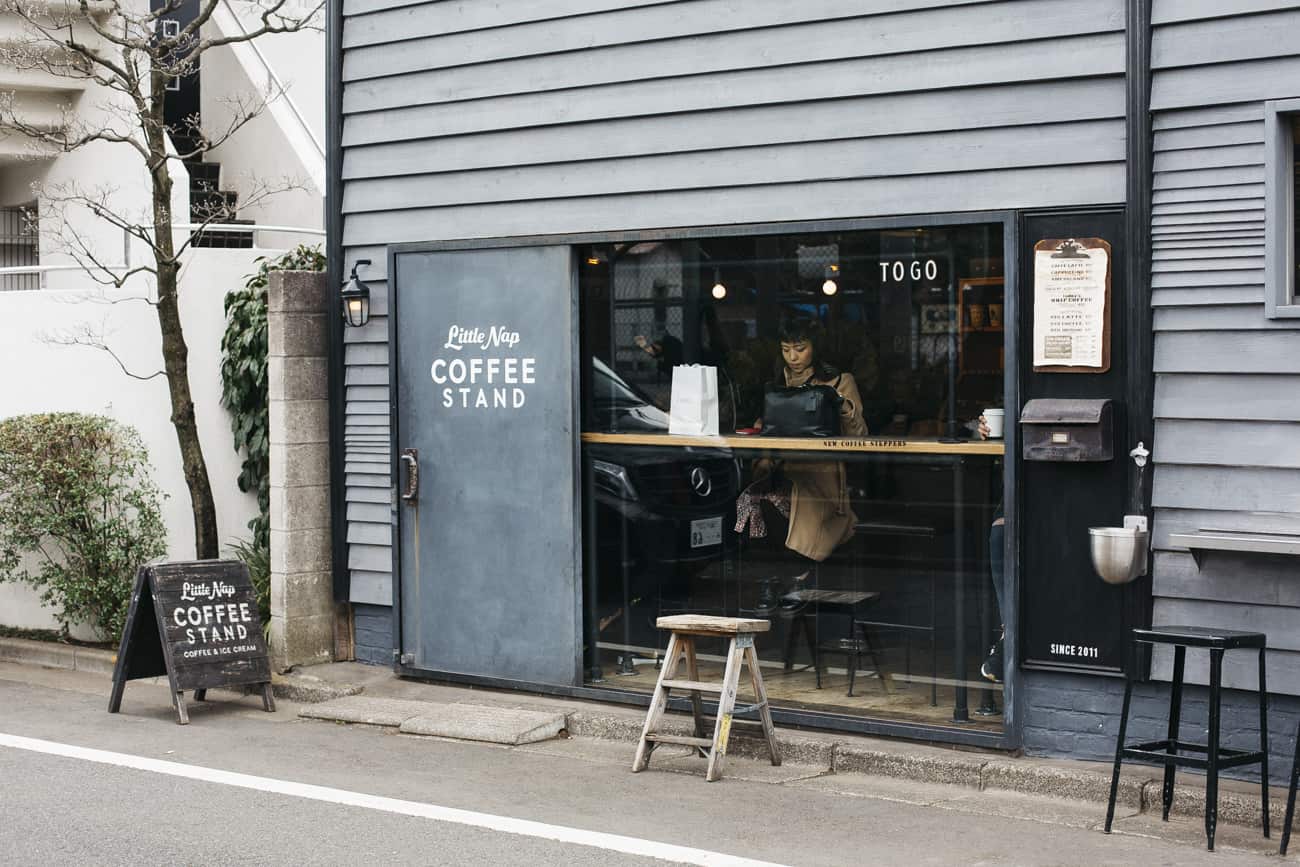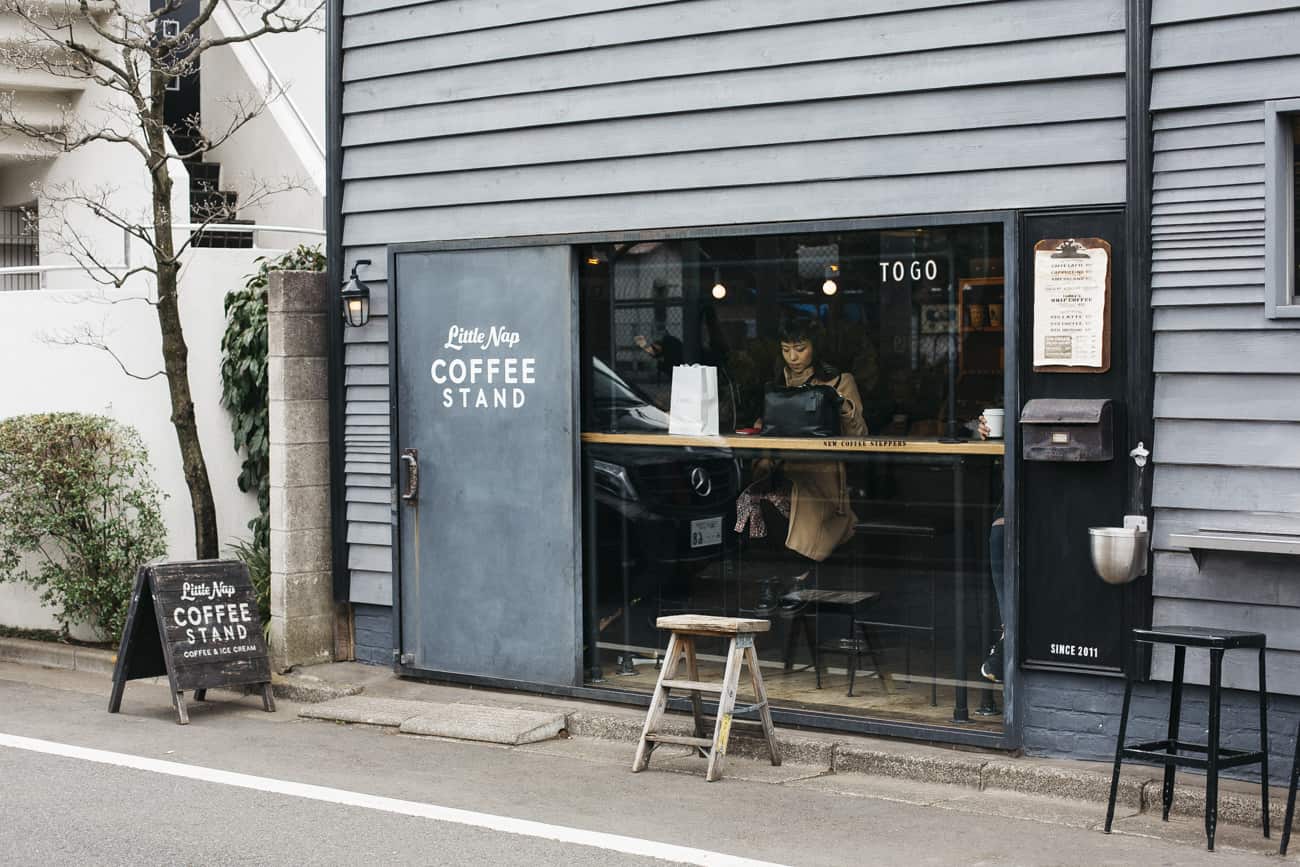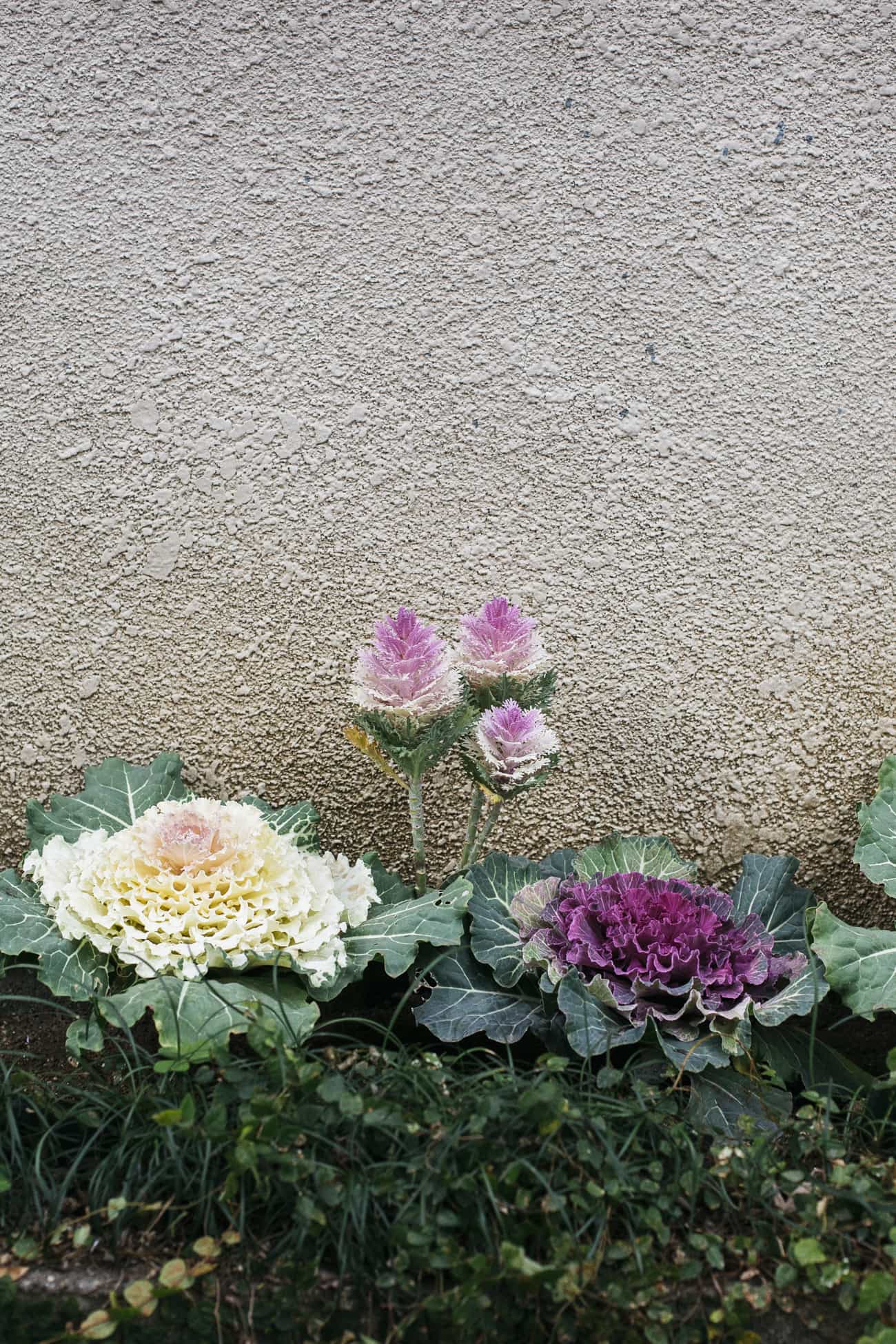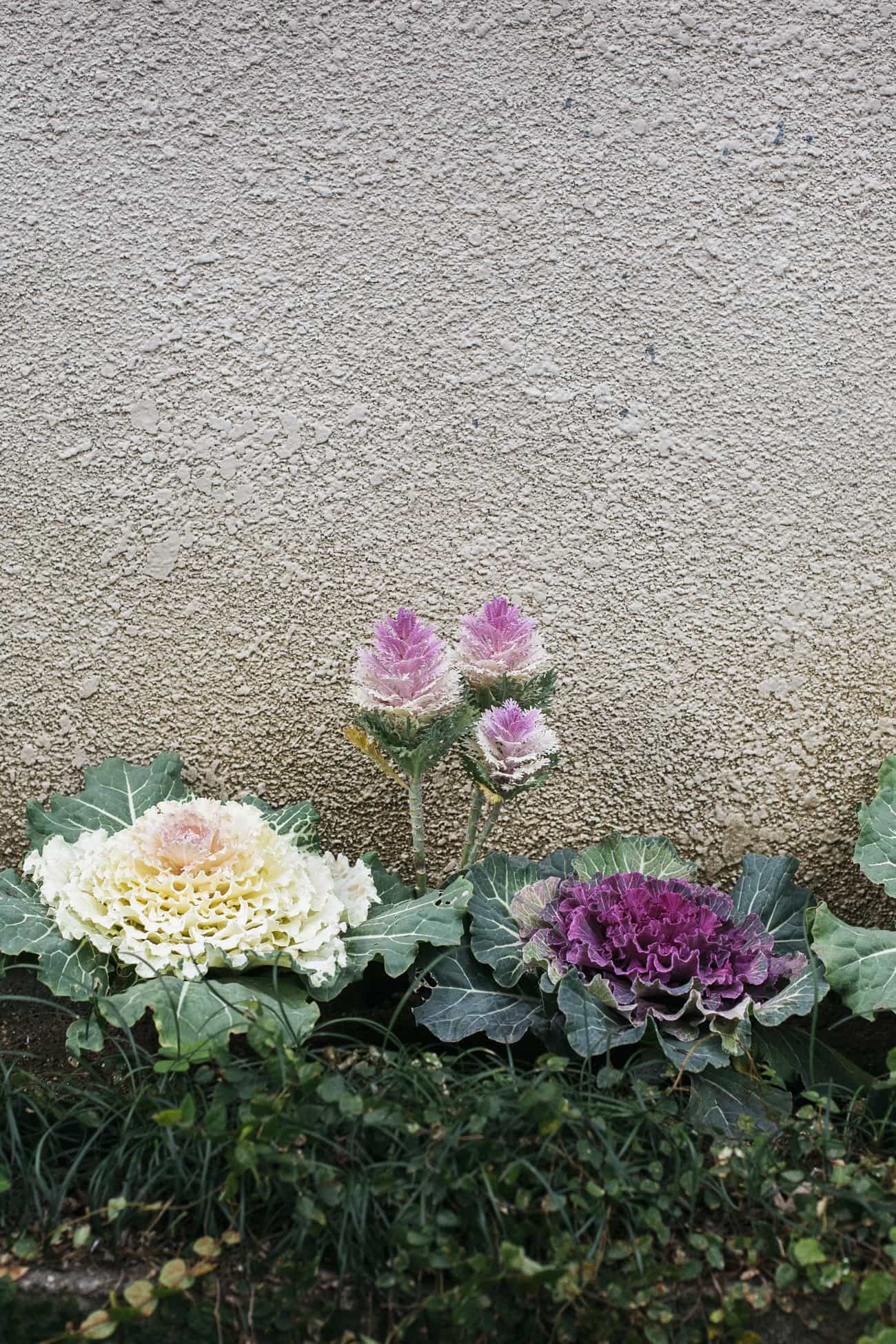 In Yoyogi park, we could already spot a few early cherry blossoms. These a huge part of Japanese culture and they are indeed quite beautiful to watch. I can't wait till mid-spring when we'll be able to see them in full bloom.
We then walked by the nearby Meiji Jingu temple where we witnessed some really beautiful sights like a wall of beautifully designed Sake barrels. I took plenty of photos of these as I enjoyed their visual aspect/color combos. This reminded me of how the japanese have this very interesting design aesthetic that we can definitely get inspired of for our own projects while staying here! David also snapped many shots of the wooden prayor tablets that were hanging near the temple.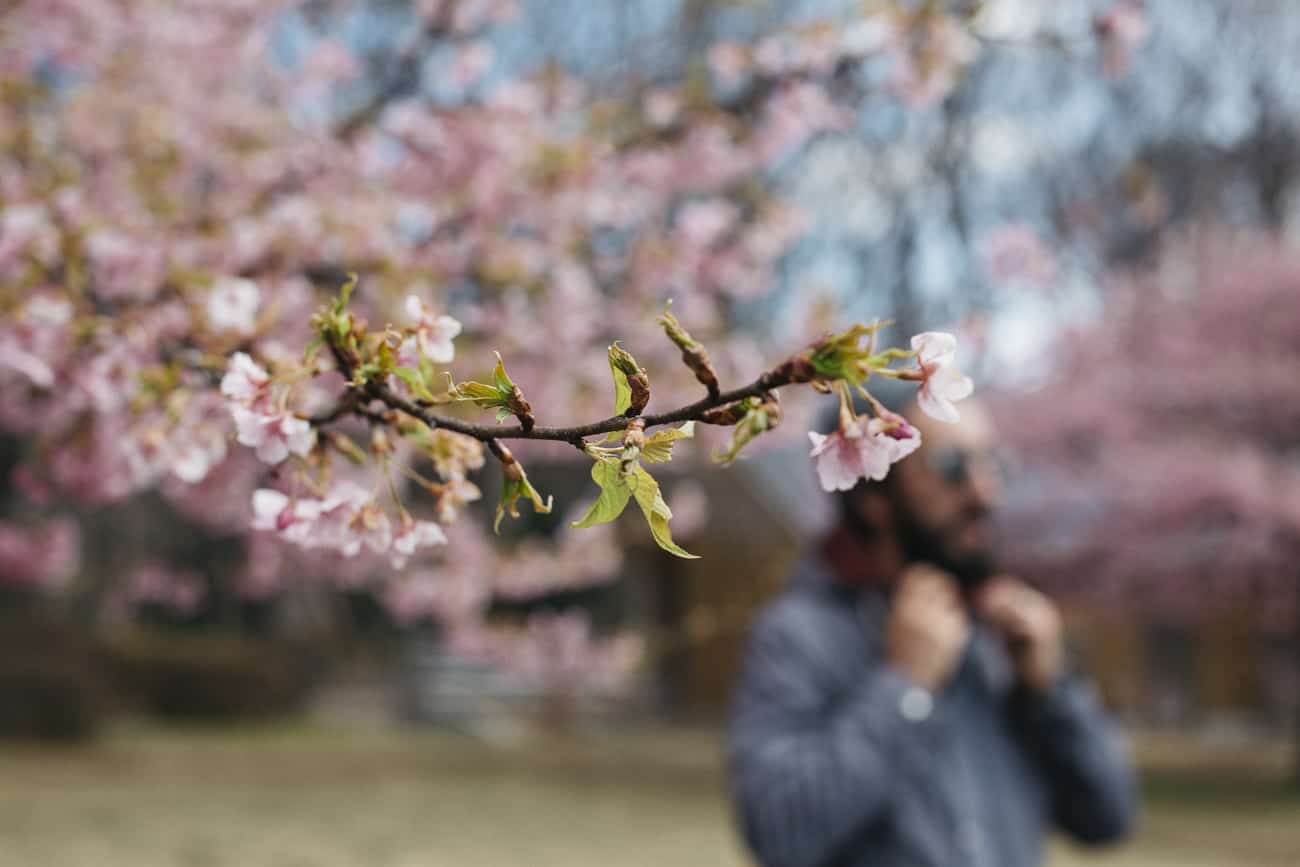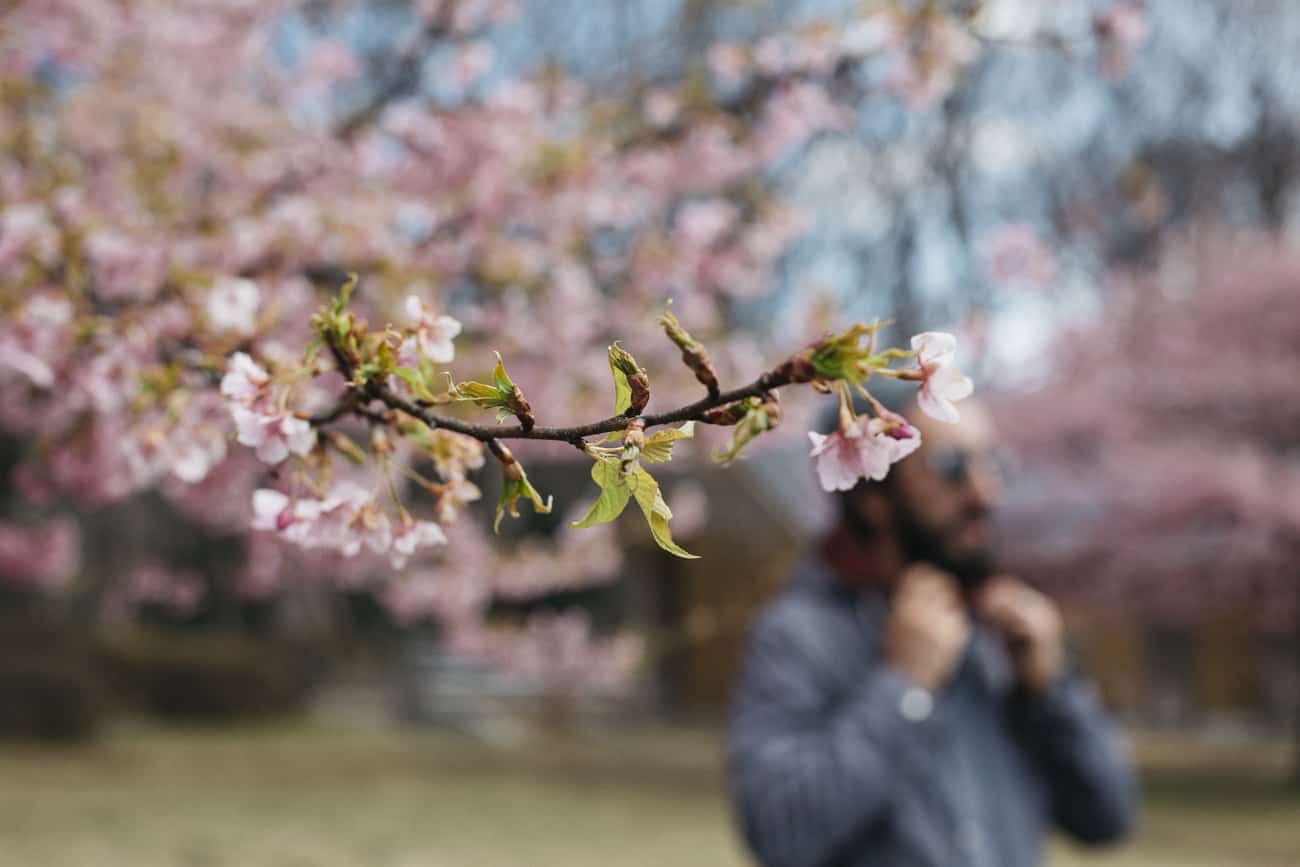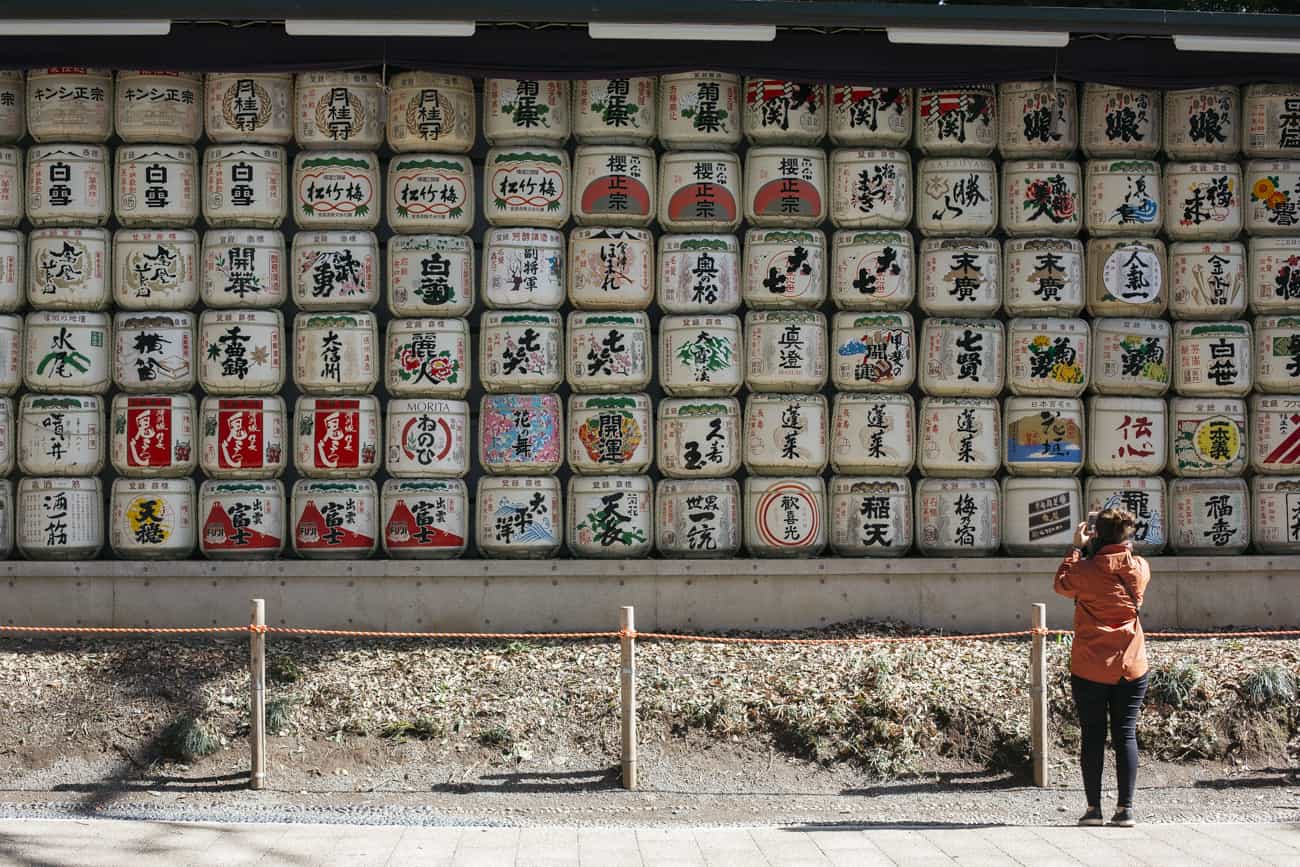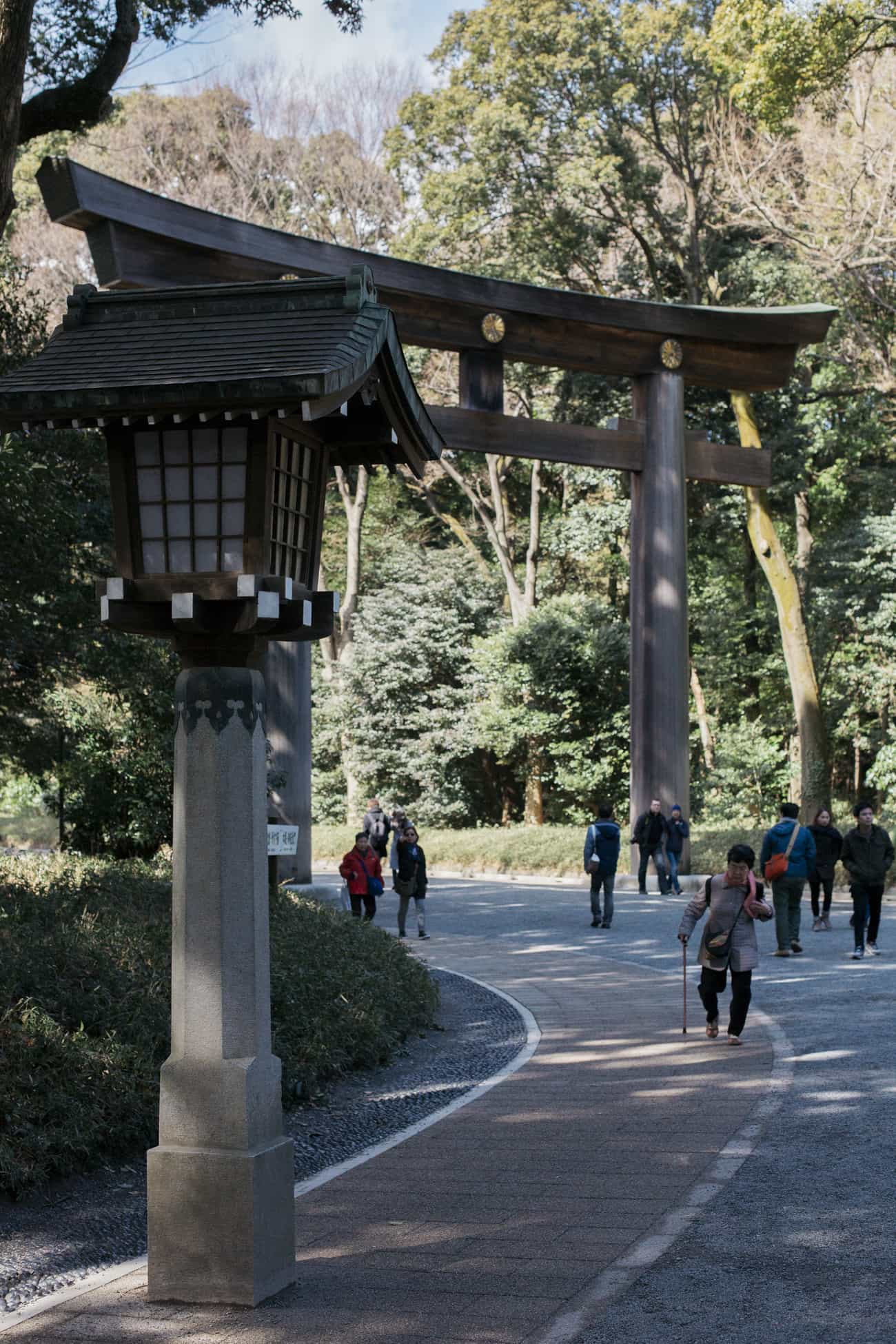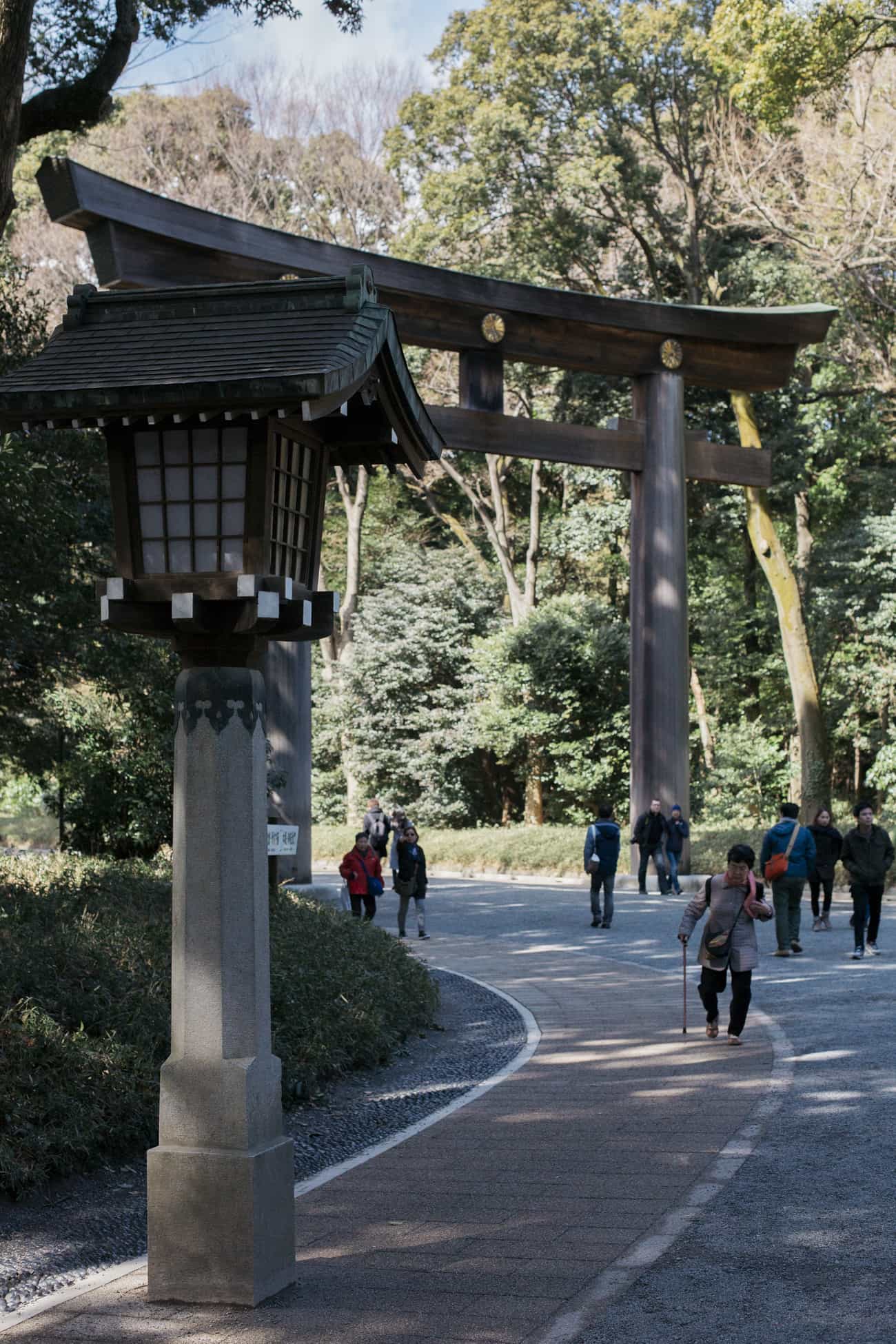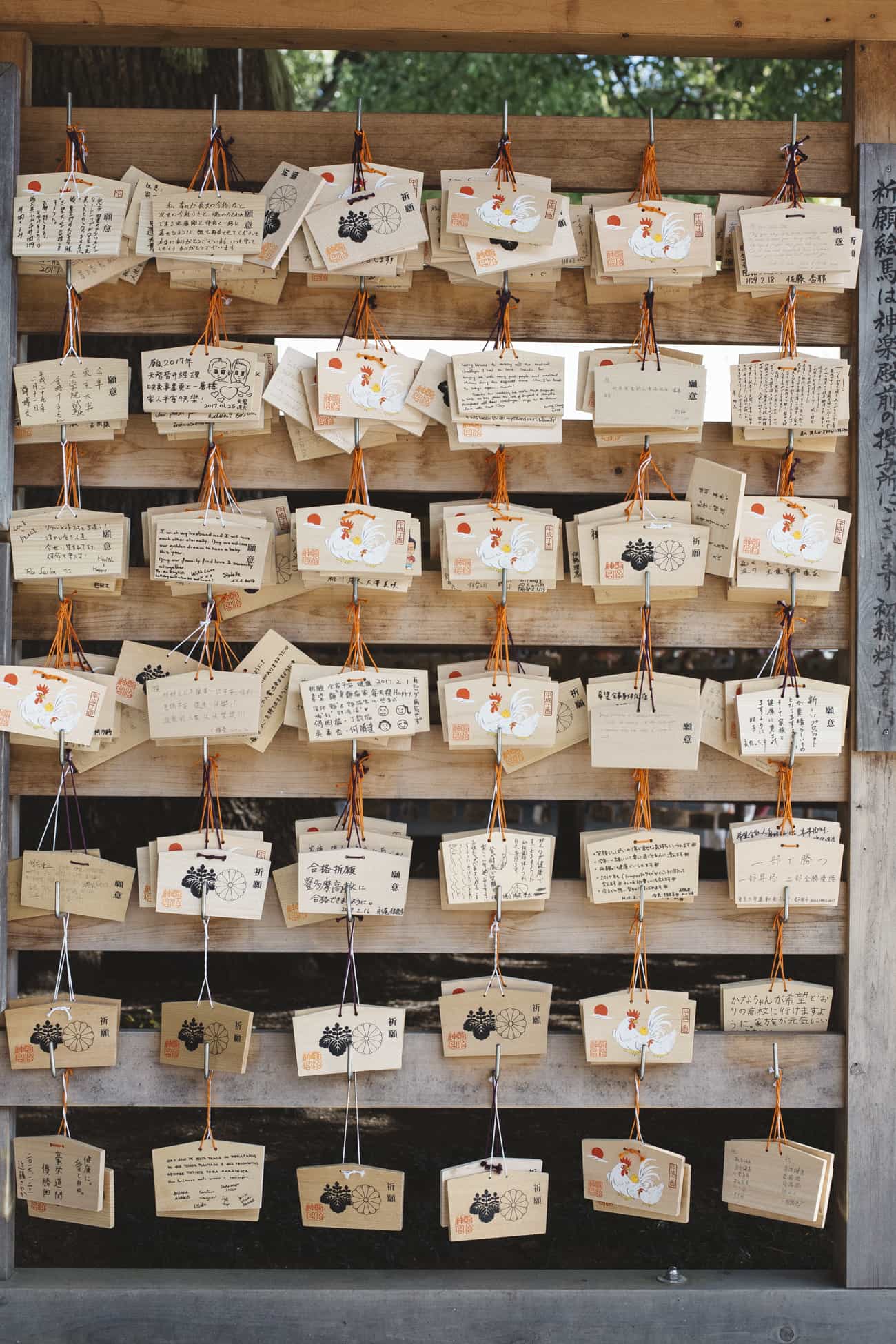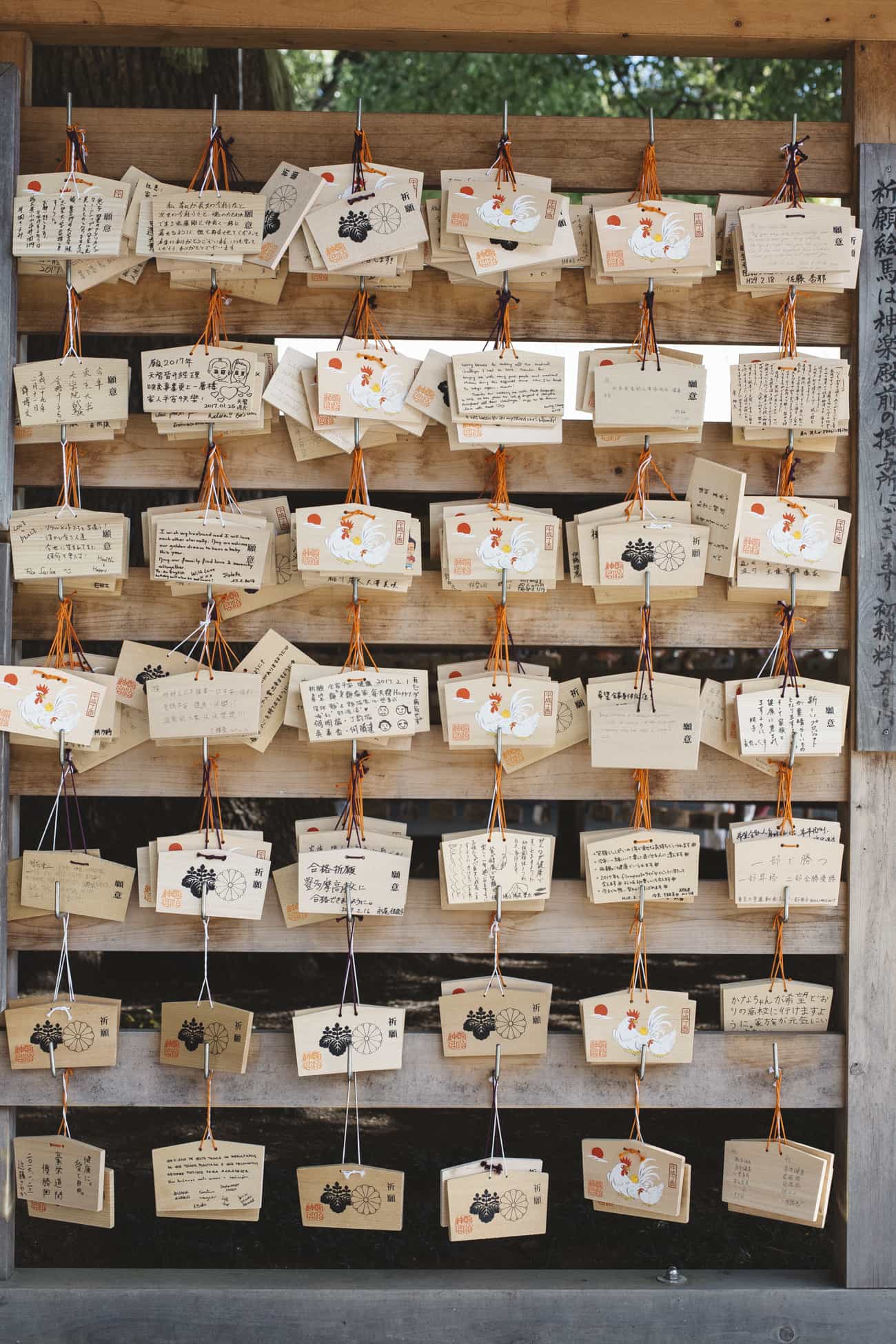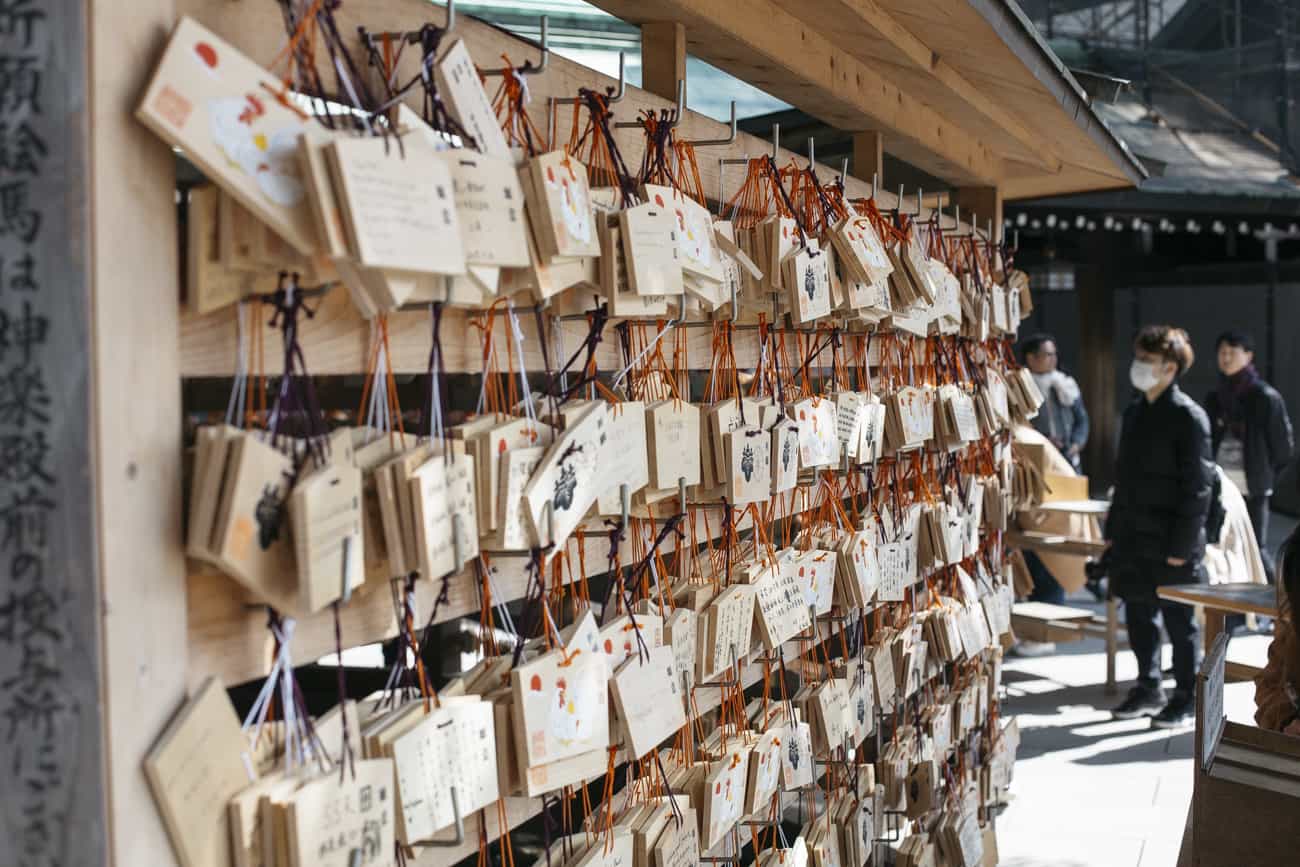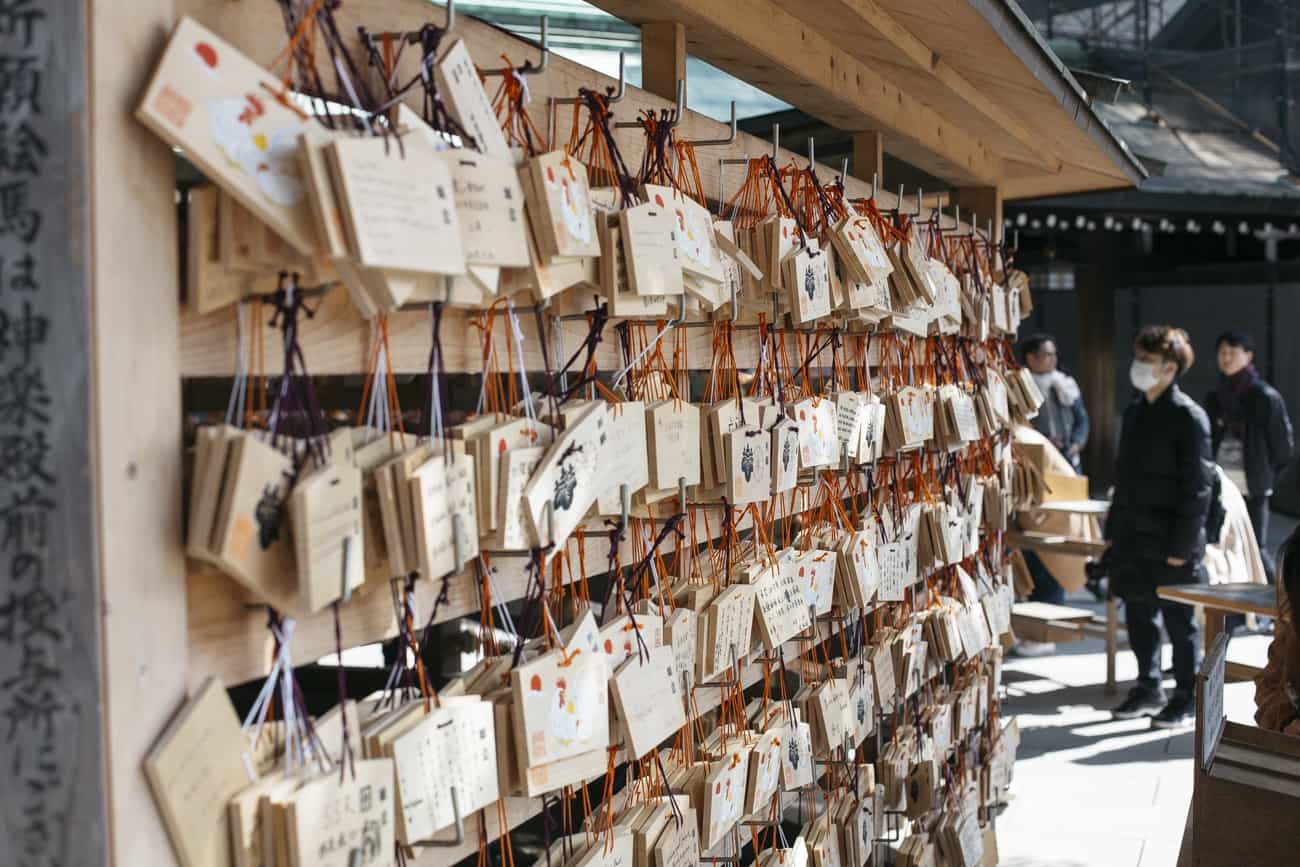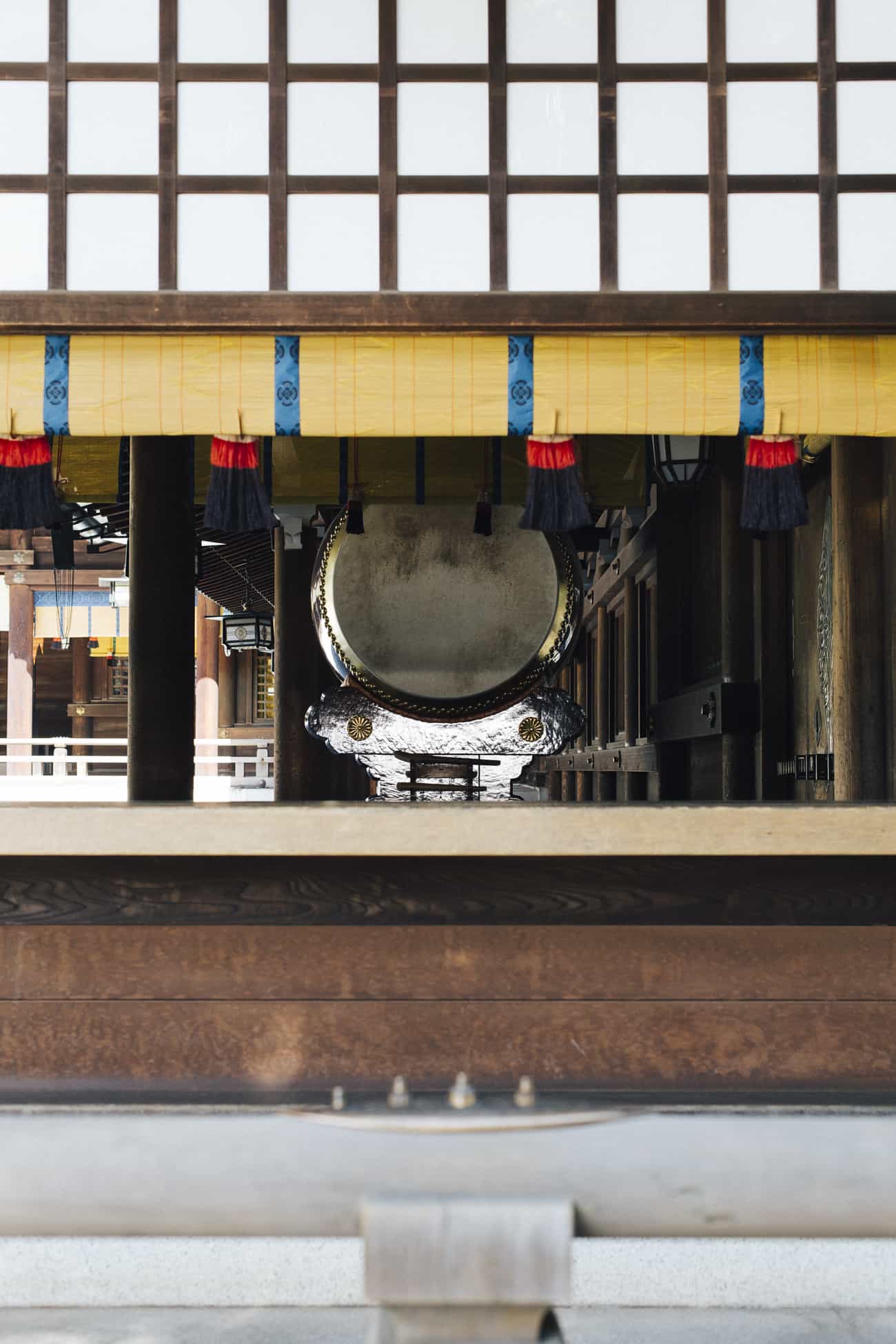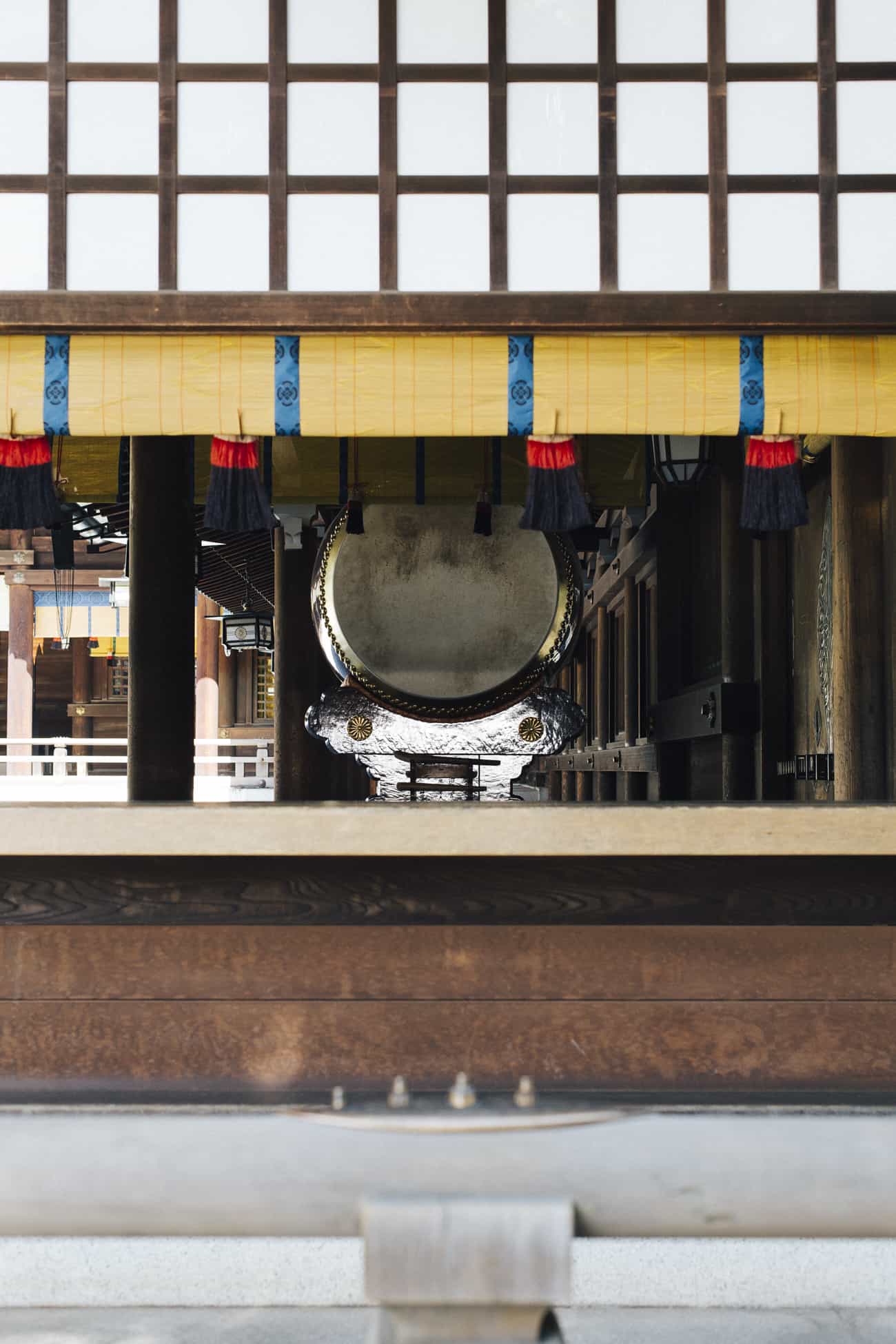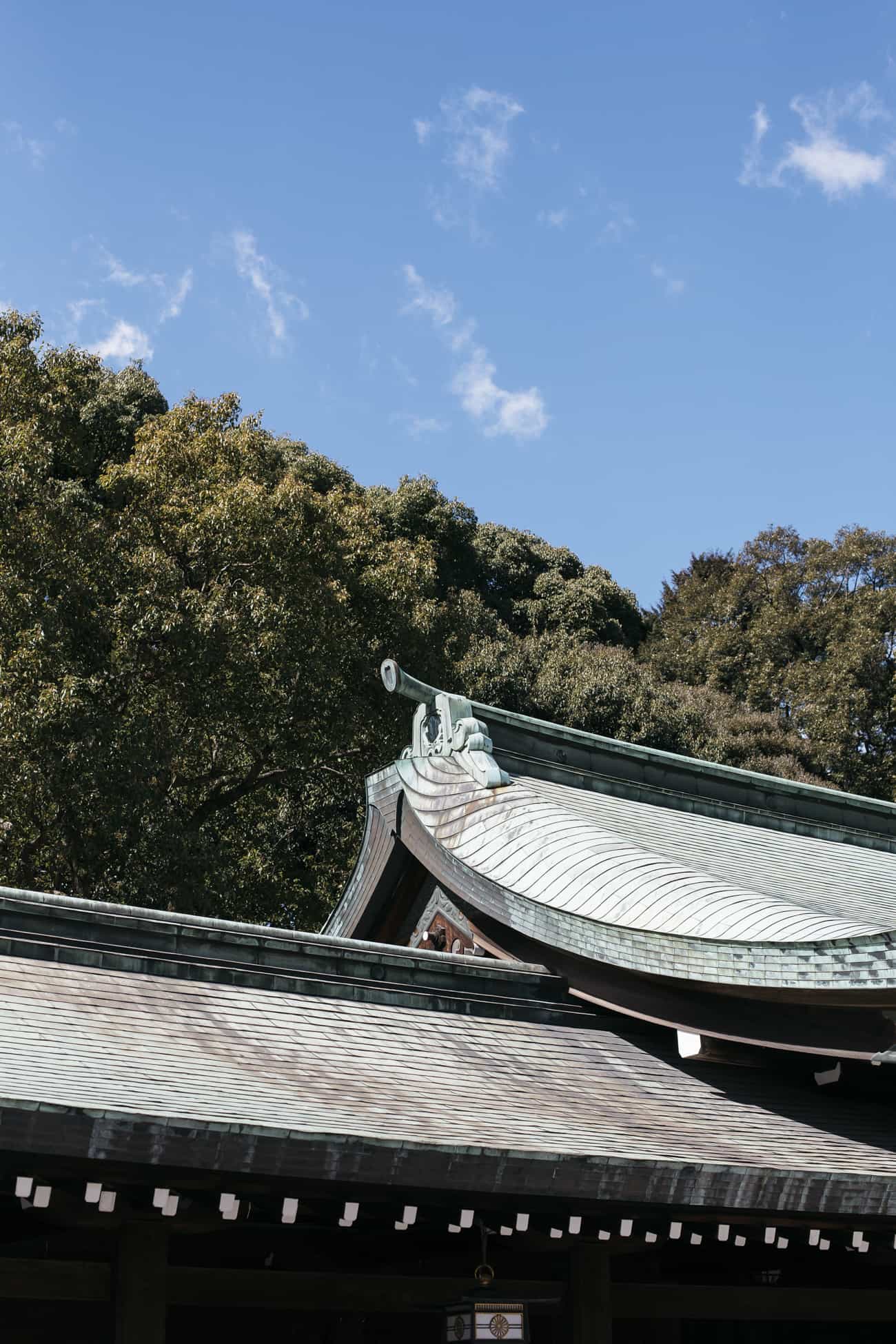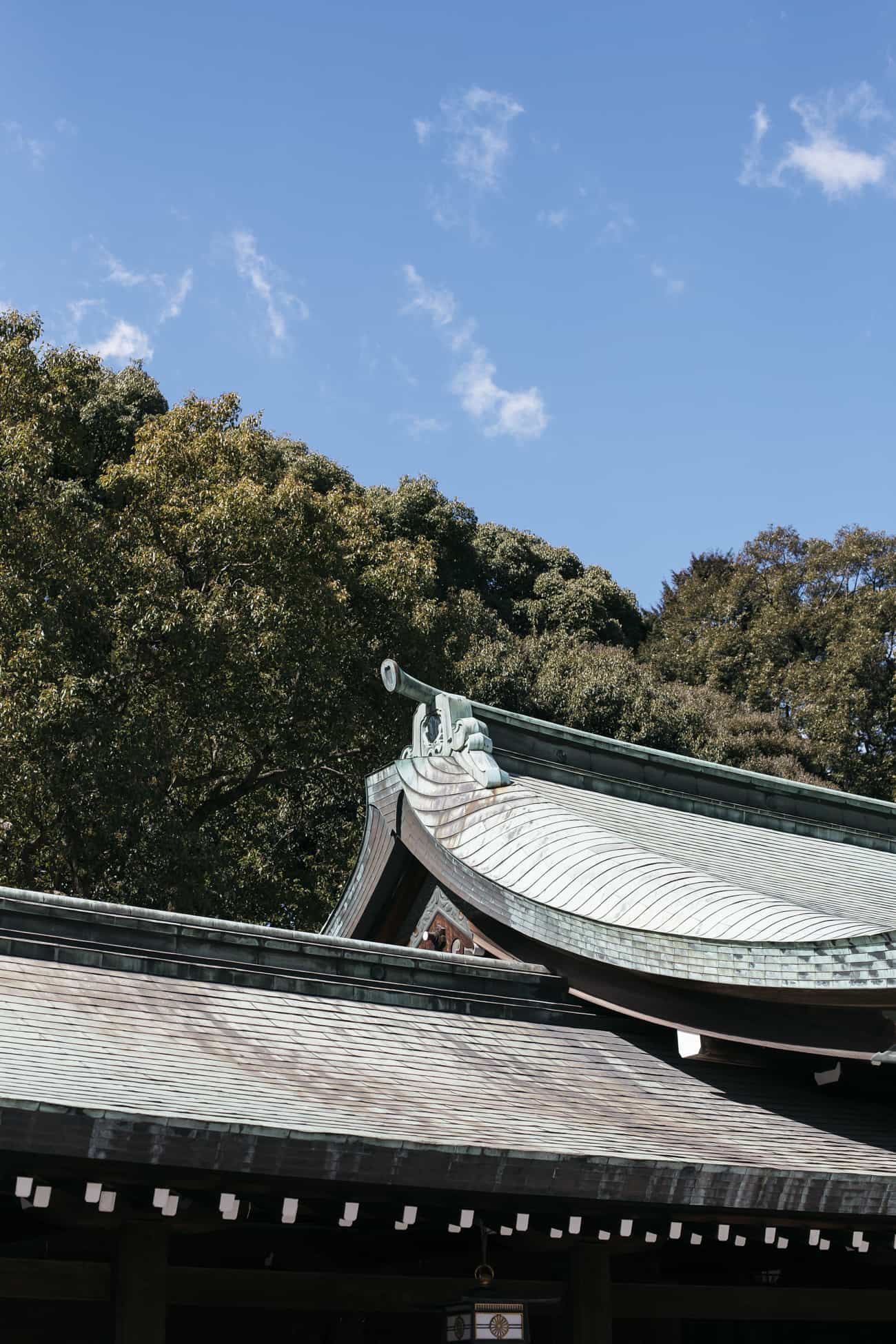 Right after the temple and the more traditional sights, we crossed the park onto Harajuku, which is where you can spot the crazy and colorful bits of japanese modern culture. Lots of "kawaii" (cute) going on right here – candy shops, colorful crepes, unusual fashion details, girls wearing pink frilly things, collecting Hello Kitty… It's a neighbourhood that can be walked through quite quickly but if you go there, do make sure you take time and see all the most random details!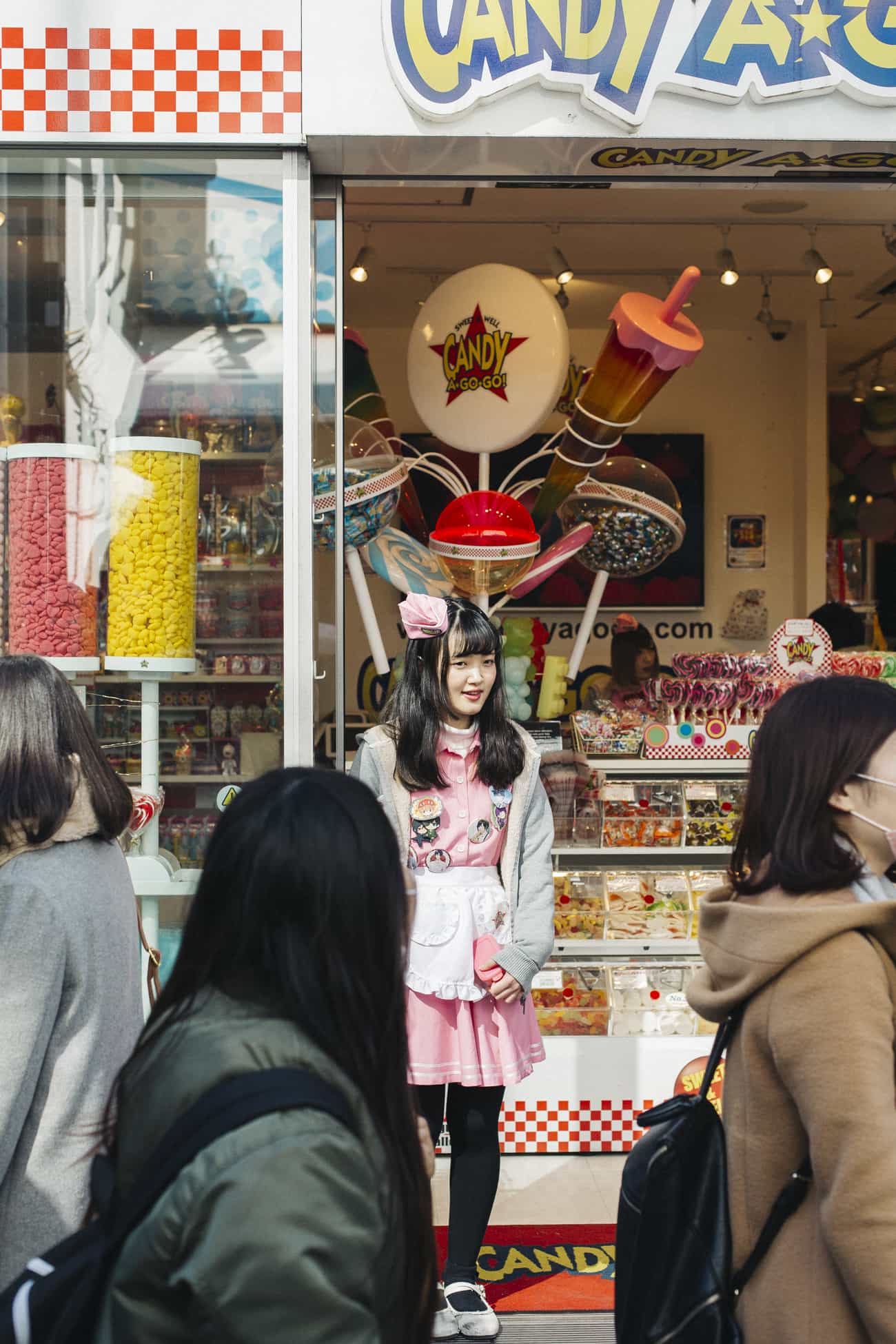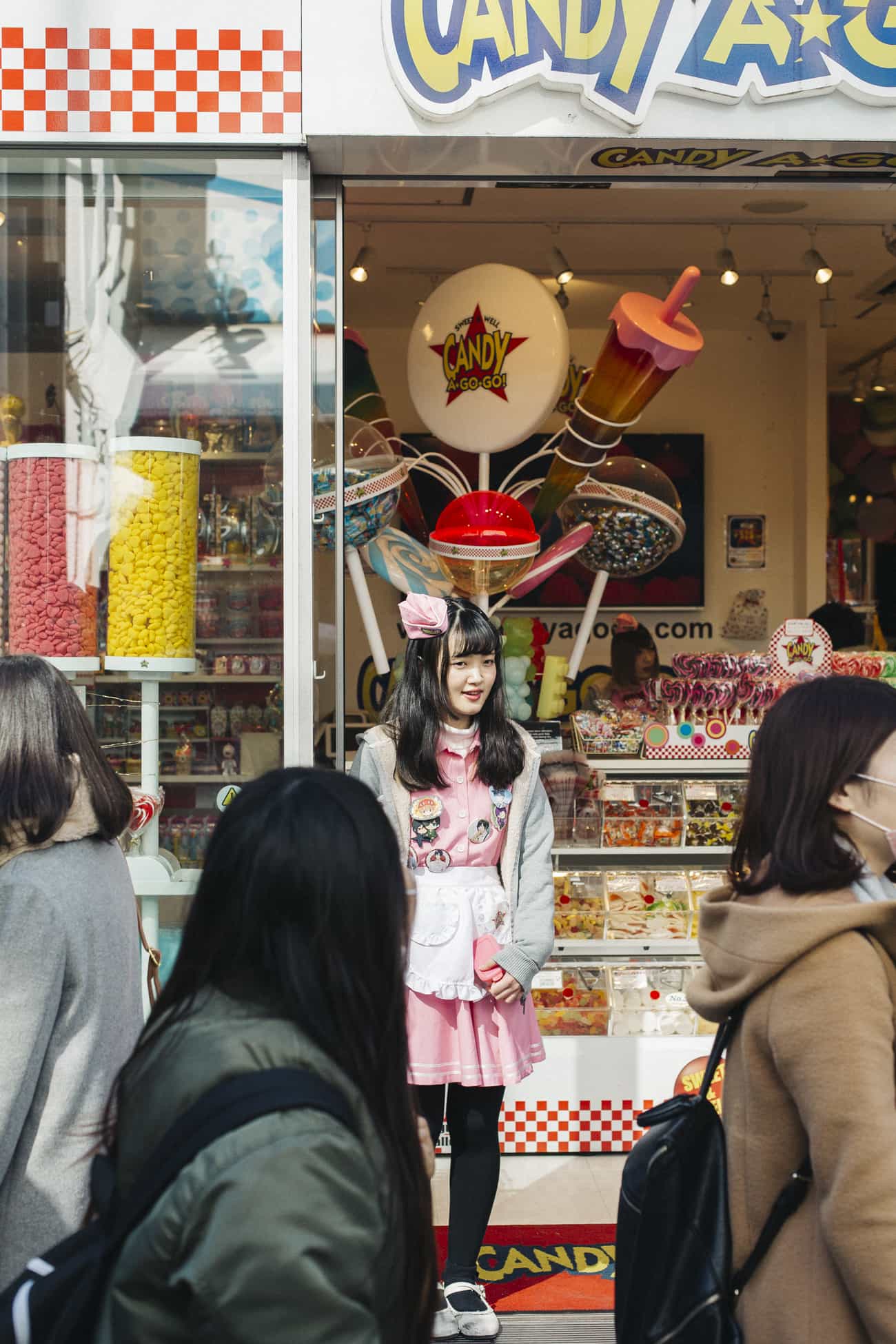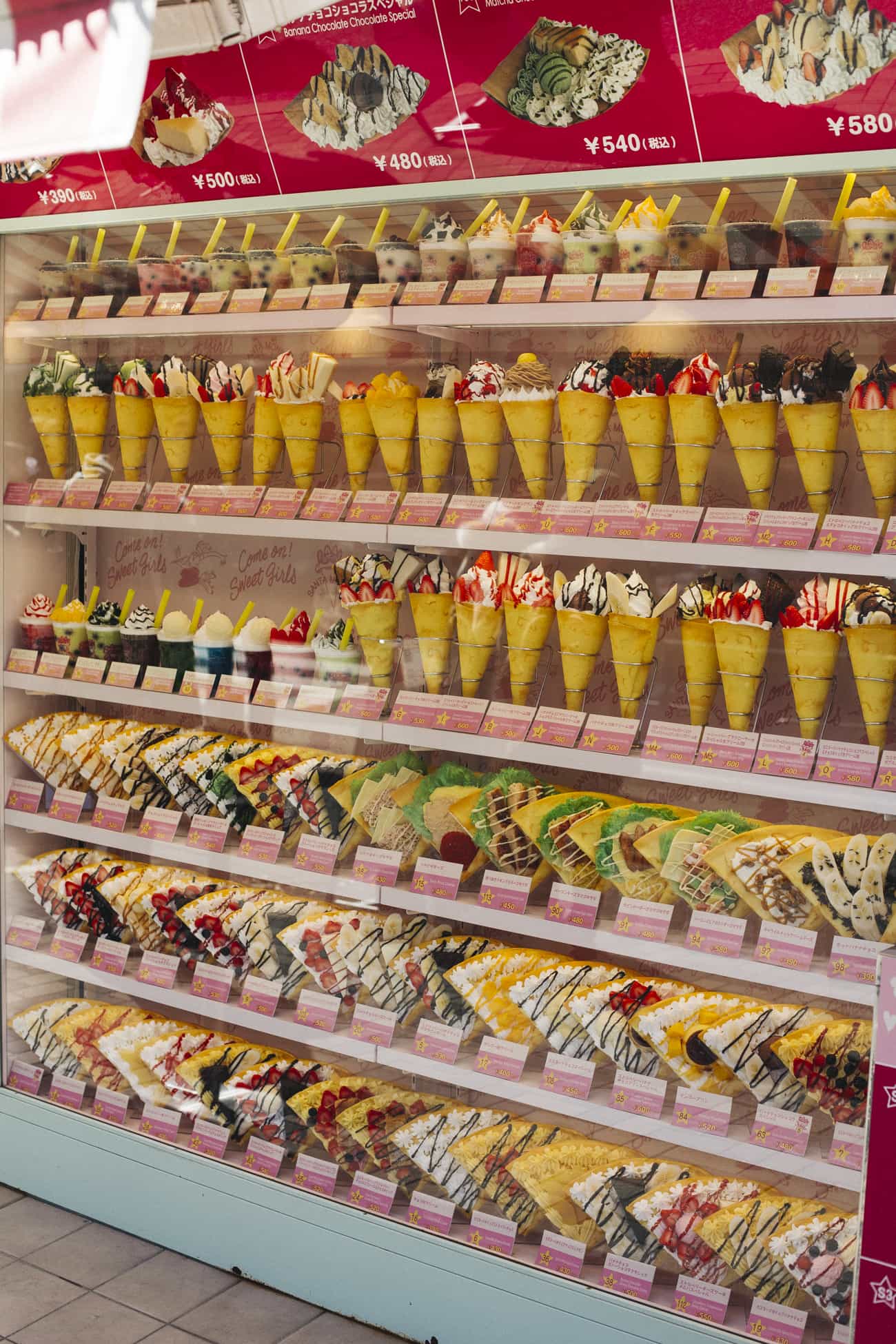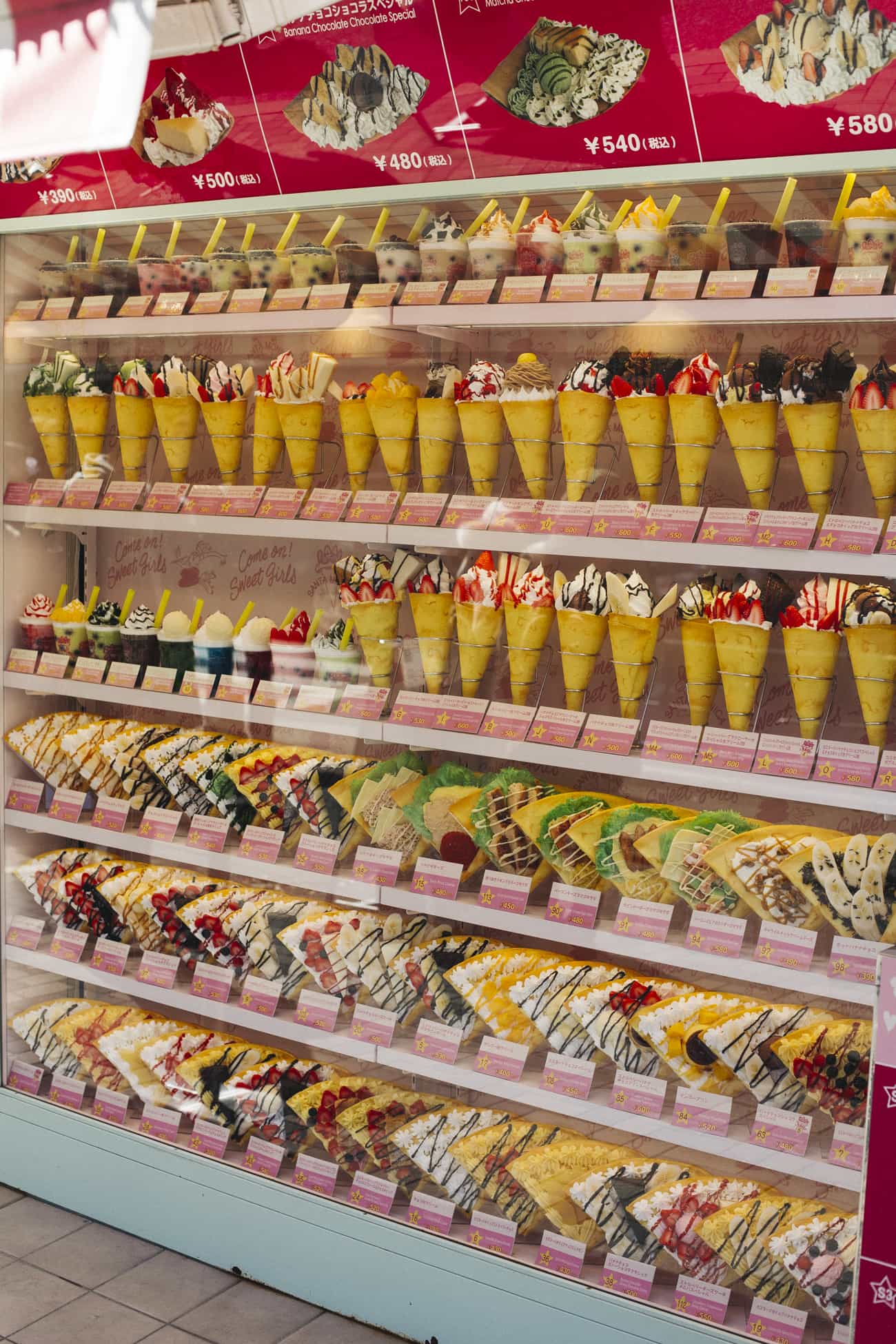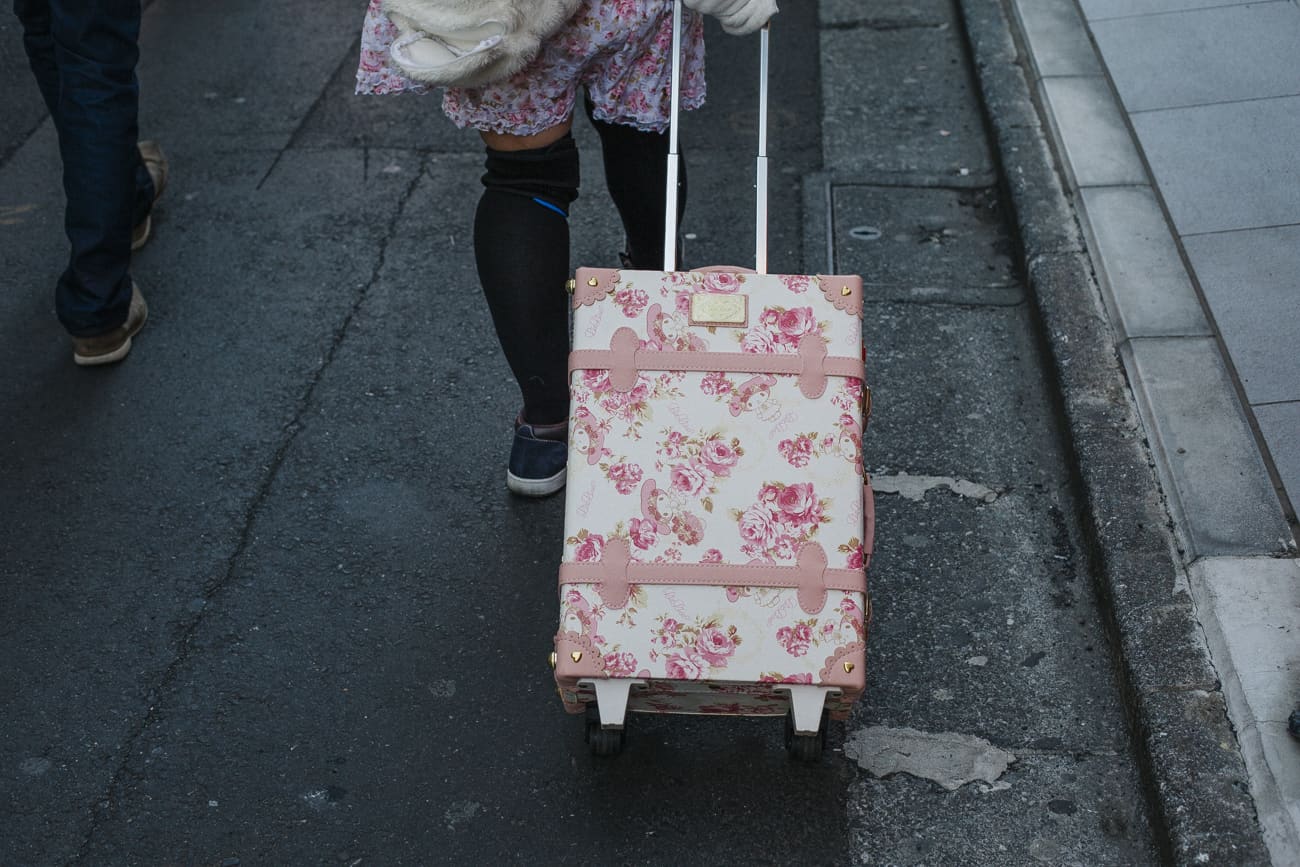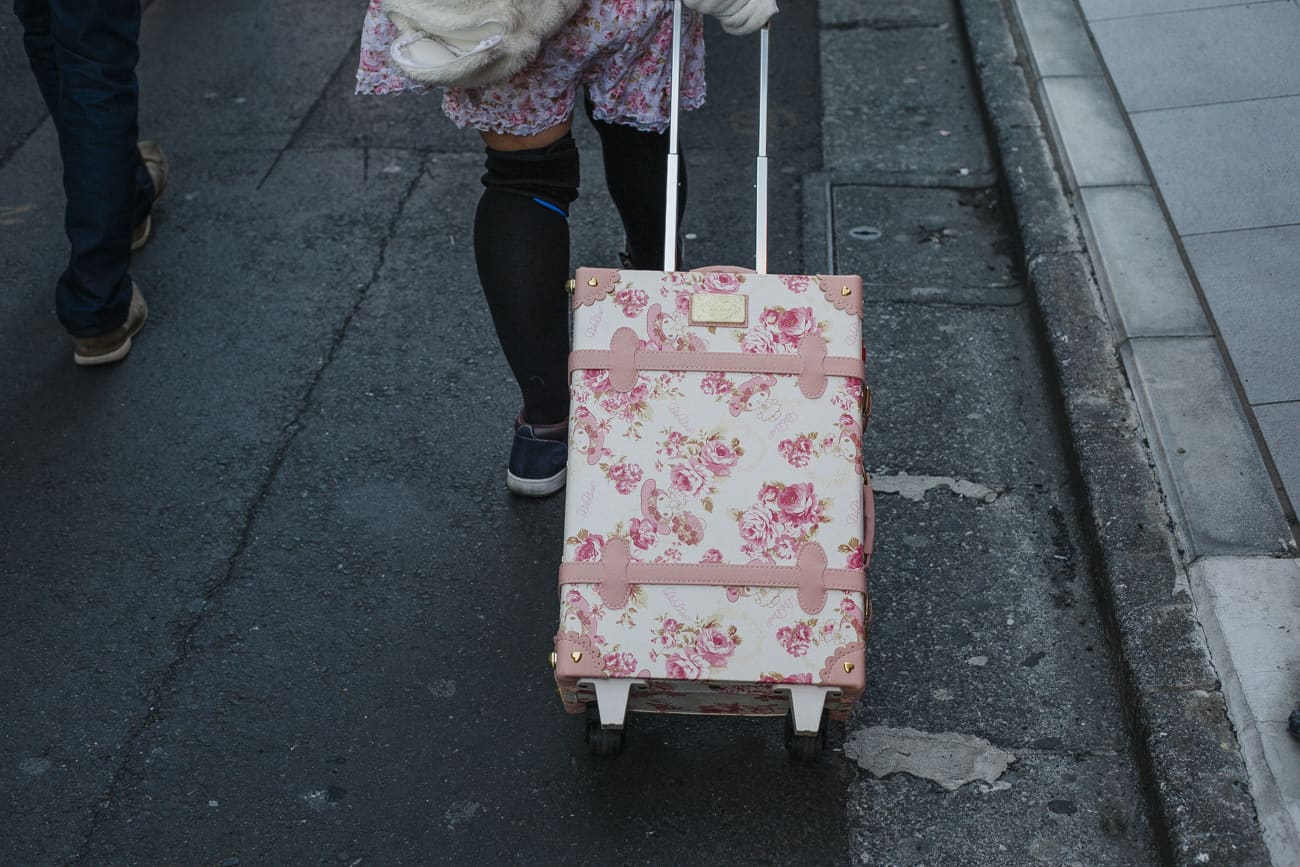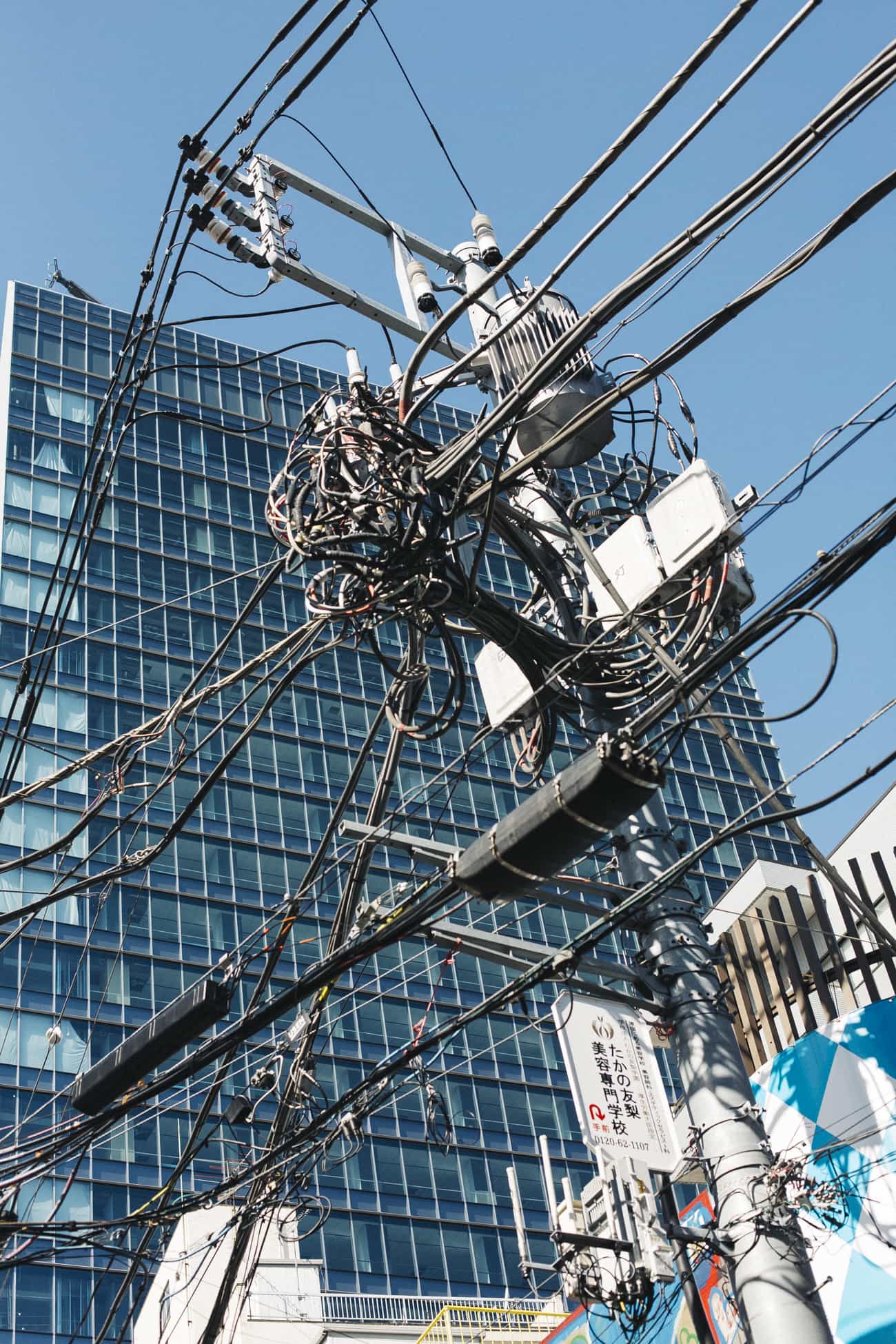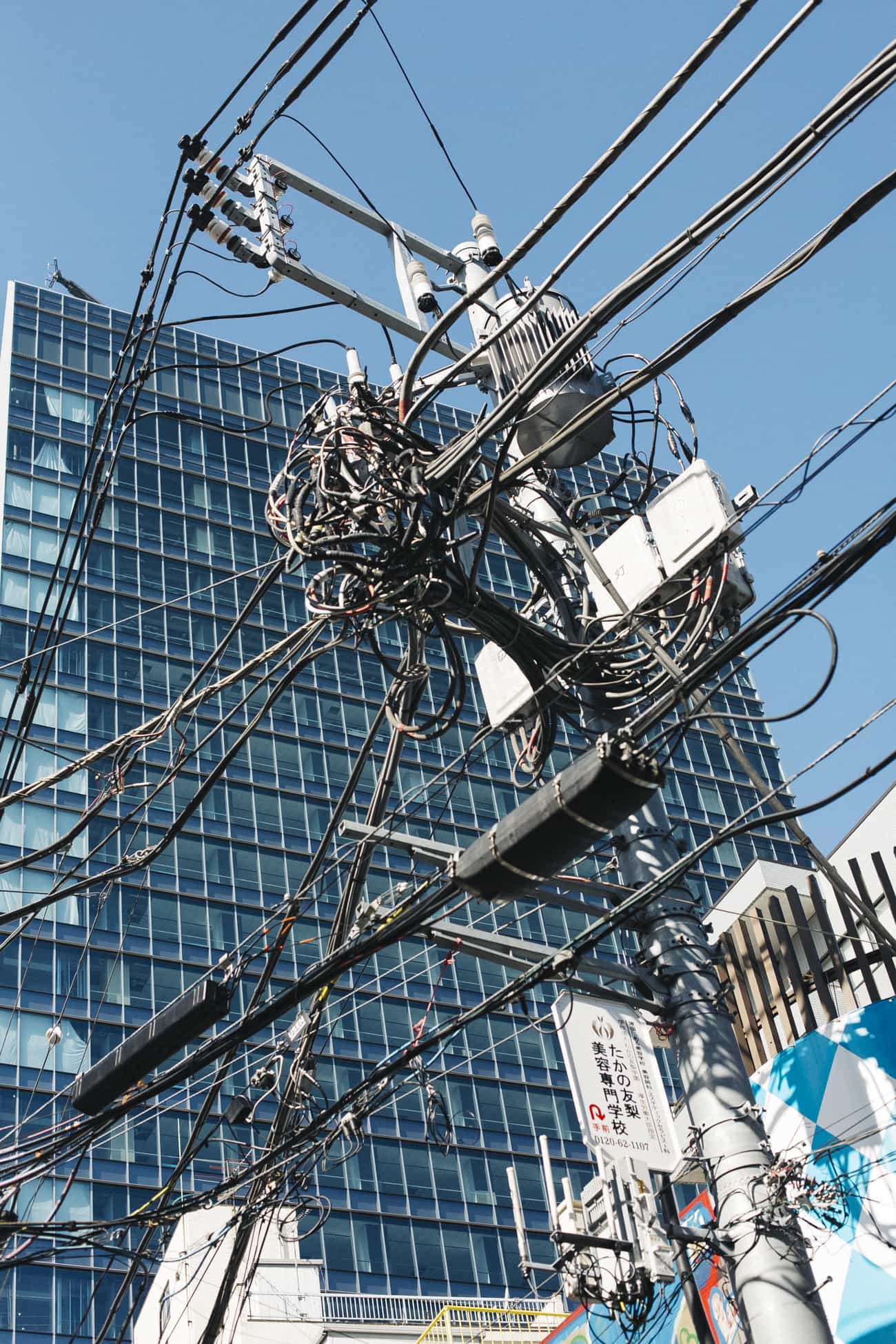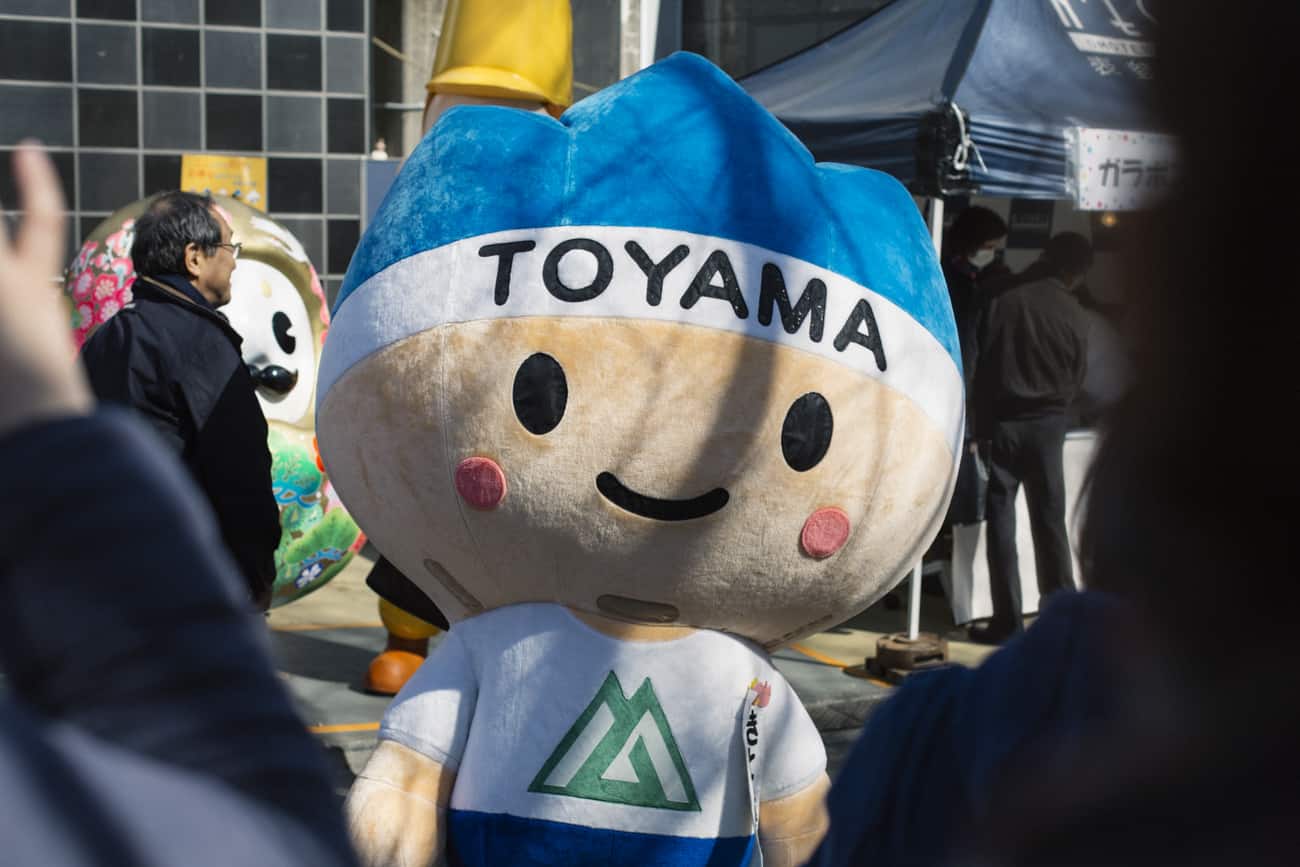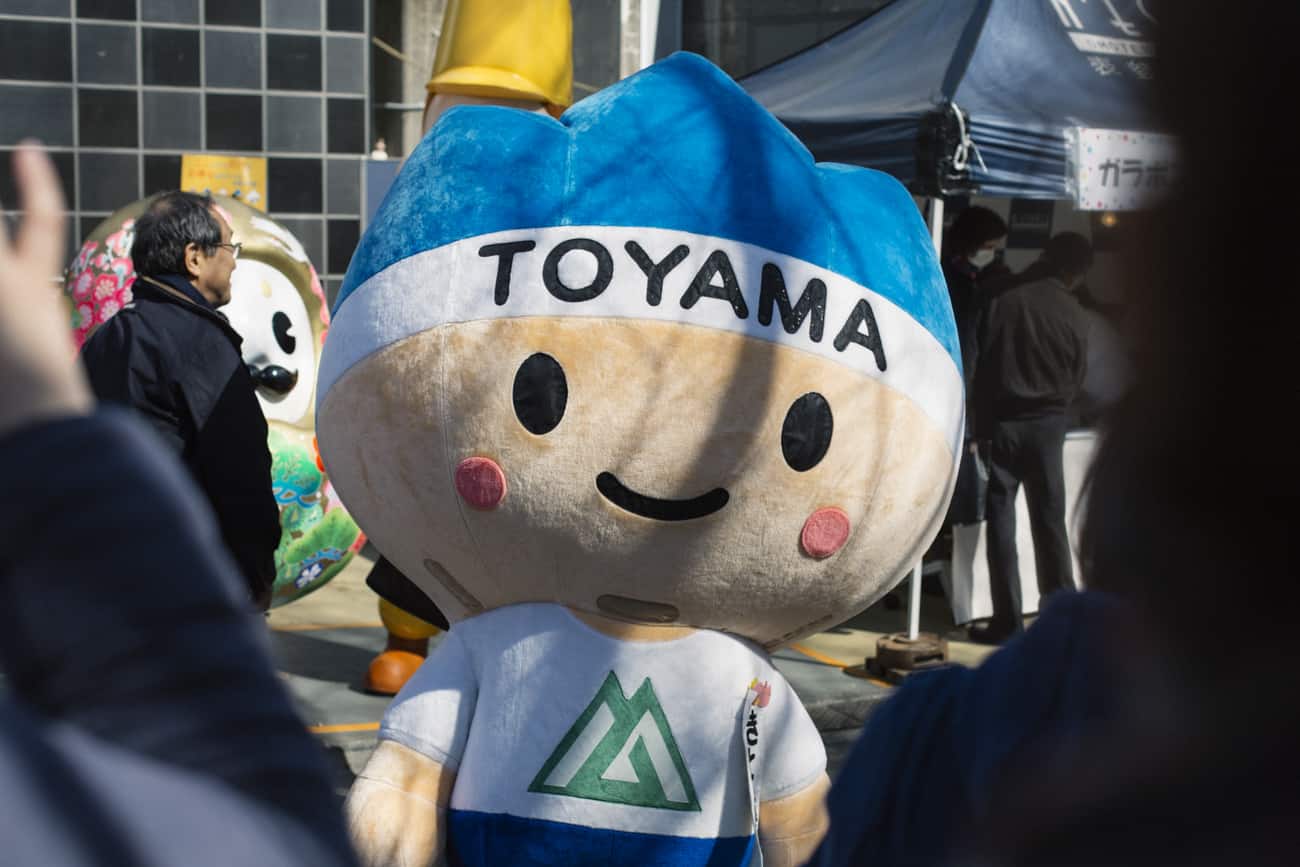 We went for lunch at Brown Rice, a vegetarian macro-biotic café located in the back of an organic health & beauty shop in Omotesando, a refined/elegant neighbourhood. They served us a delicious Hojicha tea to start with, which is basically a roasted version of green tea. This is something that I definitely recommend trying. It was absolutely mind-blowing, and in fact it was the best cup of tea we've ever tasted in our lives. Our lunch there was also really good, based on wholesome ingredients, served in a japanese way: a main dish served with a salad/miso soup and a side of seasonal pickles.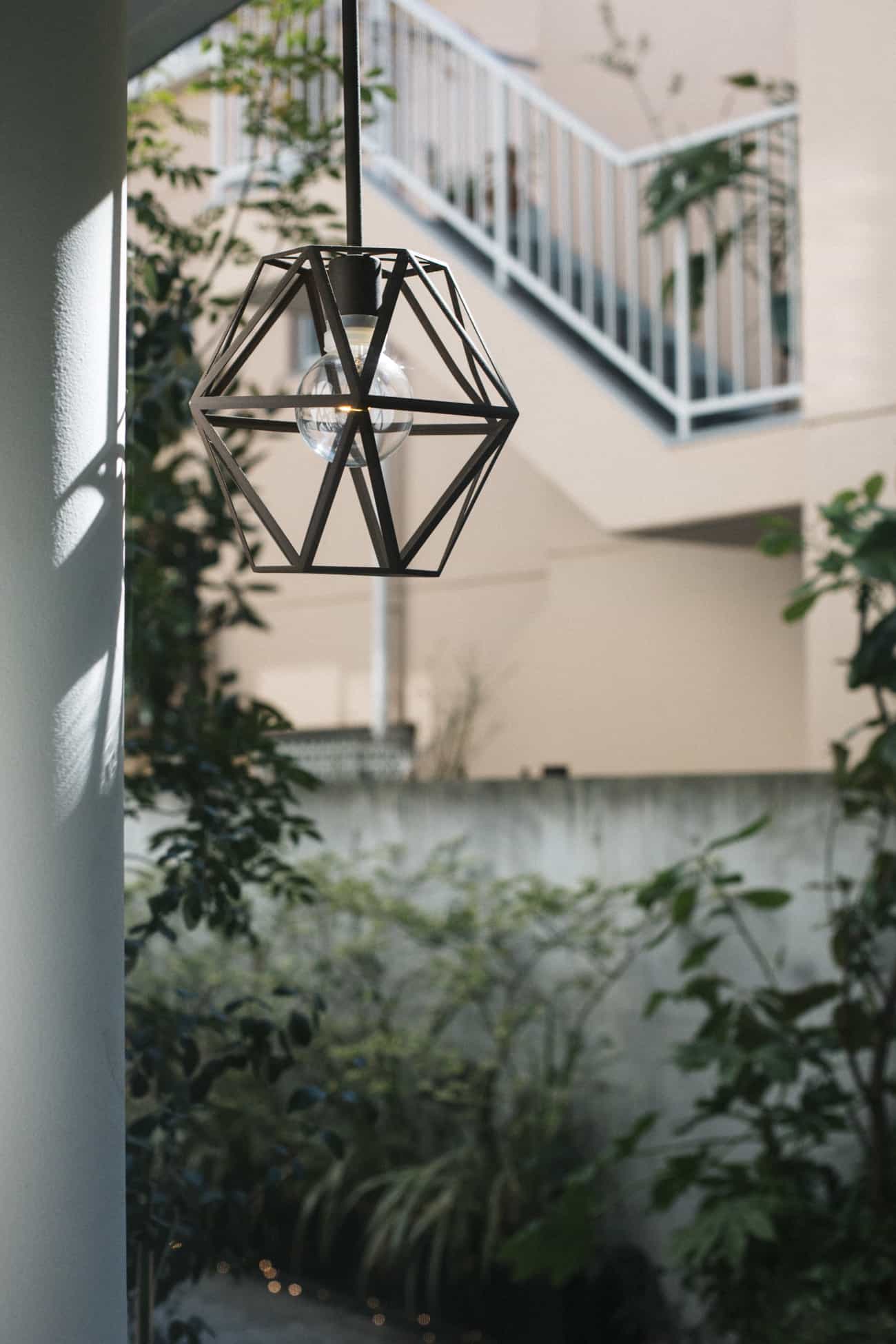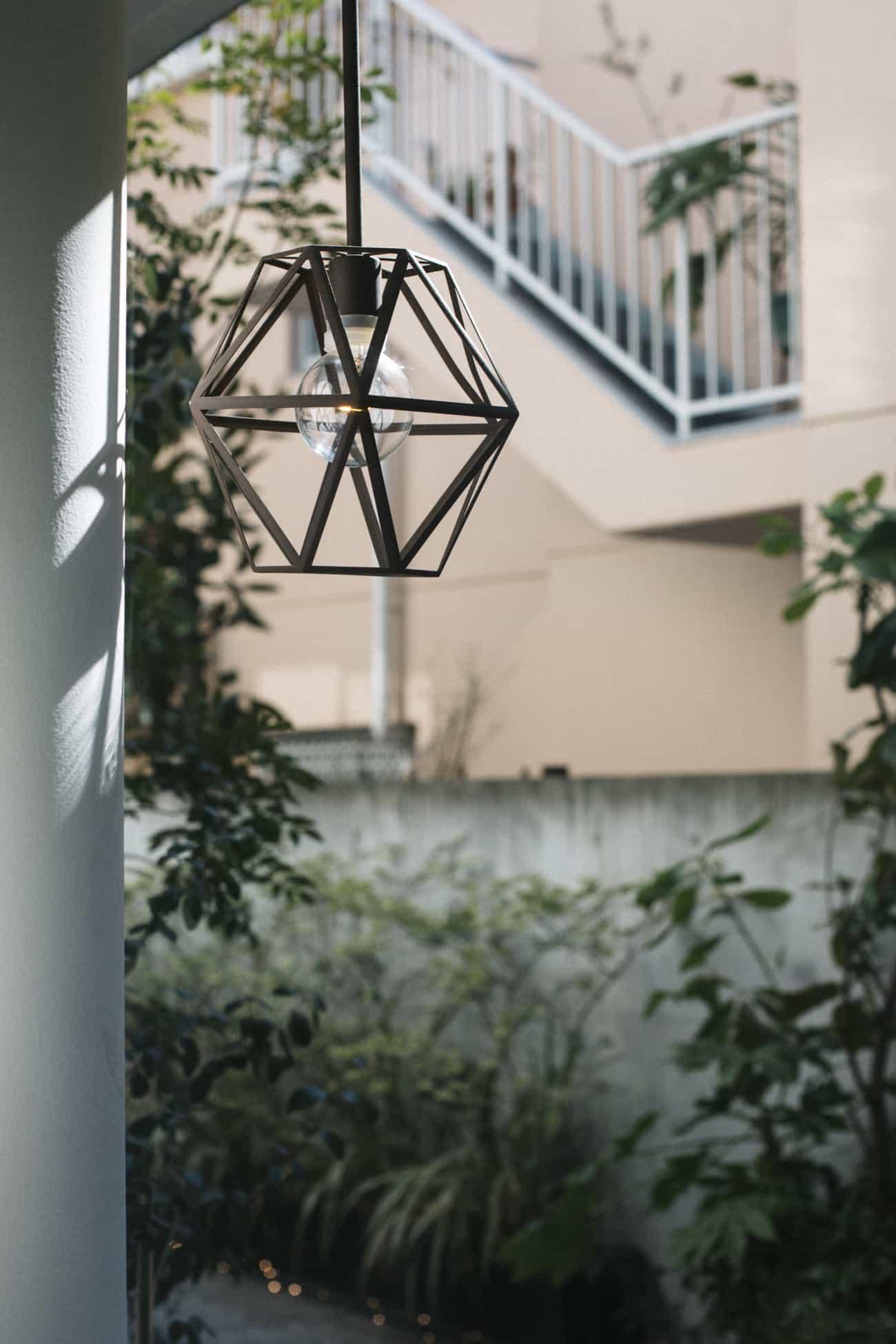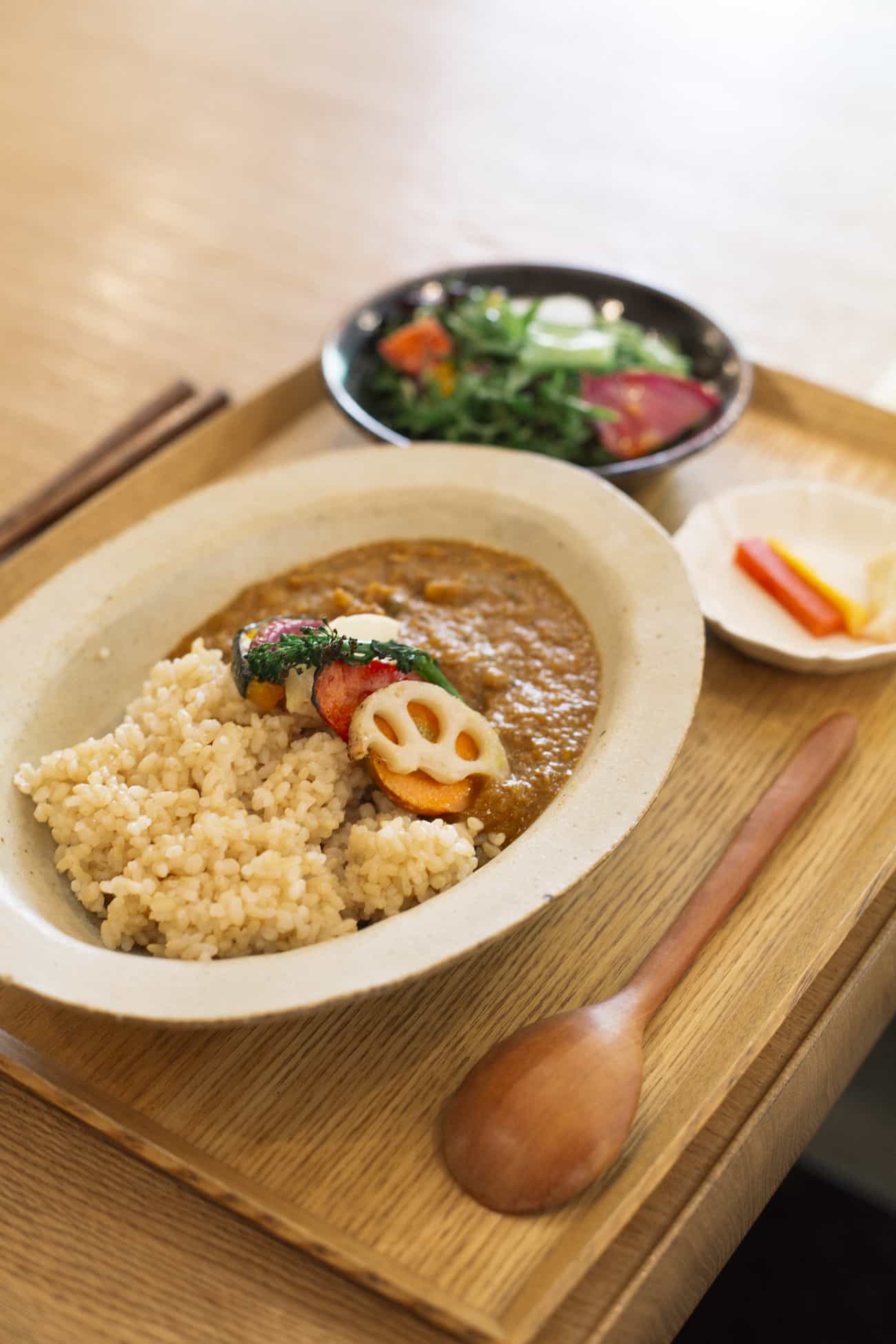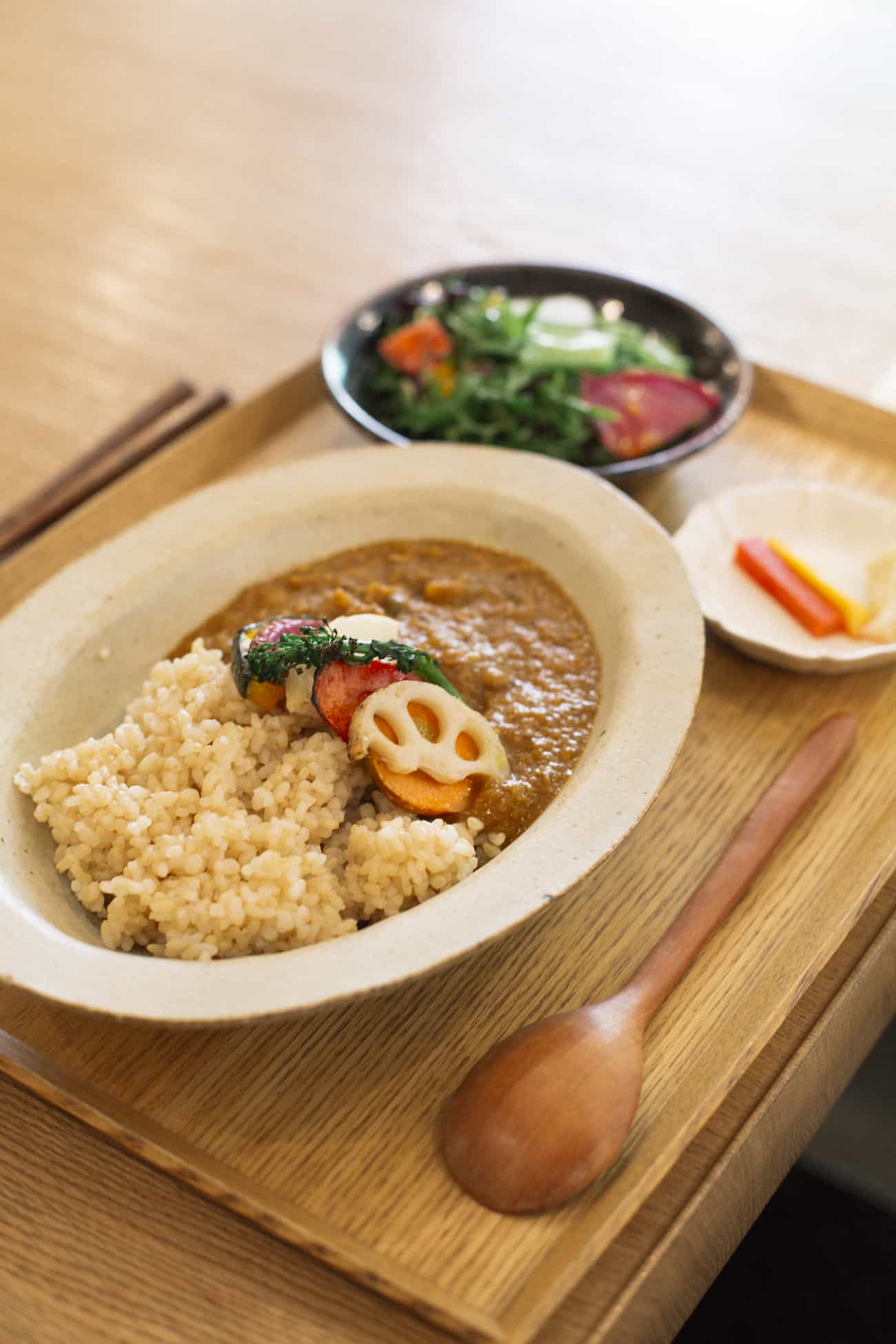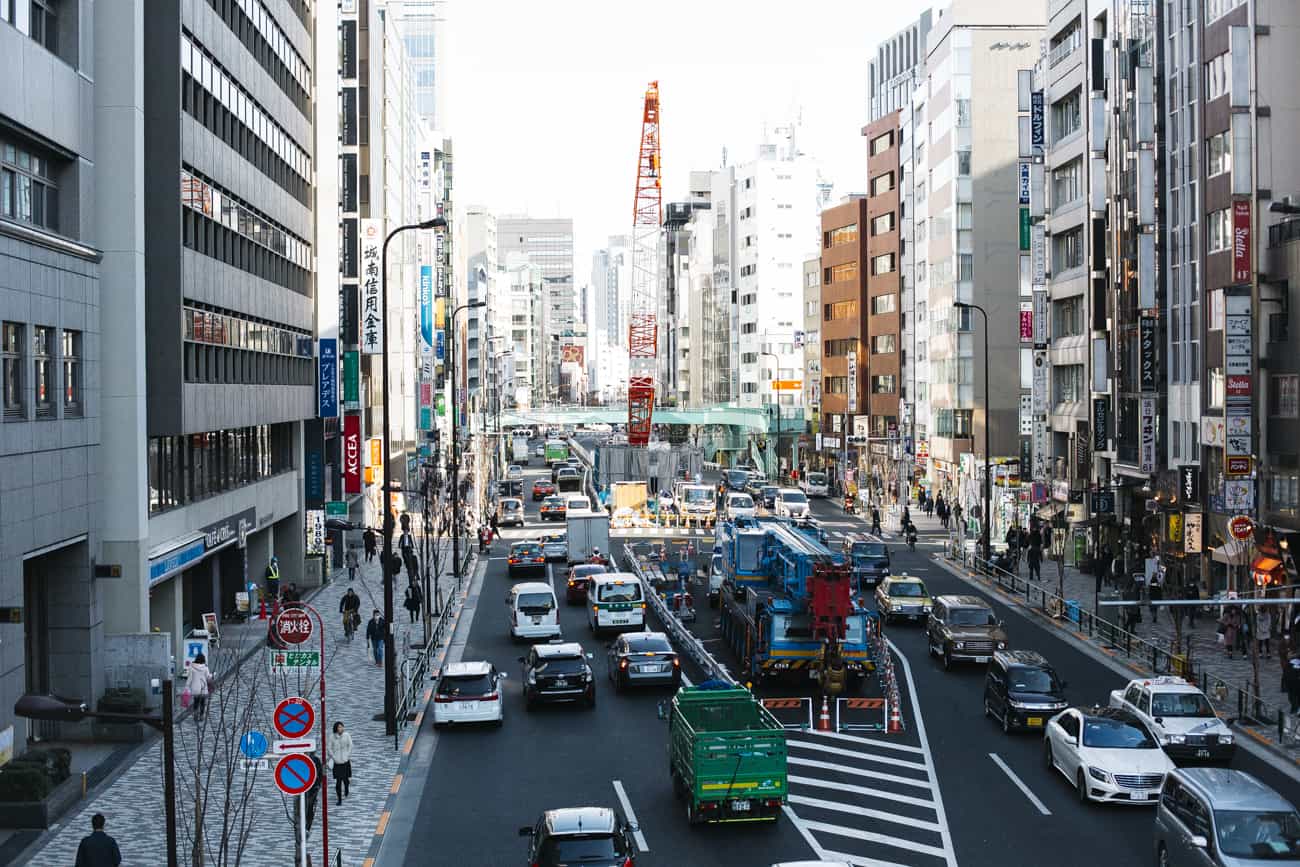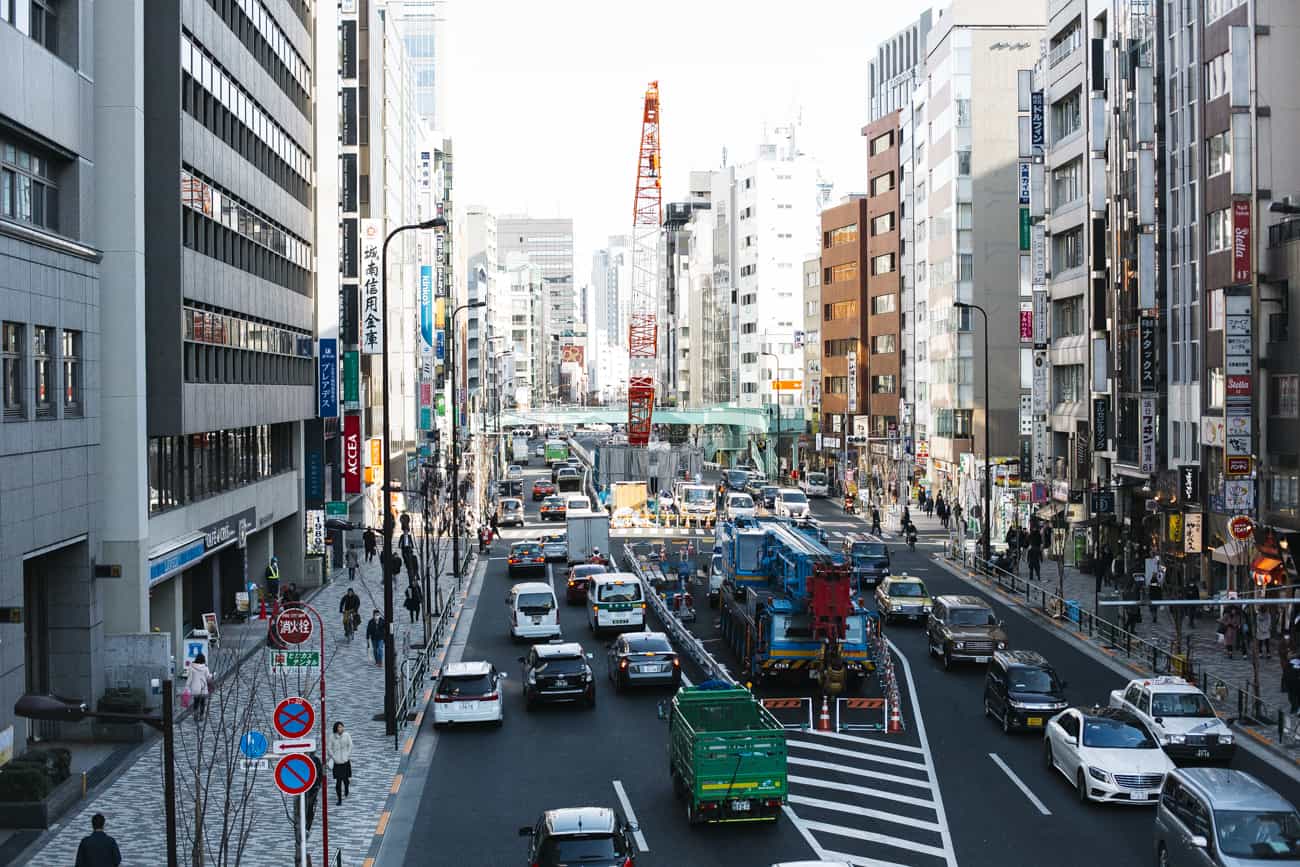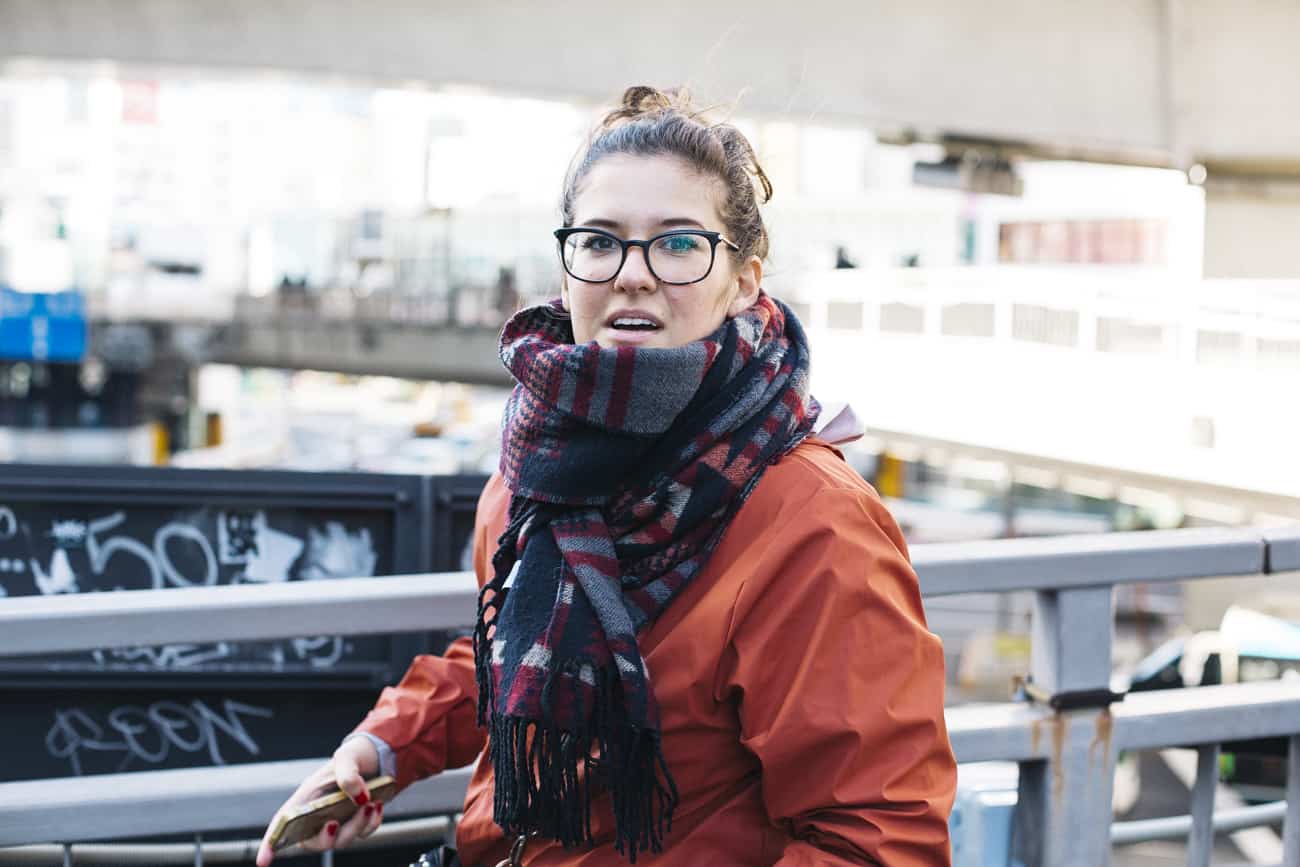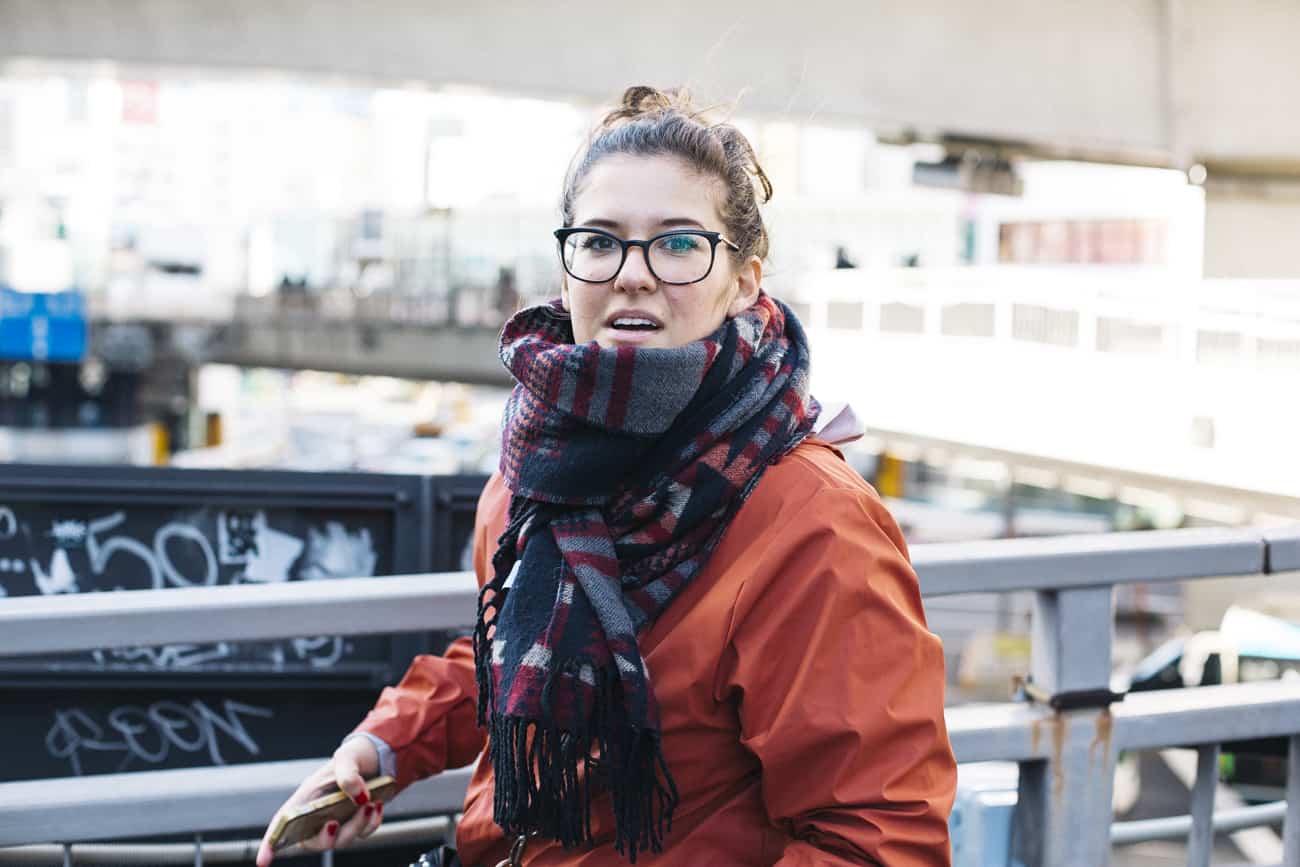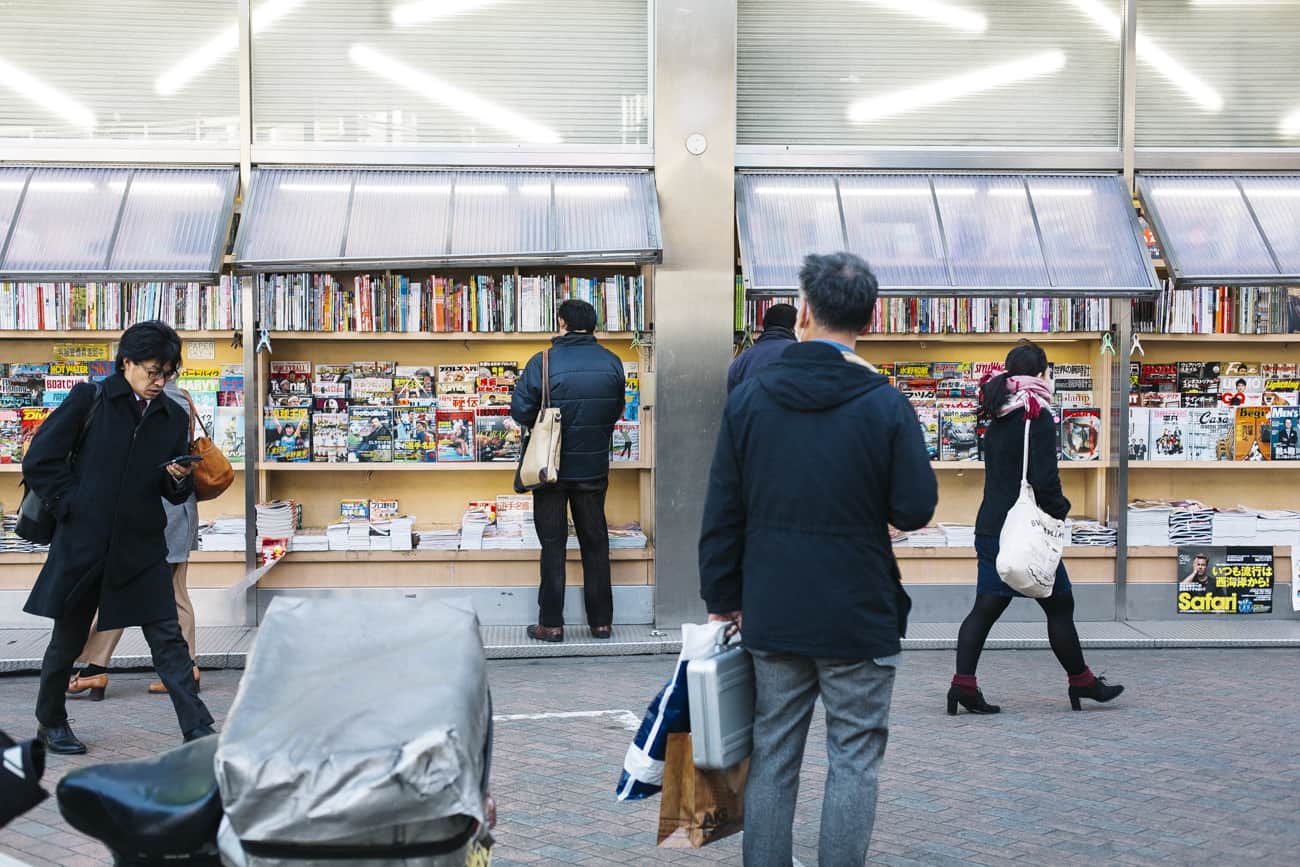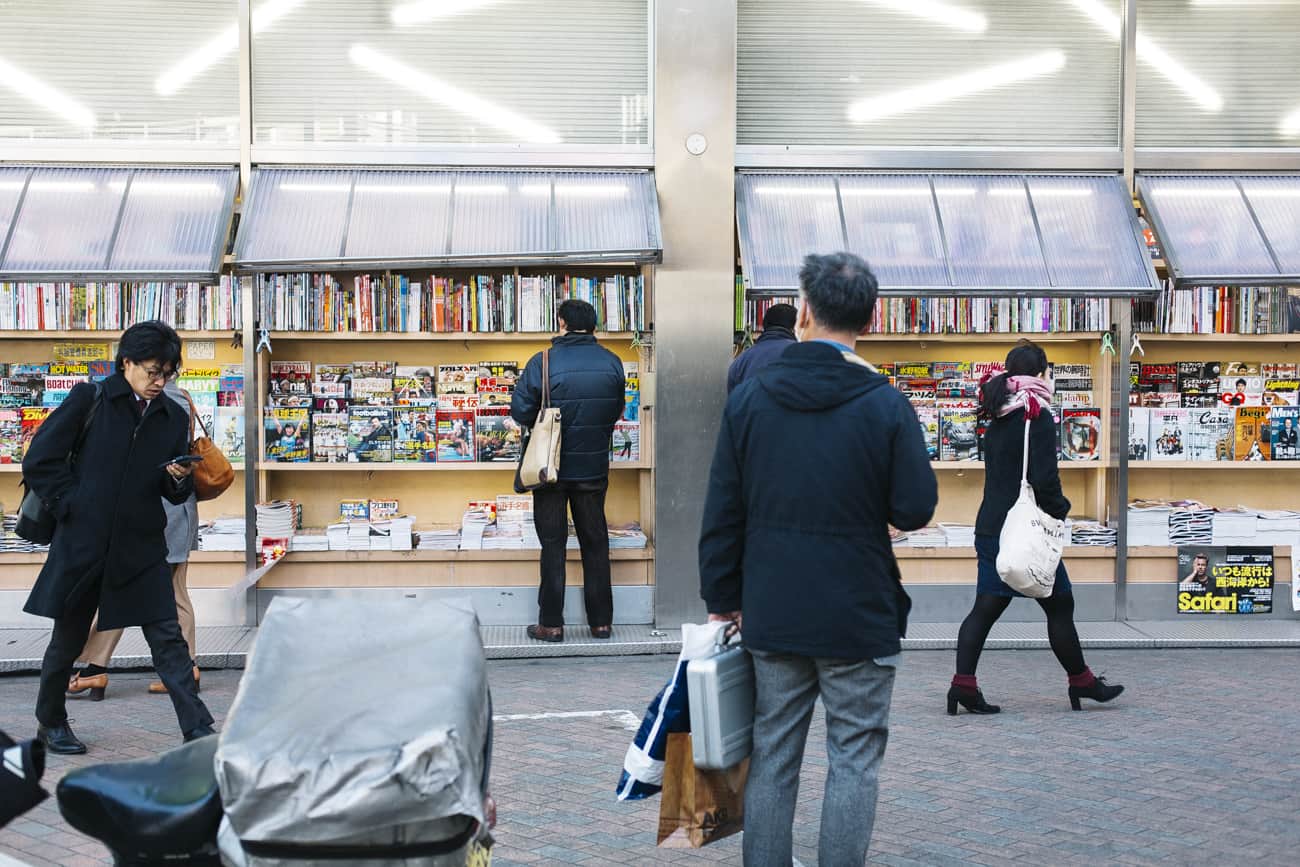 We spent the rest of the afternoon walking, walking, walking… everywhere we could. And snapping every random thing we saw that we thought felt so different and so japanese. Everything here is so different from anything else in the world, that sometimes it feels like you're in another planet. I like this feeling and I believe there's nothing better to press "restart" on any pre-made concepts we may have had in our own minds. And that especially applies to creativity!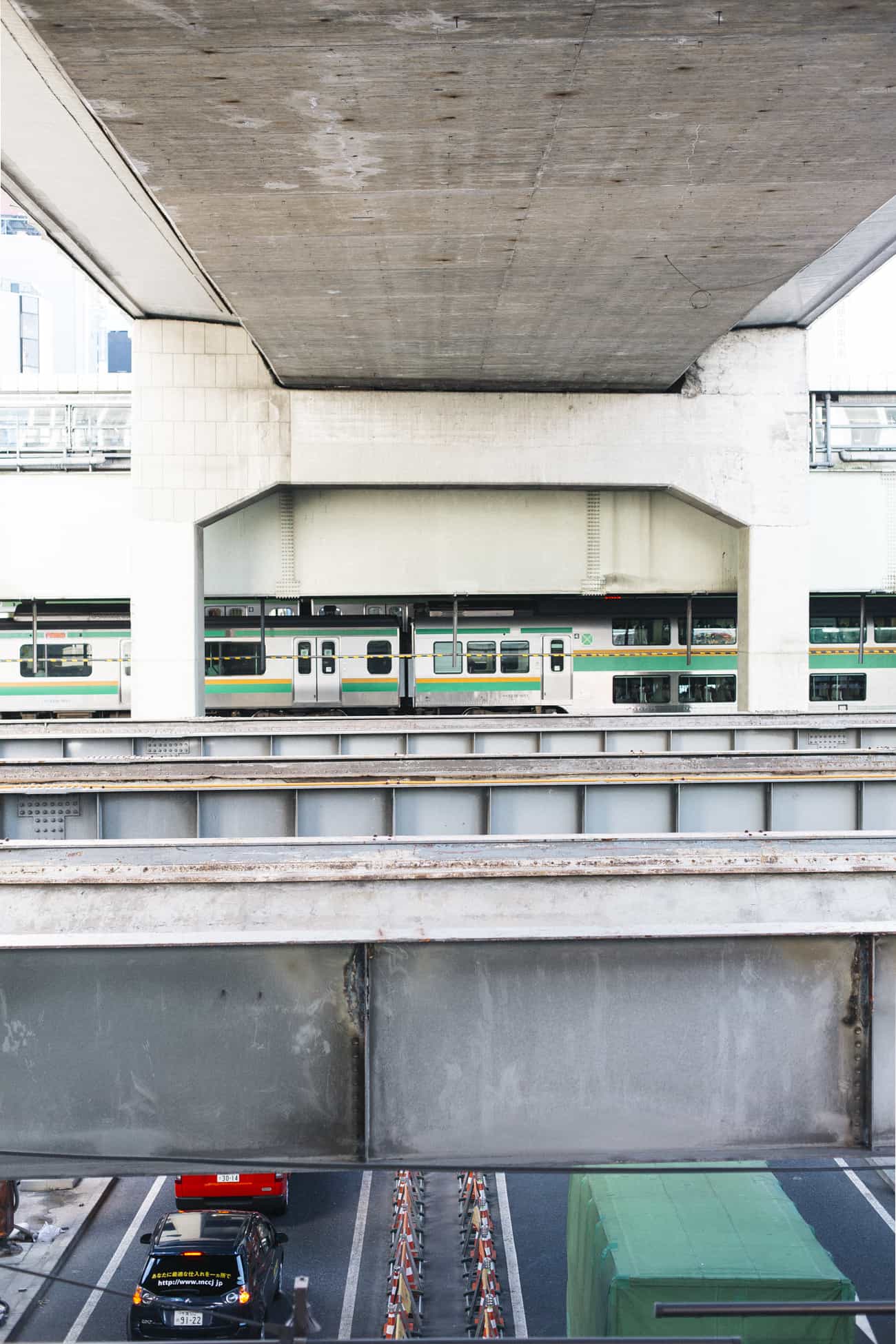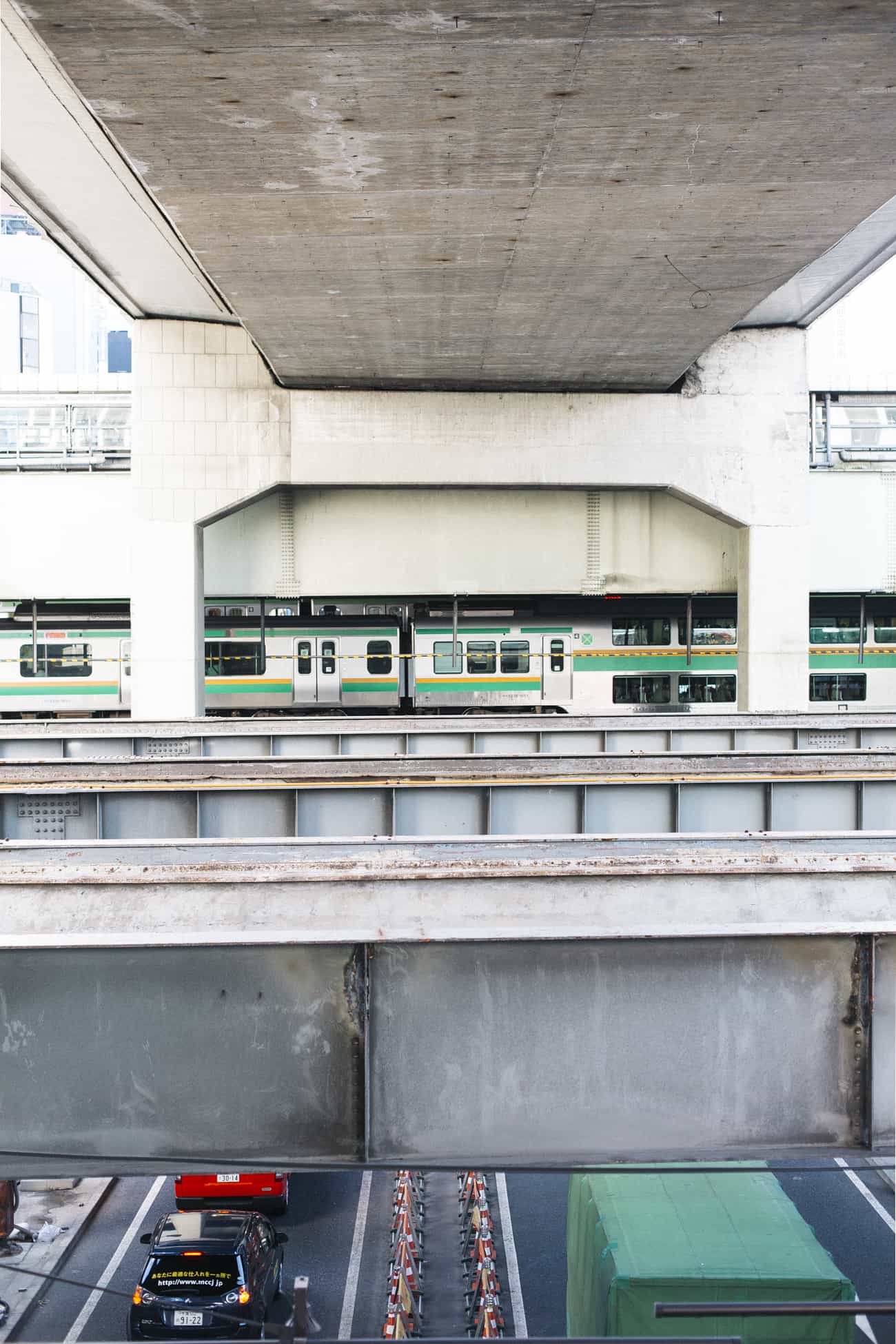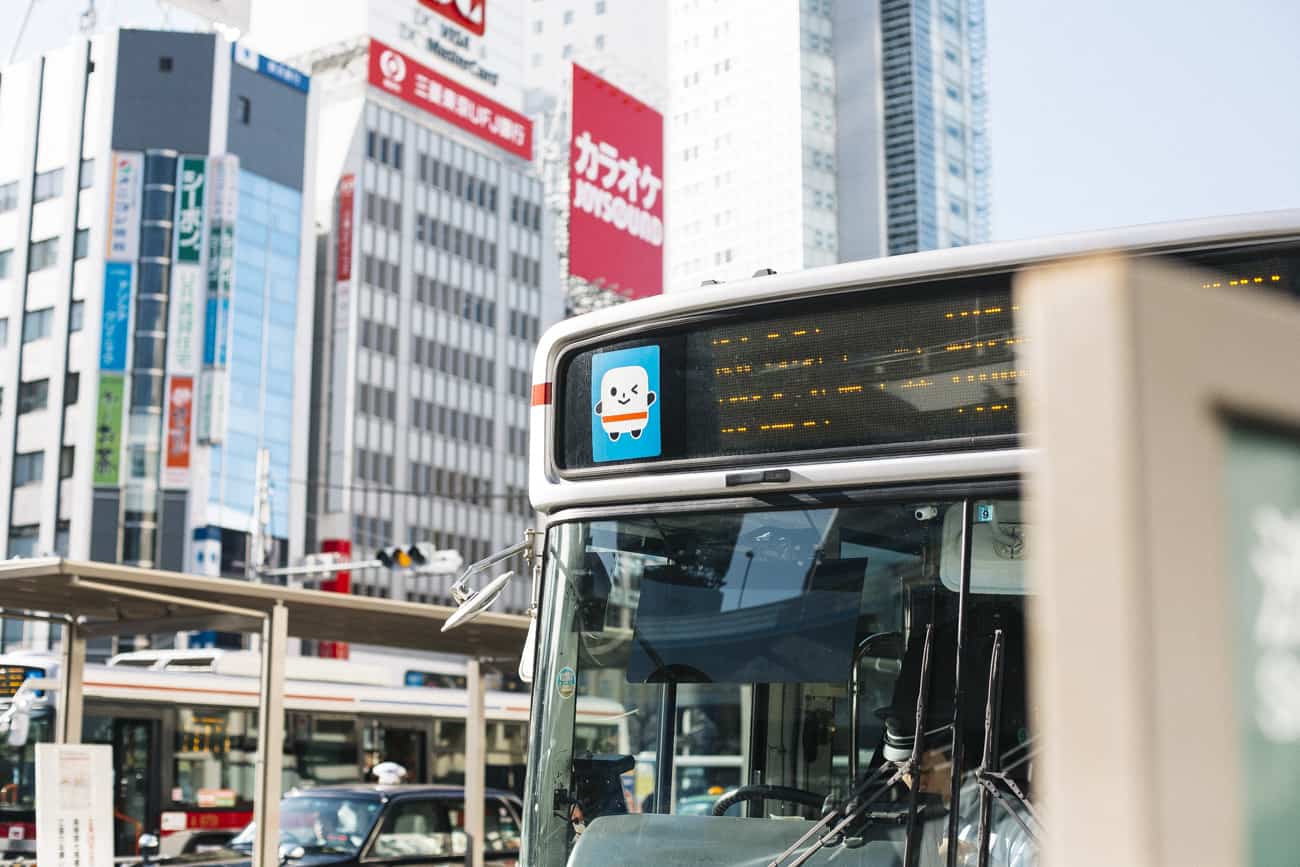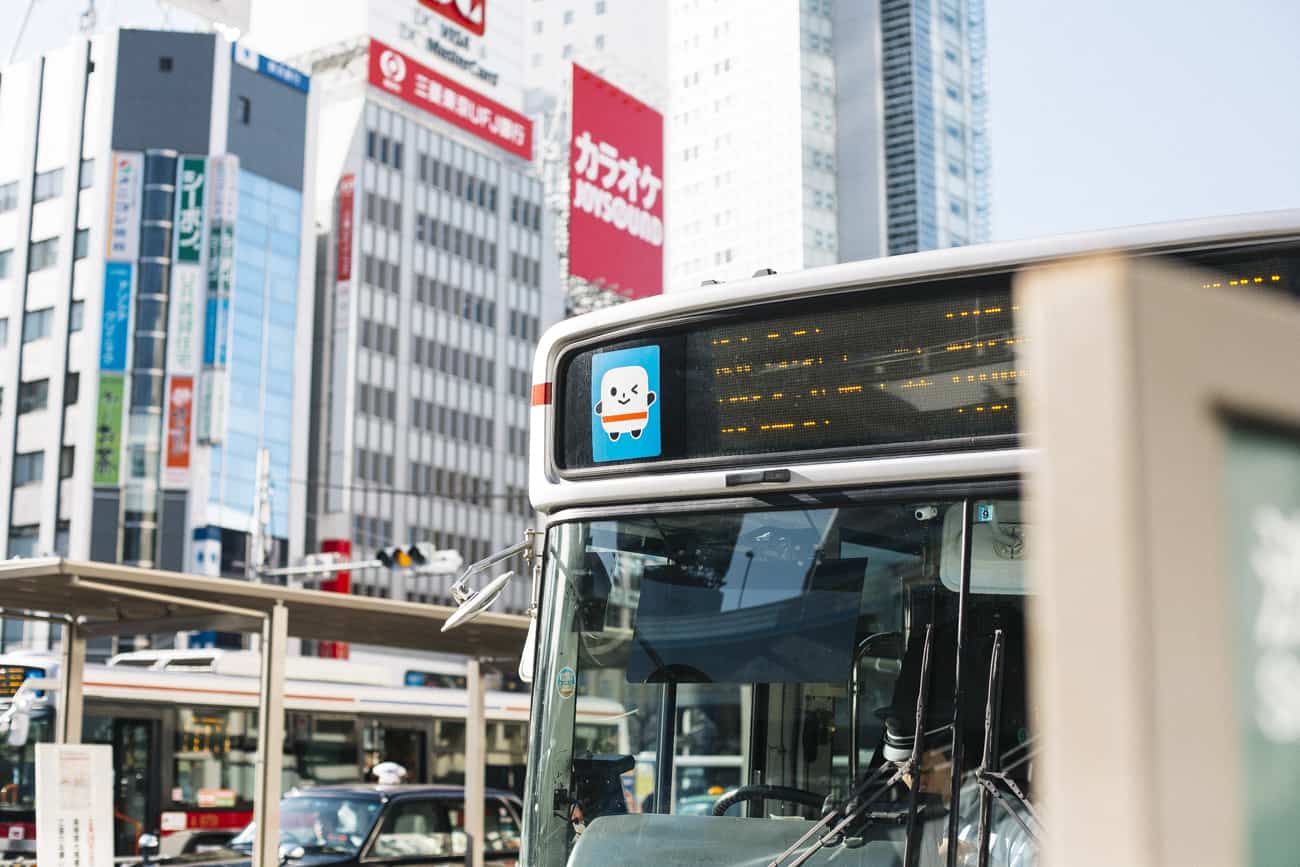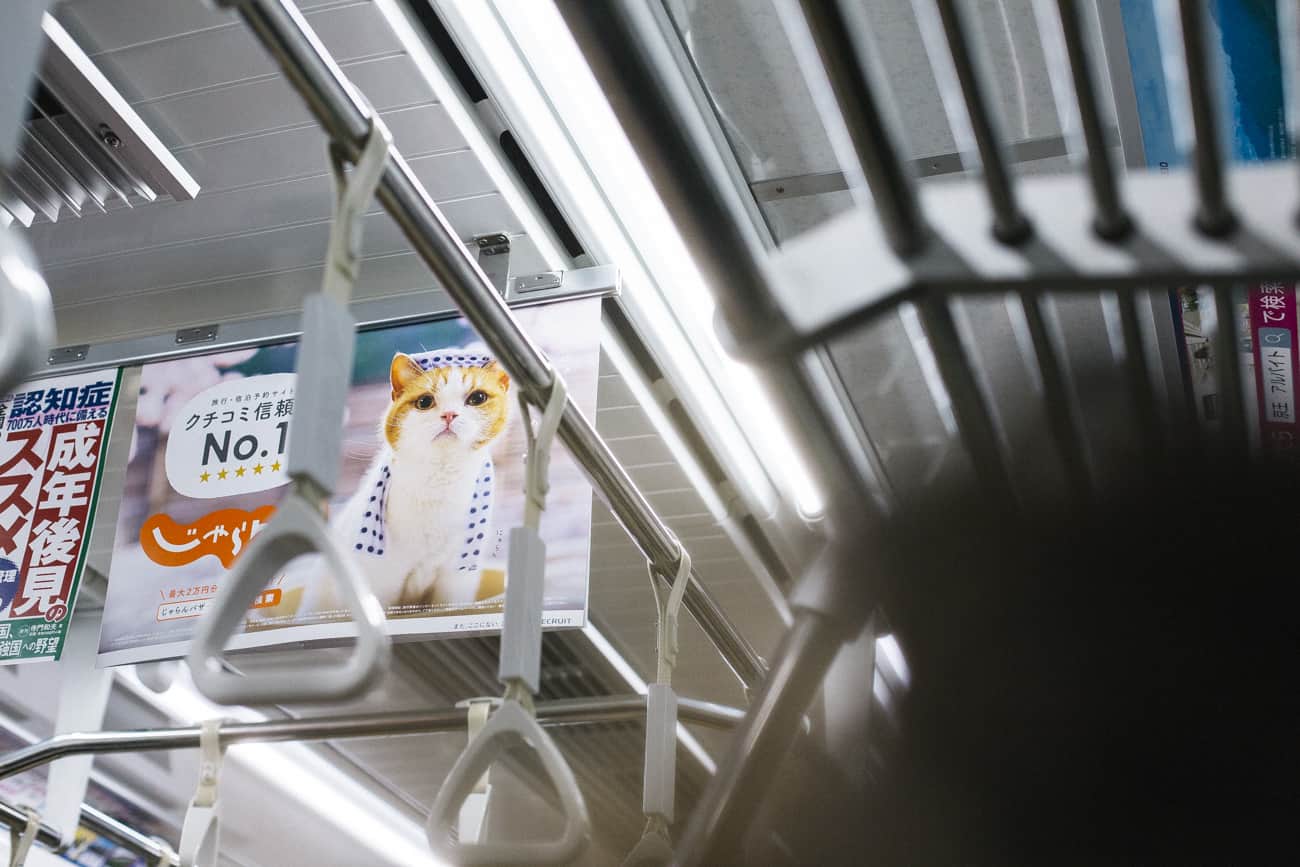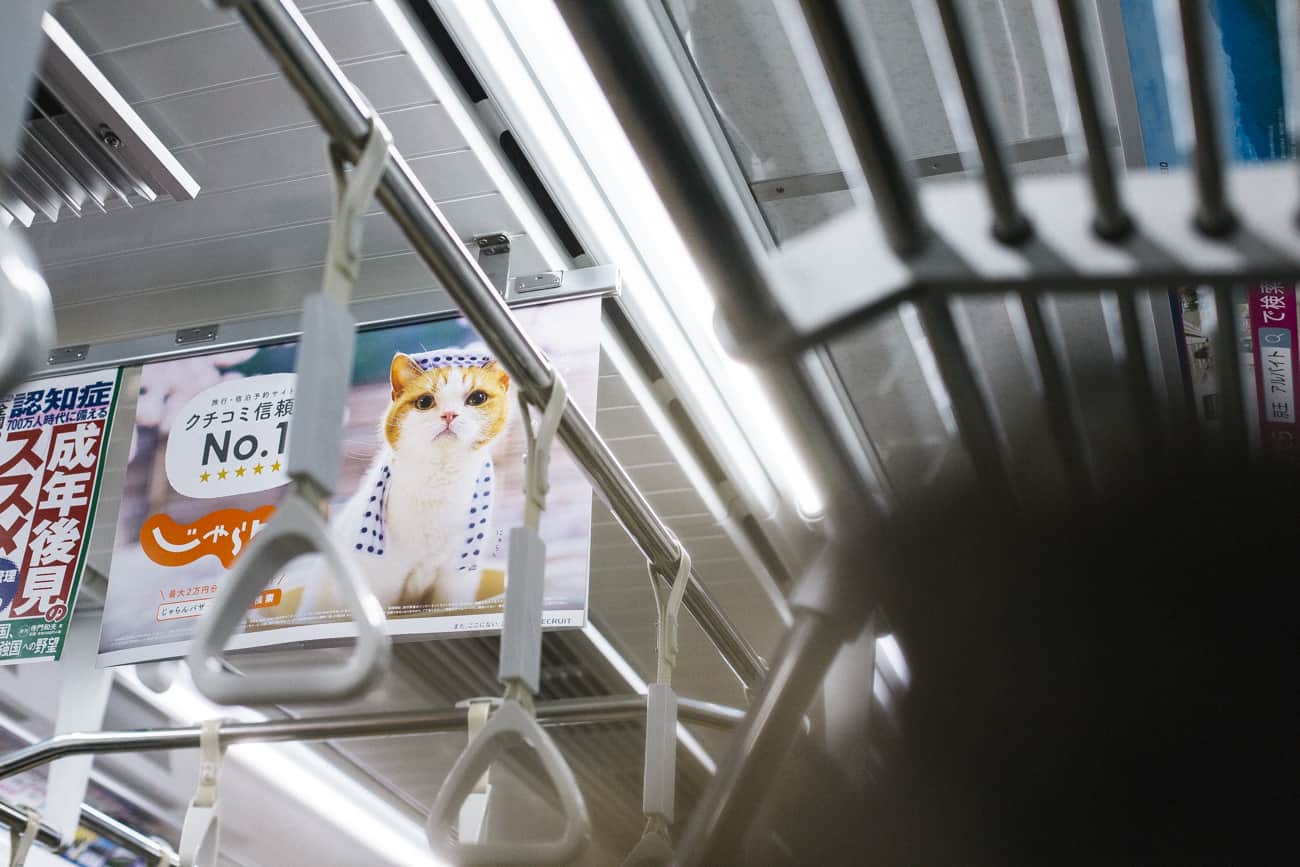 An incredible thing about the way things are over here is the alignment and the order of everything. Tokyo may seem intimidating to many people – I mean, look at the size of it!! Of course it can be daunting! But it honestly does not feel like a jungle. Yes, there are many people in this city. But these people queue, align, and make it easy to just "live together" – it's part of their culture and it's completely normal to do so. It was particularly interesting to see how there are arrows to point walking directions and lines to show people where to stand when taking the train. All this resulted in an easy flow and harmony.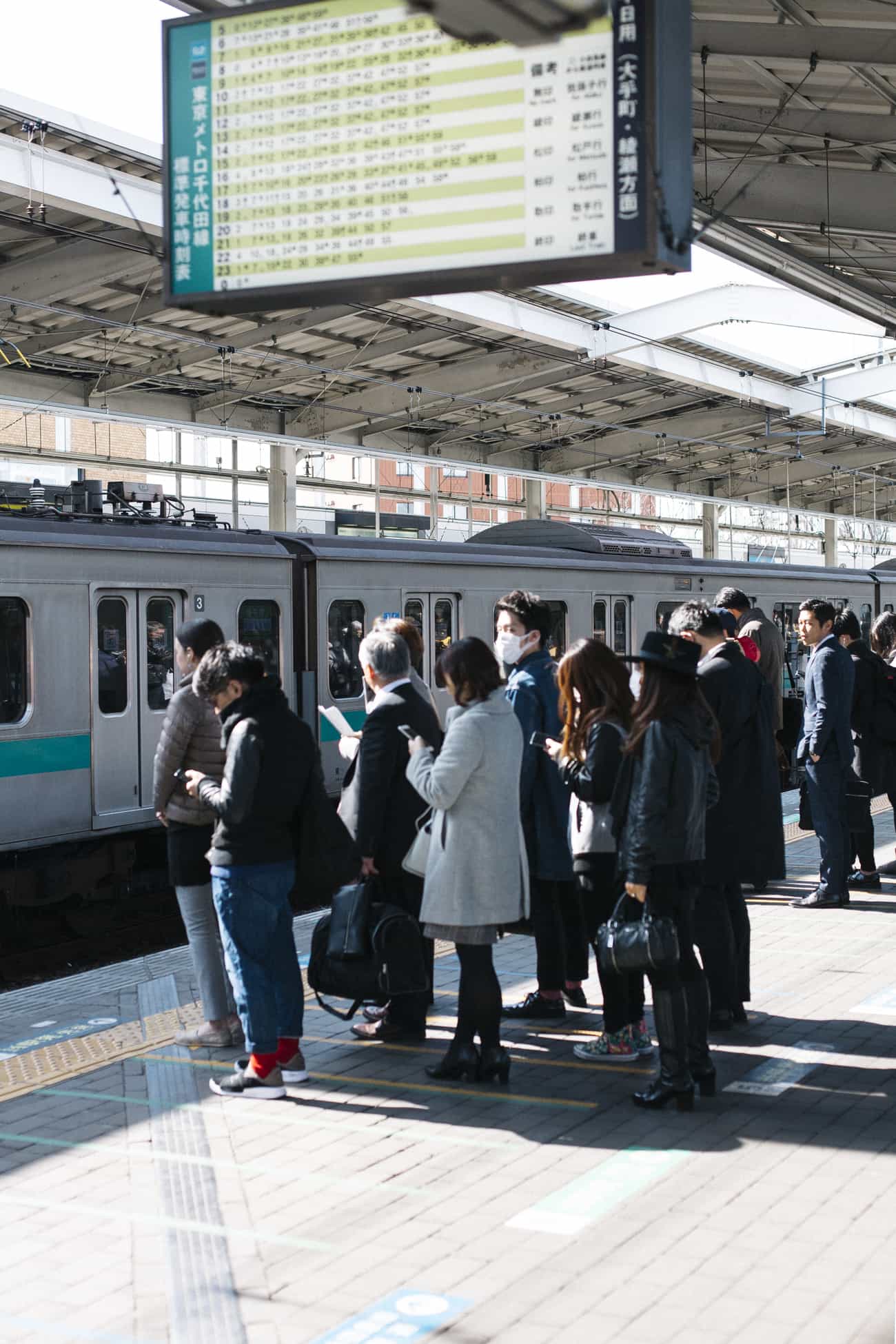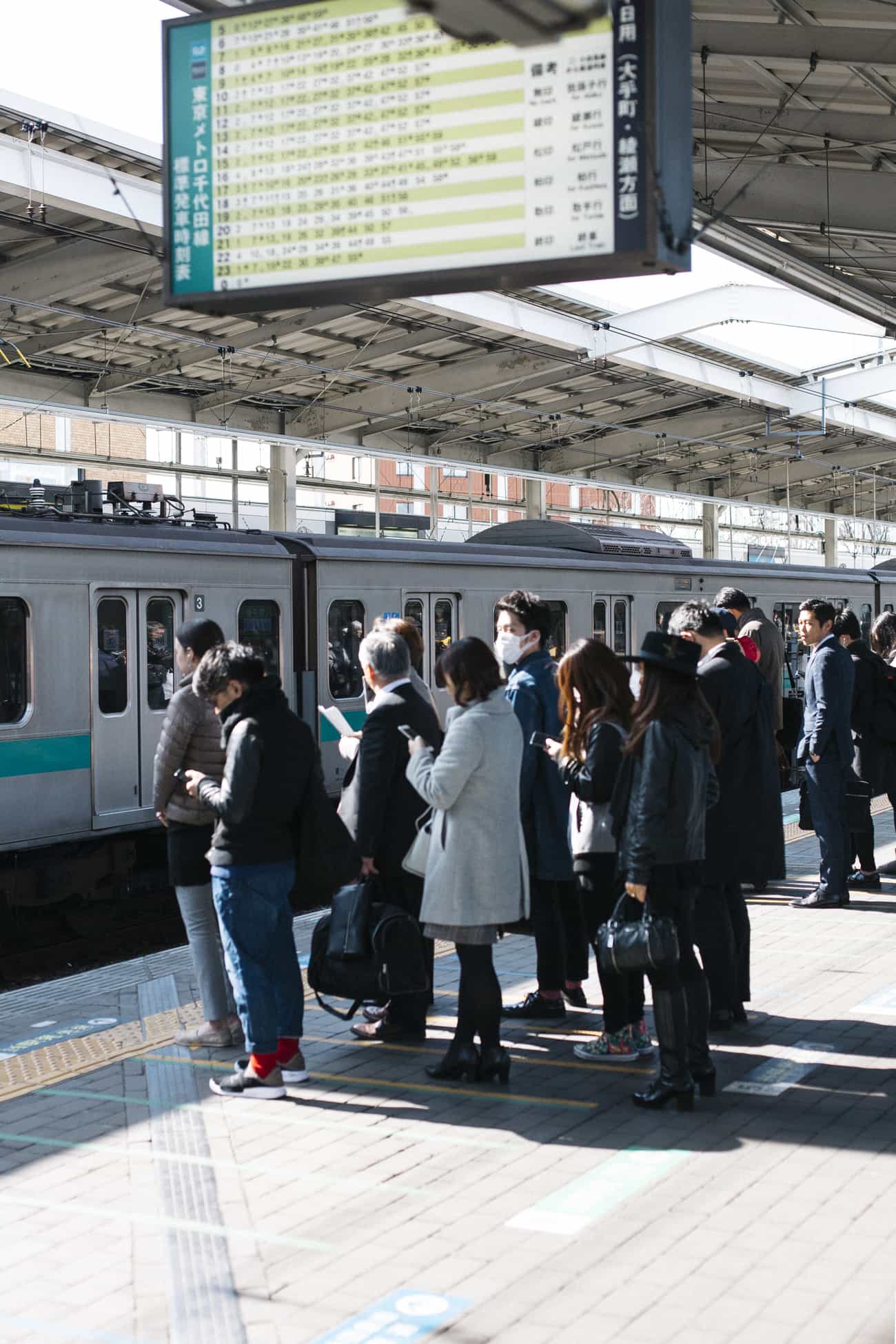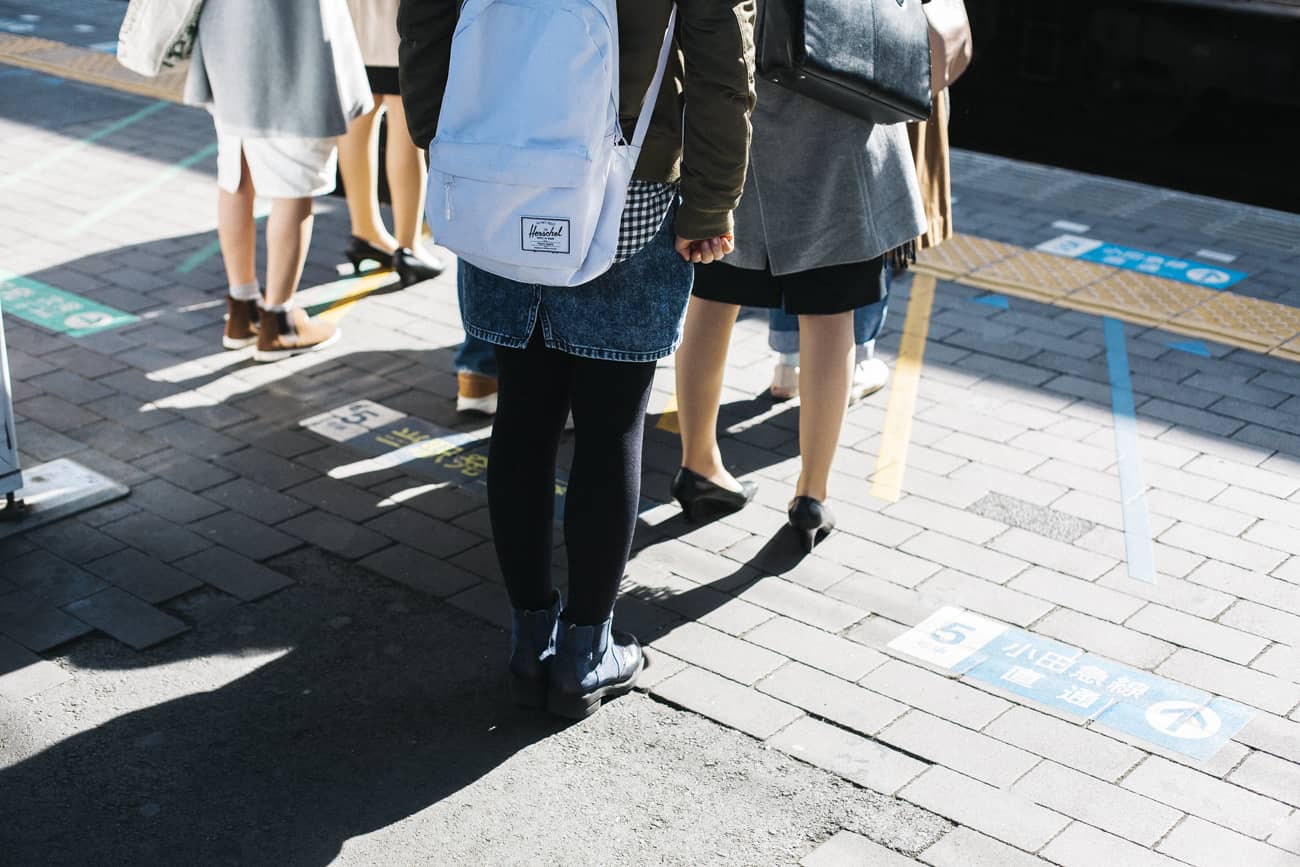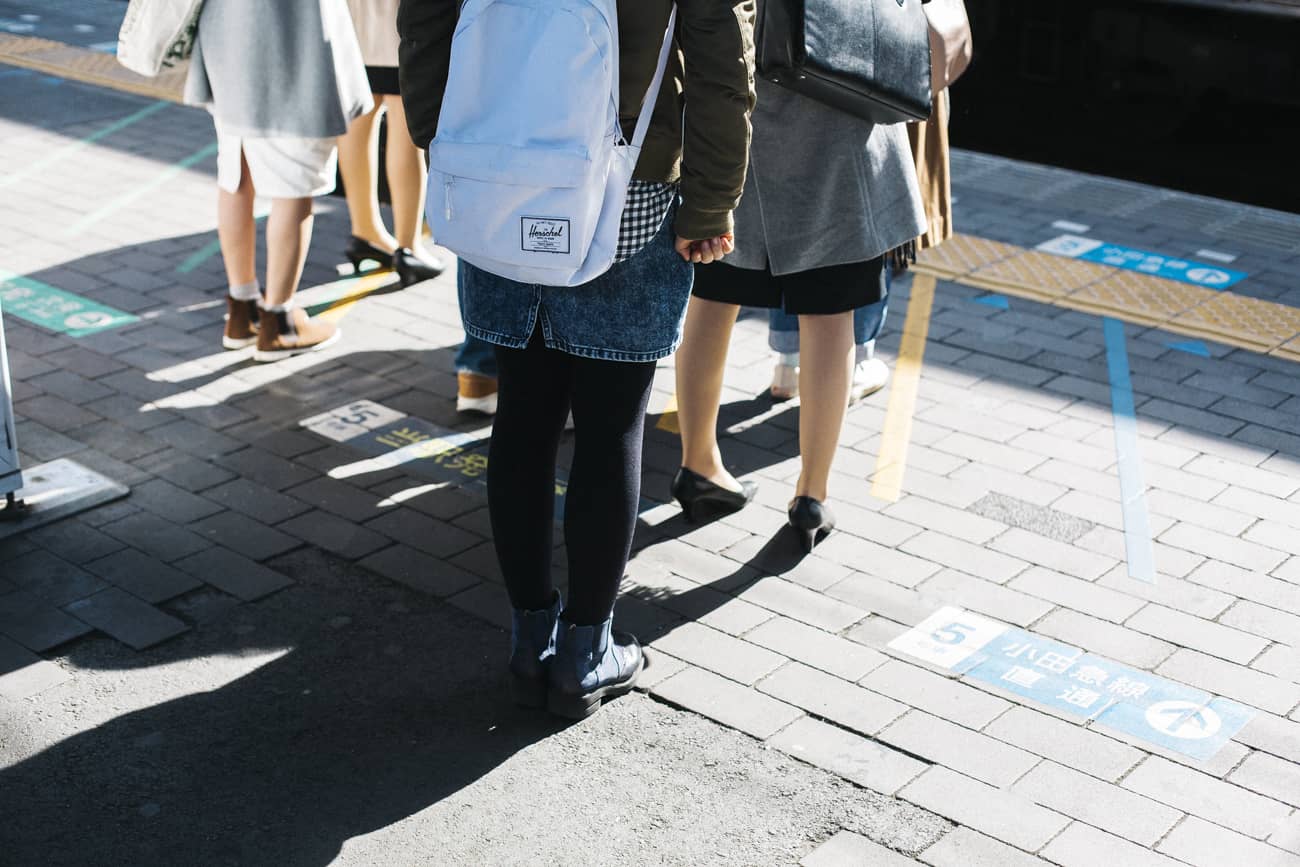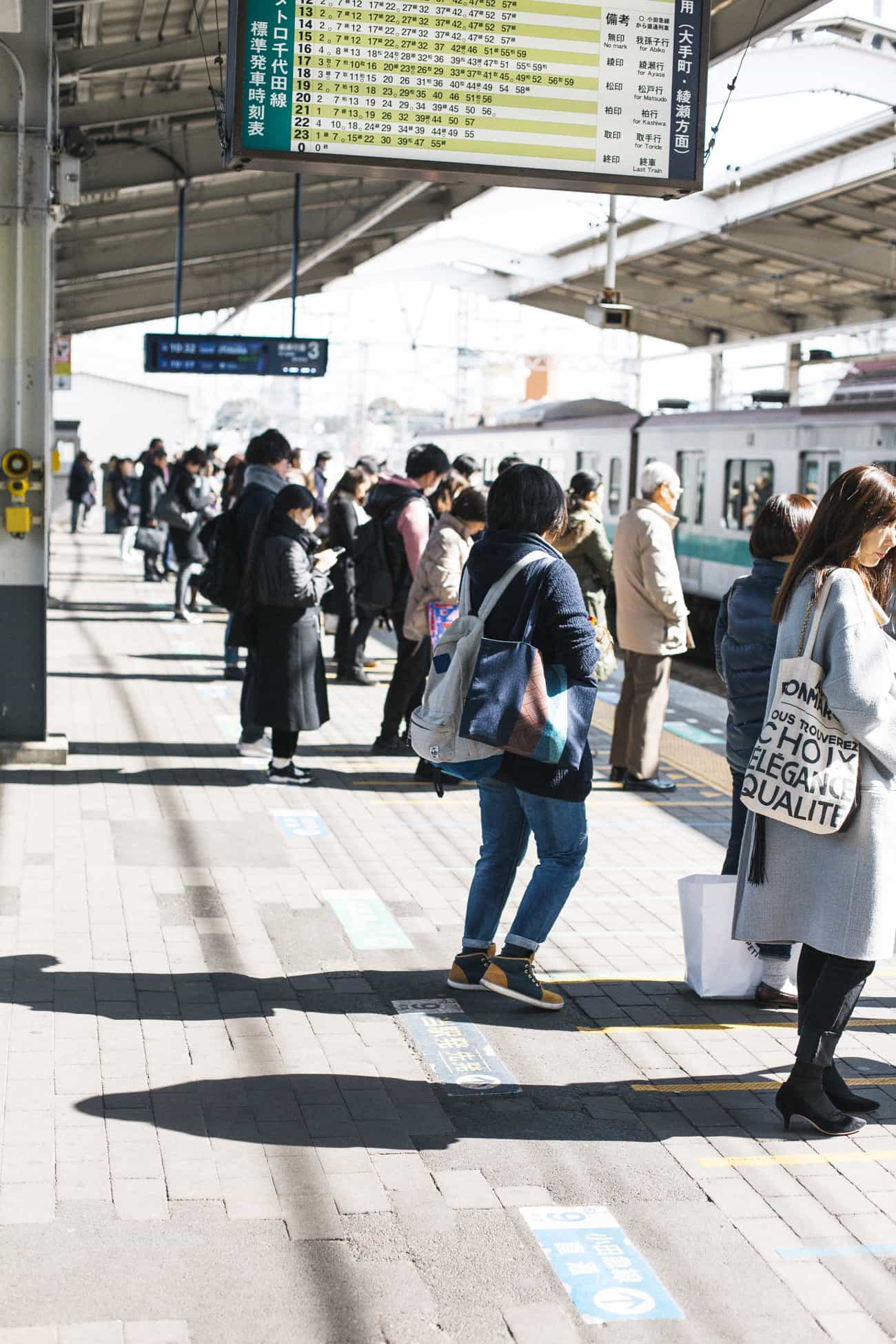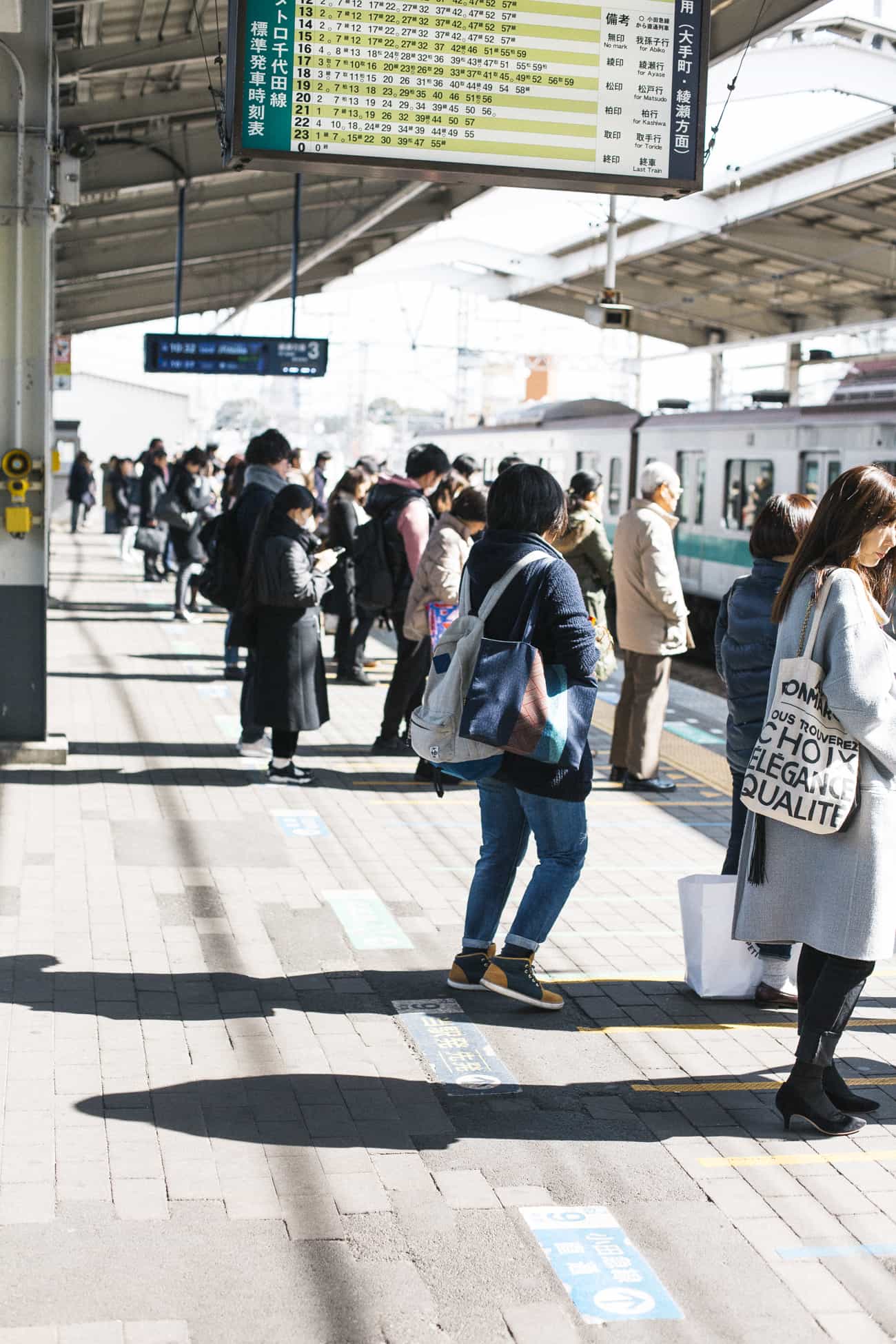 On the next day, we wanted to go check out the Tokyo sky tree, which stands at 640m high and has a panoramic view of the city. It was quite stunning but we didn't get to go up. Instead we decided to go check out some other "free" viewing towers (there are many in Tokyo!). And the reward we got from that decision was to see a Shiba dog on our way out, in a restaurant. Yes, you get bonus points if you see this typically japanese dog in Japan, haha!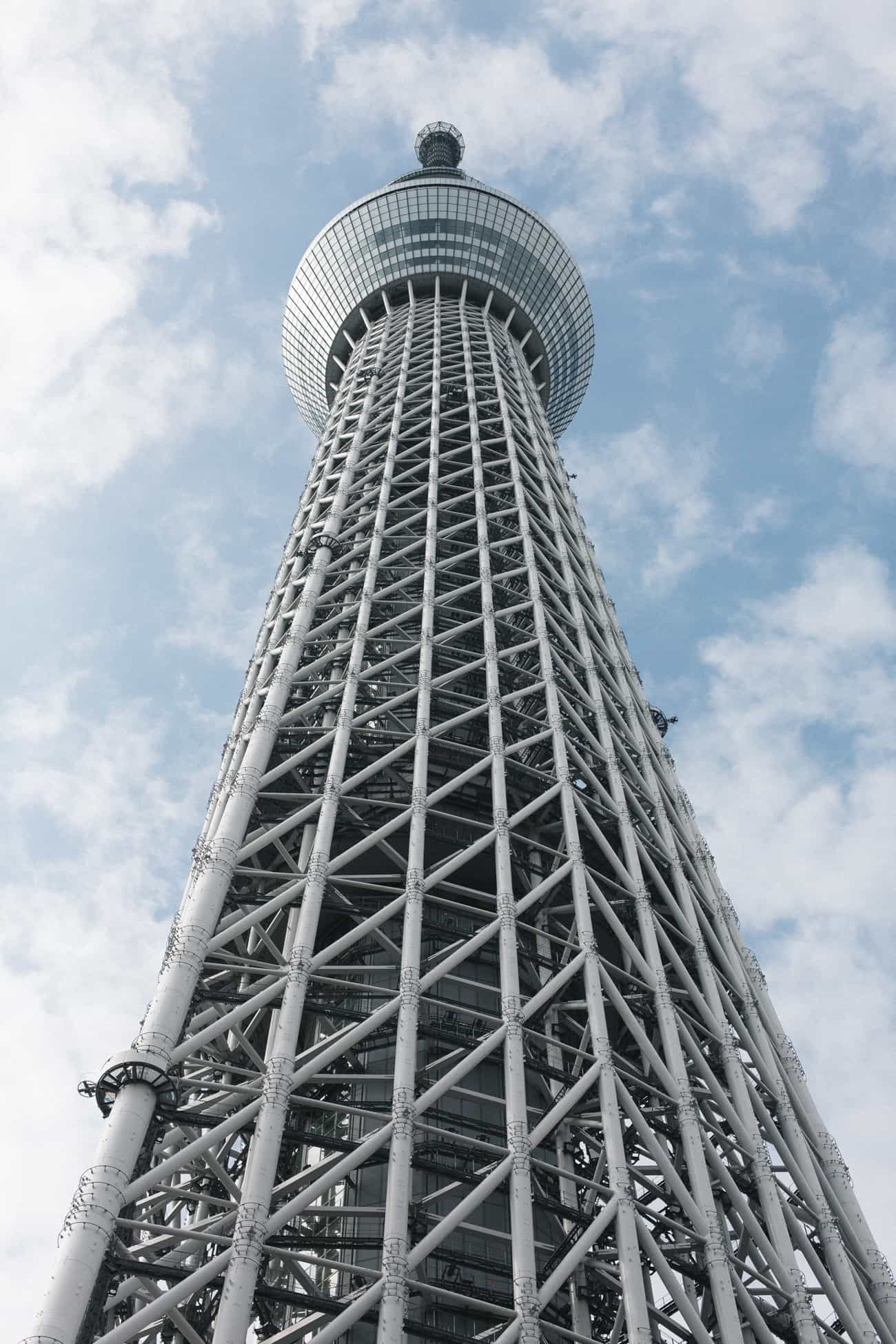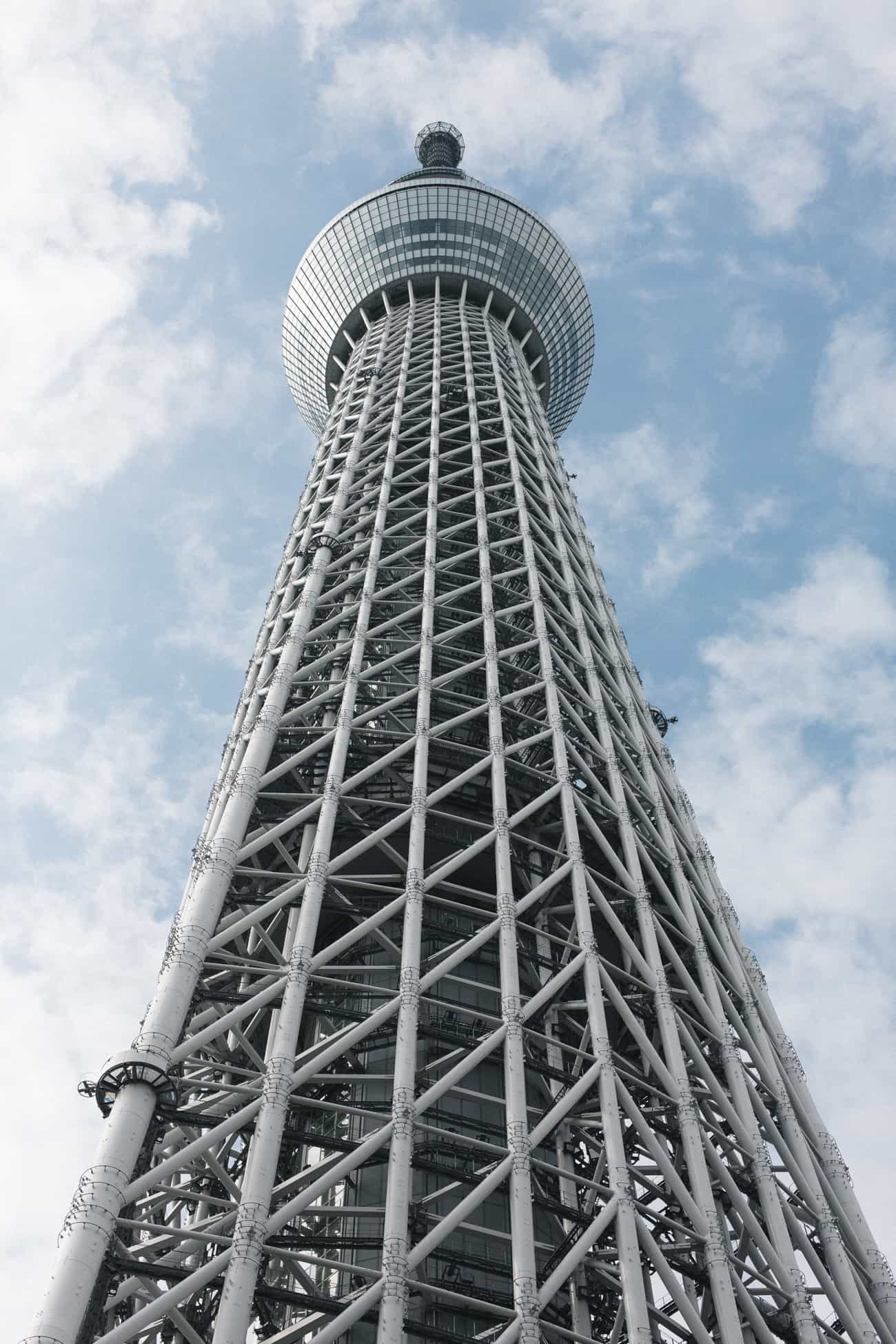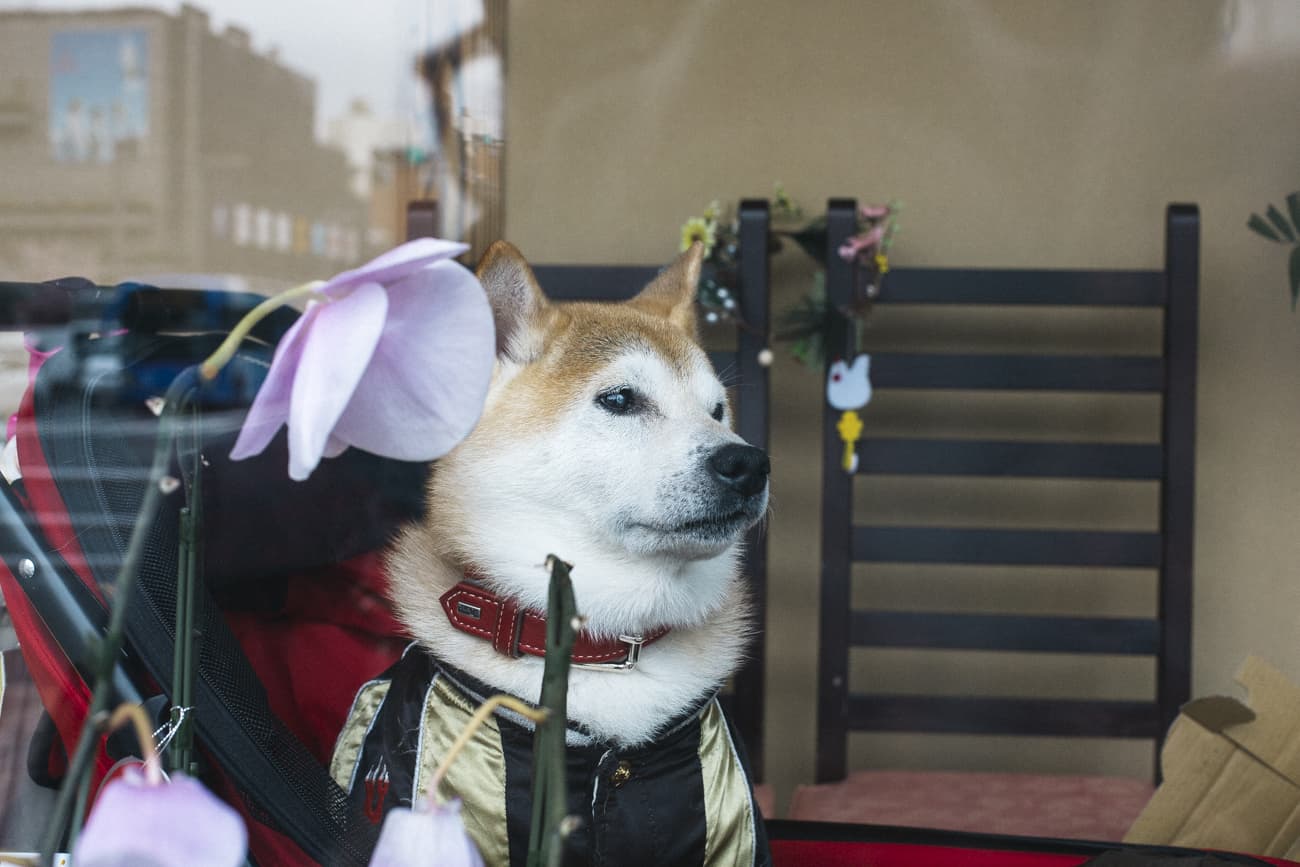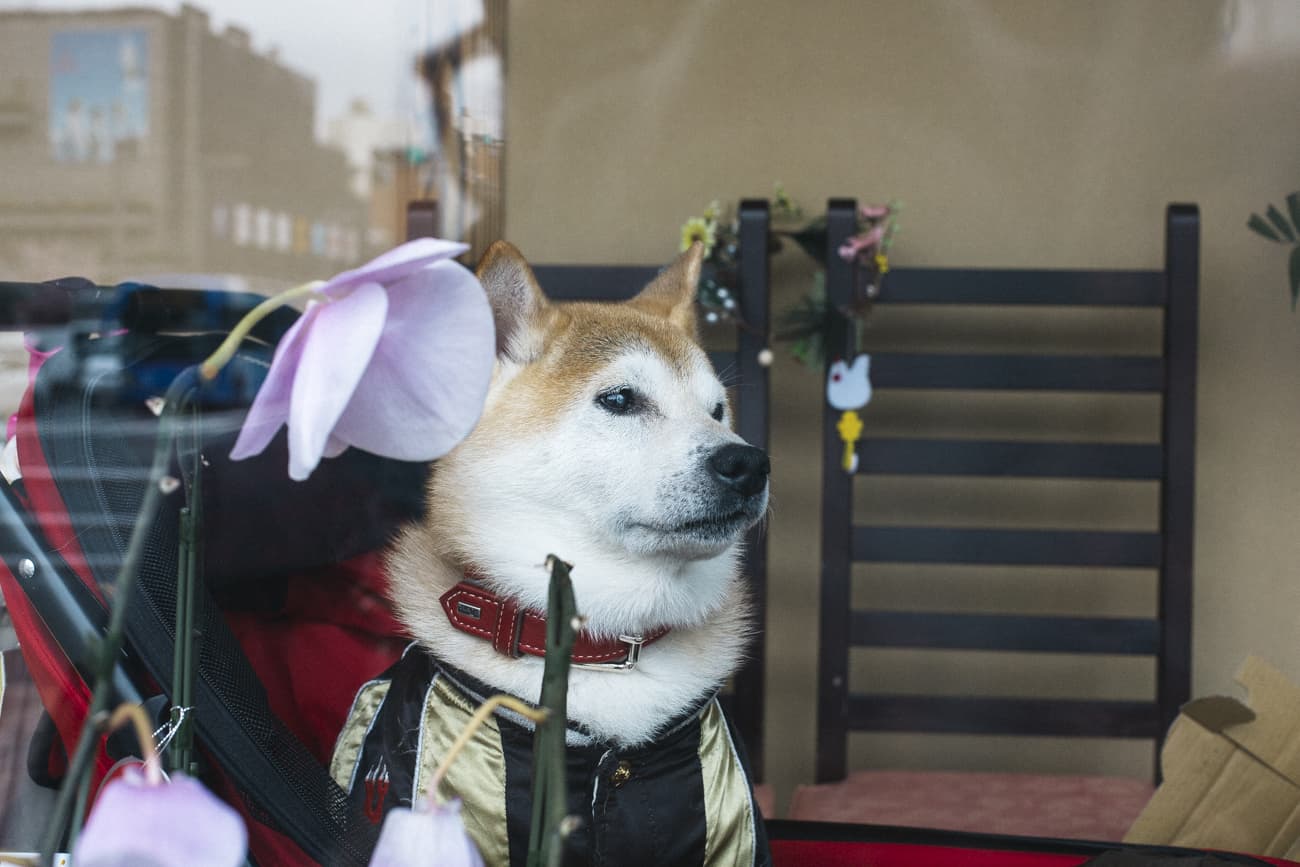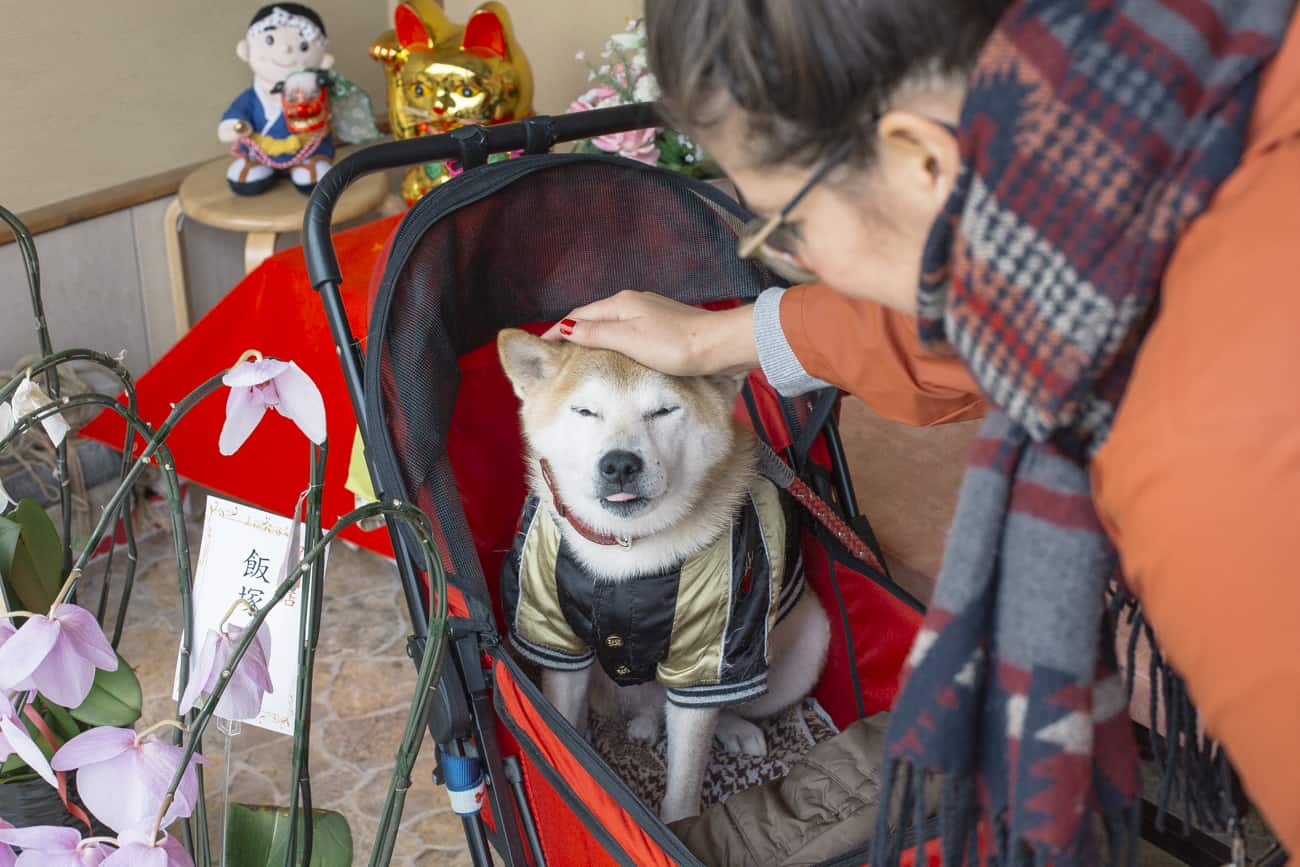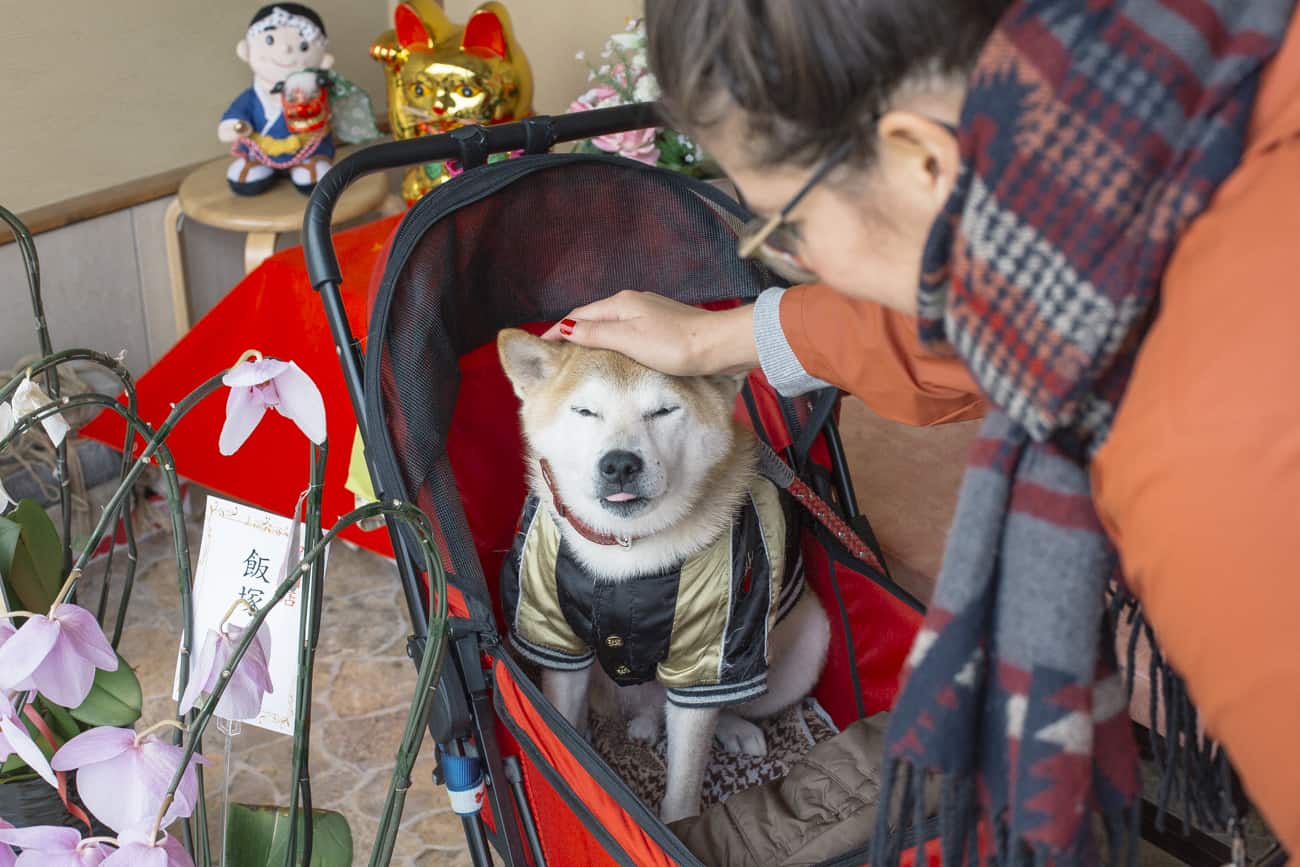 We walked towards Asakusa, which is the older and more traditional side of Tokyo. Due to all the cultural interest, it is quite a touristy place, but its popularity also means that you can witness many locals selling tasty delicacies, participating in rituals, wearing yukatas (kimonos) to go to the temple and so on. The Senso-Ji temple also shouldn't be missed, in my opinion. It is absolutely stunning.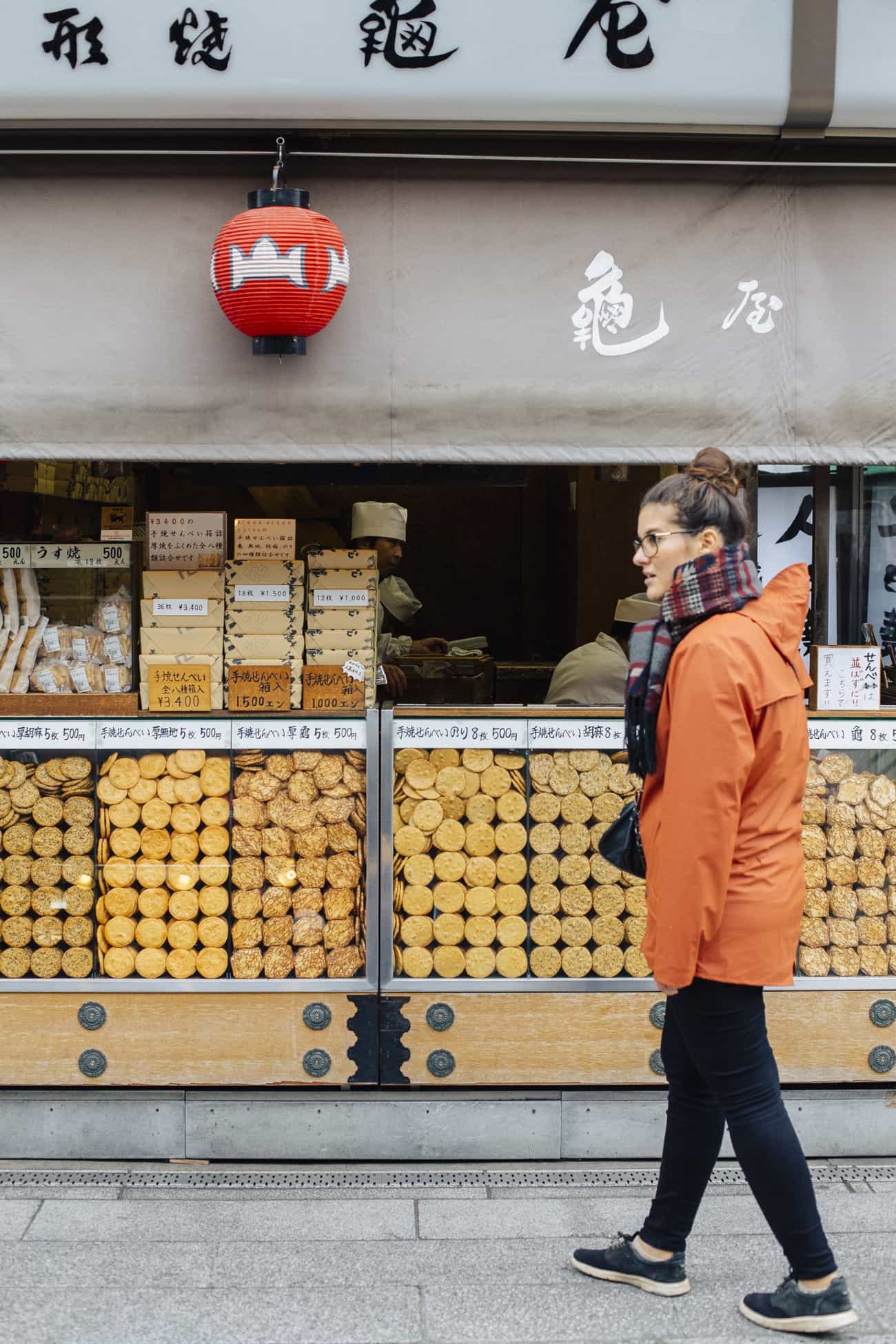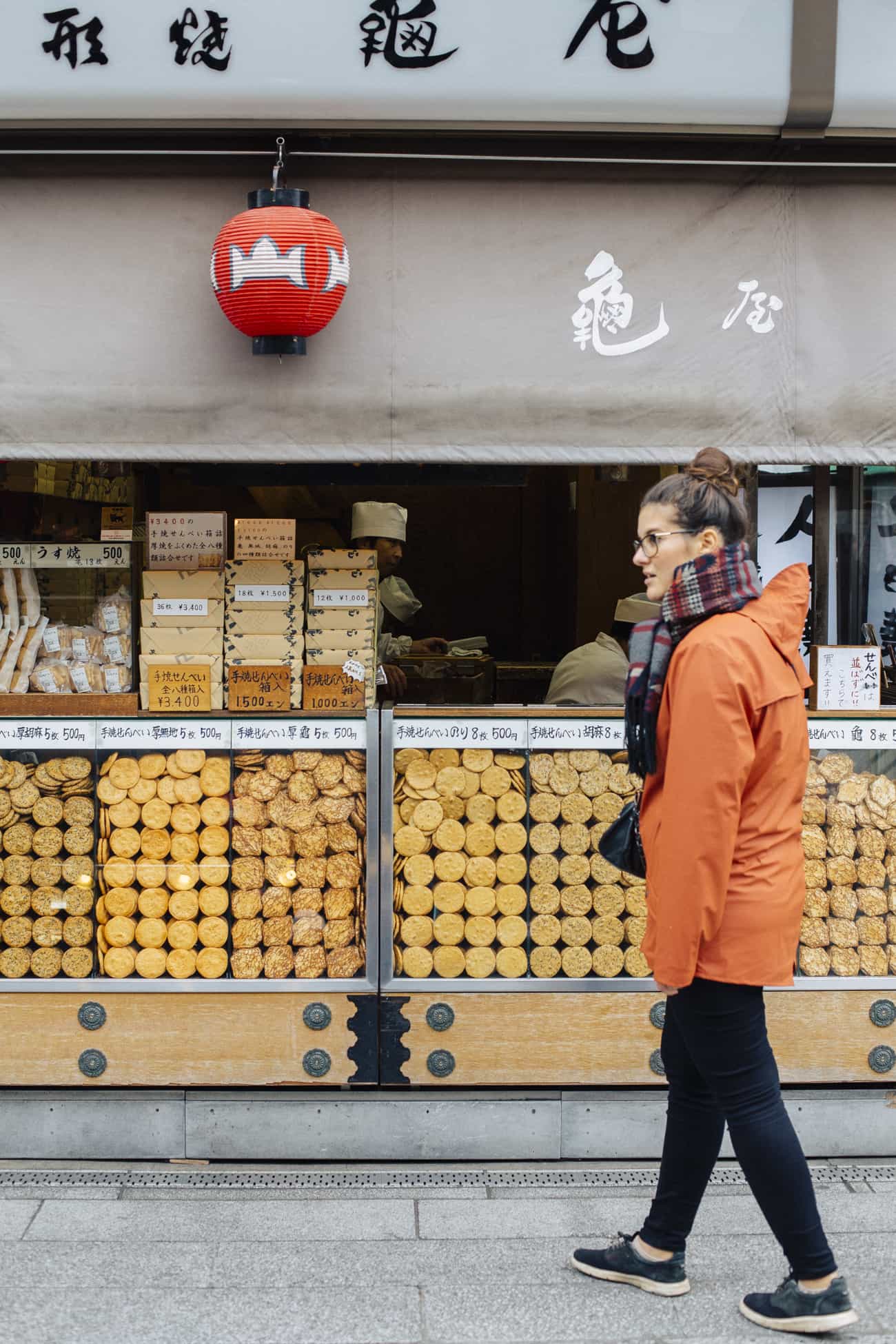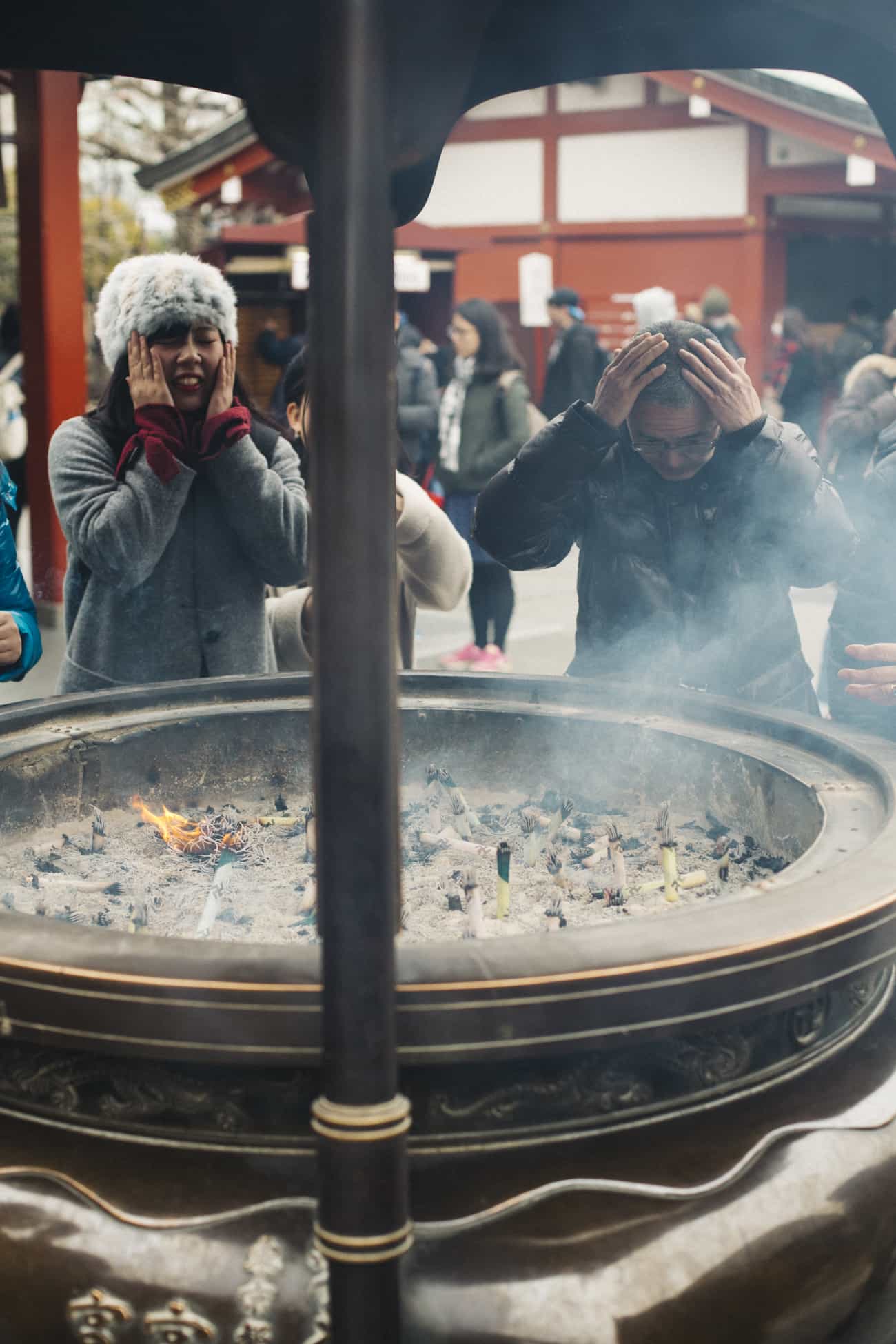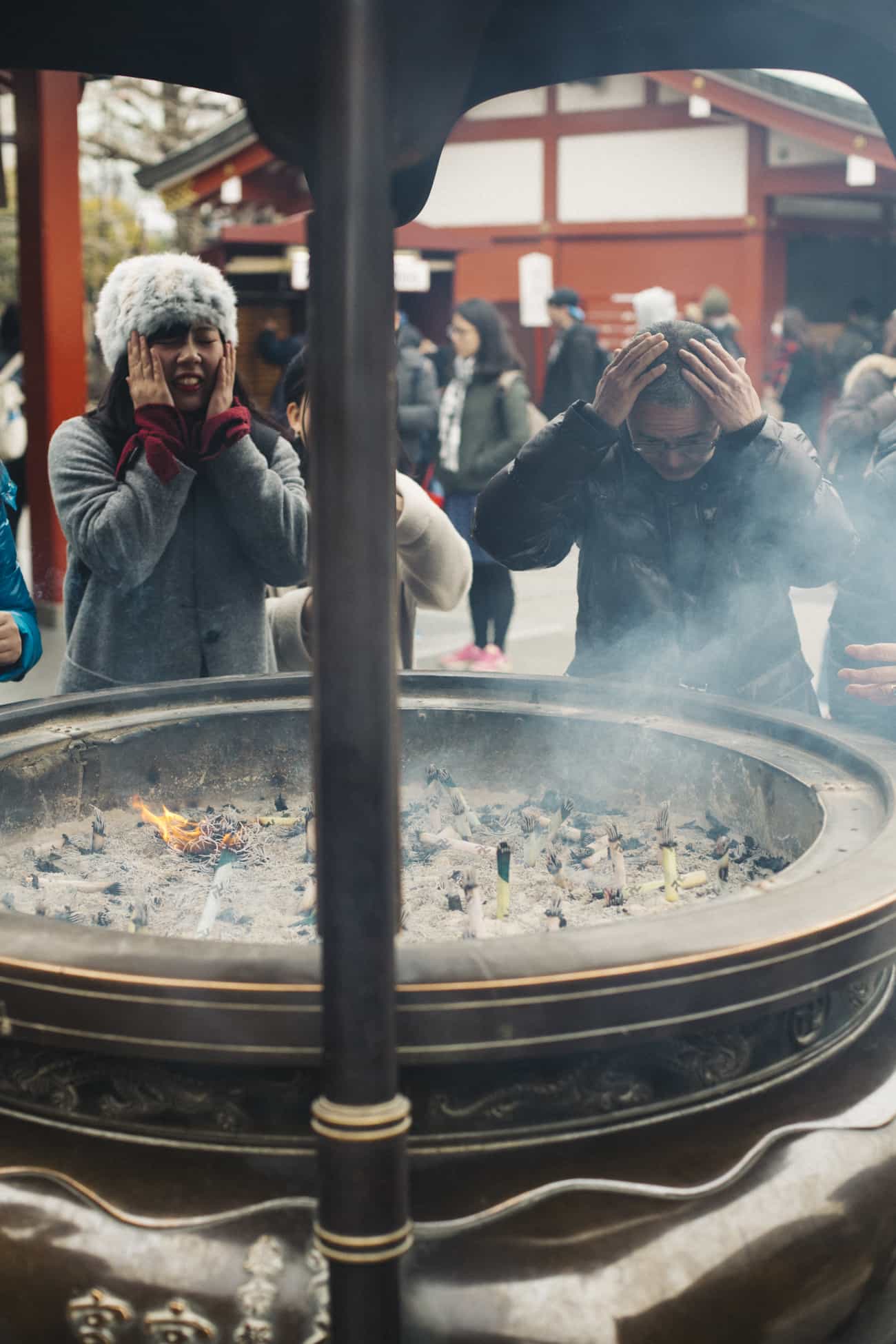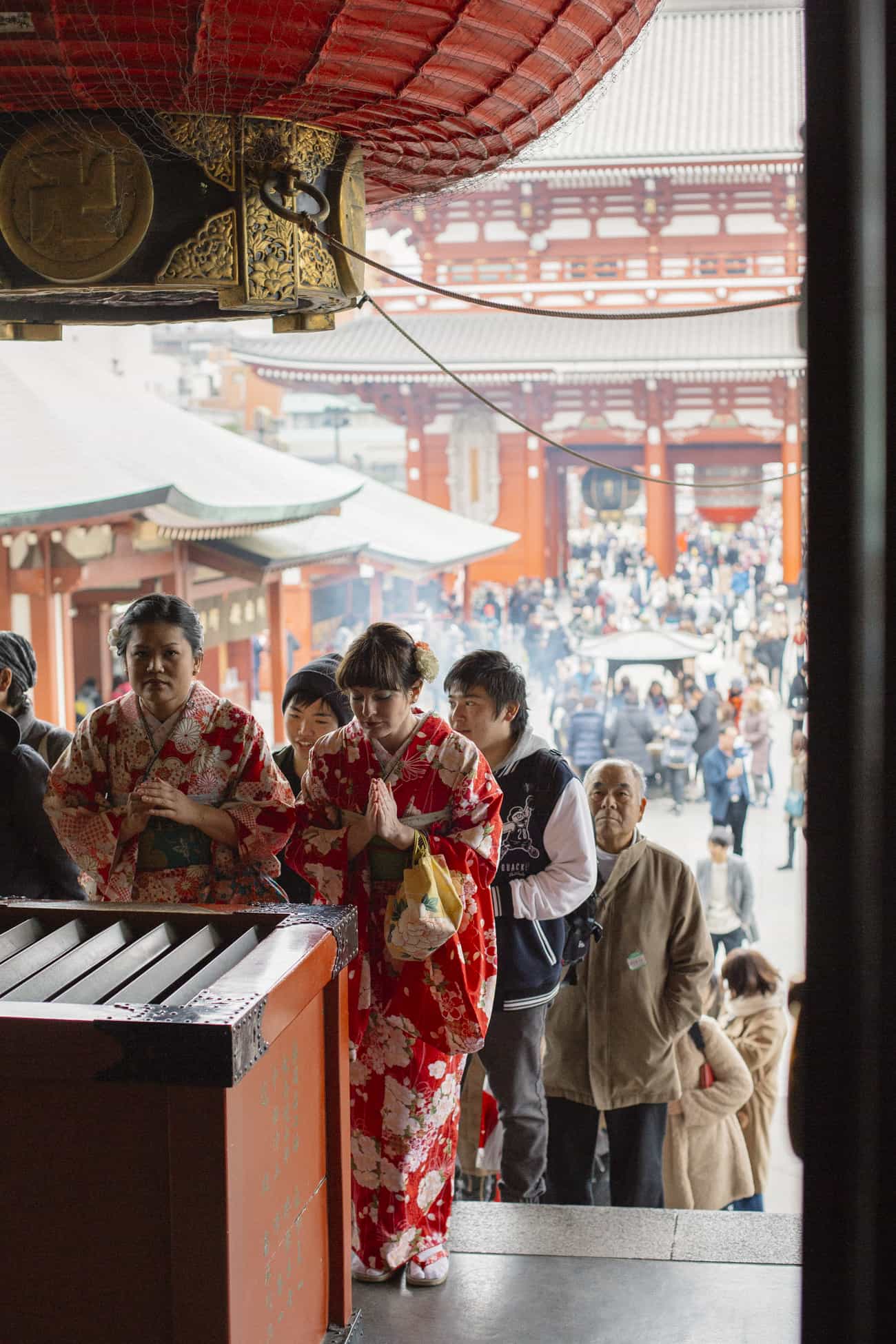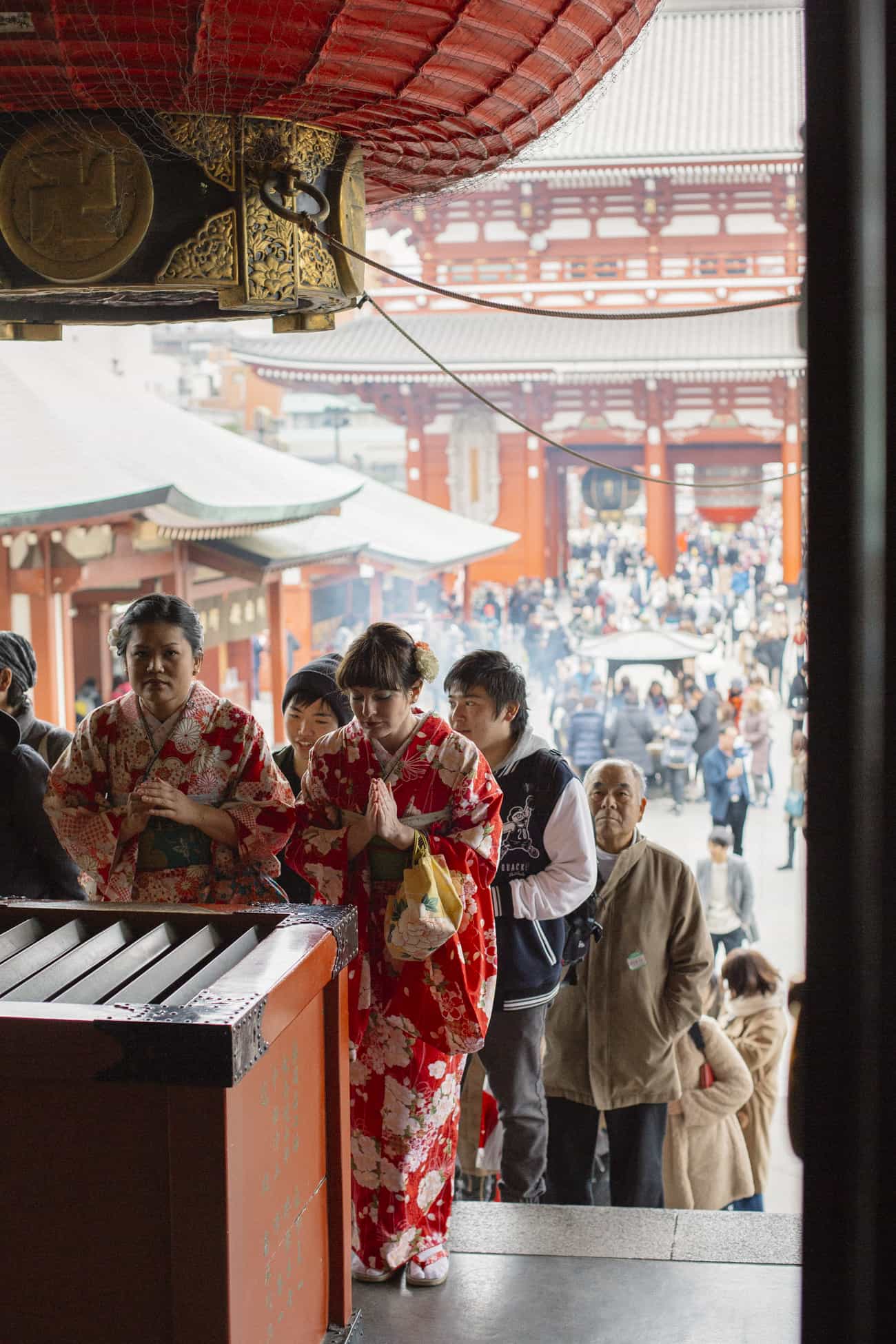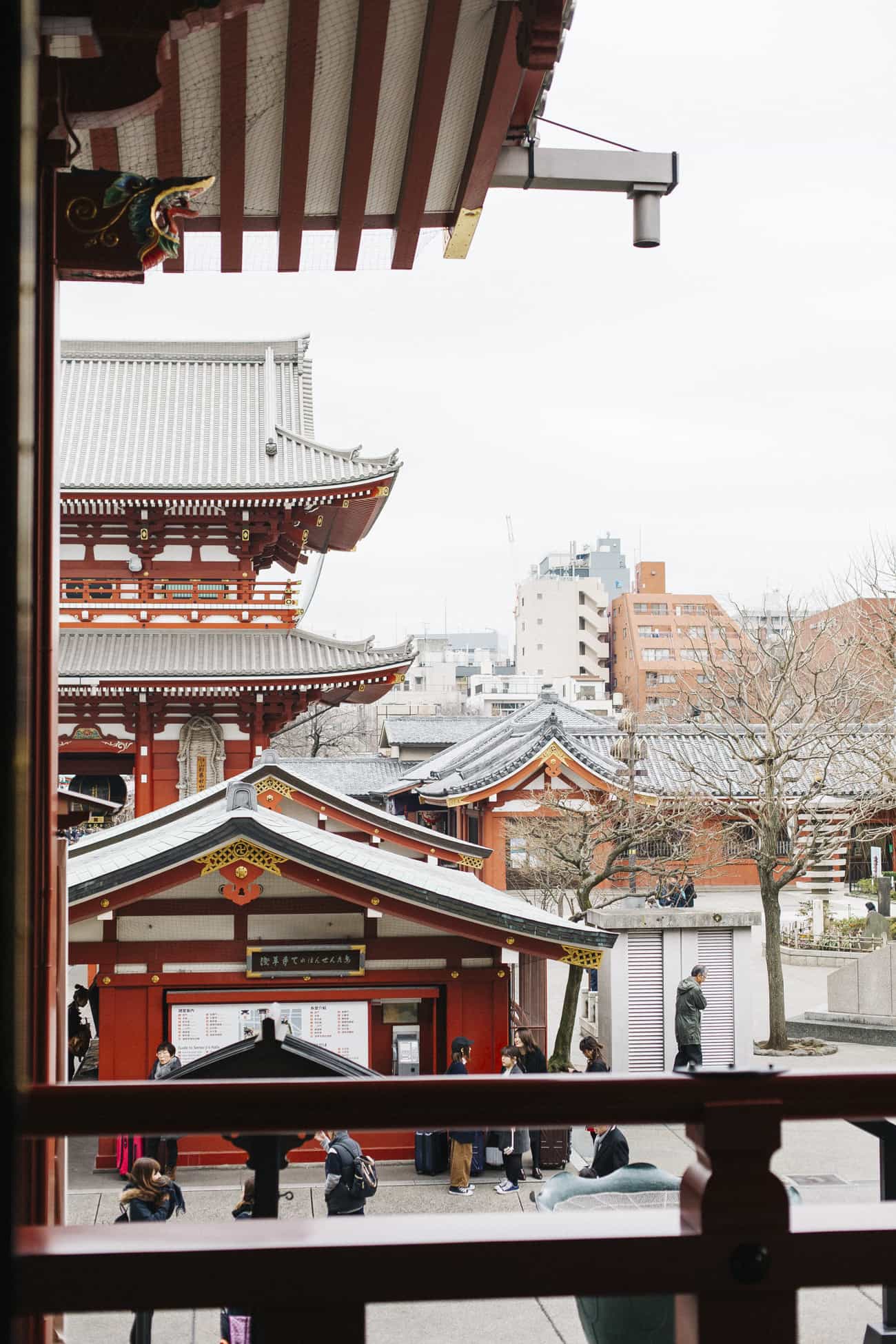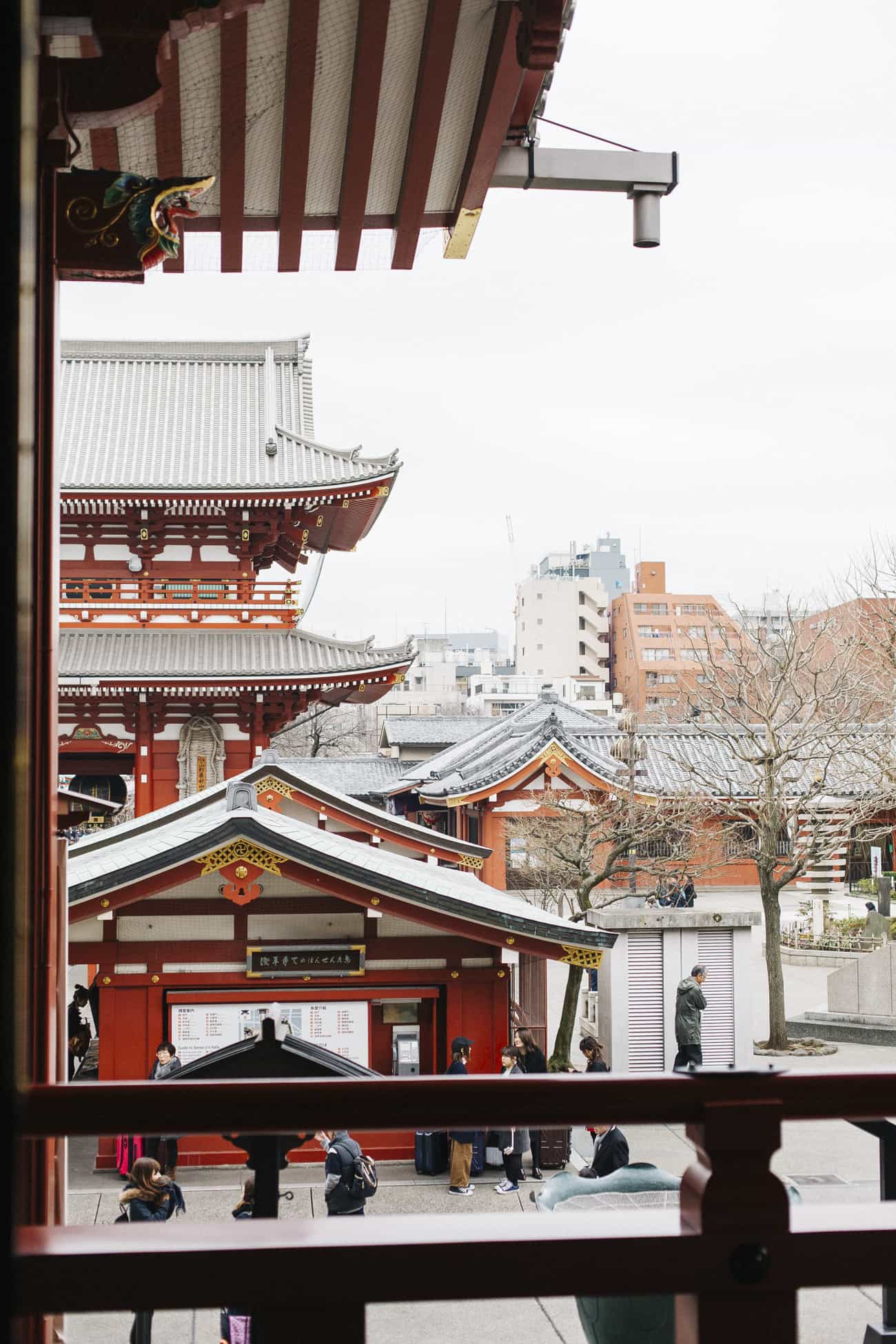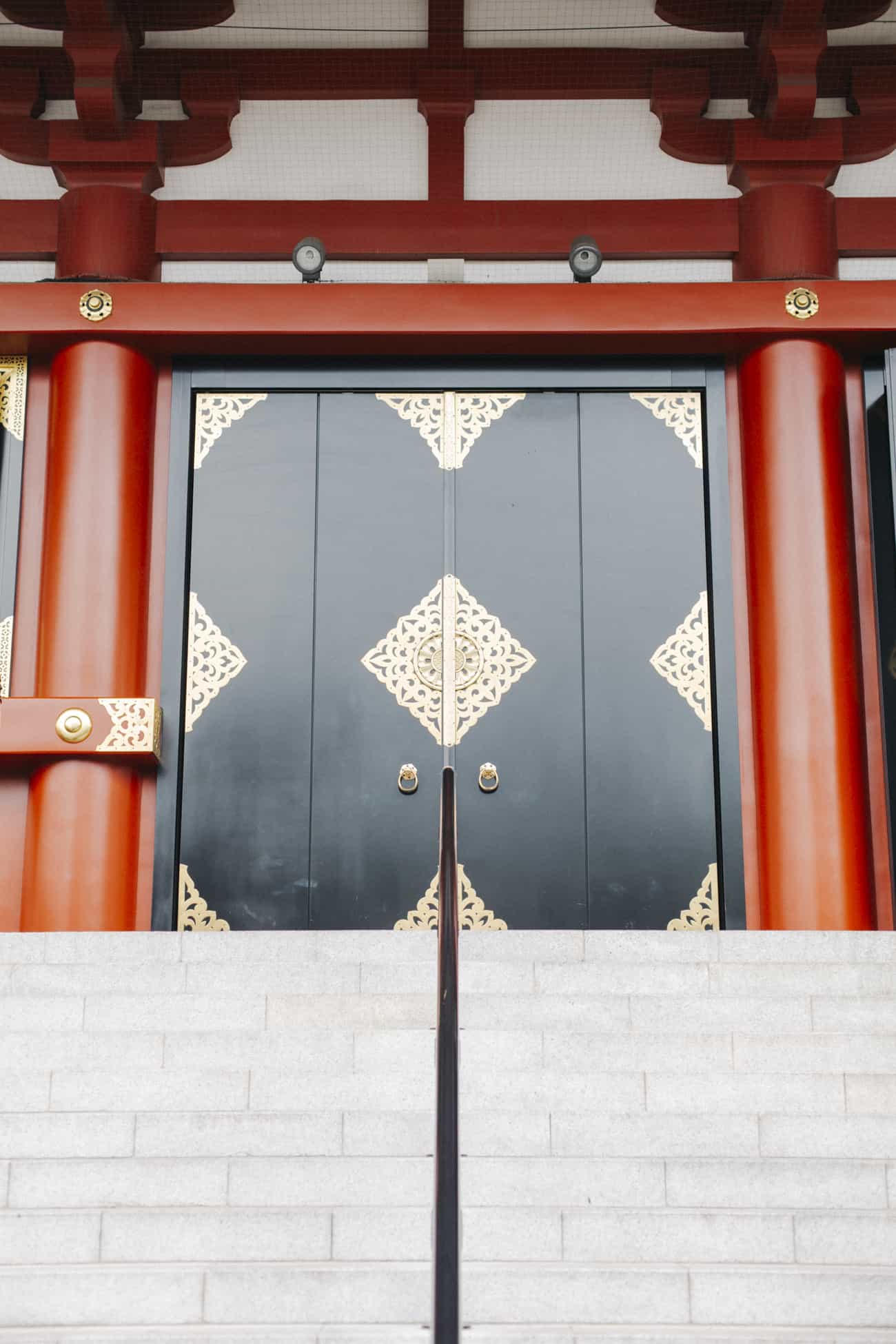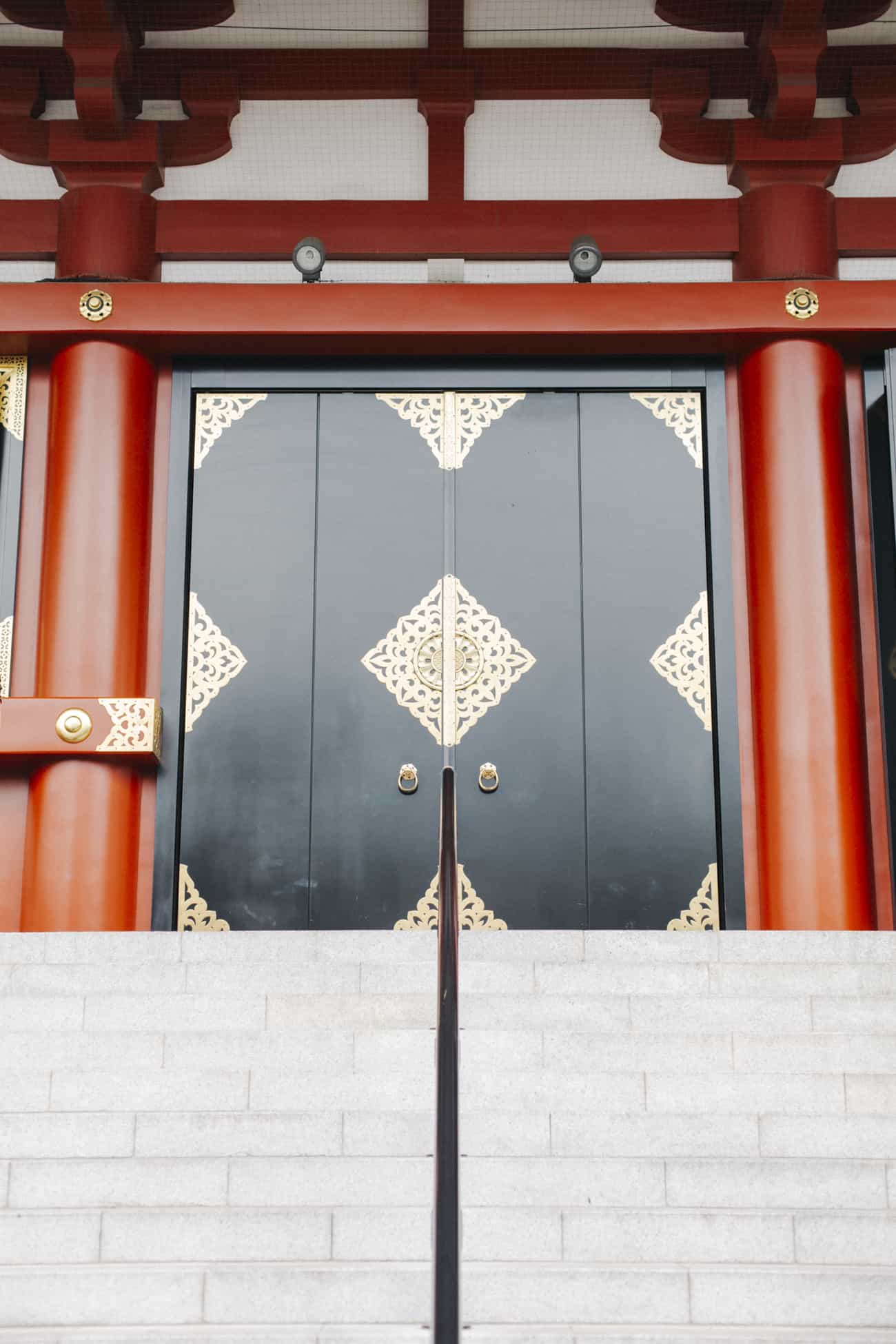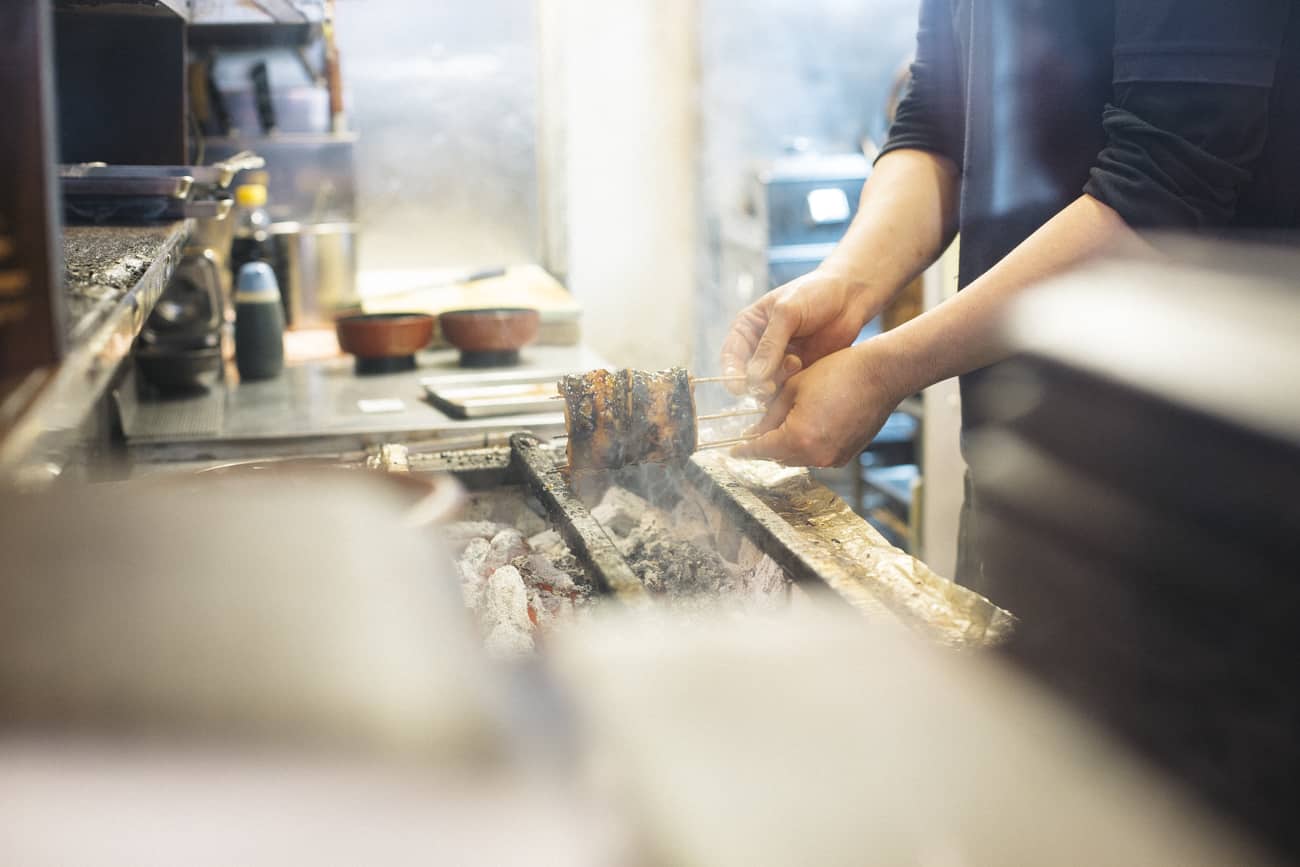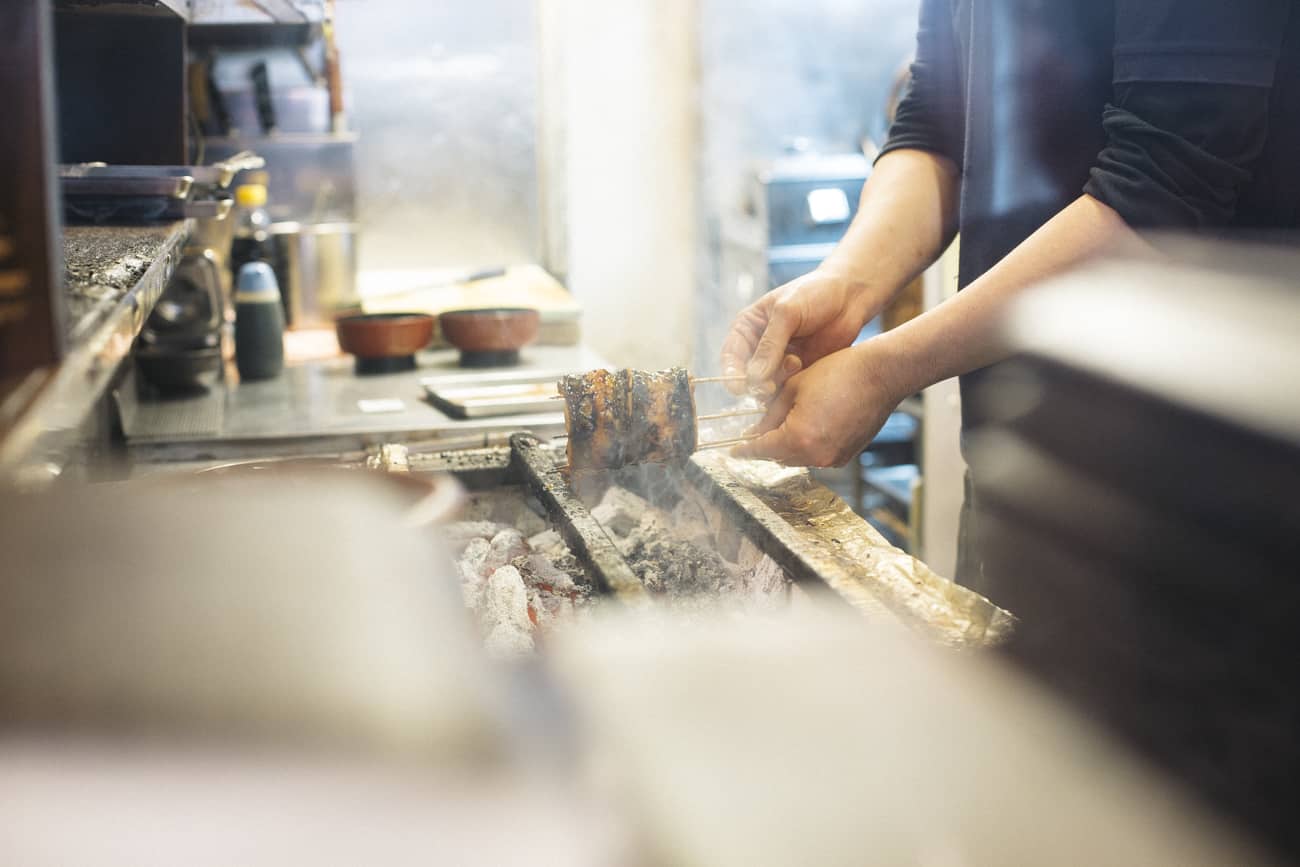 After a lunch around the area, we walked towards Kappabashi – the kitchen supply neighbourhood! This is a place where there are tons of shops just selling all sorts of things for restaurant owners and food businesses: bowls, plates, steaming baskets, furniture, tea, food in bulk, as well as some particular things that can only be found in Japan, such as cashier machines (to take your order automatically in ramen restaurants for example!) and food imitations as those you can see in front of most japanese restaurants. Those are sometimes so well made that it's hard to tell they are just "fake" samples – they can confuse the mind and make you quite hungry.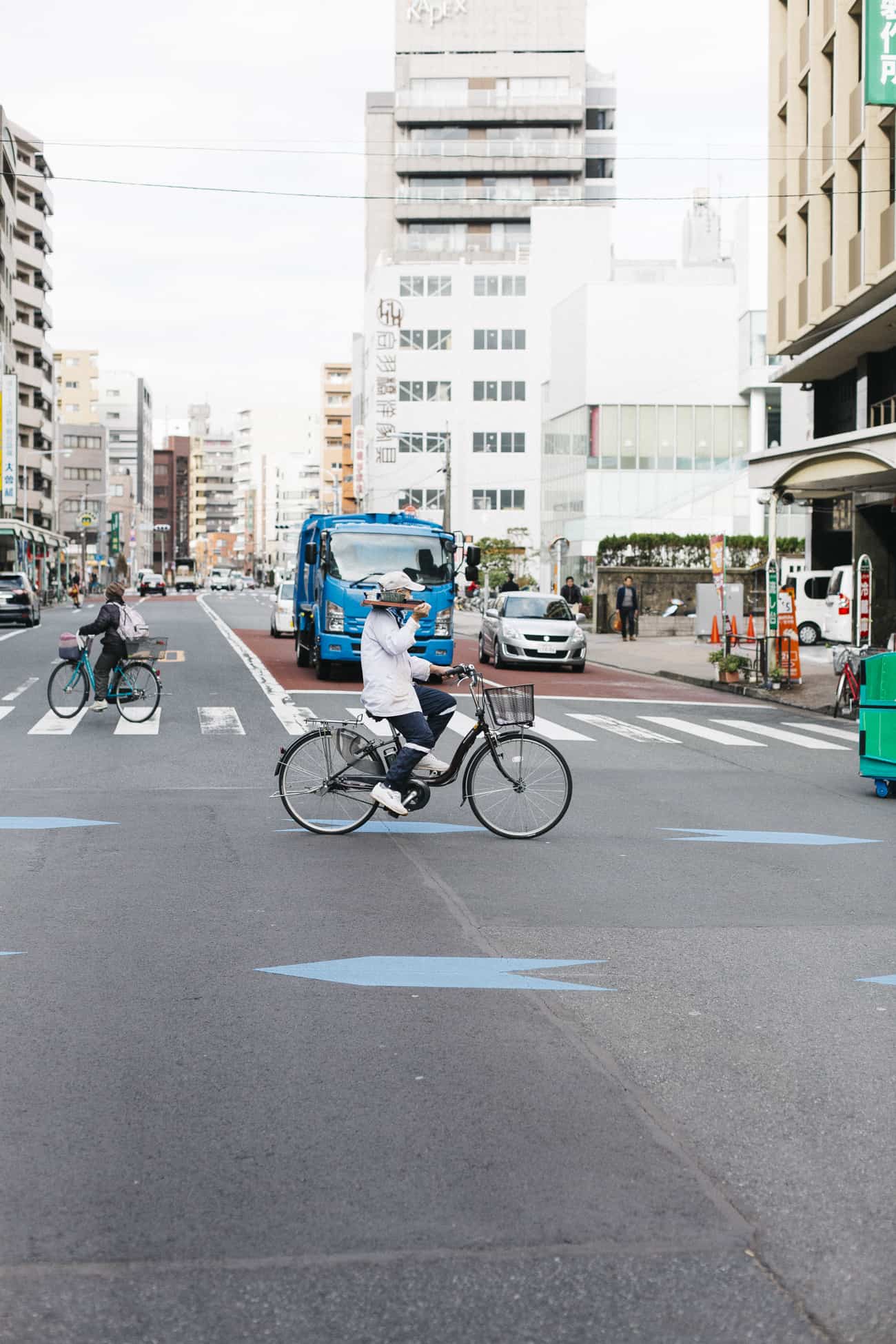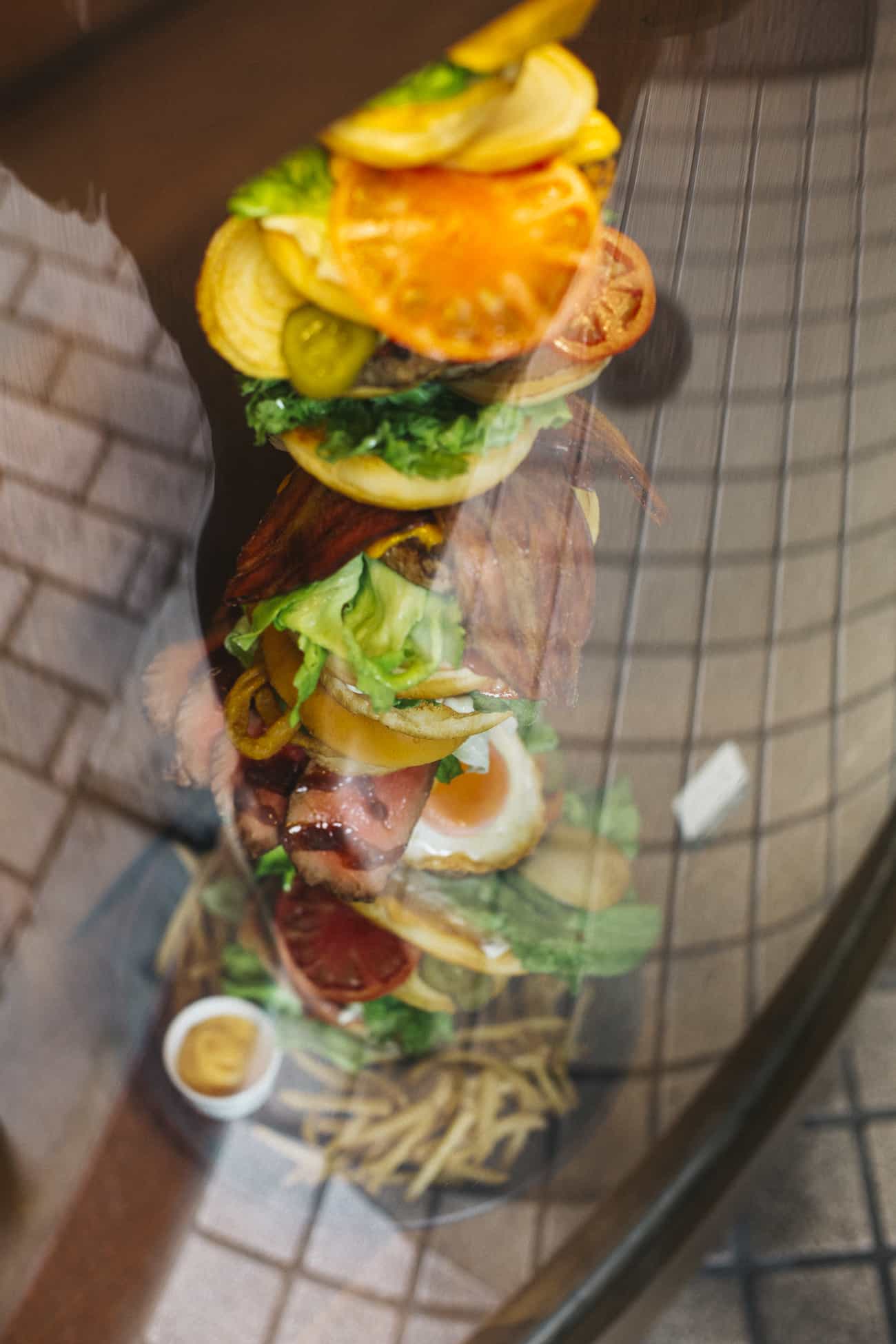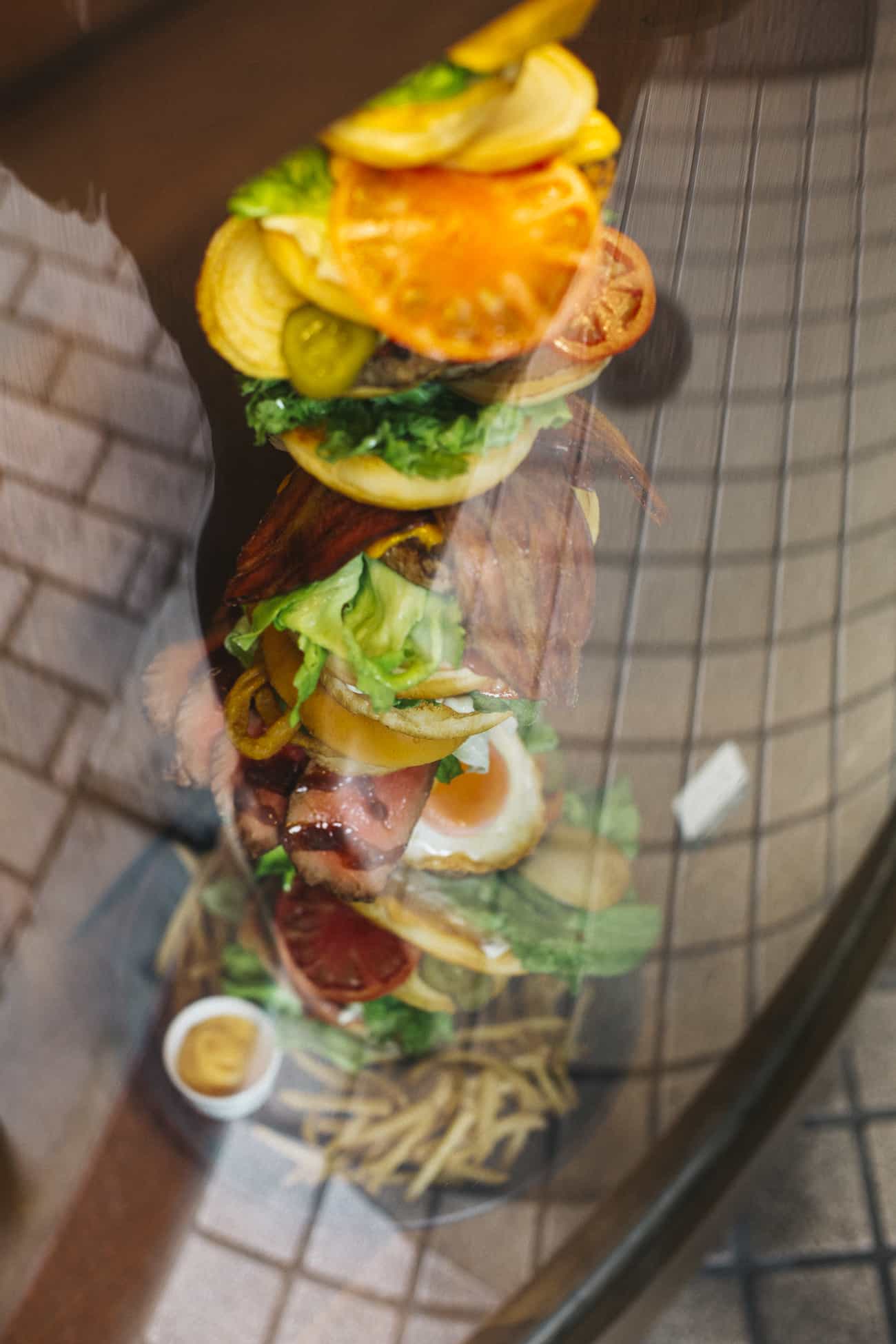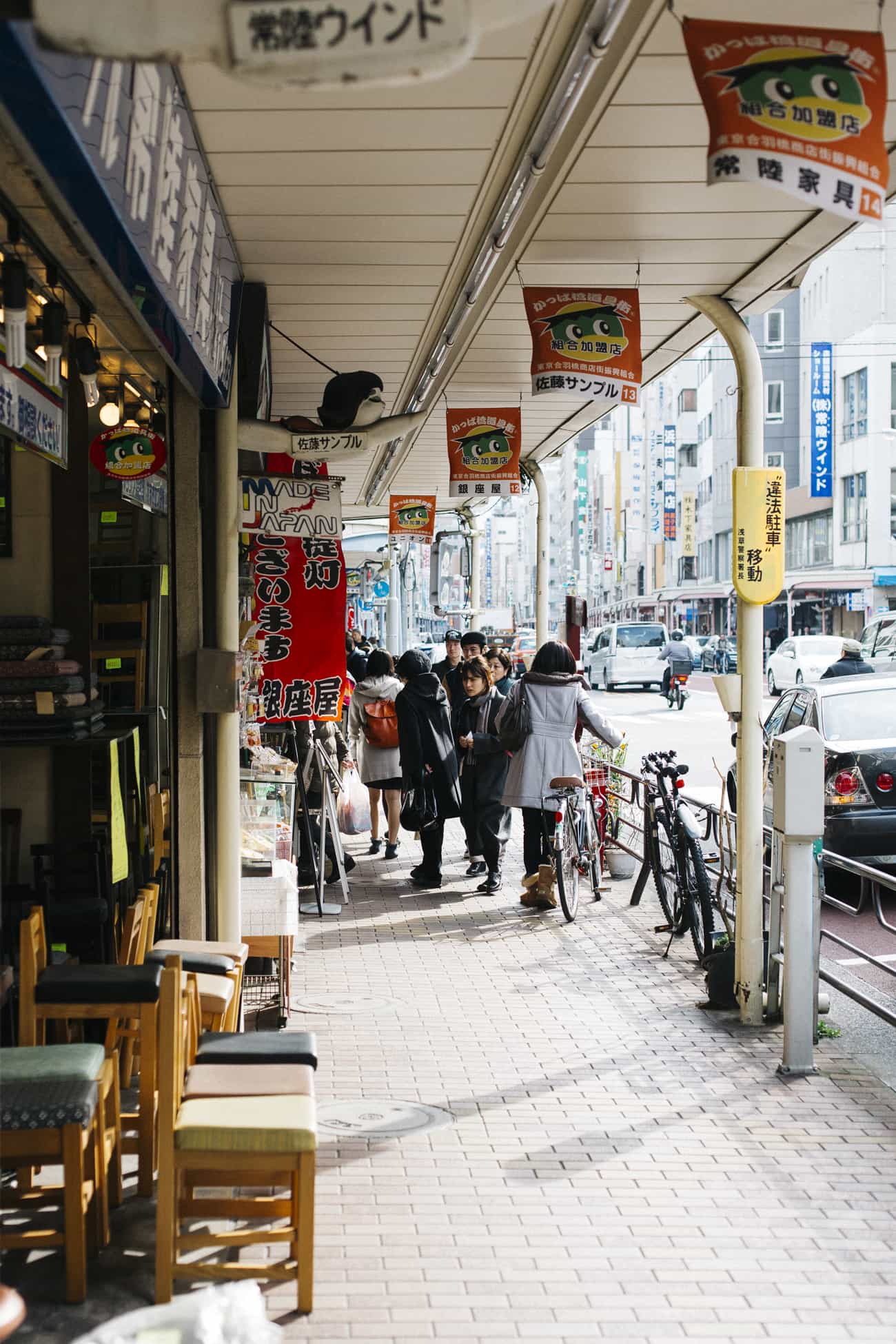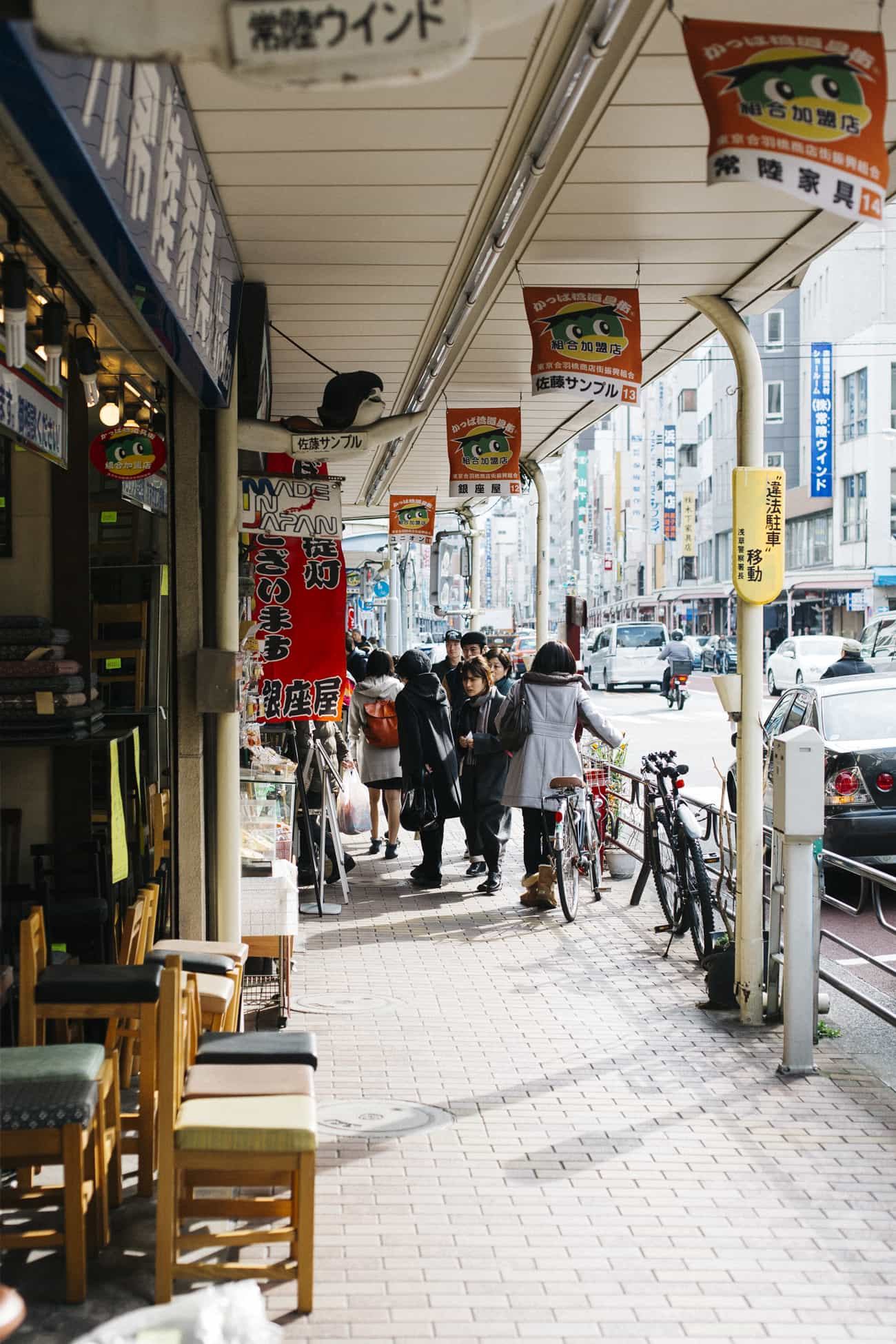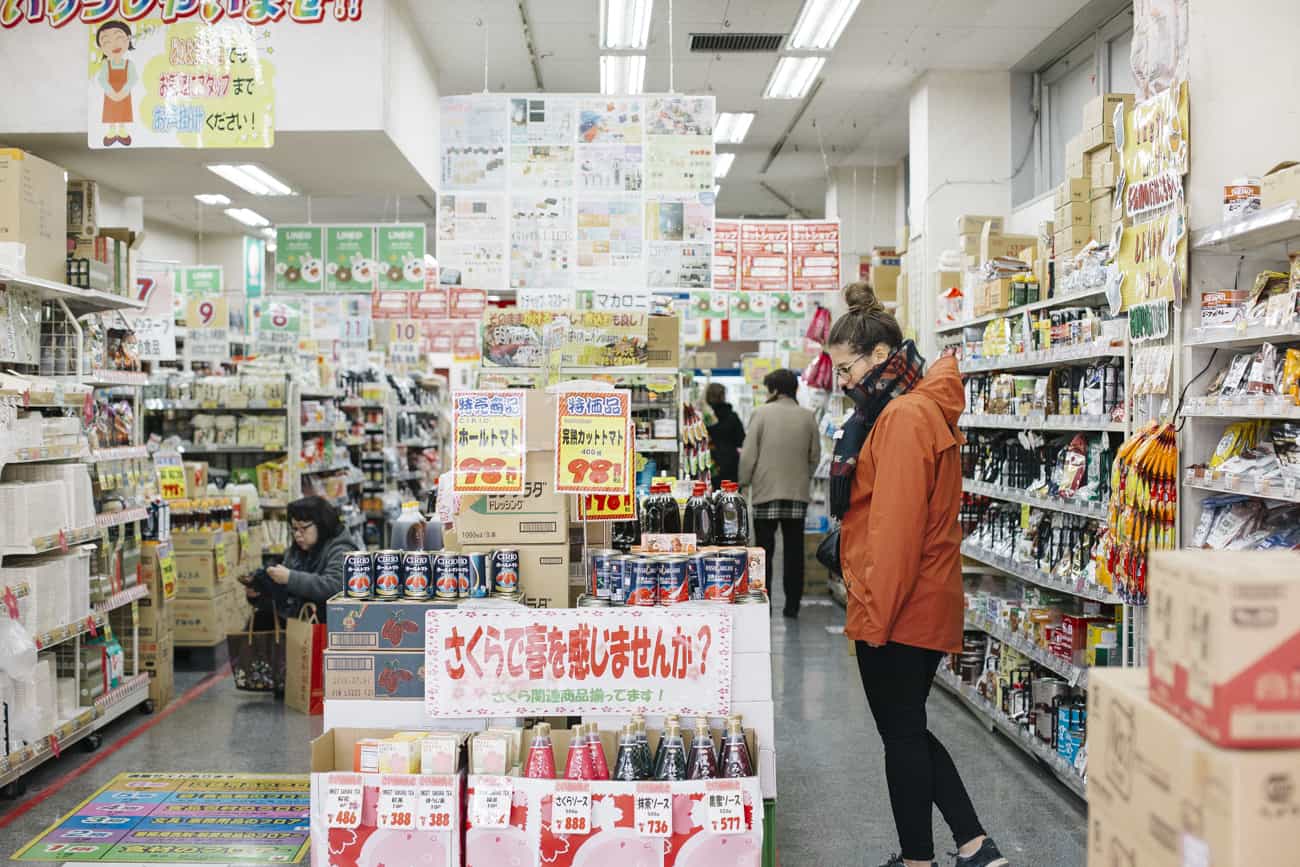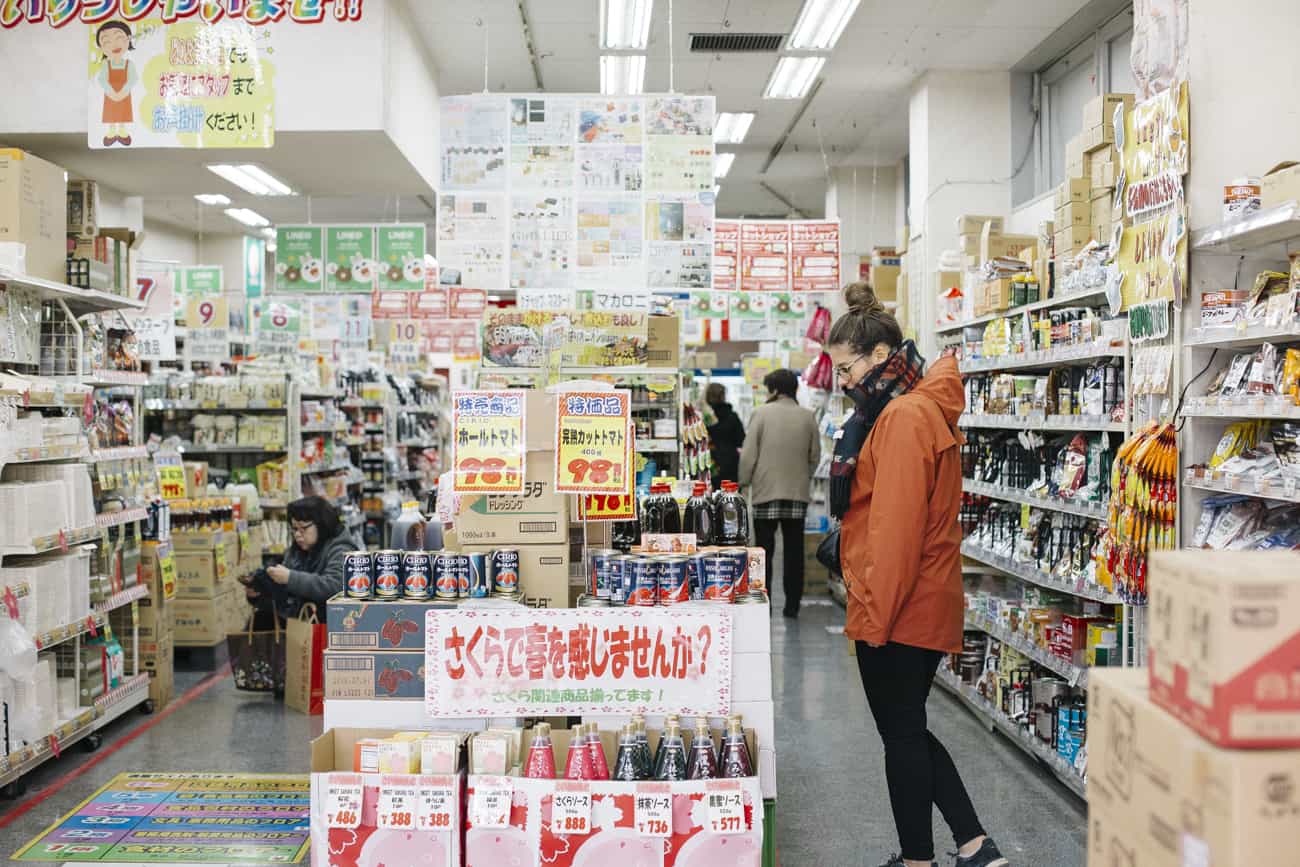 Not too far from there, was Akibahara, the electric city! This is the part of Tokyo where the computer freaks used to come to get parts so that they can build their own machines, and nowadays it's still the hub of the Japanese Otaku (geek) culture. There are still many electronic shops on the ground level, pachinkos (arcades) as well as manga shops, and… maid cafés on the upper floors. I had gone to one last time and it was a pretty funny experience 🙂
When it comes to signage and ads, Akibahara is even worse than Shibuya. There are huge ads everywhere, massive panels and just so much to look at.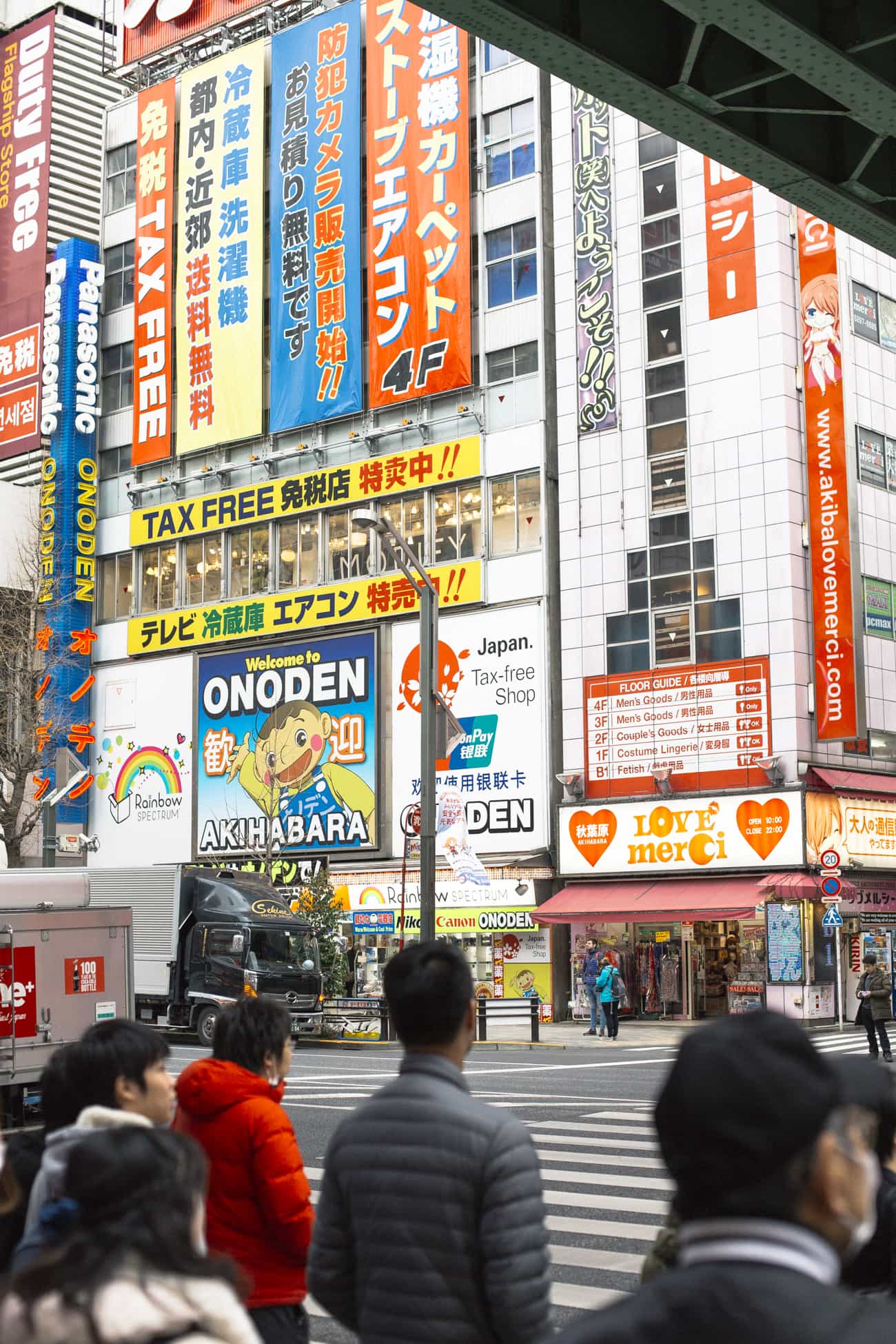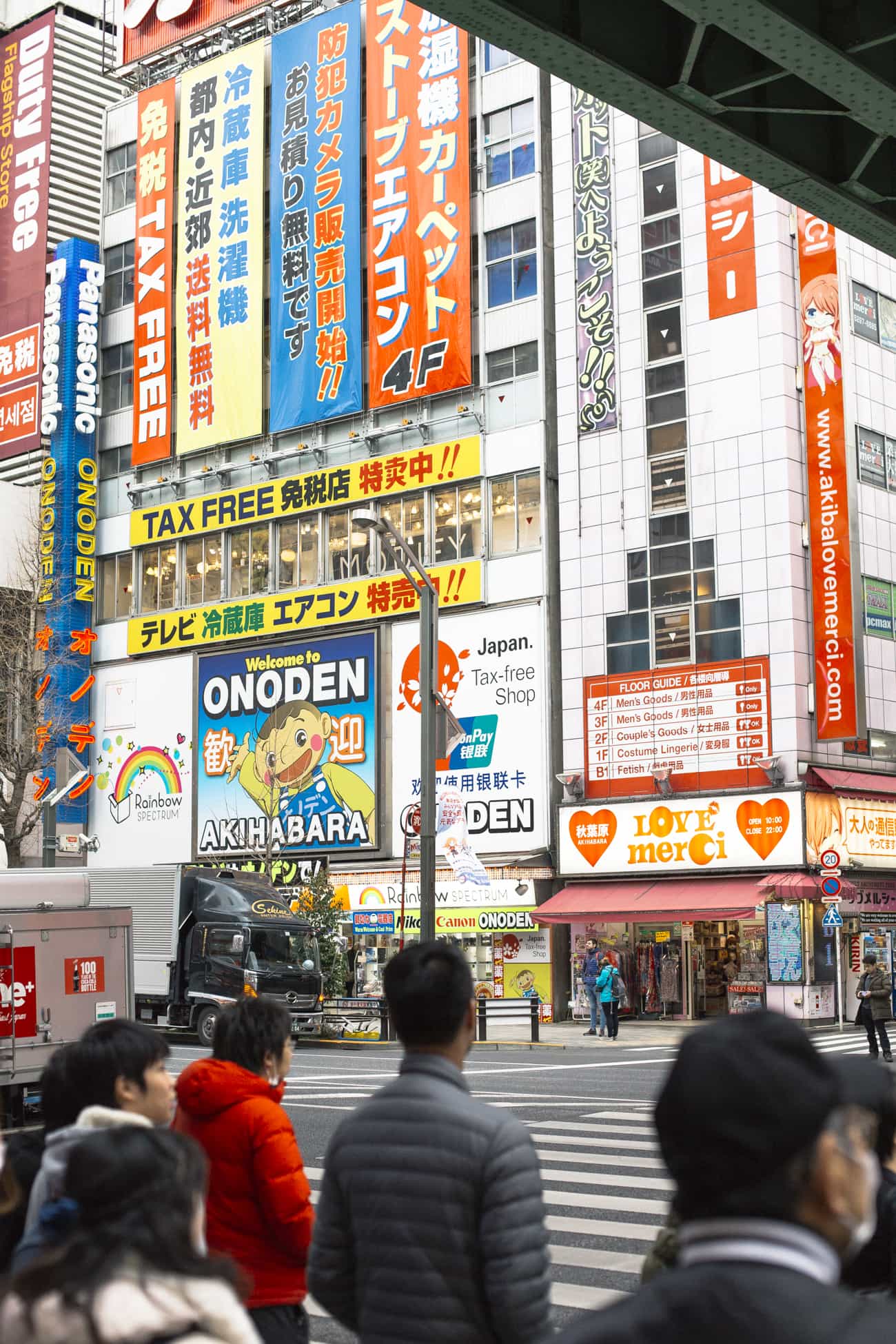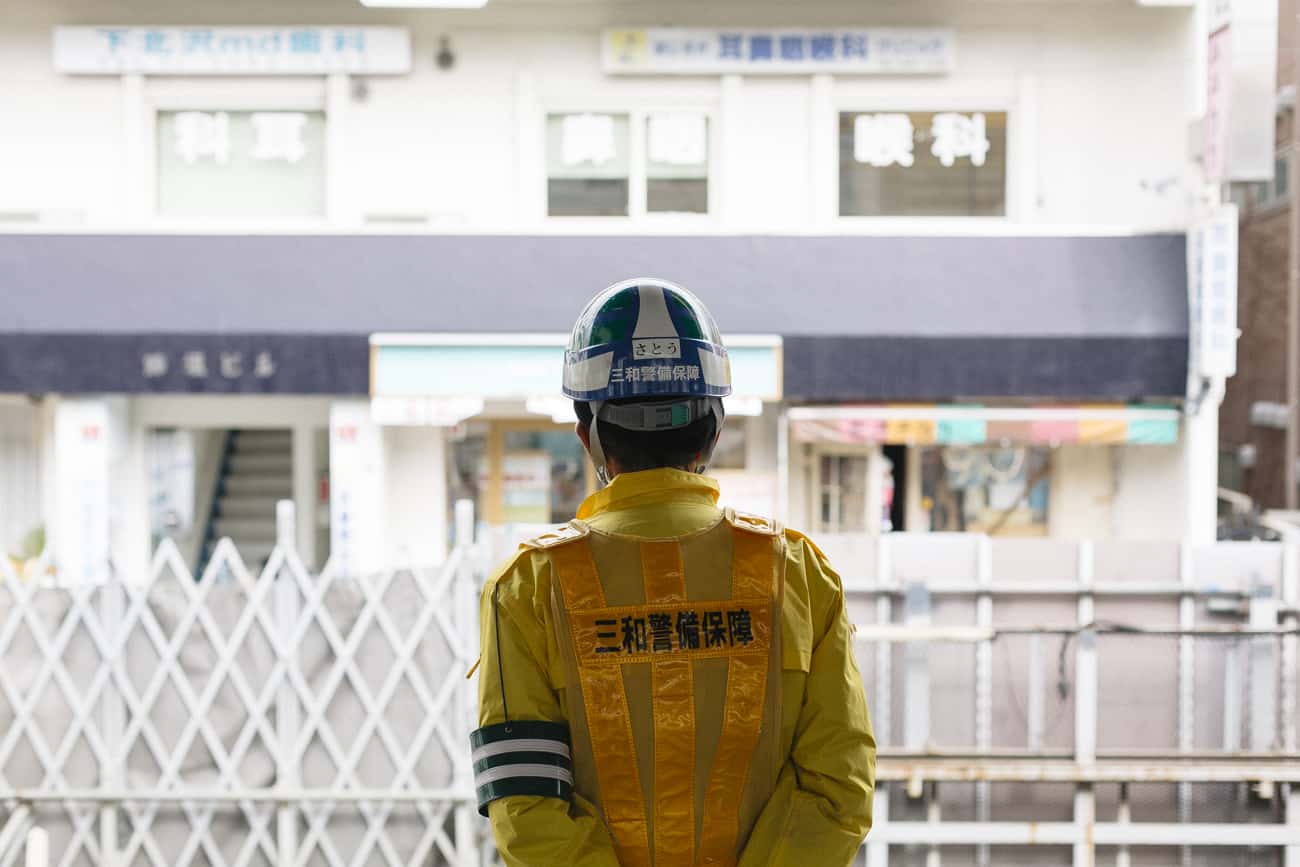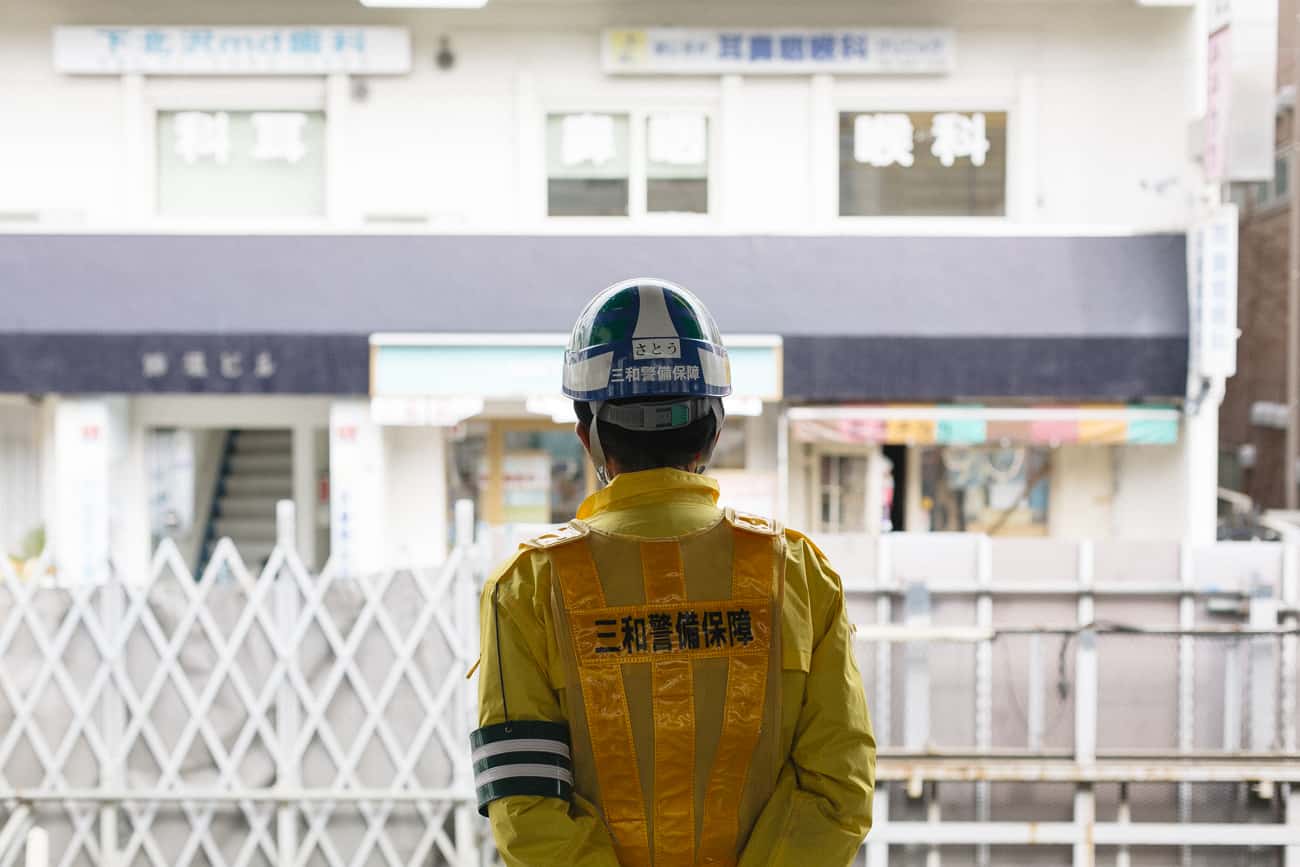 On day 3, we walked towards Daikaniyama. This is a very fashionable, artsy area with beautiful shops and cafés.
We had a delicious apple pie at Matsunosuke N.Y., who does a variety of tasty, flaky pies and good lattes. Such a yummy way to start the day – I recommend it!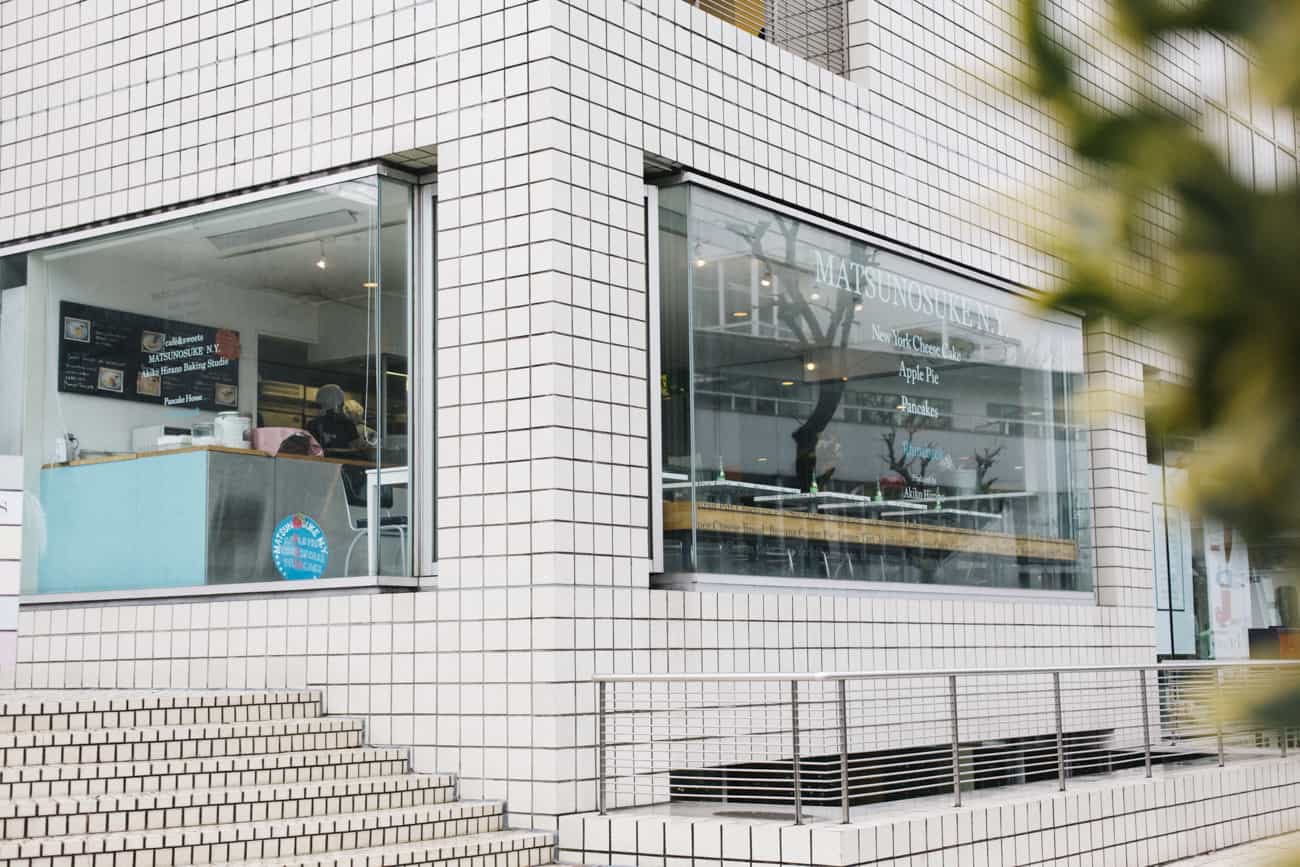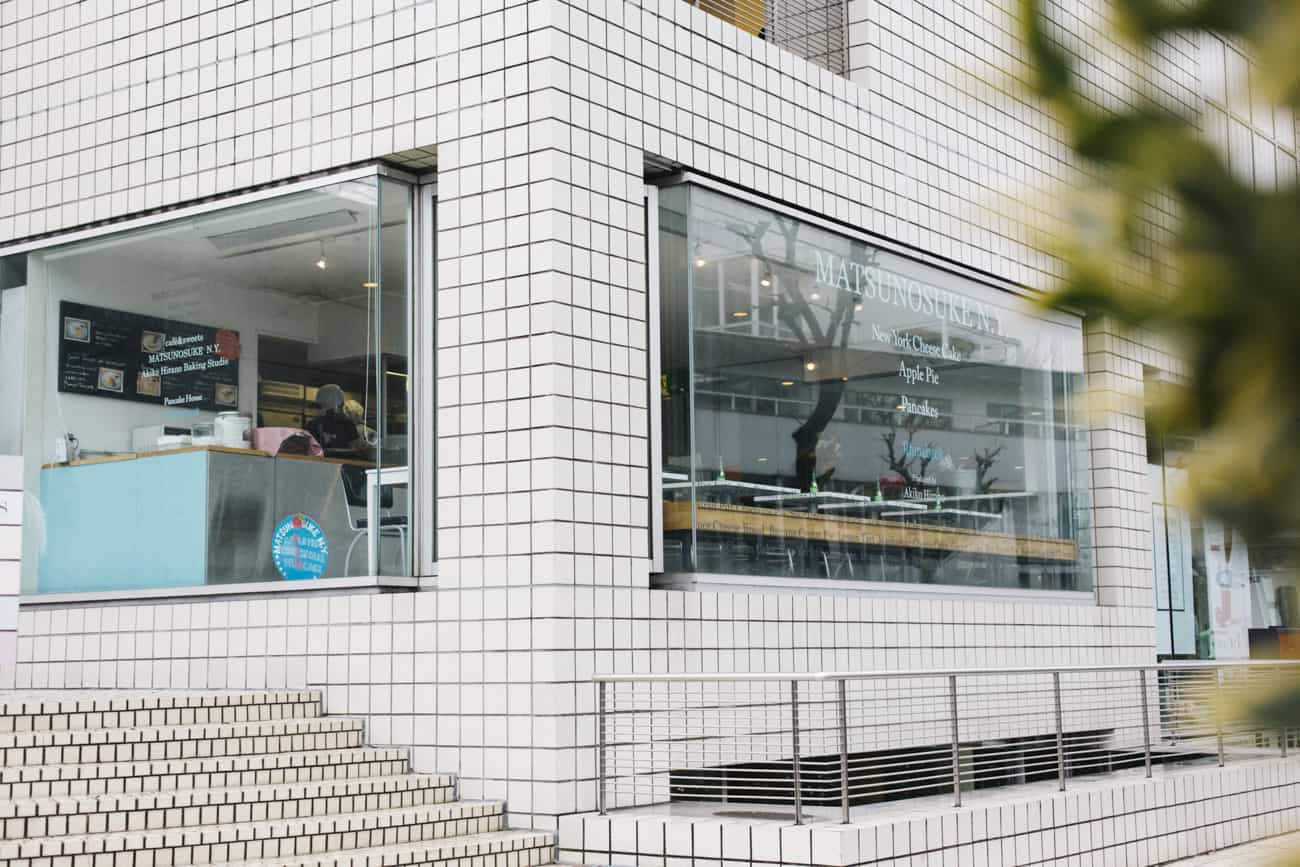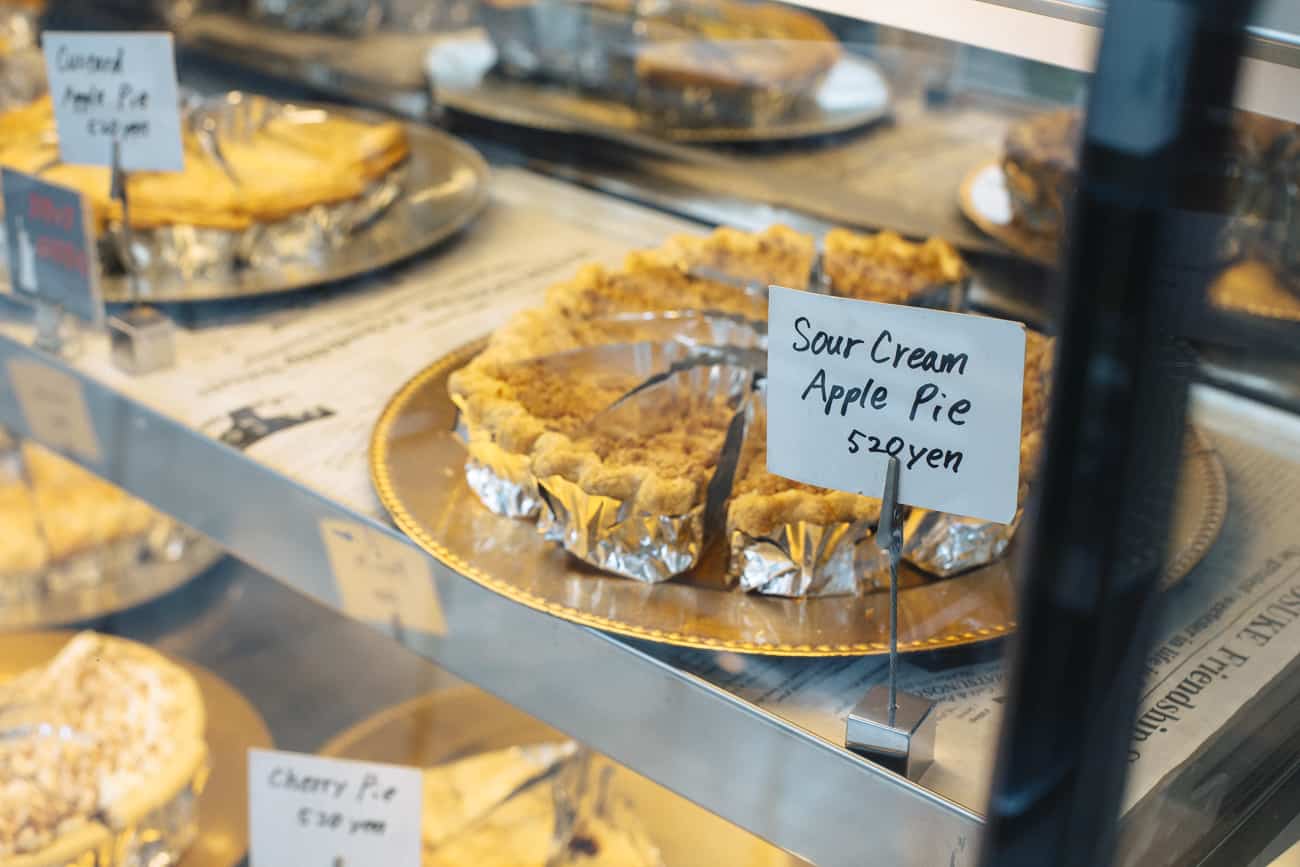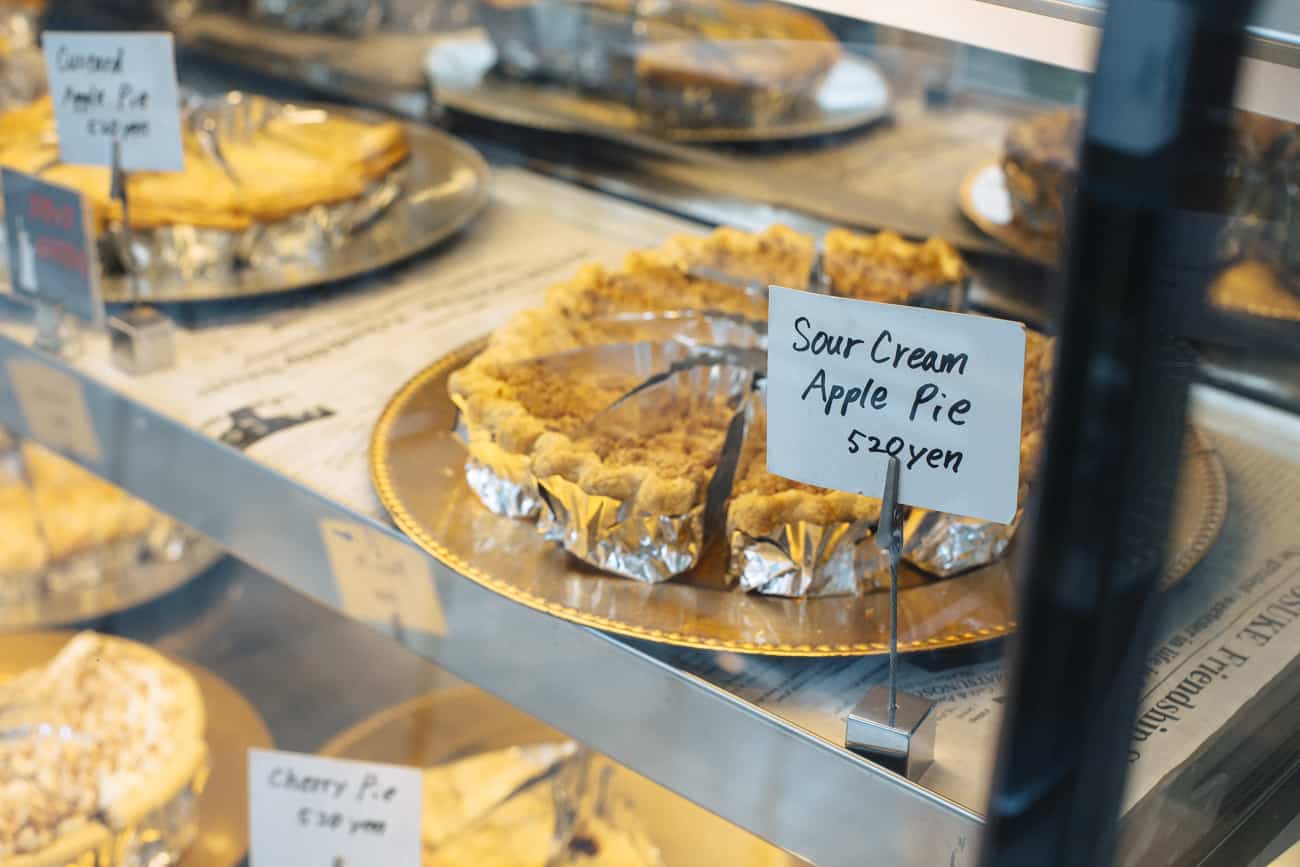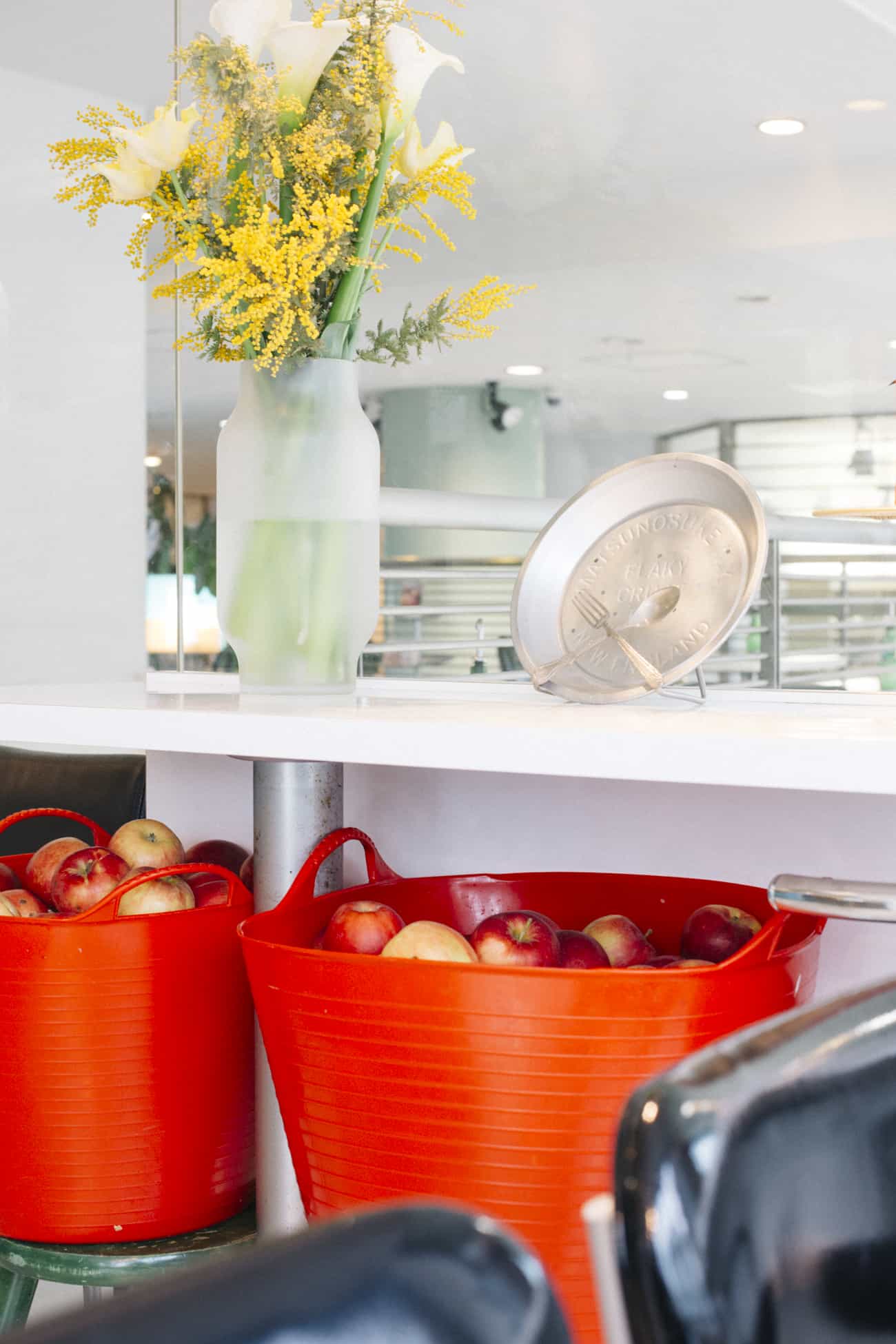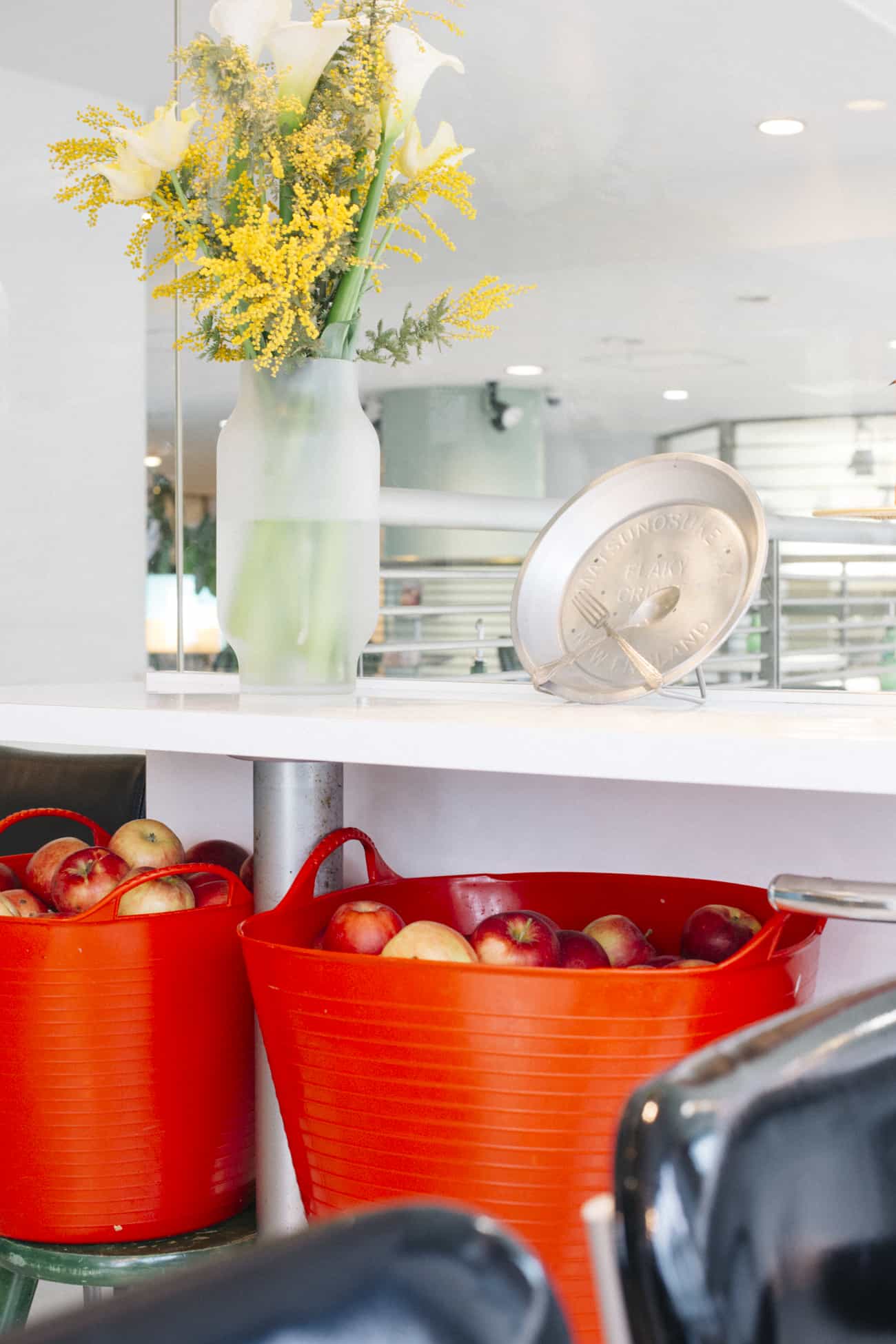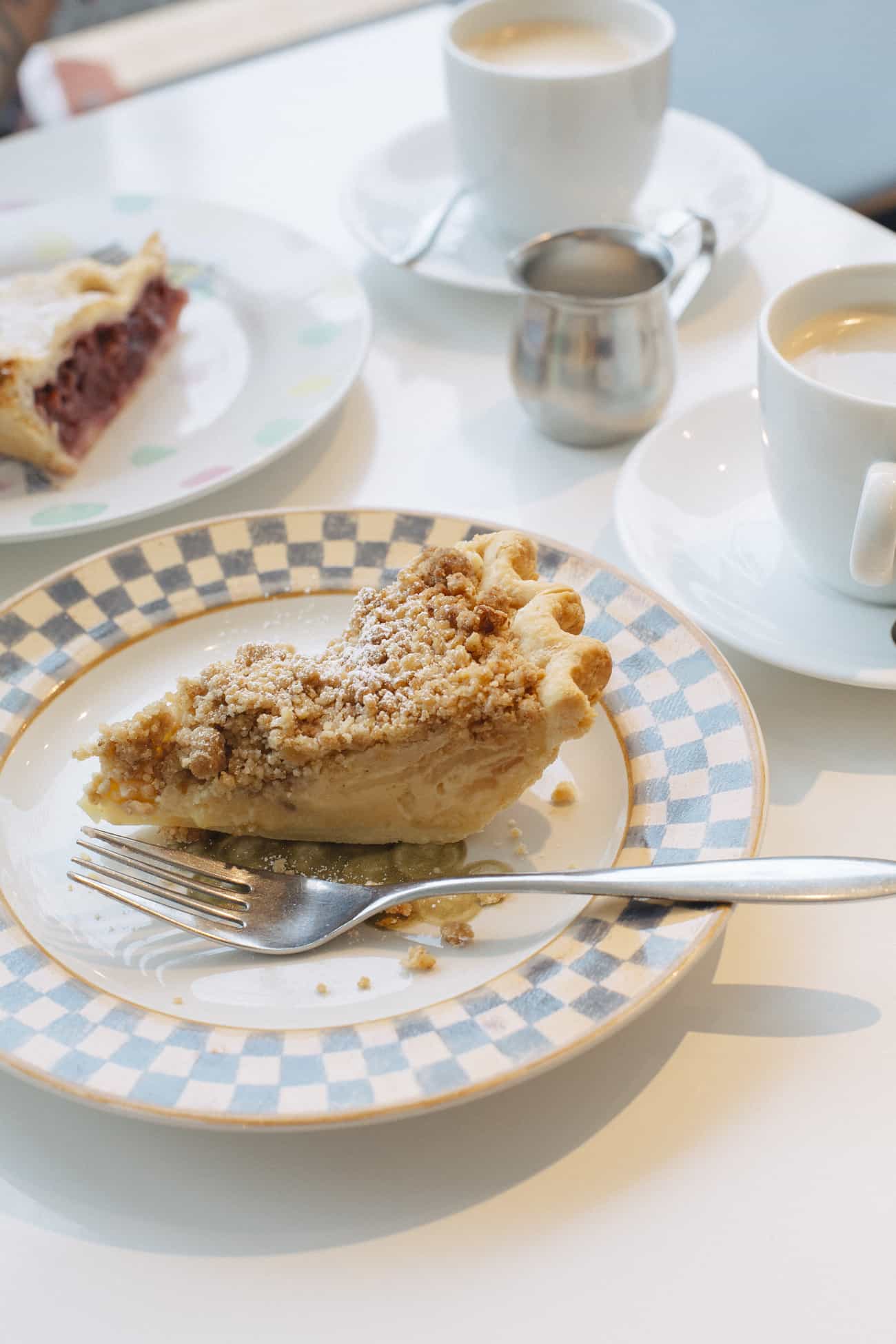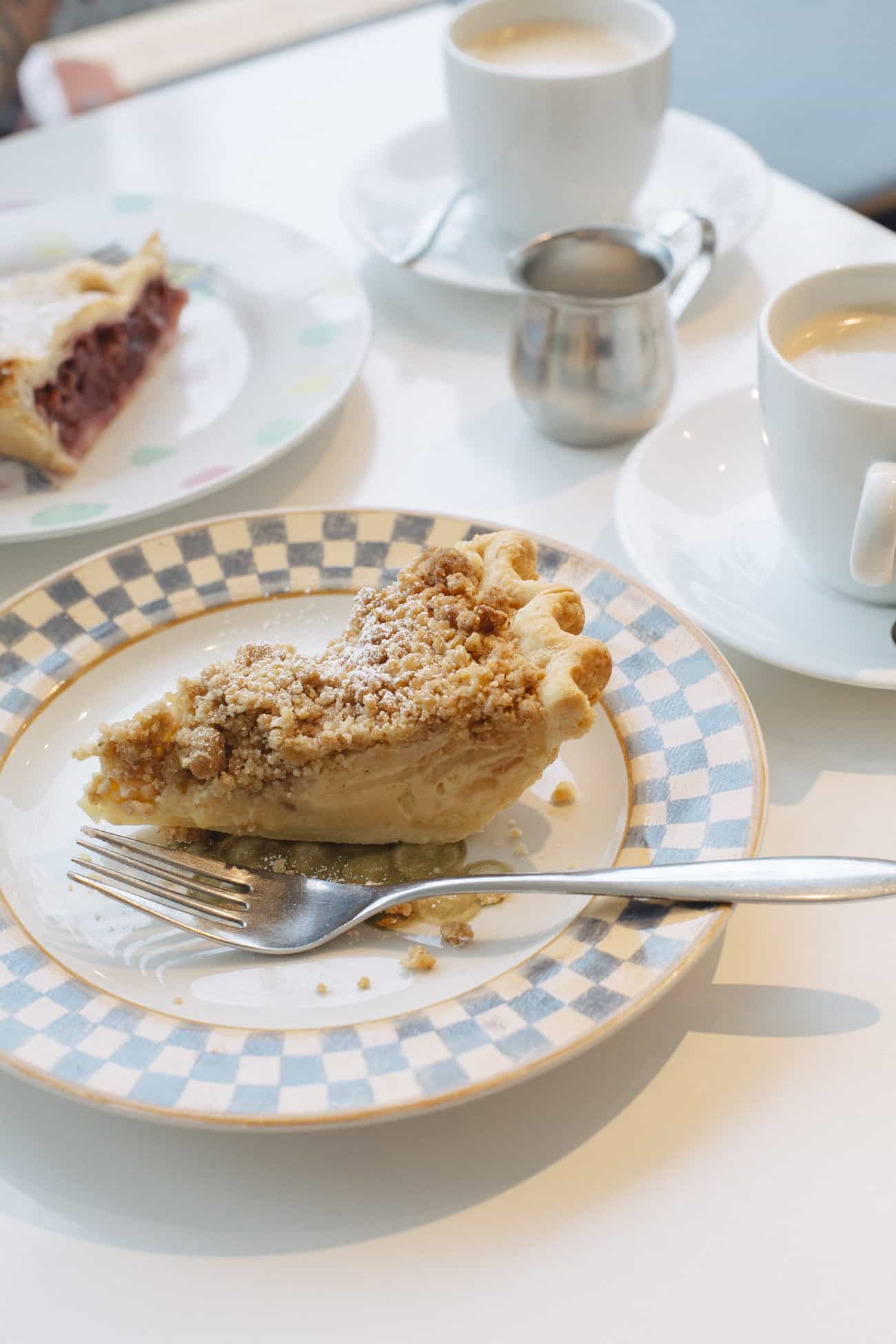 During our walk in Daikaniyama, we also discovered a beautiful shop called Tenoha. This is a multi-concept lifestyle-store that also hosts a restaurant and artsy events. The main shop has beautiful japanese design items – it was so good for us to go through it and have a look at everything because it was extremely inspiring: jewellery, cosmetics, home decor, food… Everything had this quintessential, minimal japanese aspect. The packaging of these products was also a huge design inspiration for us.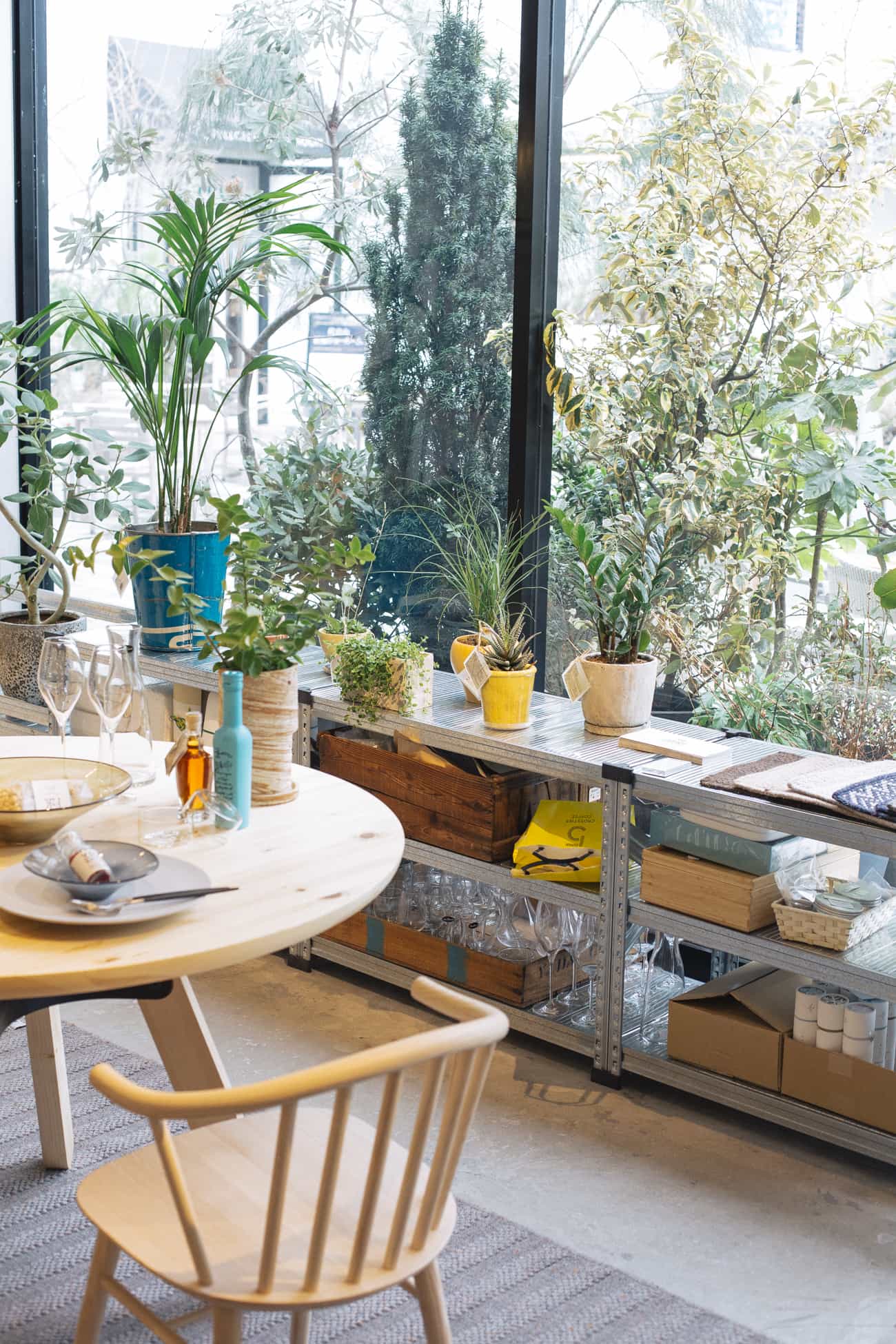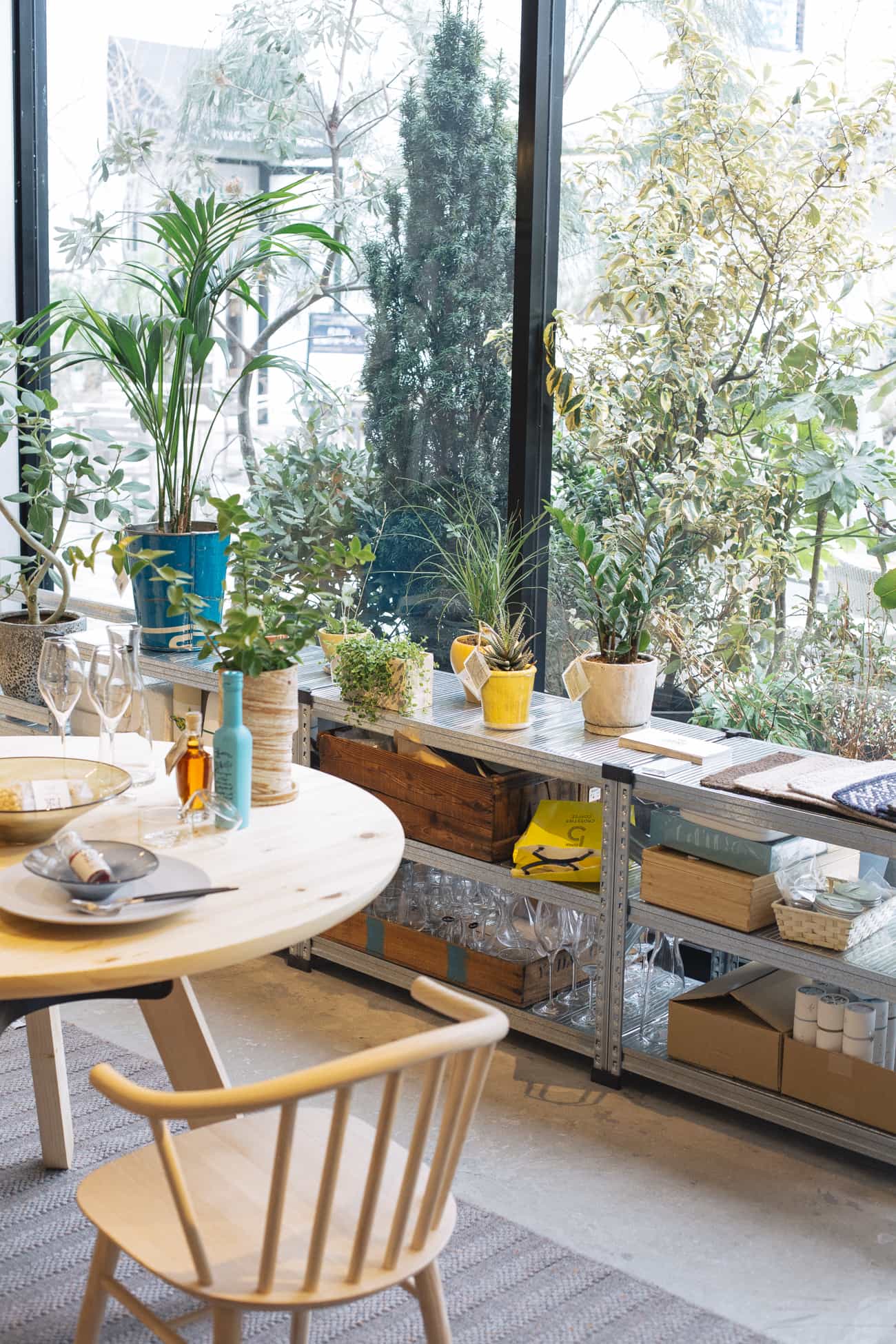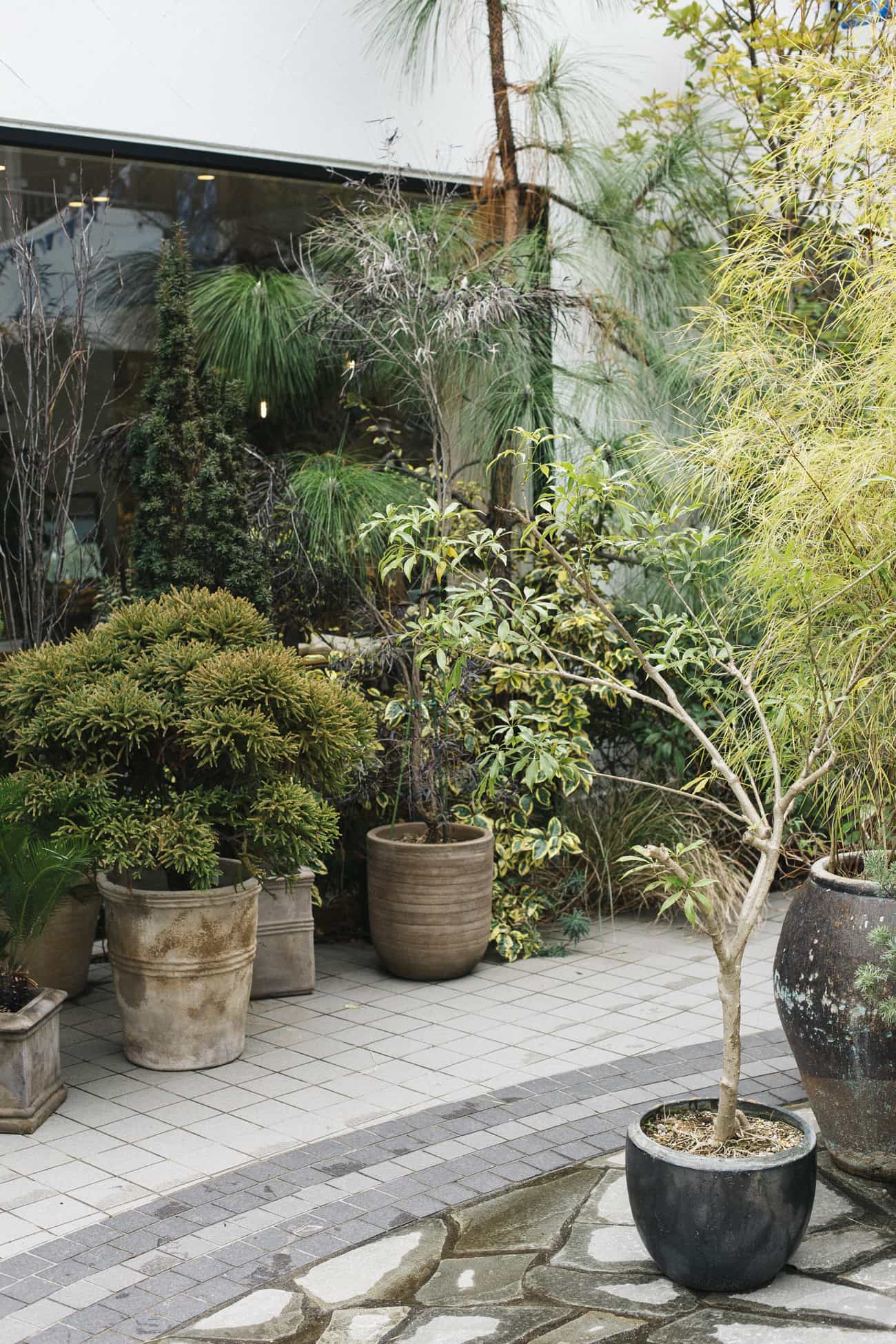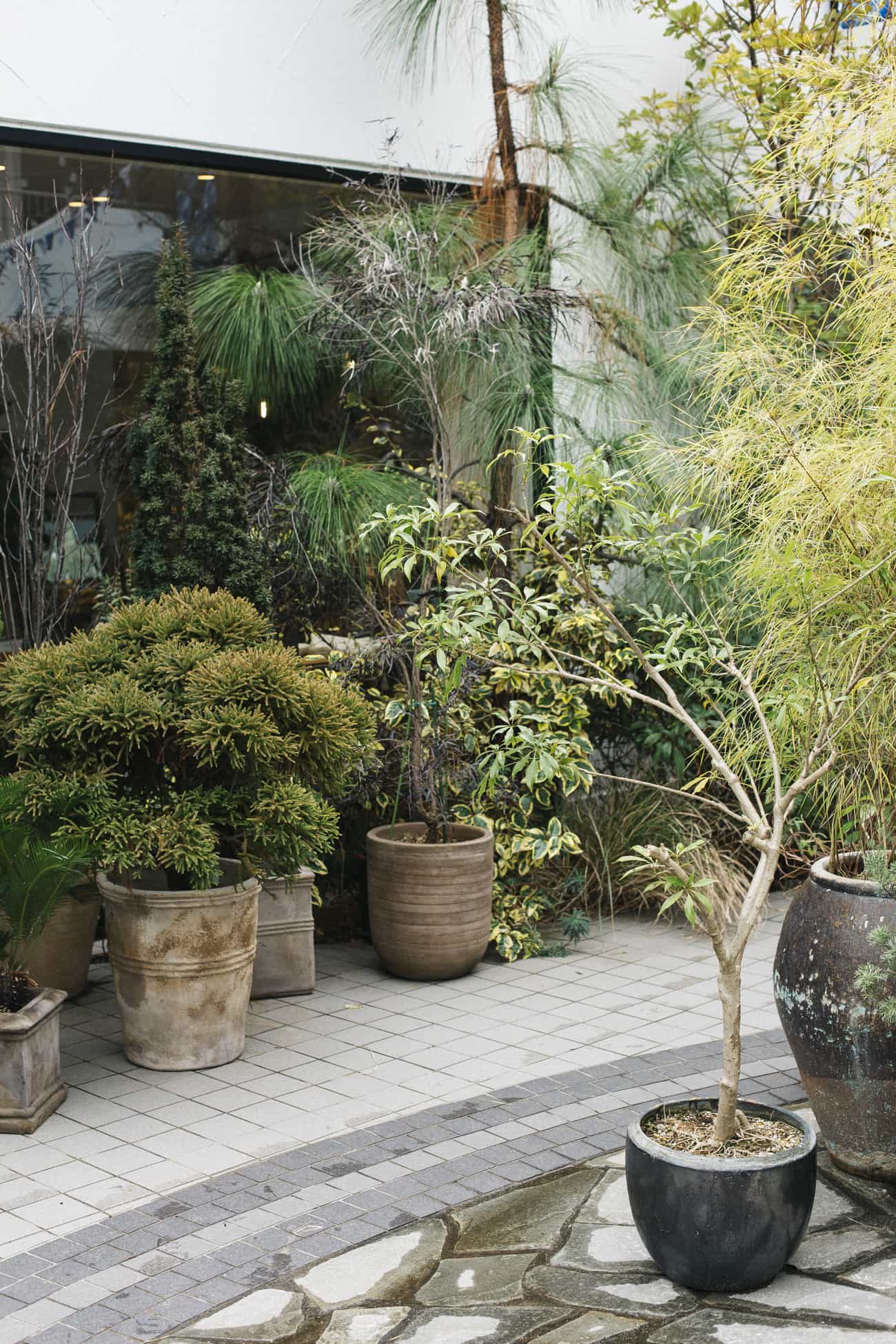 As we were walking back towards Shibuya, we went up to the Hikarie building and found a design exhibition on the upper floors (japanese design was definitely speaking to us on that day). There was also an epic view from up there.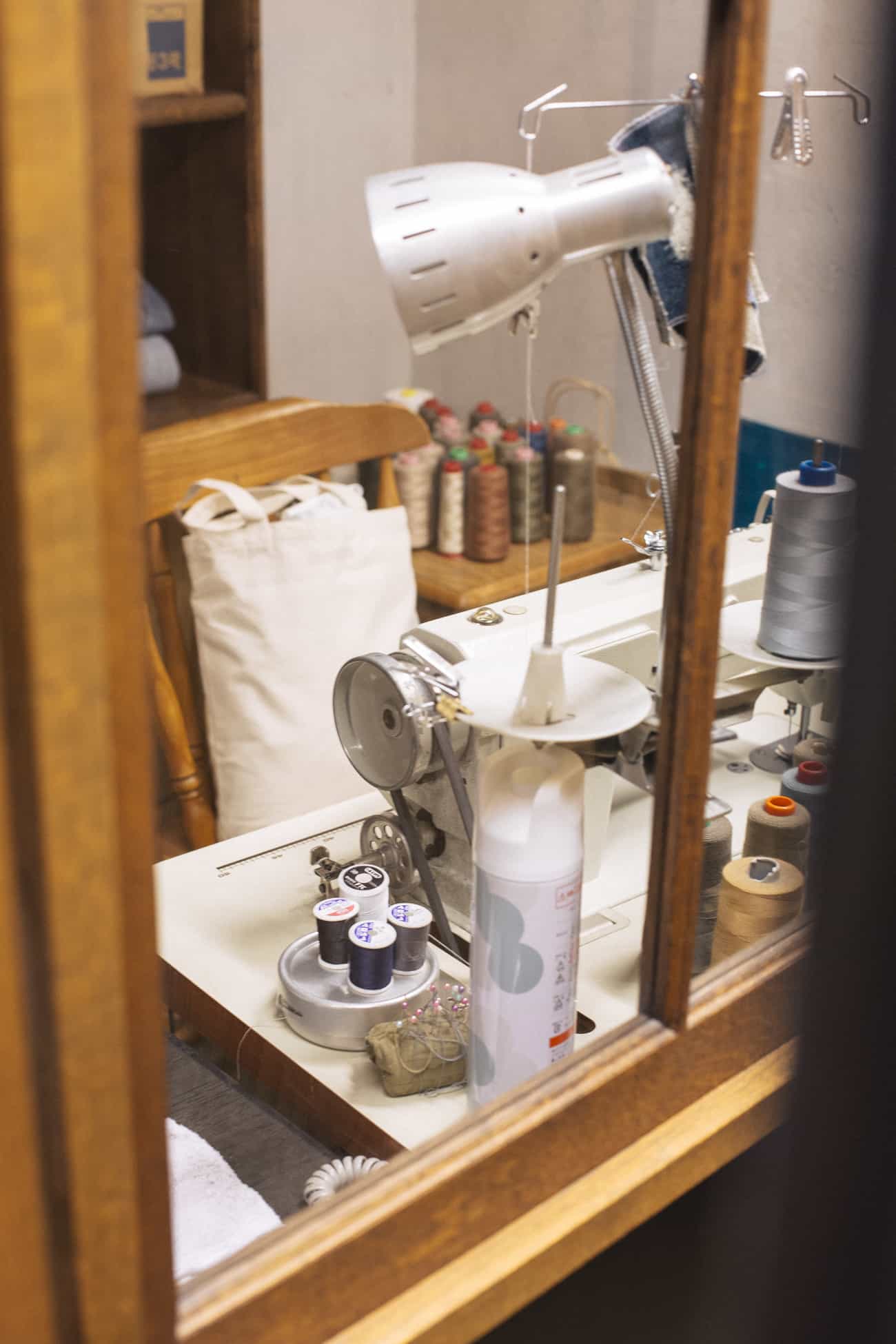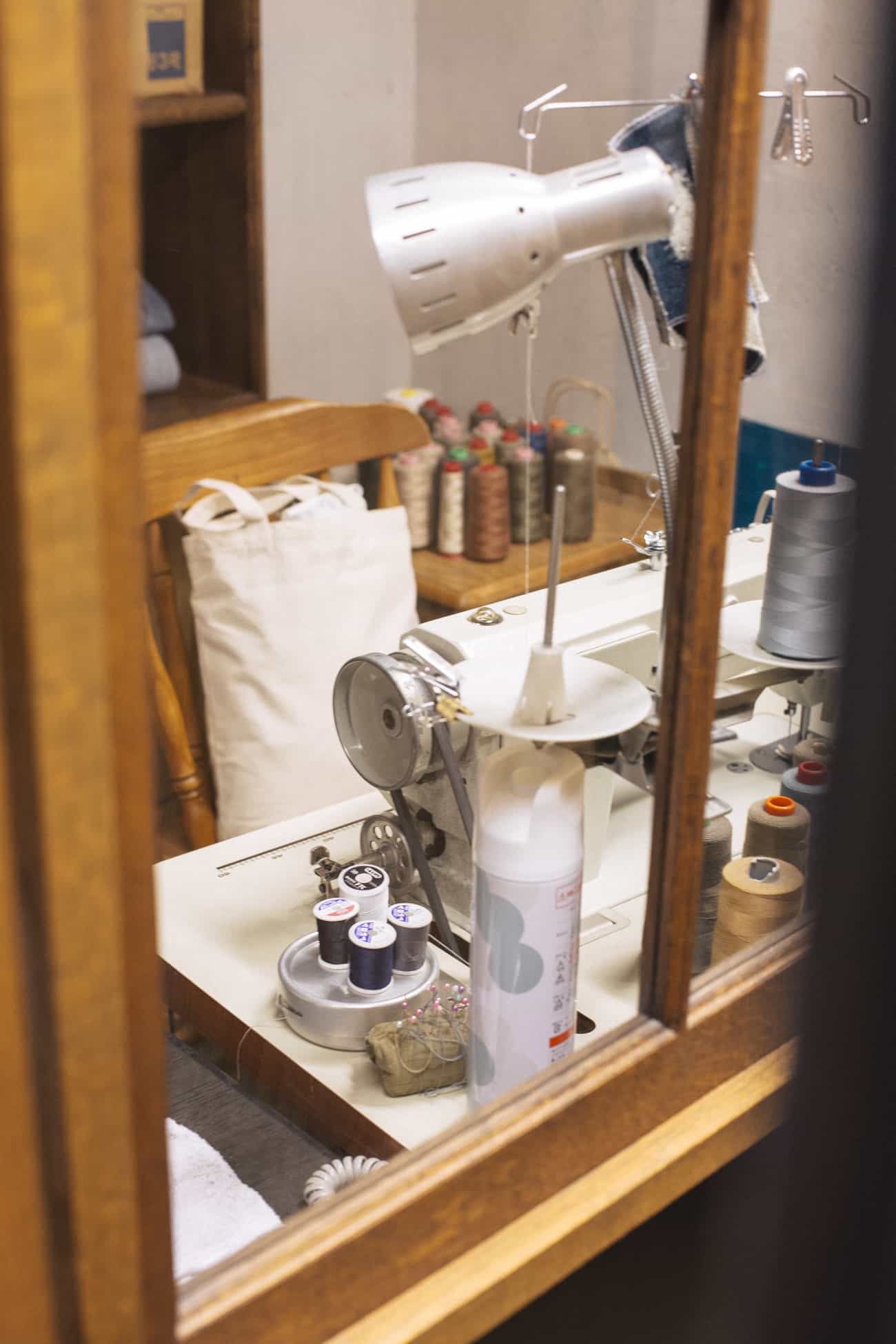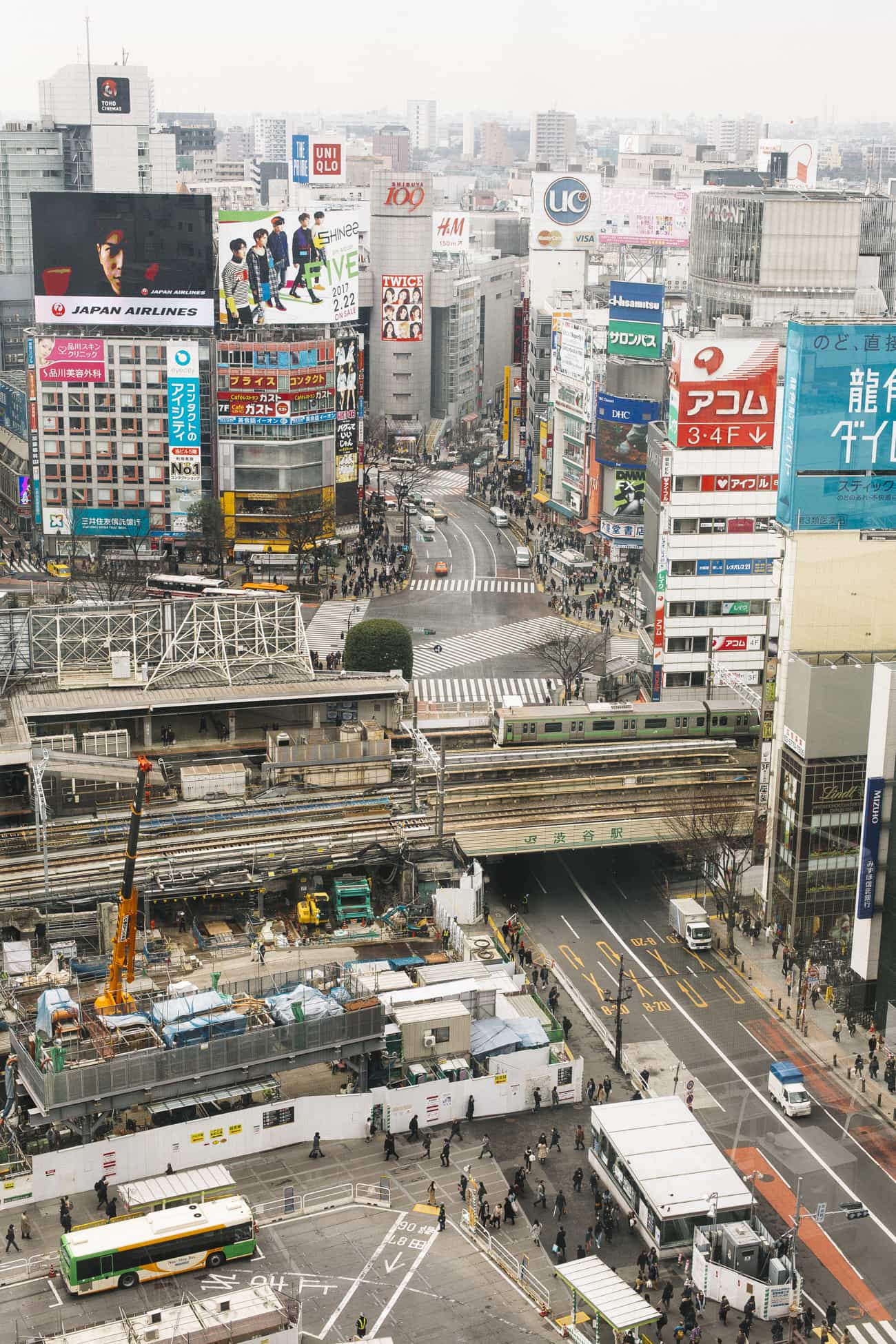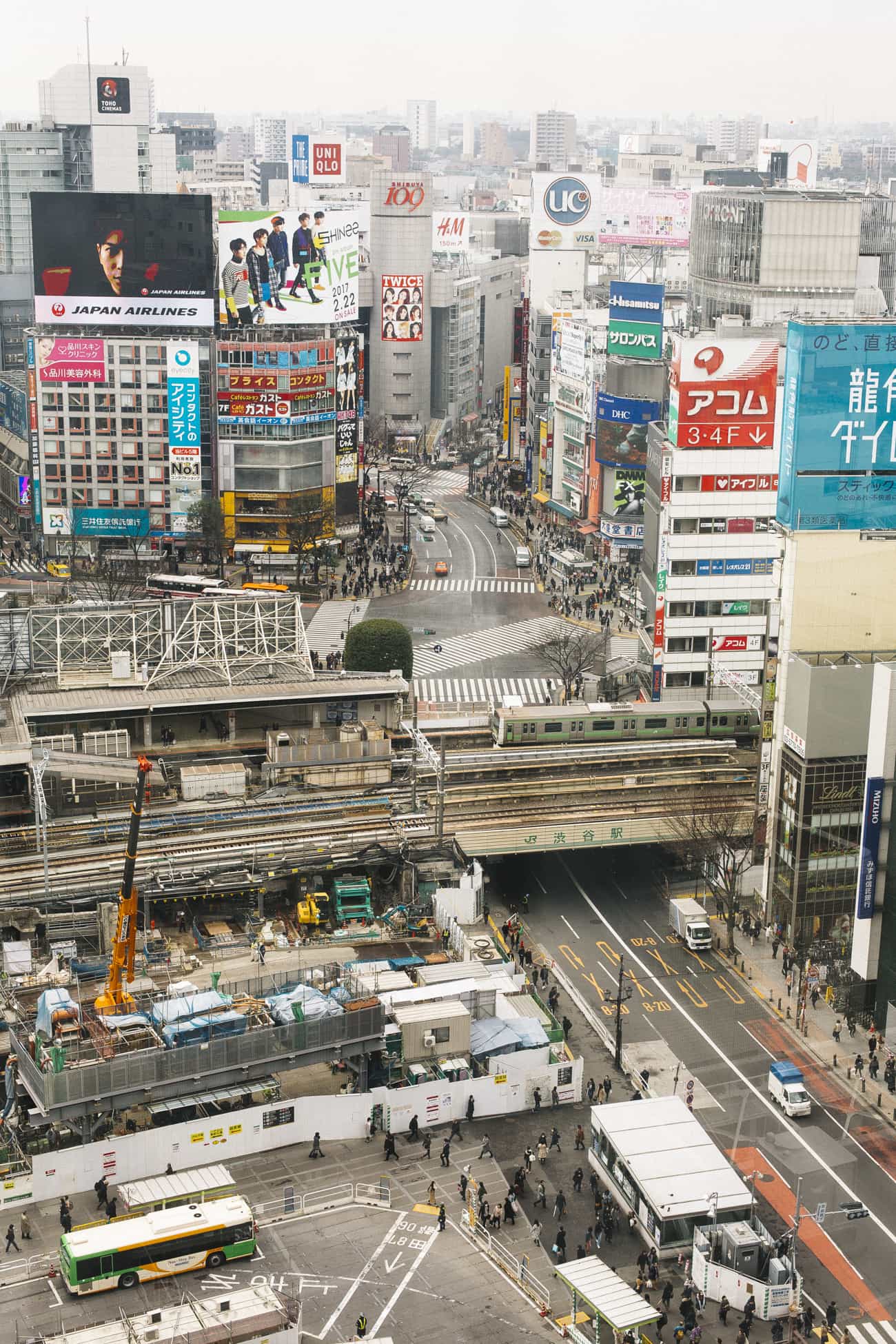 A thing not to miss if you're travelling in Japan is okonomiyaki. Japanese food in general is amazing, most people do know that. We did have some ramen, sushi and other local dishes, but making Okonomiyaki is something different, because it's a humble and underrated food. It's simple – basically a japanese mixed veg omelette, but it's fun to make. We went to a place where we could experiment and make our own (with a DIY tutorial handed to us) and it was the coolest experience!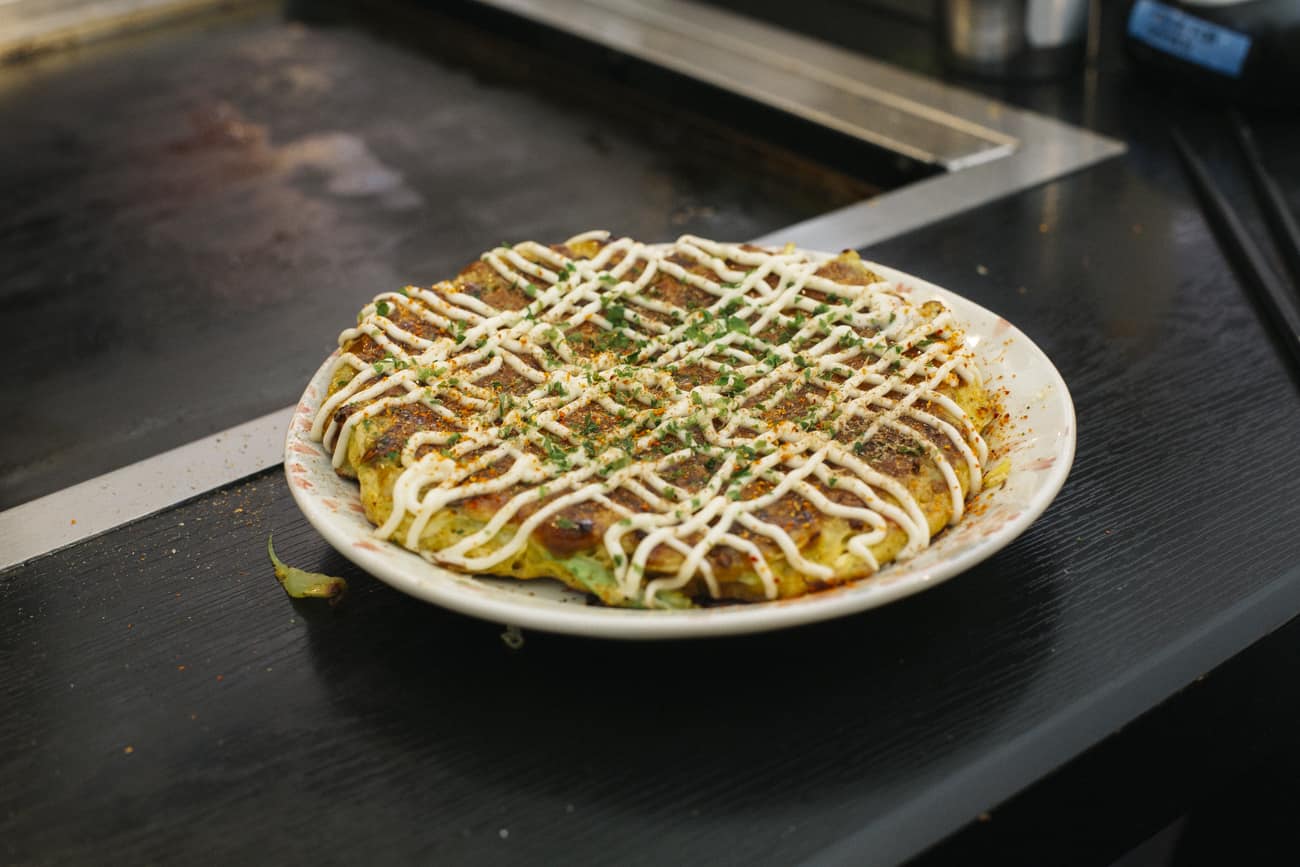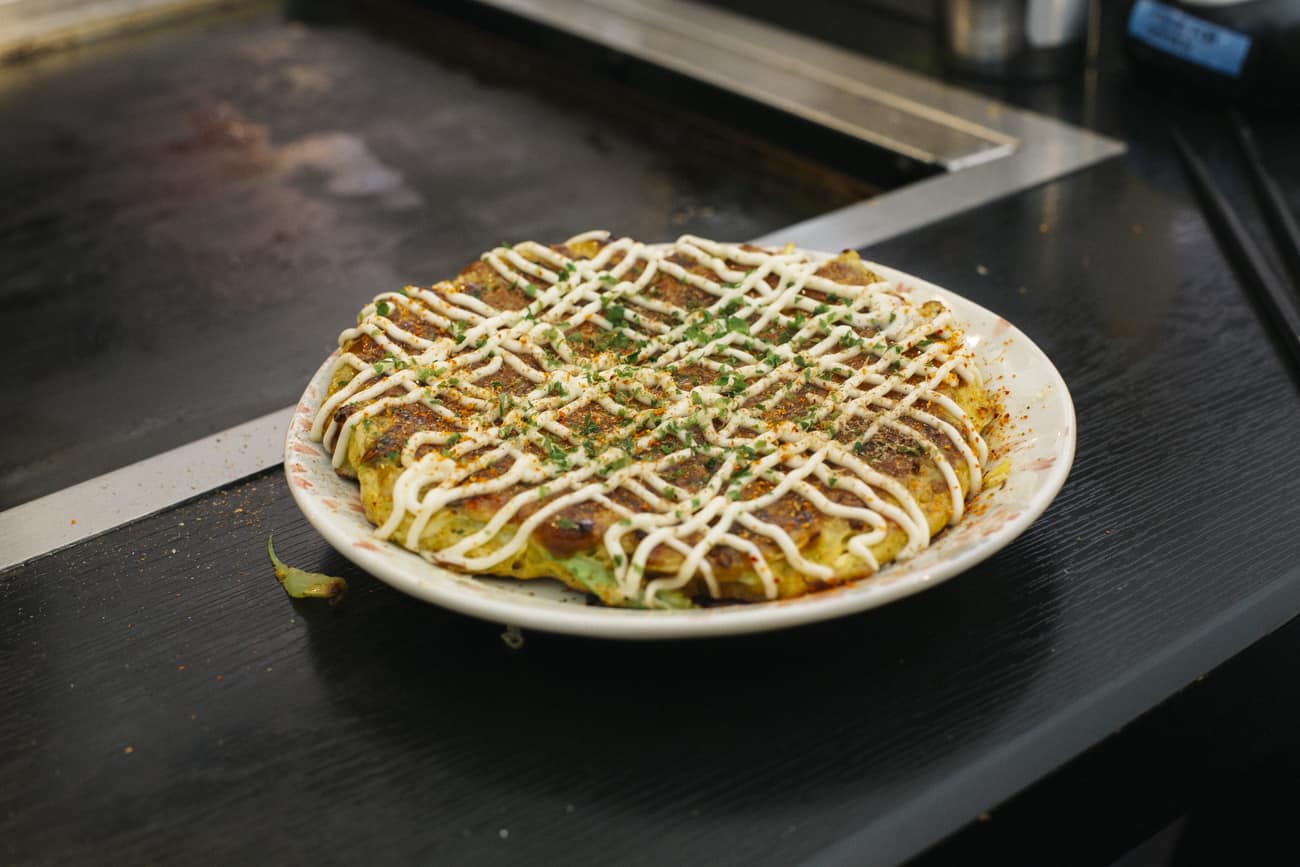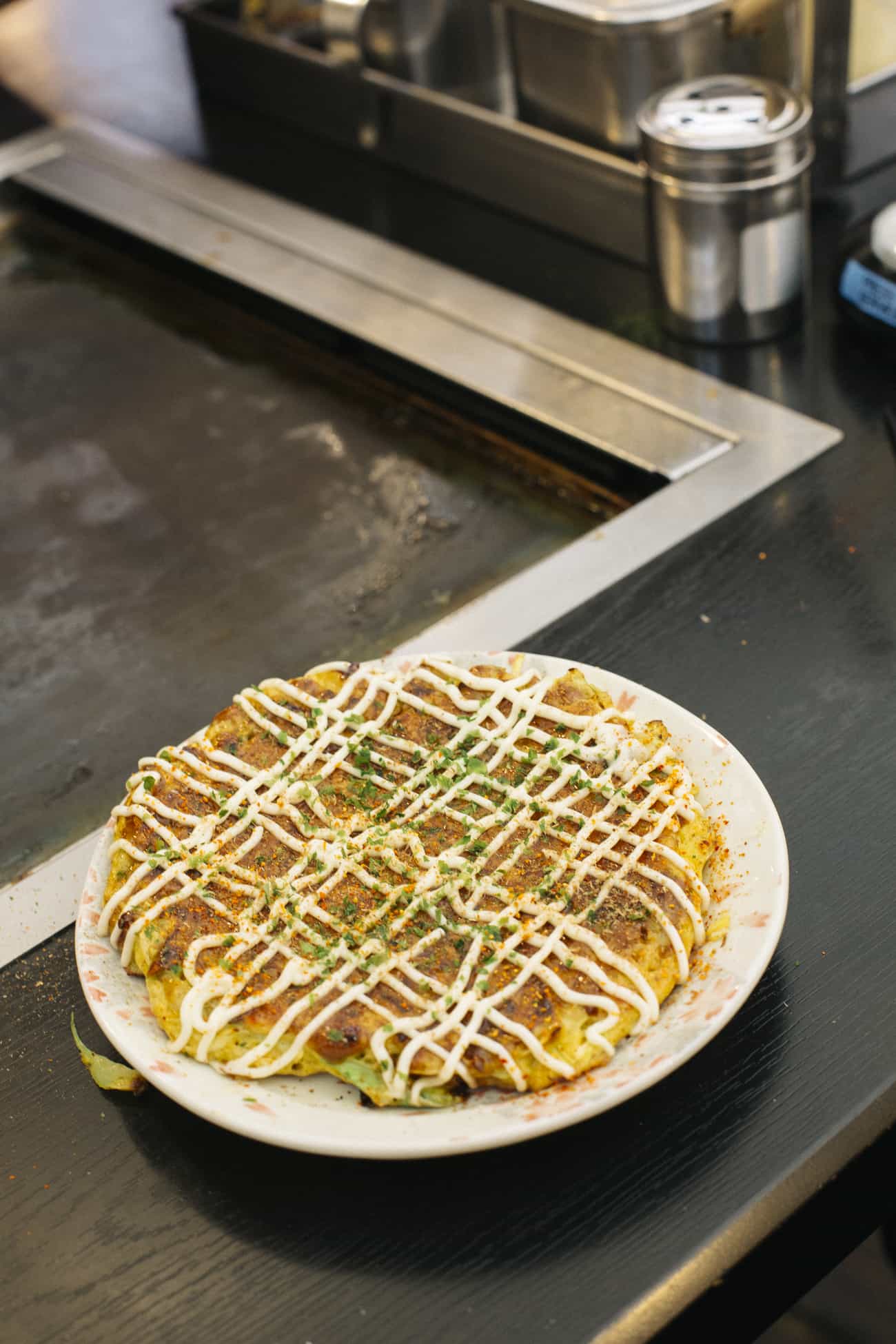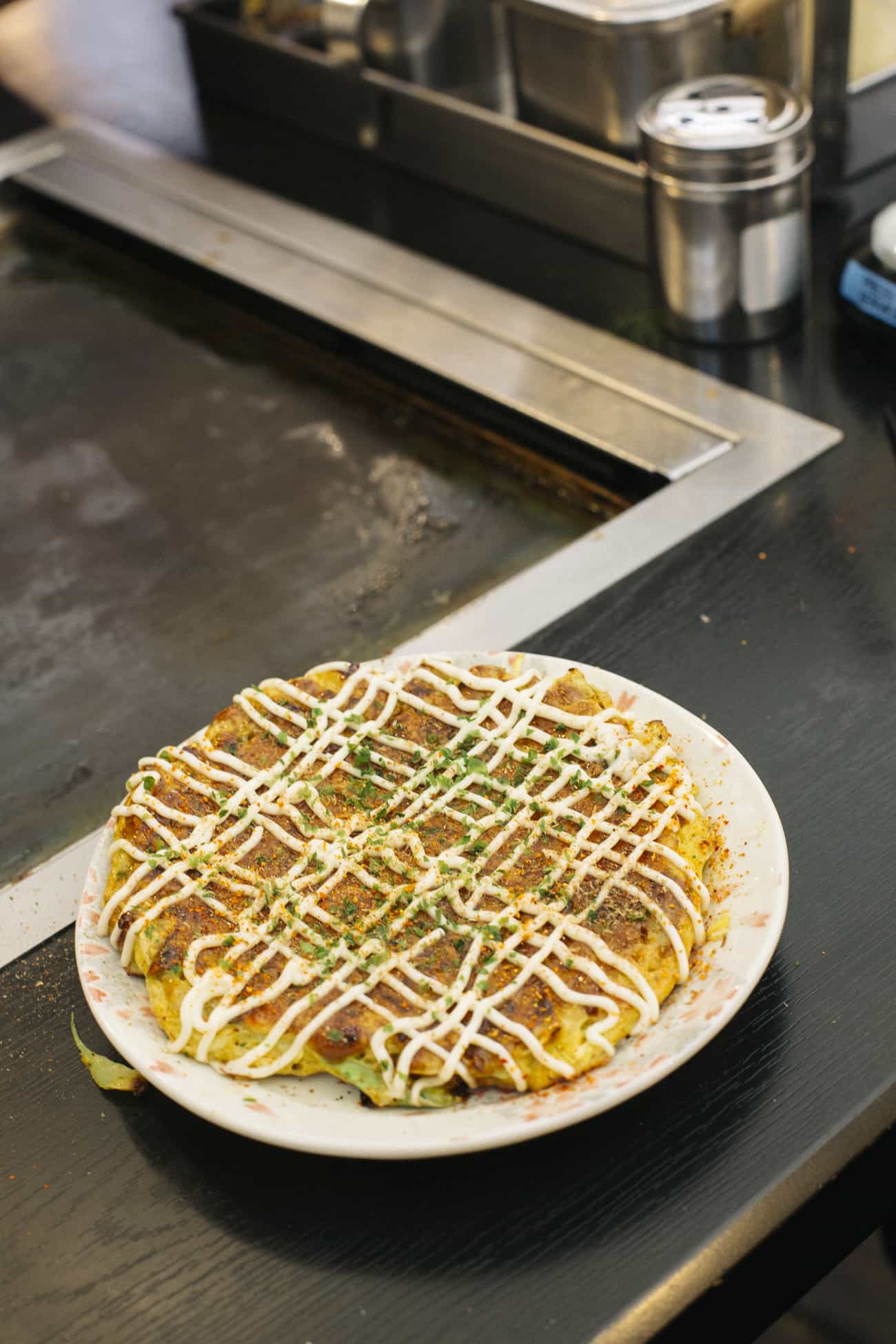 Walking around the smaller streets below Harajuku & Omotesando is blissful. There are tons of tiny cute tea rooms, eateries, independent design shops. One of the shops that we really liked was UNBY. In their Tokyo shop, you can find many interesting travel goods (including incredibly well-crafted backpacks which were hard for us not to splurge on) that are conceptualised in their design studio upstairs. These are lovely creative guys and we would have loved to get to know them better.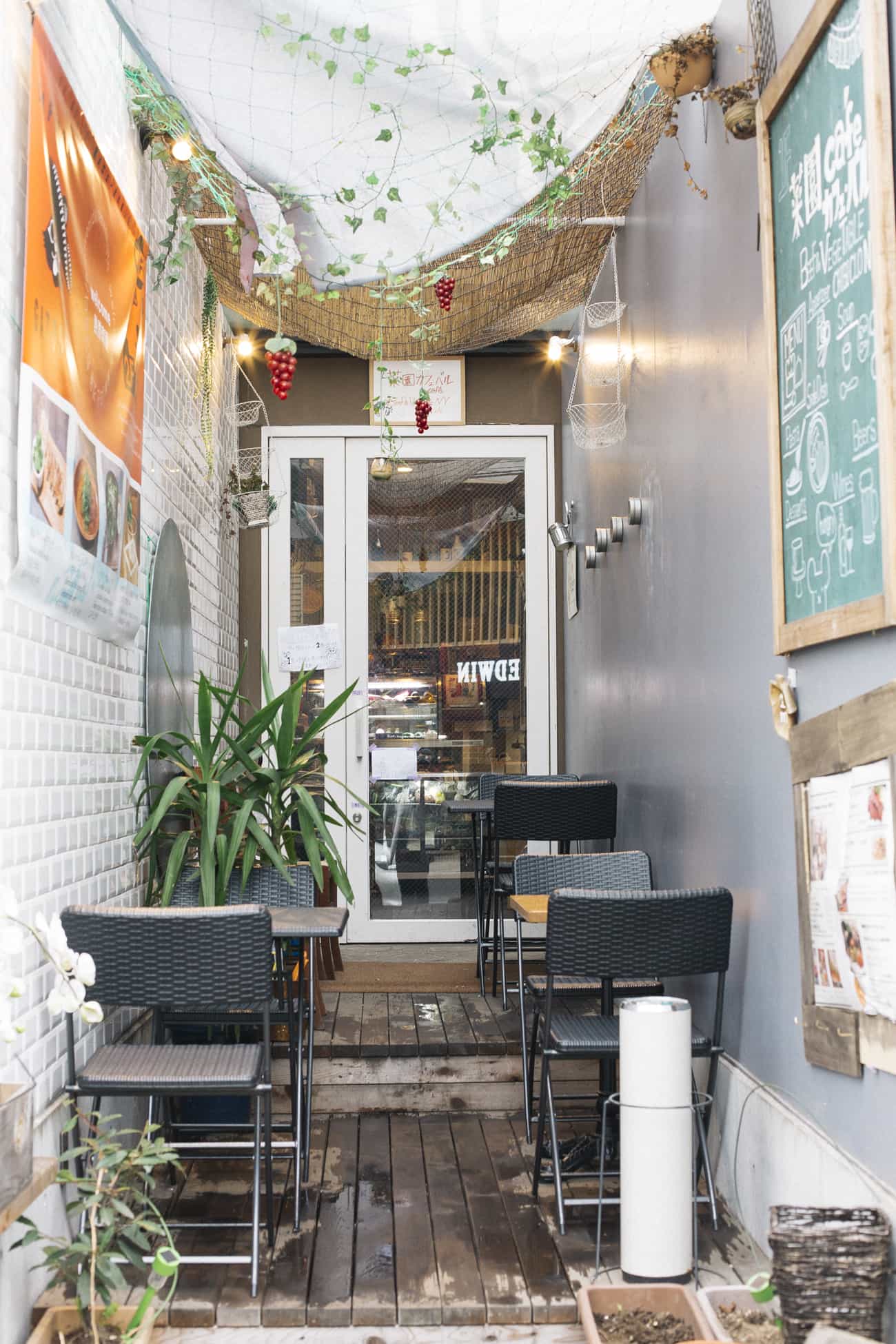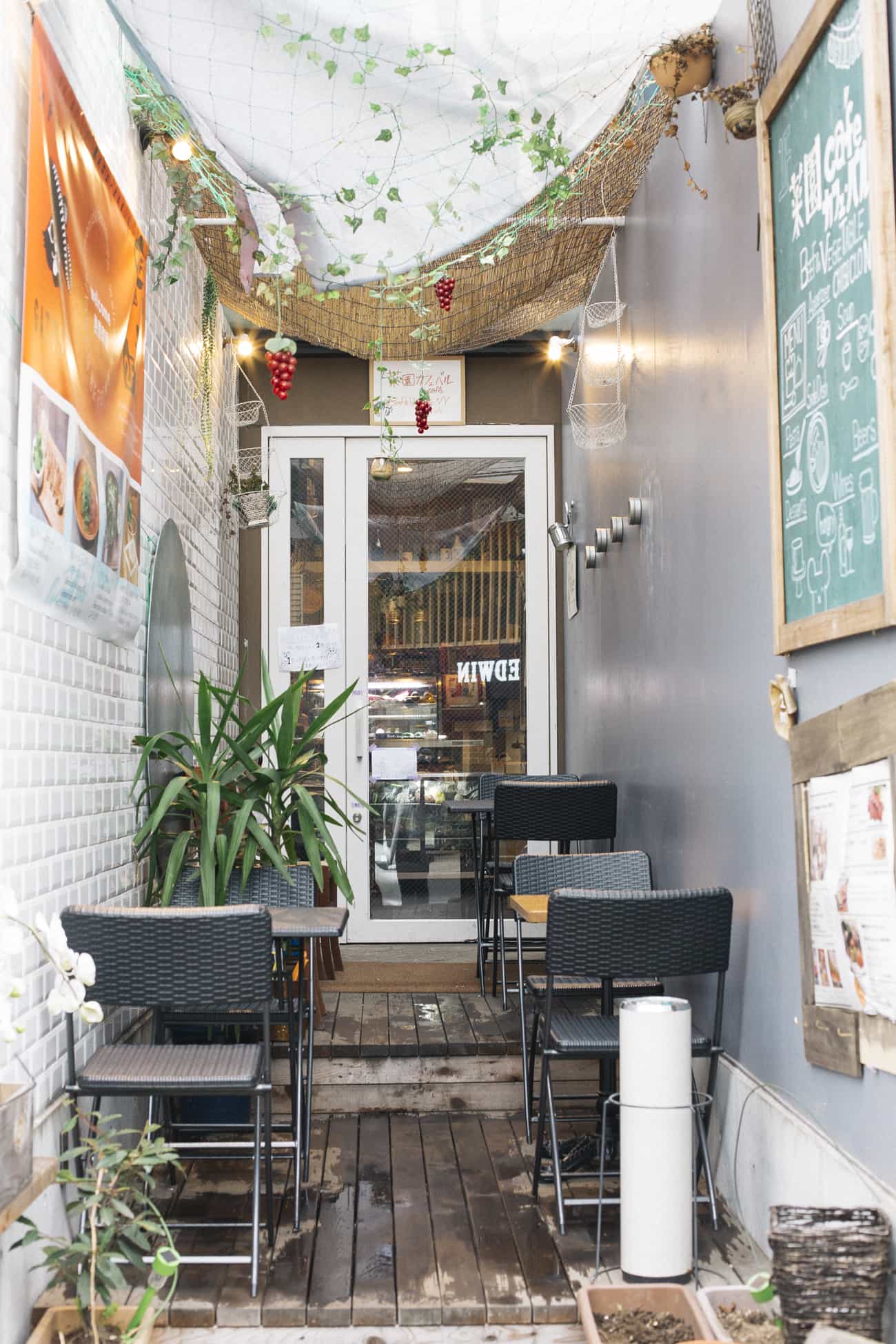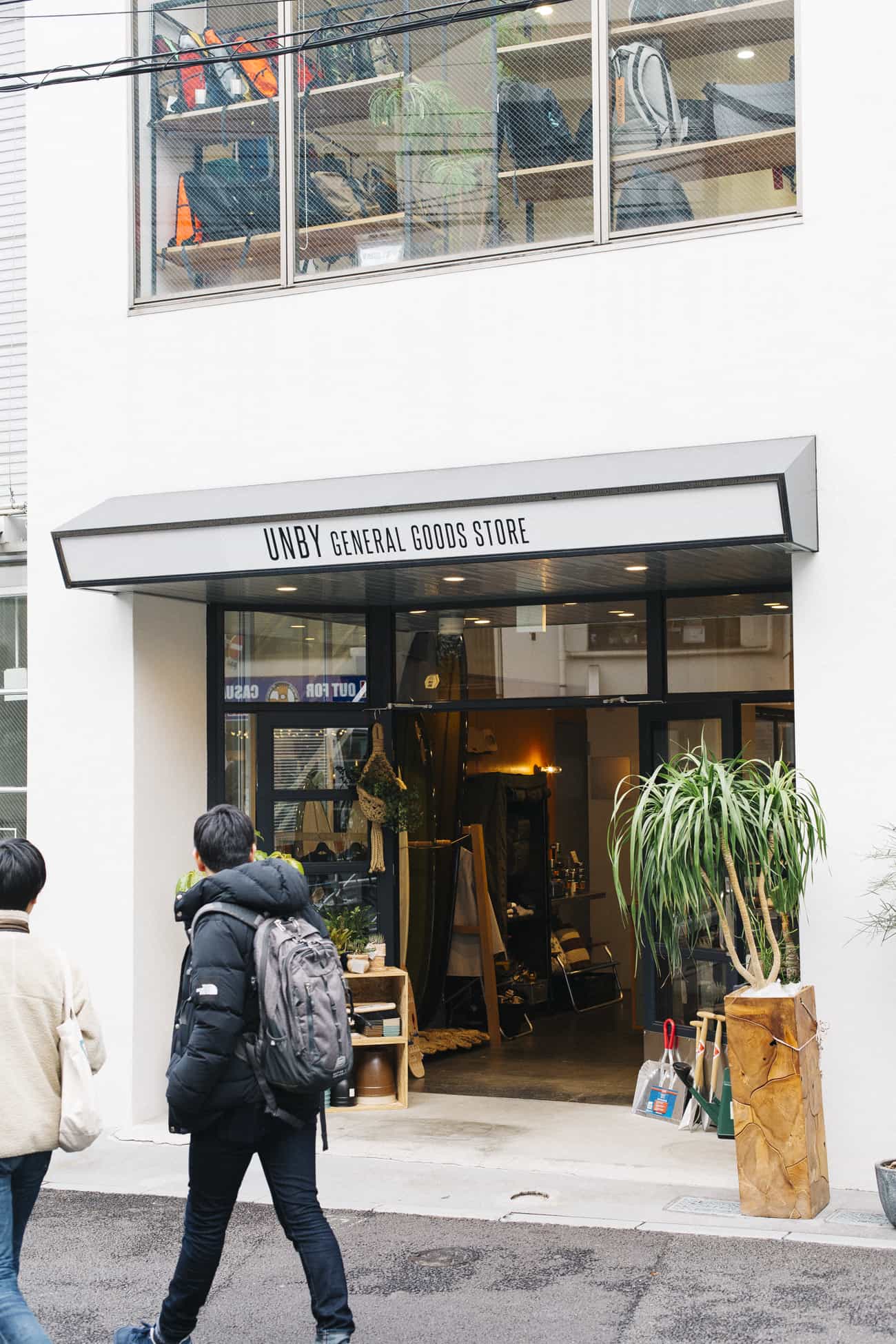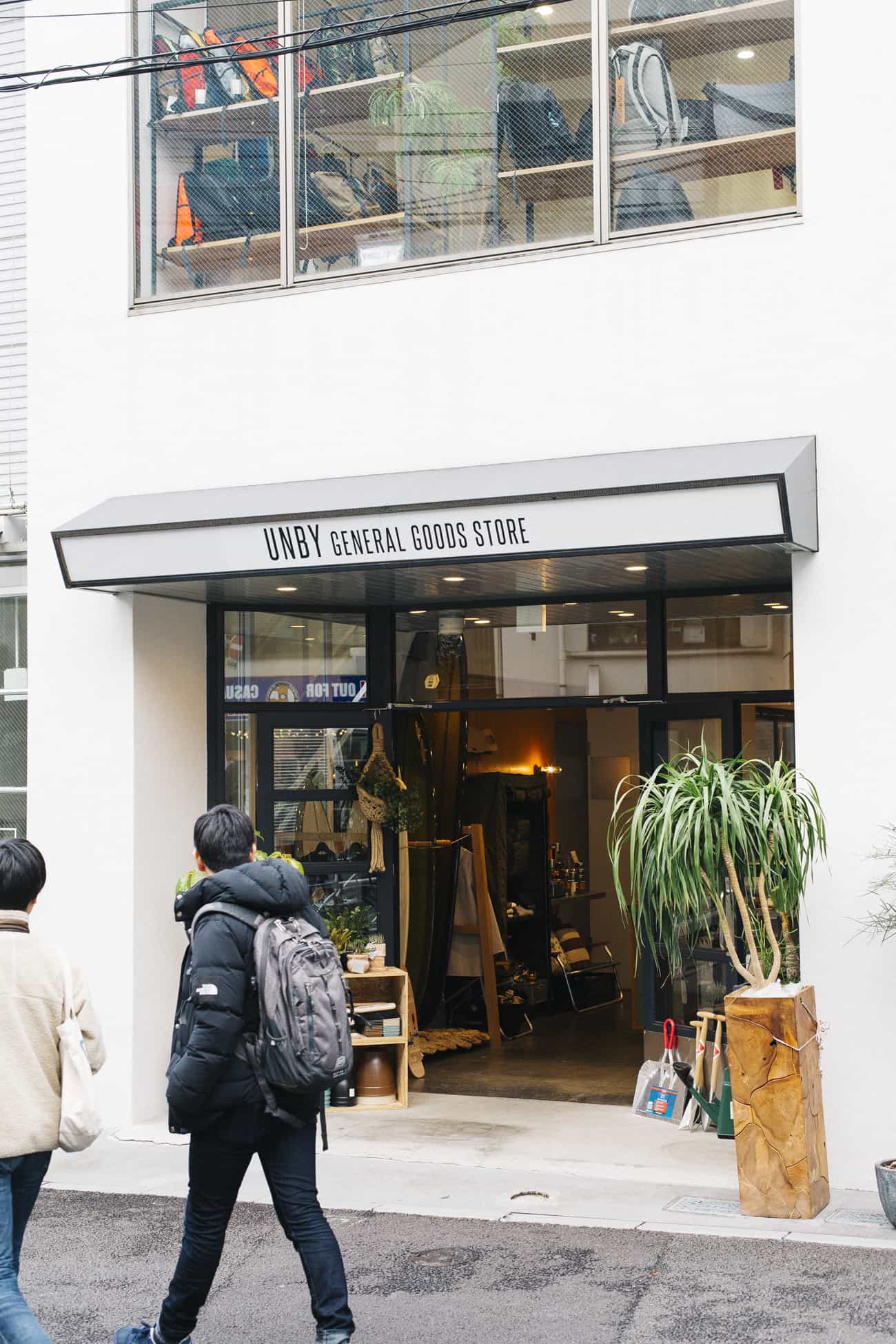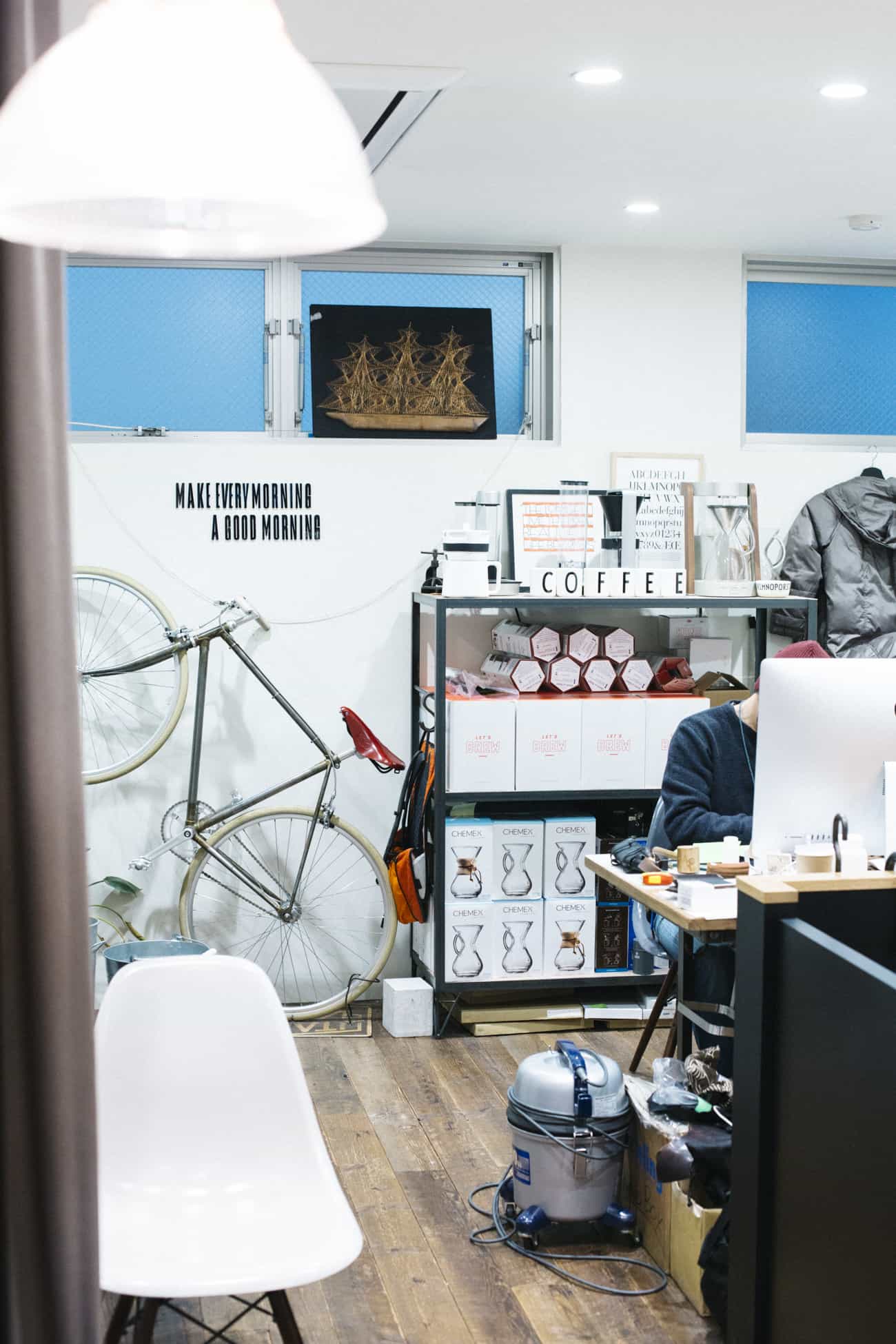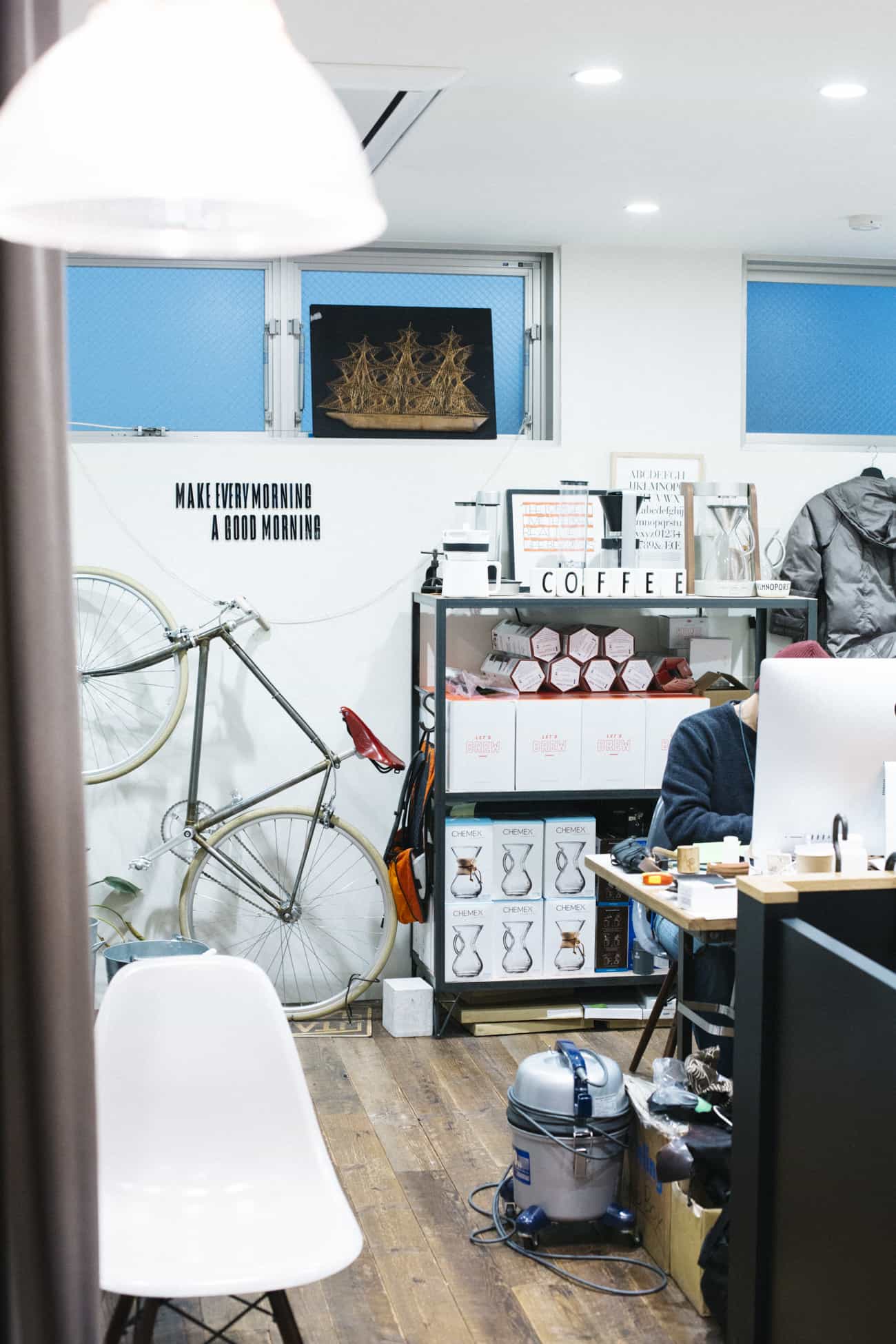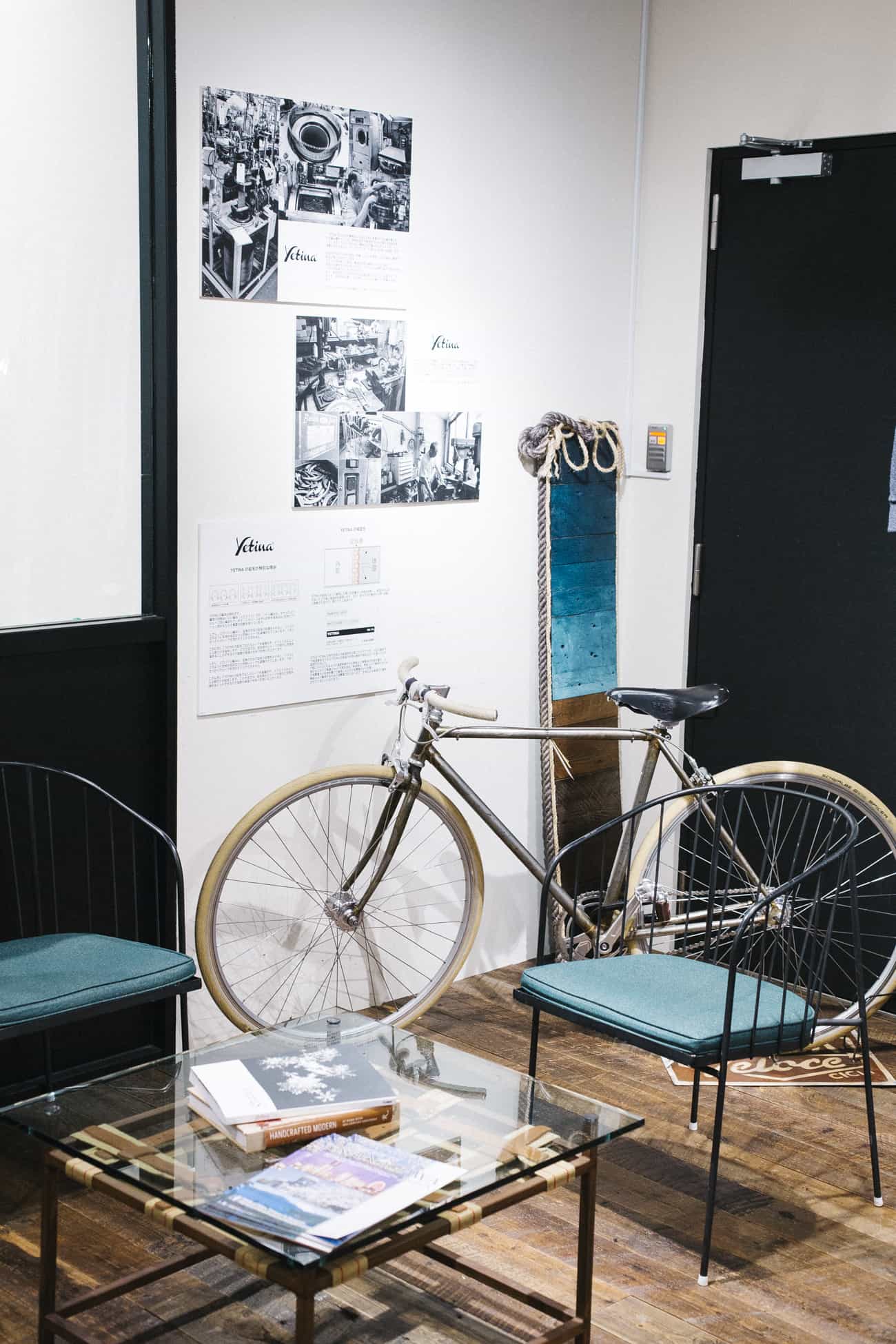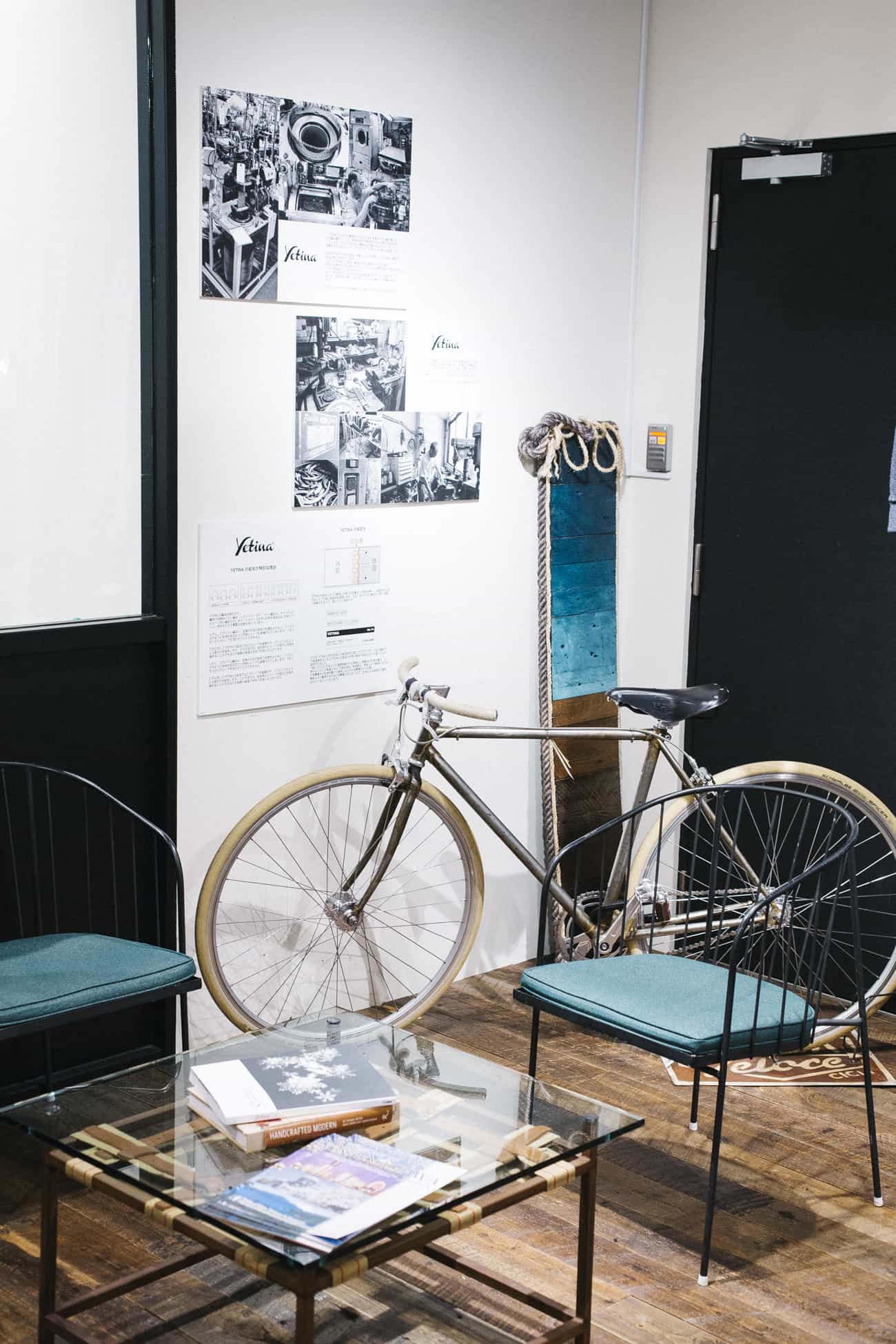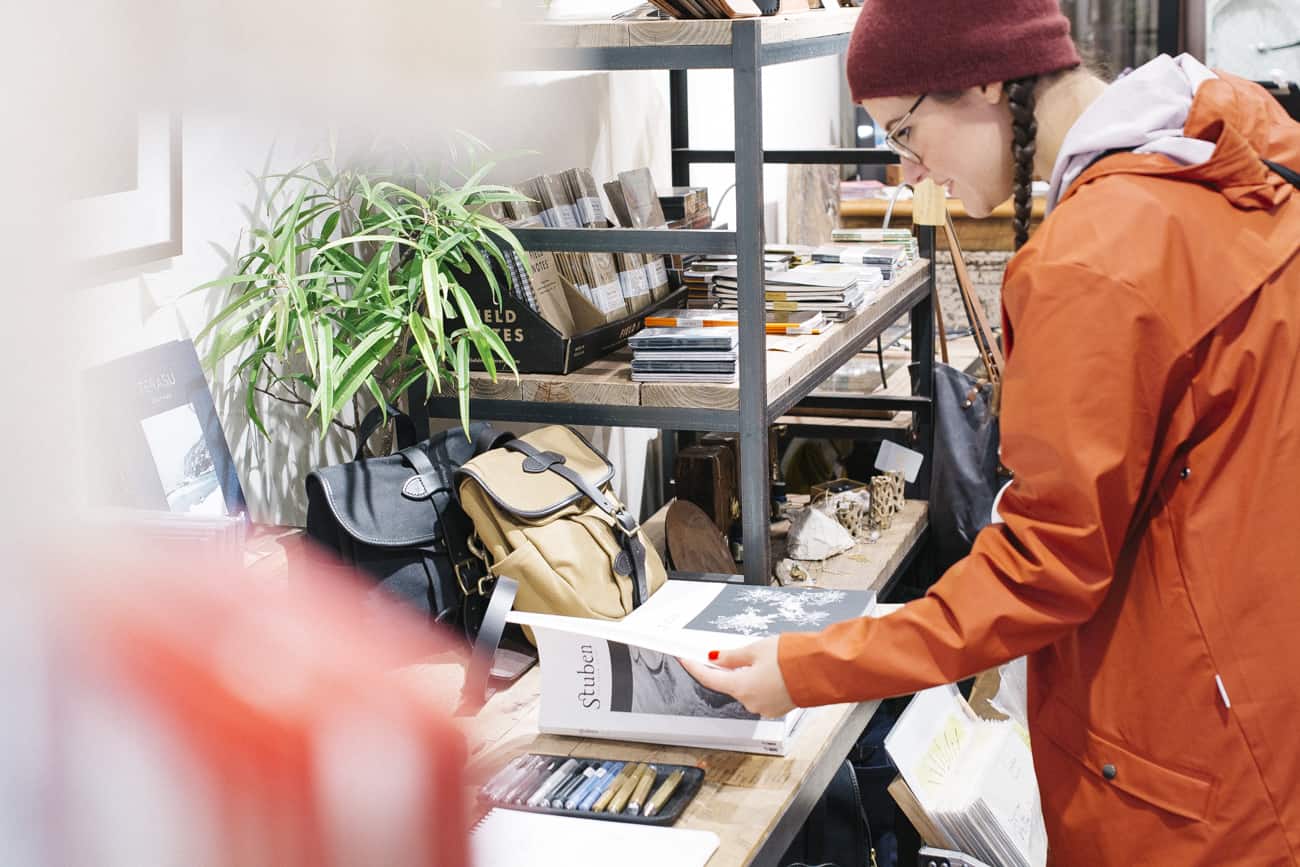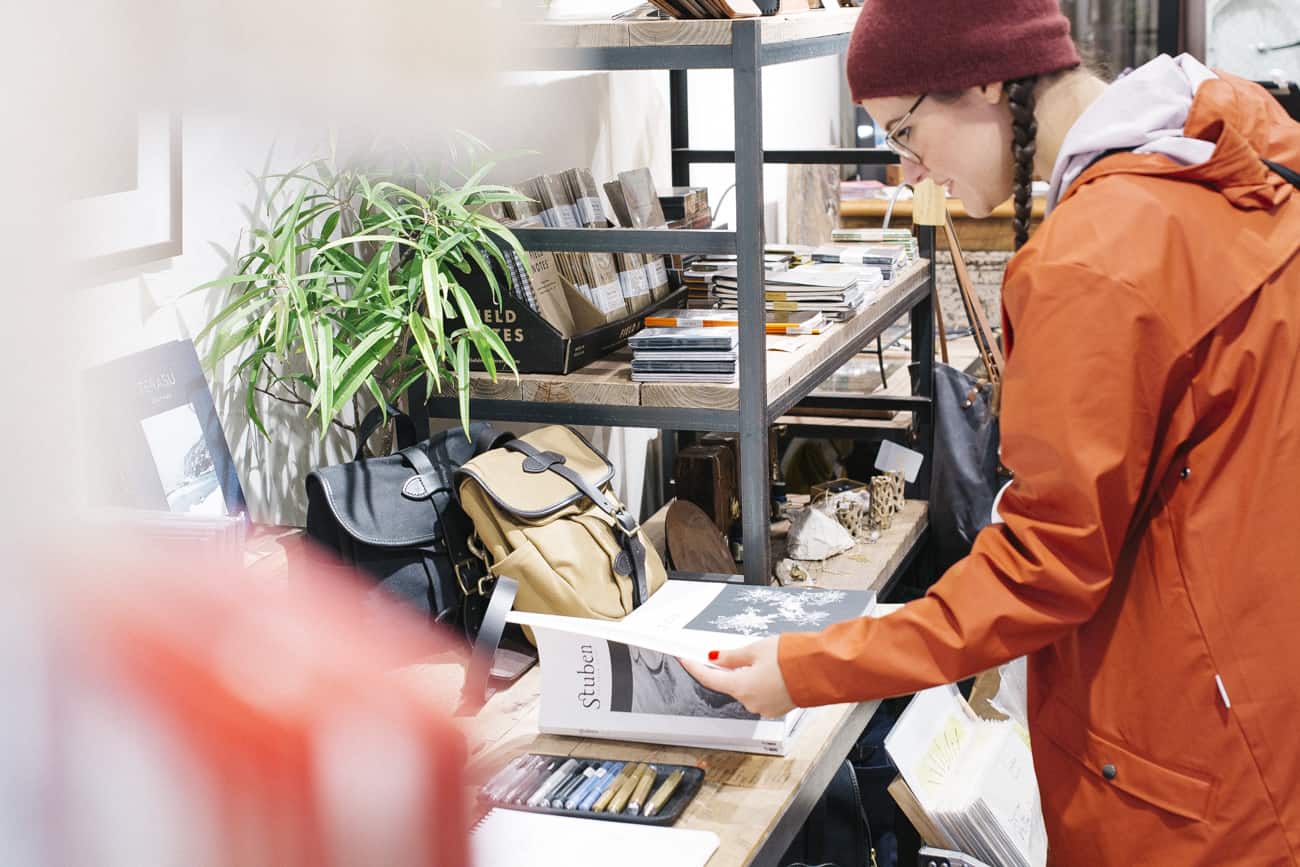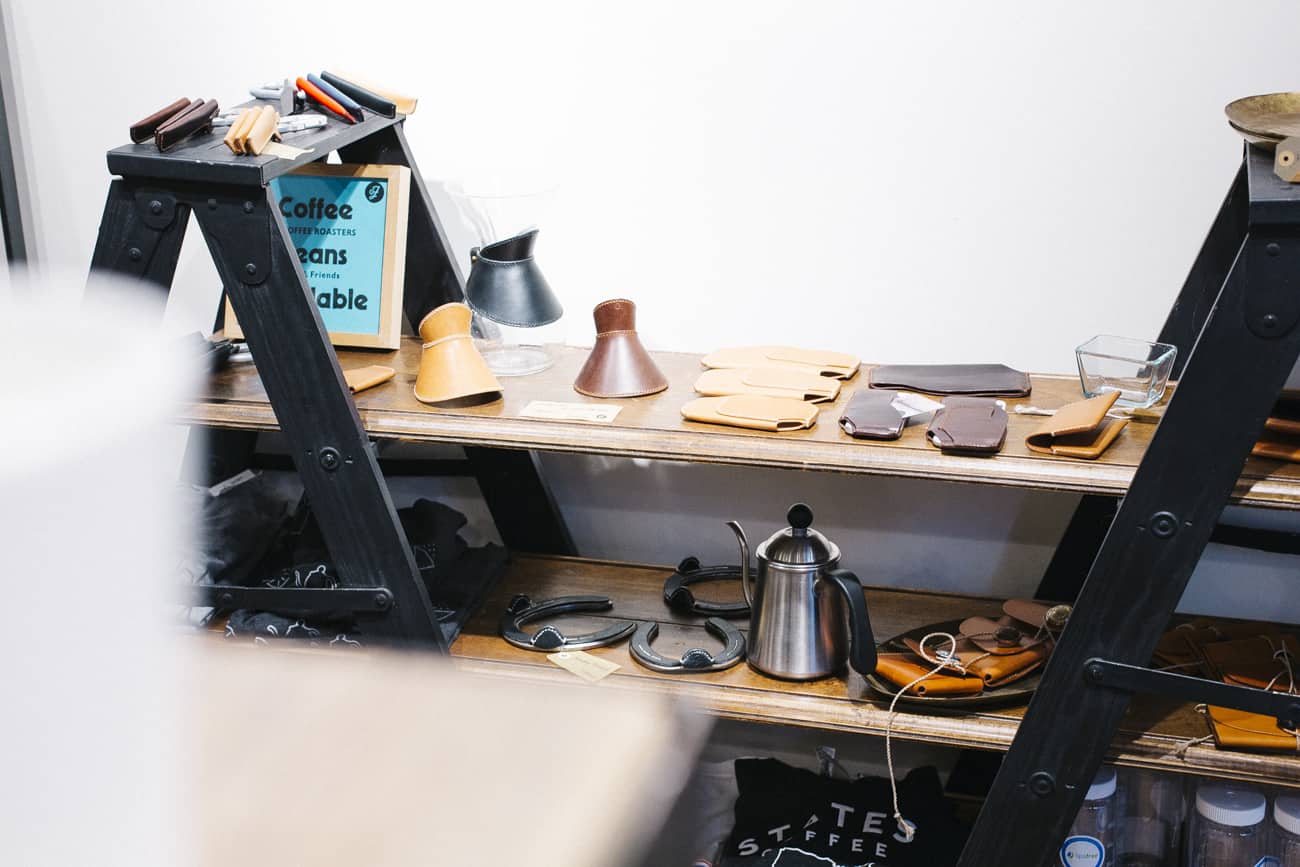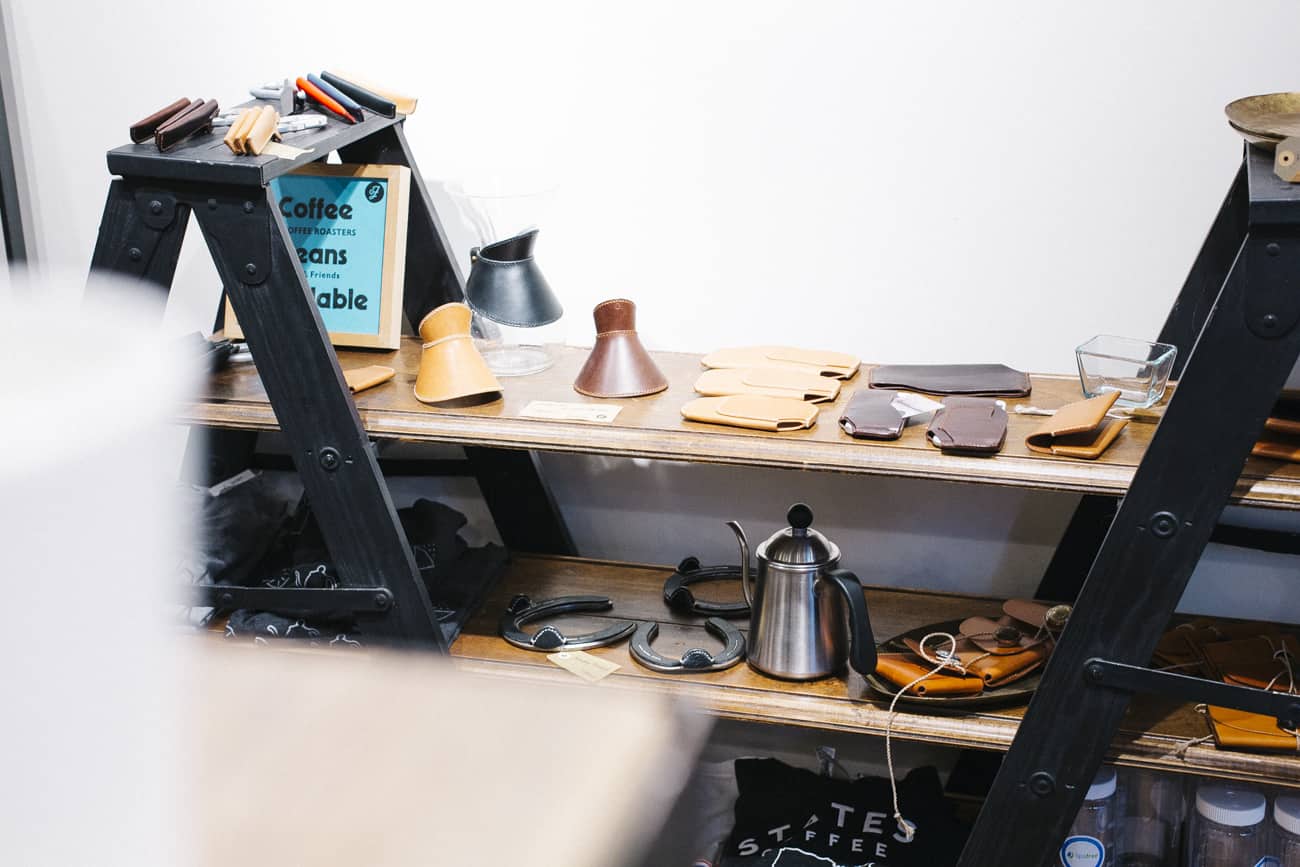 Another cool shop that we discovered that day was MJ & Friends.
This one has a graphic design studio in the back, and it was so cool to meet the two designers working there! They served us kono-filter coffee, we had an interesting exchange, told them about how we are designers too, and they even took a little photo of us! They are adorable and very friendly, so I recommend you go there just to get to know these local creatives. Their shop is great (especially for coffee-geeks as they sell some top-notch coffee supplies) and some items are created by them.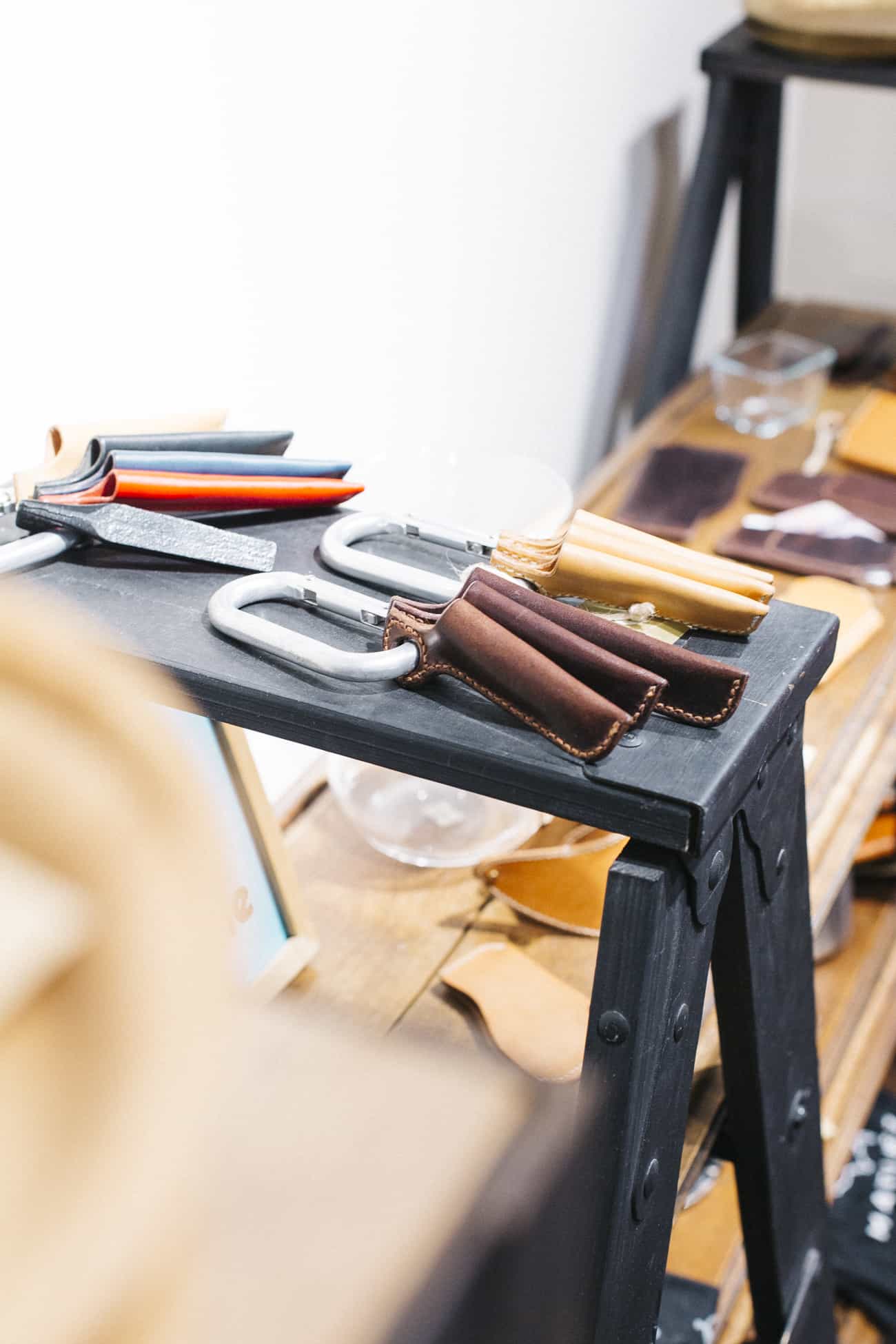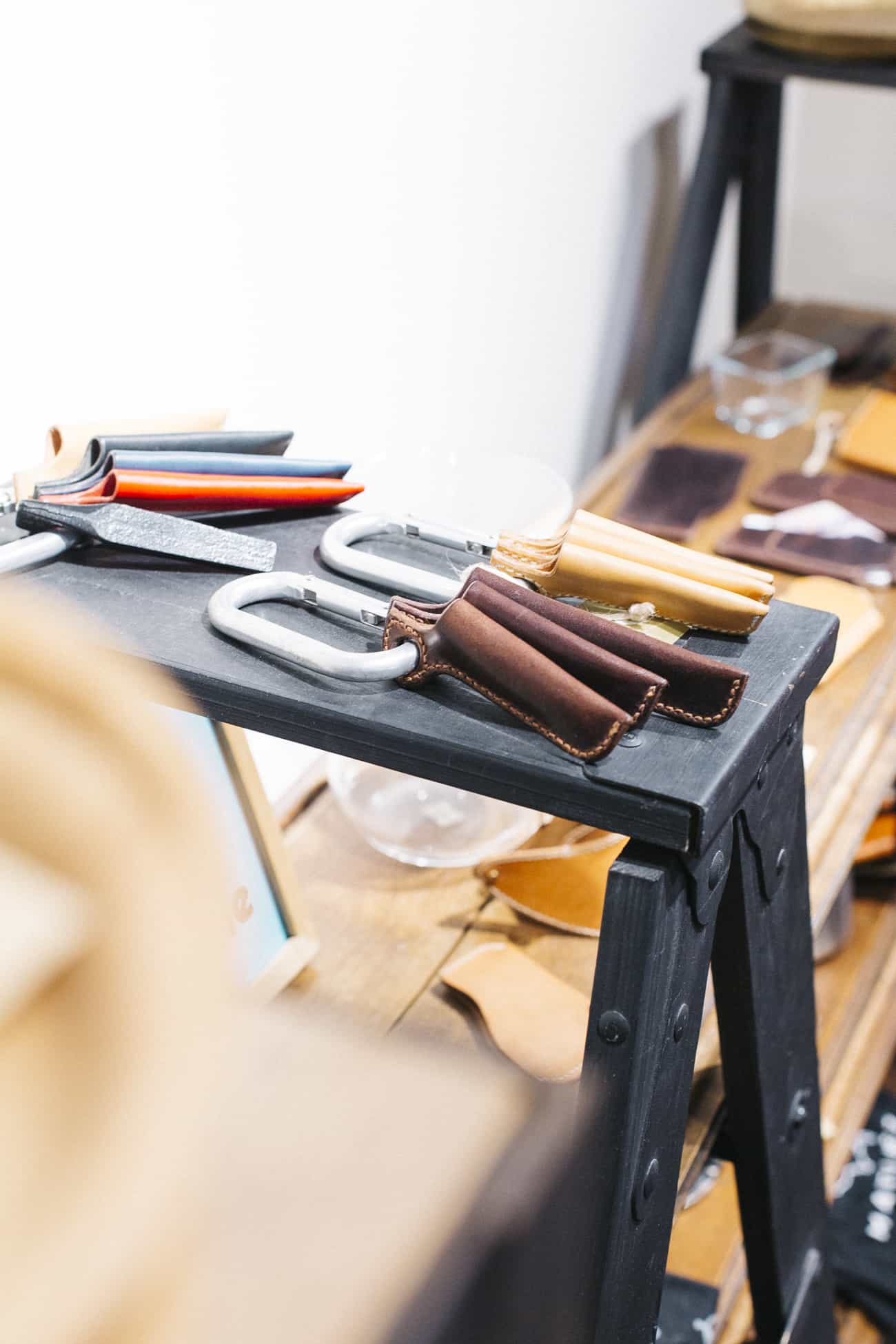 Since we had taken these few days off, we also decided to do something particularly fun – trying an Airbnb Experience!
As you might know, airbnb is a sharing platform for hosting & renting appartment/rooms around the world. Now, airbnb is expanding to offer more things to the community such as cool activities that can be hosted by locals. David and I are usually not into organized "tours" and such things, but we like to interact with locals and enjoy more curated activities, so this sounded perfect. We signed up for a foodie immersion called Kitchens Of Tokyo, hosted by a local foodie/cooking school owner Ayuko.
This foodie day started with a visit to Tsukiji, which is Tokyo's famous fish market. The outside parts are full of interesting things to check out, although quite popular with tourists. Thanks to Ayuko, we got to experience a part of the market that is normally not accessible to tourists at all – the inner part, which is exclusive to all the local professionals who come and get their fresh fish and vegetables!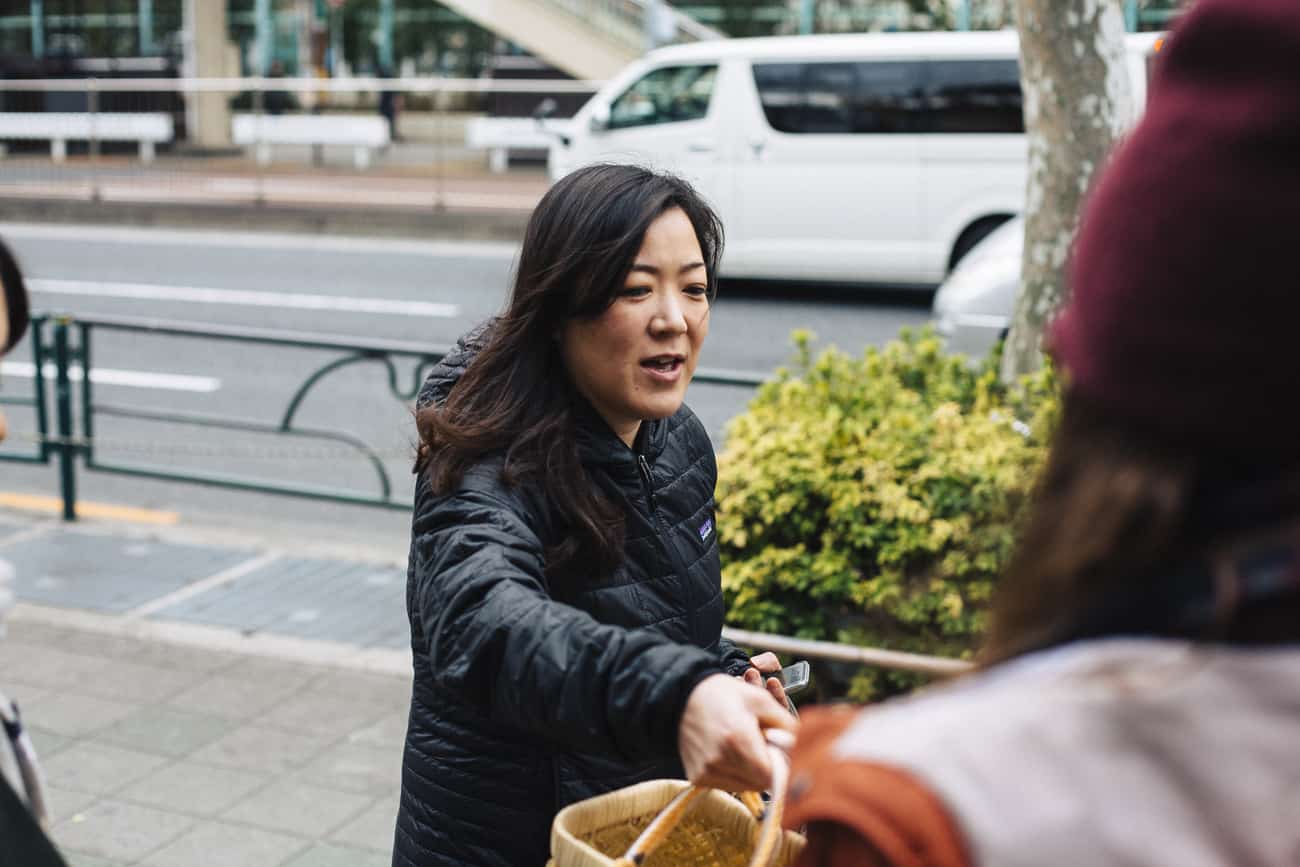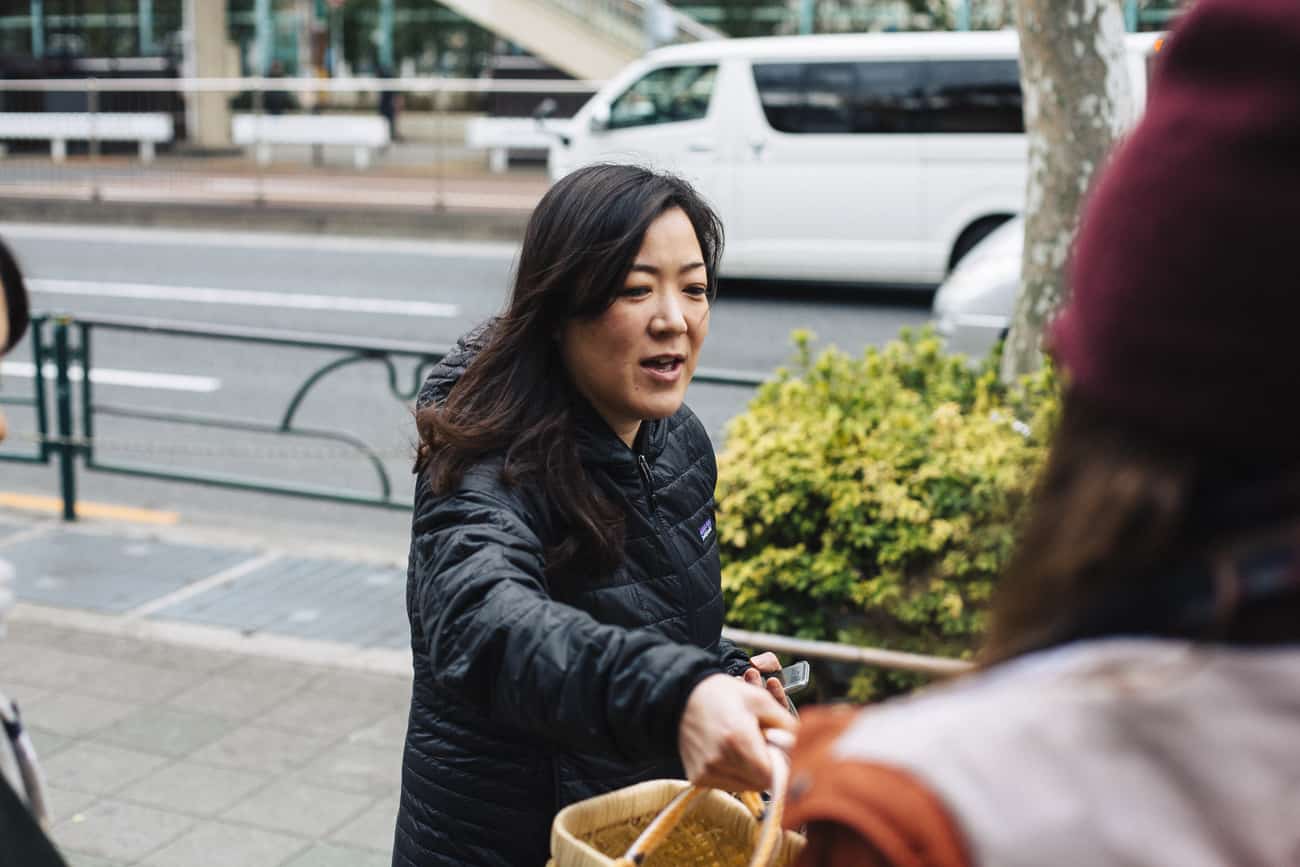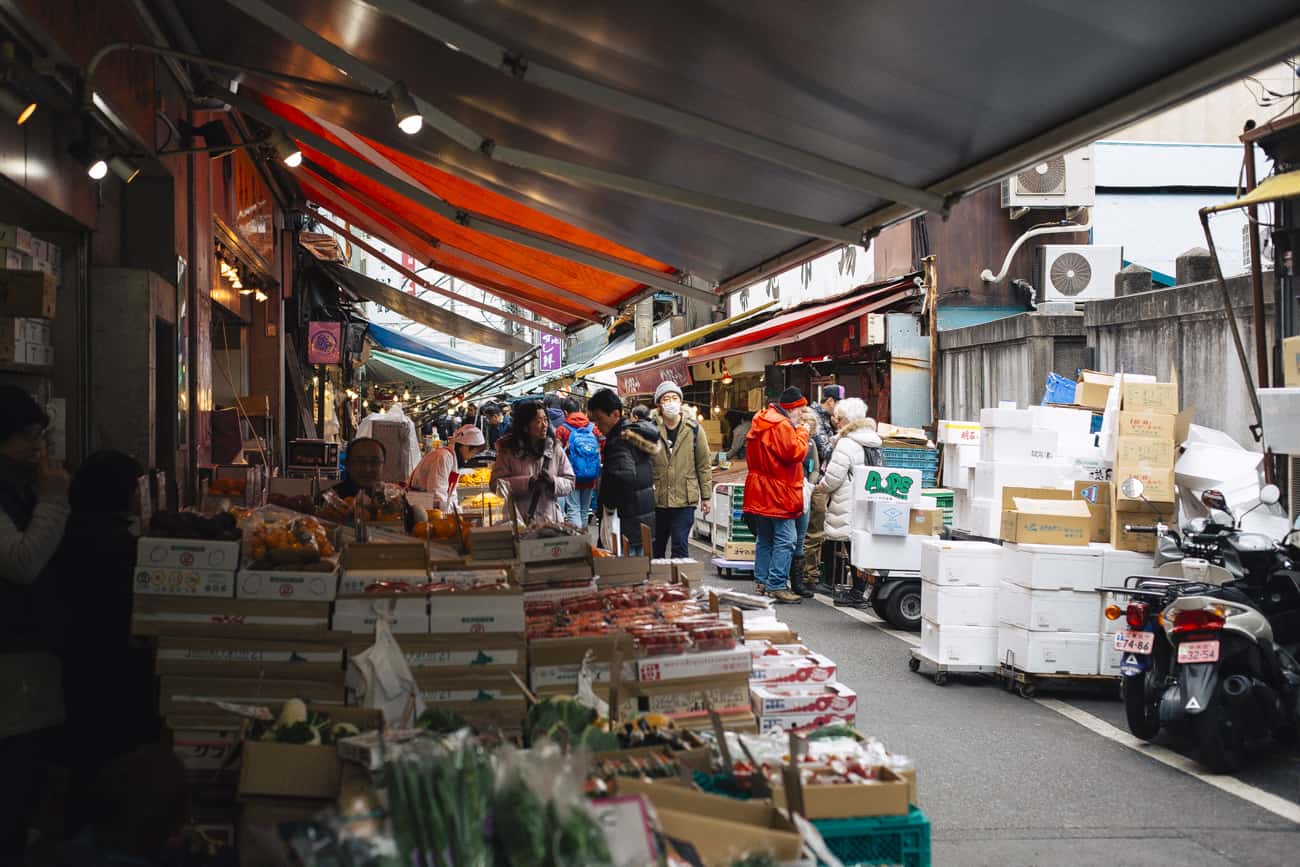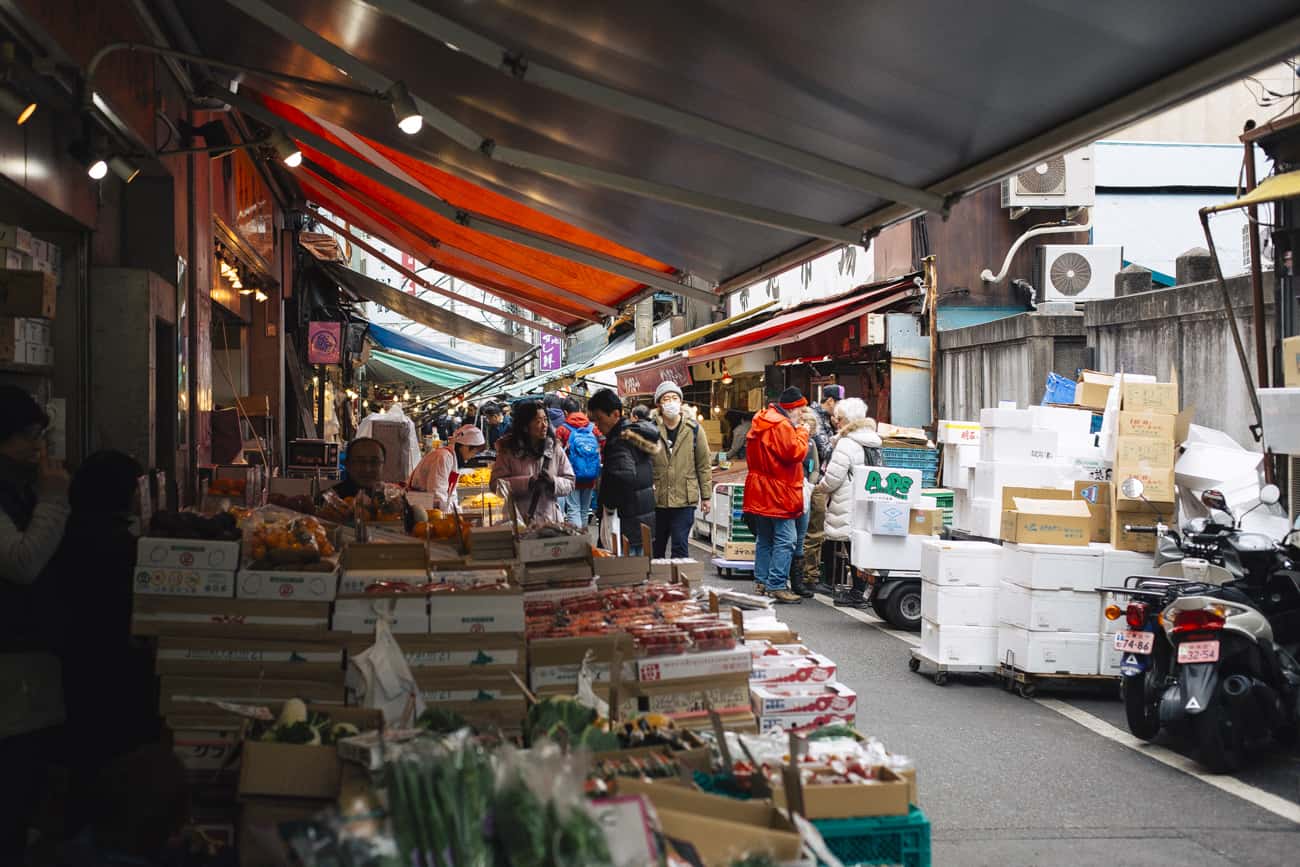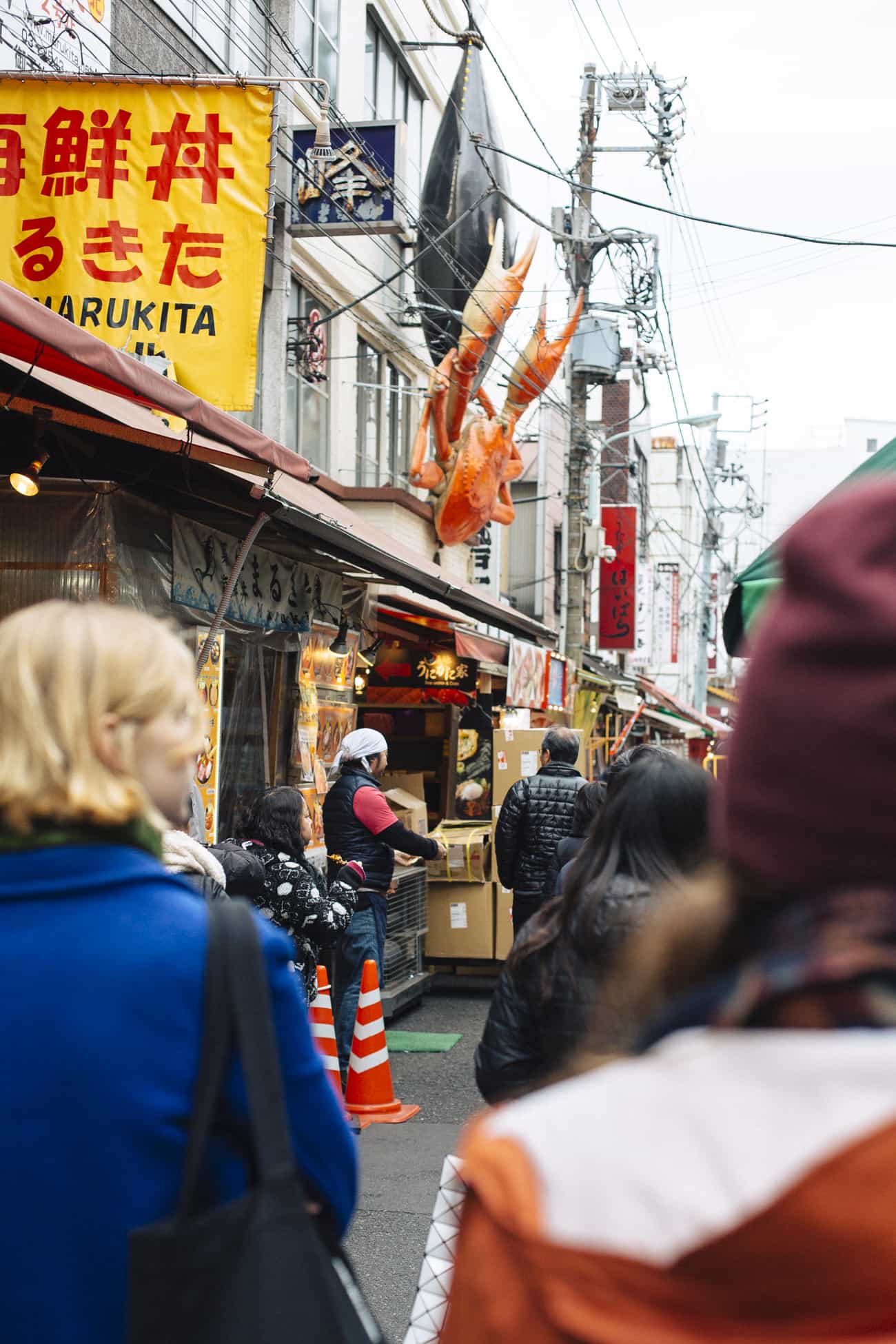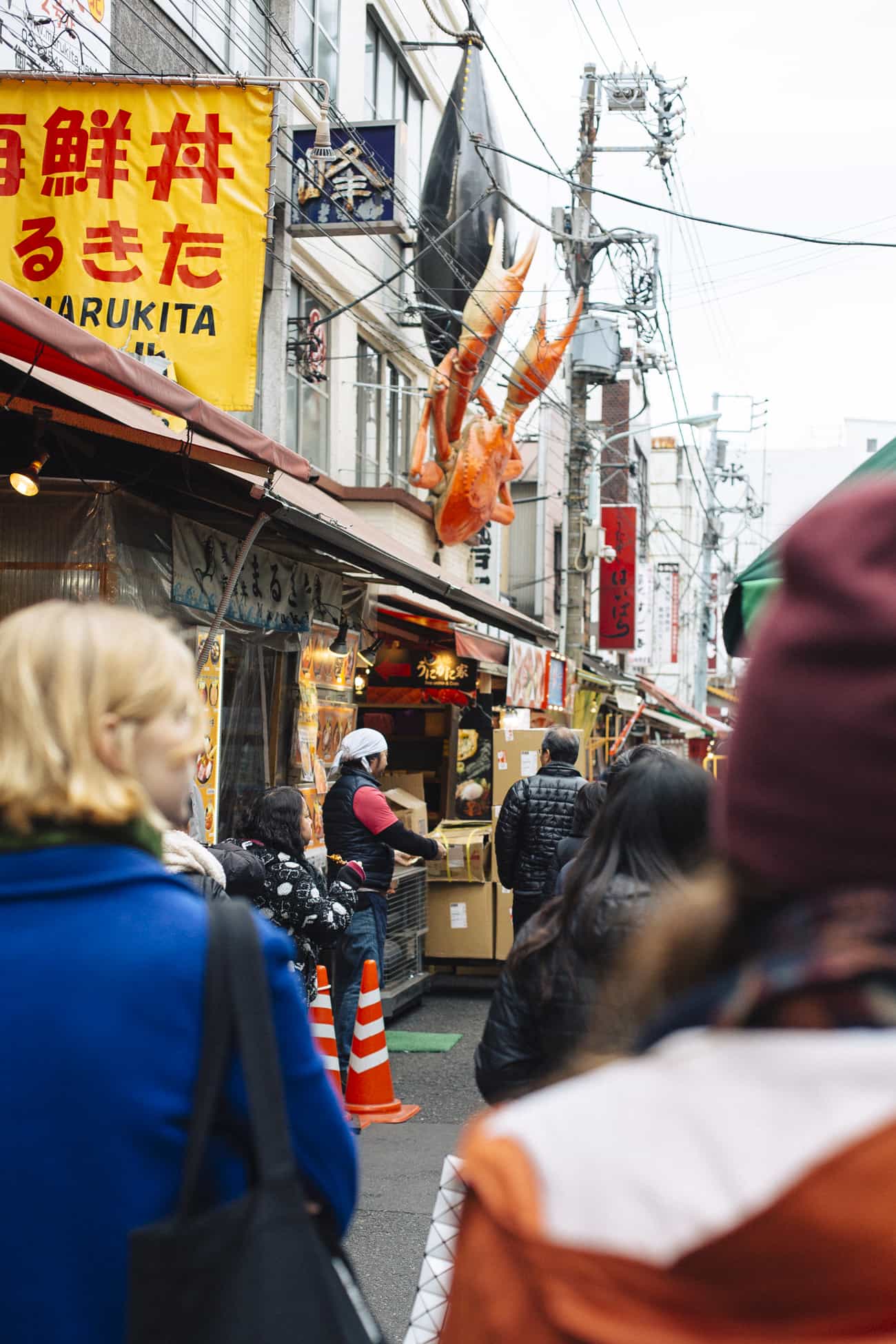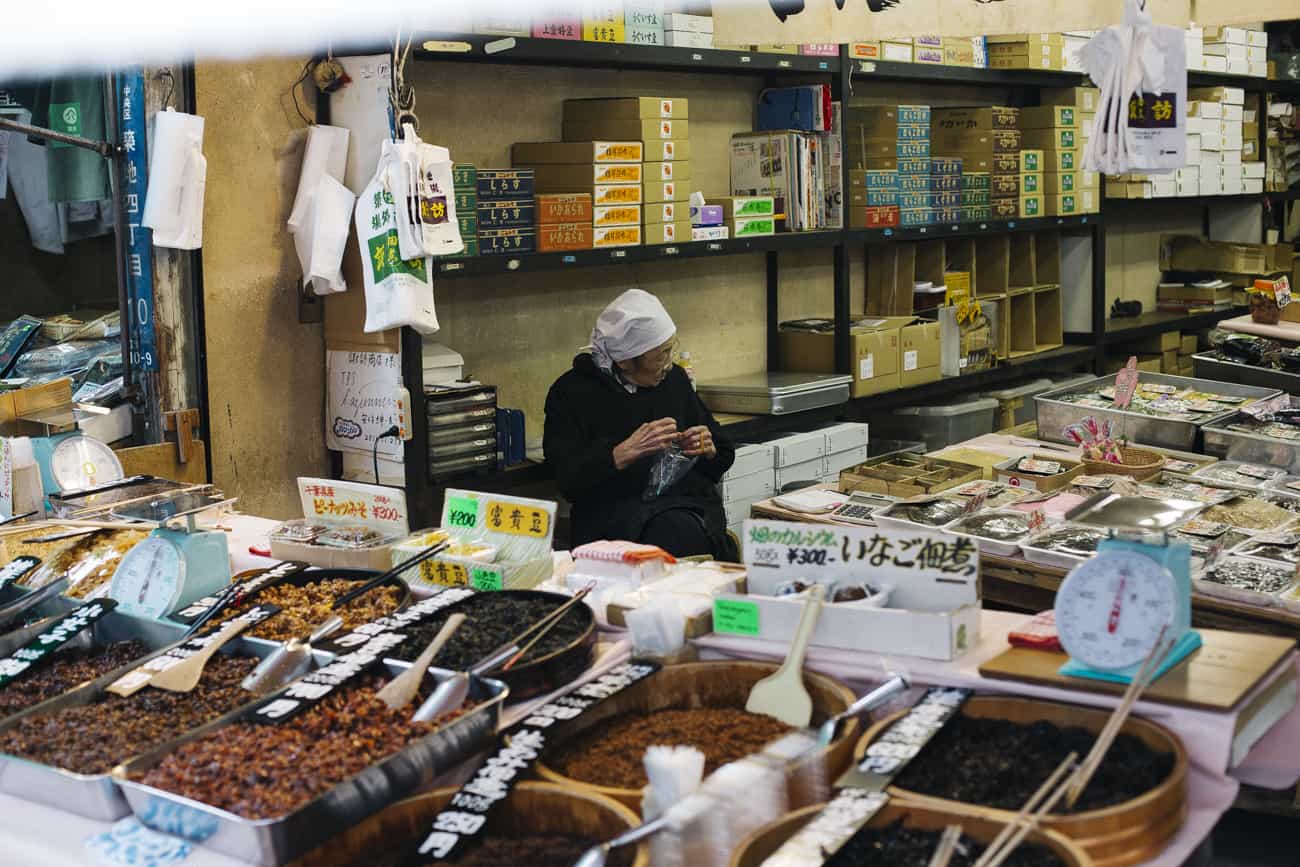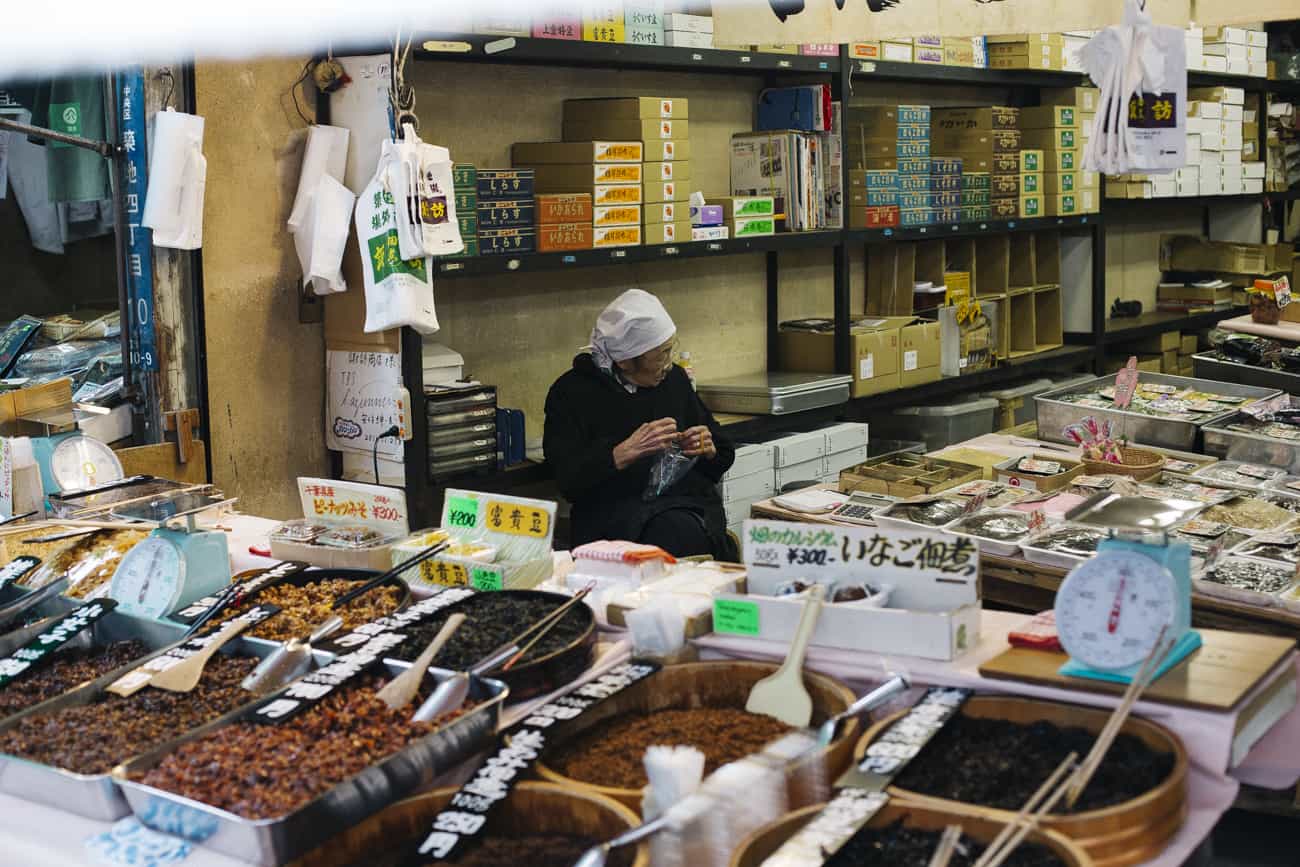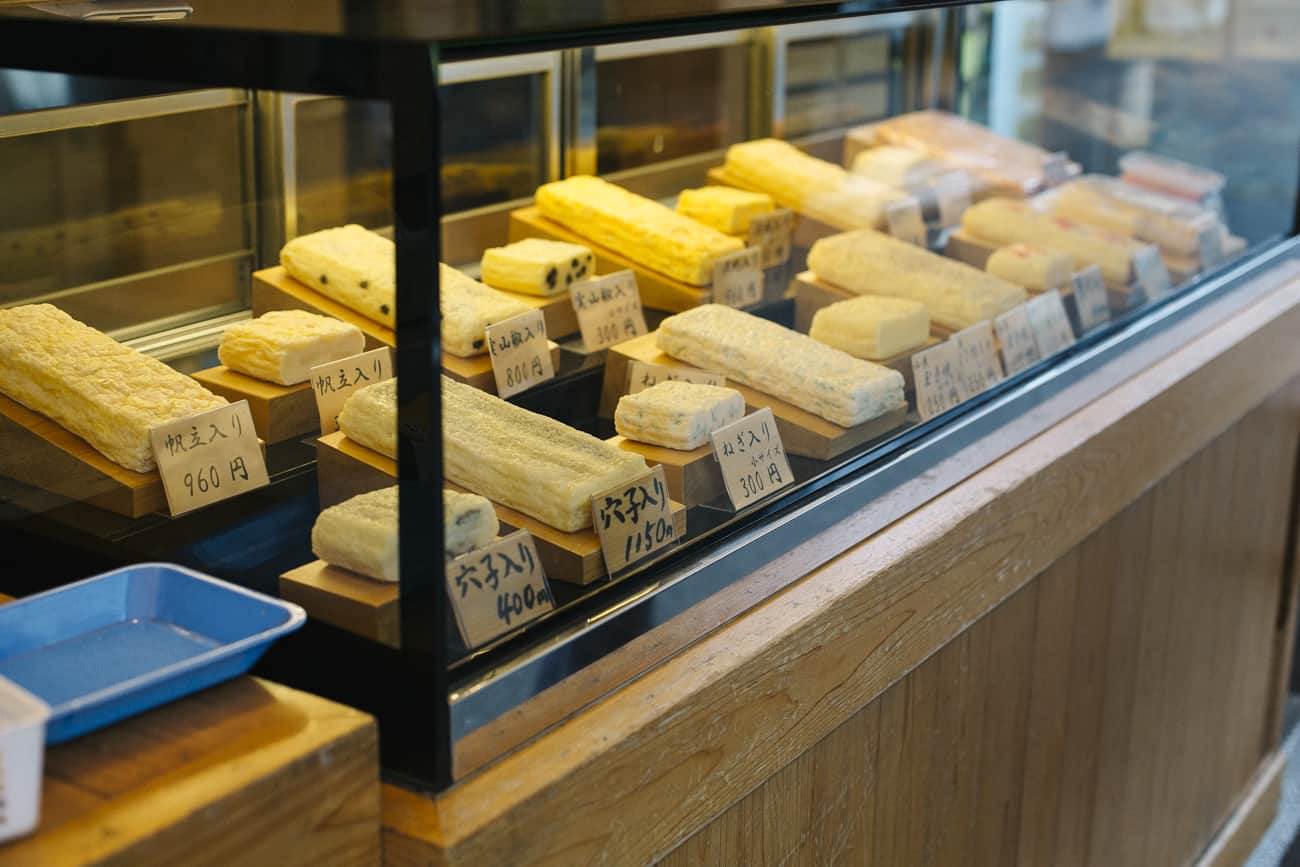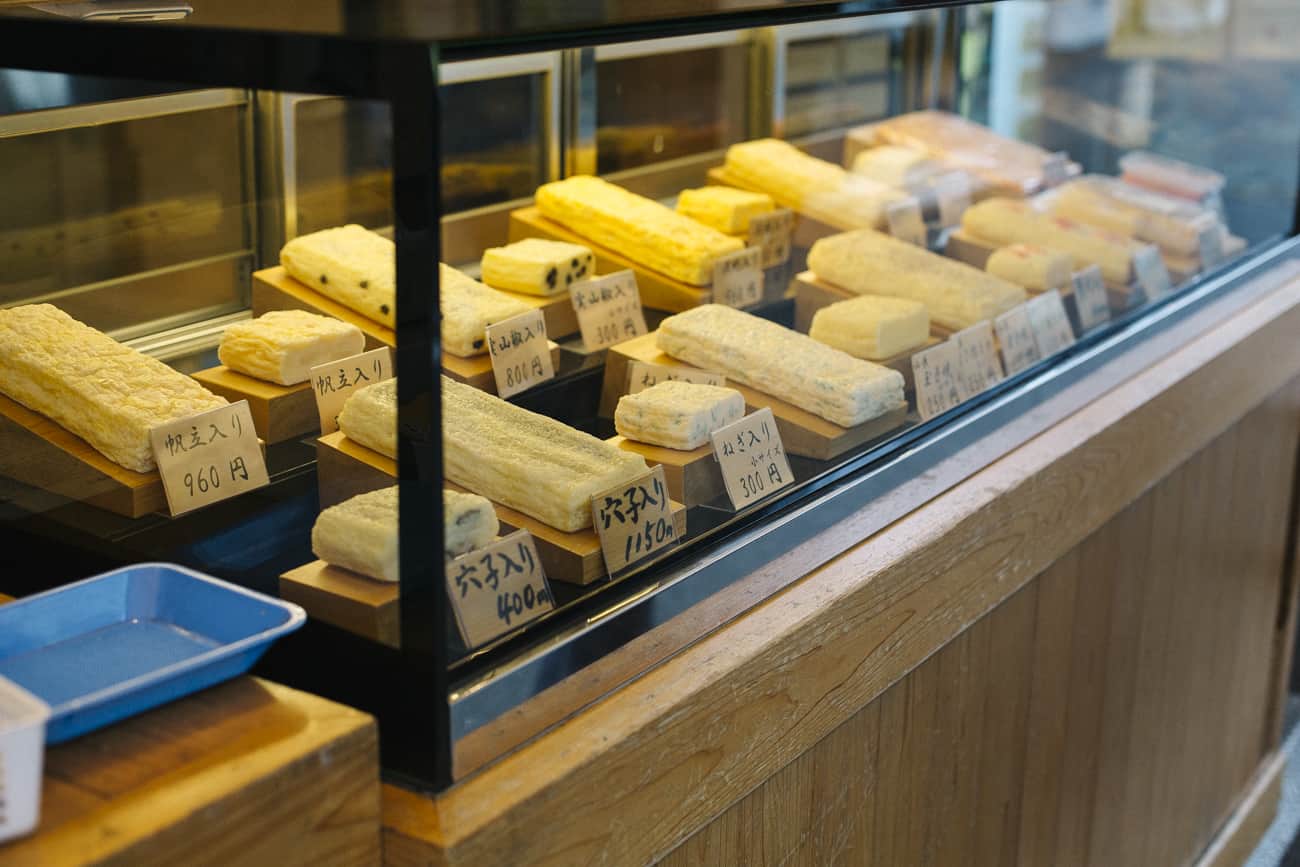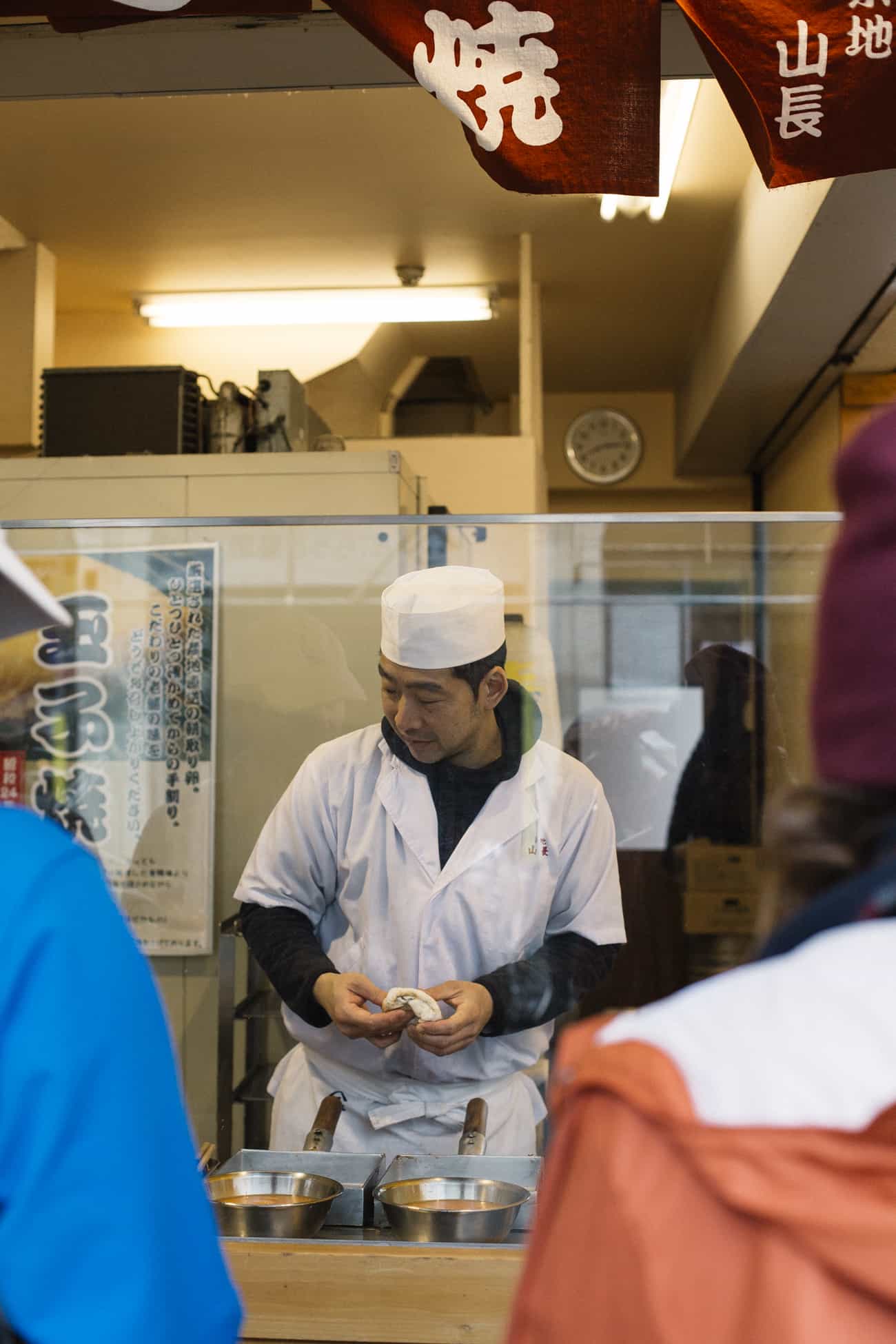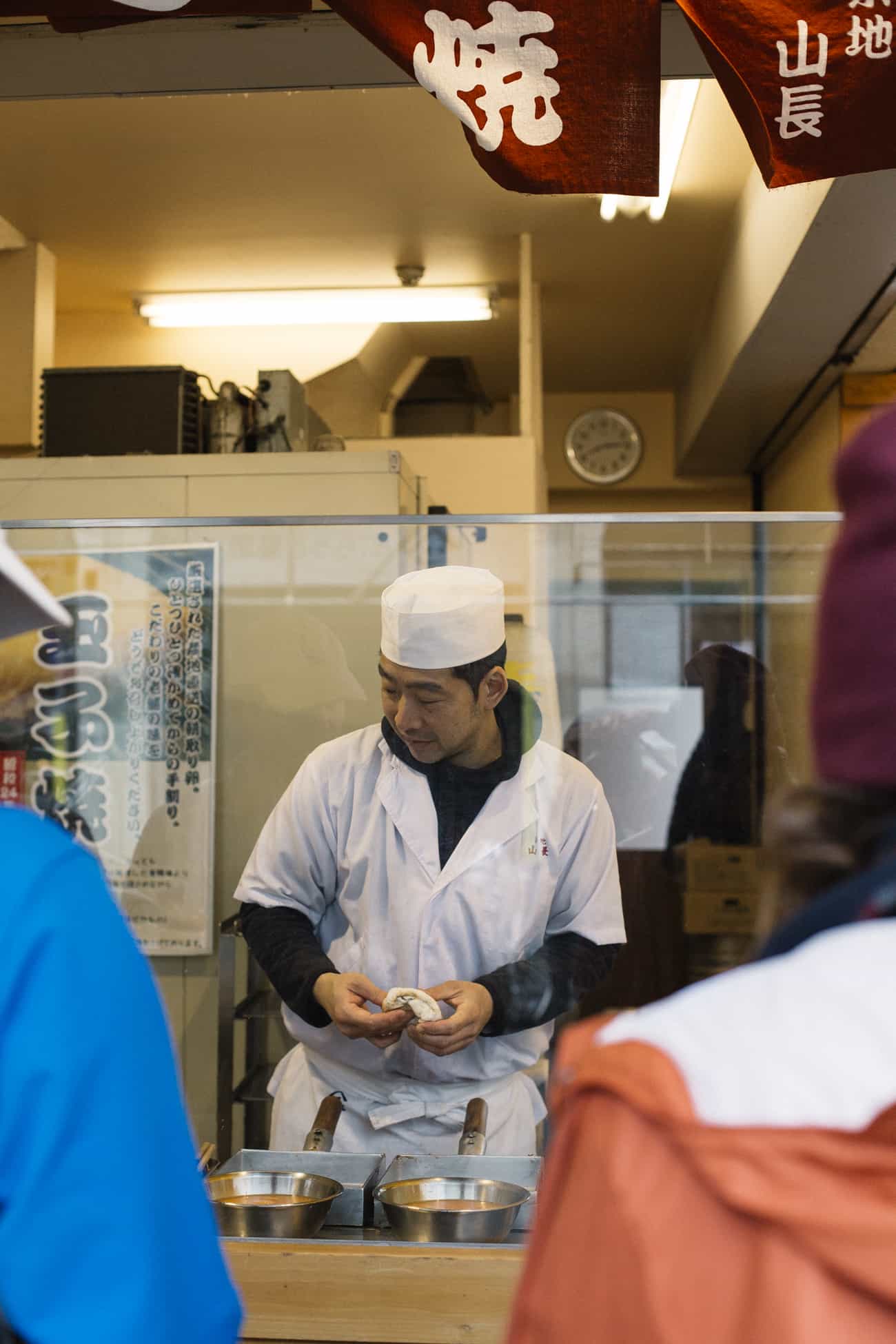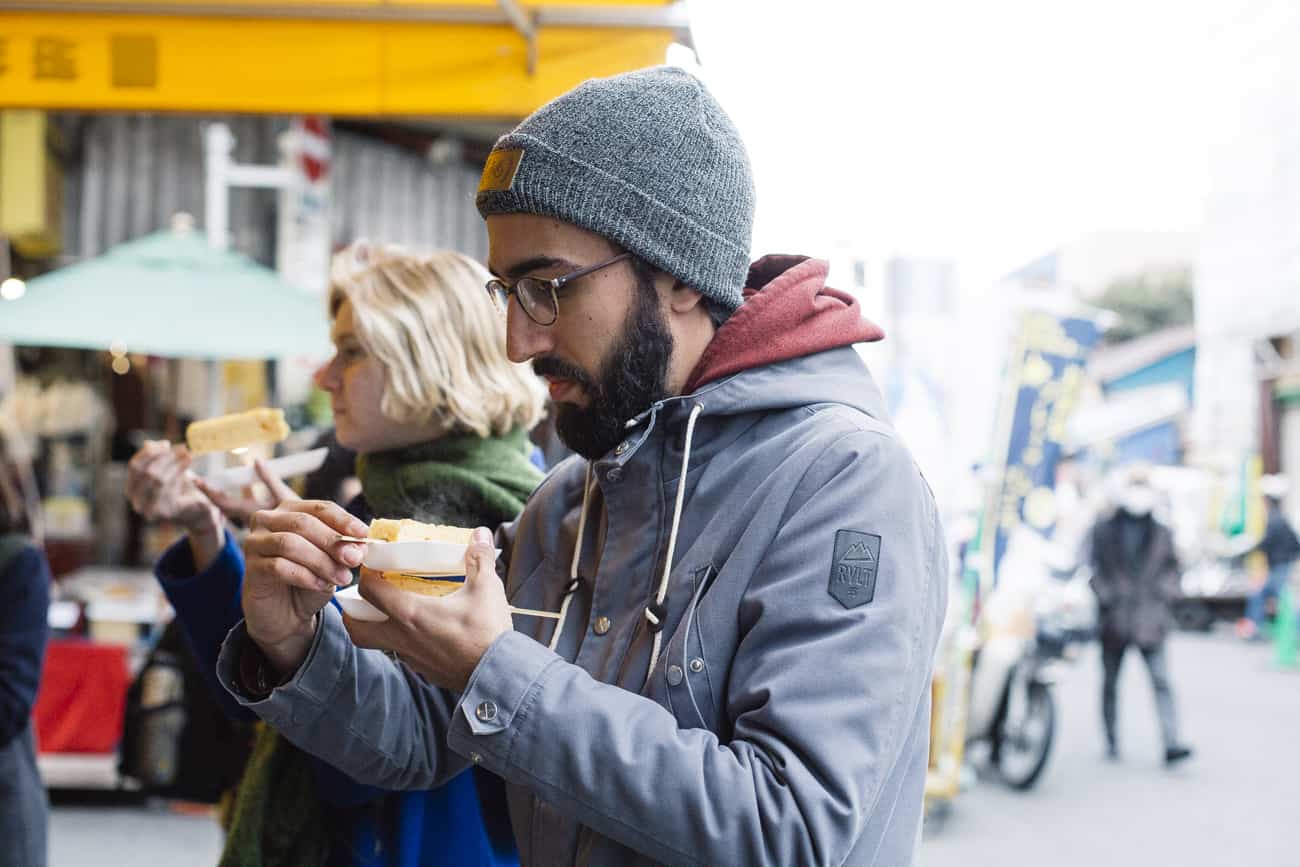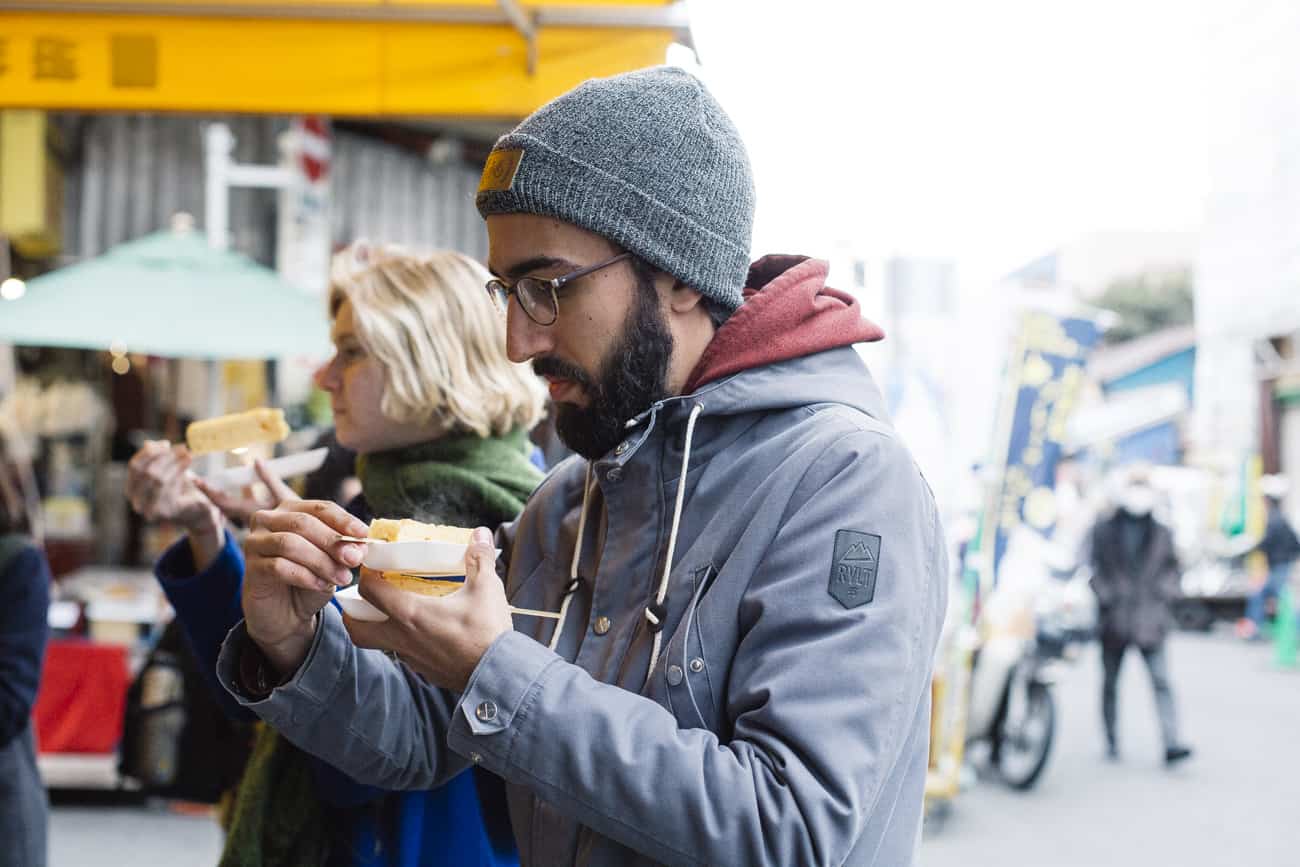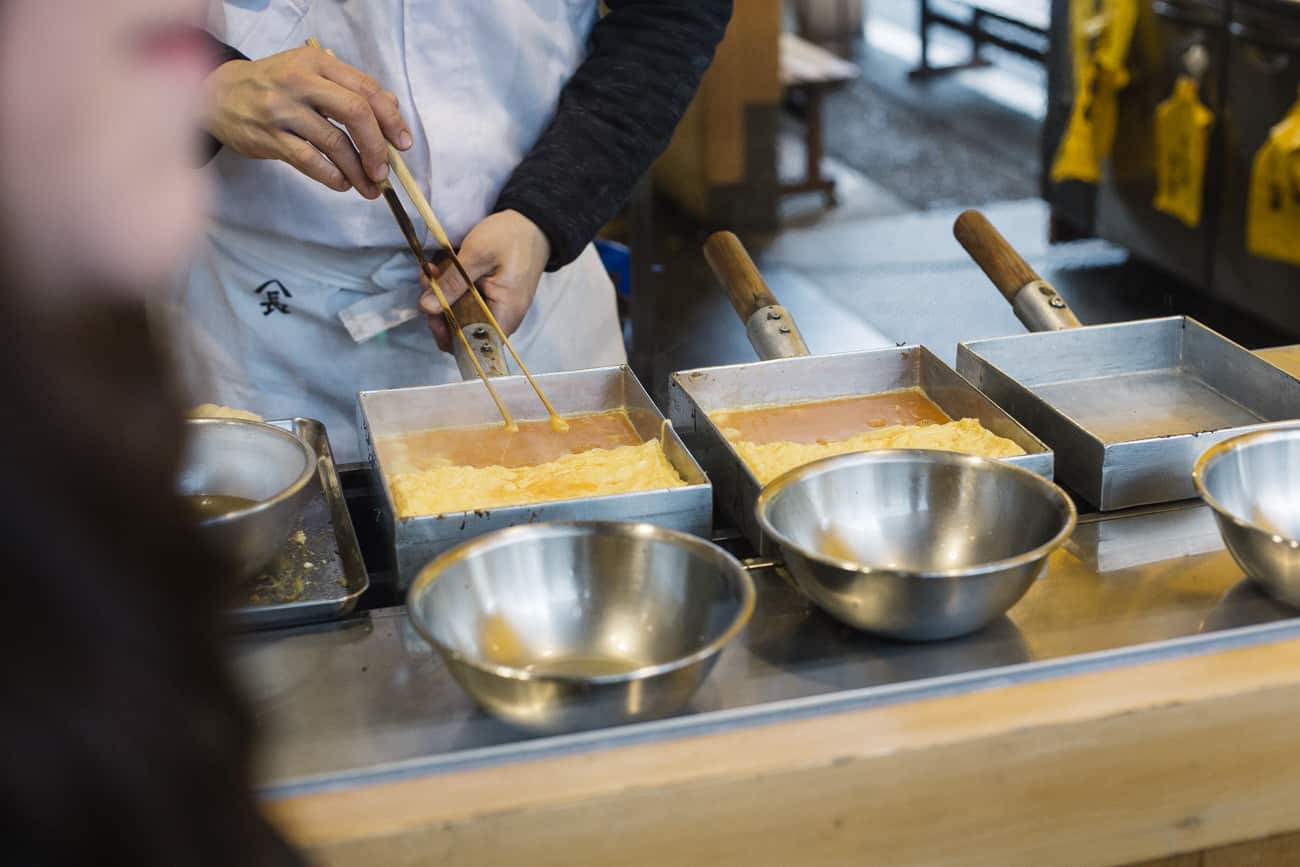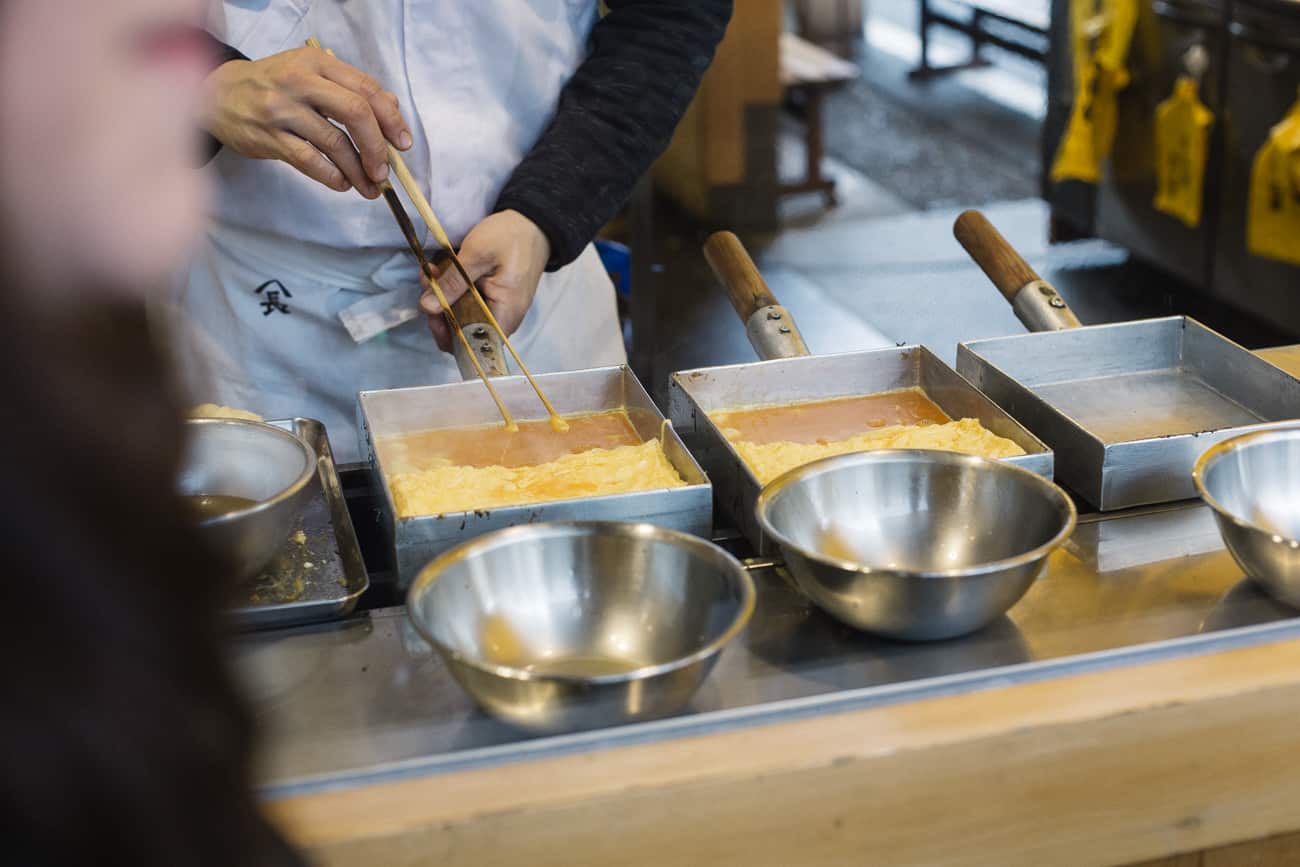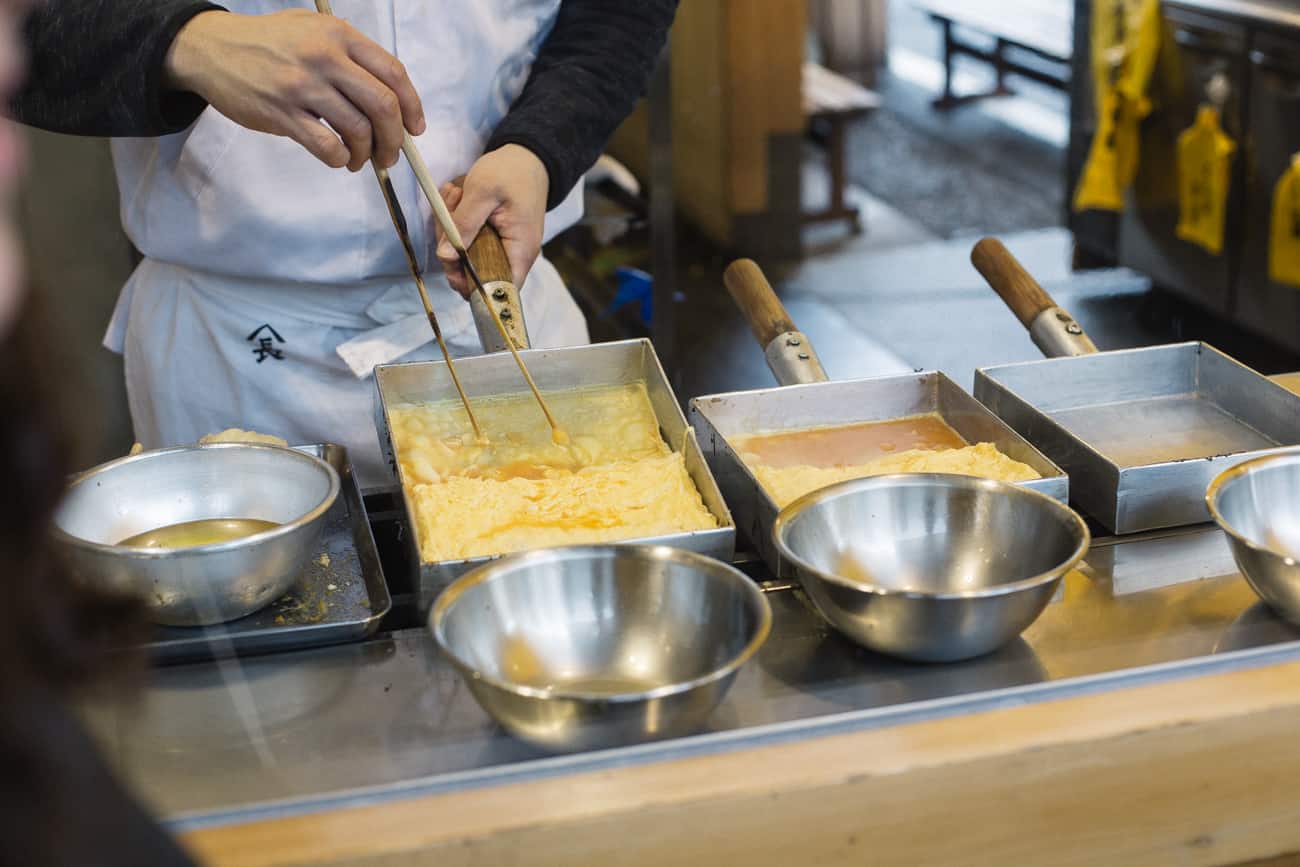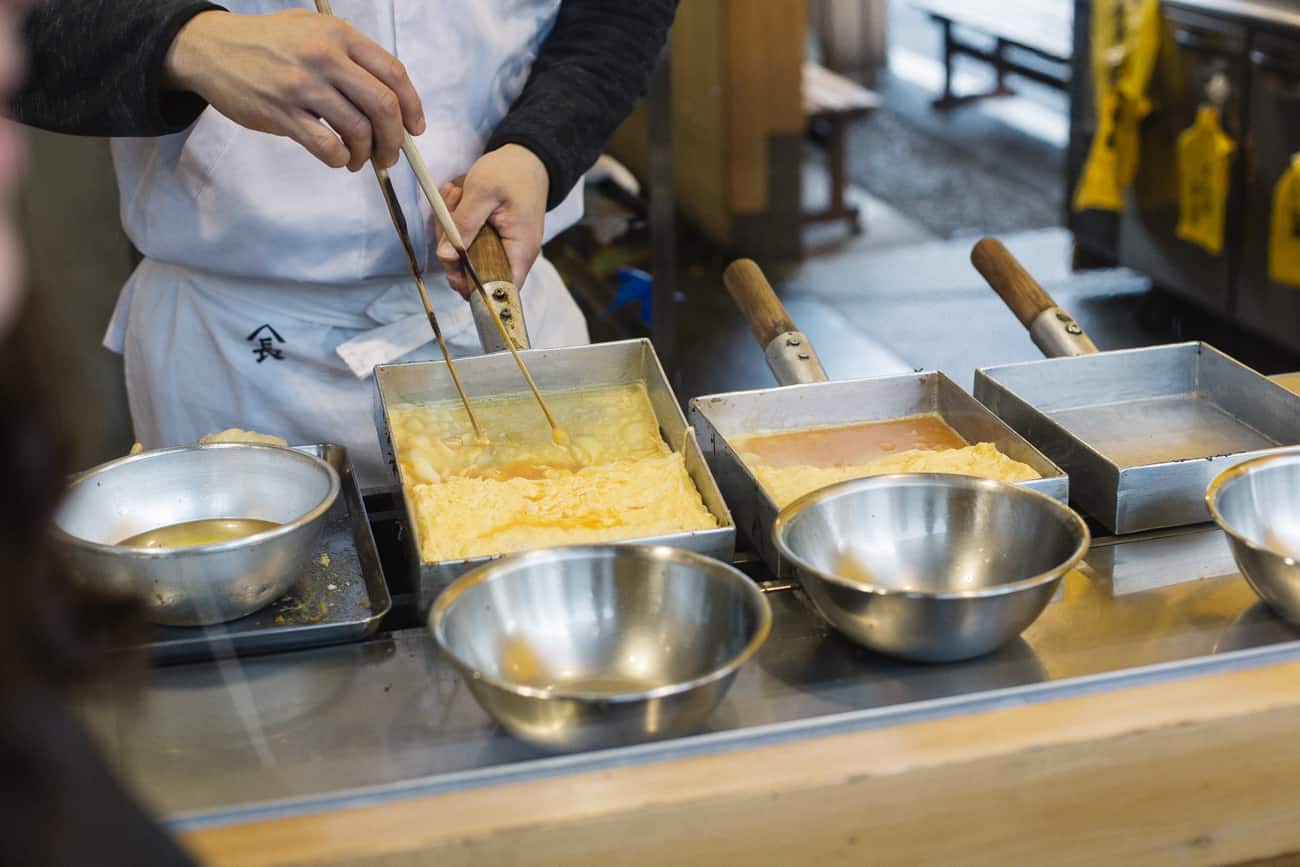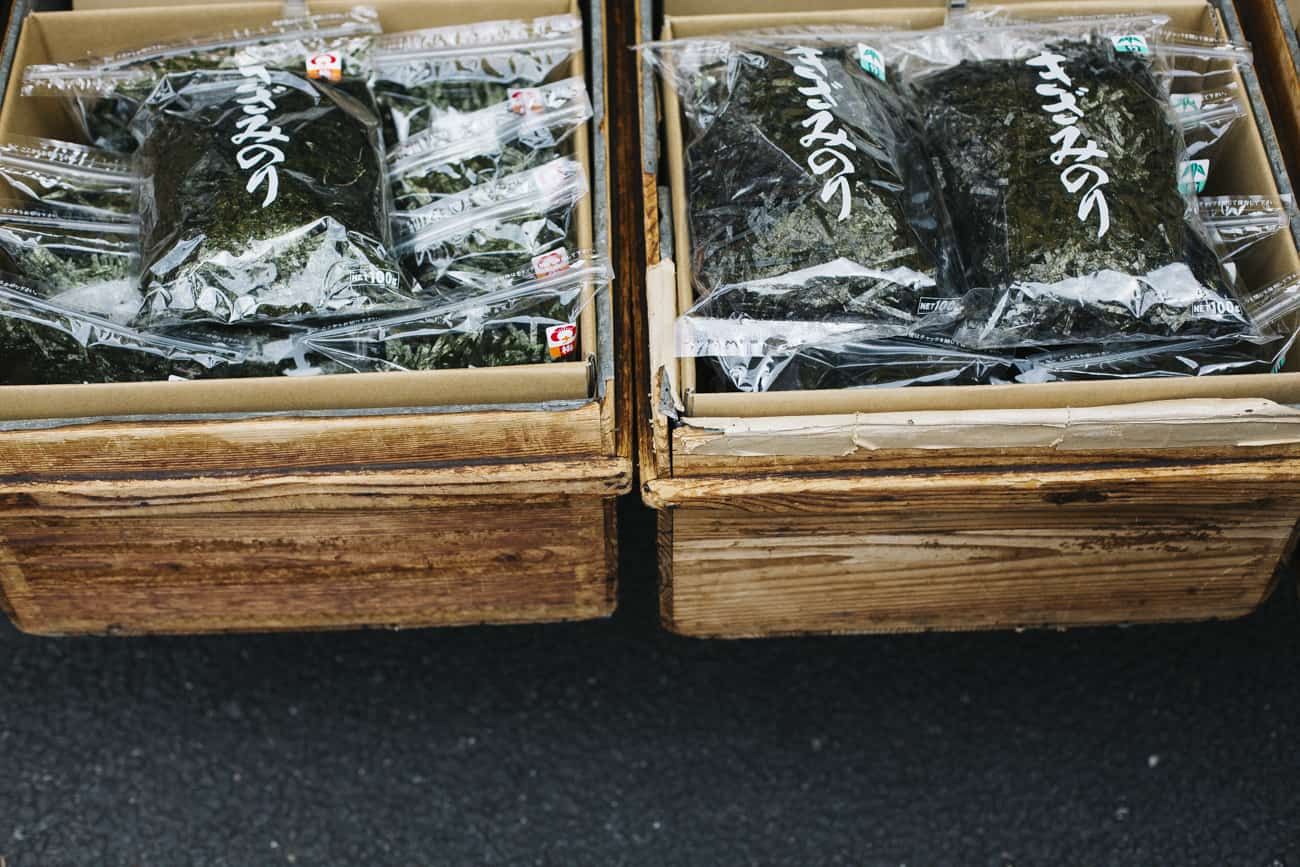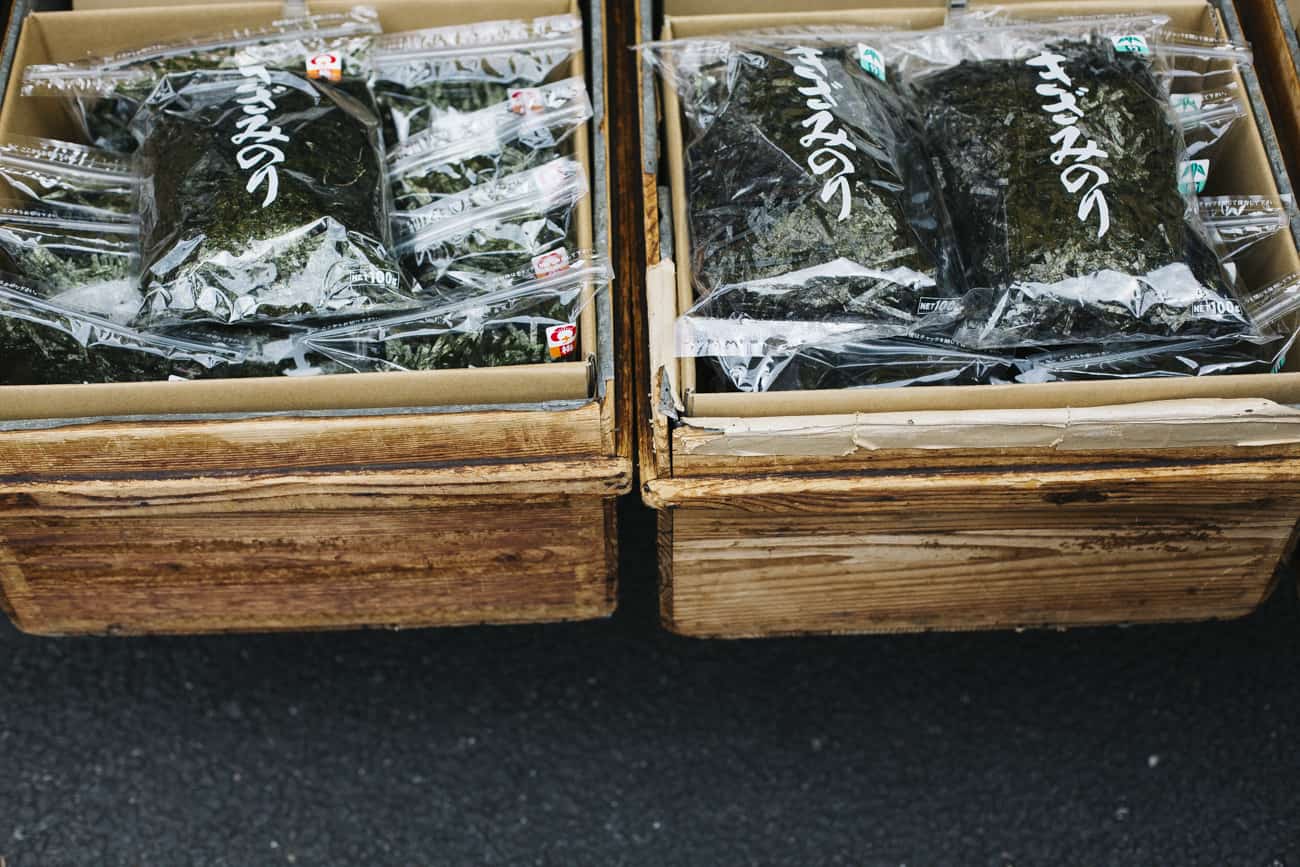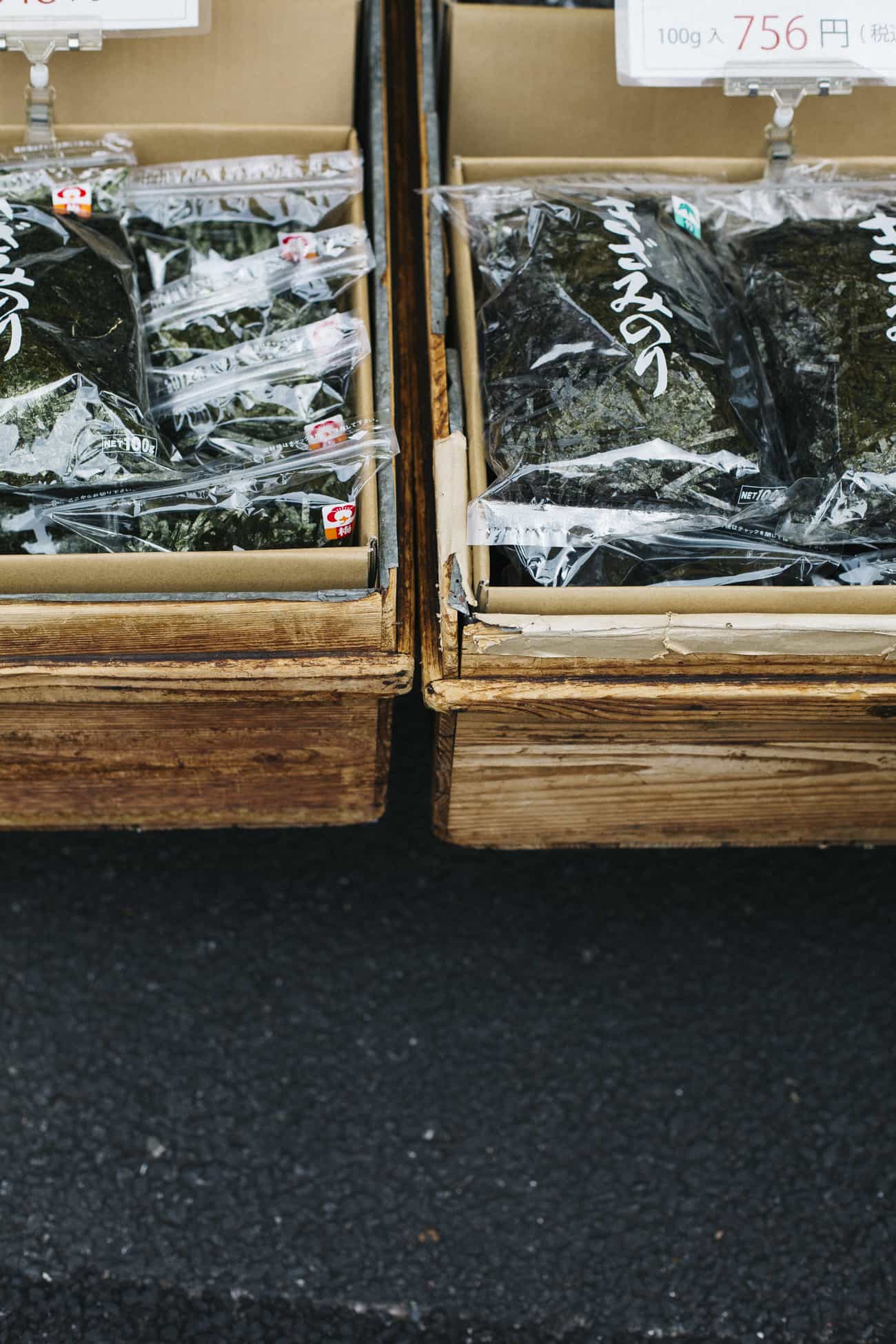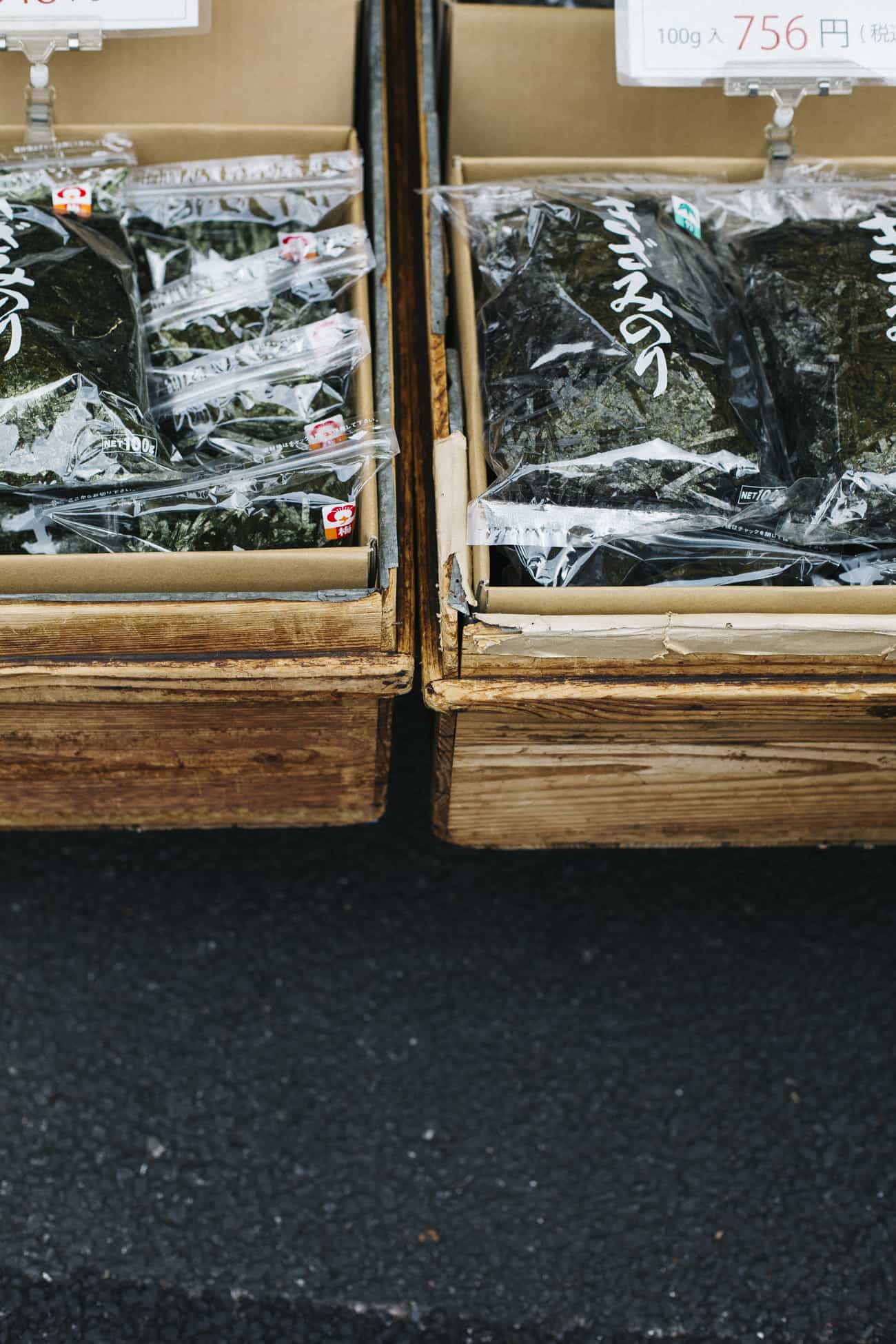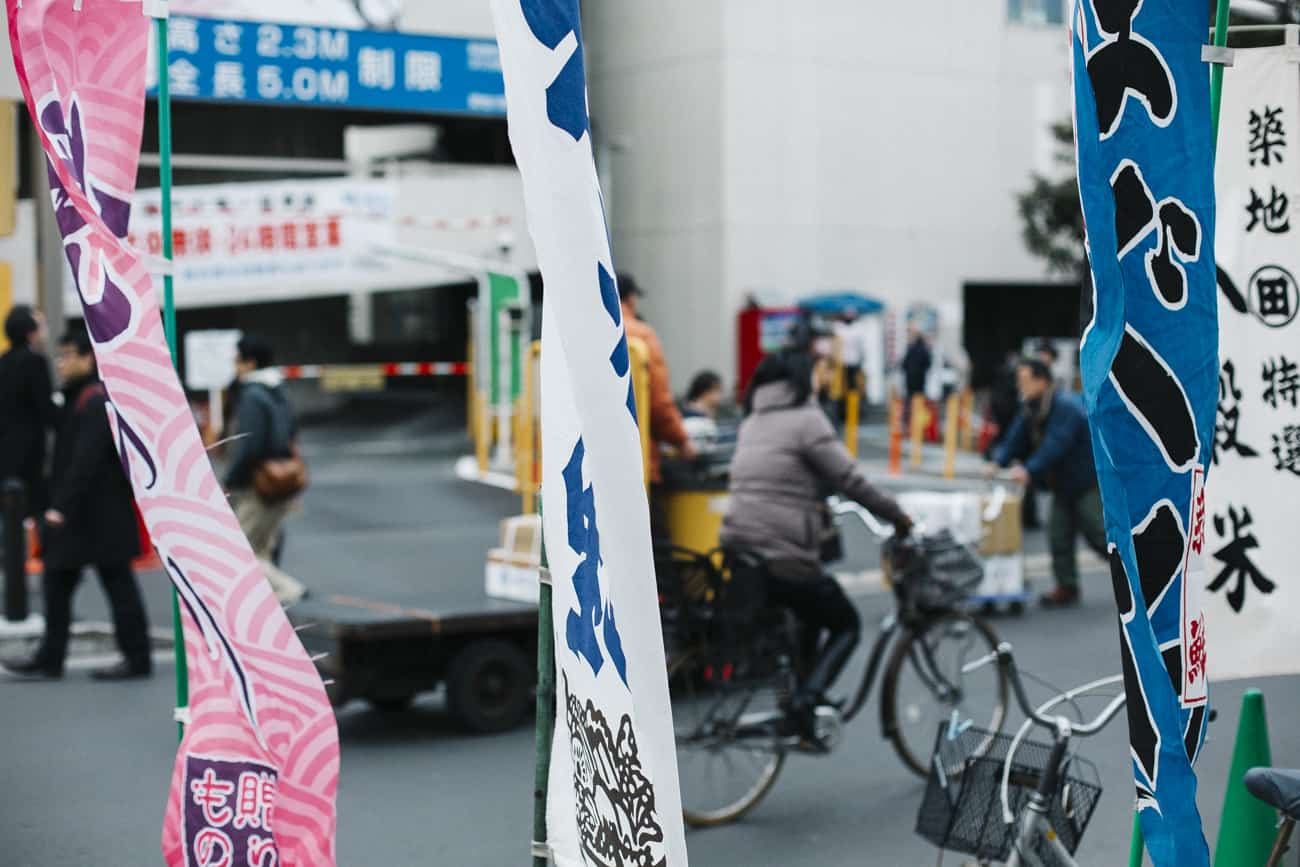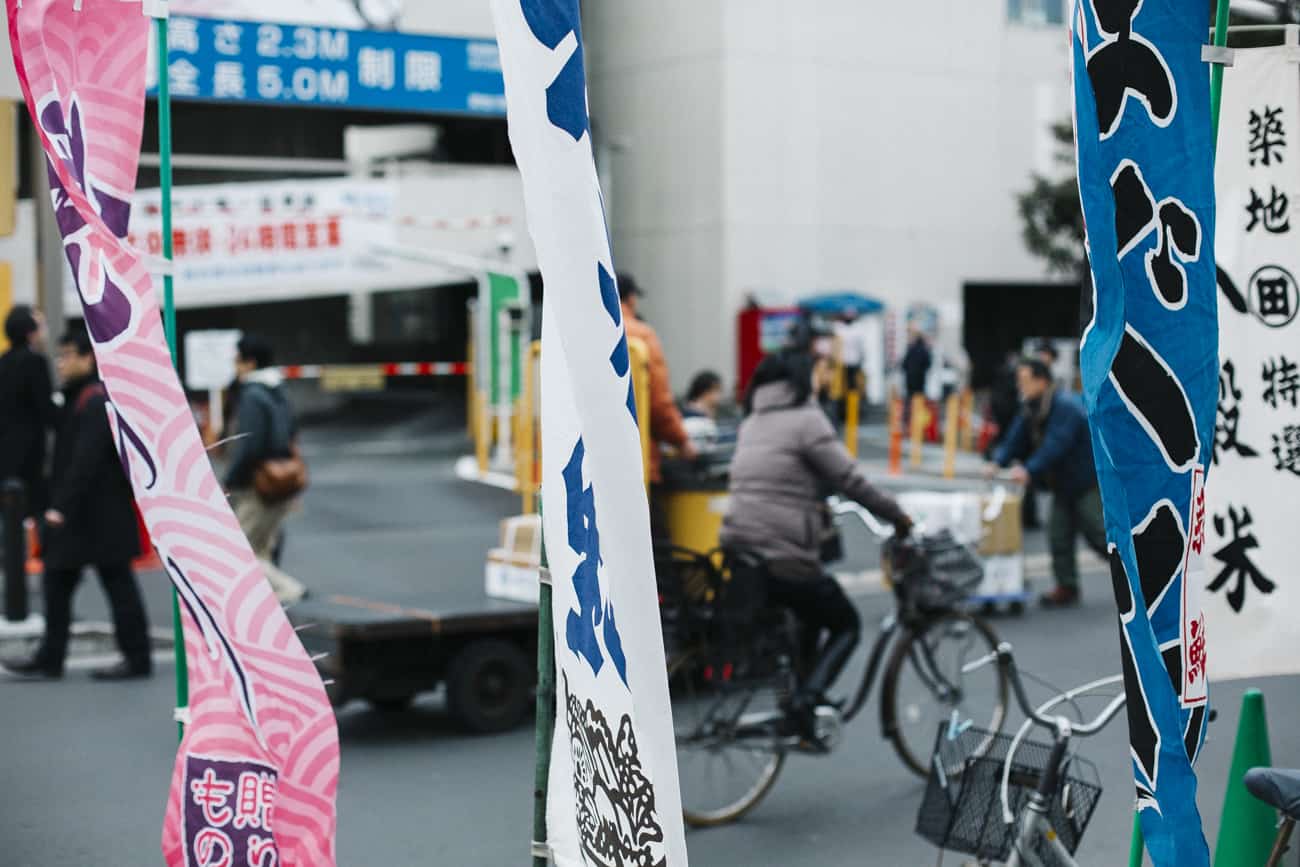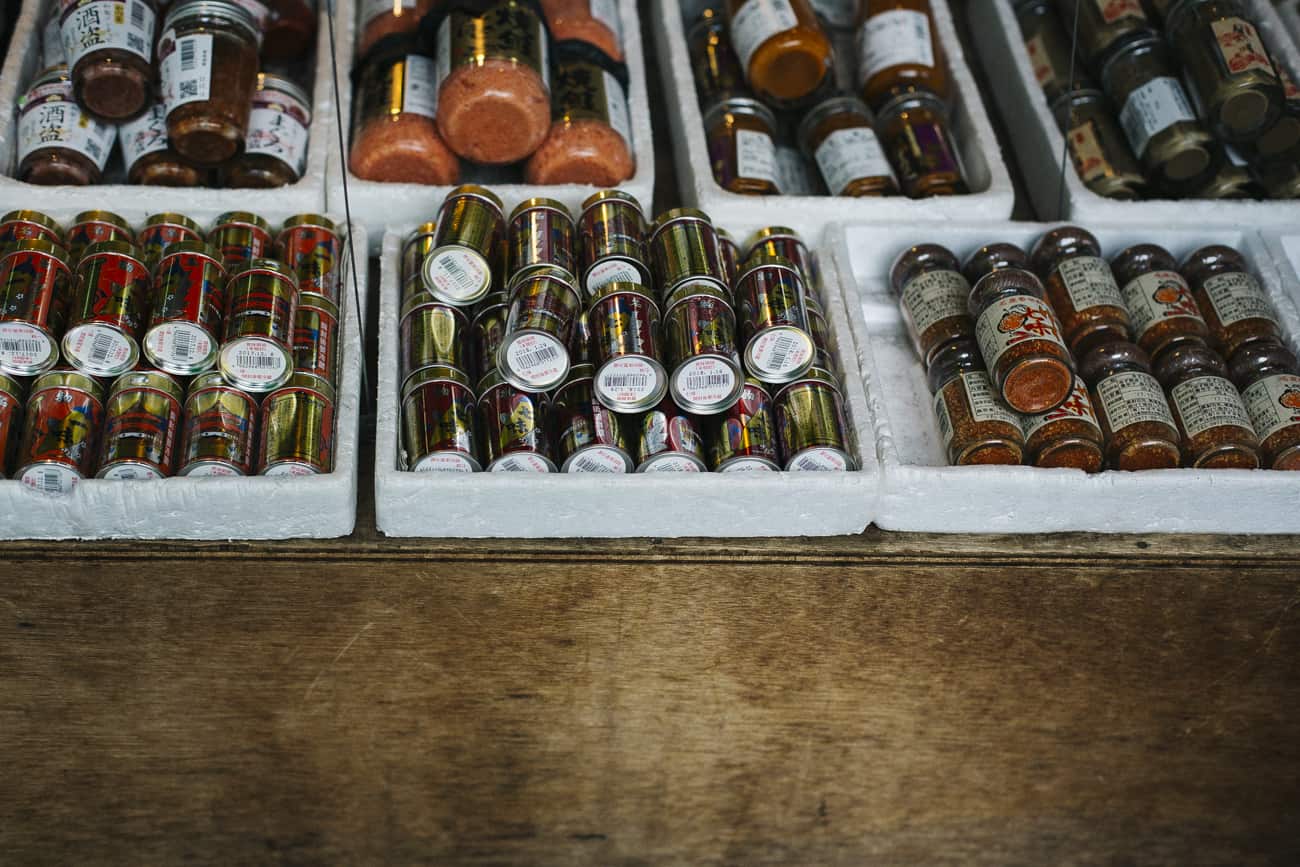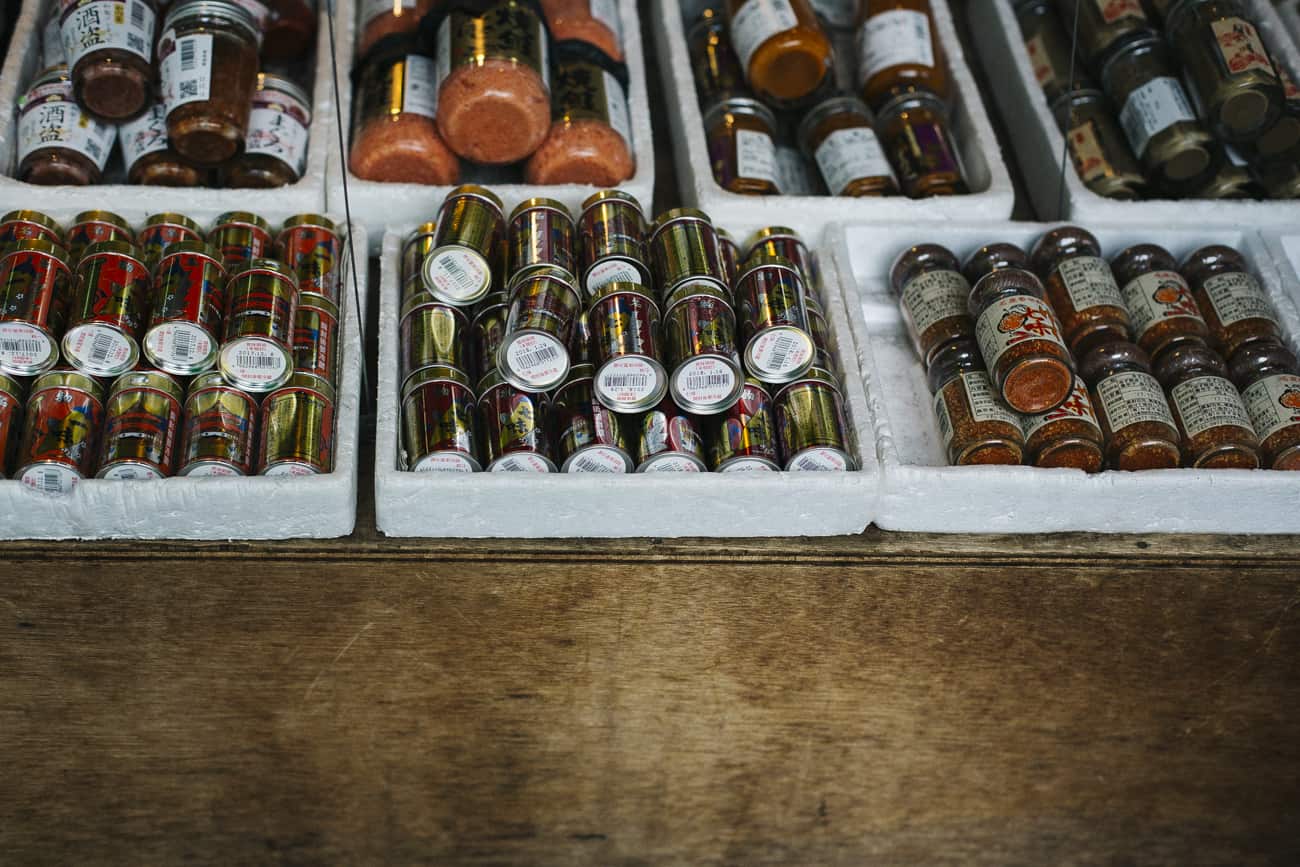 We also got to try some delicious tamago (japanese omelette) in the outer market. It's fun to watch it being made, as it's cooked and rolled layer by layer in a square pan!
Nothing is ever too mixed here – every supplier here has their own specialty and sticks to it: tamago, seaweed, green tea, dried mushrooms and condiments… In almost every place you go to, you can rest assured that they know and are passionate about what they are providing to the market.
In the back of the market, there is even a shrine that serves as a guardian for the marketplace and its traders. There are some plaques and carvings there which are made for every type of trader (such as an egg-shaped one for the omelette makers), to bring them luck & abundance.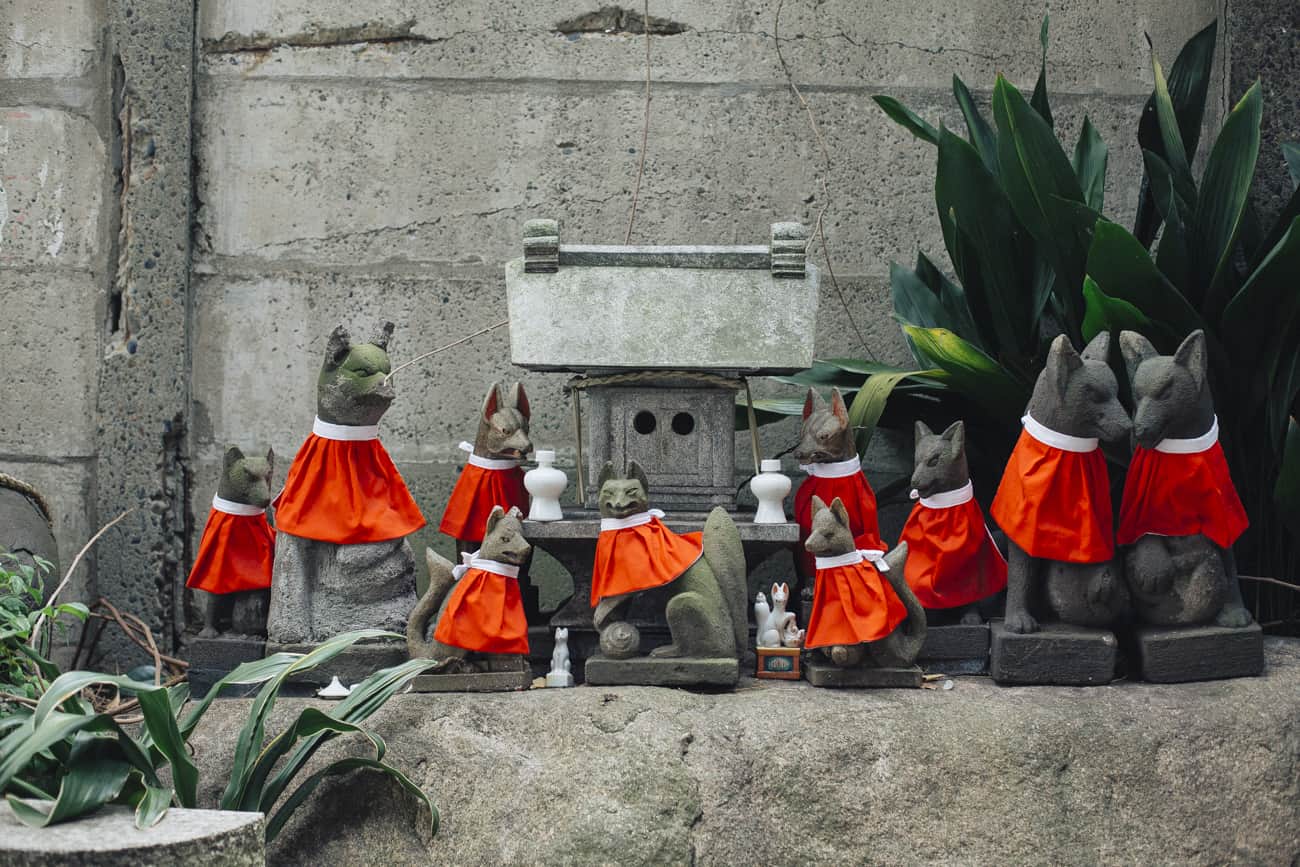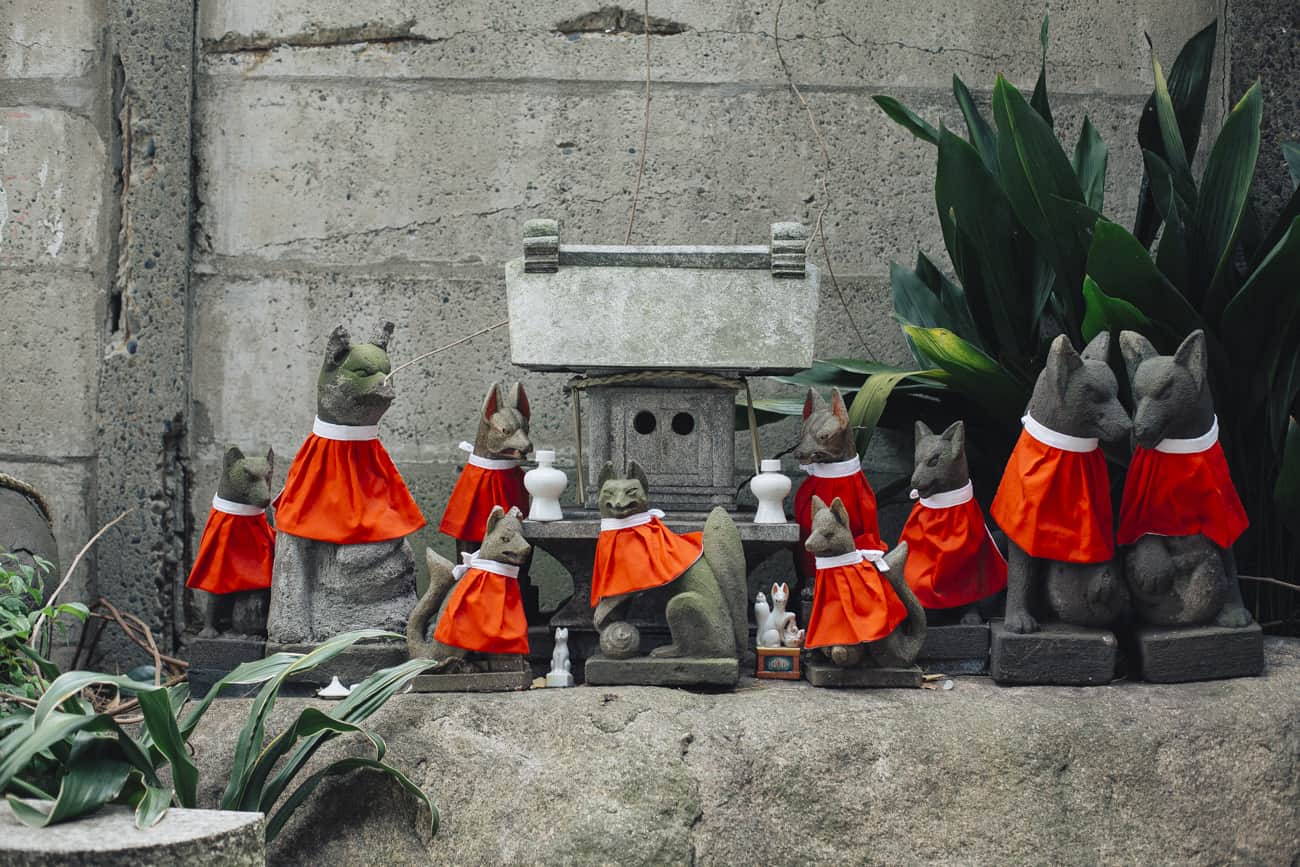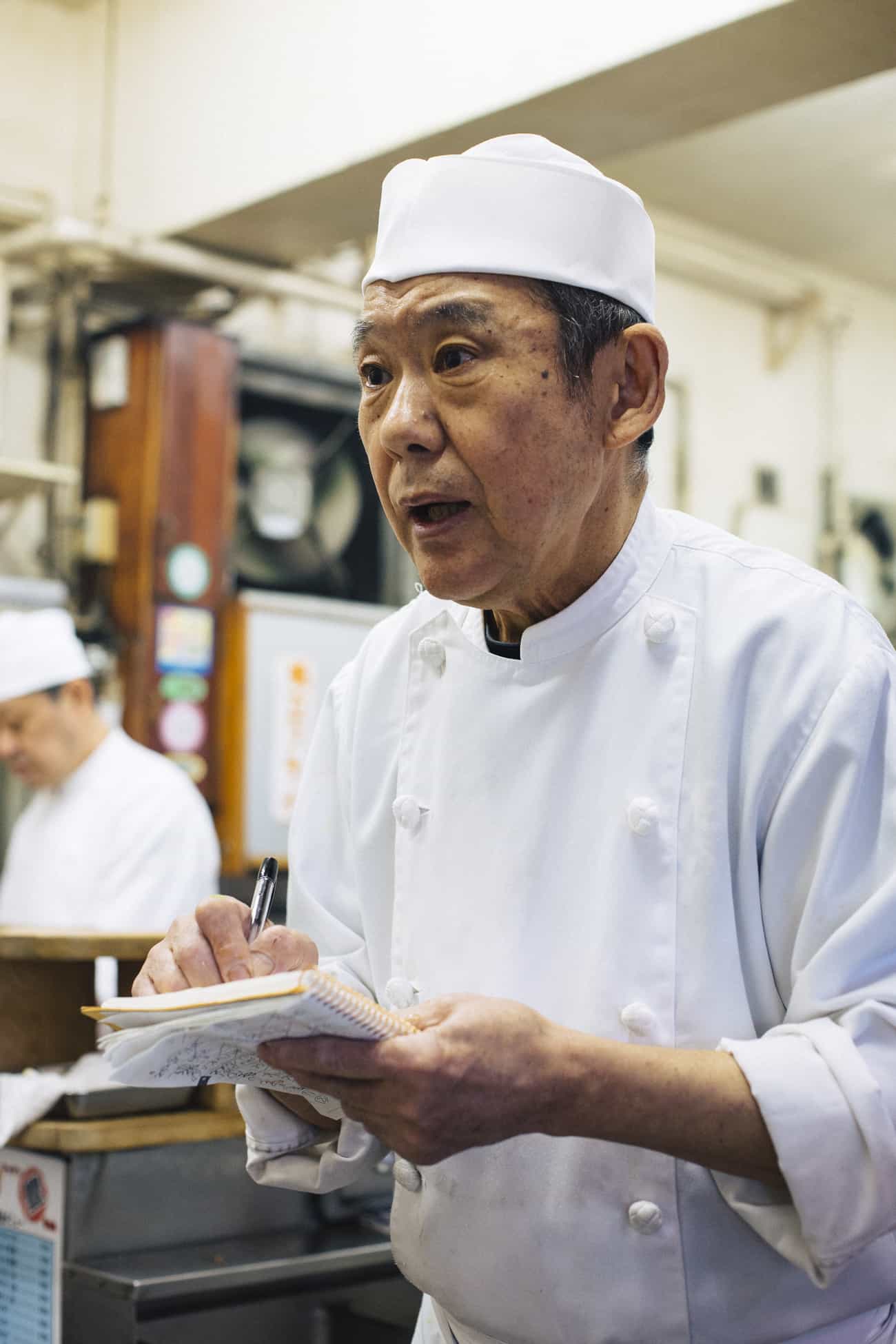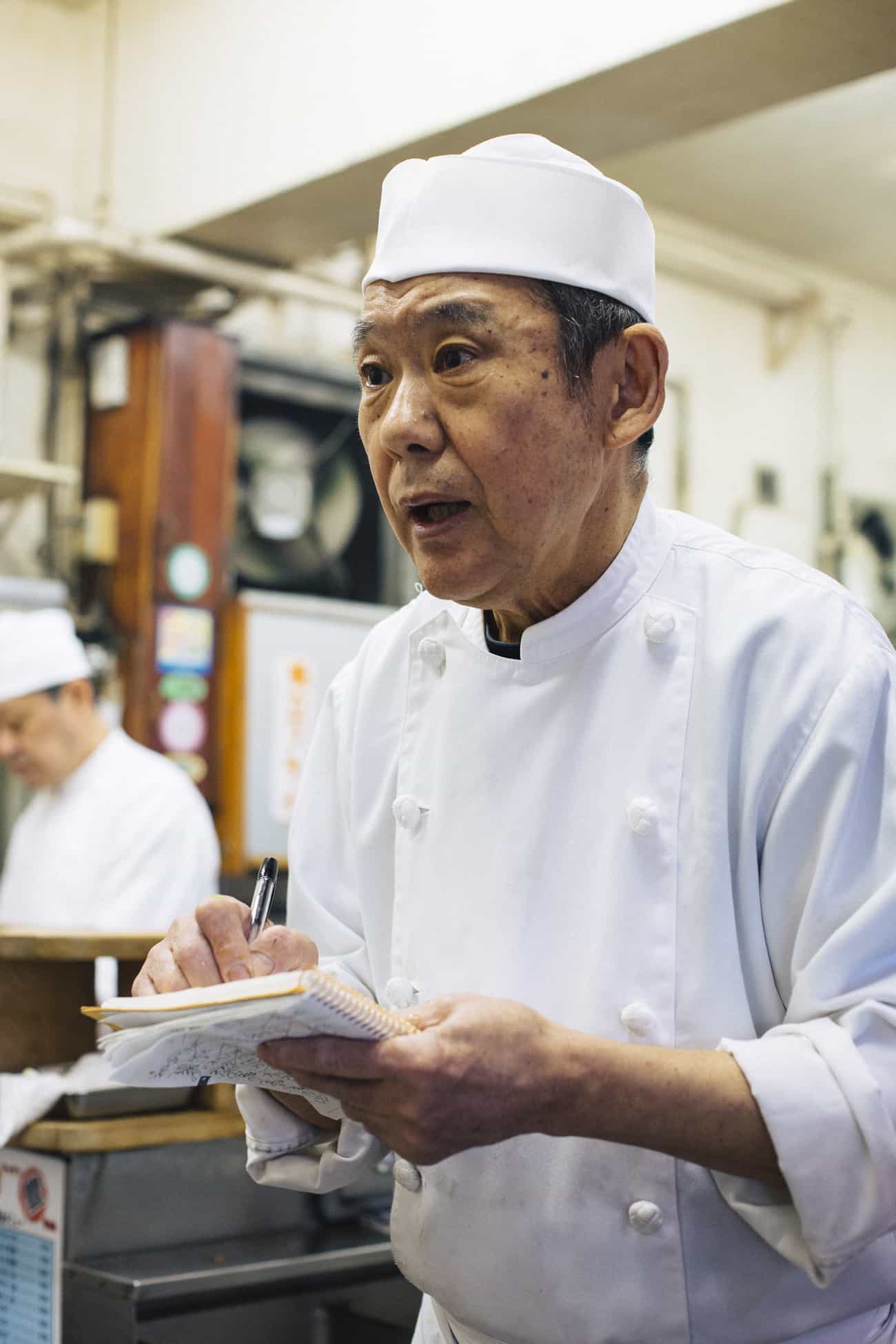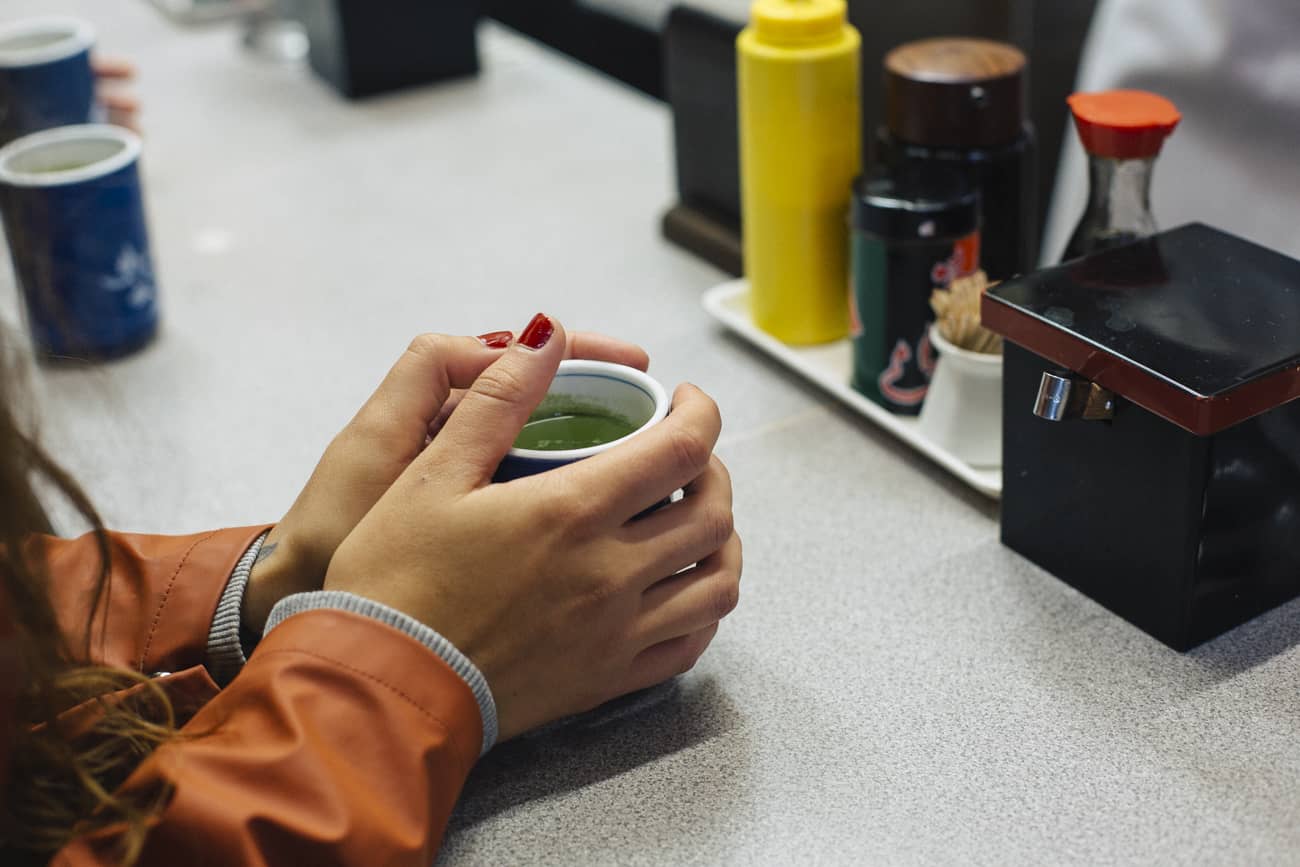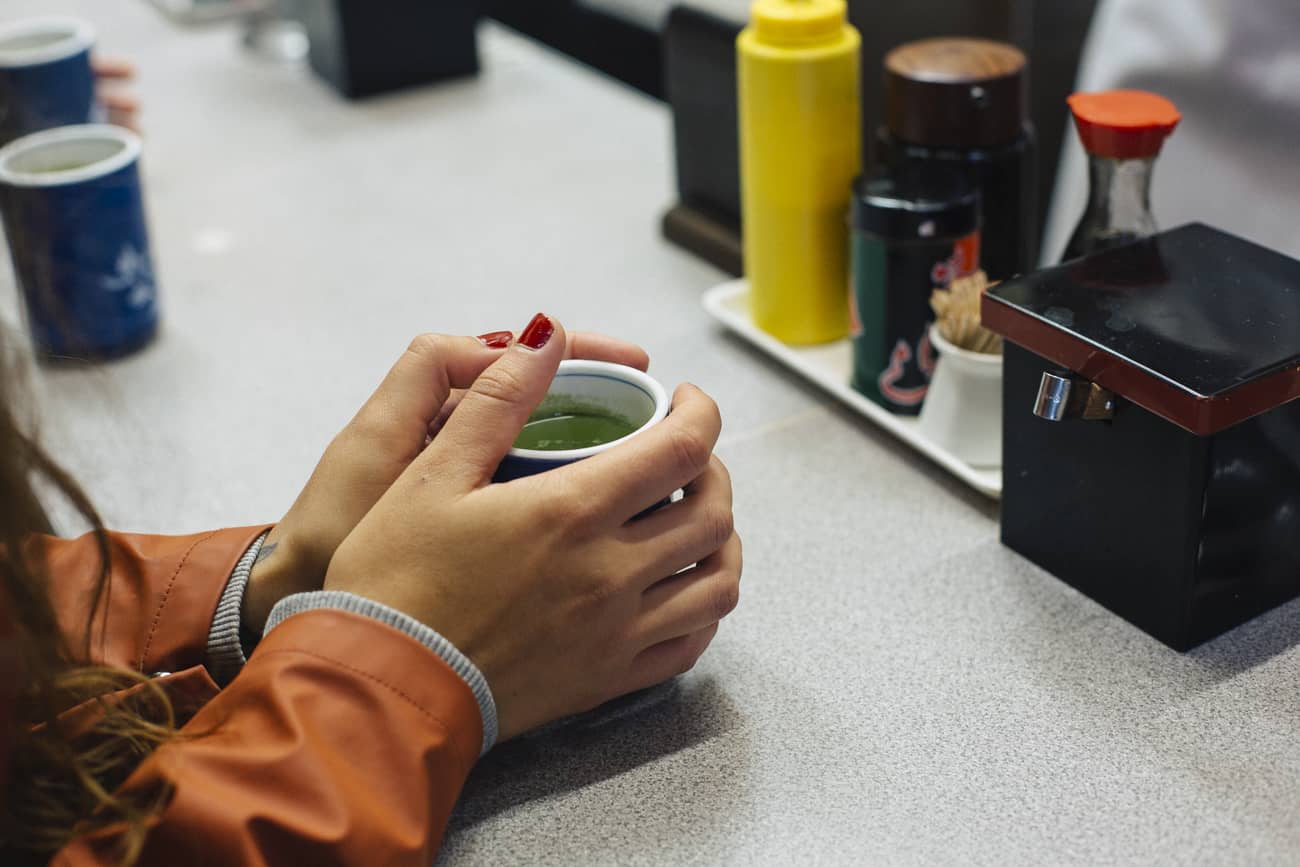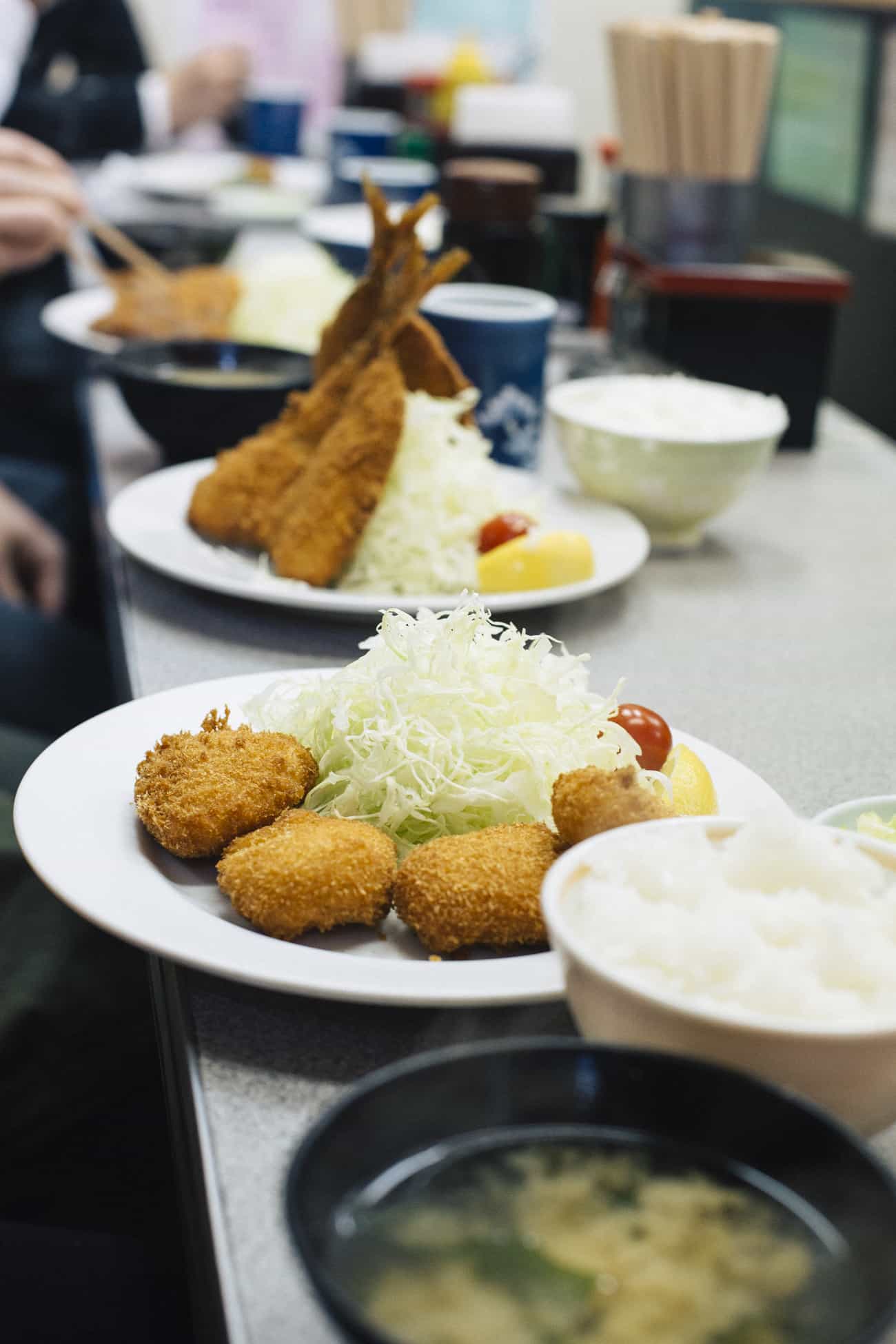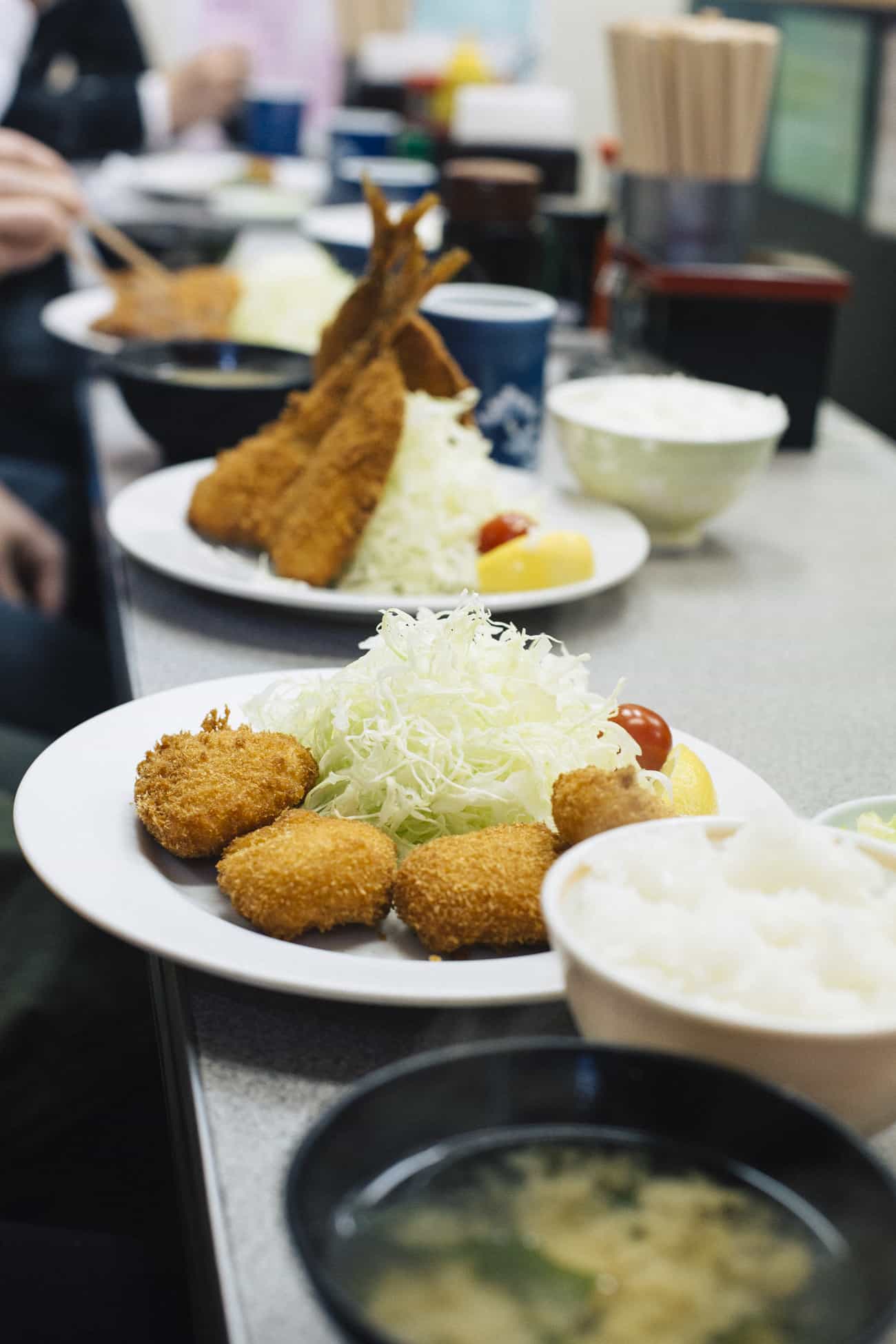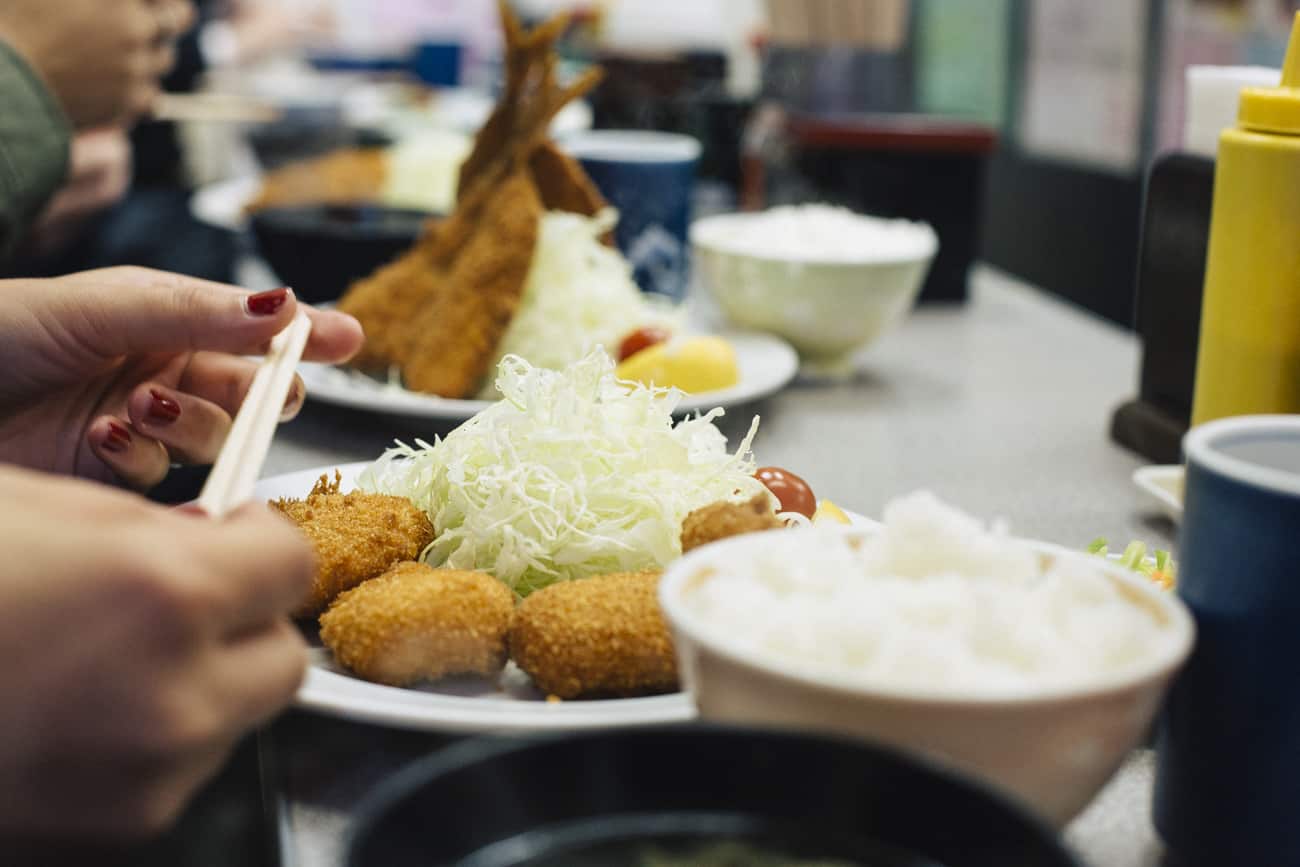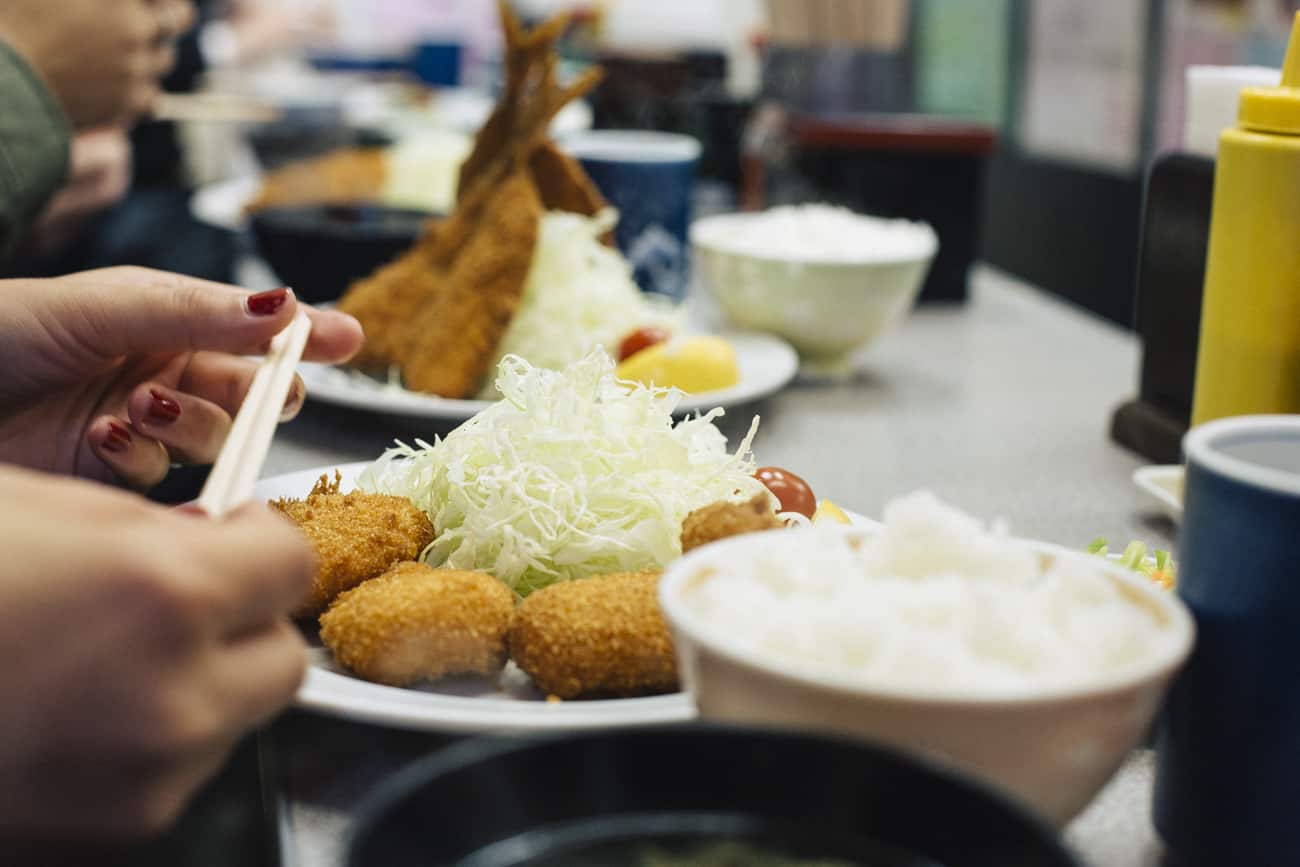 A visit at the market can't be completed without actually tasting some things. Visits to the market are quite early in the day, so it's not very easy to swallow anything around that time, but we had a local breakfast of miso, rice and other crispy things. It was definitely easier on the stomach than eating sushi at 6AM like many people do in the market (and like I did with my dad last time I was there)!
We also had to grab a bite of my favourite japanese sweet delicacy: Mochi! It is made of a soft outer layer of rice paste and usually filled with sweet aduki beans. Although it sounds odd, it's absolutely delicious and quite addictive really. This one even had a strawberry on it 😉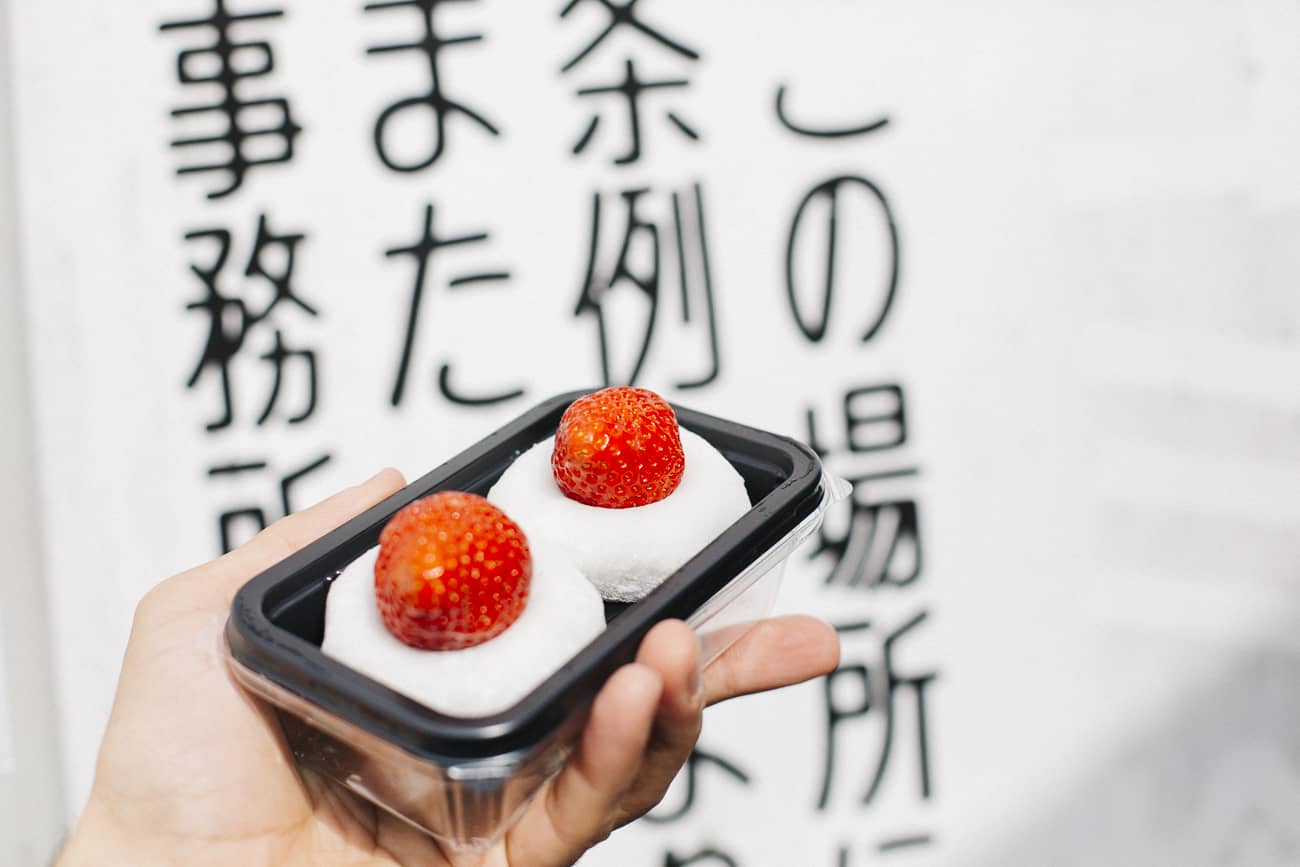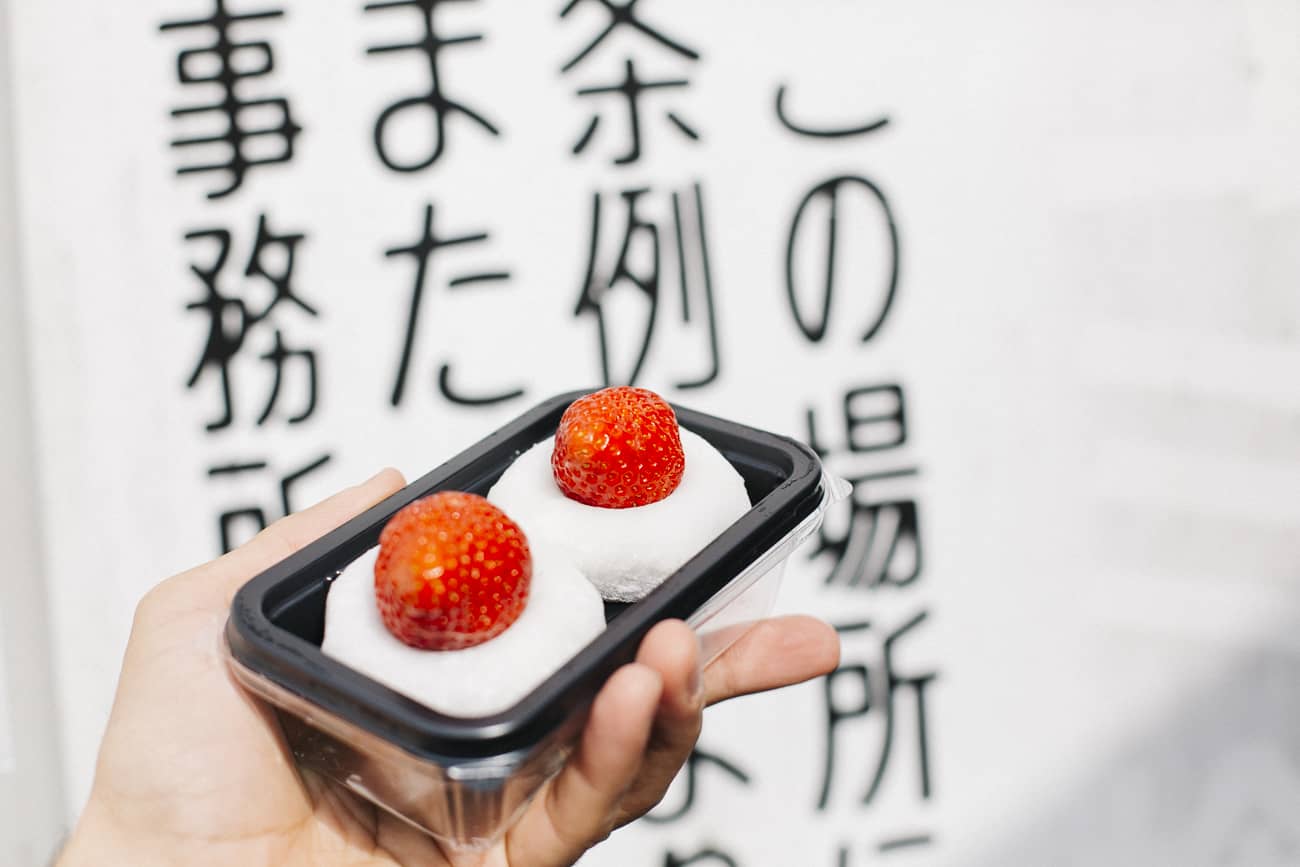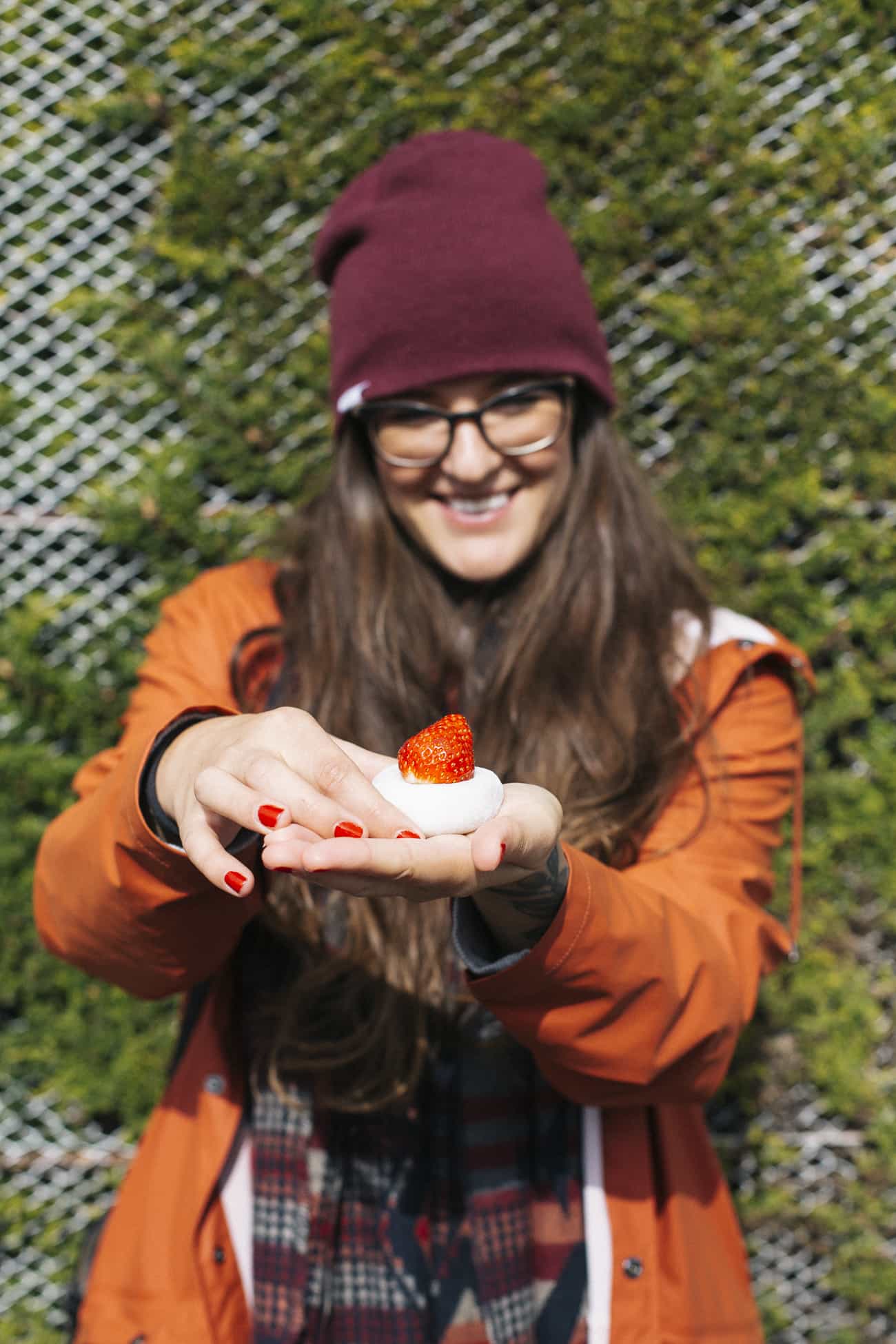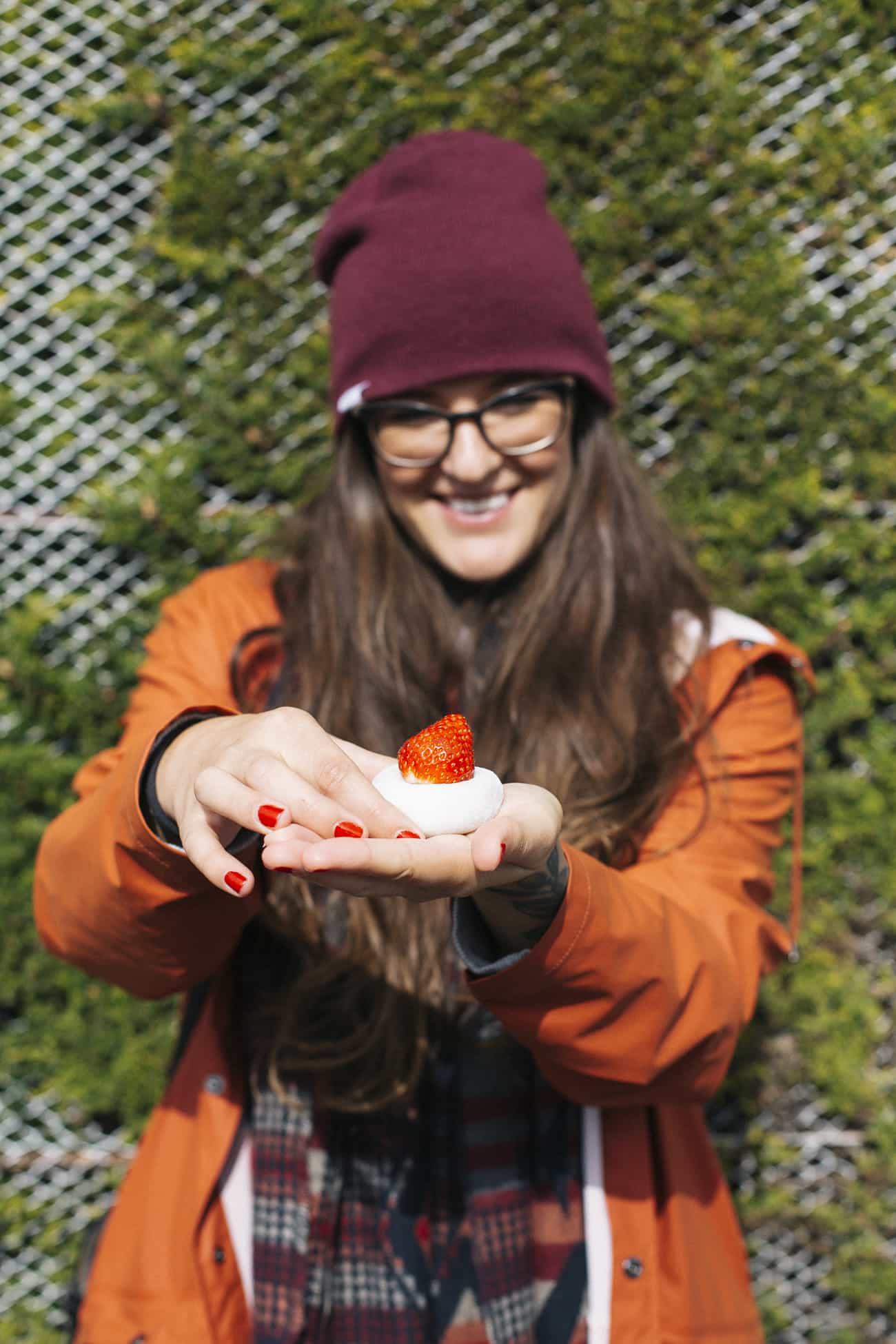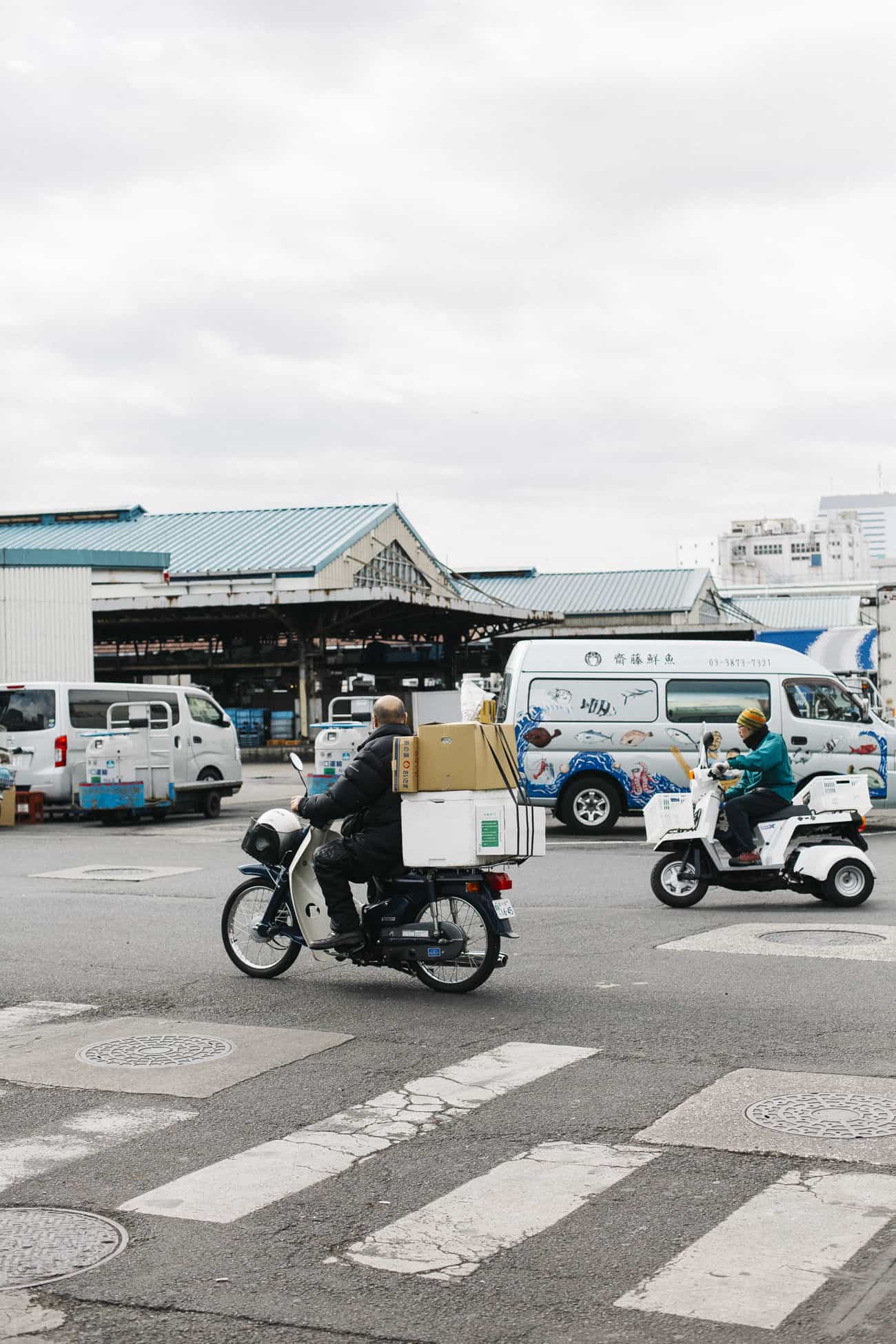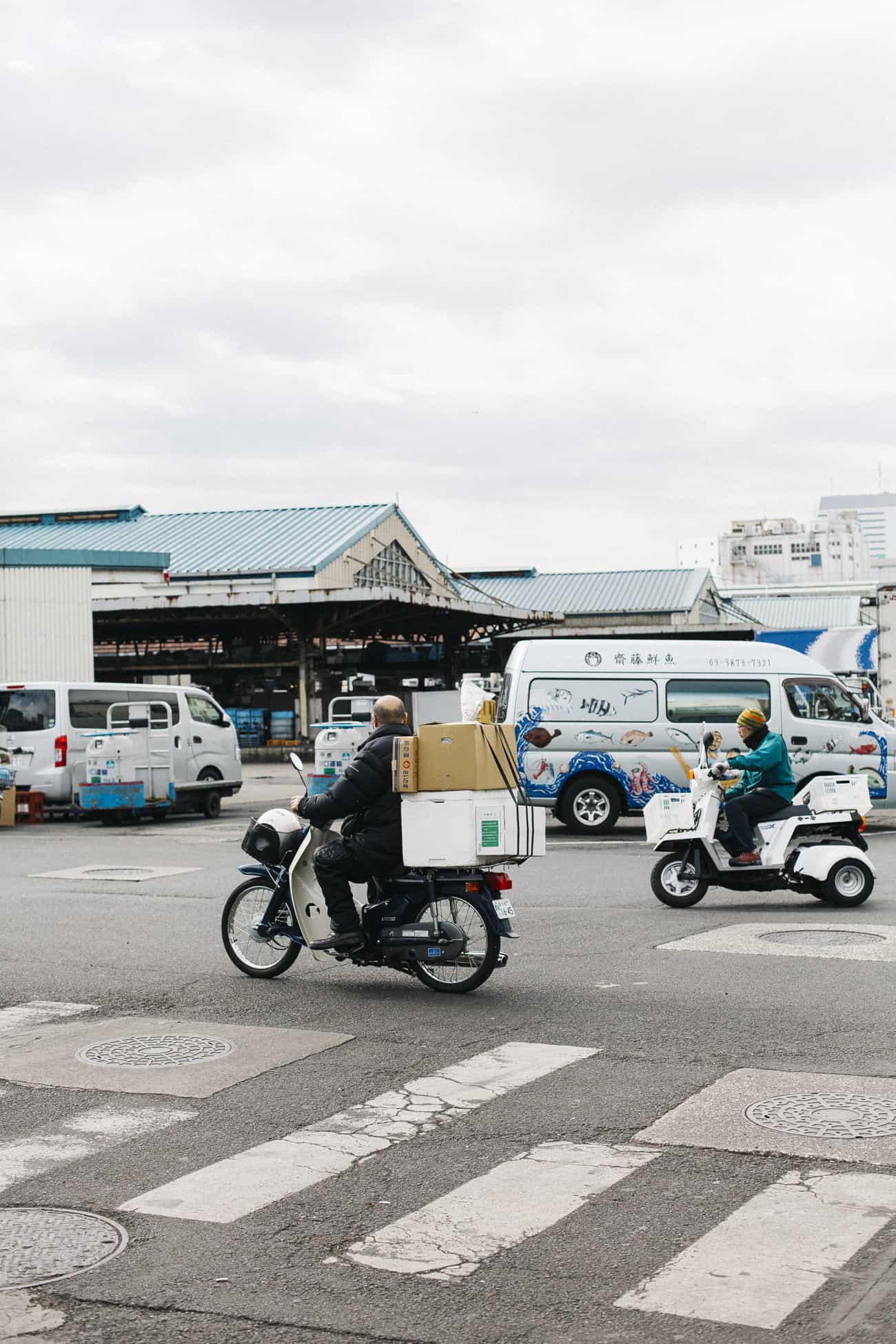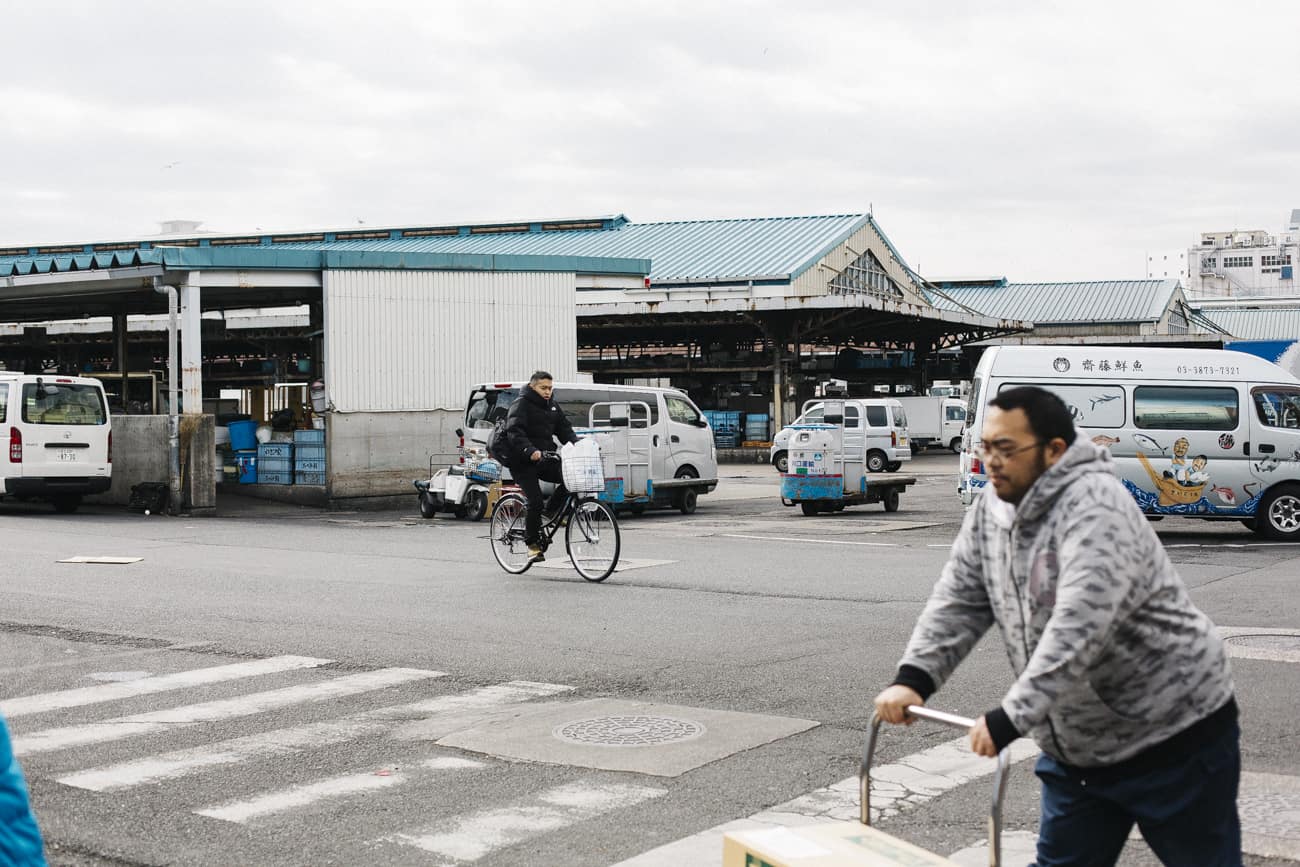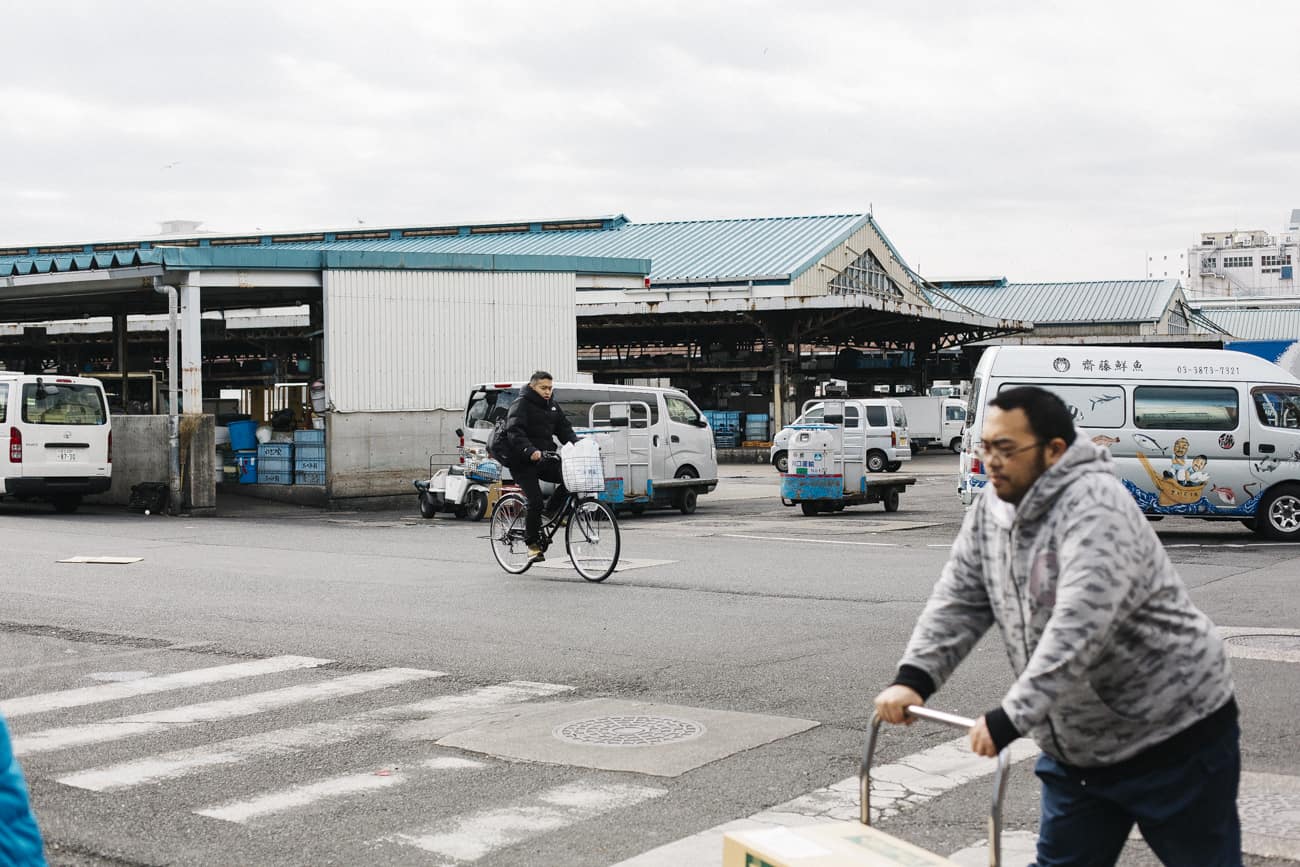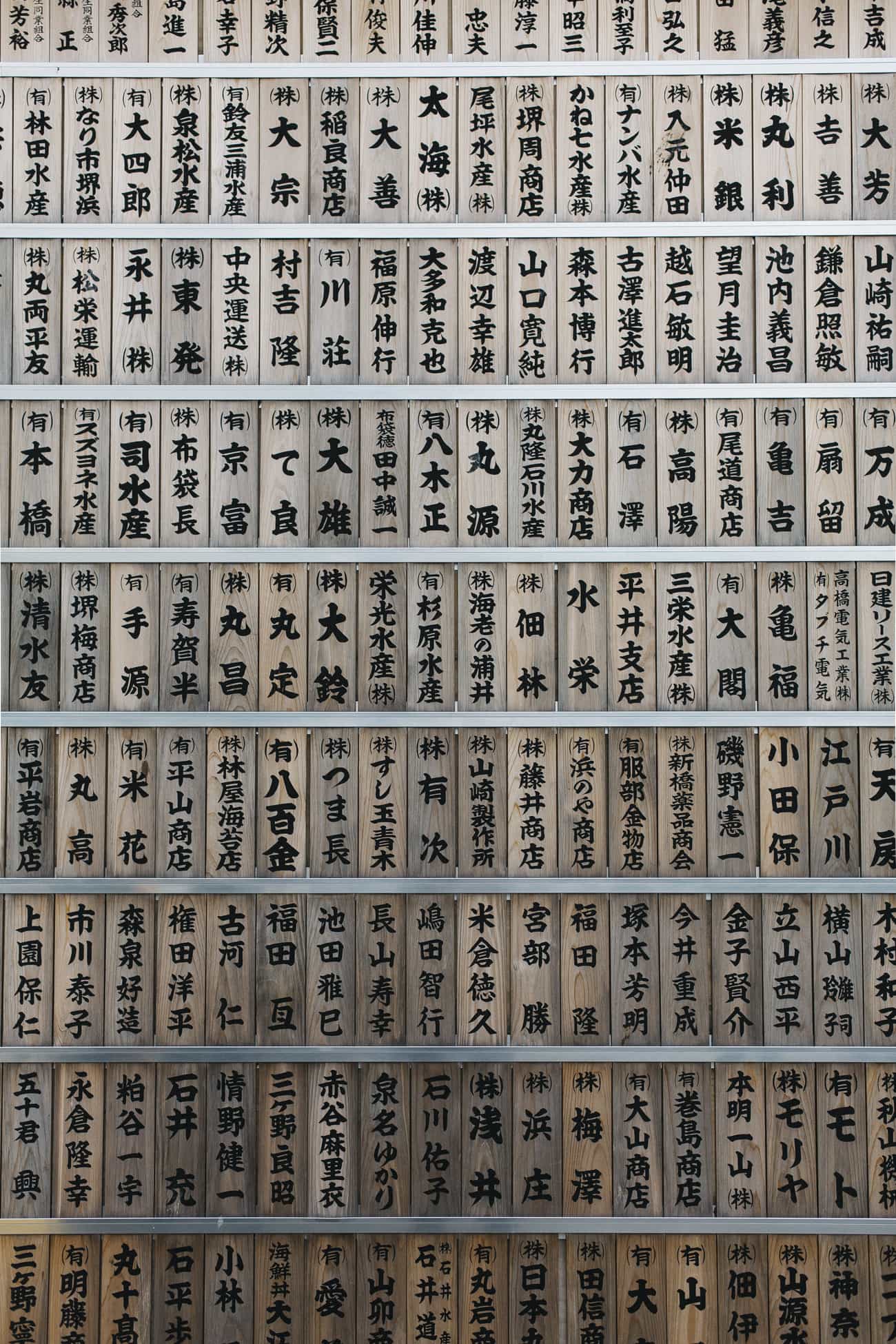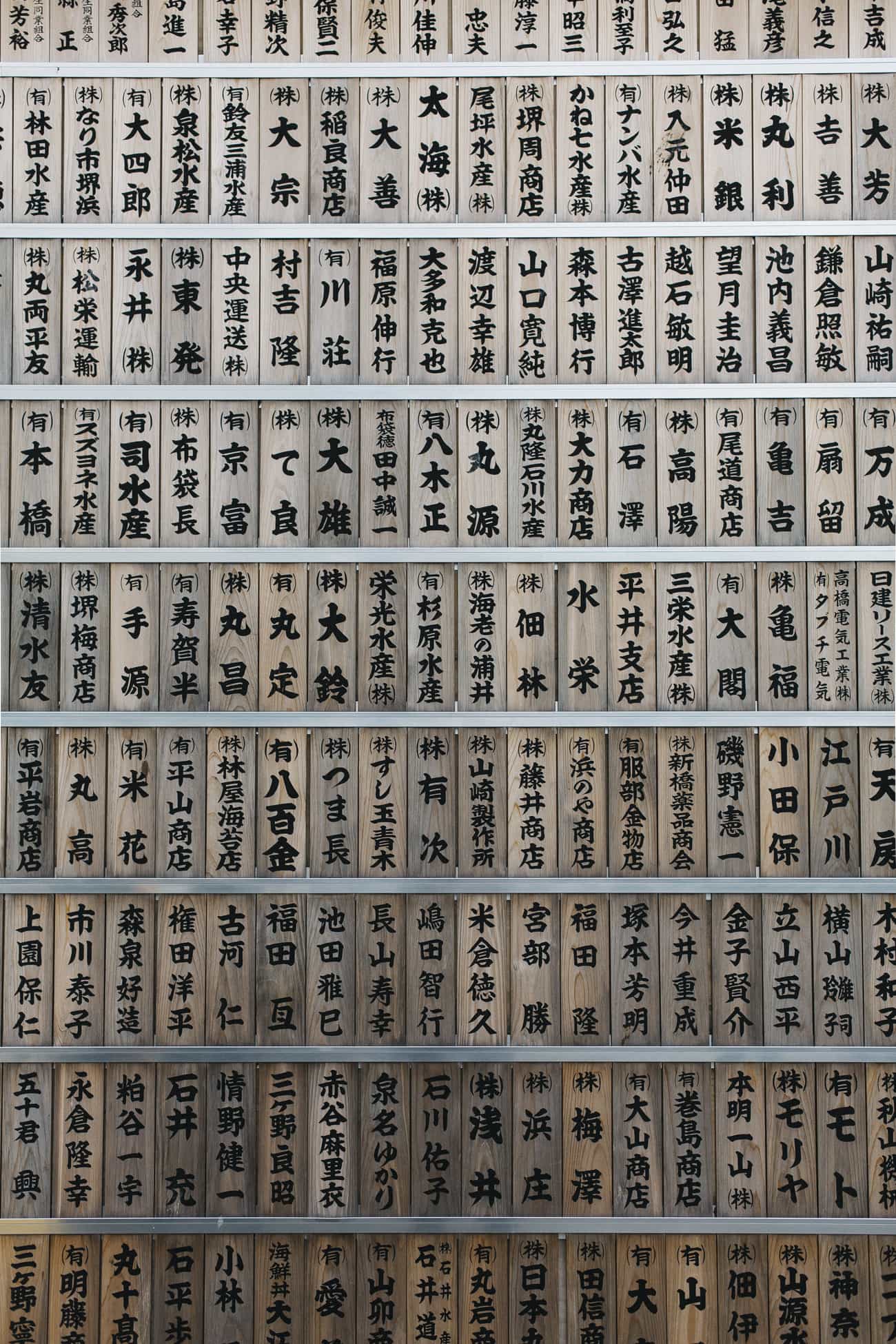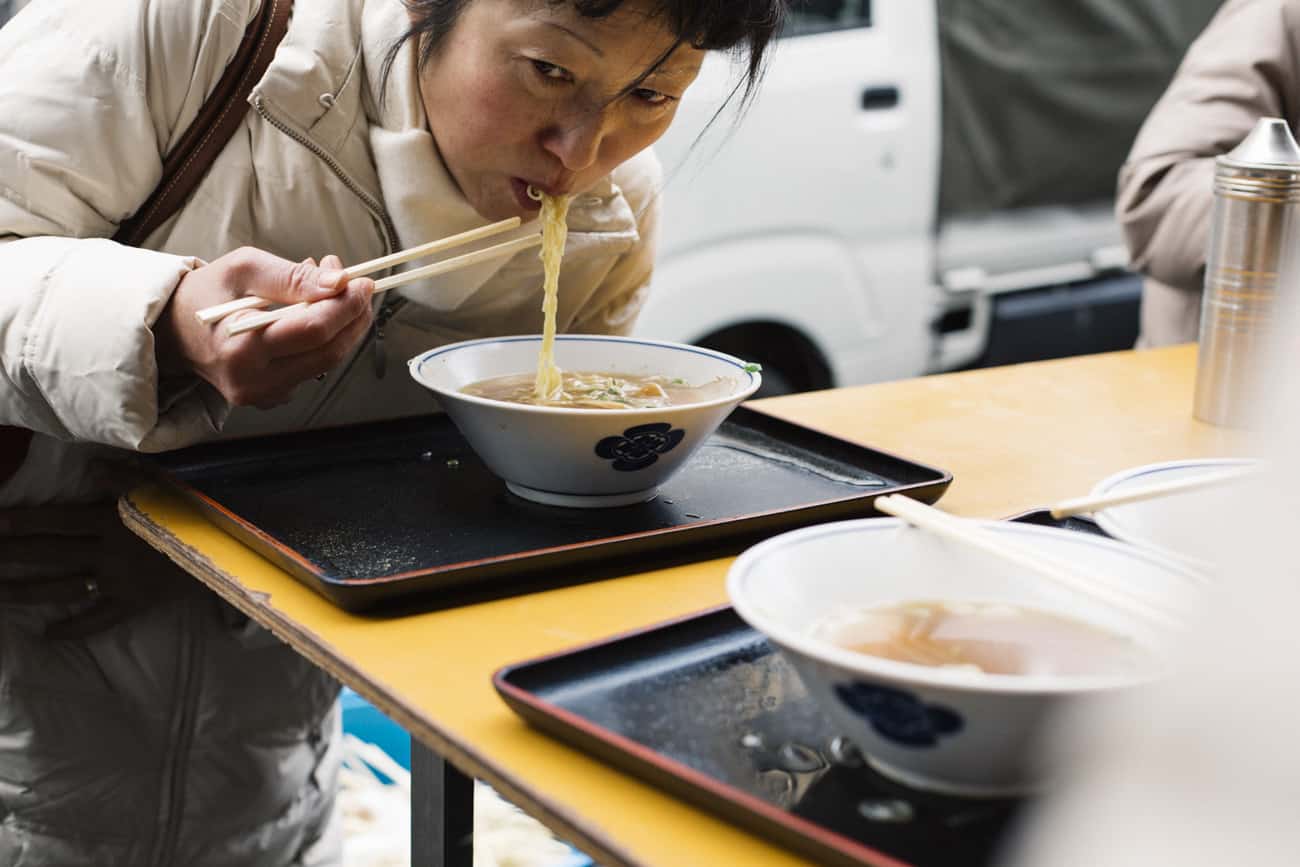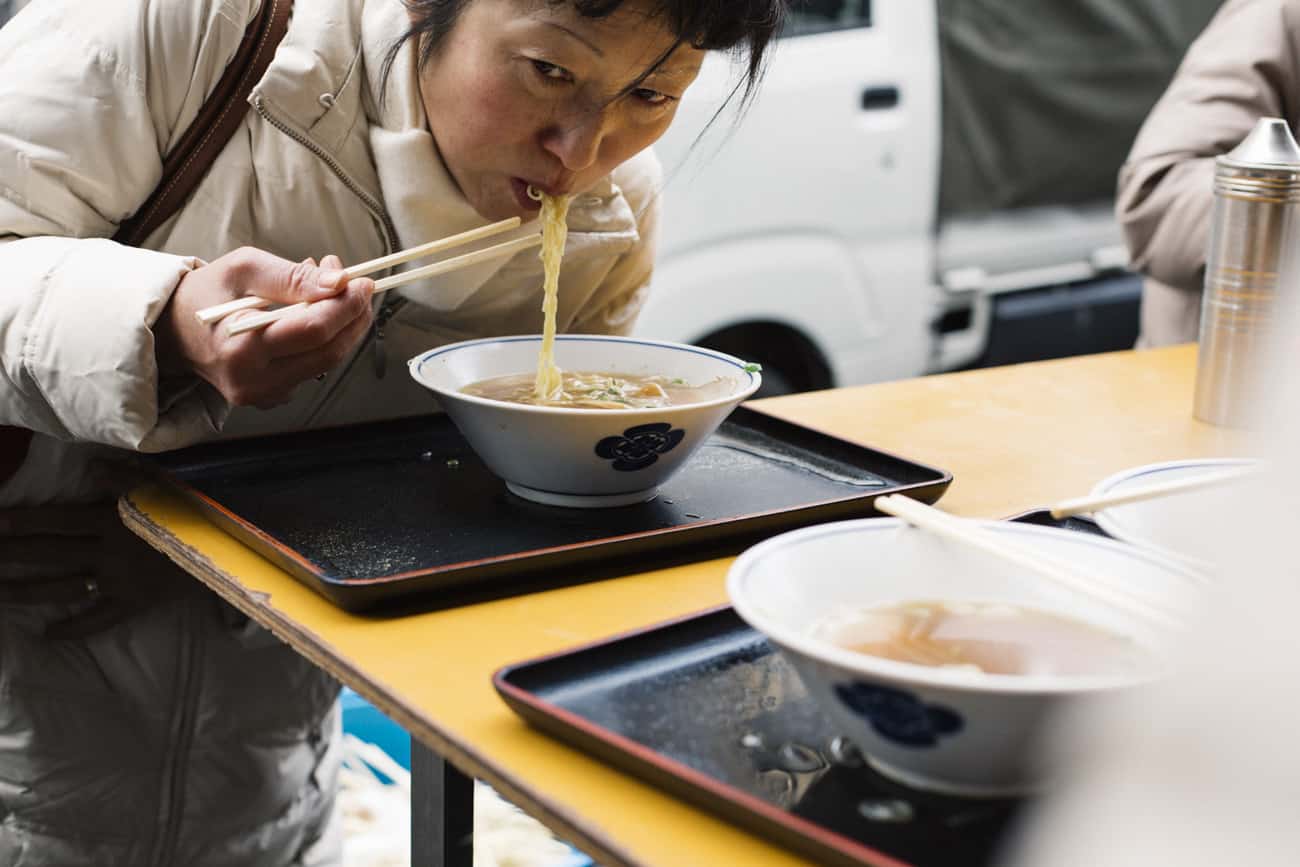 The cooking class we attended after the visit to the market was based around traditional japanese food and setting the table. That was very interesting and we learned how to make THE base of all japanese cooking = the dashi stock. Unfortunately this stock is not vegetarian, as it uses dried bonito flakes. We do eat fish from time to time if there aren't any other appealing options, although I always prefer to stick with vegetarian food. However, dashi is the exact reason why it is rather hard to eat 100% veg in Japan anyway, and why we are taking it flexibly while living here! It is a delicious thing and very, very umami indeed.
As we were not too far, we took the opportunity to walk towards Chiyoda where the imperial palace is. This place was surprisingly much more quiet than other touristy spots and it seemed to be frequented more by locals. We saw a few more plum and cherry trees blossoming there as well as a lovely little pond. I love how these spots are usually so peaceful.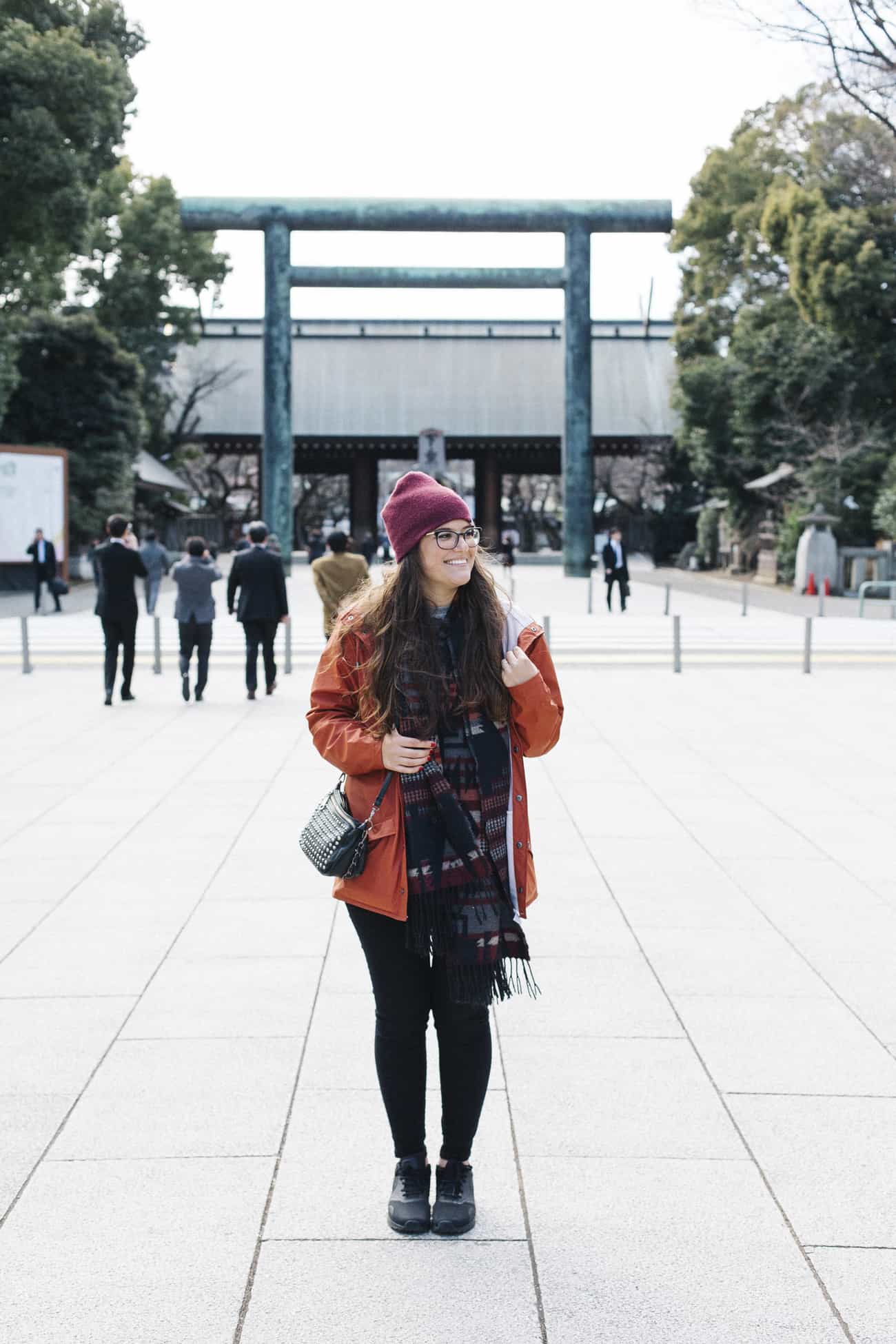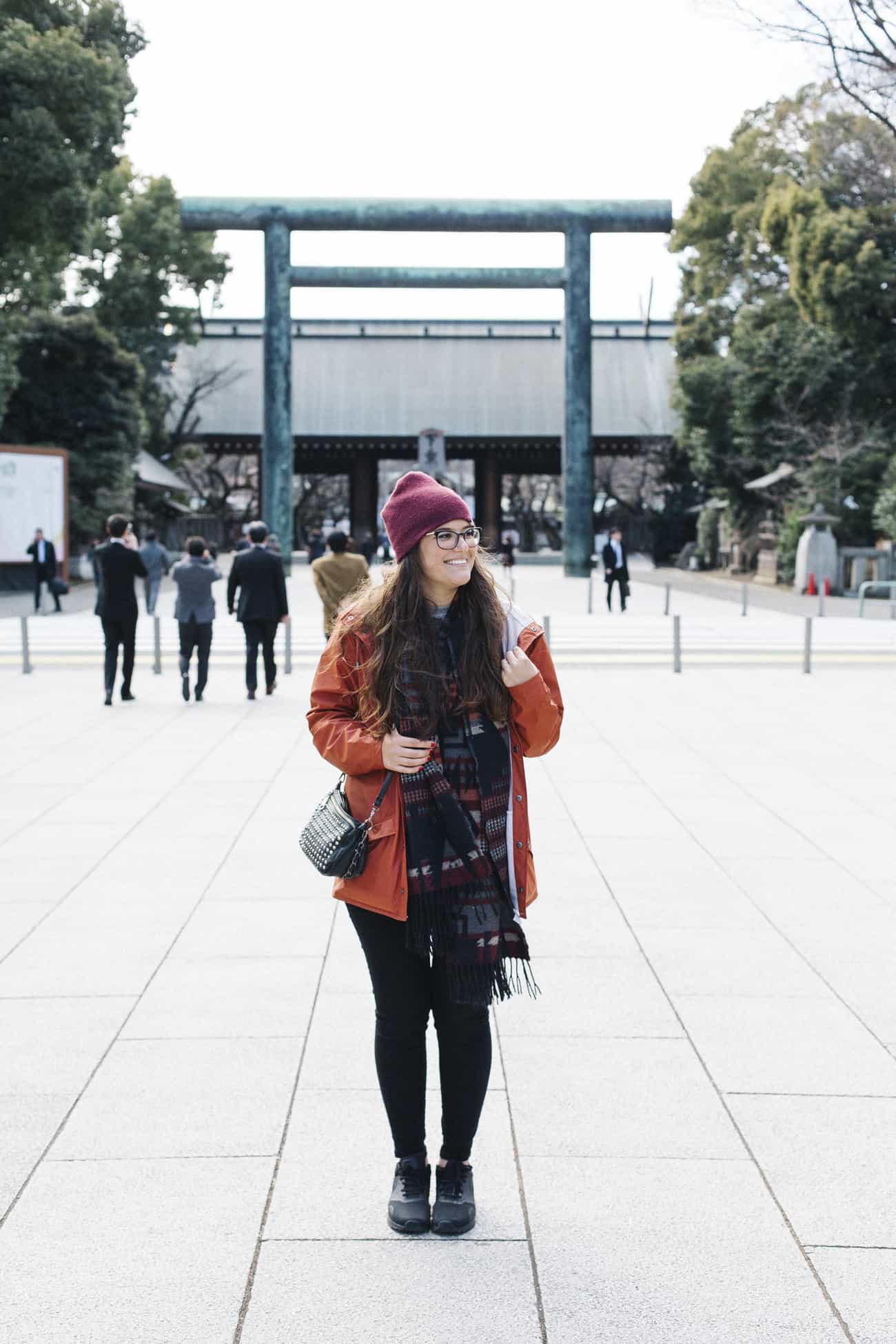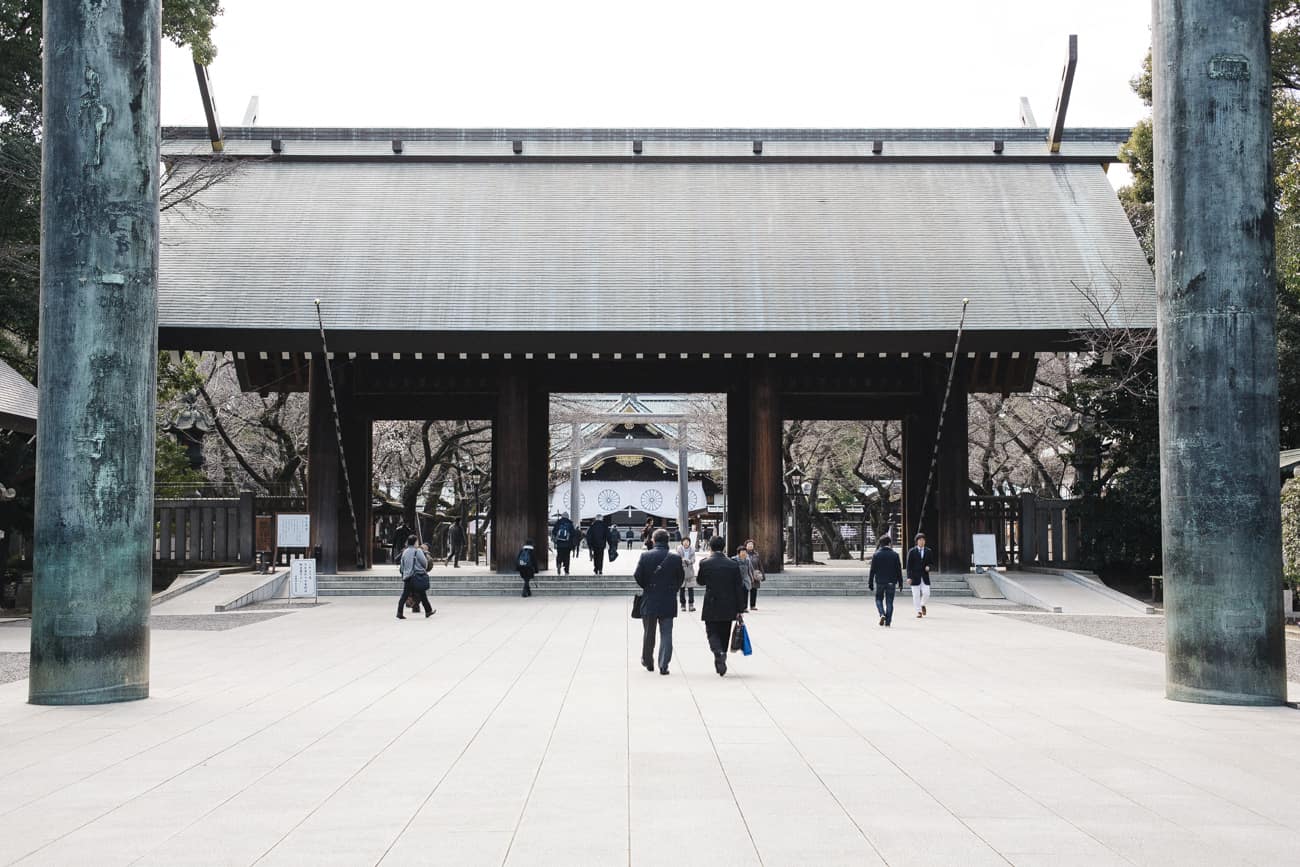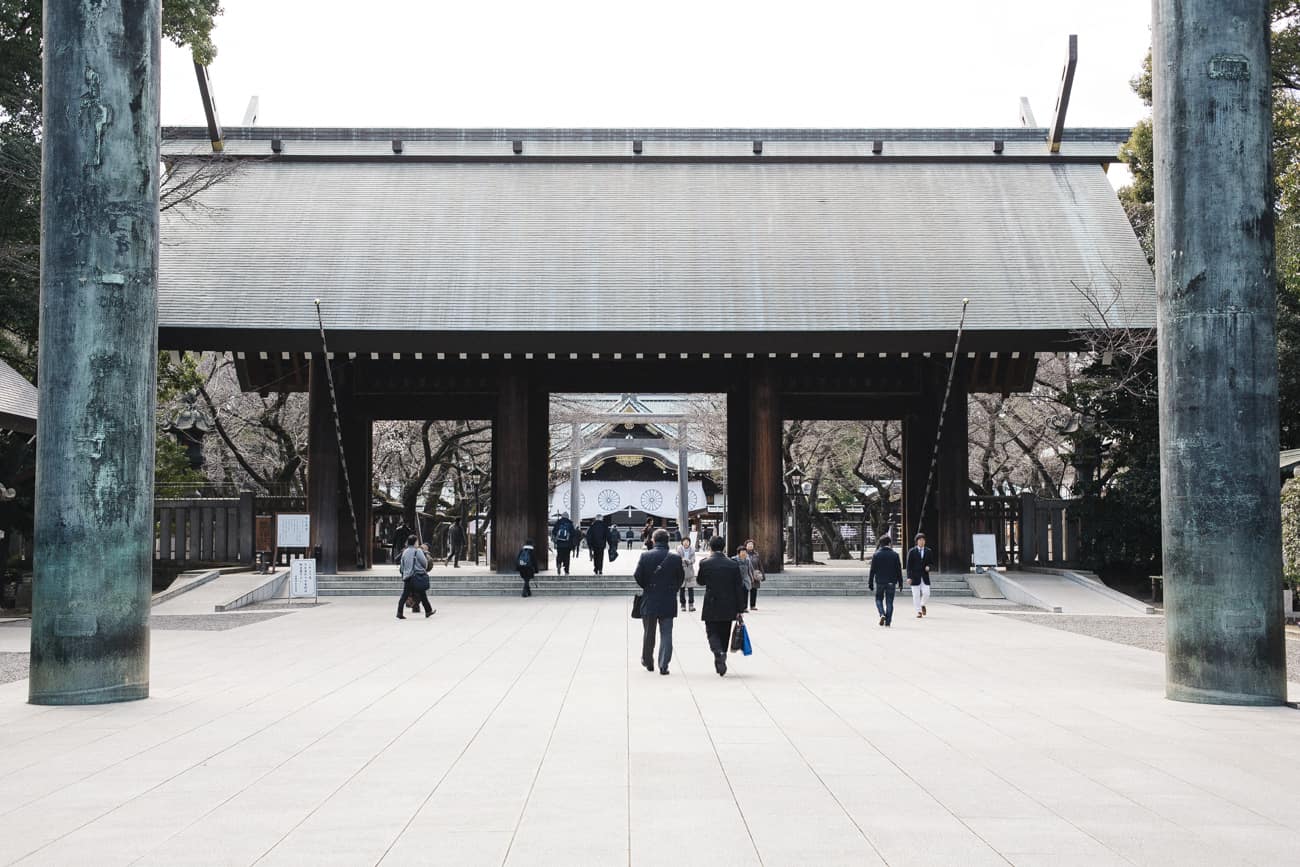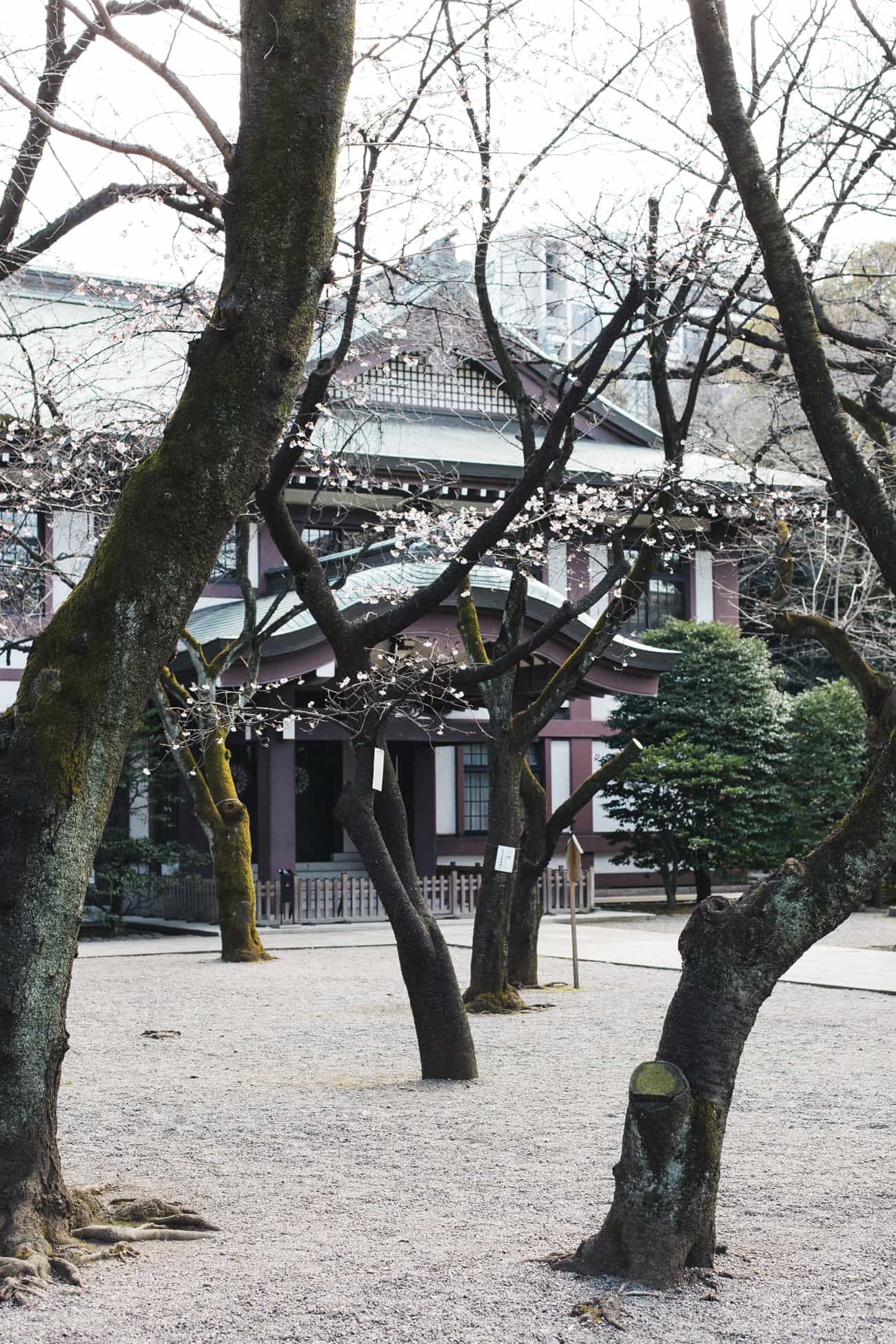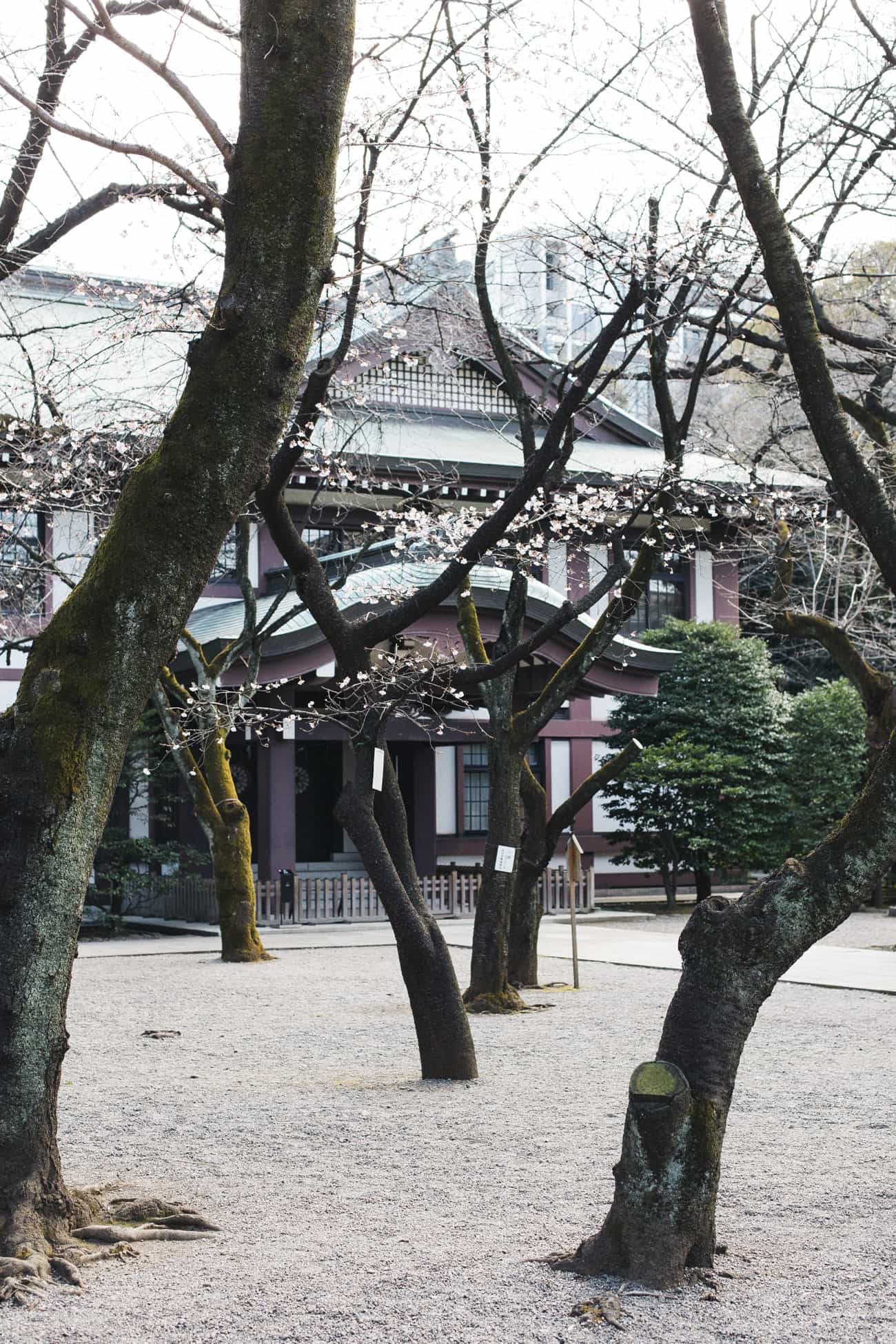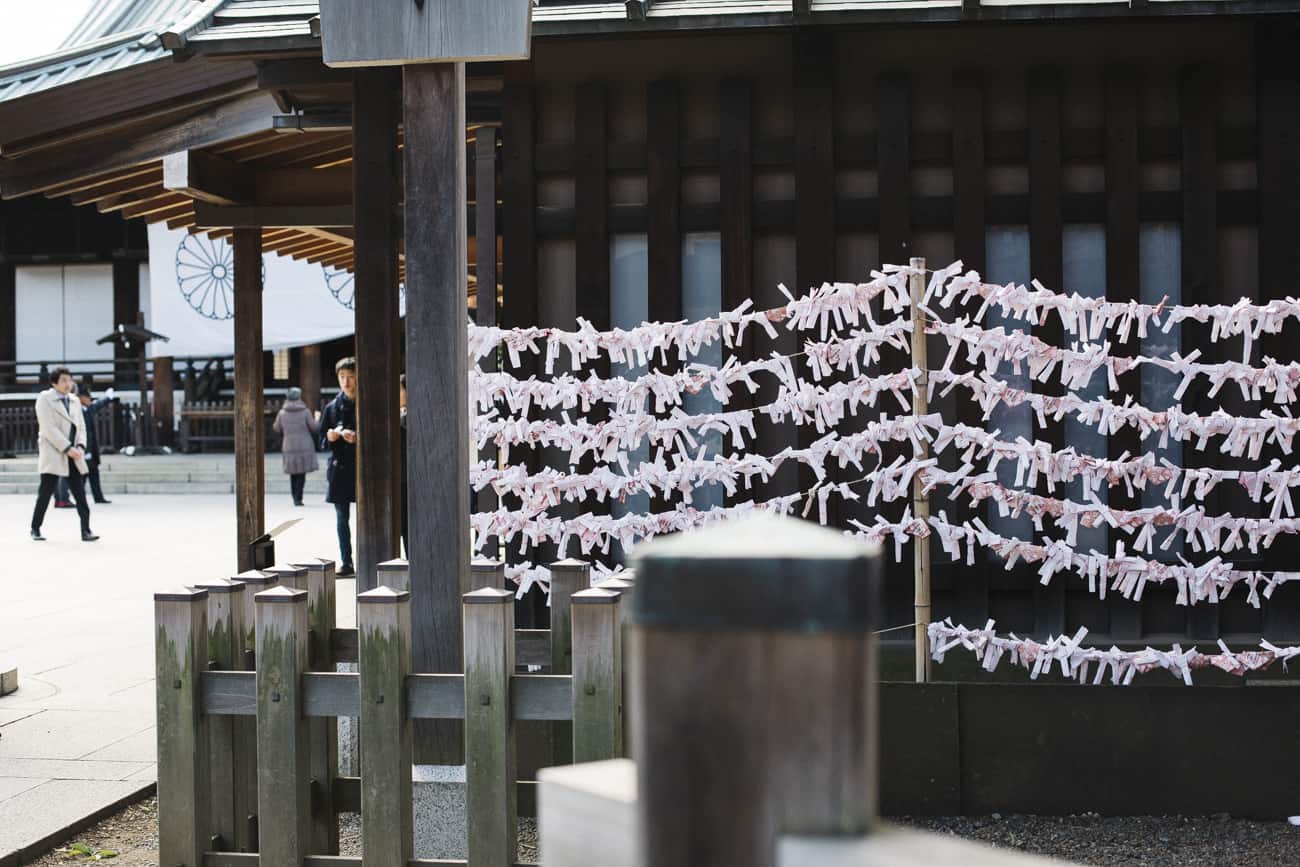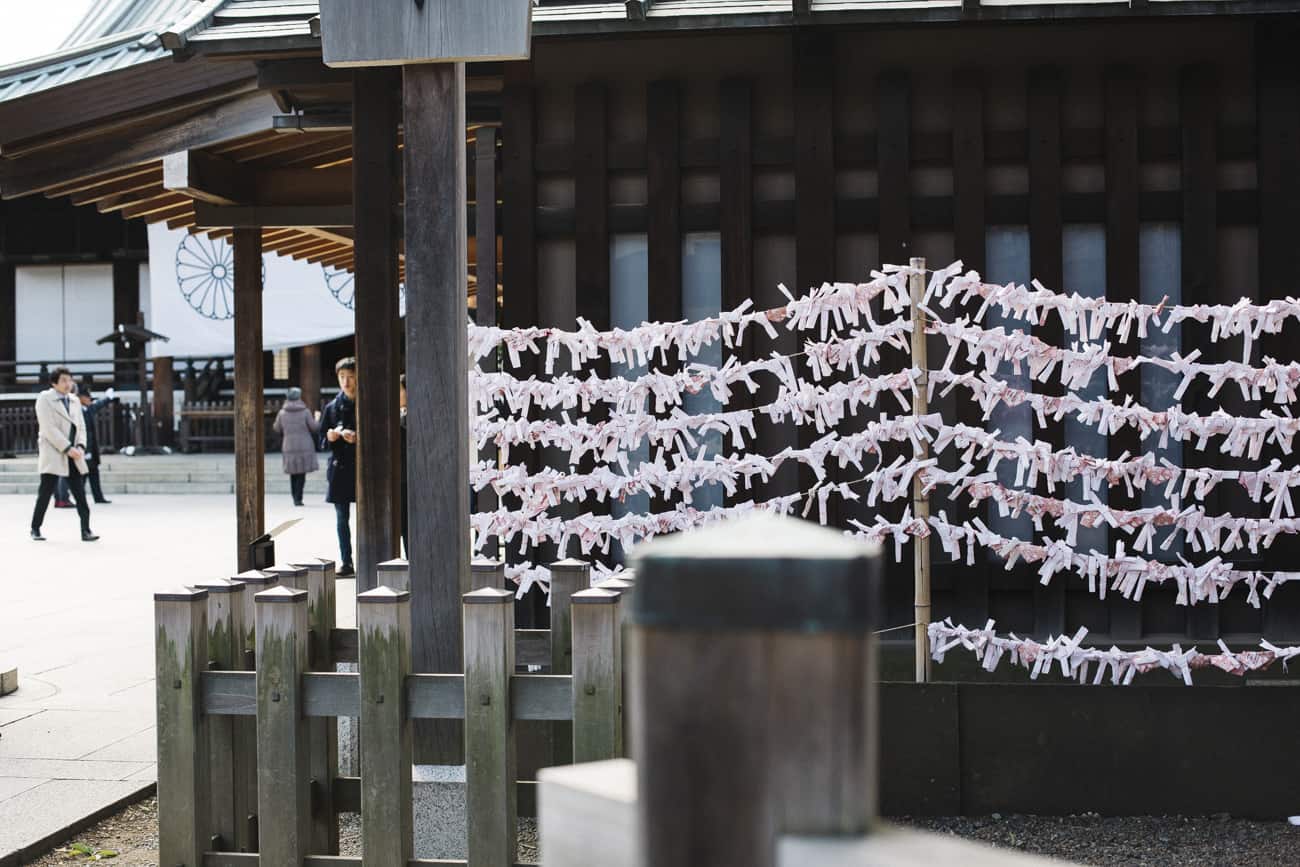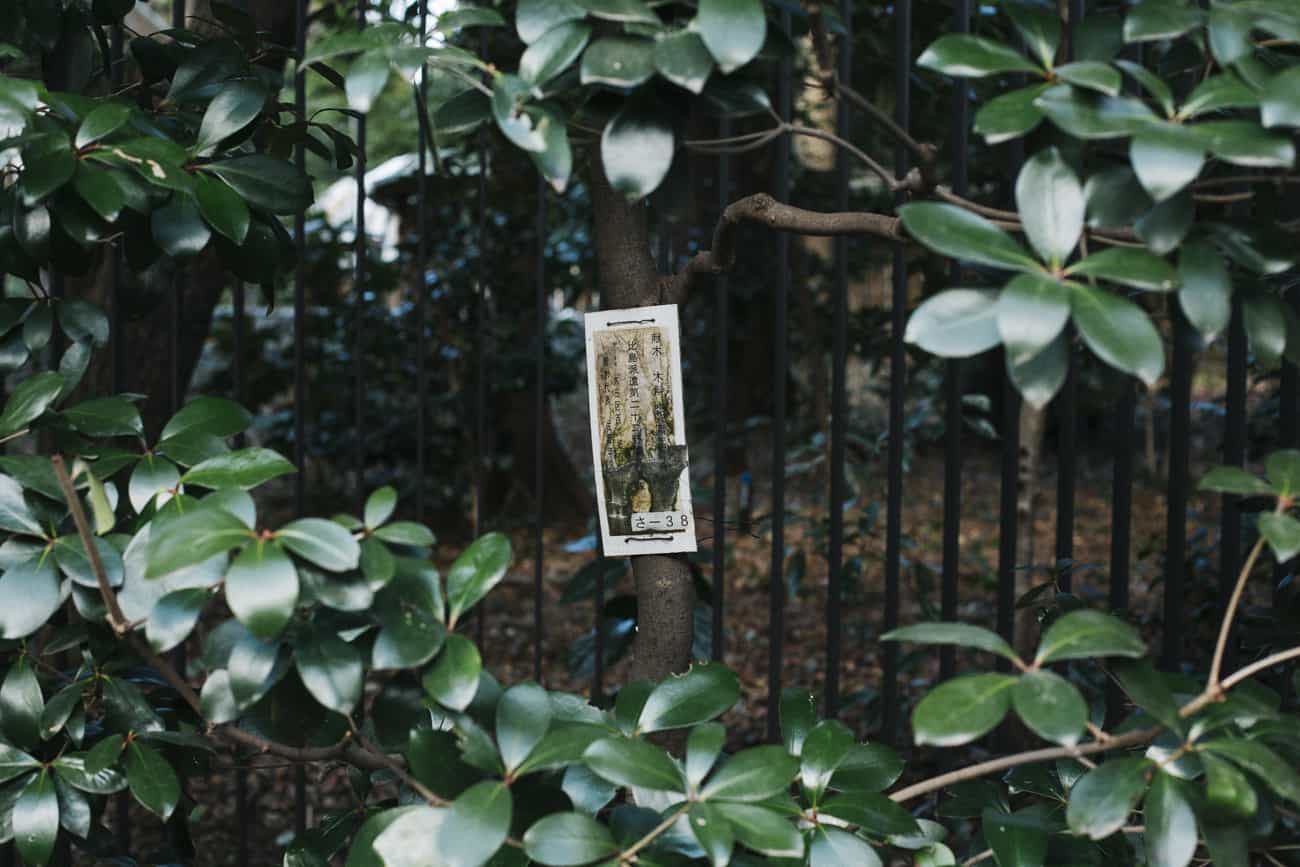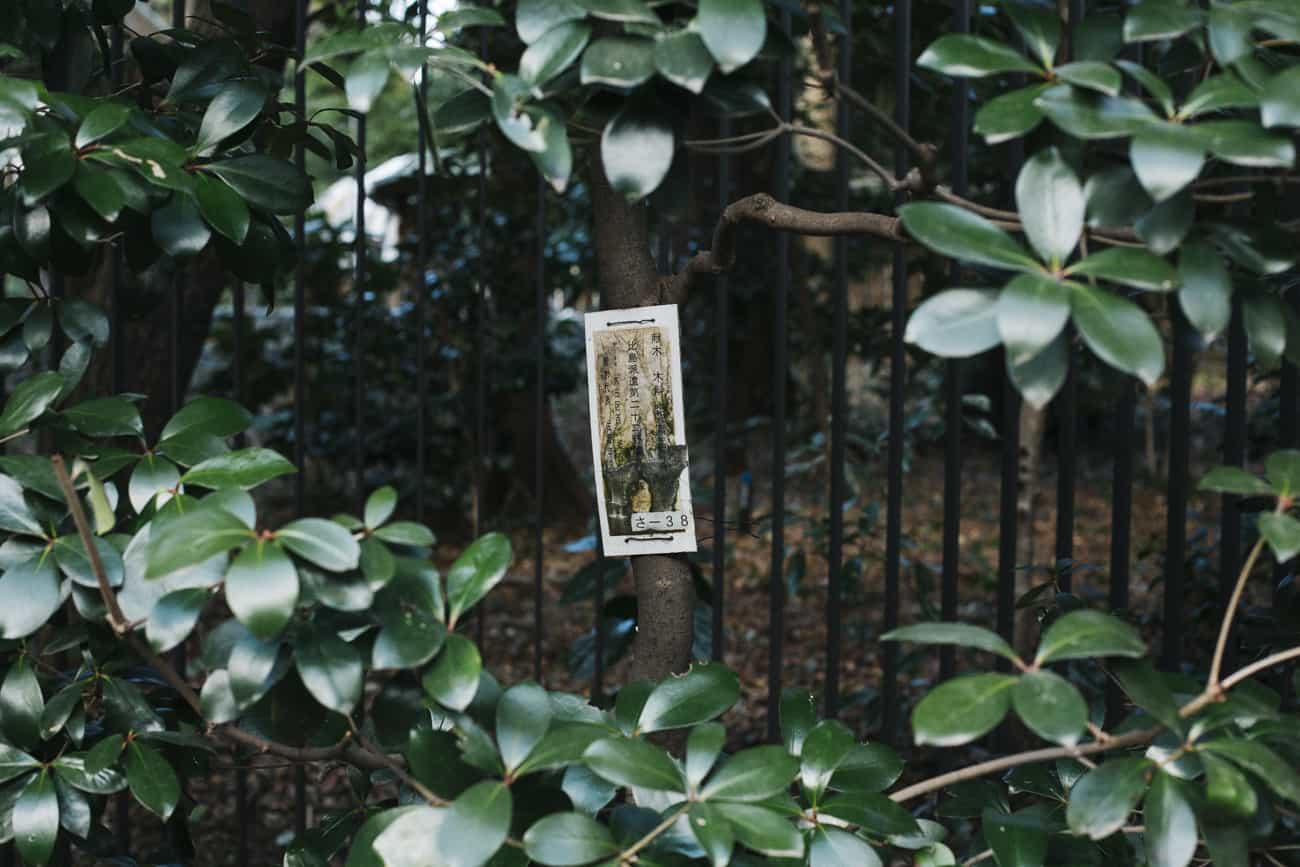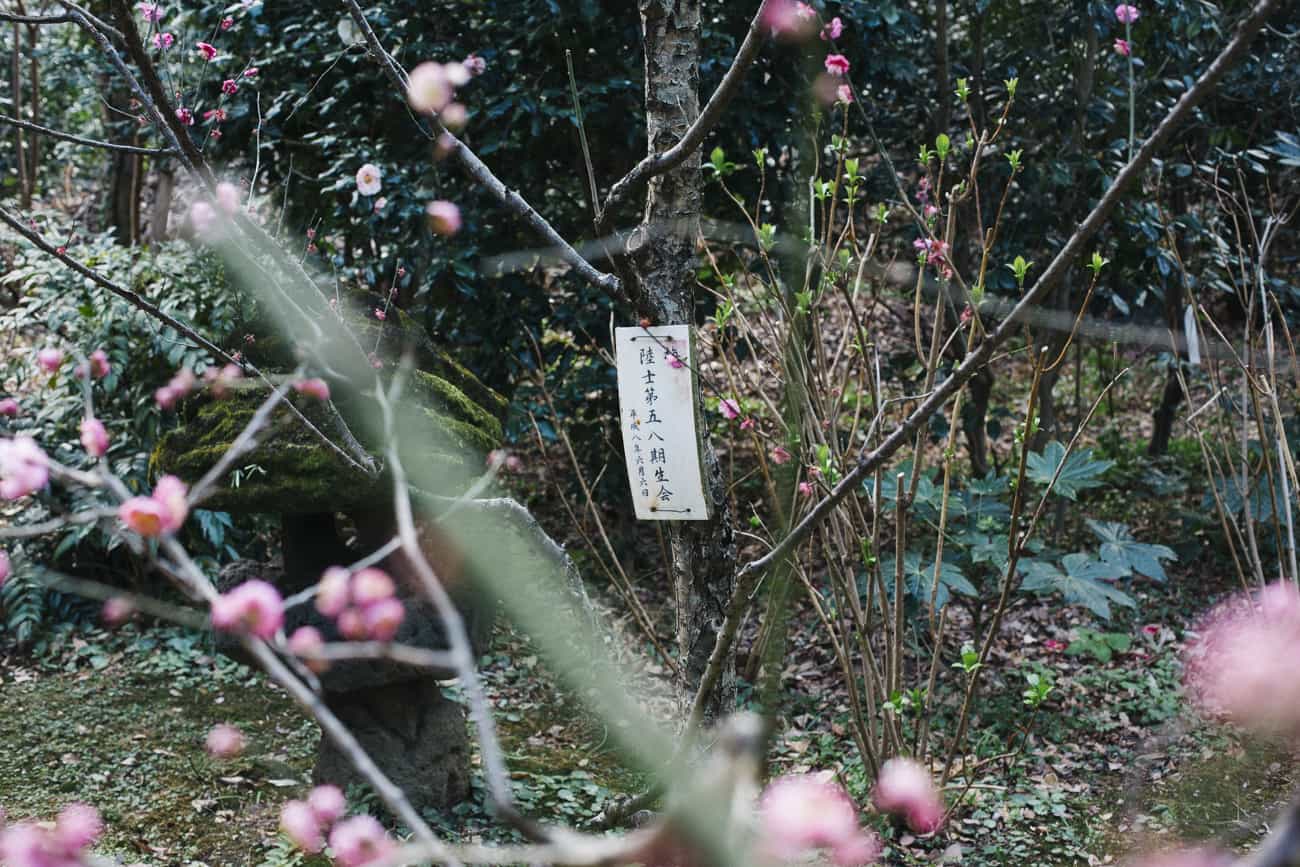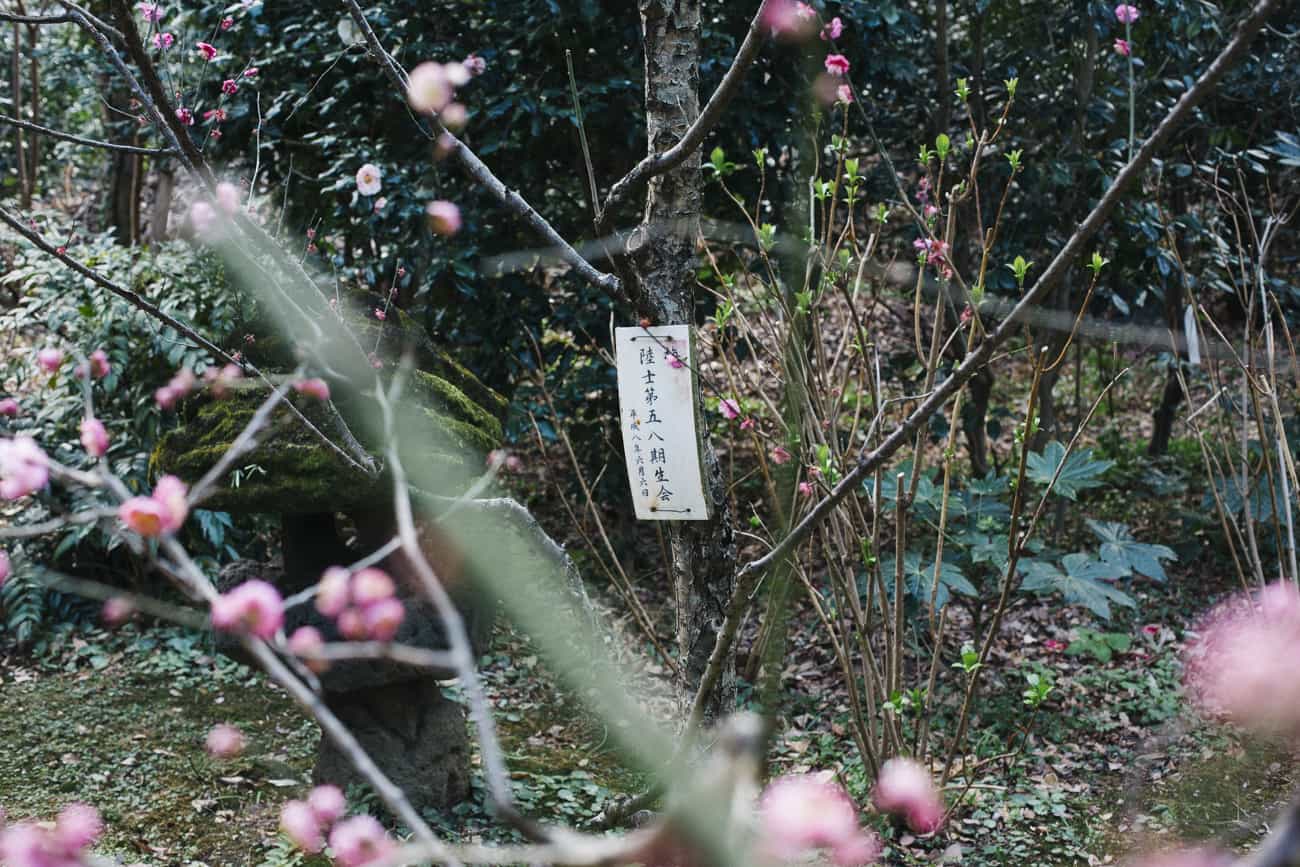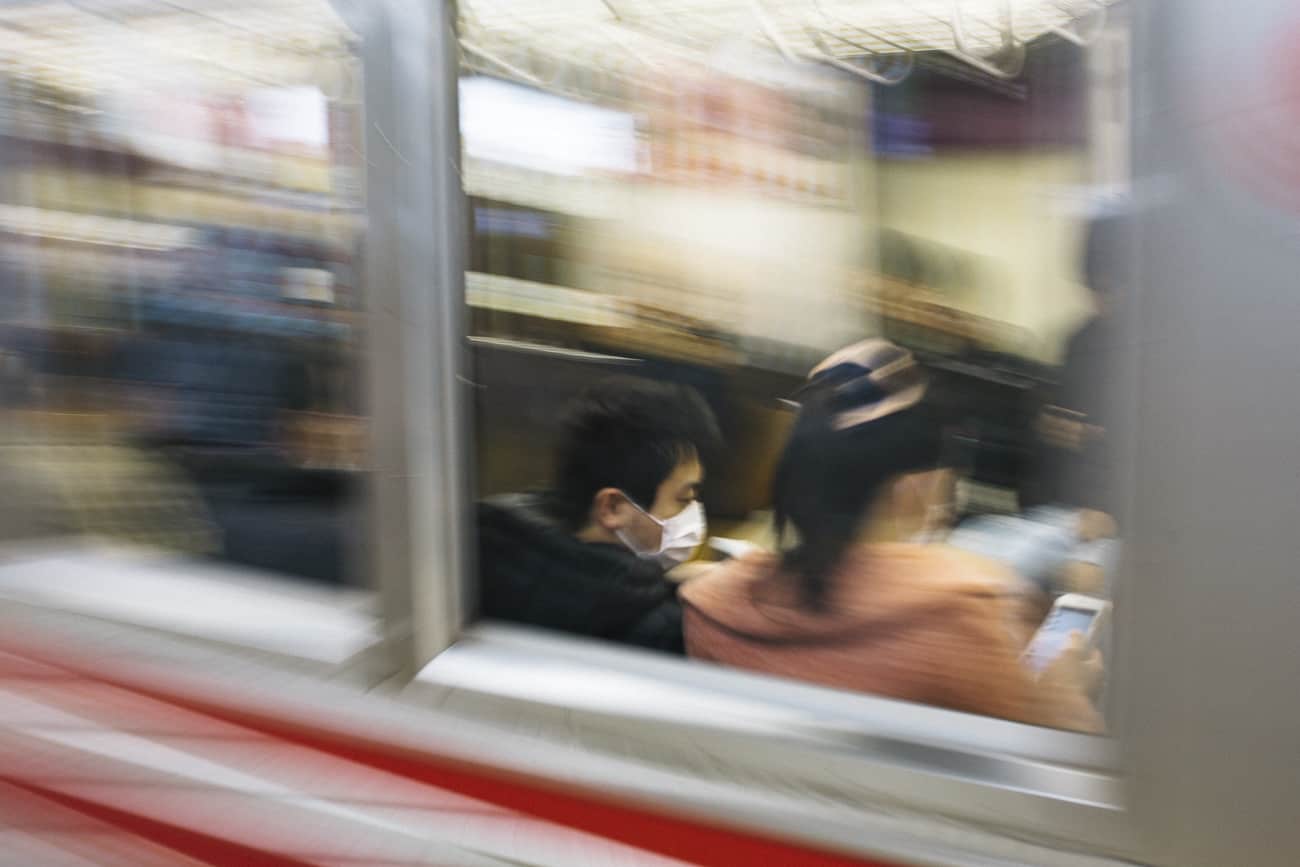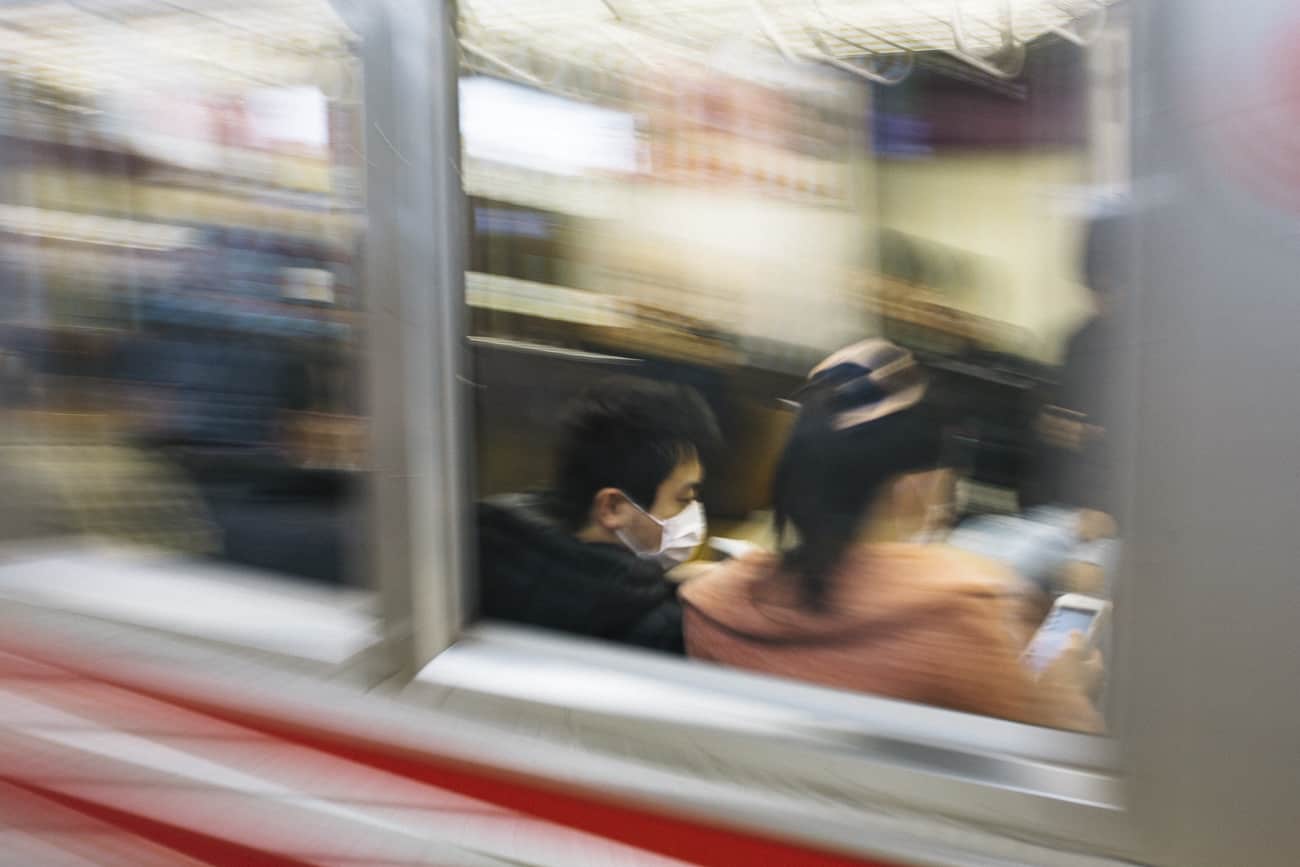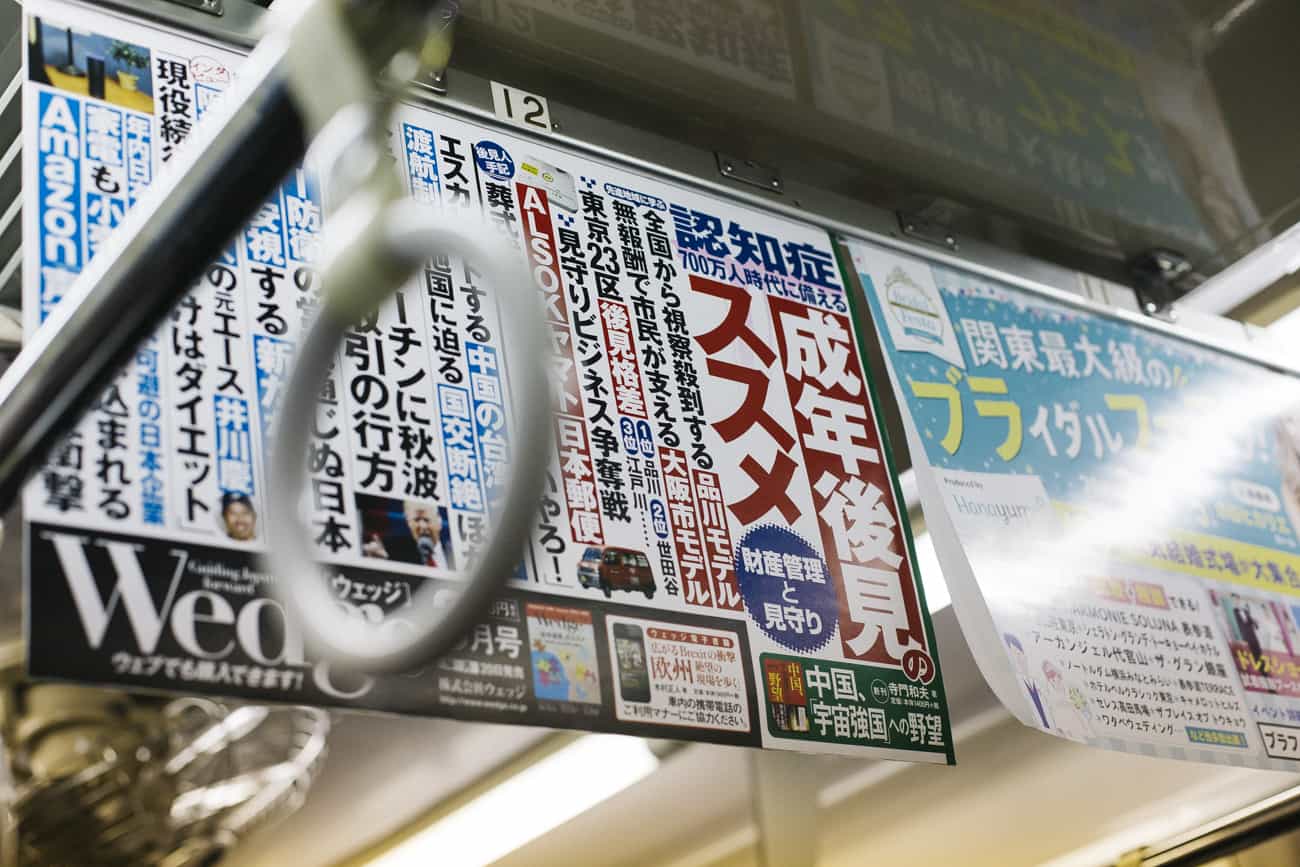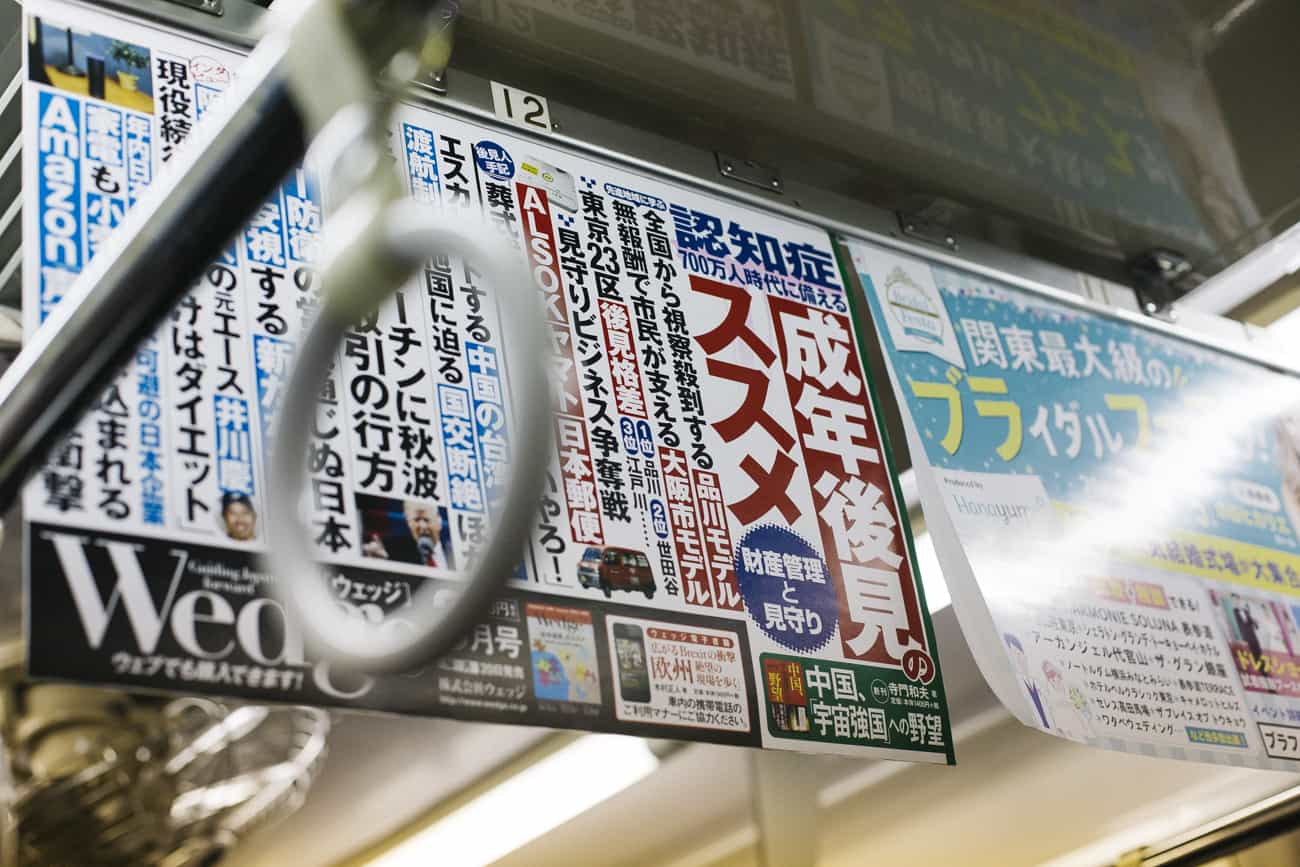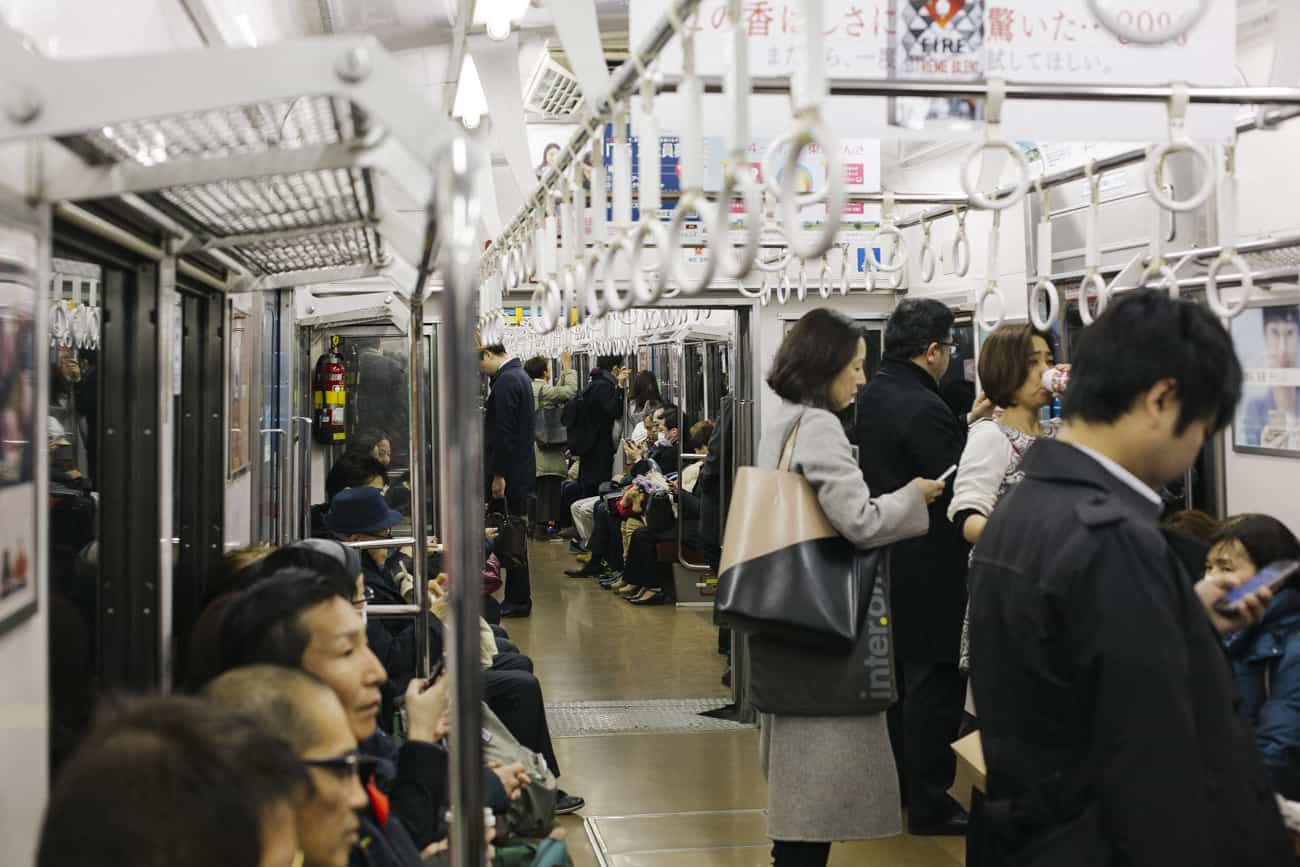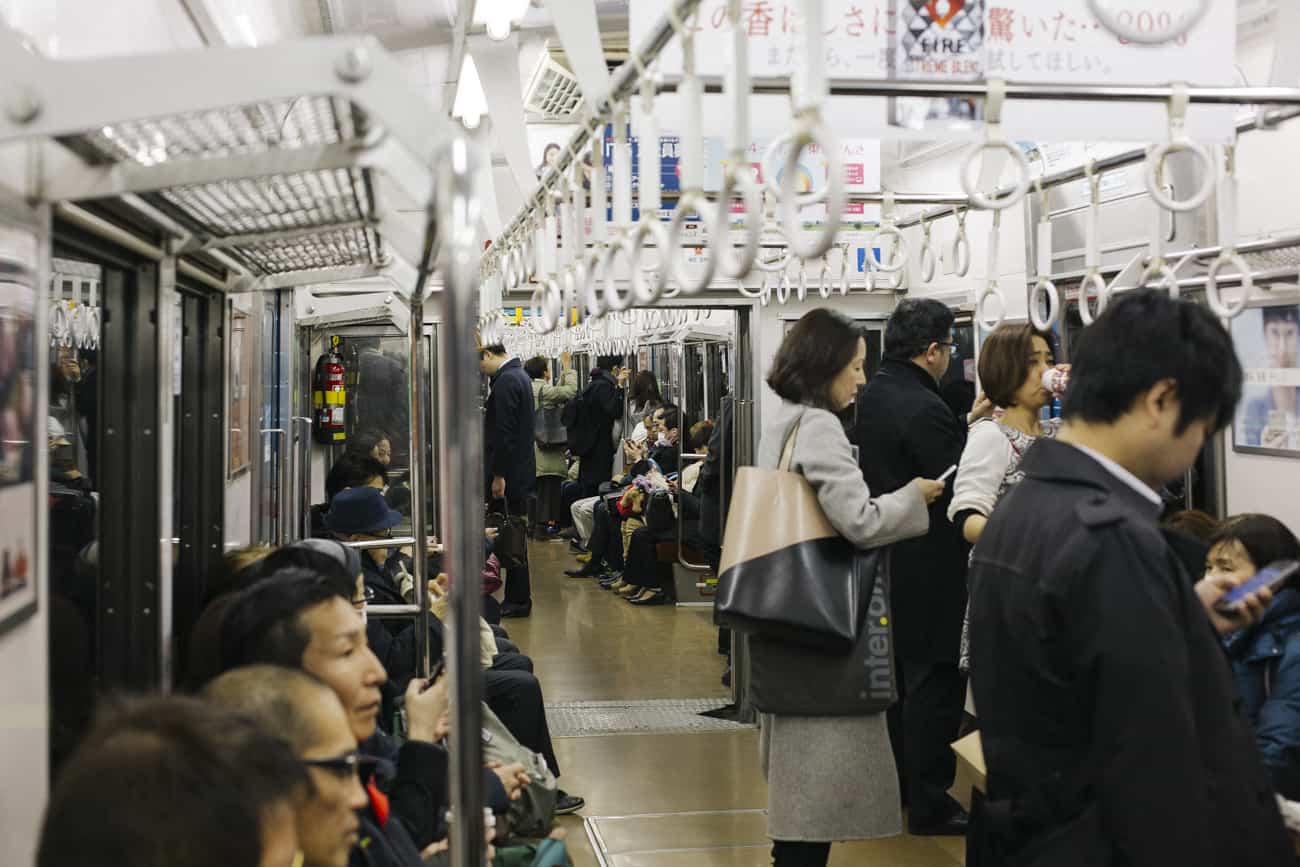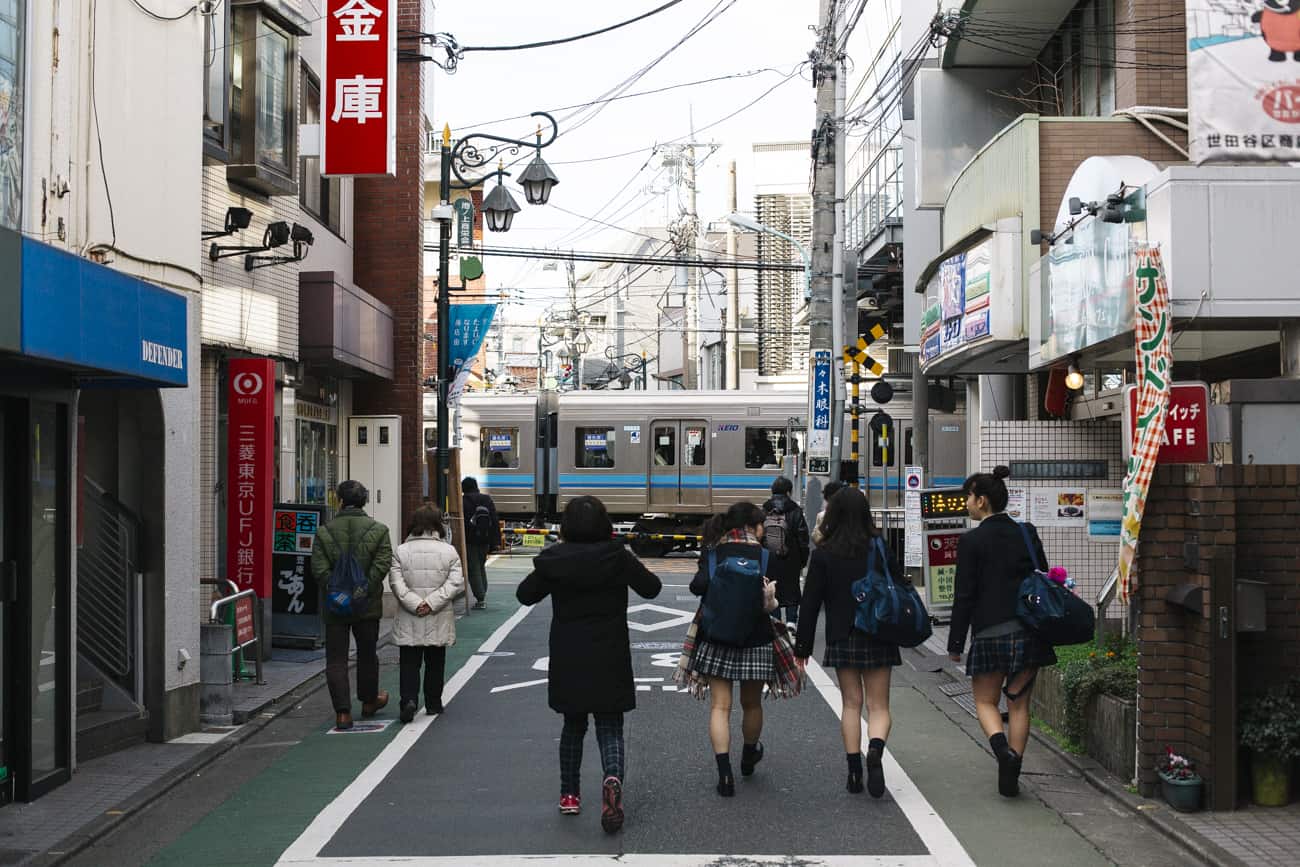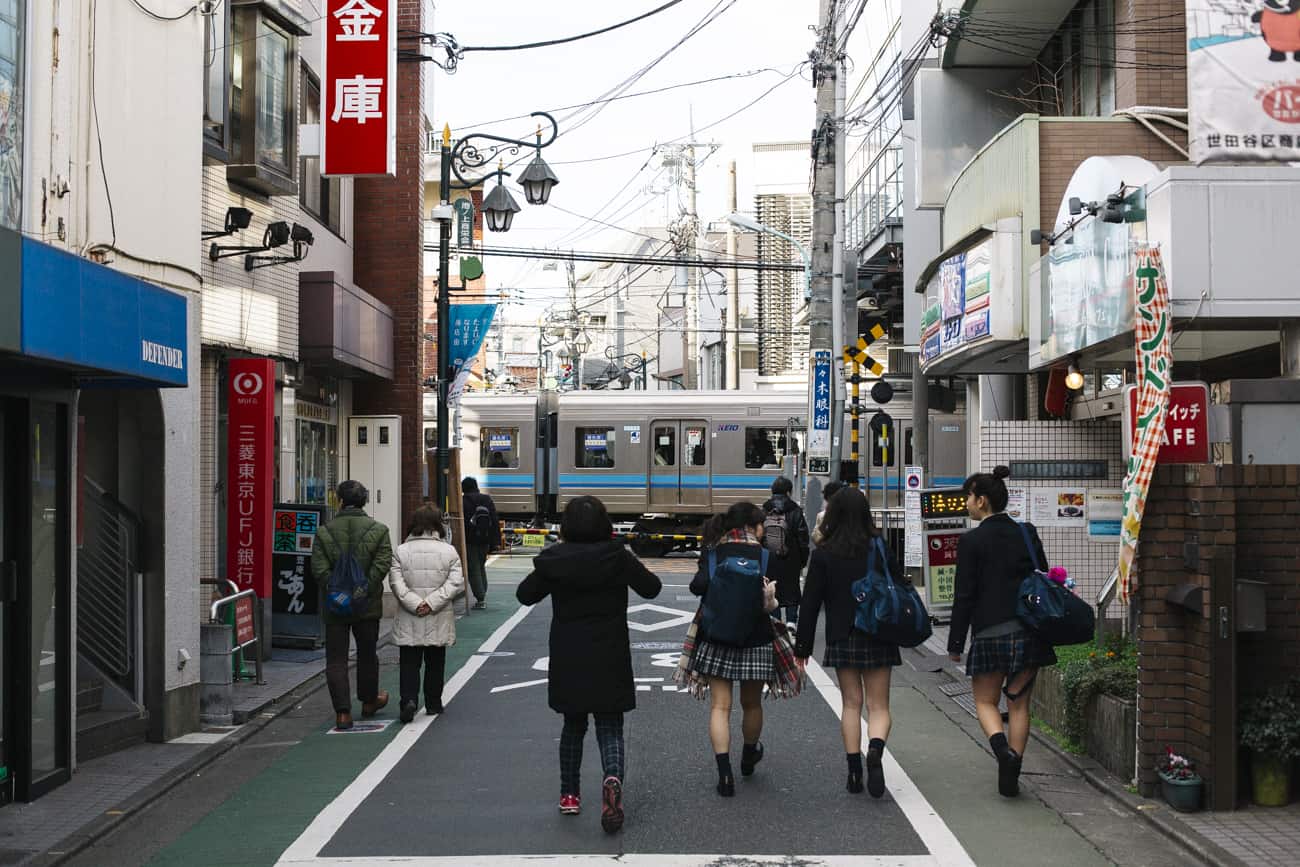 On the way back, we were exhausted and hopped from subway to subway, we were quite far from home! That day was quite exhausting, so we were more than happy to go into Ojiyan Cafe and order warm matcha lattes & sweets. Their matcha cheesecake was to die for. The japanese certainly know how to do delicious & light textured desserts. It's something completely different to have a cheesecake in japan!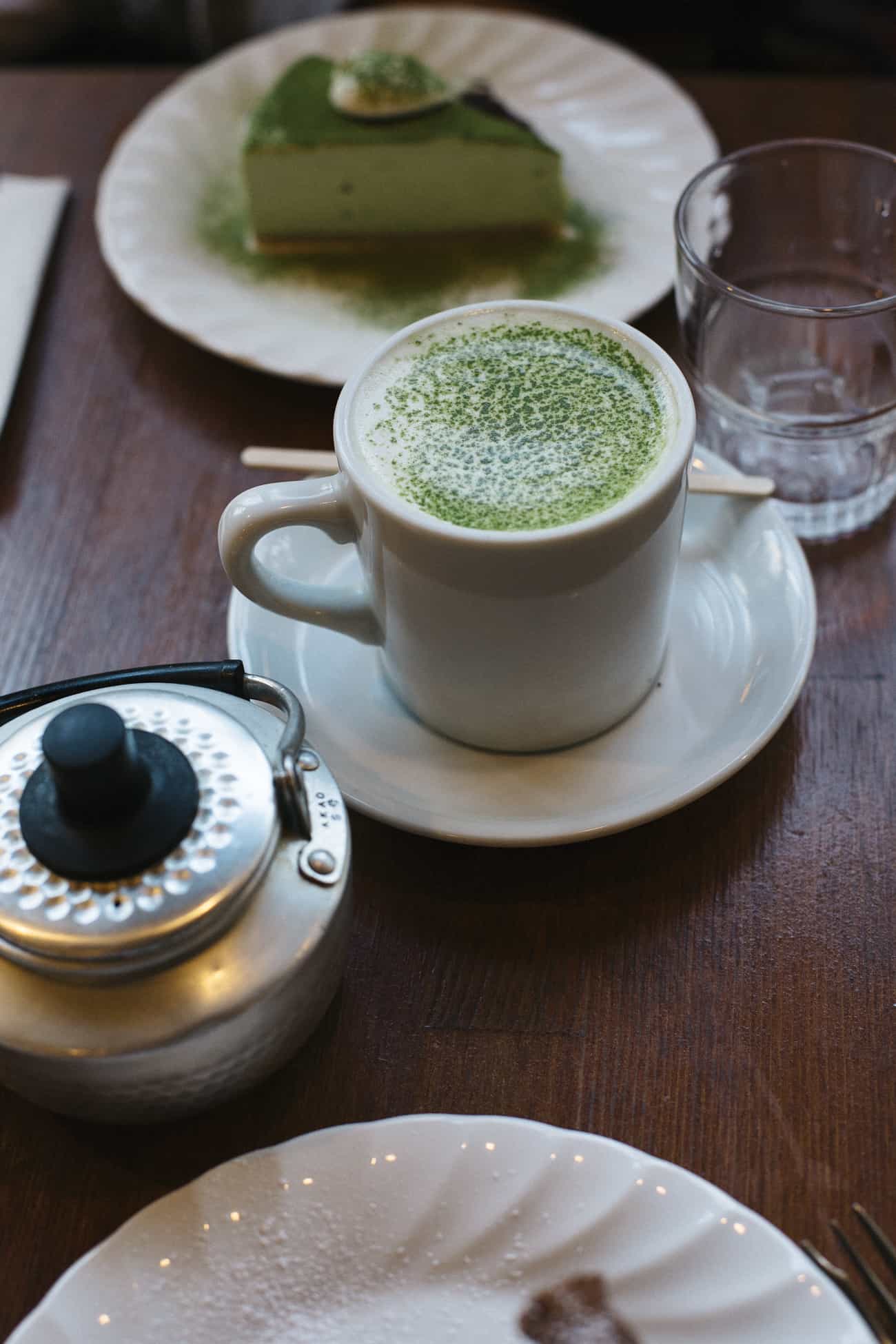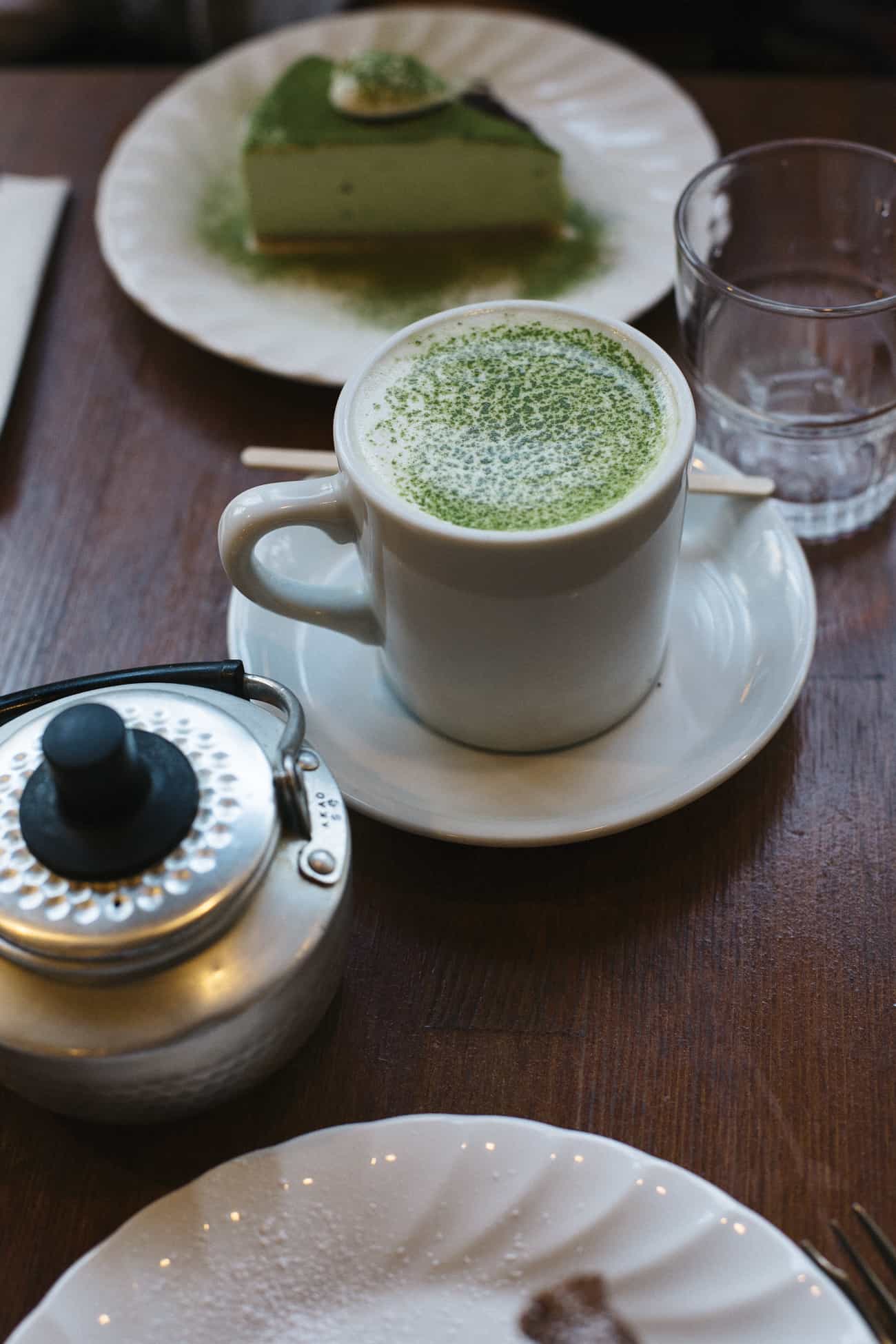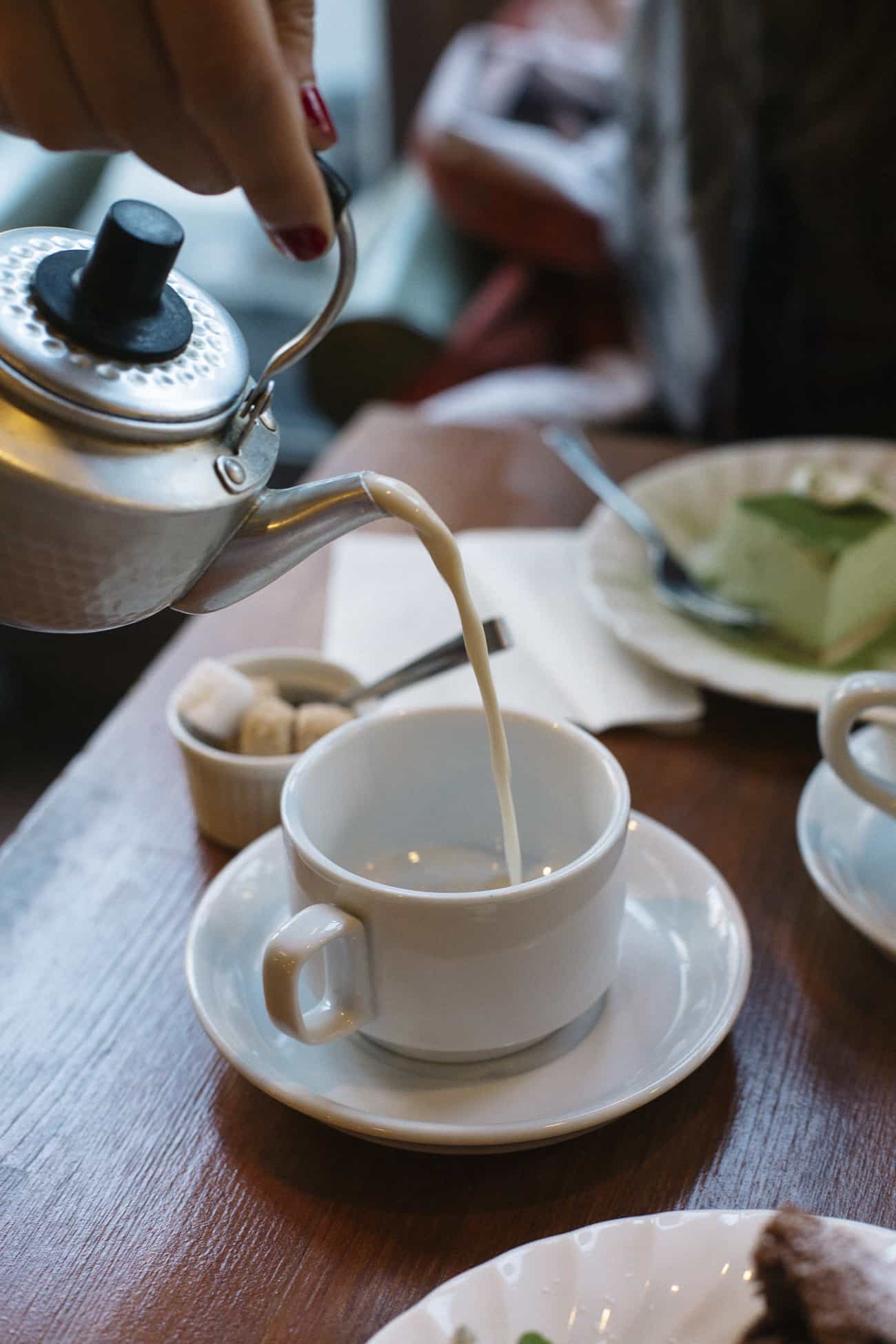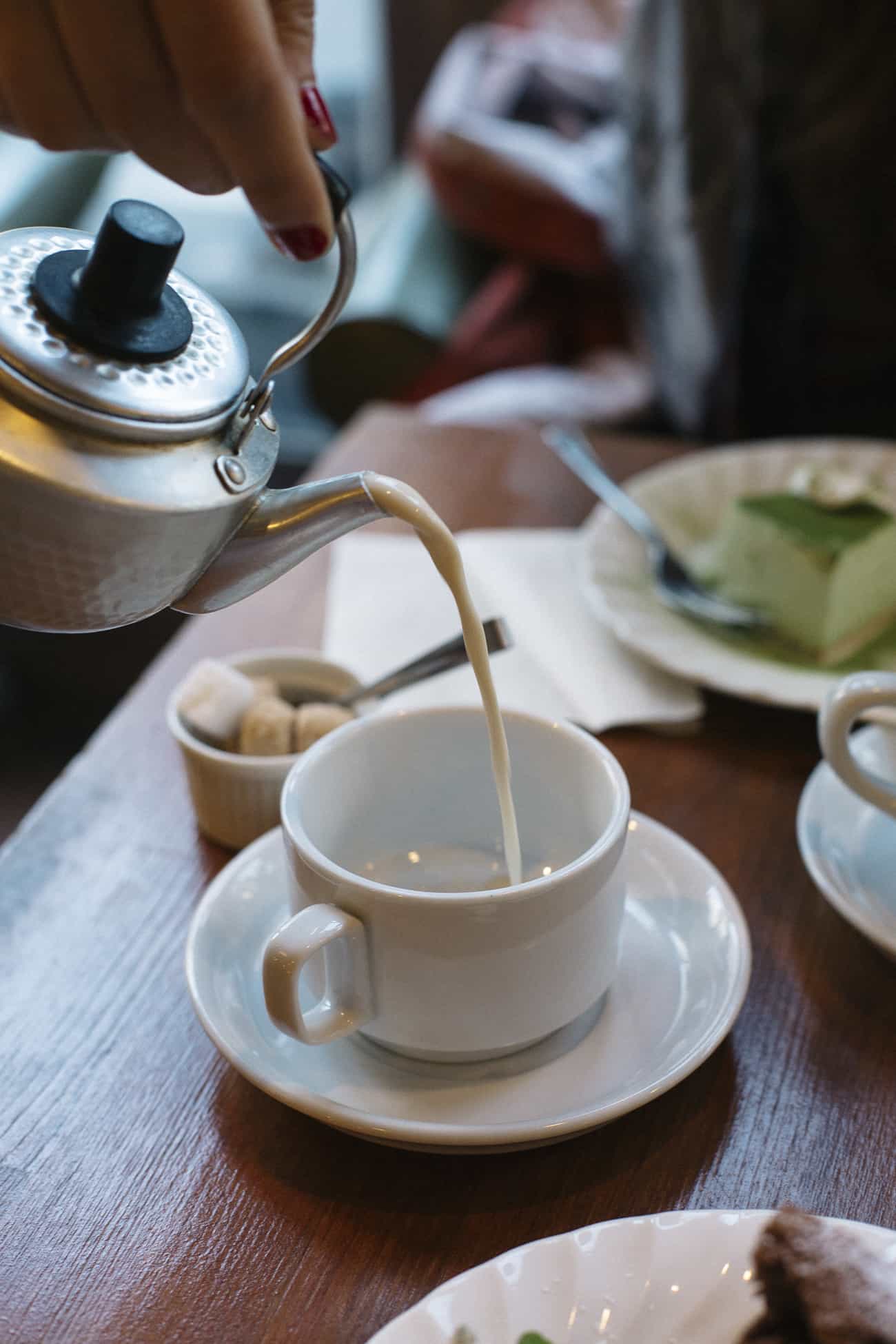 Overall, Tokyo was amazing.
On our last night, we were lucky to be able to hang out with friends who had arrived in Tokyo and who knew some locals – we celebrated my birthday with them and it was such a fun time. We got to meet some incredible new people who were kind enough to welcome us into their home and host a sushi night – they even brought me a birthday cake!
With all this in mind, it was so sad to leave, in fact I even cried a little bit… We will definitely be coming back. Those few days were intense (as it always is when you just use them to wander incessantly around a huge city) but getting to know some locals on our last night was a highlight. We don't have any photos of that, as you can see, but here you can see my birthday selfie with Daisuke, a japanese illustrator who was there with us that night!
Right now we are in Kyoto …which is completely different. It's a much more quiet and peaceful place, in a good way though. Despite the heart-breaking feeling of leaving Tokyo, we feel very good being here and we're excited for this brand new chapter. This is where we'll be settling, living, working, and just "being" for a while now. I can't wait to share it all with you soon. Thank you so much for following our adventures, and let me know if you need any more tips for Tokyo!!
---