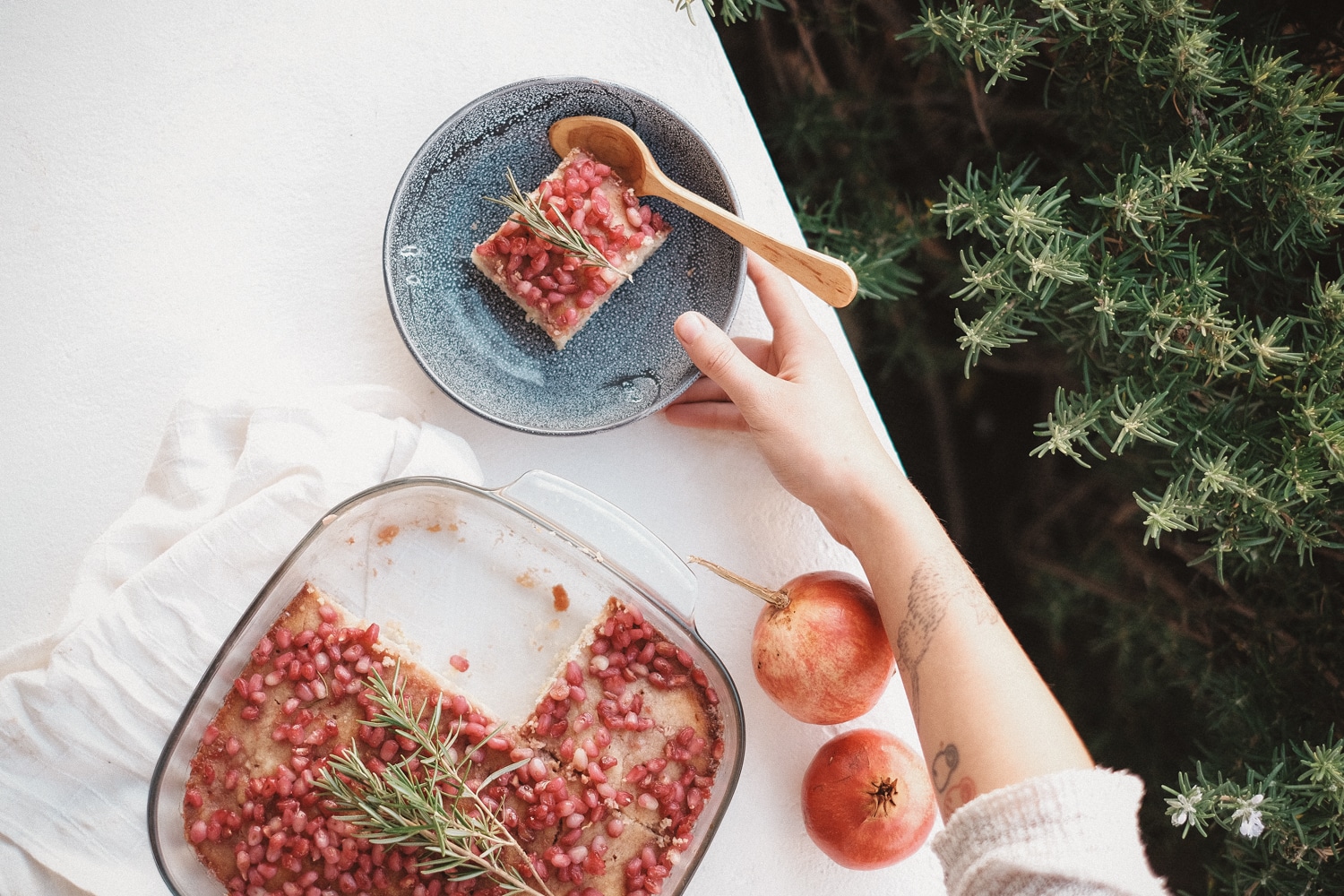 I've always loved fall – and now that we're here in Crete, I love it more than ever. Many people decide to visit the island in the middle of the summer when it's warm, but I am adoring the coziness of this cooler season. This time of the year is also the best for harvests & foraging. My favourite fruits & vegetables are in season right now: olives, wild greens, figs and …pomegranates!
Well, let me tell you. Ever since I spotted our neighbour had a pomegranate tree, my whole awareness shifted to spot them all around the island. They are truly everywhere, as they grow in abundance here – ever since I noticed this, I became quite obsessed with this fruit – the pomegranate has become what connects me to this place and it inspires me in this way. I even designed a little tattoo of it and got it inked when we were in Chiang Mai and longing to be back in this native land.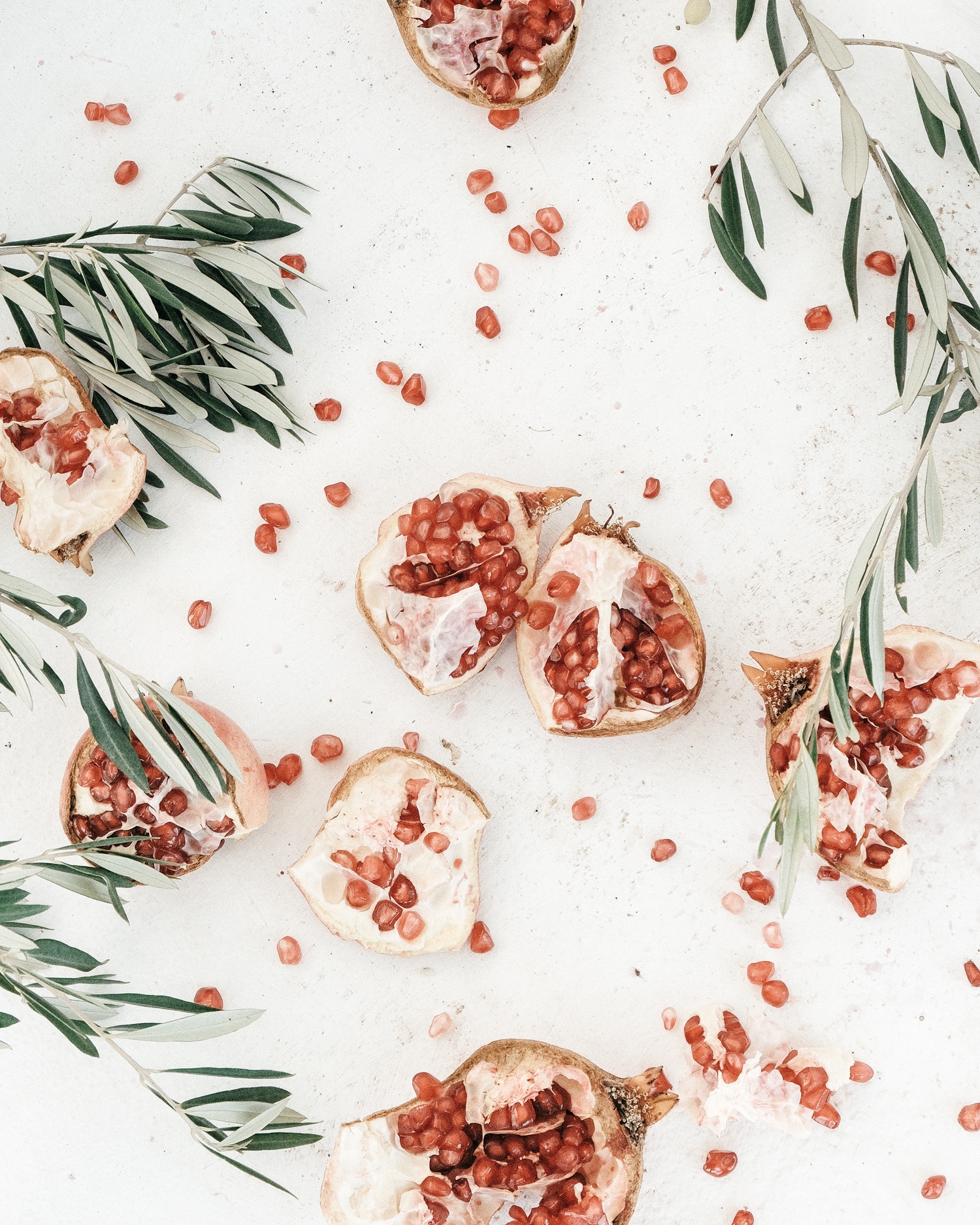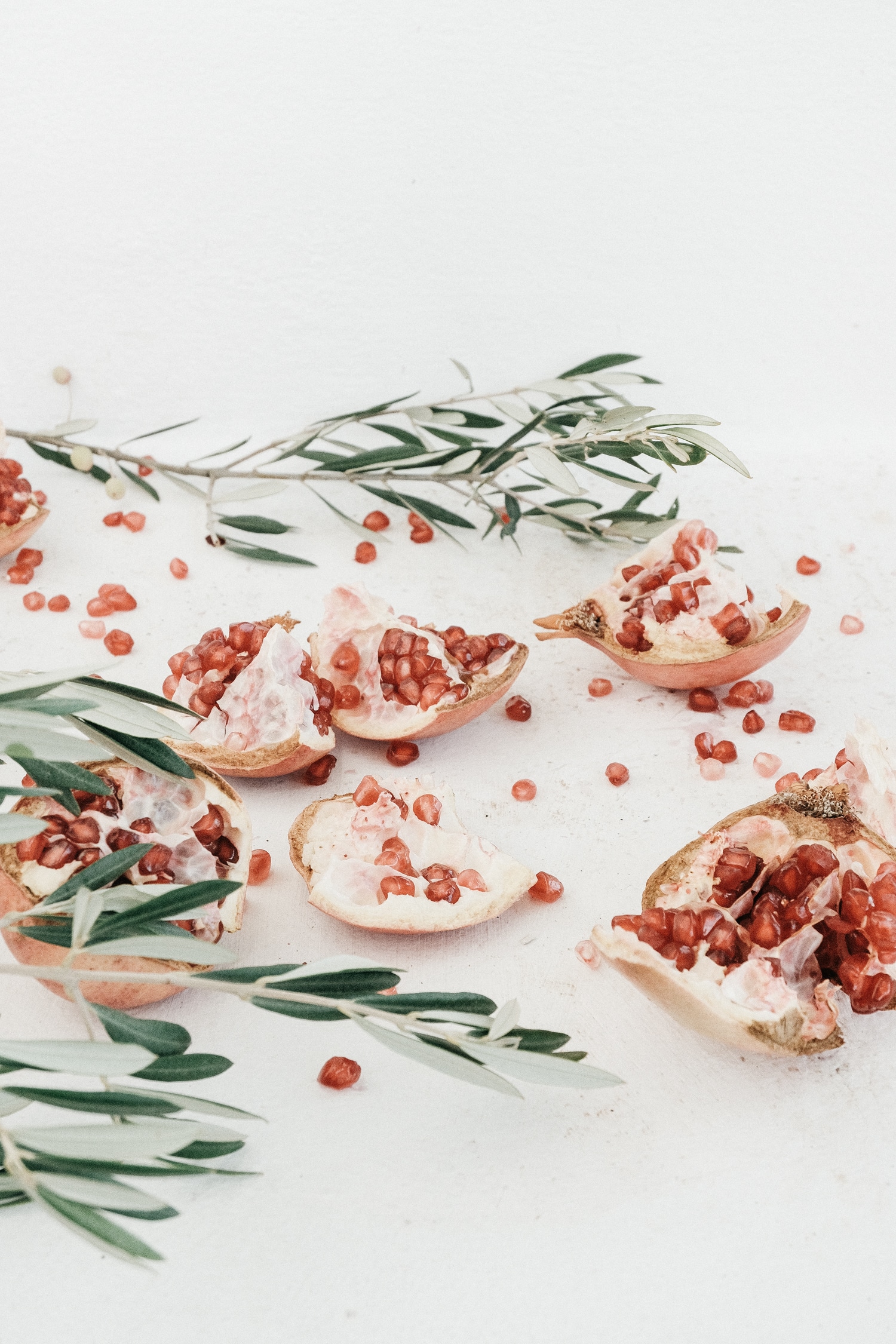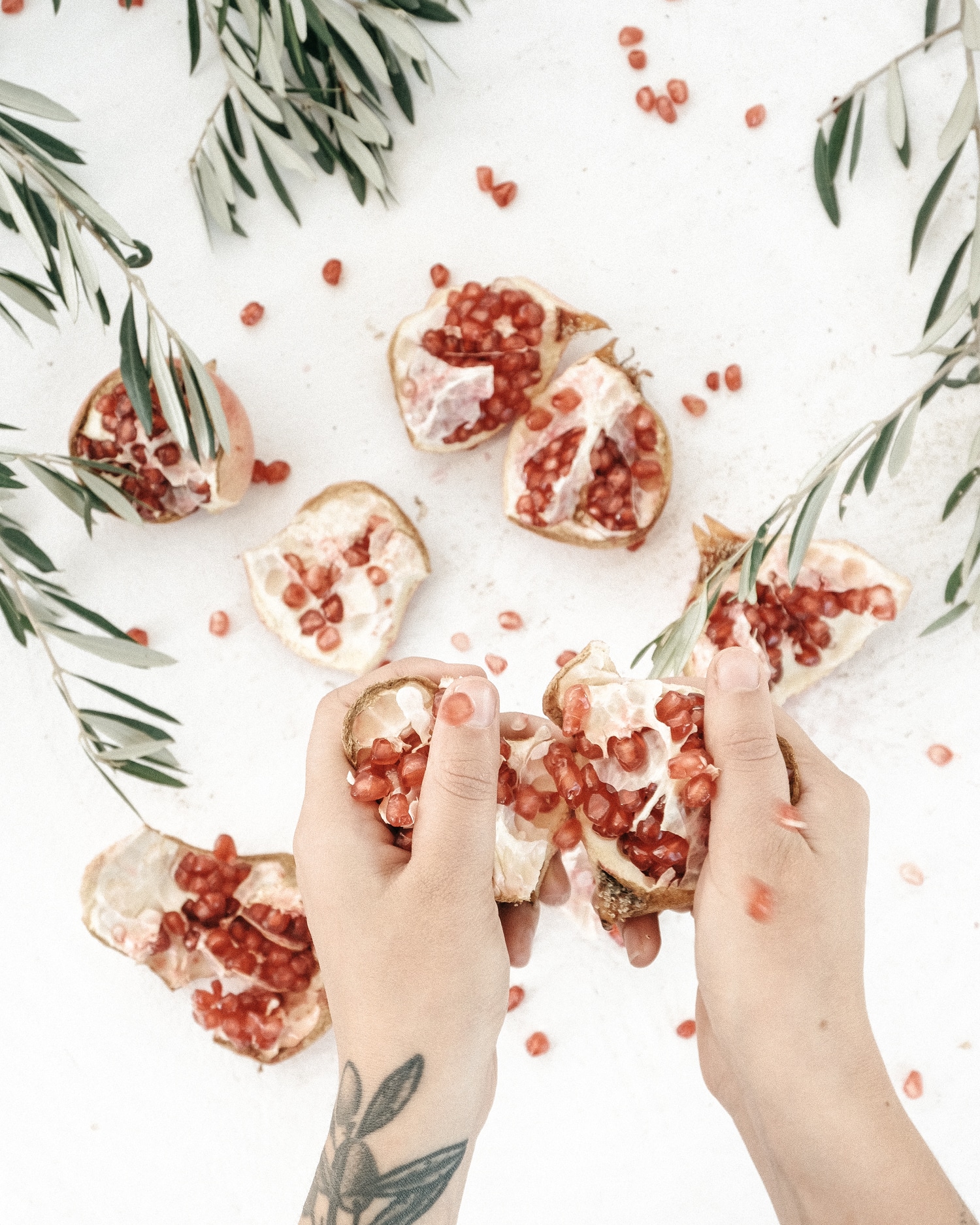 This year we are here at the peak of pomegranate season. In the summer when we arrived, the fruits were tiny, some still attached to their flower – and now they have grown so much that we see them cracking wide open! So before it was too late, we knew we had to go pick some and put them to good use.
Pomegranate is healthy & extremely versatile. We love to use it in salads, on top of our chunky guacamole, or even juice it and have it in shots. But this time I knew that with the colder weather, we needed to create something more comforting that makes the entire kitchen smell delicious. A beautiful cake, combined with the fresh rosemary we gathered from the garden.
It was a success and it definitely made our sunday – it was absolutely yummy and it was also very lovely to photograph, so I thought "why not share it?". I just wish you'd be here to taste it and to help us finish it – now we'll have sugar rushes for the entire week (haha, oops). But what a sweet yummy thing to have in between creative sessions – I can't say I'm not looking forward to every bite 🙂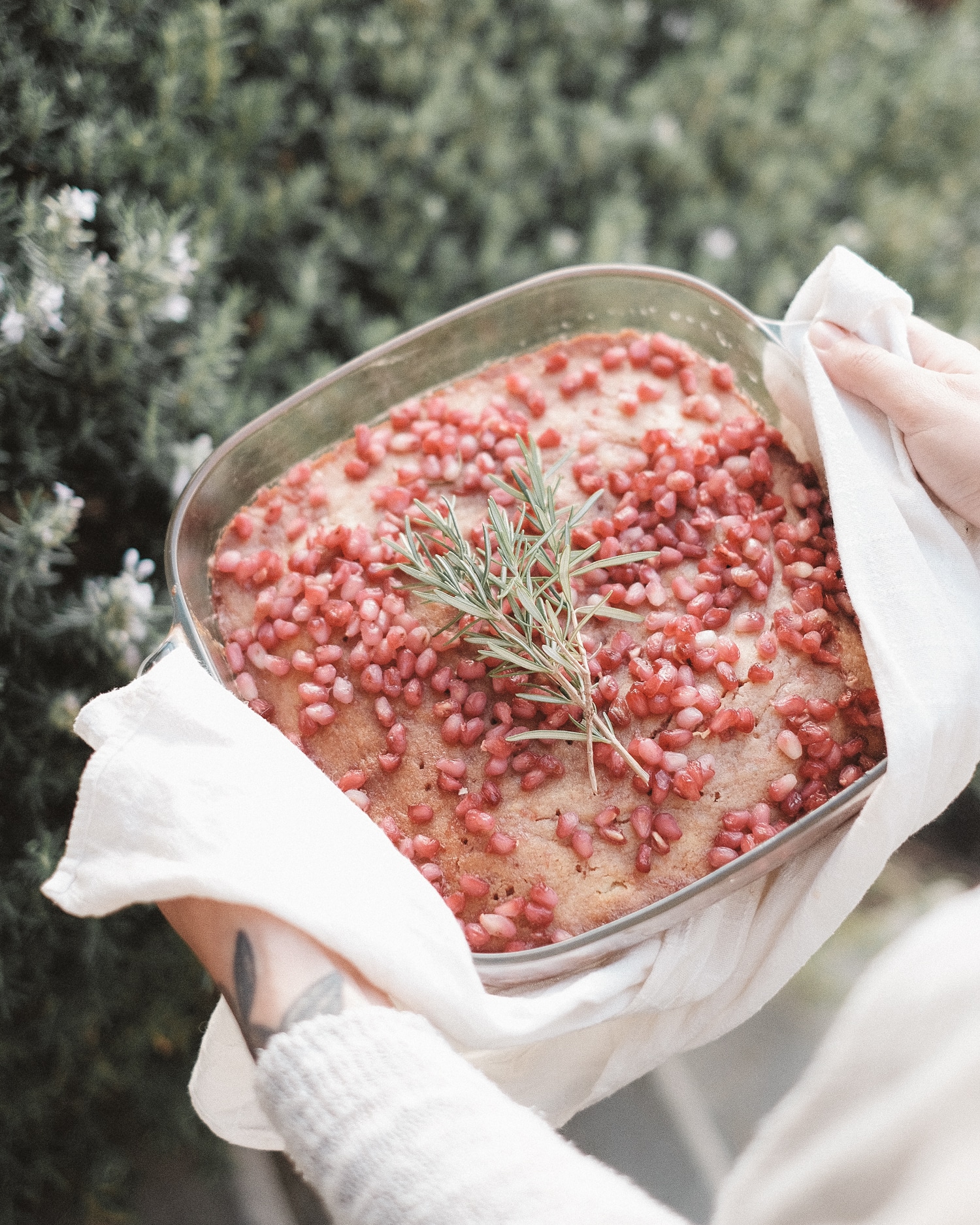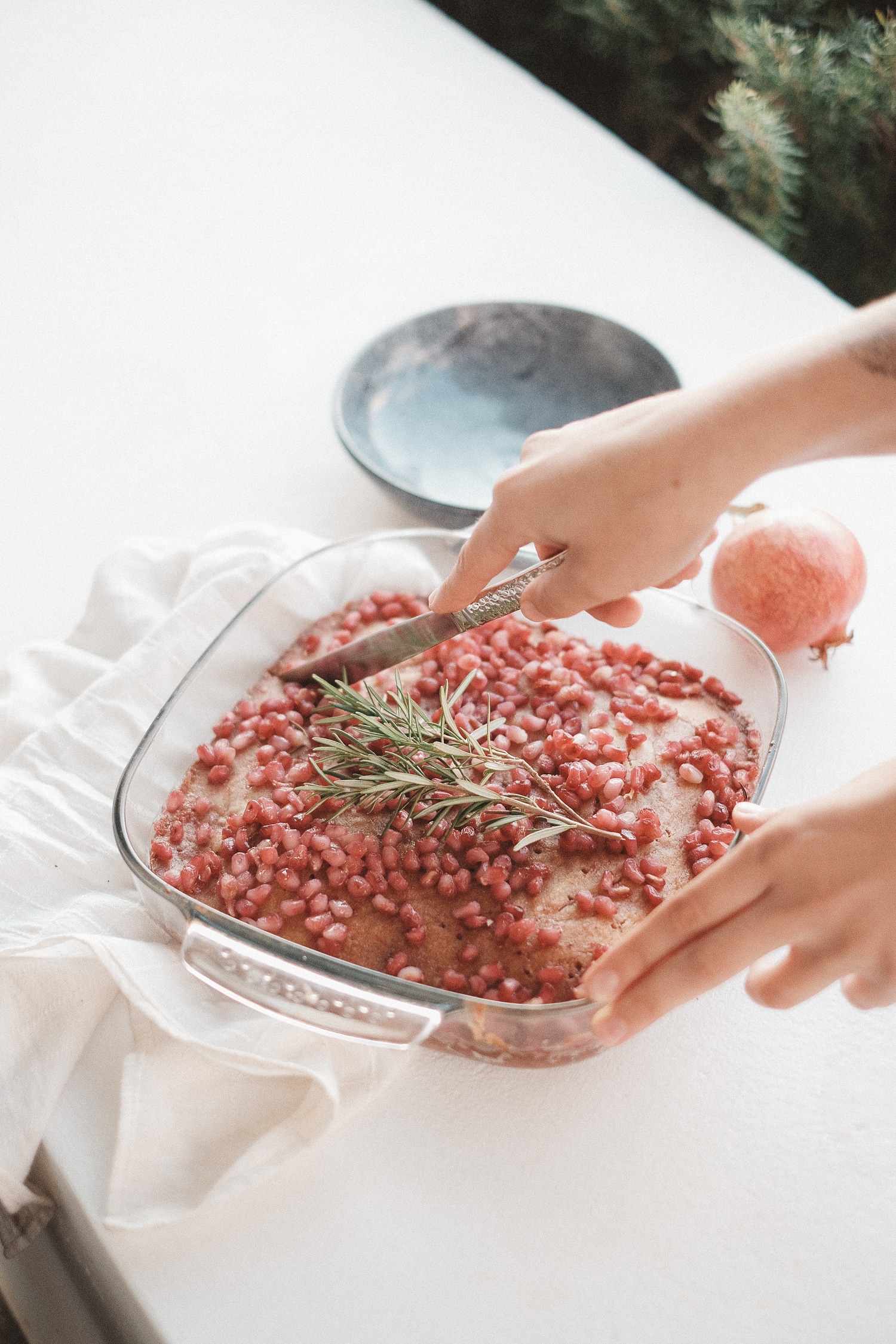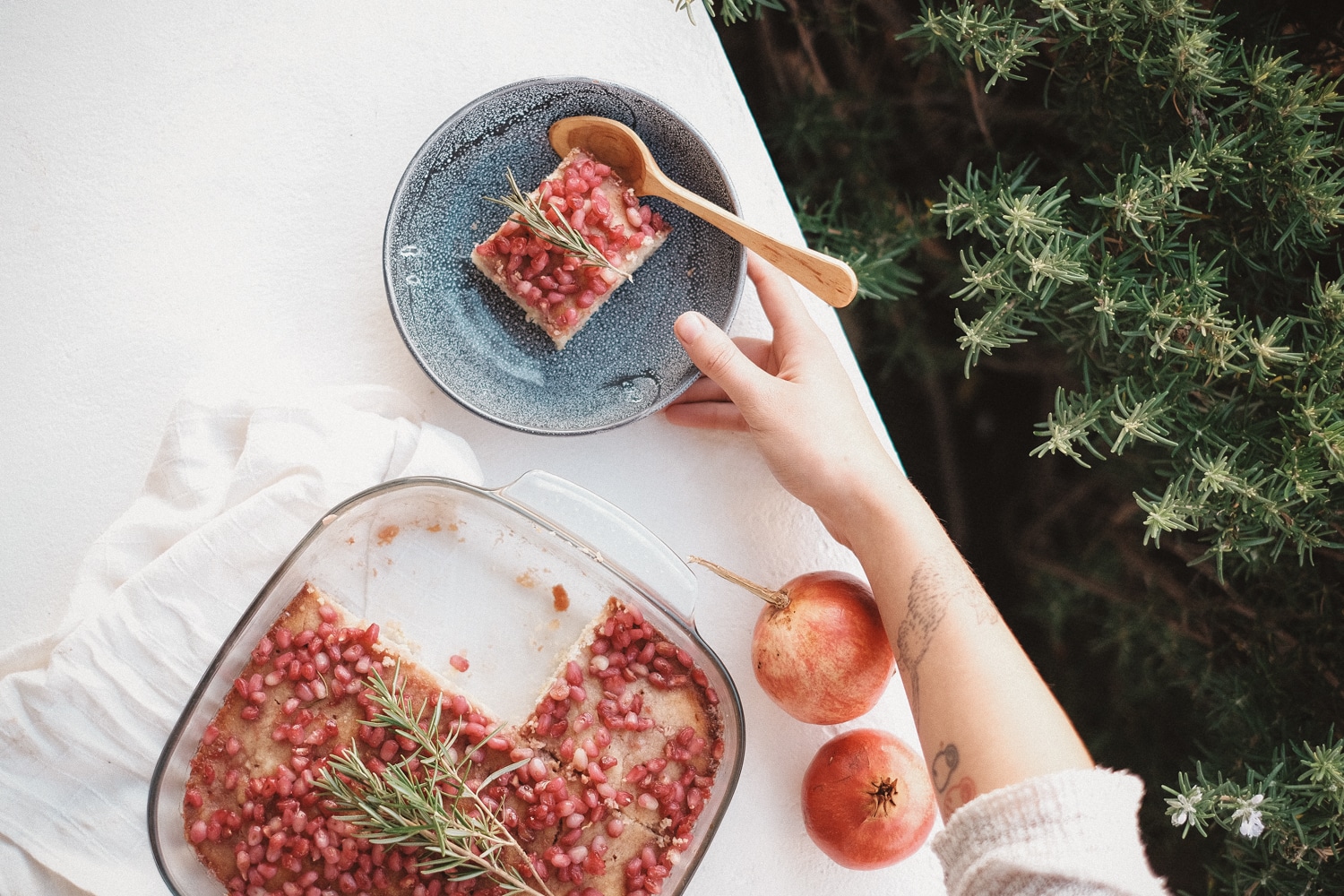 Rosemary Pomegranate Poke Cake
Directions
Heat oven to 180C and grease a cake tin or medium sized oven dish.
Cream the butter and sugar together with a mixer or your hands. Add the eggs one at a time and mix, then add the lemon zest, lemon juice, salt, vanilla extract and rosemary. Gently fold in the flour and baking powder and mix again. Transfer to the cake tin, smooth the top, then bake for 40 mins until risen and golden. Your kitchen will smell lovely at this point!
To make the syrup, mix the lemon juice with the pomegranate juice, honey and vanilla, then heat gently until it is all well dissolved. Increase the heat, toss in the rosemary sprigs and then reduce until you get a light syrupy consistency. Remove from the heat and cool slightly, then tip in the pomegranate seeds.
When your cake is removed from the oven, make sure to let it cool for a few minutes, then poke holes all over it with a skewer and generously pour your pomegranate syrup over it. Decorate with a couple of extra rosemary sprigs and enjoy it warm or cooled down 🙂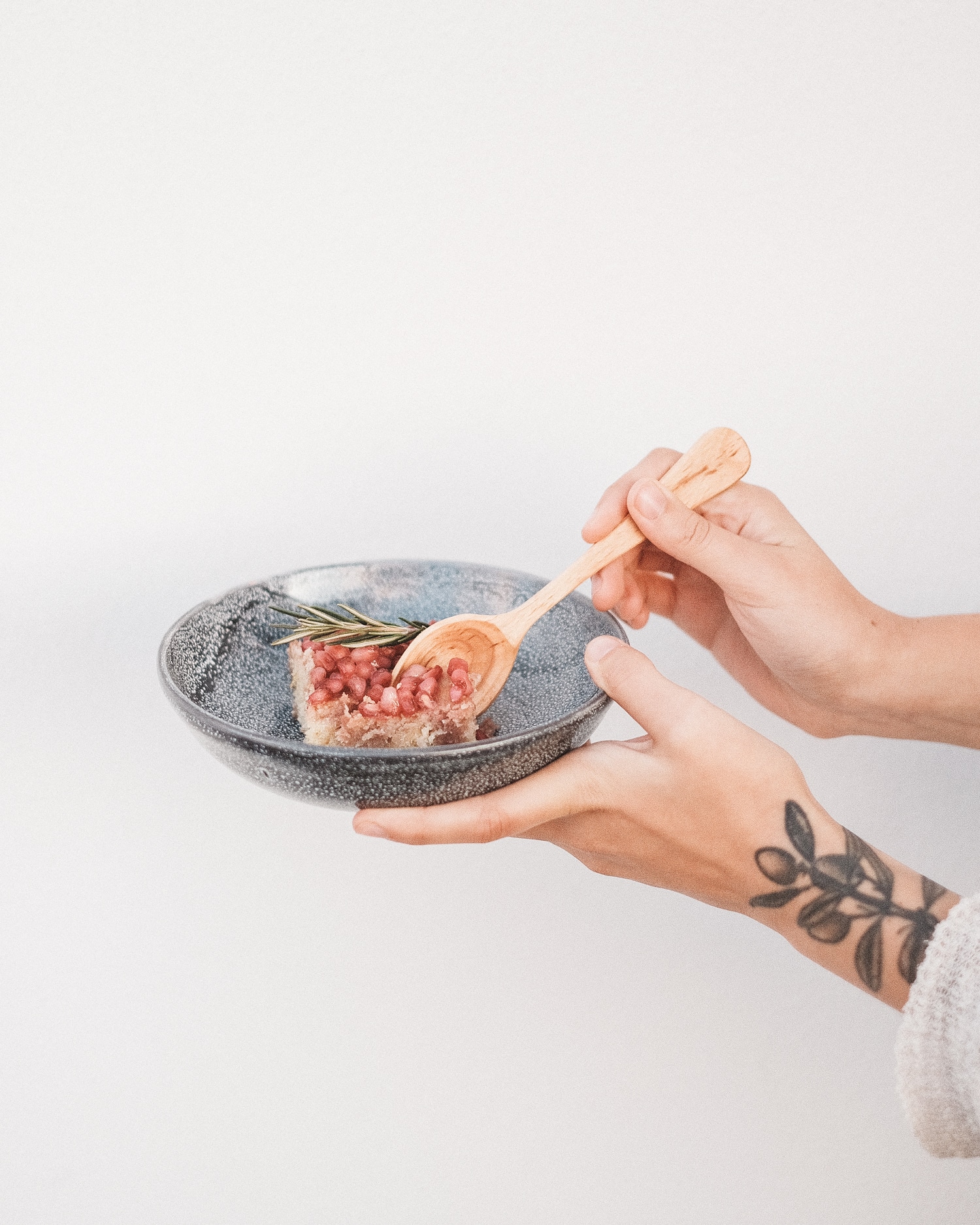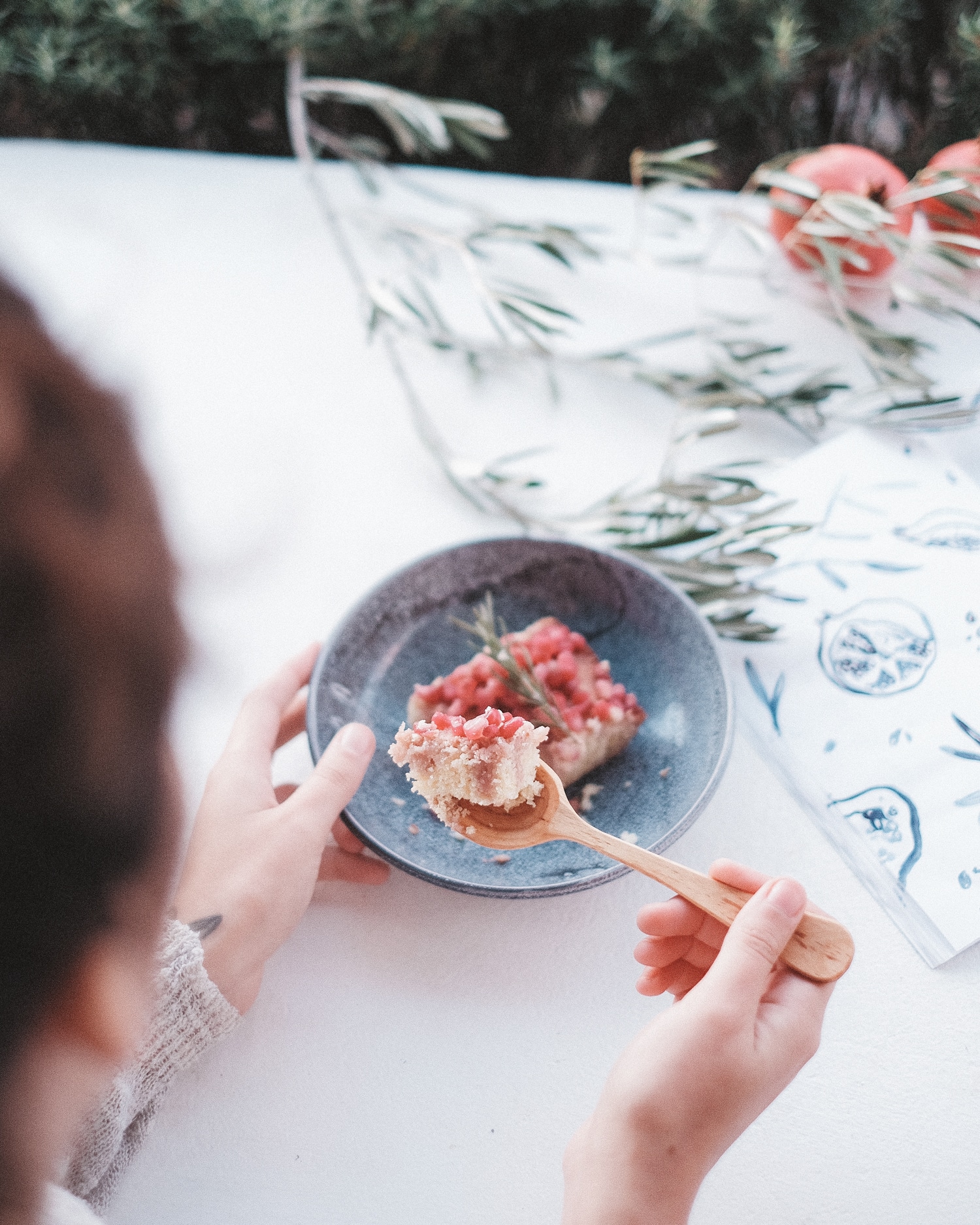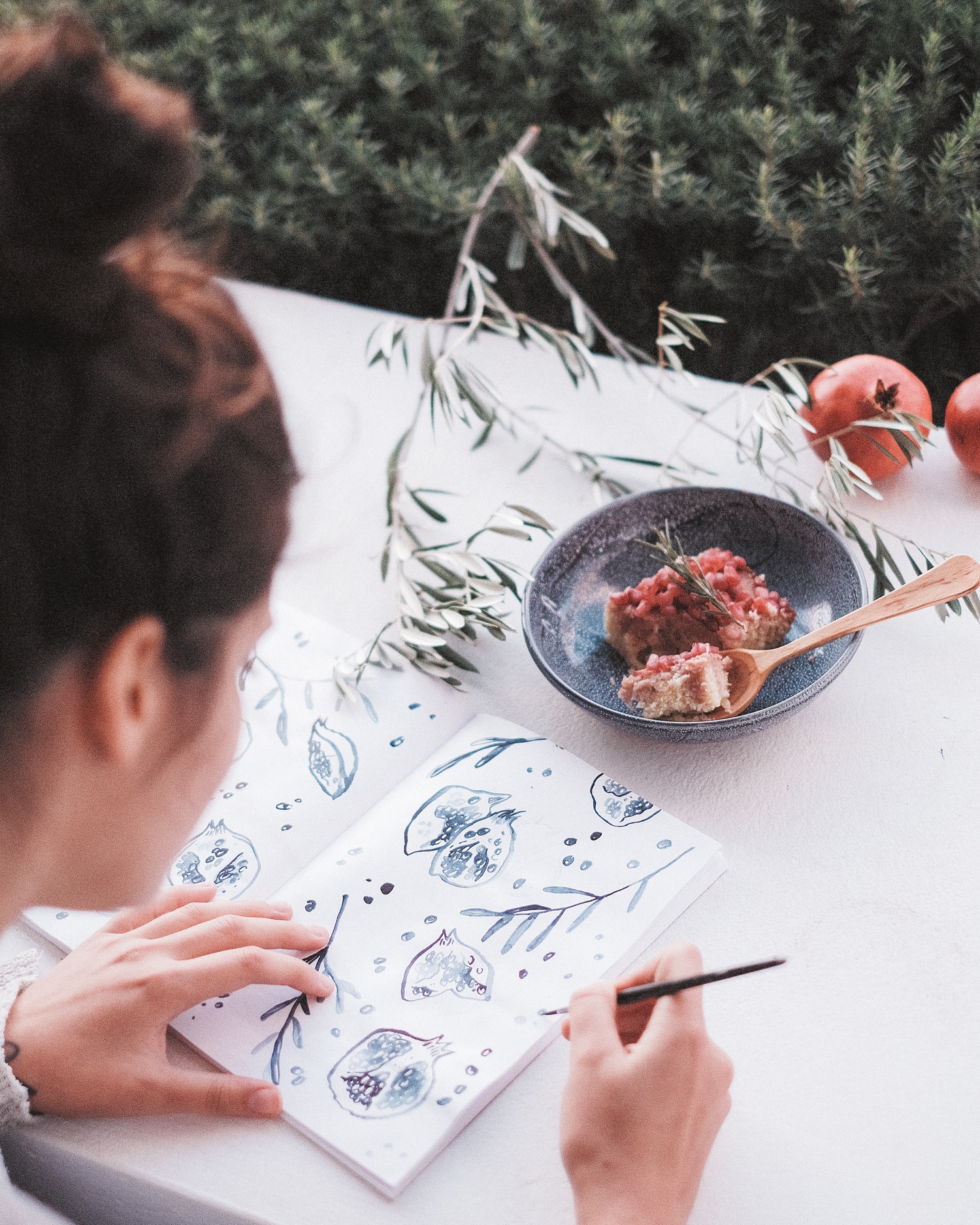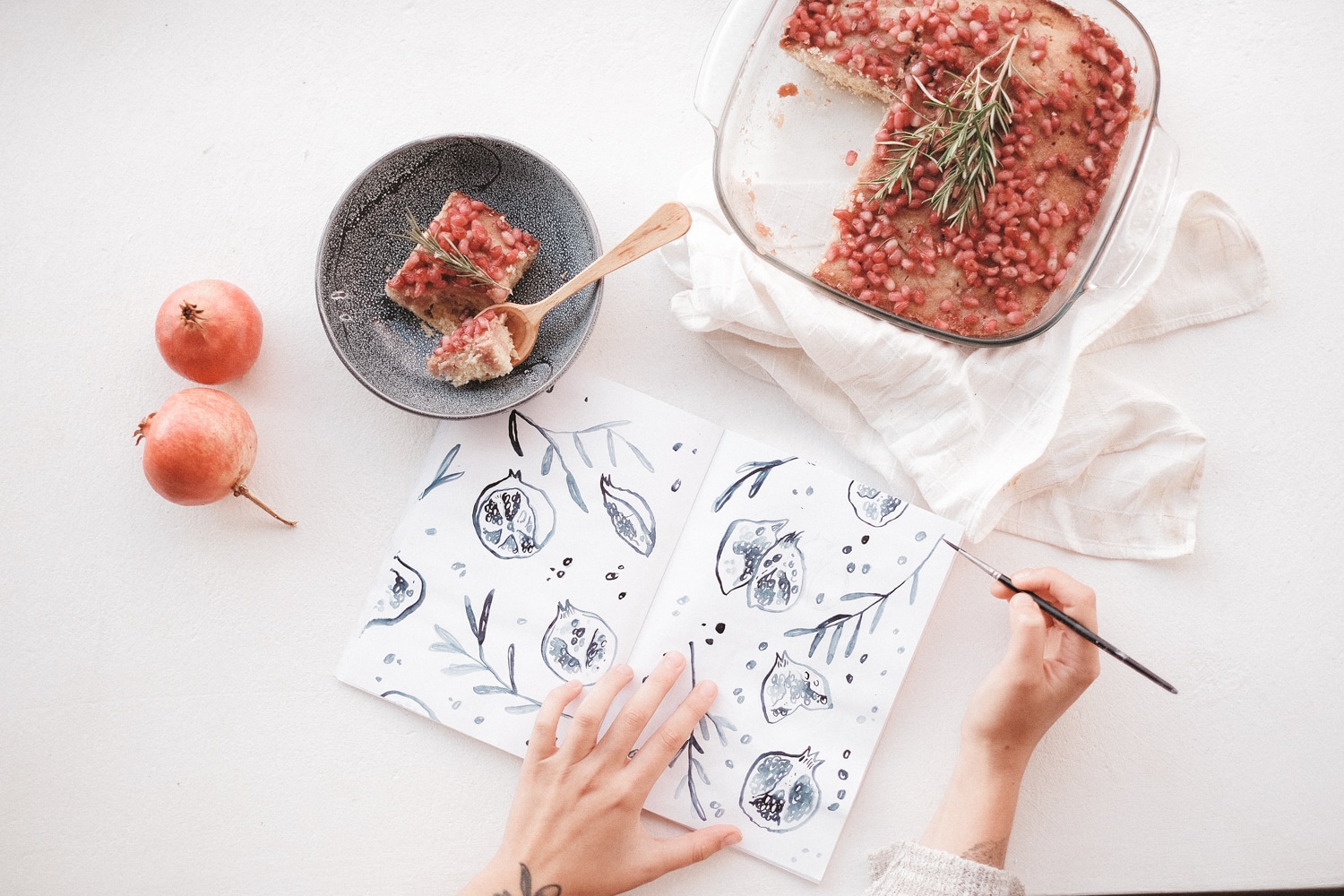 I don't know about you, but I find pomegranates to be extremely beautiful. I just love their heart-like shape so much, how the seeds are attached to each other but popping out like confetti when shaken/cracked open. They are quite a poetic thing. I couldn't resist and had to include them in some spontaneous sketching as you can see above. An entire new love for natural patterns grew with it, and as I shared it with friends I was told to turn it into an art print. Some even suggested to produce wallpaper, haha! I started small by turning it into a poster which you can get HERE. Have a look, perhaps it could be a cool Christmas gift for a friend 🙂
I hope you guys enjoyed this post and that it inspired you to appreciate the beauty of the seasonal things around you. Don't forget to give this yummy recipe a try – you won't be disappointed.
---