Let's talk about morning rituals.
Recently, many people have asked me if I actually continued doing my "miracle morning" (aka waking up before sunrise to do meditative things, as mentioned in this post back in December). Turns out it was the perfect thing to do during that stressful pre-Christmas time where I embraced this ritual every single day. Today, although there are still days where I feel like I need it (and do it), things have changed a little bit, as I do like to shake up my routine and try new things.
David and I usually wake up at different times. I usually get up a little bit earlier to do a few healthy things, such as yoga, exercise or meditation. By the time I'm done, David is also out of bed, and then our workday begins straight away. We brew some coffee and then we each sit on our workstations, checking our emails and setting our "workmode" on in a snap. That doesn't sound too bad as it is, but we noticed that it lacks an important element: having a shared moment of conversation before each of us isolates in their daily tasks.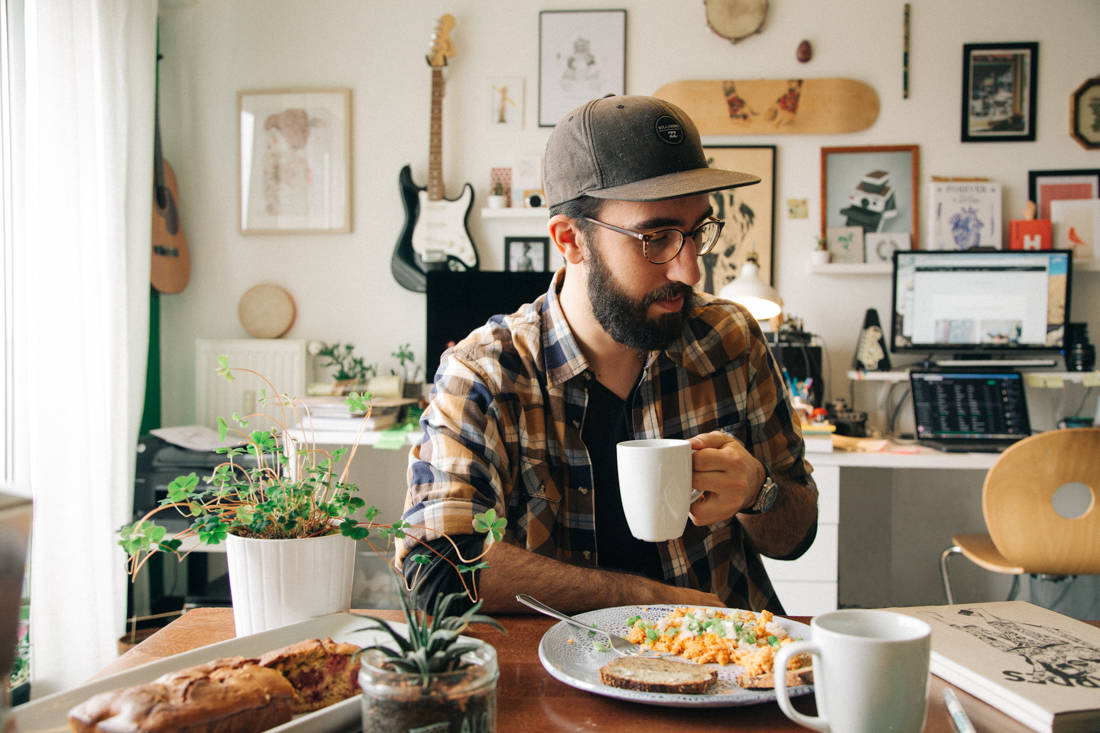 The other day, as we had an early appointment in the city, we started the day by heading out. After our appointment we decided to go to the farmer's market and grab some croissants for breakfast. When we got back home, we prepared coffee and actually sat down to enjoy it. This little moment of "just sitting down for a bit" before getting to anything else allowed us to have a quiet start of the day, and a good talk as well. The best part was that it actually allowed us to have a very, very productive day after it. And that got me thinking: "Huh, we must do this more often".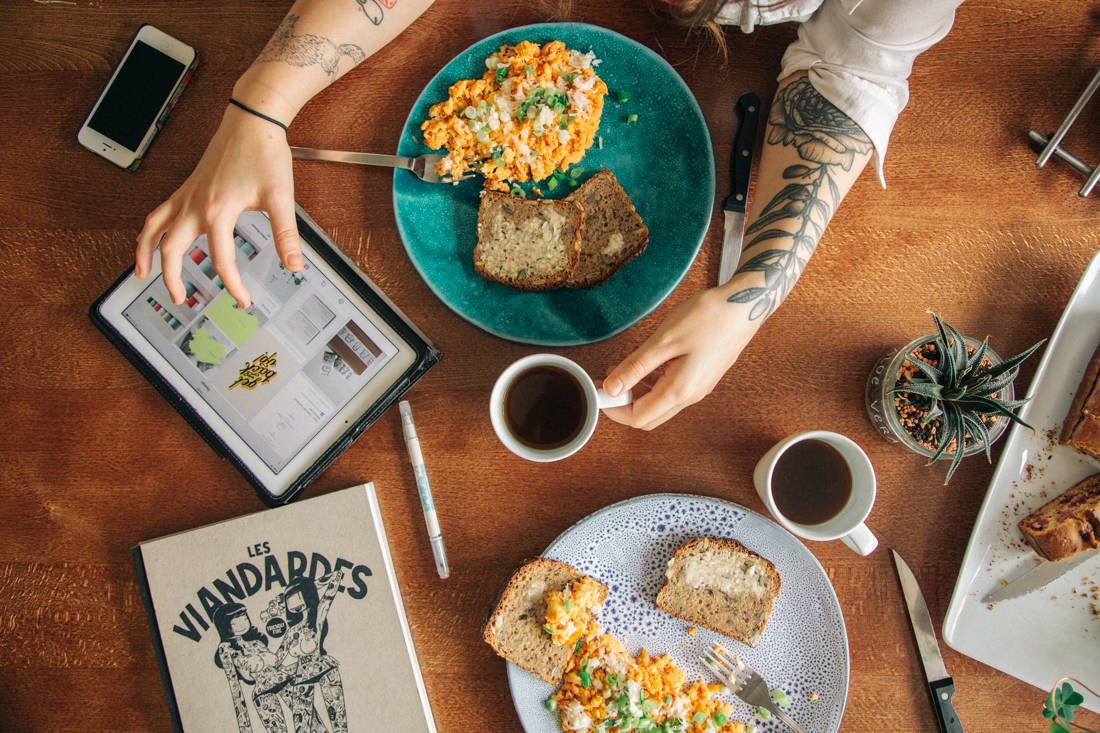 And so we have created a new morning routine to include it. Every day, after my early morning yoga practice and David's extra-snoozing time, around 9:00, we prepare ourselves a quick yet enjoyable breakfast, a fresh pot of quality coffee, and we really take the time to sit down and enjoy it. I have to be honest: sometimes the kitchen is a bit of a mess from the night before, or one of us can wake up stressed, so we can get a little snappy at each other while preparing breakfast, but what matters is that we can create a relaxing moment after that. And before our workday officially begins, around 9:30-10:00. While enjoying our breakfast, we can talk about things we want to do in the day, in the workweek, our creative projects, share random thoughts, or just observe our canary birds flying around and have good laugh. We sometimes check our emails on our phones, but our relaxed state of mind allows us to take everything in a more easy-going way. It's a little moment to ourselves and it feels pretty nice!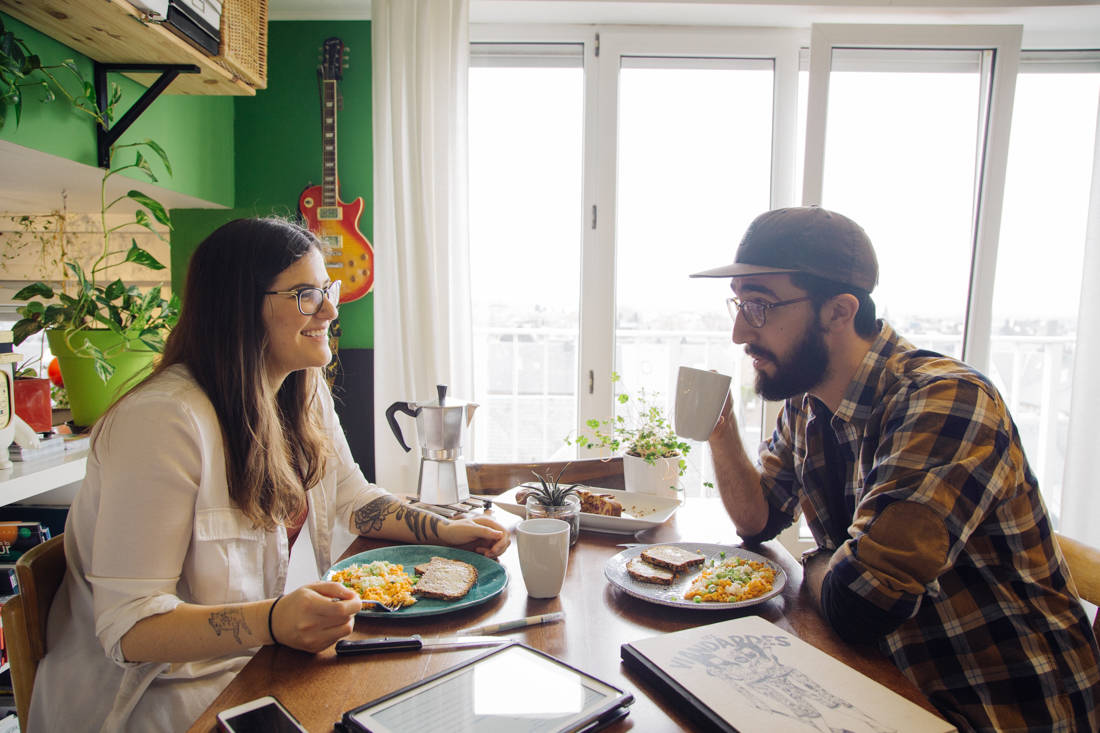 Besides, this little ritual is also a perfect opportunity to try new recipes. Seriously, there are so many delicious things that you can make for breakfast in no time at all: chia pudding, oatmeal, avocado toast, smoothies… It doesn't have to be difficult or time-consuming like preparing a weekend brunch, but then again, why wait for the weekend to have something yummy to start the day? Don't we need these things more on days where we are prone to stress, actually?
David's aunt has a chicken coop in her back yard, which means we often get plenty of fresh eggs. One breakfast recipe we love to make with those eggs is Strapatsada. It's hard to pronounce, yes. It's greek, that's why! It ressembles scrambled eggs with an addition of fresh tomato and lots of flavour. It's a simple dish that I love and it's absolutely perfect to start the day, (or for lunch) especially if you're in the mood for something salty & hearty.
You will need:
5 large tomatoes
4 large eggs
1/2 cup crumbled feta, grated goat's cheese or nutritional yeast
1 pinch of black pepper
1 pinch of sea salt
1 pinch of greek oregano
1 handful basil leaves
3 tablespoons extra virgin olive oil
2 spring onions, chopped finely
Beat the eggs in a bowl with the salt, pepper & oregano. Chop the tomatoes in half, then grate them using a grater, over a pan. Toss the skin when it is reached. Now turn the heat to medium and let this grated tomato preparation reduce. When all liquid has evaporated, add olive oil, stir for a moment then add the beaten eggs. Let them barely set, then whisk and scramble. Remove from heat when you think they are almost ready, before they get too rubbery. Add in the cheese (or nutritional yeast) without letting it melt too much. Serve hot or cold with a bit of freshly toasted whole grain bread or on its own, drizzled with olive oil, chopped basil and a sprinkle of spring onions. You can even add some chilli if you like it spicy. Enjoy!
---