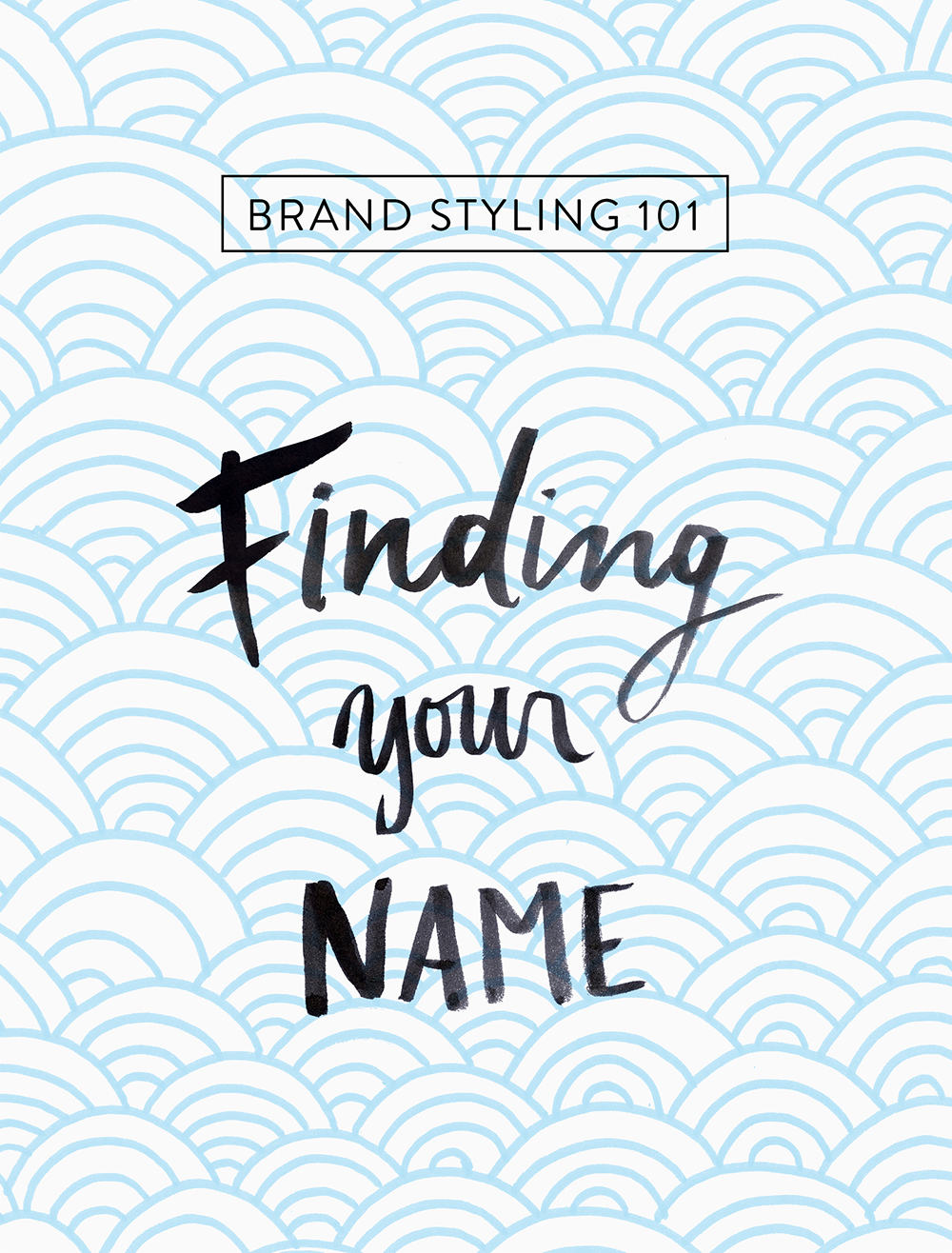 Hello folks! Today, I'm going to continue with the THIRD post in the "Brand Styling 101" series (check out previous posts here & here). I'm going to talk about an important factor of brand styling, which doesn't have much to do with actual brand "styling" but with brand "defining"… Of course, one is complementary to the other. A brand that's not defined cannot be styled, right?
One very hard thing to do when starting a business, a blog or a project, is to find a name for it. It's the first thing that you have to do, and it's the first thing that will turn your "idea" into something that feels more permanent and grounded: it will be imprinted on your paperwork, on your logo, on your domain, and also on the minds of your future audience. Such a commitment, right? Because of that, it's also a very intimidating and confusing step to take. As if starting a business itself wasn't hard enough… you have to come up with a meaningful NAME that somehow speaks to you and that will serve you well for years to come! Yup, it's kinda scary, actually.
Maybe you're just about to begin the process, and then again maybe you've been juggling a few words around in your head for weeks now, but are a bit afraid to actually man up and purchase your domain name. I know the feeling!
Here are some steps that can help you out:
DO THE Q & A
Before you can even begin brainstorming a name, you first need to have a pretty clear idea of what your brand/blog is all about. Head over to this post to get some answers to some important questions… It's a bit of homework, but this will help you and naturally kickstart the naming process.
DEFINE & BRAINSTORM
What exactly should this name do for you? Should it be personal, to the point, or intriguingly creative?
A) Personal:
If your business is personal and only involving you & your very own personality, you can consider using your own name for example. This can be useful for personal lifestyle bloggers, artists, makers and solo-preneurs or all sorts. Just make sure that you are not planning to expand in the future as your own name usually restricts you to yourself.
B) To the point:
If your business has an identity of its own, a defined niche, or provides a certain type of service/product, then you might want to go for a bit of brainstorming to find a well-suited name that's related towards what you offer, using a keyword or a mixture of words that make total sense. Consider your strengths, your mission statement, your target audience and start gathering keywords that somehow relate to them. Don't hesitate to use a thesaurus and look for synonyms, to go a little bit further than the average keywords you'd use. This is usually best for specialty businesses with a specific niche, who need their name to really get their audience straight to the point or to get a feel of the concept, such as specialty shops, restaurants with a specific type of food, businesses who specialize within a particular service.
C) Intriguing:
Is your business in a creative field or needs to have a name that evokes an ambiance or tells a story? You might want that name to be more creative, intriguing, maybe even have a hidden meaning. This is also useful for businesses that don't want to restrict themselves with a name that is too defined. In this case, do not be afraid to go a little more random when brainstorming. What do you like? Is there a particular symbol that makes you think of your brand, yourself, or the way you do things? Maybe even words that bring back beautiful memories, are associated to your story, or the philosophy behind your brand? I believe that maker-businesses (jewellery, home decor, design) or bespoke, high-quality, creatively-compelling fields (fine restaurants, fashion, art, design) can benefit from having this type of name.
NARROW DOWN 
At this point, you have probably listed all kinds of descriptive words that you associate with your brand. Now it's time to play with the words to come up with an awesome new name! Don't worry about sounding silly, just get creative and try new and interesting combinations and spelling to set yourself apart. Just remember to ask yourself these questions:
Is it easy to read, spell, and remember?
Is it still going to be significant in the future or does it just relate to what's "in" at the moment?
Will the name limit you to just talking about certain topics?
Will the name provide opportunities for improvement and progress in the near future?
Does it roll off the tongue nicely and sound appealing?
DO YOUR HOMEWORK
Once you've got a great idea for a name, make sure to Google it. Check for any existing blogs or business that are already using the name in your industry and rule out the name if there are. It would be pretty darn unfortunate if you spent time, money, and effort establishing yourself under a name that some other brand is already using.
Now for the domain check! Head over to a provider (like eurodns) and check if your desired domain name is available. If not then try, try again. Consider different combinations, short forms, alternate domains like .co and possibly even a different name if things aren't going so well.
JUST START ALREADY
Even if your site's url isn't perfect, or you don't absolutely love your name just yet, what's more important is the content you create and the value you bring to your audience. A name isn't going to make or break your success, your hard work and dedication speak a lot louder than words. Don't let choosing a name delay any of your goals; pick a name, get to work, and launch! Sometimes you simply need to start.
What about us?
Our own name (KINLAKE) is a bit of a mix & match between random words: KIN (relative)  + LAKE (pool of water). It wasn't easy to find, in fact we only had two weeks to come up with something to name our company & put it on paper. We knew we wanted to create a dreamy name including the word "lake". Not only do we love the sound of this word, but one of the most beautiful, most peaceful sights we've experienced in our lives was the Beaver Lake in Stanley Park, Vancouver, while doing a roadtrip across the pacific coast. That trip itself will always be engraved on our minds and it's the trip that started many currents of inspiration. The word "kin", which means relative/family was a perfectly meaningful addition to it, as it makes us think of the close relationship we form with everybody we work with/for. At the same time, it's also a mini-hommage to Kinfolk, a magazine & lifestyle that's been a huge catalyst in the way we live & create, holistically & with purpose. It's funny how such a random sounding name can finally have so much meaning, at least to ourselves.
What's your experience? How did you come up with your blog or business name? Was it a long & painful process or super obvious? We would love to hear your experience below. And if you'd like some feedback on a name, just ask!
---