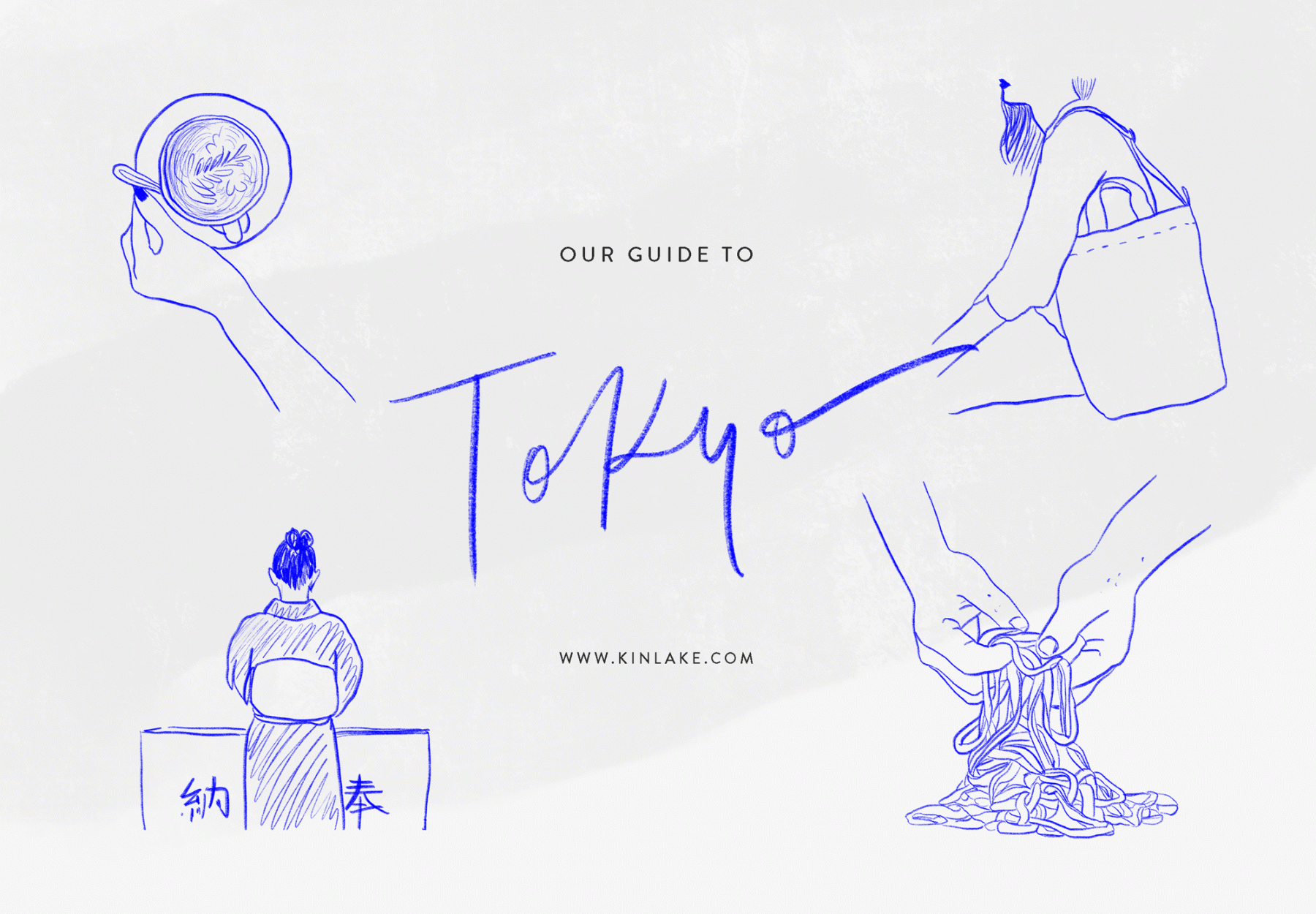 Honestly, if there would be one city in the world that I would say you have to visit before you die – it would be Tokyo.
Don't get me wrong, there are many other incredible places to see all around the globe – some of which I've had the chance to visit, fall even more in love with and many more that are still on my wish list! That said, this particular city is just so fascinating and a whole experience that just can't be compared to any other. I will never forget the time I first landed here in 2009 – and I will never grow tired of all its contrasts.
Tokyo is in fact such a multi-faceted place, and an intense welcoming entrance to Japan's culture. On one hand you can experience the frantic energy that makes your senses go wild, on the other you can find yourself strolling in a quiet streets in between, full of tiny little houses, cute shops that are even more tiny, and the occasional hidden temple.
I am personally not at all surprised that it's such a hub for creative people, from artists, to designers, to photographers, and people who just generally "make" stuff. It's a truly stimulating place to be in, and to feel constant inspiration. We experienced this first hand both times we visited but especially when we recently stayed here for longer, to really live it & see how it affects our creative work. The flow of ideas that it brought us was almost overwhelming sometimes!
Tokyo is a place that we're now quite familiar with and over time we've discovered many favourites. There is some yummy food to be found here,  as well as extremely cozy coffeeshops and of course some pretty inspiring sights. As we often get asked about these spots, so we thought about putting together this CITY GUIDE with all our tips, so that you've got something handy for whenever you'll be visiting this amazing city.
Let's get started, shall we?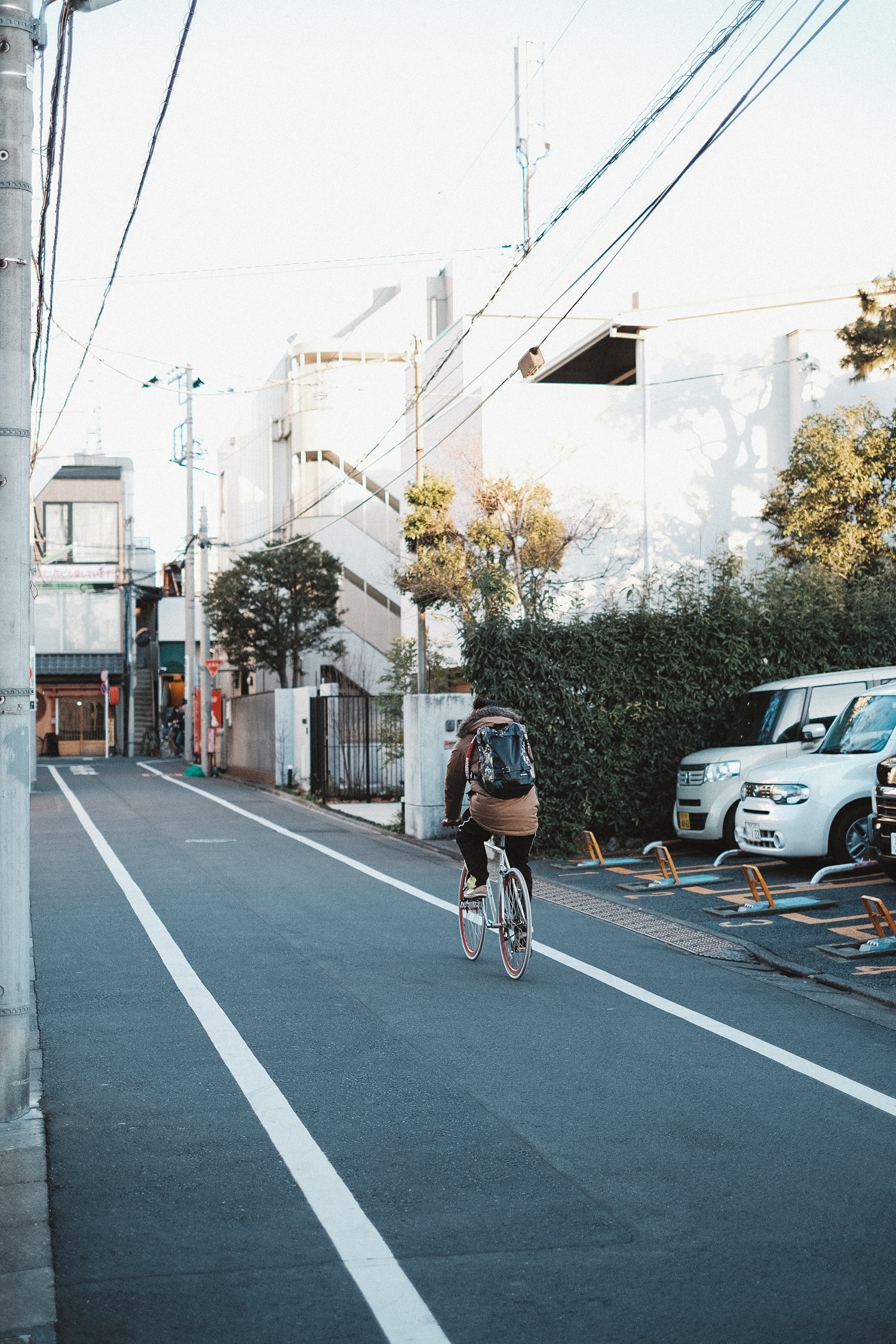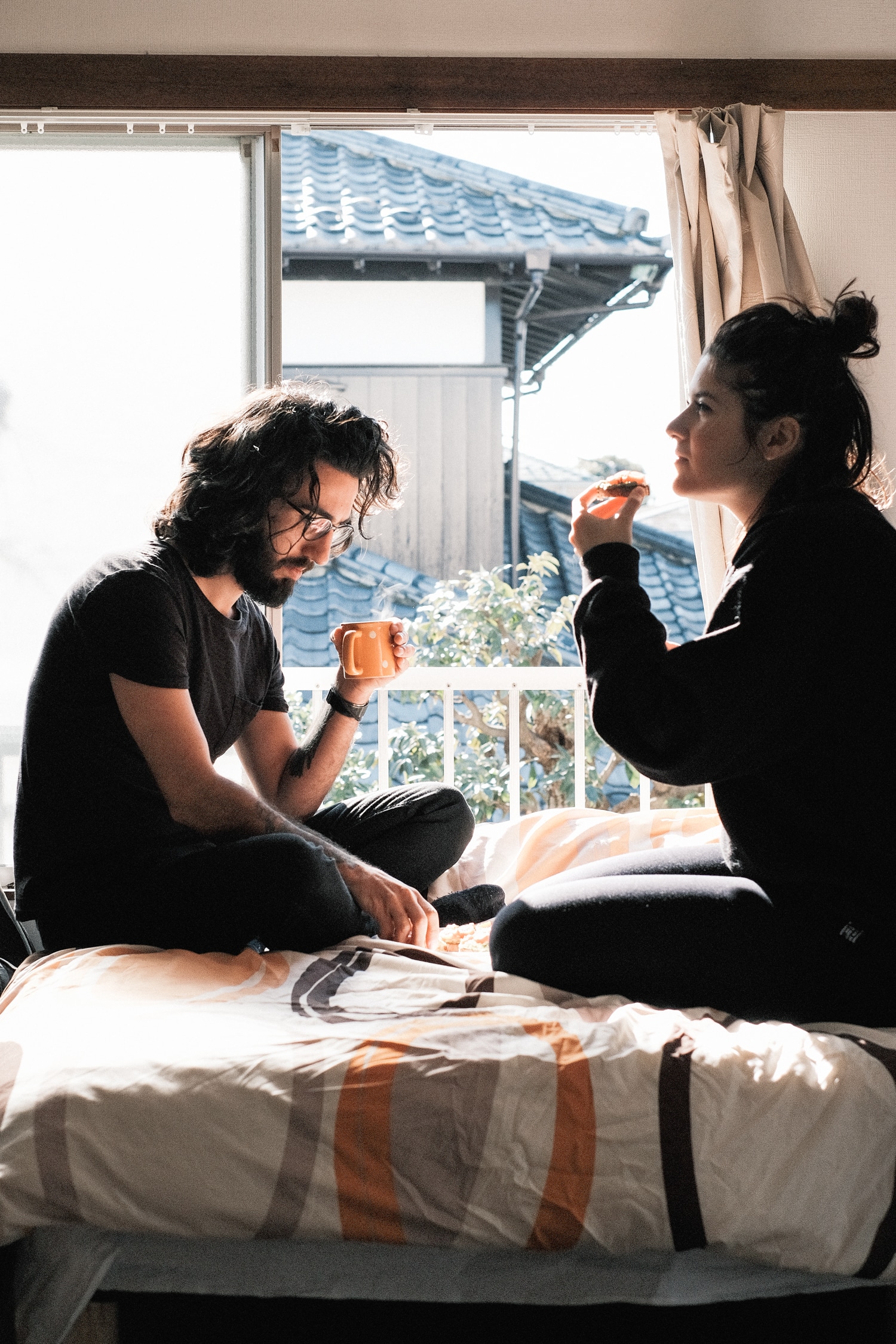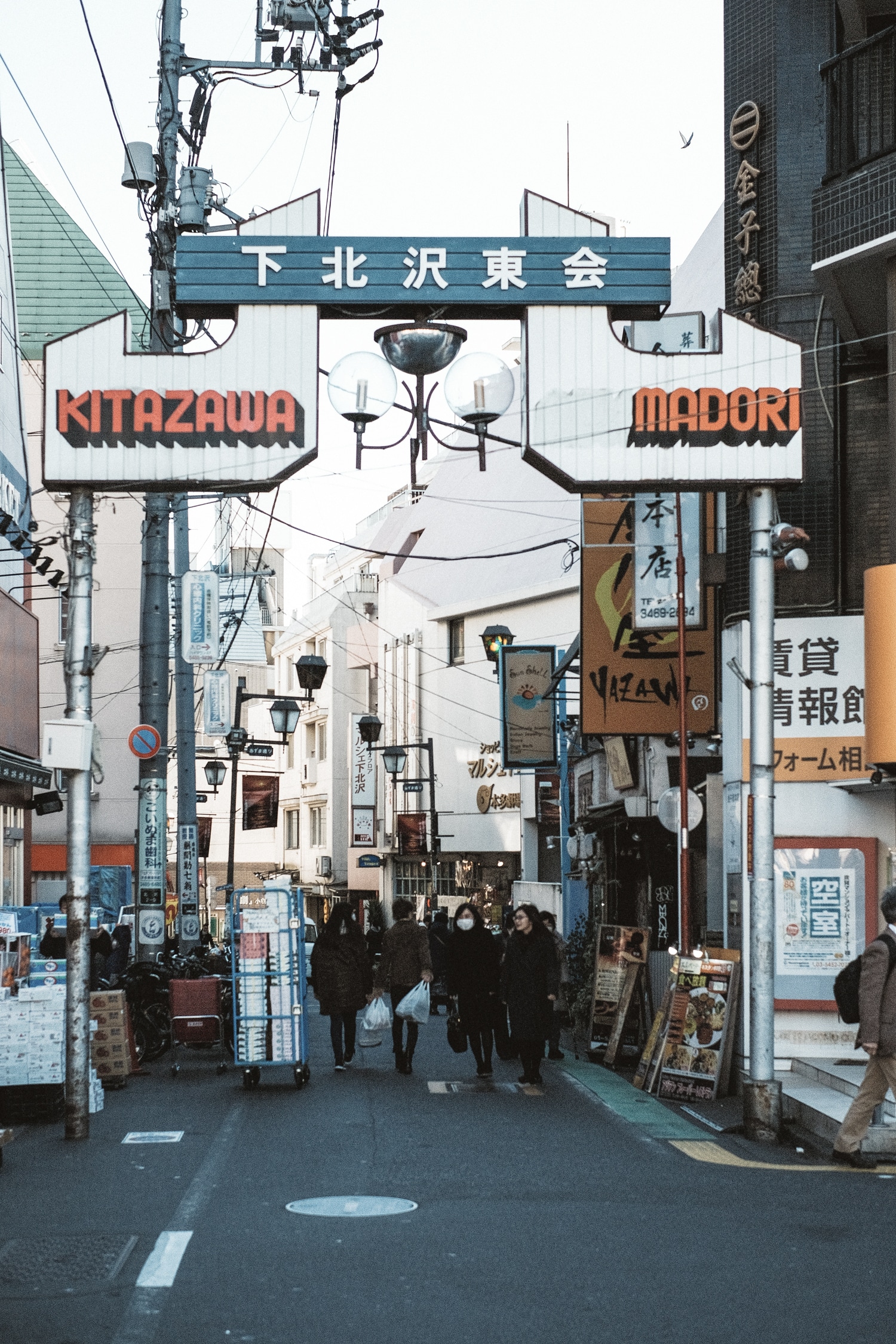 Tokyo is so big, so there is a neighbourhood out there for everyone.
It's good to figure out what you like, and to stay in an area that inspires you as that is an awesome feeling when going in and out of your hotel/airbnb/rental. Personally, we really love the areas that feel like their own little independent cities, and where we can find a lot of creative inspiration.
Our favourite neighborhood has got to be Shimokitazawa. We totally love how it's both quiet and vibrant, packed with cute cafés and second hand shops! We've stayed there twice and are thinking of going back next time, as there are always new things to discover.
Other creative places worth mentioning are Naka-meguro which is filled with small independent shops and eateries, Daikanyama which is avant-garde & artsy, Koenji which is like a smaller and even cozier version of Shimokitazawa, and Sangenjaya (where our friends live), an up and coming neighborhood full of new concepts & speciality coffeeshops. Plenty of choice, as all of these are also well connected if you need to get around the city!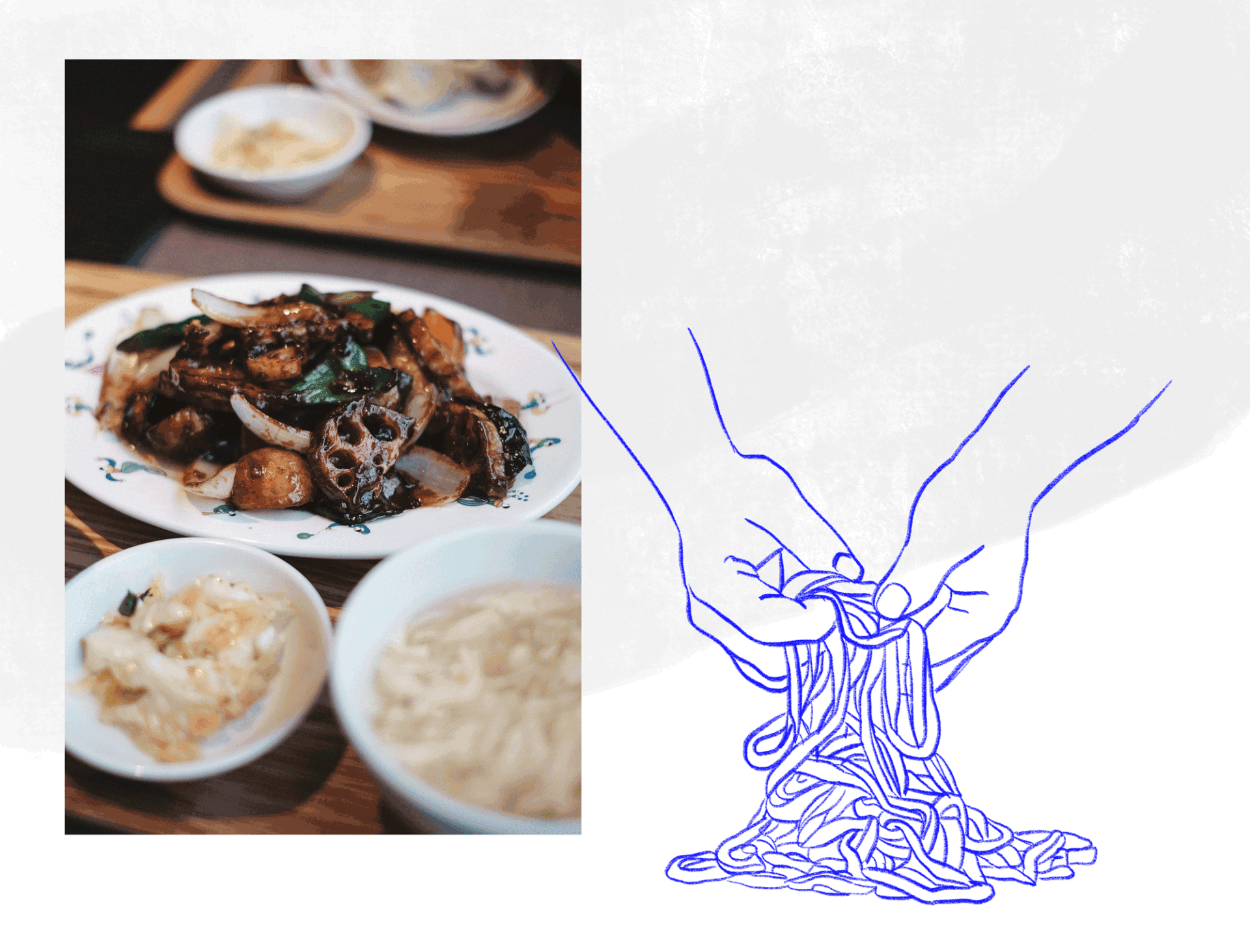 Before I begin listing our favourite foodie spots, I must also mention the things I generally recommend trying out, especially if it's your first visit to Japan and particularly Tokyo!
The first thing I tell everybody is: go and grab an onigiri at the nearest konbini (convenience store).
It's so simple but it amazes me every single time to realize just how much yumminess you can buy anywhere, anytime in Japan and how their konbini's are just world class. An onigiri is a good place to start – it's a rice ball, usually filled with something delicious. Everybody here eats this when they're on the go. It's cheap, tasty, portable – perfect. Use google translate on your phone if you can't read the labels, and you'll be good to go. Now enjoy and welcome to Japan!
Japanese food is generally amazing and will most often exceed your expectations. Honestly, David and I have not had a bad meal in Japan and especially not in Tokyo. With that in mind, you don't need to be very picky of where & what to eat. However, I recommend trying the following things:
Udon – a thick starchy noodle, usually eaten in a broth in winter and cold in summer. Usually served with tempura!
Soba – noodles made with buckwheat flour. Also very tasty.
Sushi – if you're on a budget, go for a conveyor belt – it's also a very fun experience!
Okonomiyaki – japanese omelette. Originally from Hiroshima, but of course you can also find some in Tokyo. Our favourite spot to eat it will be mentioned below 😉
Izakaya – kinda like "japanese tapas". If you spot one around you, go grab a beer and some nibbles!
In particular
TIGER GYOZA | Shibuya
Tucked just a few minutes away from the buzzing heart of Shibuya, this restaurant is an inspiring spot (with lovely botanical patterns on the wall!) + amazing food. As the name suggests, their specialty is Gyoza (japanese dumplings) but their menu is not exclusively about that. We had a veggie lunch set there which included veggie gyoza but also coriander noodles. We also recommend the eggplant with miso glazing. So yummy!
BROWN RICE | Omotesando
A really beautiful, minimal & natural space, just in the back of a natural skincare shop! They serve delicious organic vegetarian food based on Japanese recipes of course. You'll also get a cup of fragrant hojicha (roasted green tea) as you come in!
MATSUNOSUKE NY | Daikanyama
This place is all about PIES. And they are so, so good. Flaky crust, lots of flavours: caramel apple, blueberry and many more.
ALL ABOUT MY CROQUETTE | Setagaya
We discovered this spot thanks to our japanese friends. It's really special because it's all about "croquettes". Believe it or not, the Japanese love their croquettes ("korokke") but this spot is really shaking things up with creative recipes such as beetroot/goat cheese. Totally tasty. Oh of course we love their cool, playful brand identity 🙂
SAKURA TEI | Harajuku
If you're gonna try Okonomiyaki, this spot in Harajuku is a good one, as you can have a fully DIY experience, sitting at a table with a hot plate + making your own (don't worry, they provide guides). It's really fun, tasty, affordable AND we love that location because it's right next to it, there's an art gallery called Design Festa which you must check out as well.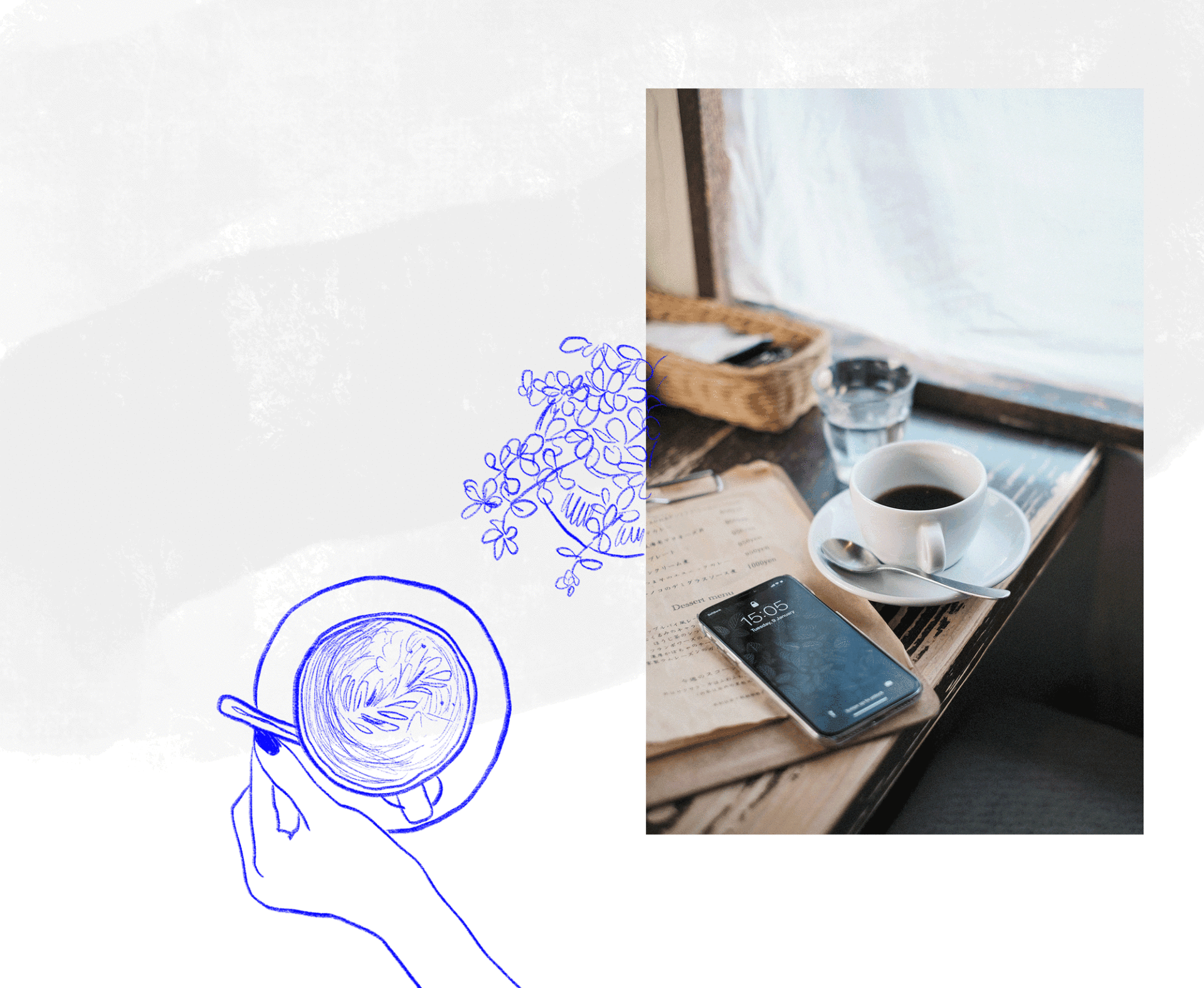 What we additionally love about Japan is just how much of a coffee scene there is.  Especially in Tokyo, you can find everything from a tiny coffee shop to grab a brew when you start your day, to full blown cafés with their own vibes, where you can grab a bite, relax for a while or get a bit of work done. Below we've listed our favourites!
LITTLE NAP COFFEE STAND | Near Yoyogi Park
An adorable little spot with a beautiful sliding door at the front, facing the left side of Yoyogi park – so you can technically just pop over and go for a walk there afterwards. Make sure you get a seat next to the window, on the counter, so you can do some people watching while sipping this amazing coffee.
FRANKIE | Shimokitazawa
This place is really tiny as well, and serves some Melbourne-style coffee drinks such as silky lattes. Their mocha is surely the creamiest I've ever had. Make sure you get a cake with your brew as well – they've always got some tasty things displayed by the counter, such as chewy brownies and some Aussie treats with a japanese twist such as matcha lamingtons.
ON THE WAY COFFEE | Shimokitazawa
A teeny weeny coffee "stand" where you can grab some coffee to go, as well as homemade cakes. If you like cute tiny displays, just go there because it looks adorable. Snap a photo + enjoy your goodies 🙂
SIDEWALK STAND | Nakameguro
If you're strolling in the lovely neighborhood of Nakameguro, make sure you don't miss this. Delicious coffee and if you're hungry, even more delicious grilled cheese sandwiches with sourdough bread. Didn't think I would ever find something like that in Japan, but my goodness – what a treat!
MOIS COFFEE  | Shimokitazawa
Tucked away in a quiet street of Shimokitazawa, this old japanese house has been converted into a cute coffeeshop on two levels – everything about that space is just so inspiring. Beautiful natural textures, old wood furniture, handwritten menu boards… And of course on top of that, you get delicious coffee, cakes and lunch options from their tiny kitchen. So you could technically go there just for coffee, but you can also go there for a full meal. There's also wifi + it's totally ok to spend some time there, which makes it laptop-friendly. We spent many afternoons there, working away on our creative projects. Oh and before I forget: make sure you try their apple cheese cake. It's mind-blowing.
OJIYAN CAFE | Shimokitazawa
Lovely large café with quirky vintage-inspired decor, awesome friendly staff and of course, amazing coffee. We definitely recommend it for coffee + cake (try the silky matcha cheesecake), but also for lunch as they have yummy pasta dishes and donburi (rice bowls with toppings). Also very laptop-friendly, just no wifi so bring your own portable one if you have it.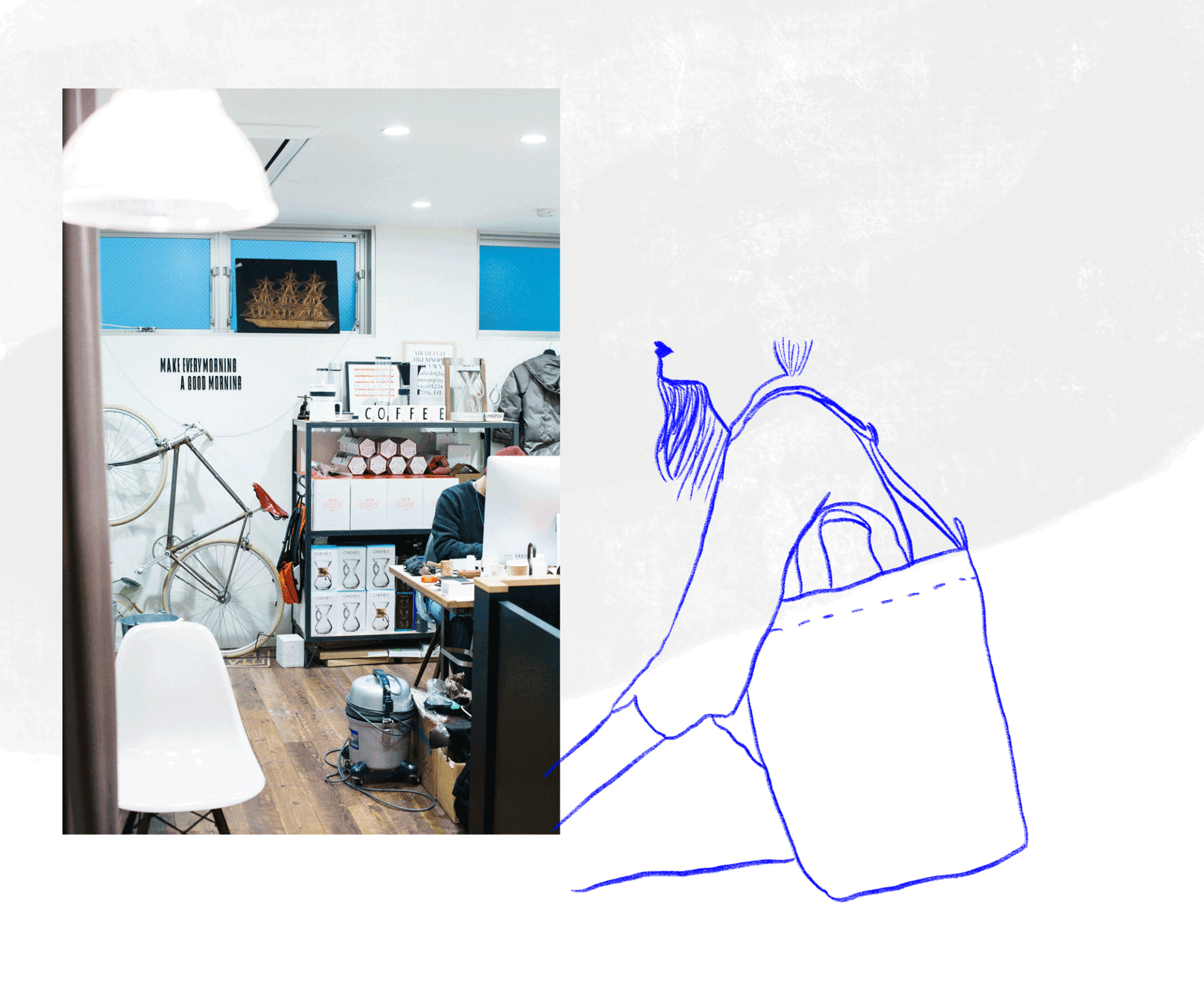 It's honestly kind of hard for me to make a list of shops to check out. In Tokyo there are so many interesting shops and there is something for everyone. If you want to explore a bit and see what you can find, the best neighborhoods I recommend for shopping are:
Harajuku – to find up and coming japanese fashion & independent stores. Although, avoid the crowded kawaii part and just head in the inner streets!
Shimokitazawa – for all the awesome second hand shops
Nakameguro – for all the quirky speciality boutiques
Daikanyama – for the artsiness & beautiful textiles
In particular
UNBY | Harajuku
Totally love this shop – it's got absolutely everything that screams "supplies" & "long lasting", from some hip camping gear to lovely stationary gadgets. Don't miss the epic backpacks which they actually design in store, as the upper floor is in fact a product design studio! Ultra cool.
MJ & FRIENDS | Shibuya
A shop with a beautiful selection of stationary, home items and everything you need for specialty coffee. In the back, there's a design studio – just how cool is that? The owners are absolutely delightful and will greet you with an amazing cup of freshly brewed coffee. They took a portrait of us when we first visited and we always go back there to see their new collections. Many of the things in store are either created by them or by their creative friends & partners.
TENOHA | Daikaniyama
A really light-filled concept store with everything from fashion, to home items and generally beautifully designed stuff. Most of which is made in Japan!
OKURA | Daikaniyama
This shop is mostly for men, but regardless of your gender, it's worth checking out – especially if you're into indigo fabric. It's all about that! The interiors are dark & moody, making it a perfect place to showcase this traditional craft. I still dream of these beautiful indigo dye kimono coats.
TSUTAYA BOOKSTORE | Daikaniyama
If you love books, and especially the more visual kind such as publications about design, art, or maybe even independent magazines from around the world – then you gotta keep it cool when coming to this giant bookstore. It's stocked with absolutely everything one could possibly want!
Inspiring Sights & Things To Check Out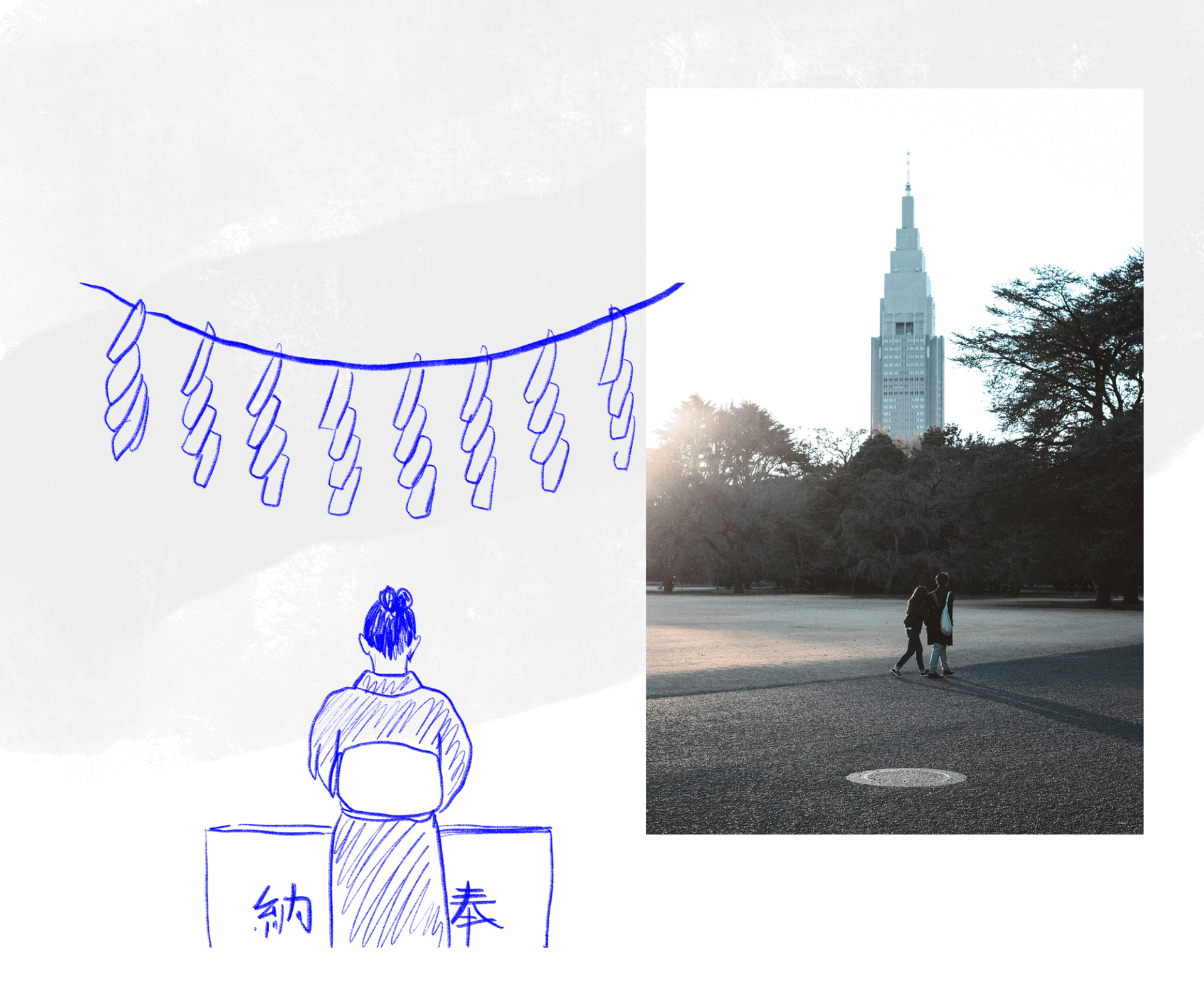 Finding inspiration & seeing new exciting things in Tokyo is not a hard thing to do. Which is why I do feel a bit odd listing "inspiring sights" in the city and I hope you understand me – I mean I get inspired just by walking around looking at the stylish people here! What more could one possibly want?
Also, let this serve as a reminder that you find the best stuff when you have no plans at all. But just in case you're wondering about what spots "make" Tokyo for us, then these would have to be:
SENSO-JI TEMPLE | Asakusa
Asakusa is a historical part of Tokyo, so it's fair to say it's quite touristic. However, this temple is a must see, as it is the oldest buddhist temple in the capital, built more than 1000 years ago. It's absolutely amazing – and keep an eye on the calendar, as there are many seasonal events happening here!
YOYOGI PARK | Shibuya
The Yoyogi park is right in the middle of the city – offering a massive green oasis to wander around peacefully. There are surprisingly a lot of birds and plants to see here too, and it's where you'll find another prominent temple, The Meiji Jingu. Grab some onigiri or a bento and just have a picnic here on a sunny day.
GOTOKUJI | Setagaya
This is a really cool temple mostly just visited by locals. Yet, it has something special: an abundance of lucky "maneki neko" cats! You can see more photos of it here in our post about our stay in Tokyo back in January.
KAPPABASHI | Asakusa
Not far from Akibahara (the "electric town" which we also recommend visiting because it's pretty wacky!) you'll find Kappabashi, which is the "kitchen town". In other words this is where restaurant owners come to get all their supplies for their food business, from cooking equipment to crockery and in bulk seasonings. So this is a great place if you're a foodie too, and if you particularly LOVE things like japanese bowls, or you're looking for some extra special chopsticks. Honestly you can find anything food/cooking related here. Oh and make sure you don't miss the many "sempuru" along the way – those crazy japanese food imitations.
SHINJUKU GYOEN BOTANICAL GARDENS | Shinjuku
Another peaceful green oasis in the heart of the city! It hosts a tea house, a zen garden and also one of our favourite things: a botanical garden. One that is particularly beautiful too. Highly recommend – David and I went totally nuts in there. If you like stunning plant-filled environments, then you will too!
ADVERTISING MUSEUM | Ginza
Quite possibly one of the coolest small museums ever – we highly recommend it especially if you're a creative type or if you're just interested in seeing some epic examples of how advertising evolved in Japan. The exhibit is fascinating, exploring how brands were advertized in historical Japan (when they only had shop signs) all the way through today (when we have social media)! I loved witnessing how things evolved for some known japanese brands such as Shiseido and how each example reflected the trends/mentality of the moment. So, so interesting. A very interactive experience and a free one too – as there's no entrance fee!
__
ps.: if you're into all things artsy, we also recommend checking out any local art or photography galleries around your area. Being in this completely different visual culture is a great opportunity to soak in some new ideas + give your creative side a tickle.
There are just so many things to see & do in Tokyo – I genuinely believe that because of the huge amount of it, everyone gets to experience it in their own personal way, and it will remain forever engraved in their memories.
A few tips from us to make your experience even better when you get here:
01
Get yourself an airbnb with a portable wifi! Most of them offer it with the accommodation. If not, then why not rent one for the length of your stay? It's just so useful to have it with you and always cool when you want to look something up on the go, like where to grab udon or what that one japanese word means!
02
Speaking of which – also get google translate and make sure to use the "image scanning" option. Tokyo is pretty foreigner friendly and signs are written in english everywhere but you never know as you might end up wanting to buy an onigiri with a 100% japanese label or you're in a restaurant with no english menu (I salute you, that's pretty authentic!). Google translate is of course not always accurate and in fact it's even hilarious sometimes BUT it's better than nothing.
03
Japan is an extremely polite & courteous country. It's not a bad idea to learn some polite japanese words and get accustomed to basic japanese etiquette. No need to go into too much detail of course, but one thing that's really important is to queue up when you're waiting for the bus or going somewhere. People just don't run into each other here – they walk in line, and if you don't want to stand out as the clueless tourist, just go with it!
I totally wish you guys an incredible experience when you visit Tokyo and please, please keep me updated if you use some tips from our guide. We'd love to hear about your personal experiences and of course feel free to share some of your own tips if you've discovered some exciting stuff that you think we'd like. Sharing is caring, right?
As for us, we'll definitely go back there and we'll surely be filling it with additional stuff every time we visit, so this post will probably be expanding several times through 🙂
---