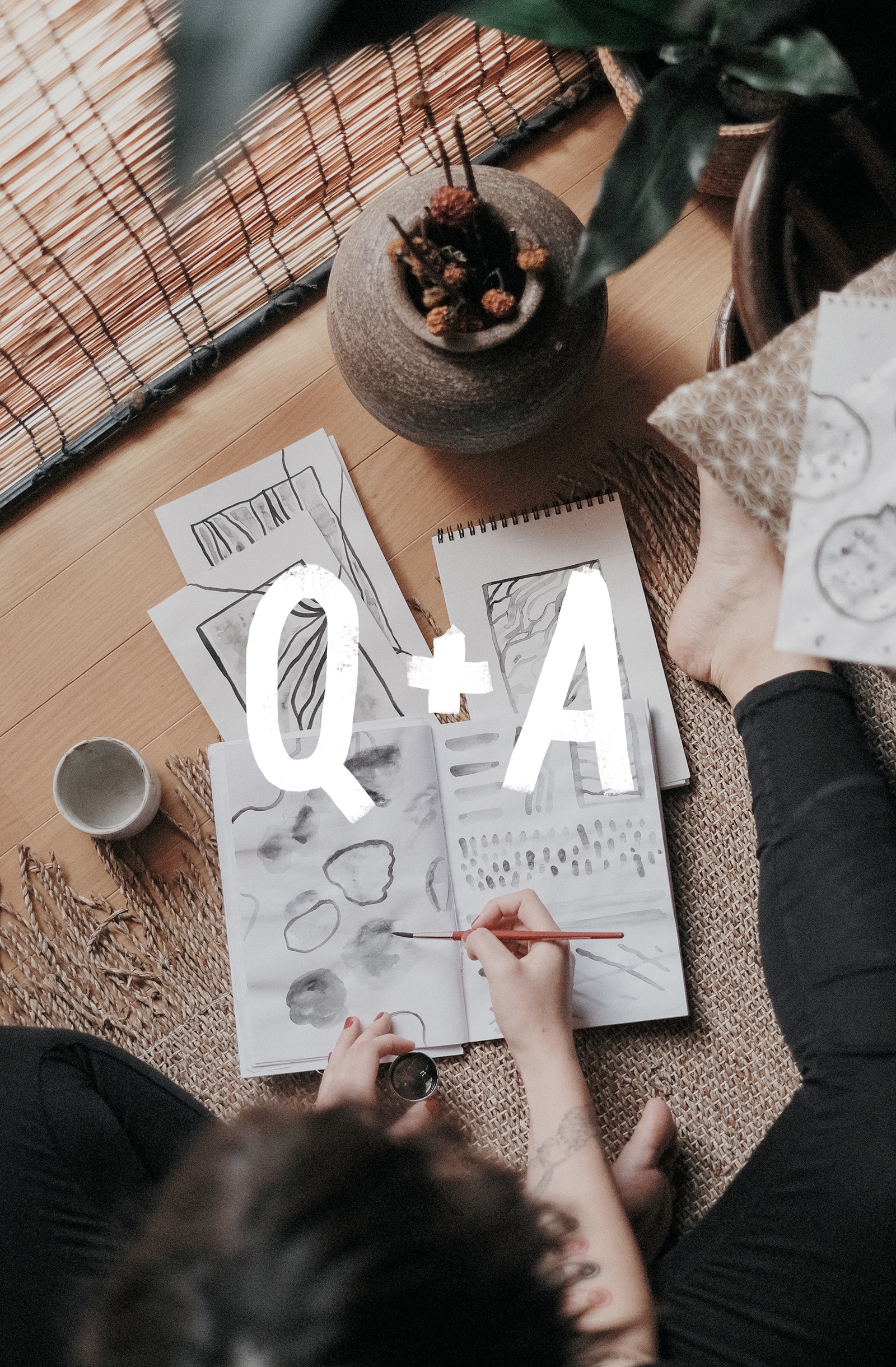 Woah you guys! I'm so, so happy that we can finally publish this. This Q&A has been a long time coming!
David and I always like to say that our lives really begun when we decided to make creativity our priority. Creativity requires an open mind, and an open mind attracts positive change. And a change it has been, especially if you compare it to our lives just 3 years ago.
That said, this would not have happened if we would not have asked ourselves some questions. And even still today, we continue to do so, ALL the time. Asking questions is the ultimate way to bring awareness & clarity into a part of your life, and to make room for what you desire to happen. We've always loved asking questions to ourselves and of course, to other people that inspire us and whose lives intrigued us. It's by asking questions that we decided to leave our egos aside & work together. It's how we turned out passion into our livelihood. And it's also how we figured that we wanted to do it while travelling, a lot at first, then in a more balanced, slow way later. While also learning about how to be more essentialist & present. Of course, it hasn't been without struggles. Taking life in your own hands is anything but passive OR easy – but oh my, we've learned so, so much. And we're so eager to keep learning more.
And since we started doing all of this, we've been so lucky to have a community of people like you following along and being so supportive of our journey. We've met plenty of people among you who have incredibly inspired us as well and we couldn't be more grateful about it. Over time many of you have had questions for us, which we always loved to answer, as we definitely know how helpful it can be to have someone else's feedback & perspective on something that intrigues you and that feels like an "opening". SO – without further ado, here's the Q&A that we put together with the best questions & answers we've ever received/given around anything you've been curious about or eager to know! At first, I thought that this post would only cover questions about "Living Nomadically" but then I realized that we also received so many awesome ones about freelancing, creativity, and everything else. So for now this will be a combined Q&A with all of these different topics!
We'll probably keep updating this post if we get cool new questions in, so feel free to keep an eye on it. Just let us know in the comments, or send us a message – we're so eager to clarify anything if it feels interesting to you! Let's get started 🙂
Freelancing & Living Creatively
What are the three tips you wish someone had given you when you started freelancing?
When we started out in 2015, we wish we would have known better about:
– 01) Getting real with our schedule! At first, things were a little bit messy on that end and it generated a lot of chaos and not enough time to think of where we were really going, or providing us enough balance with our lives in general. Of course, like many other creatives, we learned to handle it along the way, as our first goal was to find a good work/life balance and stay on track. Later we fine-tuned this even further as realized that it's also good to allow spontaneous creativity to happen in between. We wrote about that particular bit in our post called Finding the sweet spot between overplanning & being spontaneous.
-02) We also wish we would have realized just how important it is to make room for personal development. Running a creative business is not just about running on autopilot on the things you think you're supposed to be doing, but also taking a step back to question it all and look at the big picture. We now take one day a week where we actually don't work on our client projects or our personal ones, but where we focus on our own goals and the "core" of our business. It's so important and it changed everything for us, as it all feels in constant progression. We call that day "Epic Wednesday" and we wrote about it here!
– 03) Learning to live with less – is another concept that would have benefited us if we would have implemented it earlier. Creativity just flows better when you don't have to worry as much about money. It's not necessarily about making more money, it's about learning to live simply so that you don't constantly have to think about it. Though the years we have made lots of changes to how we live our lives and have become so much more mindful about our spendings. Especially while living nomadically!
What have you found to be the best way to be creative when you have deadlines and its your job to be creative?
First of all, we need to make sure that we indeed feel inspired by each project. When we feel inspired or truly excited by something, then it's easy to approach it in a creative way and give it all we've got. It's not worth pursuing an personal idea or accepting a client project if it doesn't give you a good feeling. Then we have a rule of not work on too many things at once, and also have realistic deadlines, so that we can feel immersed it it all and creativity can flow freely. Branding projects for example, are particularly demanding on that end so we only work on one of those at a time – they require research, brainstorming, experimenting, sketching, adapting and this all needs to be done in an inspired mindset. As for our personal projects, we set our own rough deadlines but for those, we don't beat ourselves up if there's a small delay for a good reason – sometimes things just need some extra time to be perfected. Although this might change if we prioritise them more (which is one of our plans for the future)
How do you think people with a typical "9-5" can get more space to find creativity and improve their work?
Creativity is something that needs to be cultivated. And we've learned is that it doesn't always romantically come out of nowhere – you mostly need to set an intention and make it happen. It should be like setting a date with yourself, like a ritual that later turns into a habit. Even we, who actually run a 'creative business' need to make time for creativity outside of it, so that we can cultivate our inner expression as much as possible. Right now our side projects involve painting (for me) and music (for David). We take some time on most evenings to just immerse ourselves in these things, and we find it so meditative. So regardless of your lifestyle, if creativity is important then you should make room for it in your day. Therefore, a 9 to 5 job shouldn't stop you. In fact, in the book 'talent is overrated' we learned that many great poets, painters, creative minds weren't actually doing their magical work full time – they were just doing a bit of it here and there, in the morning, in the evening, in between the 'rest' really ? this is it! And yes, it also applies if we're talking about something more 'committed' like a side-hustle or passion project that will hopefully turn into a new business. You put in the time, you pursue… and the rest goes on from there ??
Love how you use techniques for all your projects. How do you learn new techniques like animations, watercolor lettering and so on? Do you have a go-to resource? Any tips on skill development?
The first thing that's necessary when it comes to learning new skills is the curiosity! Both of us really learned a lot by genuinely being interested in how something works. "Basic" animation for example is something I learned because I was totally intrigued by the idea of turning our designs/illustrations into something moving. So I searched and tried many many ways and it took a while of experimenting and doing several of those to become better at it. It takes the will & the patience to pursue it and notice the evolution. Lately we had a chance to reflect on all the skills we've managed to evolve in the last 3 years and wrote a post about it, comparing the "before" & "after". It comes to show that you can learn anything you really want to. Nowadays there are also excellent resources to do so, such as Skillshare. We absolutely love the platform and are sharing our own skills there in the form of creative courses. Our next course will actually be about animated hand lettering! It can take a while to learn new skills but we can all make it easier by teaching & sharing with each other!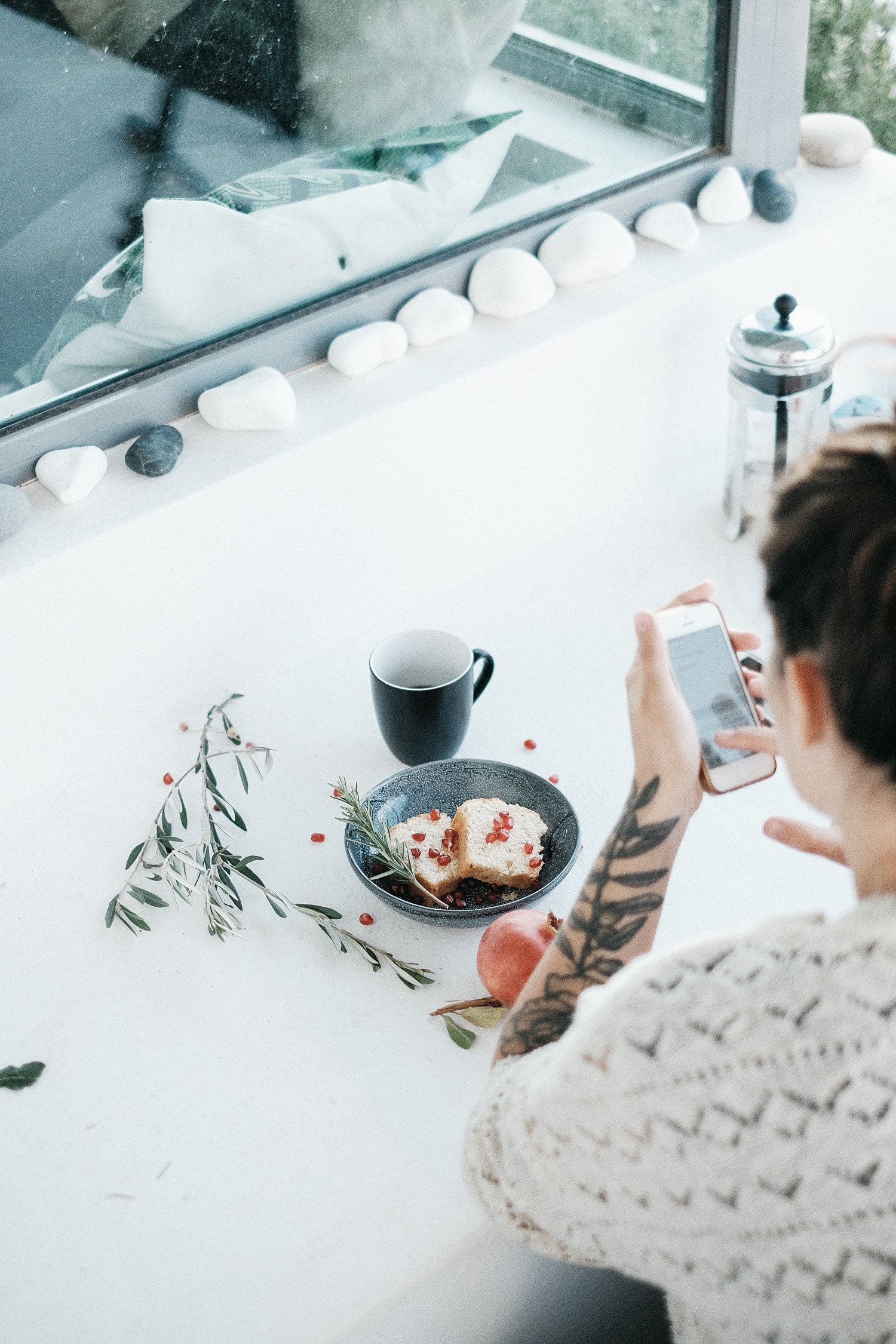 Running a business on the go
What is your way of getting clients while you're on the road? Where do you promote your business?
Personally, most of our clients still come from word of mouth, via referrals from other clients/network we had when we lived in Luxembourg. However, in the last year we also got some new contacts worldwide, that found us through social networks (particularly Instagram or Pinterest) or design directories. It keeps us pretty busy, even more so than when we were fixed in one place, but lately we have also made it a point that we do not want our services to be our only income source, which is why we have created some online courses too and are working on some new things. This is basically what we recommend to anyone who wants to start their own business, regardless of whether or not they wanna be nomadic: 01) create, create, create, do a lot of things – don't put all your eggs in one basket 02) share those things profusely and with style so that people can connect with you!
How do you manage to stay disciplined to work while travelling?
It can be a bit tricky sometimes! What we found is really important is to stay in places long enough so that we don't stress out or have the urge/guilt feeling when we have a lot of work to do with our business & our projects. This FOMO can be quite an annoying thought to have in the back of our heads especially when we're getting into a busy period and want to stay focused. We started the year with a lot of projects and it was a bit hard for us to balance our work with travel. But what we did was to just take a step back, look at our schedule and create sessions for 'work', sessions for 'exploring' and for 'relaxing, creating and everything else'. Usually work would be in the morning, exploring in the afternoon, relaxing for the evening. If there's a lot of work then there's a little less exploring. If the weather is beautiful and there's a flea market or awesome thing going on in town, then there's a little bit less work… it's important to be flexible and have realistic expectations for both work & play. And if you need to both get some work done & discover something new at once – what better way to do that than head to a beautiful coffeeshop where the locals go. The setting is pretty inspiring, always!
What are the cons of freelancing while travelling & how do you solve them?
A) Time zones. Those can be a bit tricky to handle sometimes and it often requires us to be flexible when skyping with clients that are half-way around the world for example. But this is a normal thing for anybody operating "globally" and there are ways to deal with it such as Calendly – a perfect scheduling tool which actually converts our availabilities into our client's/friends/family's timezones! We've mentioned this tool in our post about the 6 online tools & apps we love using.
B) Having to constantly find a good setup whenever we move around. It can take a few days to get used to a new location and to find our ideal setup to get our work done & structure our day. Sometimes we face a few challenges like not having a proper table to work on, not having enough storage for our stuff, or having to deal with occasionally shitty internet. Eventually we figure it all out though, as we're not too fussy and we're happy to find solutions to our struggles – which we've written more about here!
C) Not being able to really pursue 'larger', 'messier' kinds of creative work such as painting, making collages and just going really crazy with manual stuff. This is a tough one for me as love these things, but while we are travelling our setup is very minimal so outside of the occasional quick watercolour sketch (in my tiny notepad) it's mostly just digital work. David feels the same about his music. He has a travel guitar but he keeps things rather quiet and tidy as we live in airbnbs while travelling. This is one of the reasons why we don't actually live nomadically "full time" and we like to have our base somewhere for part of the year.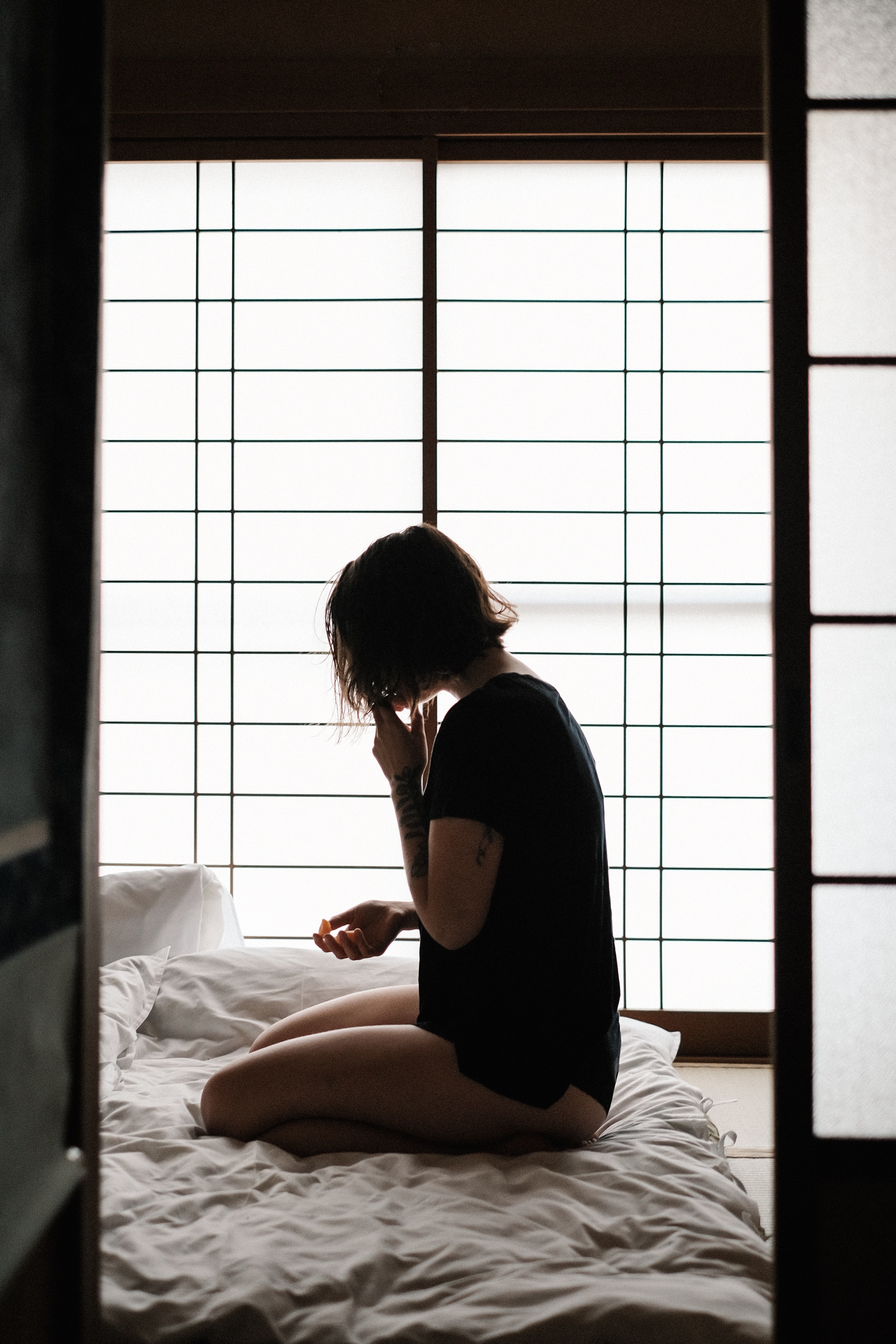 How do you pick where you're going to go next? And how do you find accomodation?
Where we go next depends on many factors such as: A) Our mood & which places we're longing to explore (or get back to) or that offers us a lifestyle that we want to experience B) Our budget (being flexible or going to a place that will help us save a bit) C) Any opportunities that might pull us to a particular place (a chance to work with somebody there, or to visit friends/family).
Accommodation-wise, it also depends as we've done a lot of different things and have stayed in lots of different places on a variety of different budgets/circumstances. Airbnbs as they offer us a ready-to-move-in situation anywhere we go, as well as an opportunity to experience a place like the locals do. We also get nice discounts when we stay at a place for a while. We find good places according to our budget and what we need (good location, wifi, kitchen). And if we end up in a place where it's trickier to stay on budget (looking at you, Australia!! Ouch!) then we become a little bit more flexible and accept to stay in shared spaces as it's cheaper. We've had mixed experiences with that, but thankfully we're not too fussy and it's a great way to meet new people.
In some occasions, we've got to stay at friend's places around the world as well, which has been really helpful and such a great way to catch up with them too! However, we have never felt good about doing that without offering something in return or at least just pay for the utilities (especially since we're looking to stay for a while and it's rarely "just" for a few days), so we always find some sort of arrangement so that it doesn't feel like taking advantage of anybody.
Another thing we've done a few times is house-sitting. House sitting consists of staying at a person's house (and taking care of it and/or their pets) while they are gone, and you can find plenty of opportunities to do that on websites such as Trusted House Sitters. It has been a great option when we've felt adventurous and didn't have a too fixed idea of "where" we wanted to go. One summer we accepted to house-sit in Scotland, literally in the middle of nowhere. It was a lot of fun and we got to take care of two dogs and live remotely in the Scottish countryside …for free! I think we're going to do this again soon somewhere else around the world 🙂
What do you pack with you? What are your essential tools to run your creative studio on the go?
Our laptops, ipad Pro & sketchbooks would be our main working tools, and then we also have "some" small gadgets that help us run our business easily while we're on the go. You'll find more details about our studio's packing list on this article we wrote about what we packed for 6 months in Japan. And on this post about our 6 favourite online tools, you can see more about what apps we also find useful. Which reminds me, I have to update it as we have found some new ones since then 🙂
How do you handle personal well-being when you're always on the go?
Not gonna lie, it's not so easy to cultivate health & wellness when you're moving around all the time. We don't handle it very well. Which is why we decided to "not" move around all the time and why we think it's essential for us to stay grounded for part of the year 😉
When we do travel, we do try to have some healthy habits such as:
Being as active as much as possible – alternating sit down time with walking a lot (not so difficult when you are exploring an exciting new place!)
Limiting intake of alcohol, caffeine, sugar & fatty foods. It's not always easy, especially the caffeine & sugar part because we adore coffeeshops – but we try not to have that habit every single day.
Making our own food like we would at home. A good bowl of overnight oats, avocado toast or brown rice & veggies are healthy options we can whip  up wherever we are – and it helps to compensate for those times when we eat out, or when we eat too many of the local snacks, haha!
Having some good supplements handy & rotating them according to your lifestyle. I'm currently taking powdered greens, probiotics and the occasional garlic clove to keep my immune system strong for the upcoming seasonal changes.
Balance & low-stress life. Not so easy that one! When we are travelling, we want to get our work done AND get creative AND see as much as possible. It can be quite stressful so we try to keep things light & easy, playing with different schedules and allowing ourselves some down time when we need to. Meditating when overwhelmed feels helpful too!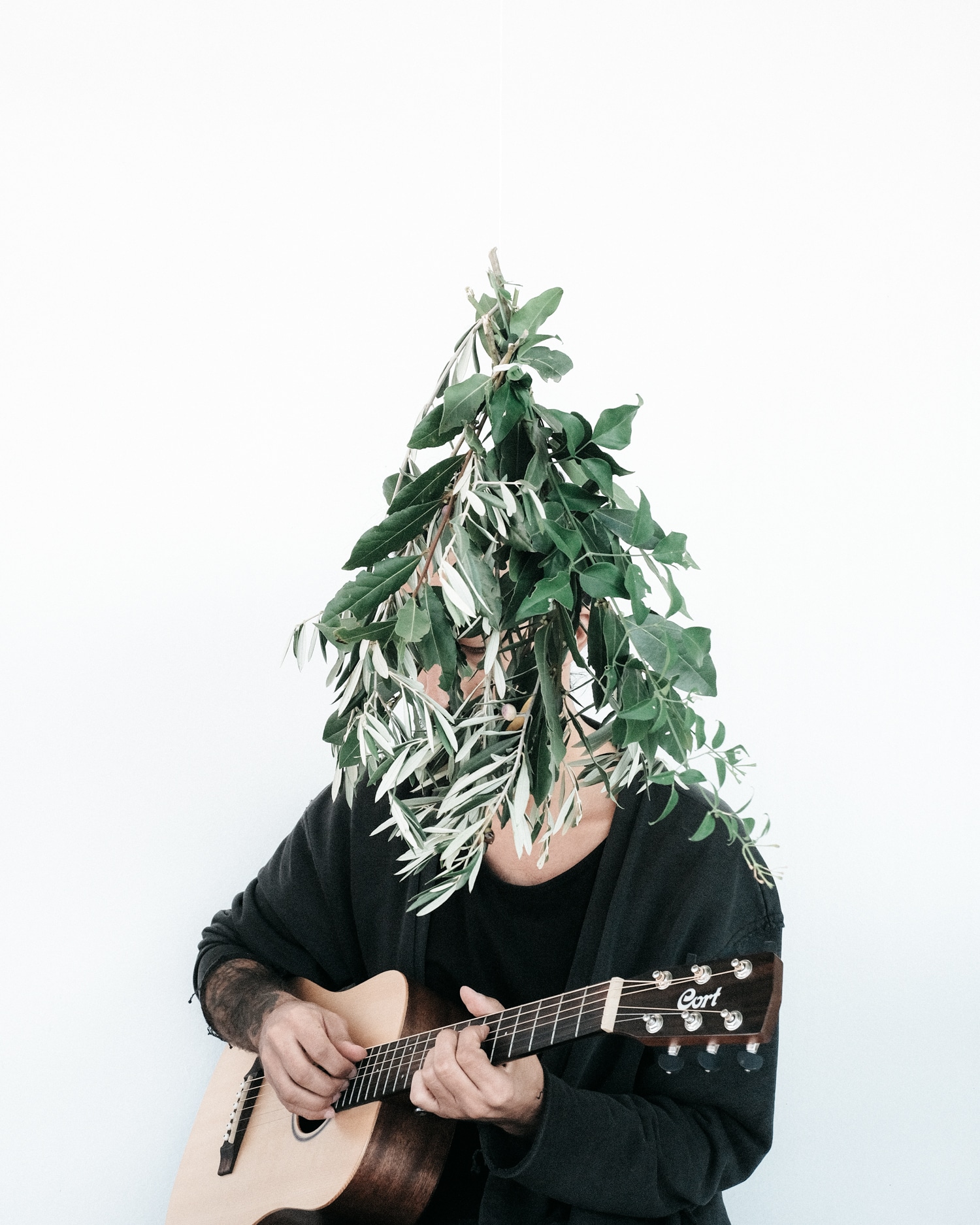 The Nitty Gritty of Finances
How do you keep your budget on track when staying in expensive countries, such as Japan?
The first thing to note is that we do not have any running costs or bills to pay as we've sold everything we own & live debt-free (so we have no more mortgage or rent to pay anywhere) so we can now just rely on the income we make with our business. We used to rent out our appartment when travelling so that these costs would be covered in the past, but now it's a lot easier!
We have a budget for every month that is based on what remains of our income it after we've paid taxes & set some money aside. Of course, in some expensive countries like Japan, our budget can get slightly exceeded. And yet, it's not even the most expensive country in the world – Australia was even worse. But what we do in that case (in order not to be broke for the rest of the year or have to dig into our savings to cover it up) is to live in a cheaper place for the next few months. When we live in Crete, for example, we can save a ton as we can live with just a fraction of what we make so it all balances up.
Another thing is that even when we are travelling, we try to be as frugal as possible. In order to be reasonable with our expenses, we try as much as possible to apply the same principles that we use to travel anywhere for extended periods of time:
Staying in each visited location as much a possible, to reduce extra transportation costs (flights, trains) and spread them over more time. Also this allows us to experience a place fully and have some good discounts when booking our accommodation!
Gathering ideas for meals & activities that don't cost a fortune. In Japan, you can certainly splurge a lot on those things, but if you're smart, you can also have a feast and a good time without spending much. A delicious udon meal for two costs no more than 8€. We do treat ourselves occasionally, but it's good to know that we've got some budget-friendly options when hungry!
Living like the locals do. Not only is it cheaper, but it allows you to sample the "inner" parts of a culture. Locals don't eat out all the time – they go to the supermarket & buy groceries to cook with. Locals don't accumulate a tourist spot after another, they go for strolls, visit coffeeshops, grab street food, go for a picnic or attend a gig! It's fun, it allows you to meet people and it generates special memories.
As nomadic folks, how do you get organized with health care, pension & taxes?
Our business is currently registered in Luxembourg, where we are residents. We are therefore tied to the luxemburgish system and pay our taxes there. Additionally it is mandatory for us that we contribute to the state's pension/health care. This used to suit us pretty well when we were based in Luxembourg, but not so much anymore now that we're moving around often. Of course, it hasn't stopped us from working from anywhere in practice, but it's rather been annoying in terms of paperwork. Everything that our business requires is based on the traditional snail mail and this is honestly still an annoying thing to deal with via distance.
So instead of waiting for this entire century-old system to change, we're just going to move our business to a country which is more friendly to digital nomads: Estonia. Kinlake will become an e-business and all our accounting/paperwork will simply be handled online, so that we can focus on our creative work! Another benefit of that is that since we'll be signing off from our previous grid, we will be able to afford getting a worldwide health insurance – which is going to be an amazing benefit as we never know what can happen as we travel and we want to be covered wherever we are. This is the kind of stuff that you learn by doing and the idea is to end up finding a way that works for you!
How much time do you work per week?
Well this of course depends on how much we've accepted to get done! But as I said, we do our best to spread it evenly and to only focus on a few projects at a time. So our average day would be composed of:
4-5h of studio work: admin (emails, quotes/invoices, project planning), brainstorming, sketching, designing for our client projects.
1-2h of personal work: slow progress on creative projects of our own, blog/social media (writing posts/preparing new ideas). Sometimes we crank that up to 4h when we're in the middle of launching a big new thing like an online course 🙂
We have 4 of those days per week plus our "epic wednesday" where we concentrate exclusively on personal work + fine-tuning our business & lifestyle, doing things like updates on our website, discussing new ideas & goals or adjusting our process. The balance between studio/personal work may change though, as we want to put even more focus on our own projects.
I would then say our average is 30h of work per week, but it feels weird to put such a number to it, as we're really passionate about what we do and don't see it as "work" – in fact I'm not even counting the many times where we talk about new ideas the whole day through. Some people would say this is not good for work/life balance but hey, we live & breathe it – creativity is what we've always wanted our lives to be made of! It doesn't matter how much time we spend making it happen. Often times it's more fun than watching tv 😉
Other related posts we've shared here on the blog
---