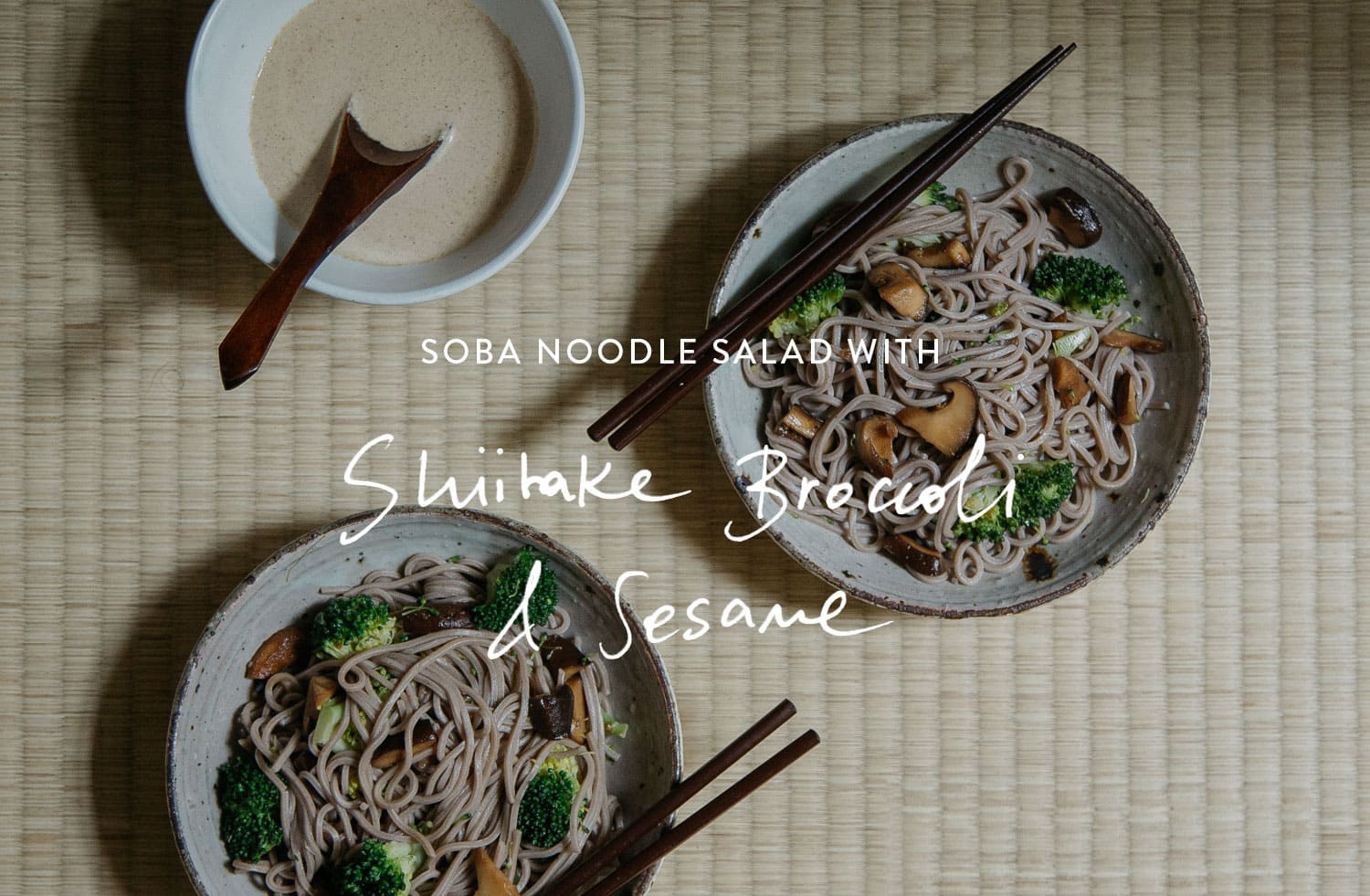 I gotta be honest: being in Japan has got us a little bit blocked in terms of our foodie pursuits. Don't get me wrong: the local food is absolutely amazing. But we've been living here for a couple of months… and when it comes to re-creating our favourite dishes at home, it's a whole other story. So many western ingredients that we are craving are simply not available, or… they taste different. Humble things like: potatoes. Oh boy! Potatoes in Japan taste SO sweet – our favourite potato bake was a little disappointing this time. I know, I know… #firstworldproblems.
However, what happens in situations like these is that you get forced into thinking more creatively. In our case, what we had to do was to simply let go of all our western ideals and just "embrace" japanese flavours fully. Even at home. So we started creating japanese-inspired dishes with our own twist. Like this really yummy soba noodle salad which I'm going to share with you today!
This is SO delicious (it makes us forget about our potato cravings – I swear). It is a dish that gets you your veggies, and soba noodles are a lovely gluten-free source of extra fiber since they are traditionally made with buckwheat flour. It is comforting yet very refreshing – perfect for spring! We love to eat this dish at lunchtime. It can be made ahead to save a bit of time as well.
I'm pretty convinced that I will keep making it even outside of Japan – I've always been a huge fan of these flavours. If you are too, then I'm sure that you will enjoy it. Give it a try!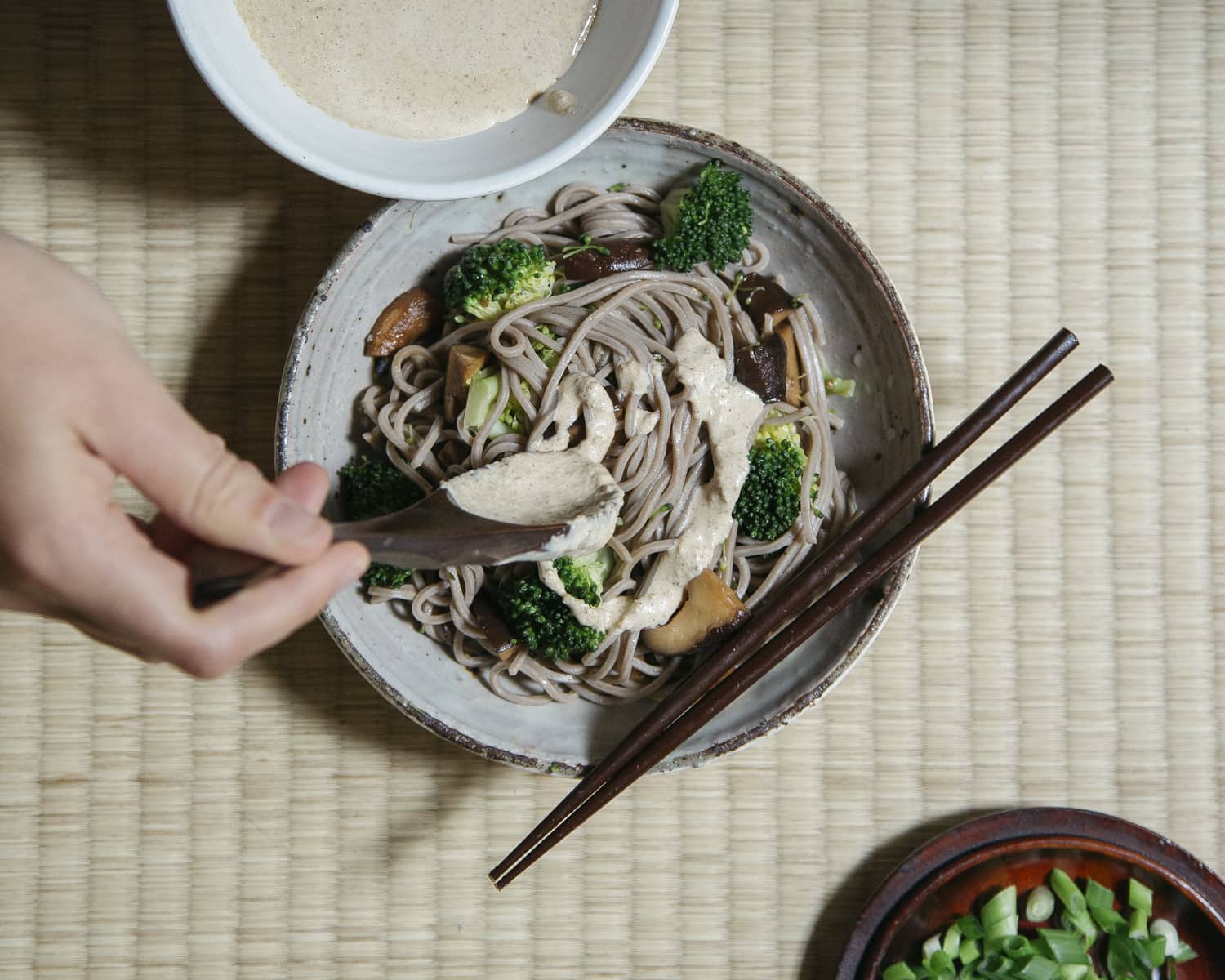 First things first: How to Make Creamy Sesame Dressing
In Japan, it's all about the sesame dressing – in fact, grocery shops stock so many different types of it! To me, that's heaven… However, the problem with commercial versions is that they're laden with nasty ingredients. Wherever you are in the world, you're always better off making your own – no worries, it's easier than you think. I like to make bigger batches of it and store it in the fridge for a few days – it's a great topping for all types of spontaneous salads! I just love this thing.
7 tbsp roasted sesame seeds
3 tbsp light soy sauce
1 tbsp mirin
2 tbsp rice vinegar
3 tbsp of japanese mayo, or homemade vegan mayo
6 tbsp water
If you've got a spice crusher (like this), then you might want to make the first part of your dressing in there, as you will need to grind the sesame seeds well. When the sesame seeds are grinded, you can begin to add the other ingredients slowly and keep grinding/mixing. The dressing is ready once it looks creamy, a bit grainy and not too liquid. If you don't have a spice crusher, you can try to do the same procedure with a powerful food processor!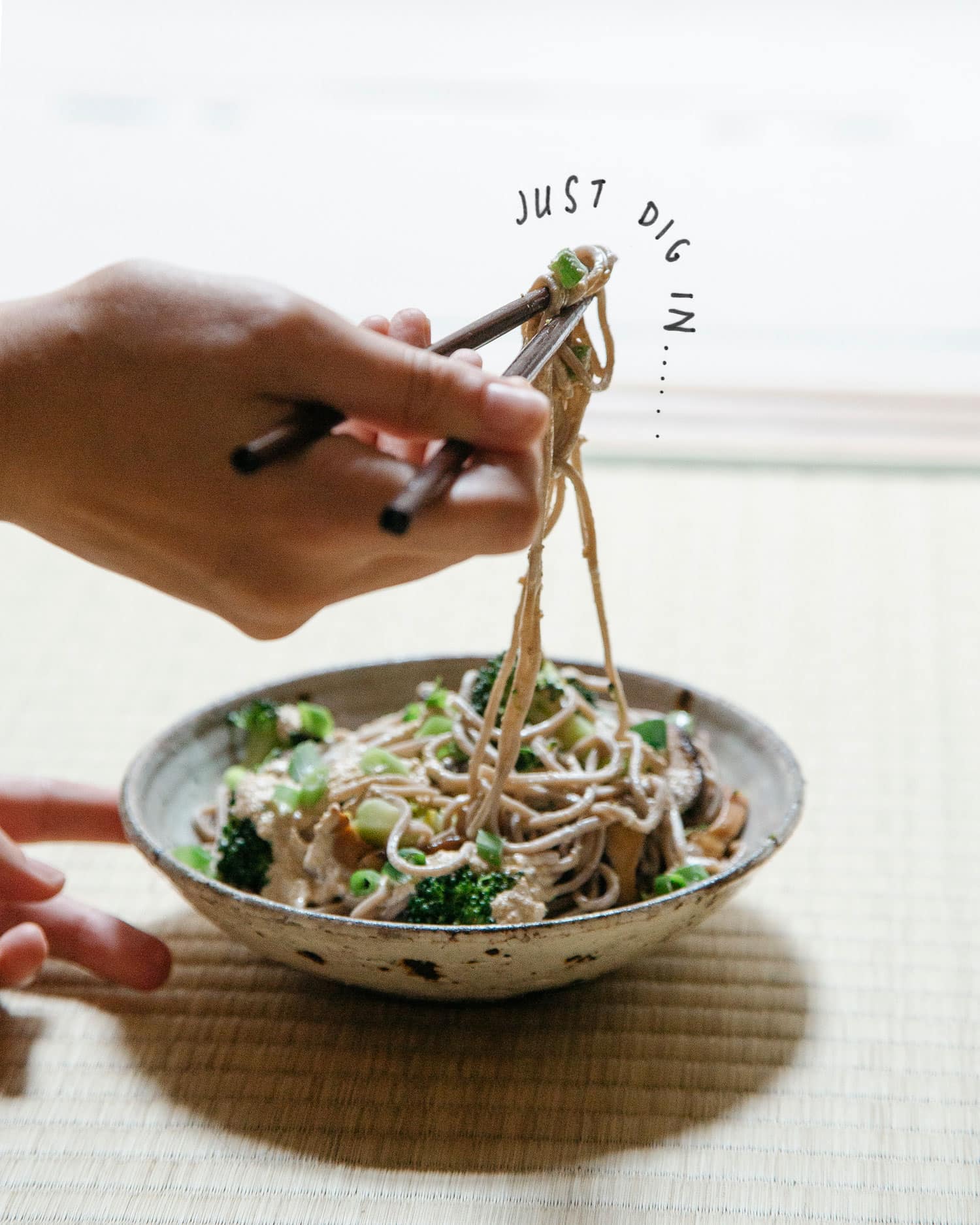 Soba Noodle Salad – Makes 3-4 Servings
500g of soba noodles (or asian noodles of your choice. Udon & Rice noodles are great too!)
A head of broccoli, cut in bite-sized pieces
200g of shiitake mushrooms, cut in big chunks
1 tbsp toasted sesame oil
3 tsp garlic powder
1 tsp ginger powder
Pepper, to taste
Mixture of 2 tbsp soy sauce + 4 tbsp water
TO TOP
2 spring onions, finely chopped
Creamy sesame dressing
A sprinkle of Sesame seeds
Cook your soba noodles according to package instructions, and steam your broccoli while at it. We love to combine both things, so what we do is simply place a sieve over the noodle pot, place the broccoli right there – it will cook over the steam (who needs a special steamer when you can just do THAT?! Right?). Even if your noodles don't take that long to cook, you can use a separate pot with boiling water and follow the same method. The broccoli will be ready when it's cooked through but still crunchy, that takes about 10 minutes. When your noodles are cooked, drain them and give them a good wash with cold water so that they're not warm – this is meant to be a cold salad after all!
Meanwhile, or after you've already tossed the broccoli & noodles in a large bowl – time to make some tasty shiitake mushrooms. Splash some sesame oil in a medium pan, throw in your shiitake mushrooms and all seasonings except soy sauce/water, then cook on medium high heat. When they start to look well roasted, add the soy sauce/water and cook on high heat until all liquids evaporate. Voilà, you got yourself some tasty shrooms.
Add them in a large bowl with the rest of the ingredients and mix well. You can either add the sesame dressing at this point and mix it through to coat the noodles, or serve in bowls and set the dressing aside. As you prefer! Top your goodness with chopped spring onion and some extra sesame seed and you got yourself a yummy lunch.
TIP.: in my opinion, this refreshing noodle bowl could benefit from something crunchy, so feel free to add something crispy as a topping. Here in Japan, we have access to pumpkin chips – those are worth daydreaming about.

Hope you enjoy this recipe! If you try it out, do let us know what you think about it. Have a great weekend everyone 🙂
---