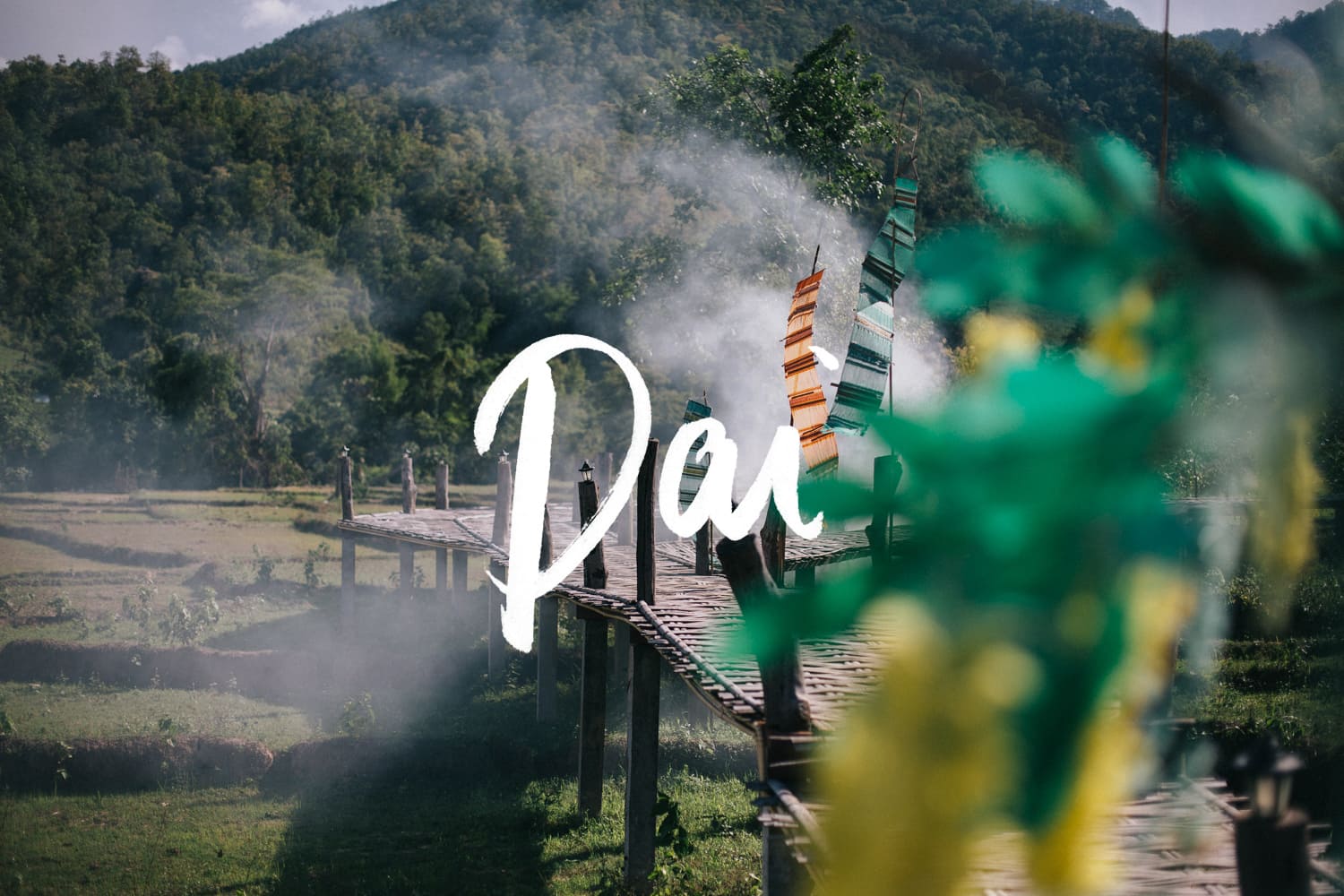 Sometimes, you get stuck in a rut. Yes, even as a nomad!
It had been about 5 weeks since we arrived in Chiang Mai, but lately we were been feeling a little less eager to get up and explore our surrounding, a little less energetic, a little less…inspired. Then we realized: well, we need a little break. All those things were a subtle sign that we needed to have an escape, but most importantly, to unplug from our work and our urban lifestyle routine – to experience slowness and nature.
After all, there is no better remedy to cure that sort of ailment.
We spontaneously decided to take just a few days off and escape the city. We left our work gear behind (in our condo here in CM), packed a few of our essentials and purchased a ticket to head to PAI!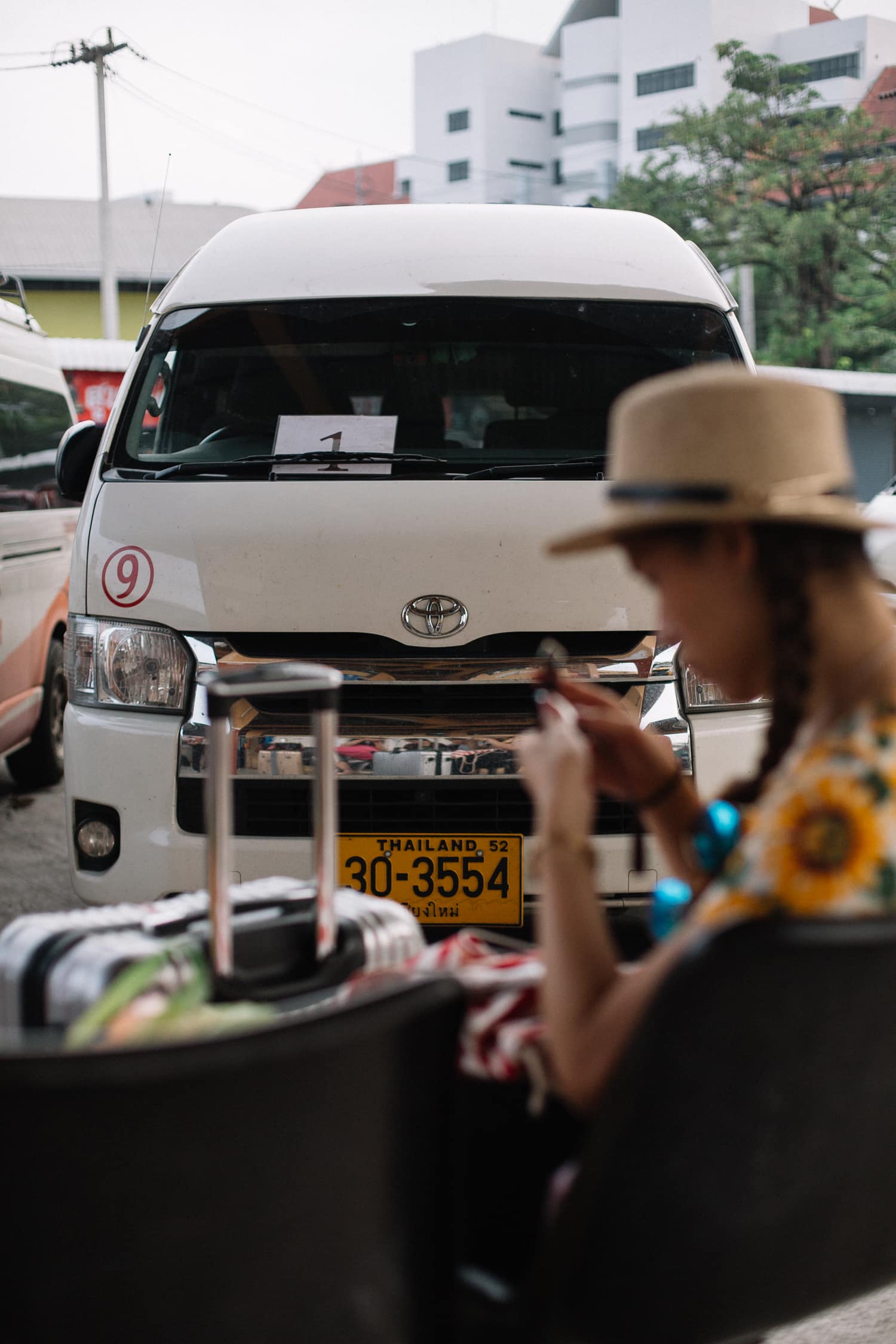 Pai is a tiny, hippie-spirited town just a few hours away from Chiang Mai. It is nestled in a beautiful valley in the Northern Thai countryside, and surrounded with breathtaking mountains.
Now the culprit is: those windy mountain roads are ultimately the way to get there. After reading up on the topic and analysing multiple reviews of travellers who've experienced motion sickness, we were "somewhat" prepared to face a challenging bus journey. Let me just say: that is absolutely true – so if you ever go there, pack those motion sickness pills, take a front row seat and open a window. It's one crazy, crazy ride. Positive point though: that mountain scenery is absolutely stunning.
Note to self: Next time, do it by motorcycle, you fools!
When we finally arrived in town, we took a very necessary little break to help our stomach find some ease. Shortly after, we looked for a scooter rental (the best way to get around Pai and explore the country-side), then we drove to our airbnb which was pure bliss: a bungalow, lovingly decorated with an african theme by the creative owner who is an interior decorator and stylist. Nestled in an oasis-like scenery on top of a hill, surrounded with banana trees, friendly cats and dogs we couldn't stop playing with, and a spectacular dance of fireflies in the evenings. Pure magic.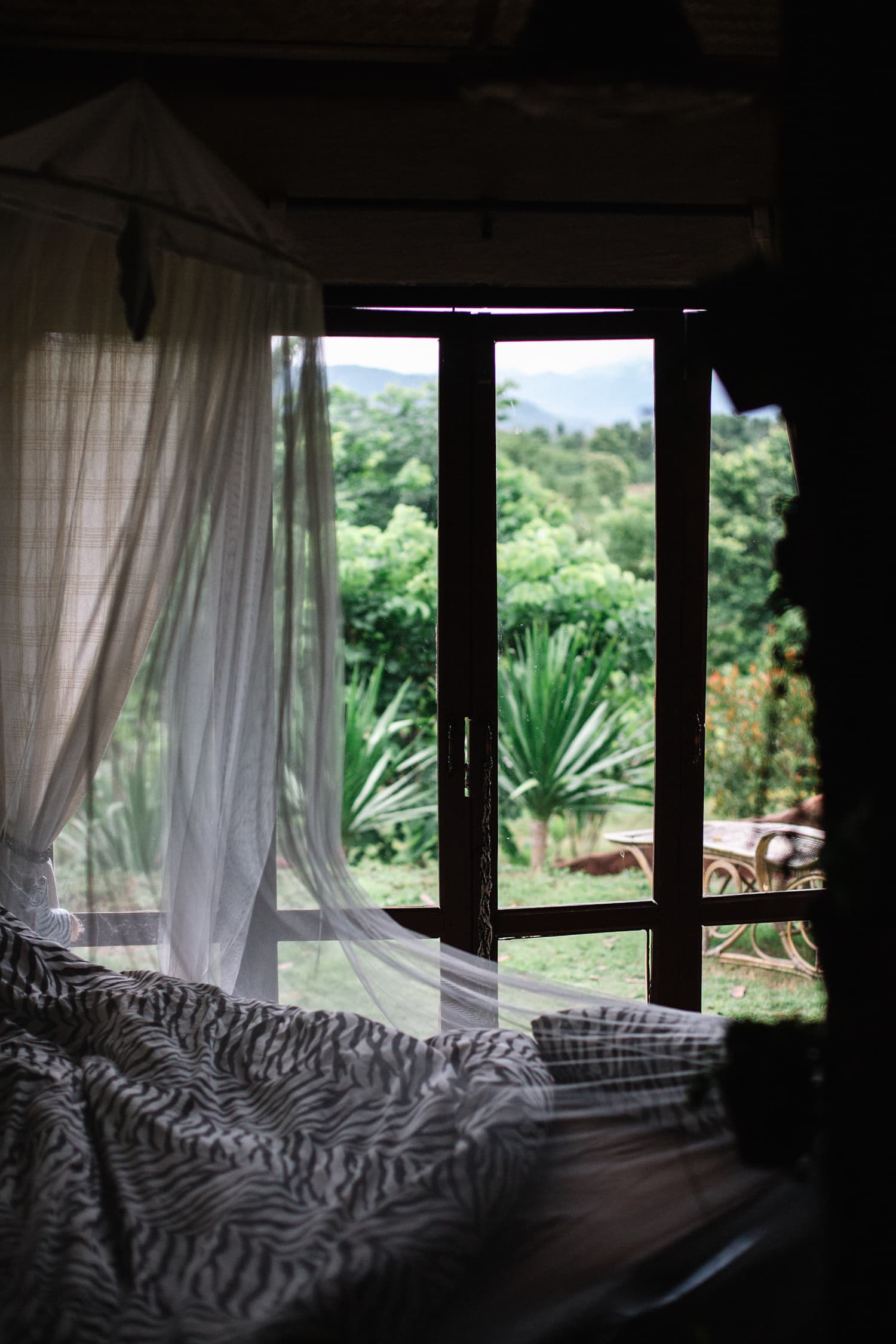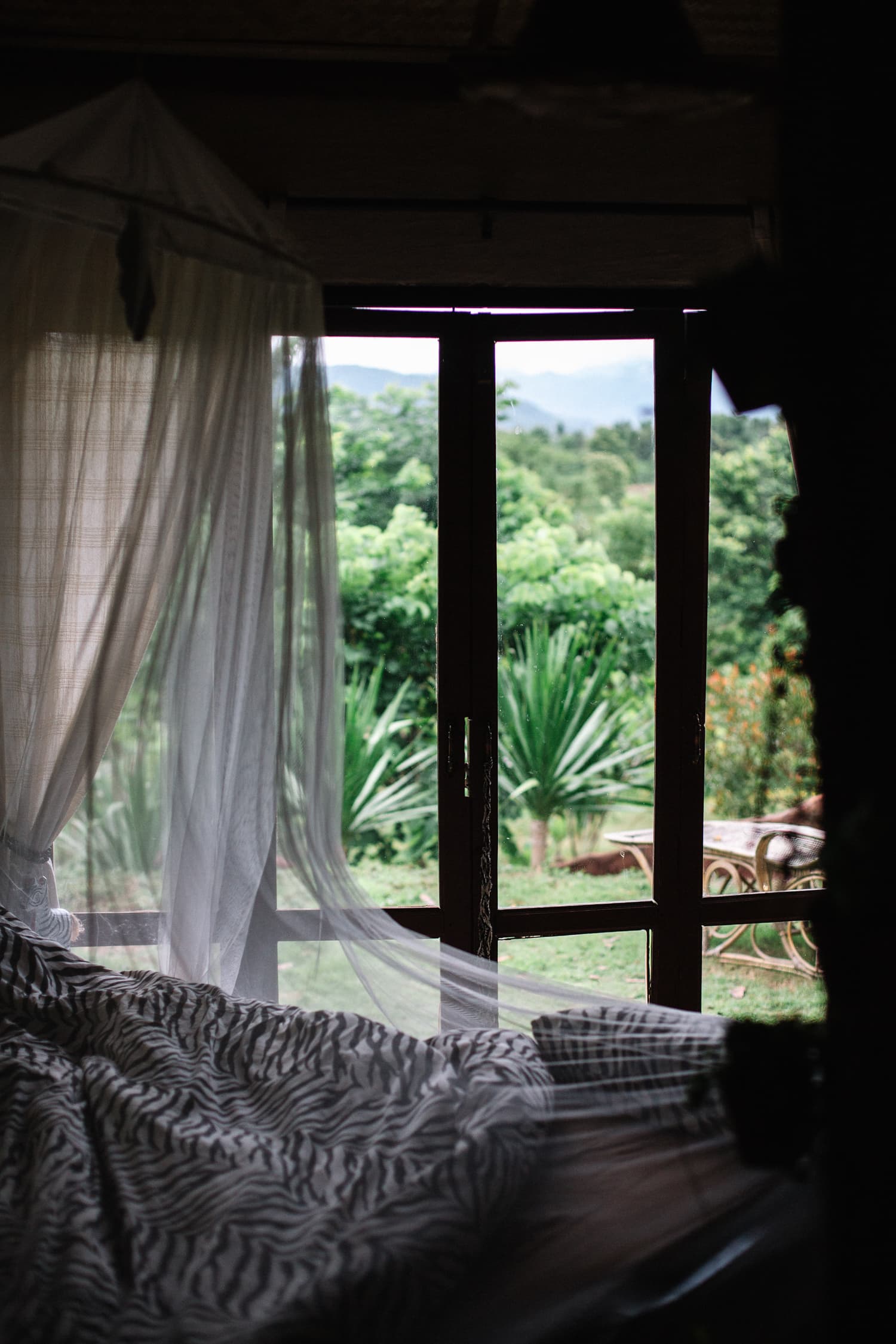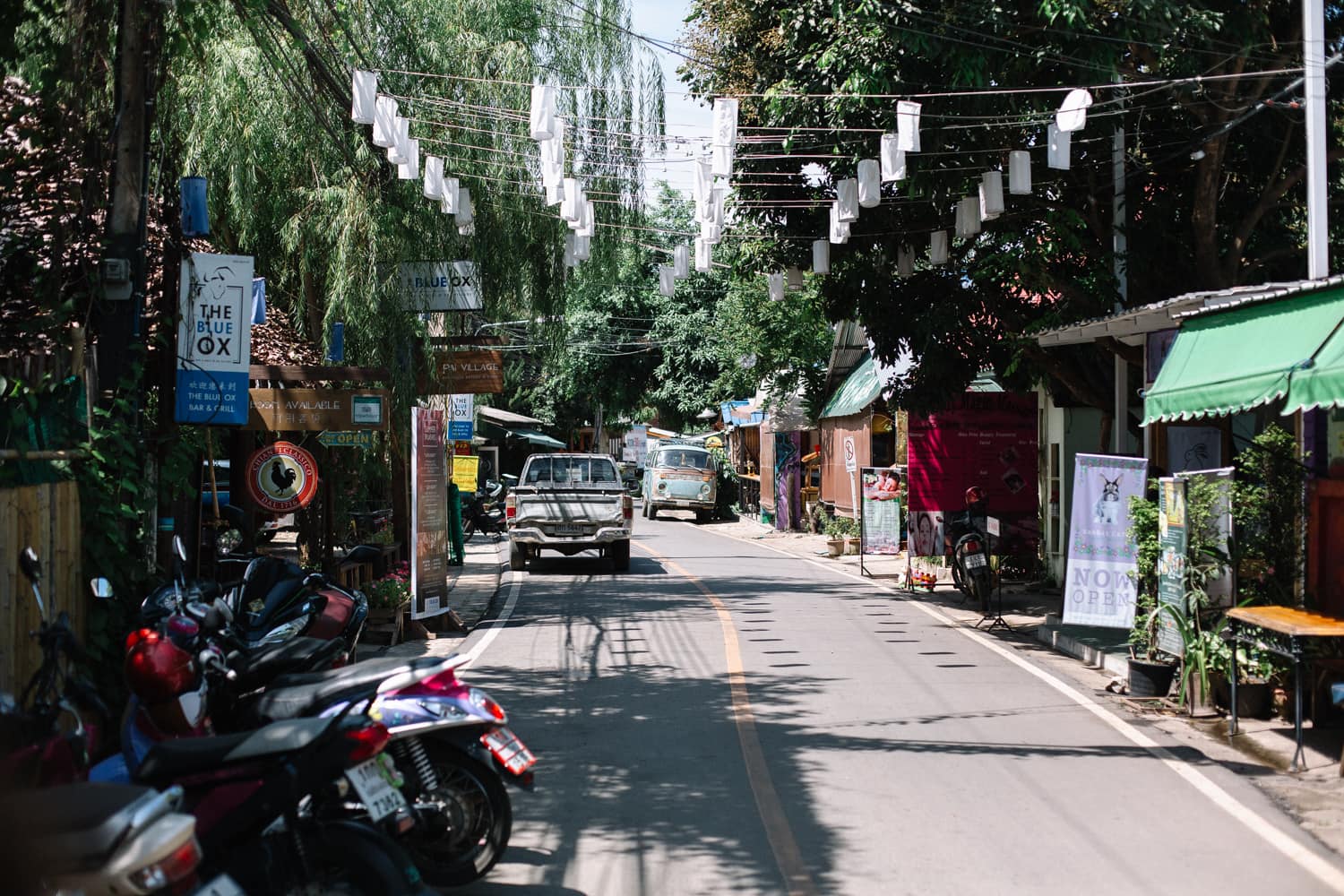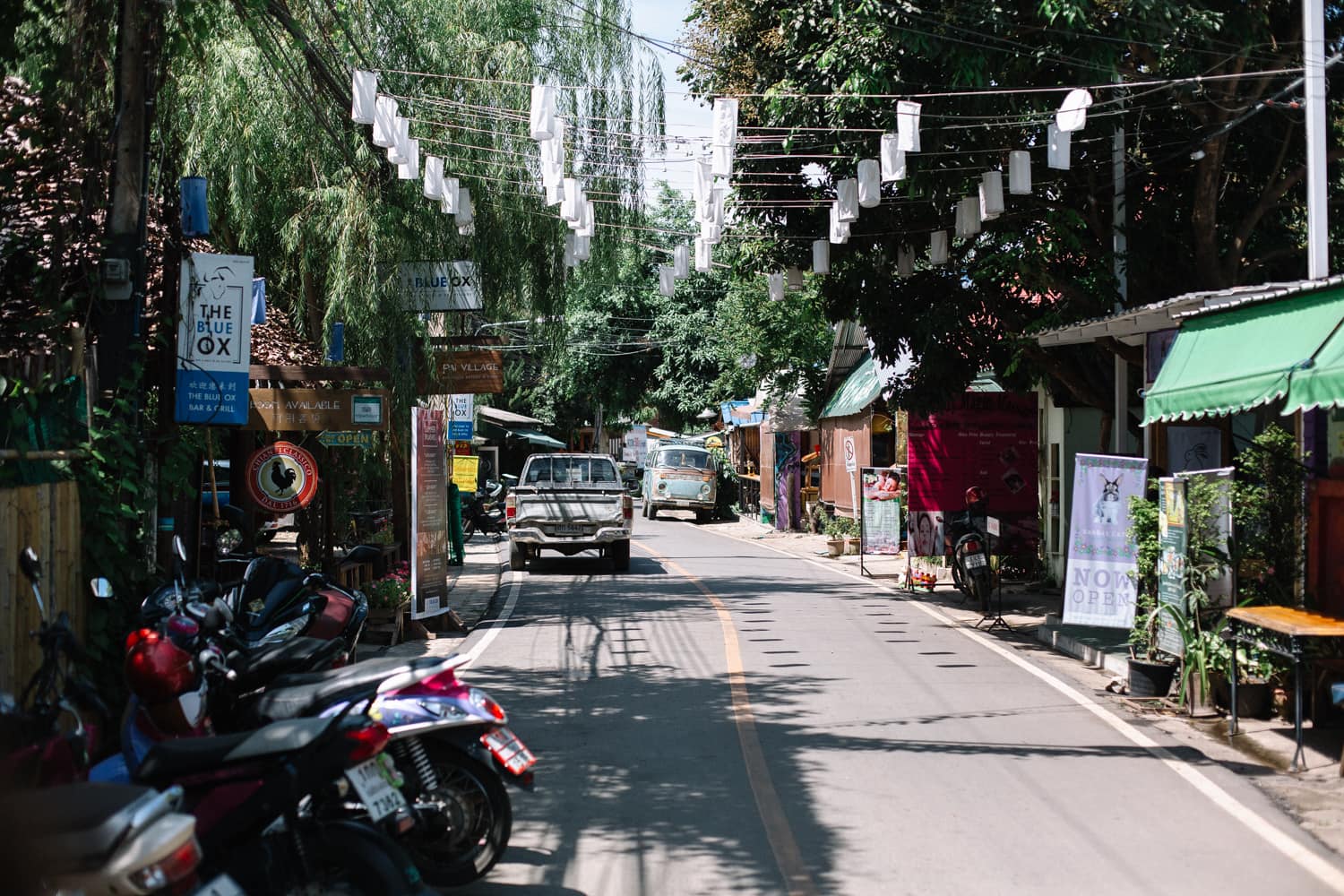 The goal of this little escape was to get a proper break from the hustle and bustle of the city, and our own work routine. Lately we've been working on so many things, from exciting new design projects for clients, to our own new website, to planning our upcoming move and lifestyle ideas. All of this fulfilled us so much, but we needed some time away where we could indulge in other topics that make us curious and that can inspire us in our quest to live a balanced, creative life.
Therefore, the unofficial theme of this trip was slowness & connection to nature. With our idea of moving to the Cretan mountains in the fall, we haven't stopped talking about all the things we want to do when we'll be there, and the hobbies that will fill our days with a child-like lust for learning.
Being in Pai really allowed us to tap into those interests, particularly because that place is so rooted in nature and has attracted others who want to live a mindful lifestyle. Aside from its backpacker-oriented vibe, it's a good hub for exploring nature, tasting healthy organic food, joining yoga and meditation classes and learning about interesting things such as fermentation.


We were lucky to find such a class was available. It was organized by Konstantin Topchi, a Ukrainian expat who is the owner of The Good Life (which serves affordable healthy food – and wheatgrass shots! :)).
Konstantin took his time and taught us so many things about how to make healthy fermented foods such as kombucha, kefir, pickles… I had previously experimented with Kombucha but learned so many new tips about it. All of this exploration towards a topic that hasn't been part of our lives this past few months (due to travelling all the time) really sparked some newfound inspiration. David and I just couldn't stop talking about all the things we wanted to try making after this class.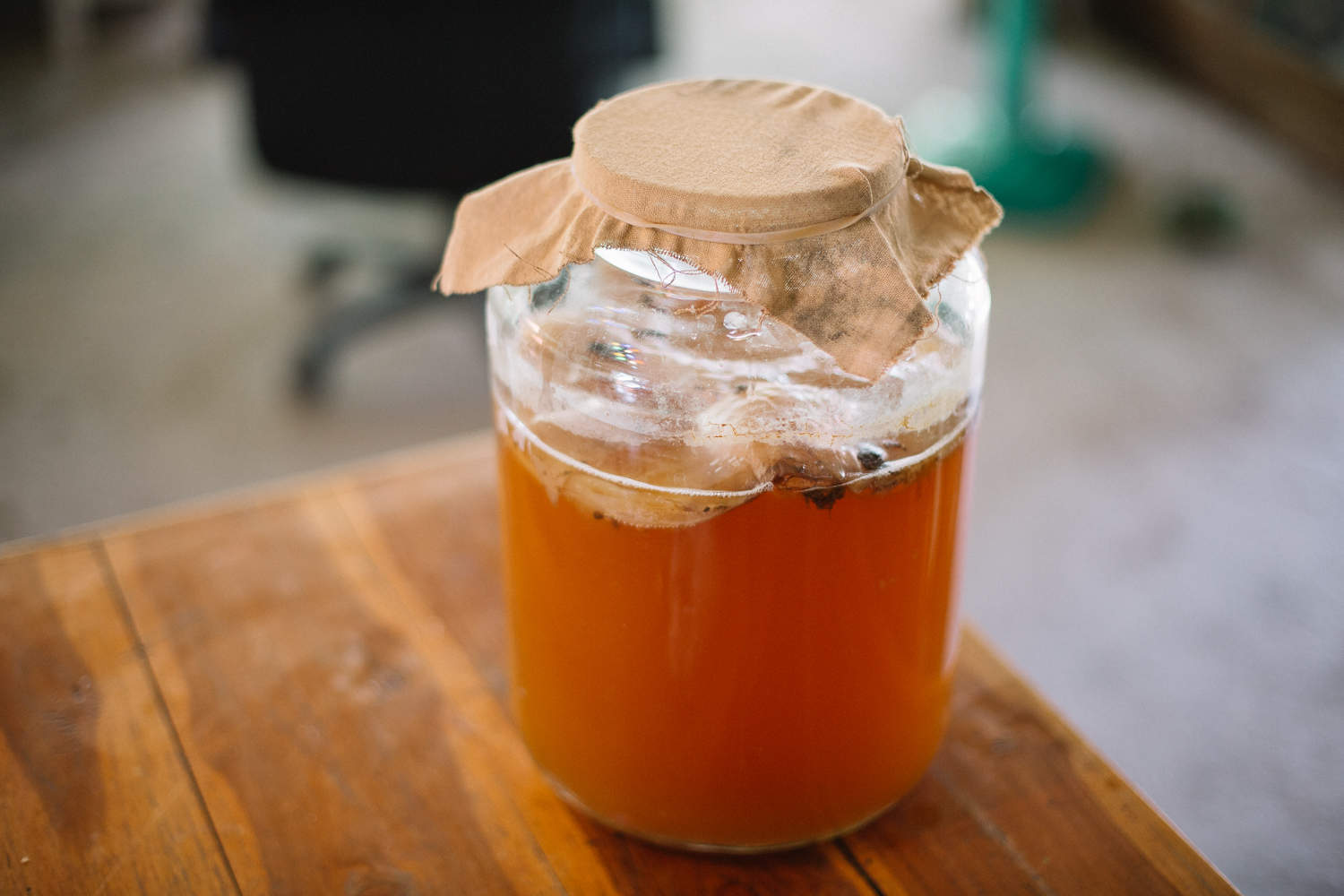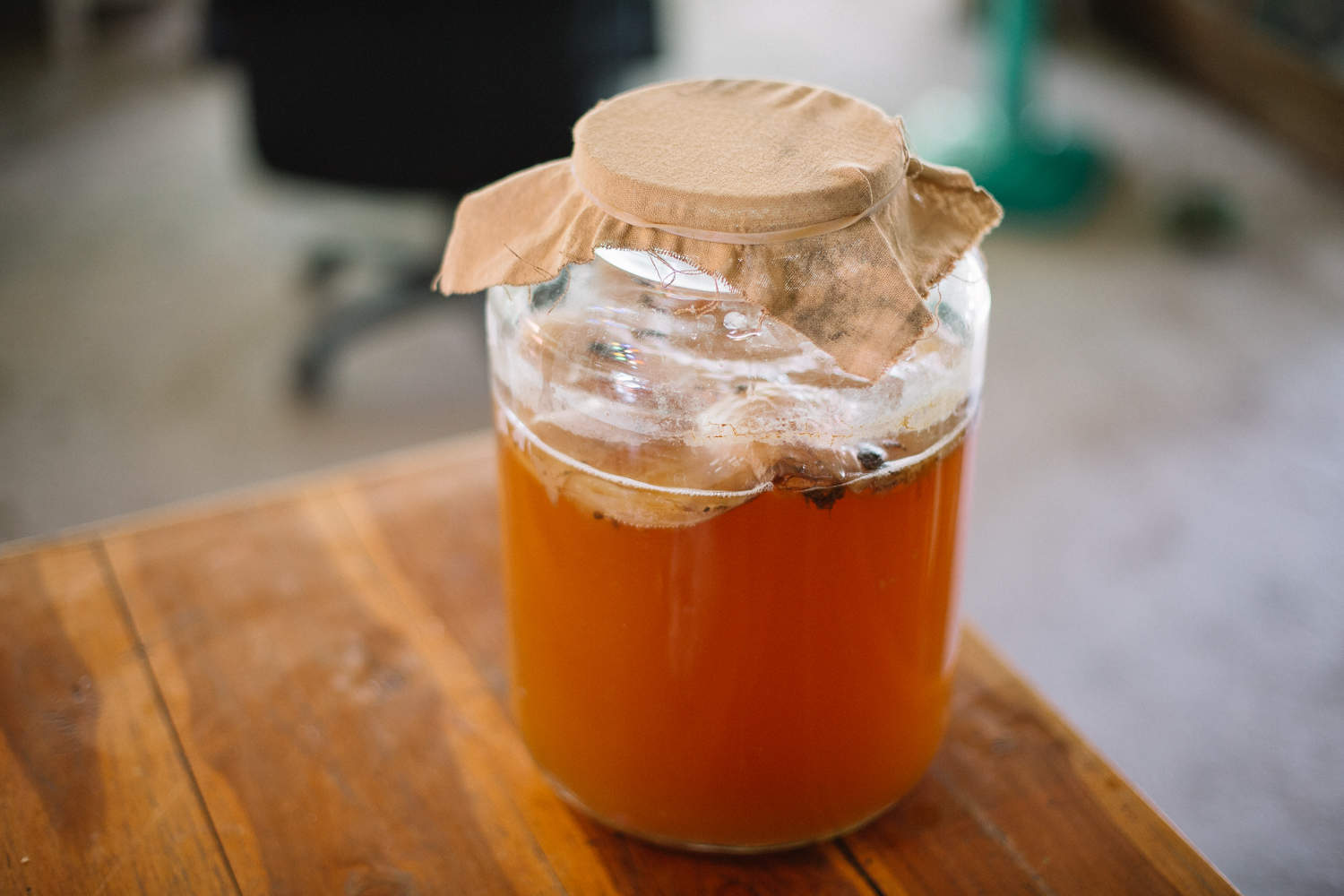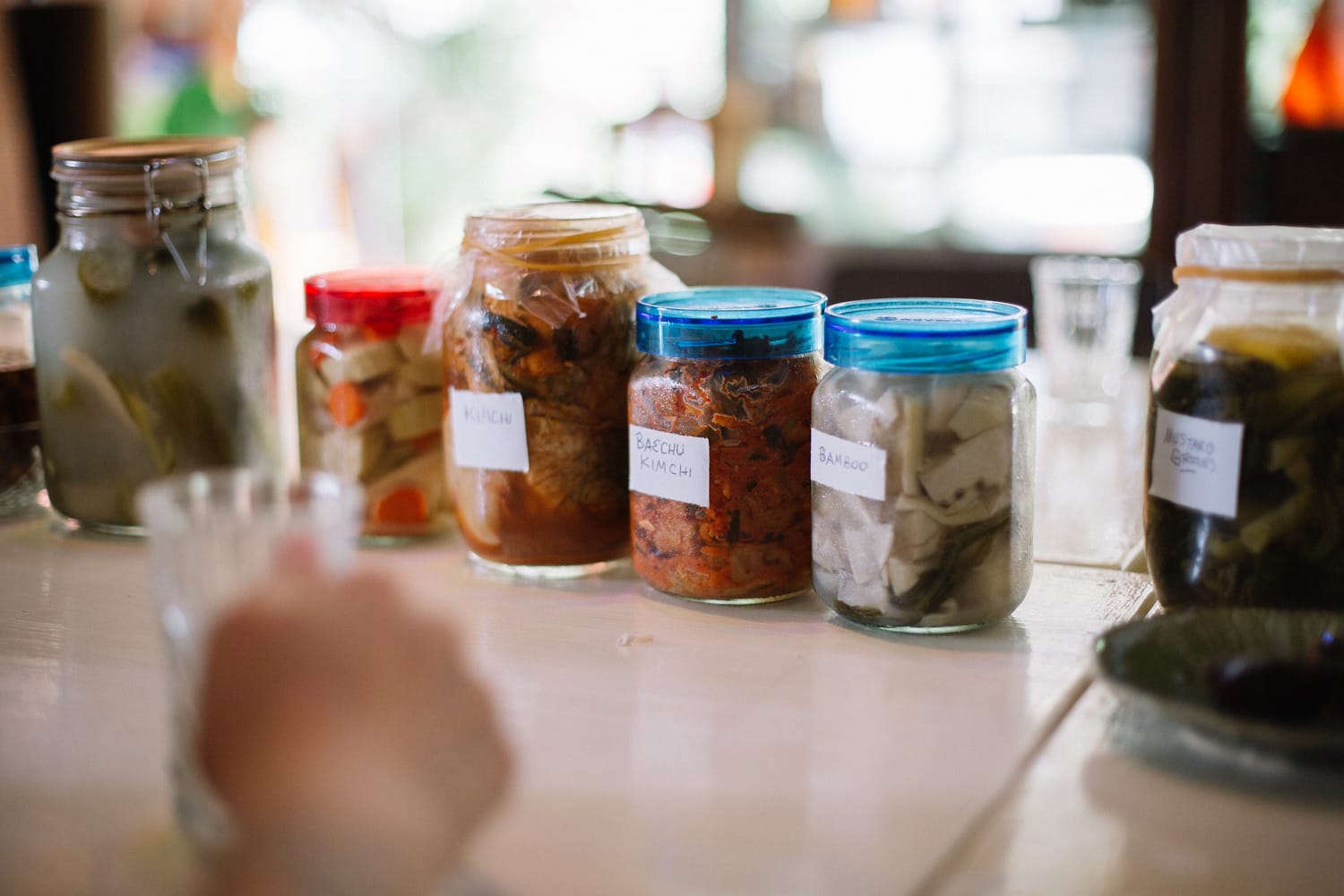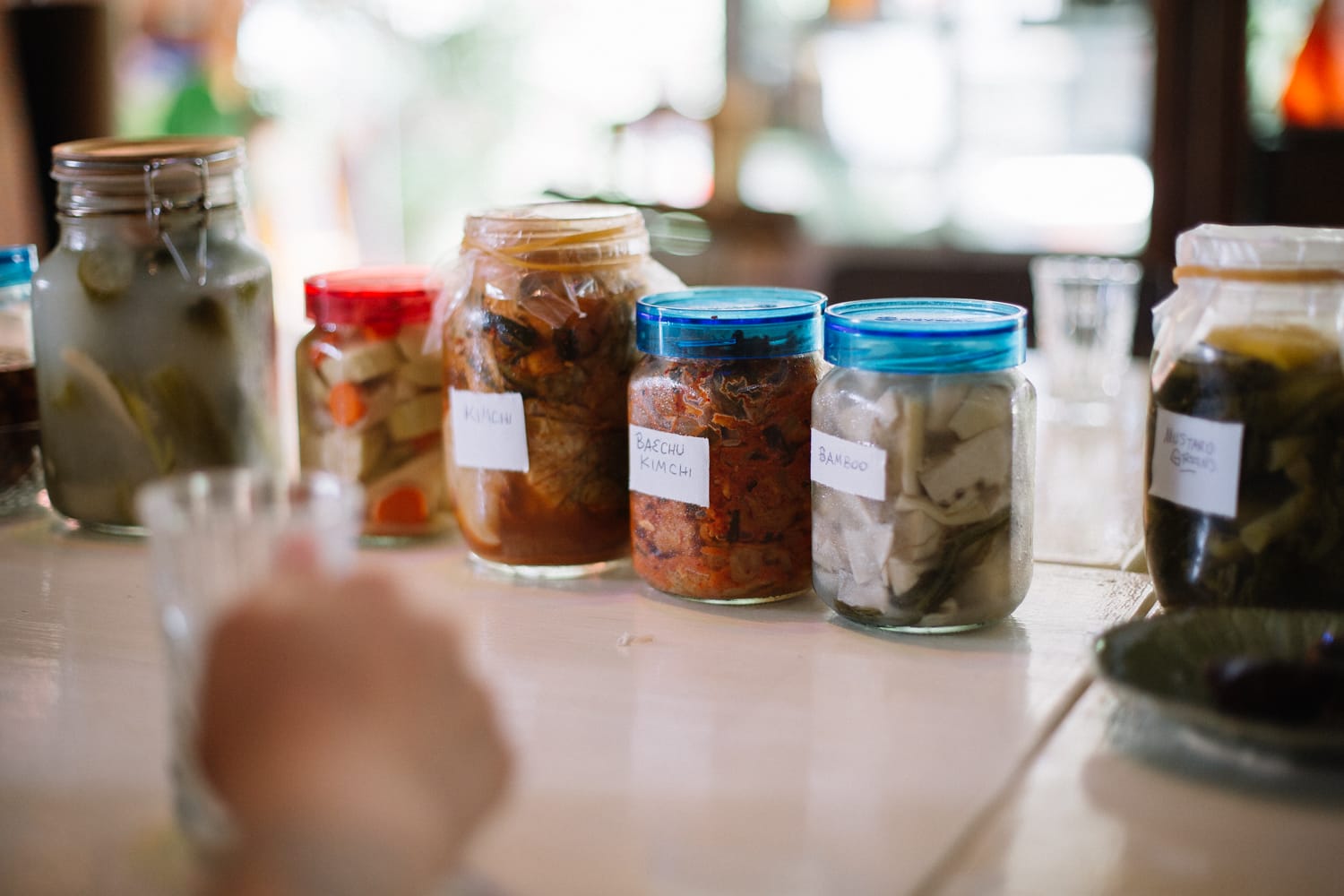 Pai itself, is a small town – but the true beauty of it is seen on a motorbike, when getting lost in the countryside without a plan in mind. The simple act of heading out and exploring this scenery and the local life is such a joy.
Some people say there's nothing to do in Pai, but that's exactly what there's to love about it. In the country-side, it's all about observing the subtler things that are orchestrated by nature itself.
The smells of a life outdoors, from wet soil to burning wood. The sounds that indicate the time it is in the day, from noisy chickens and chirping birds of the morning to the evening crickets. The change of tones and color palettes as the sun moves across the sky. The textures that are seen everywhere, from plants to man-made, handcrafted agricultural tools and passages.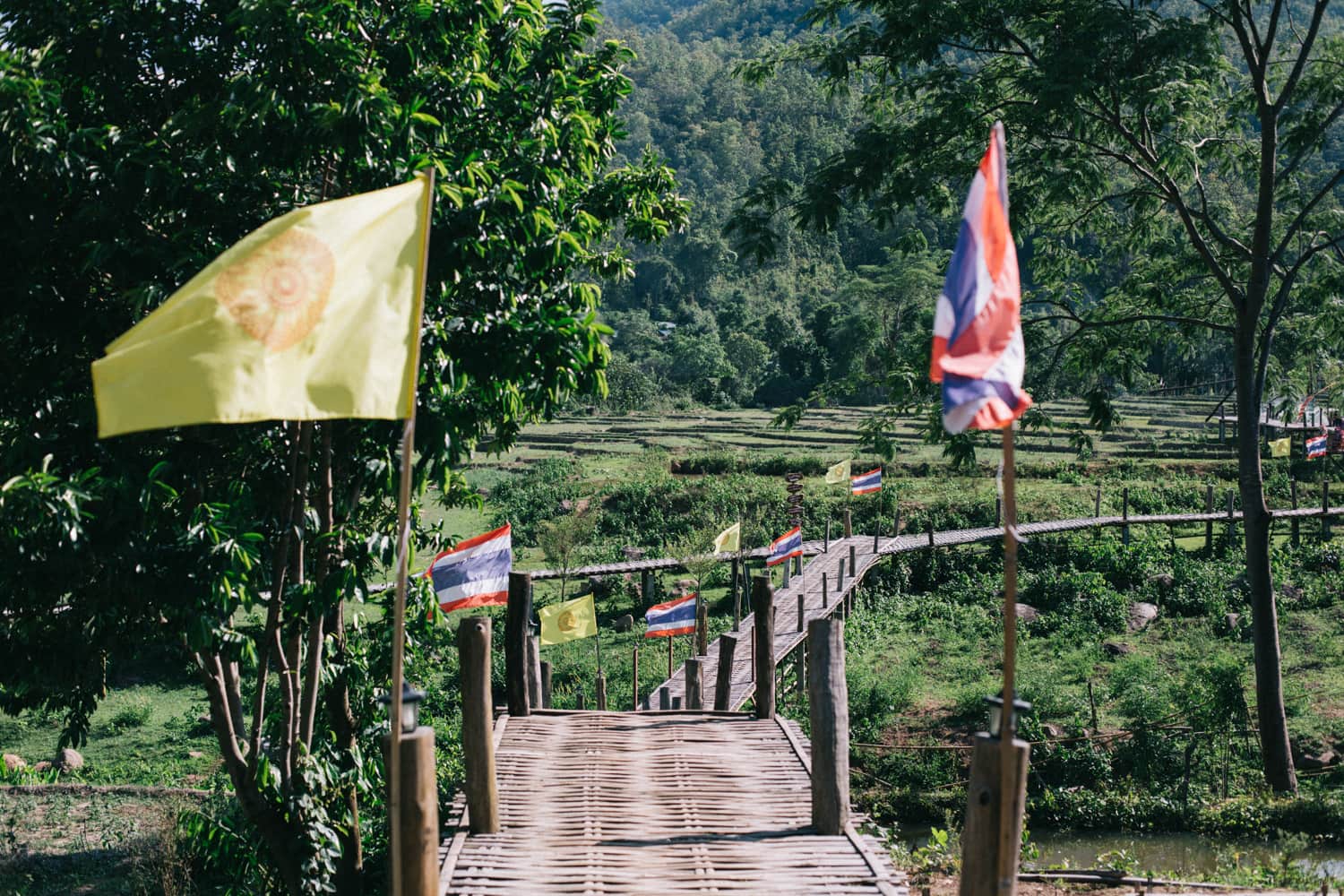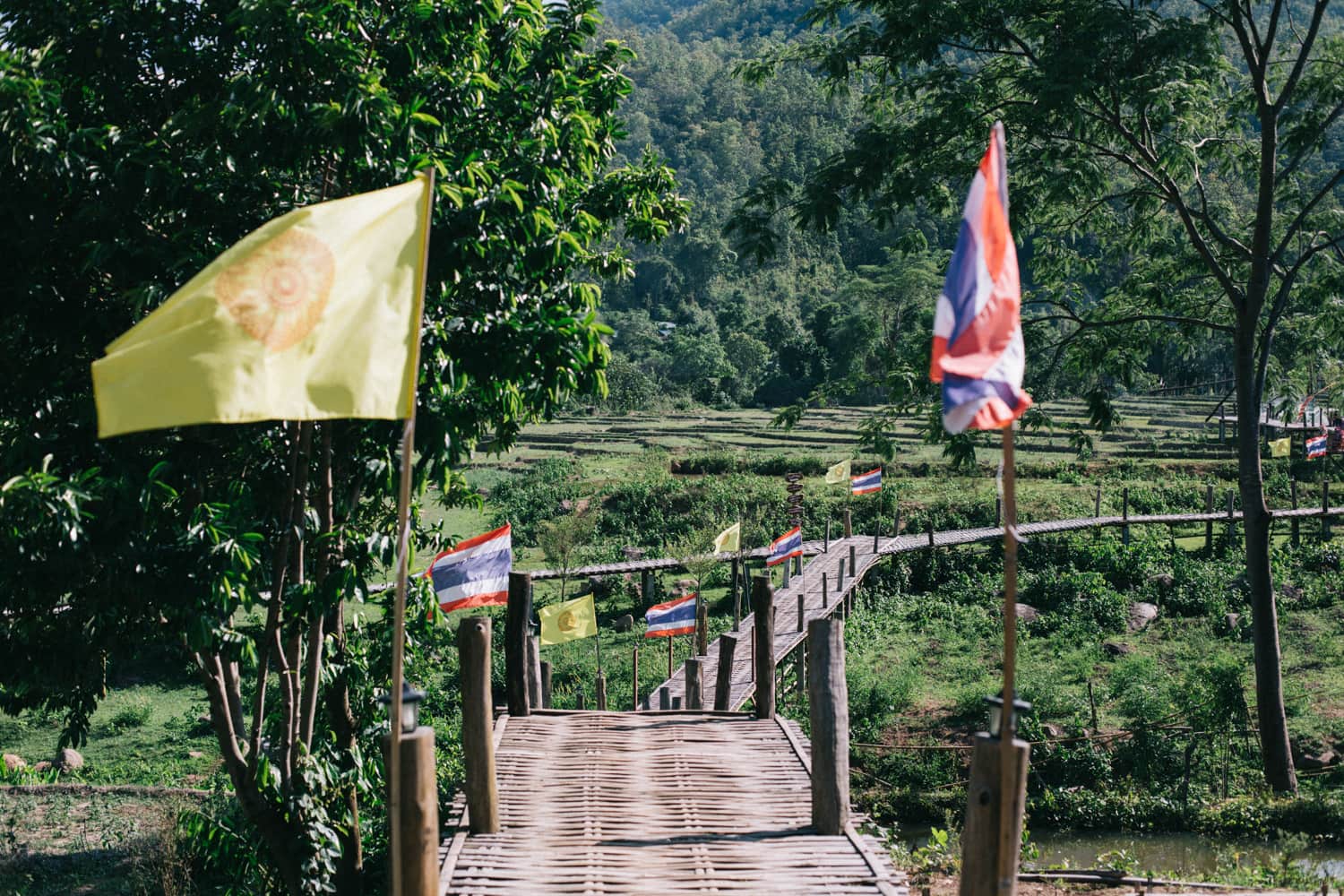 One of those fields that we discovered was actually a path to a sacred shrine, which is why it was beautifully decorated with flags and offerings. A nice reminder that nature's bounty itself is holy, life-giving and something worth being grateful for.
At that time, we felt like a couple of kids exploring it, taking photos and feeding the fishes. But it's interesting to think about it afterwards and realize what it represents. That reminded me of many of those "oh, wow, yes" moments we had when exploring Kyoto, Japan.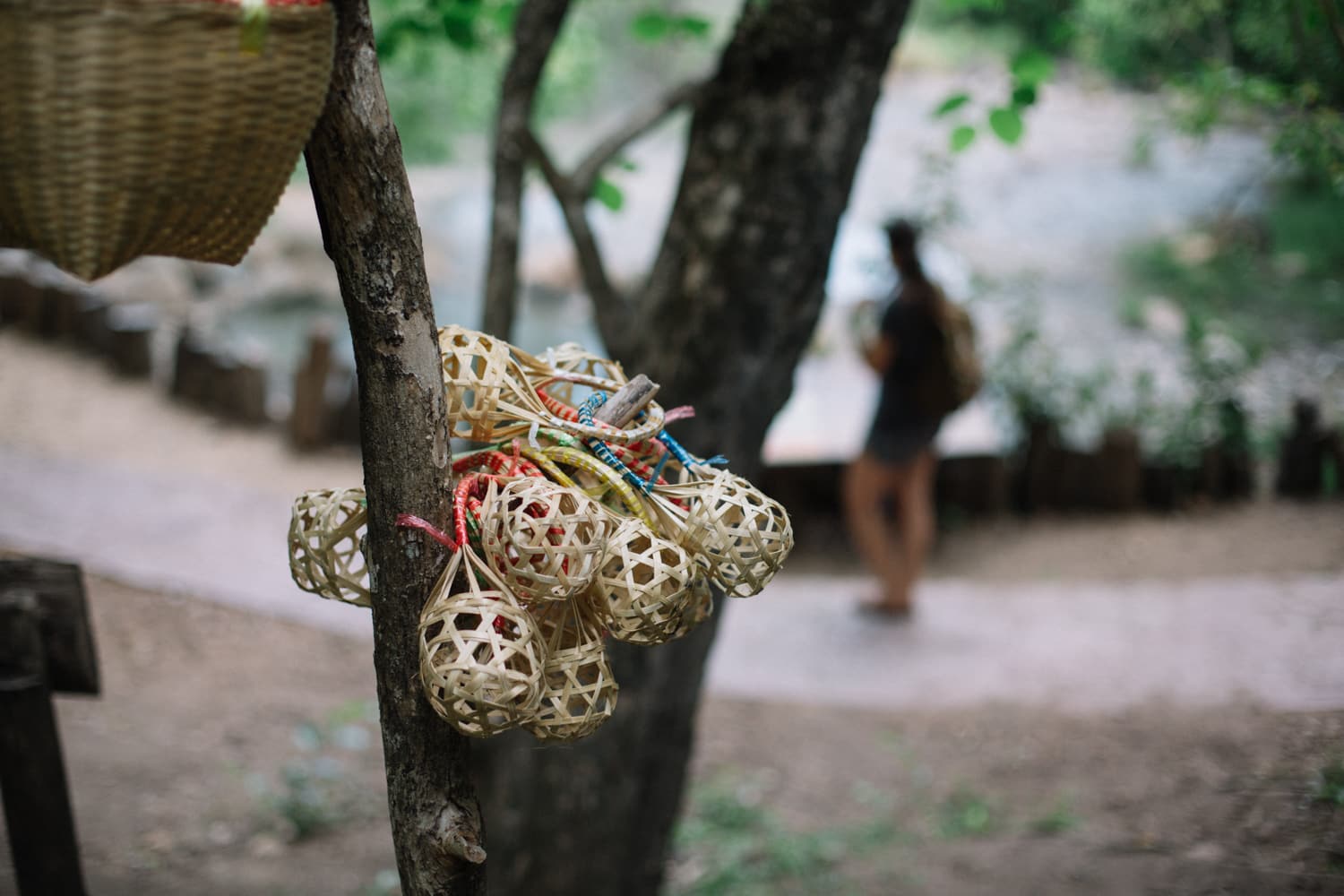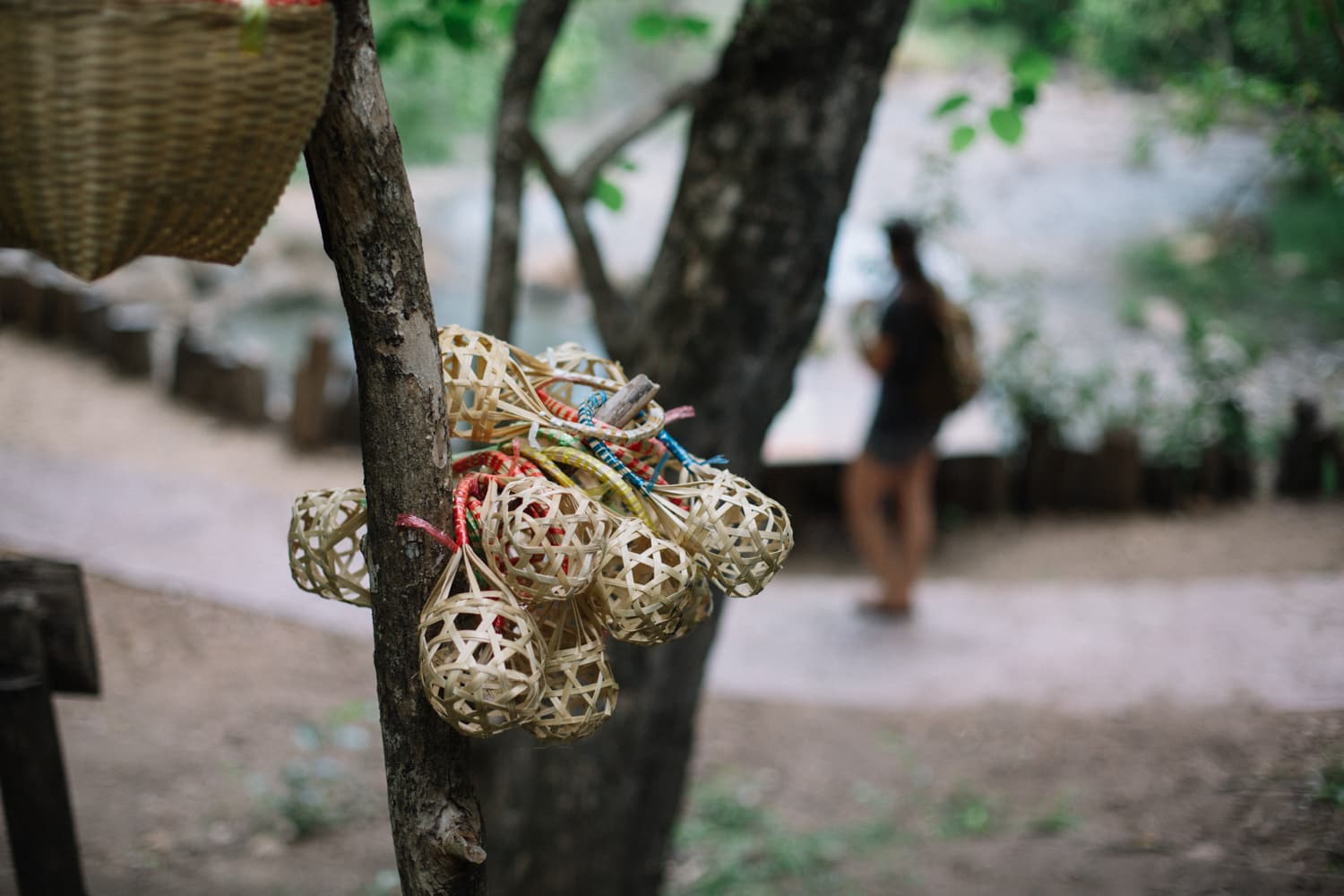 Our days in Pai were also fueled by other nature activities such as bathing in a natural hotspring, trying out local delicacies in the famous "land-split" and visiting a nature conservation project our host told us about.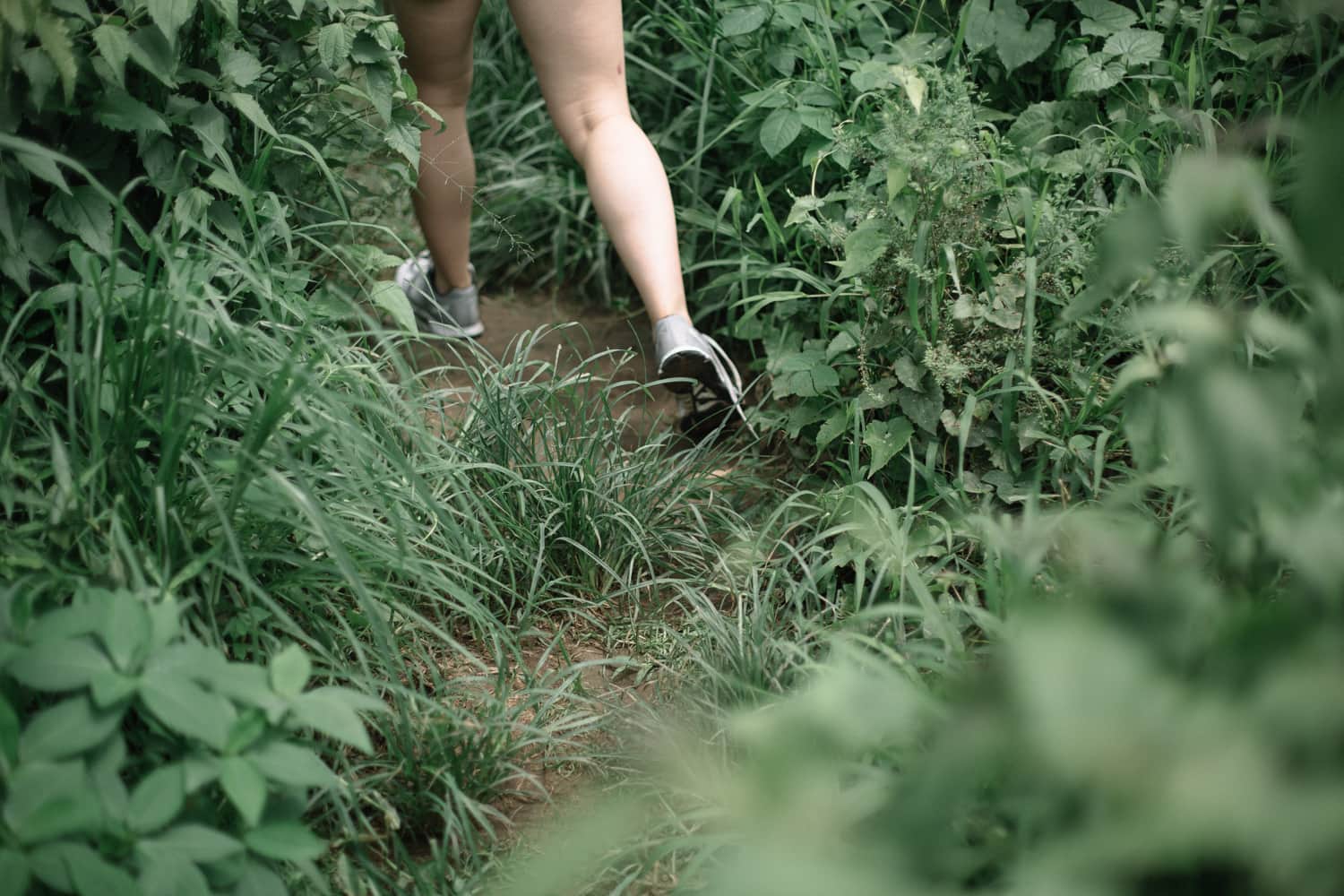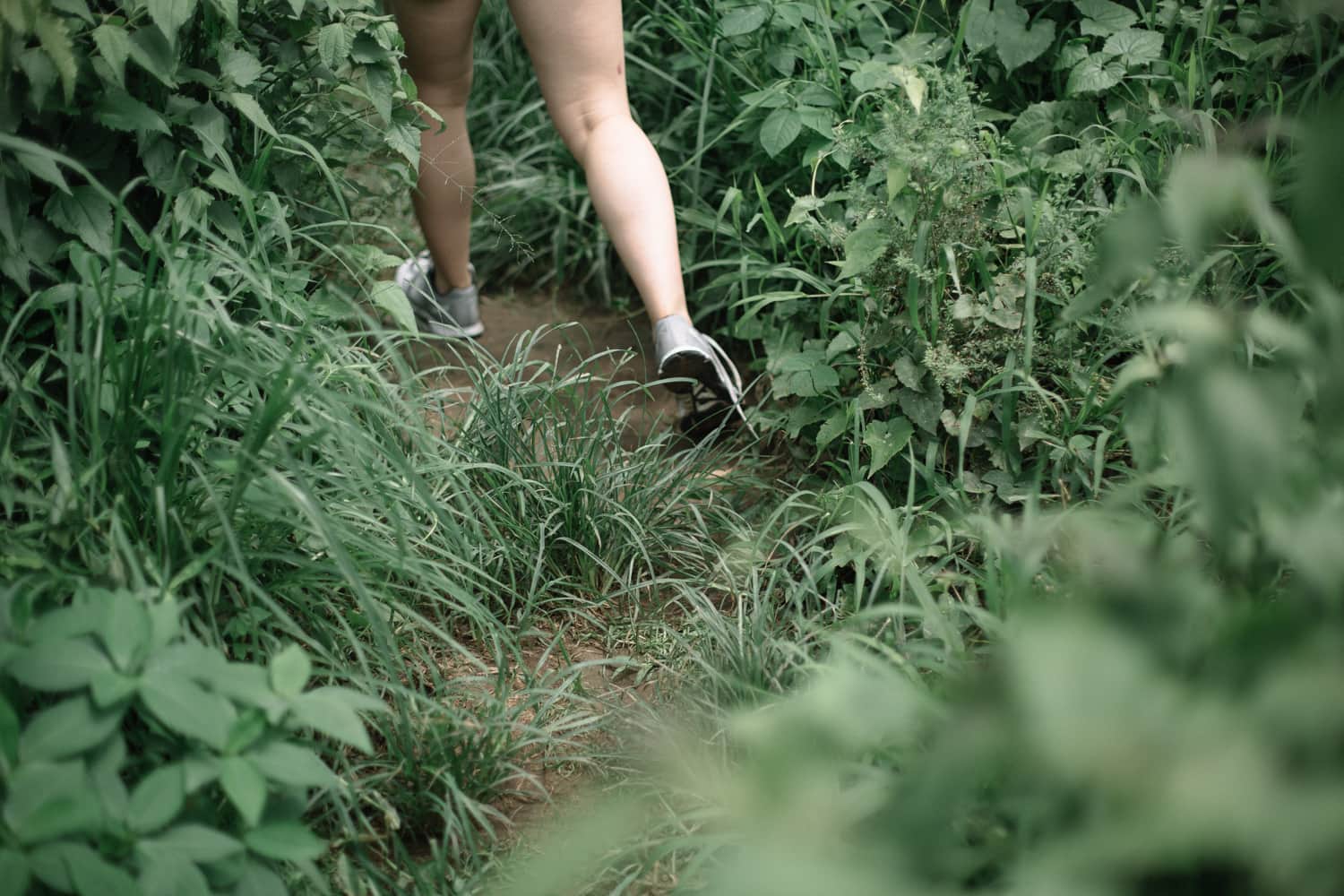 The nature conservation project in question is called Conserve Natural Forests and they're located just outside of Pai. These folks dedicate their time to important activities such as permaculture & sustainable farming practices, reforestation, rescuing animals and endangered species including… two elephants. Two female elephants, who were previously mistreated in a "sanctuary".
This situation is extremely ironic, but it's very common here in Northern Thailand. There are dozens of places which call themselves sanctuaries but are nothing other than tourist attractions, where elephants are used (and abused) for entertainment, and ridden on when they shouldn't. This is a very big issue and it's important to be aware about it – if you ever visit Thailand, please do not go to these places if you truly care about the wellbeing of animals.
Elephants are such kind and smart creatures. I was happy to see that these two (mother and daughter) were in a perfectly healthy condition, thriving and happy in this huge natural habitat. We got to see them, feed them with heaps of pumpkins, bathe them, as well as talk about their story and their future.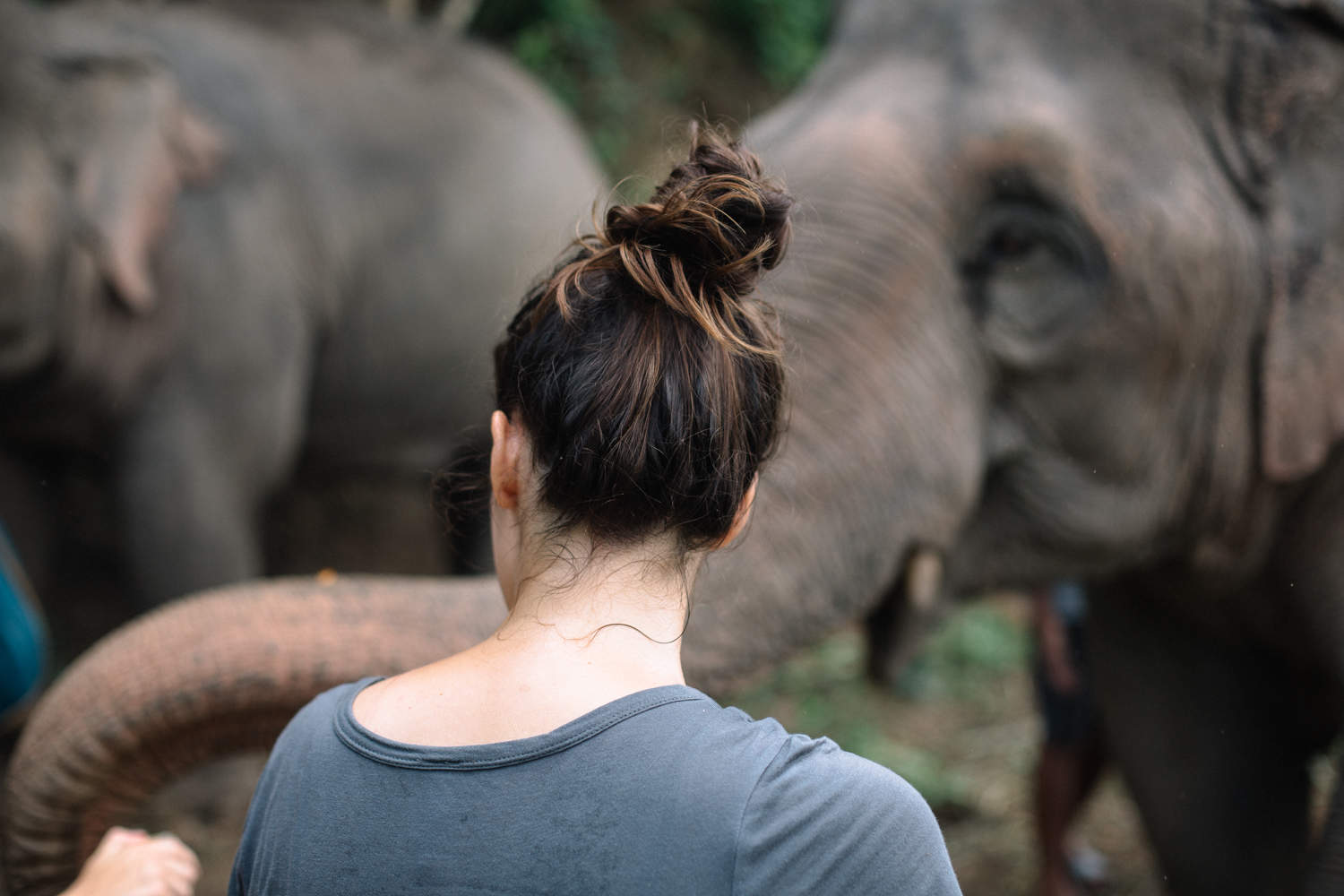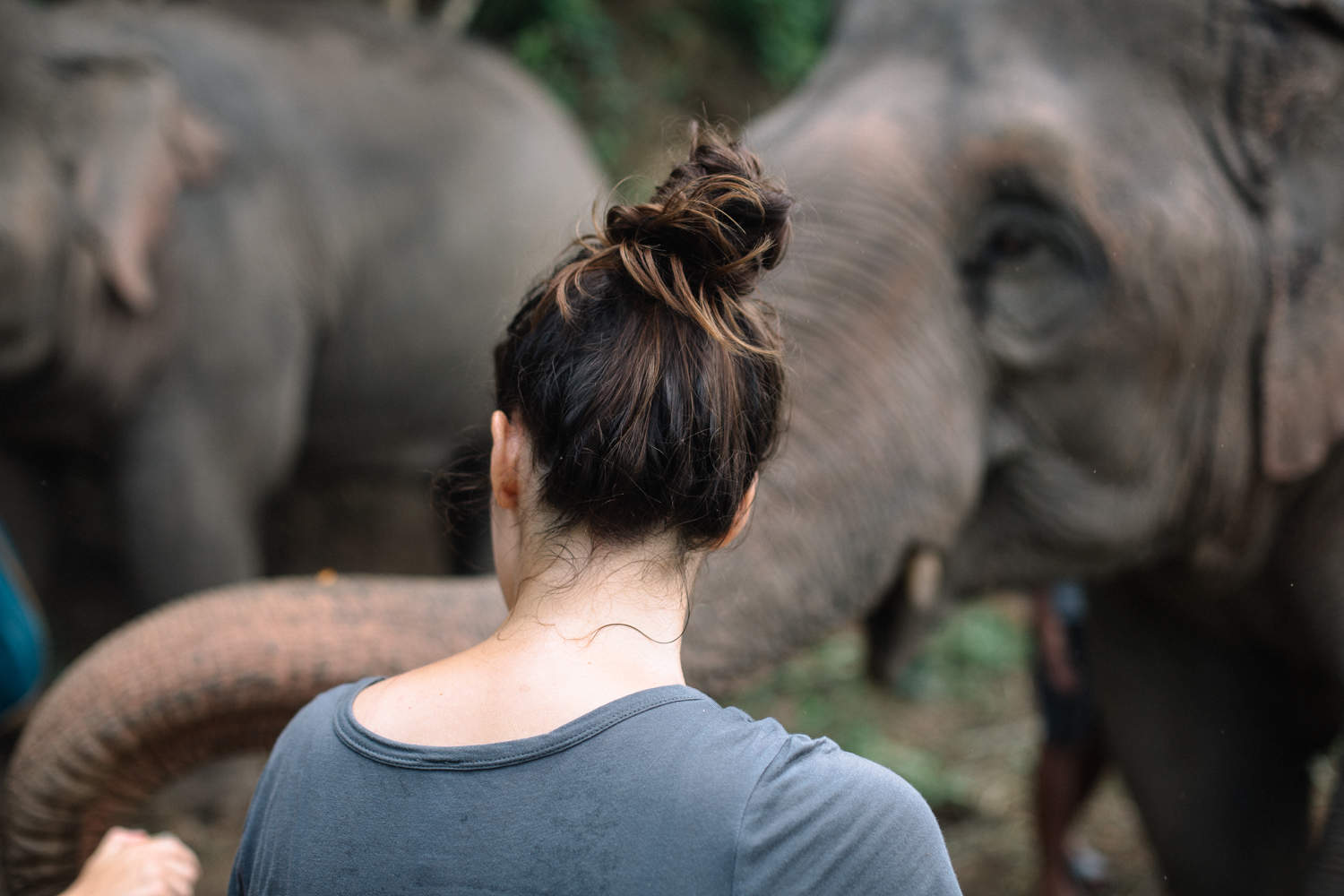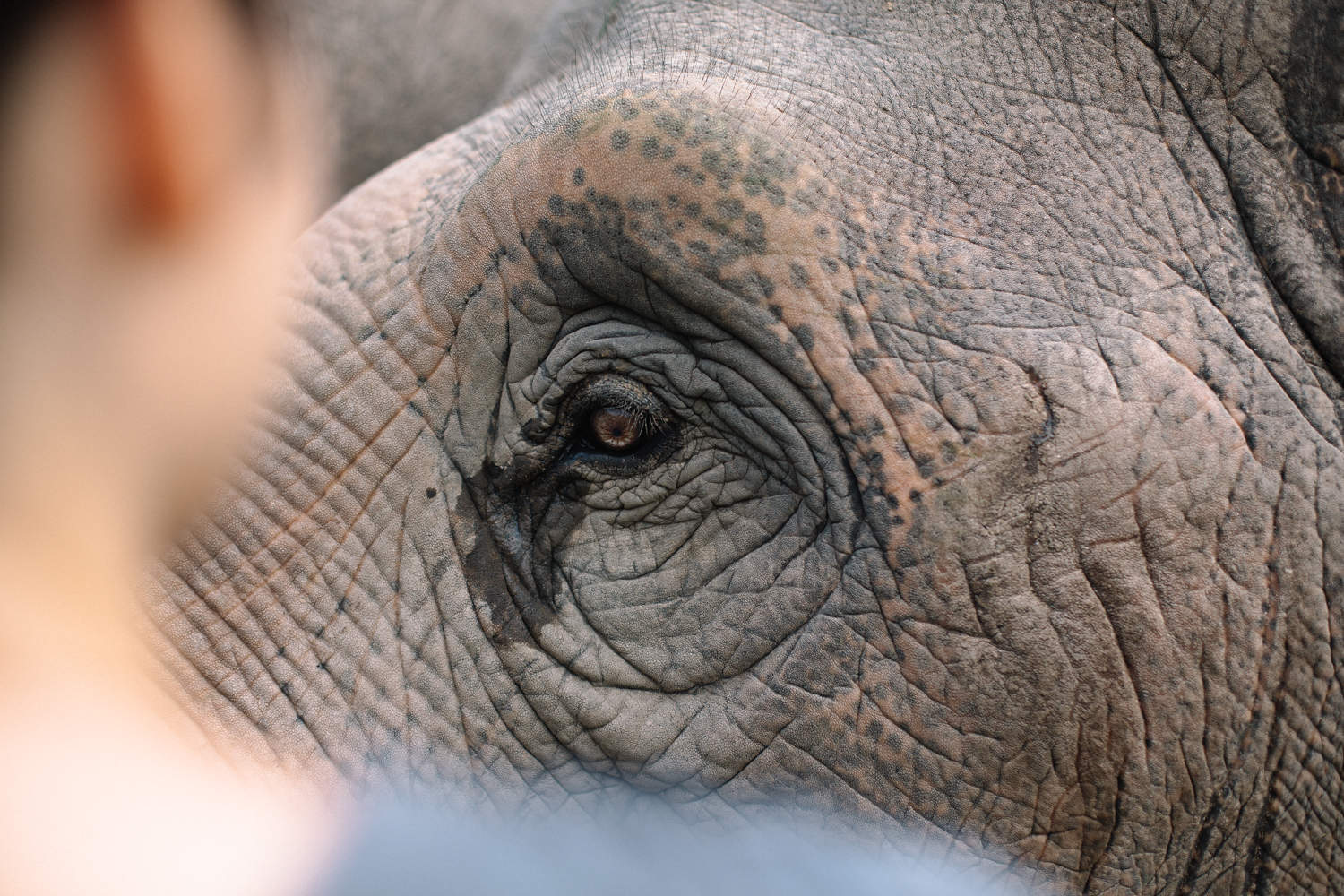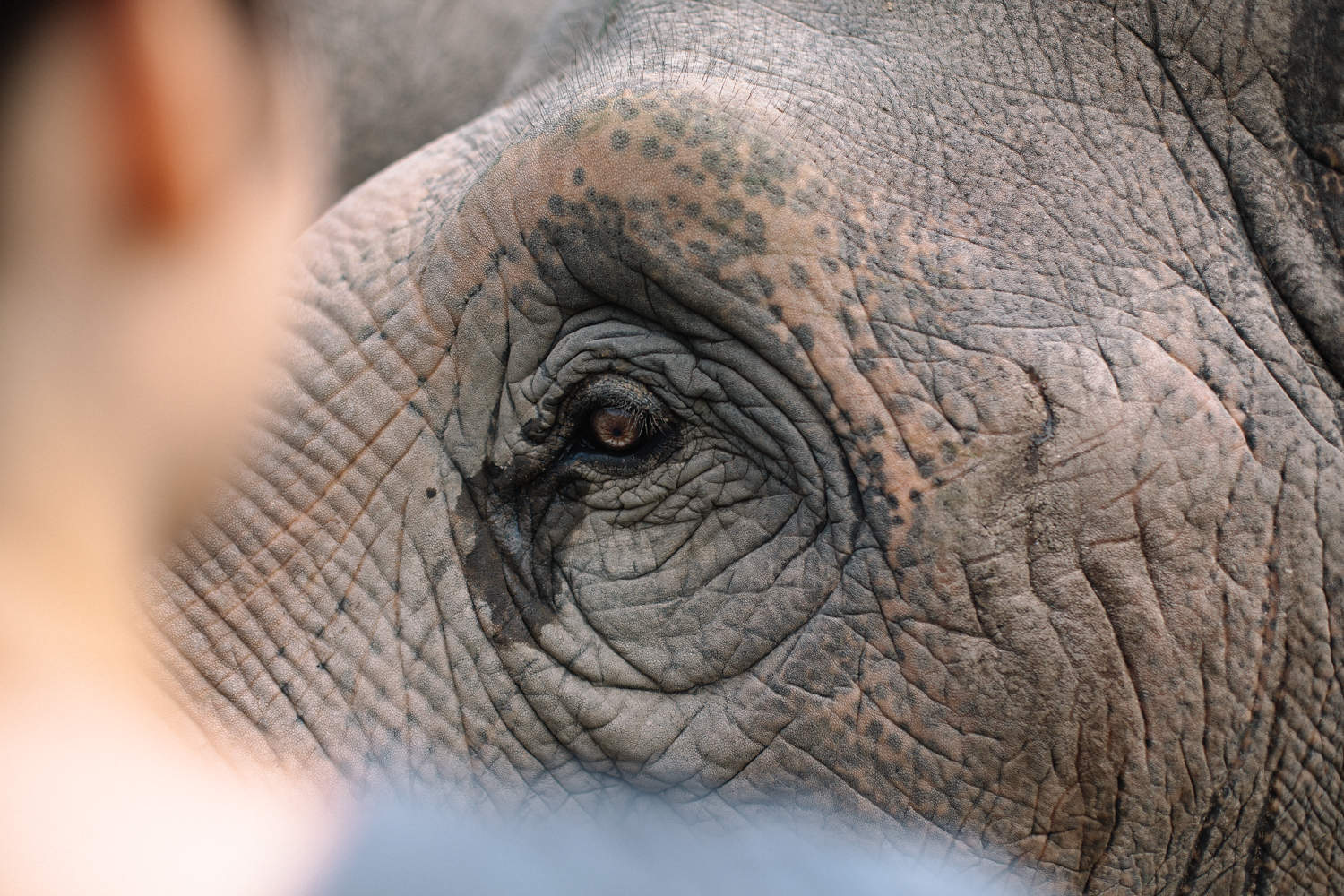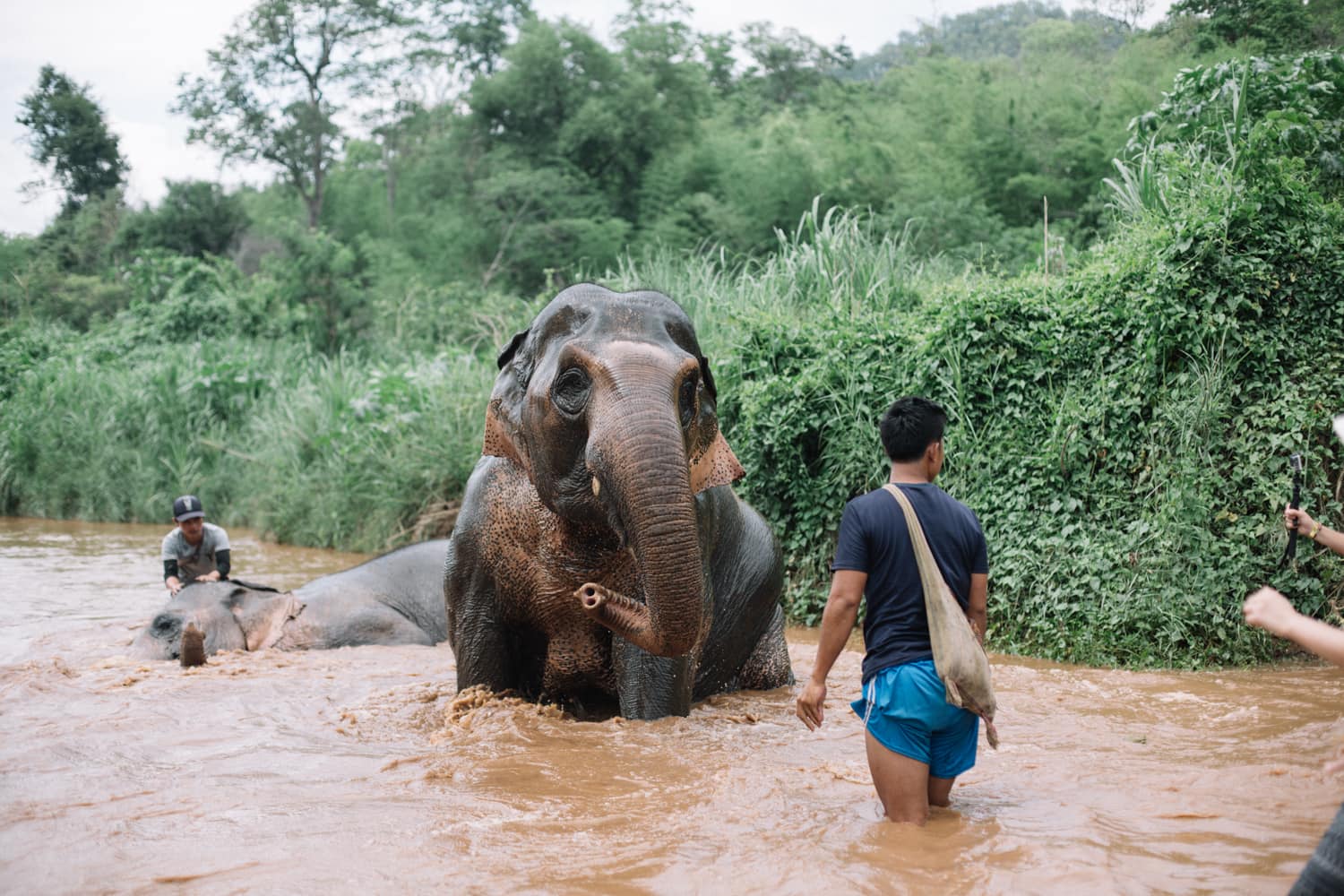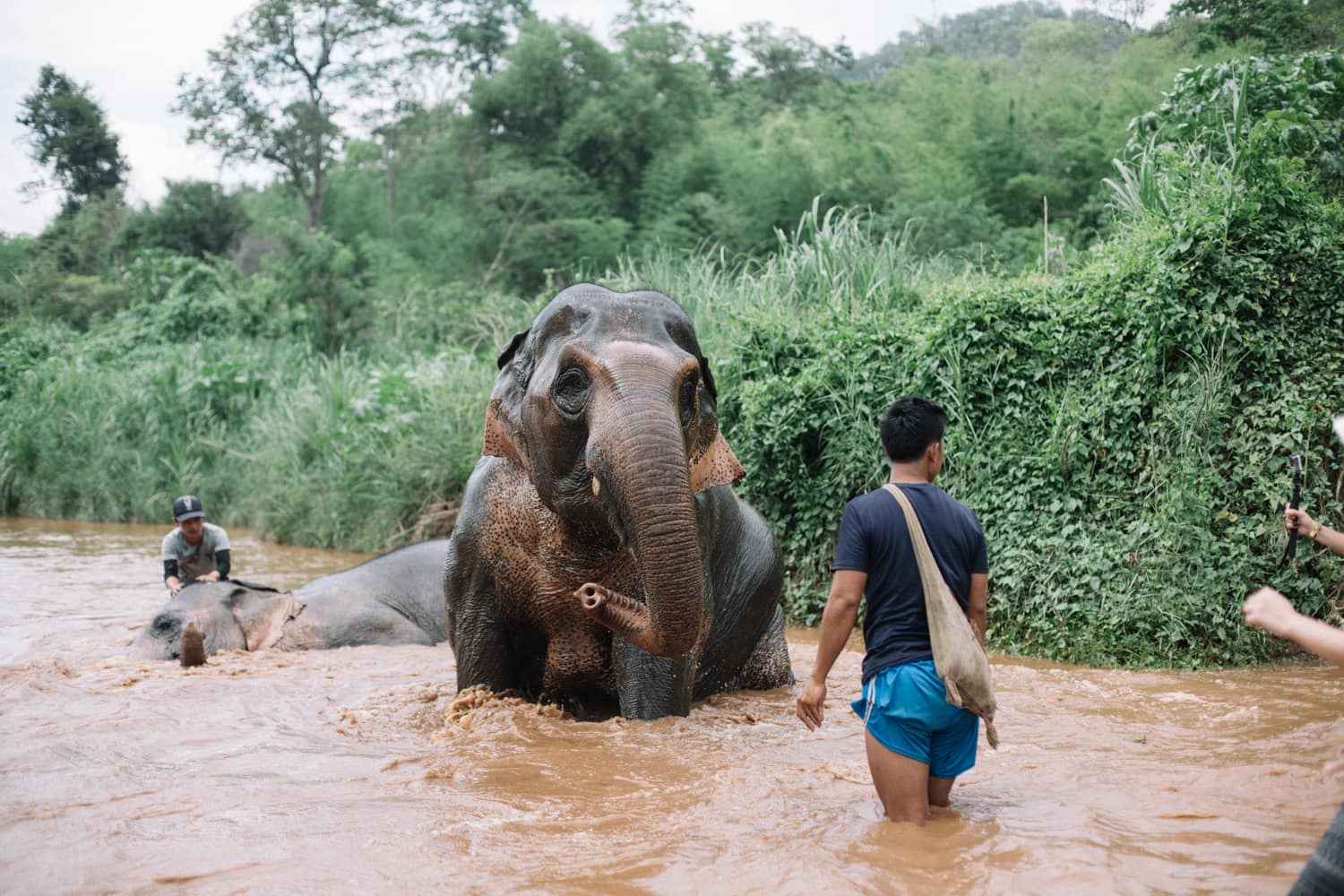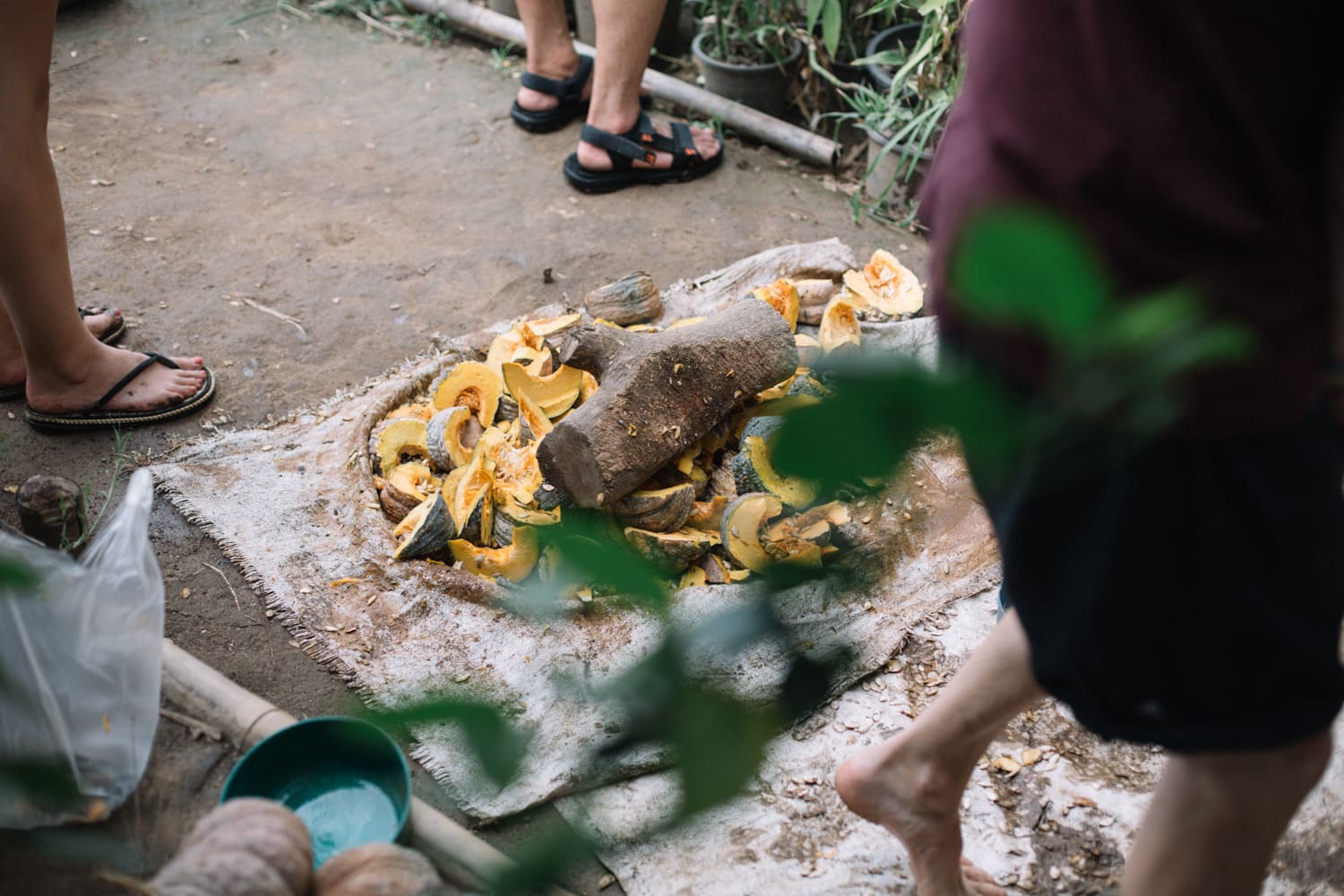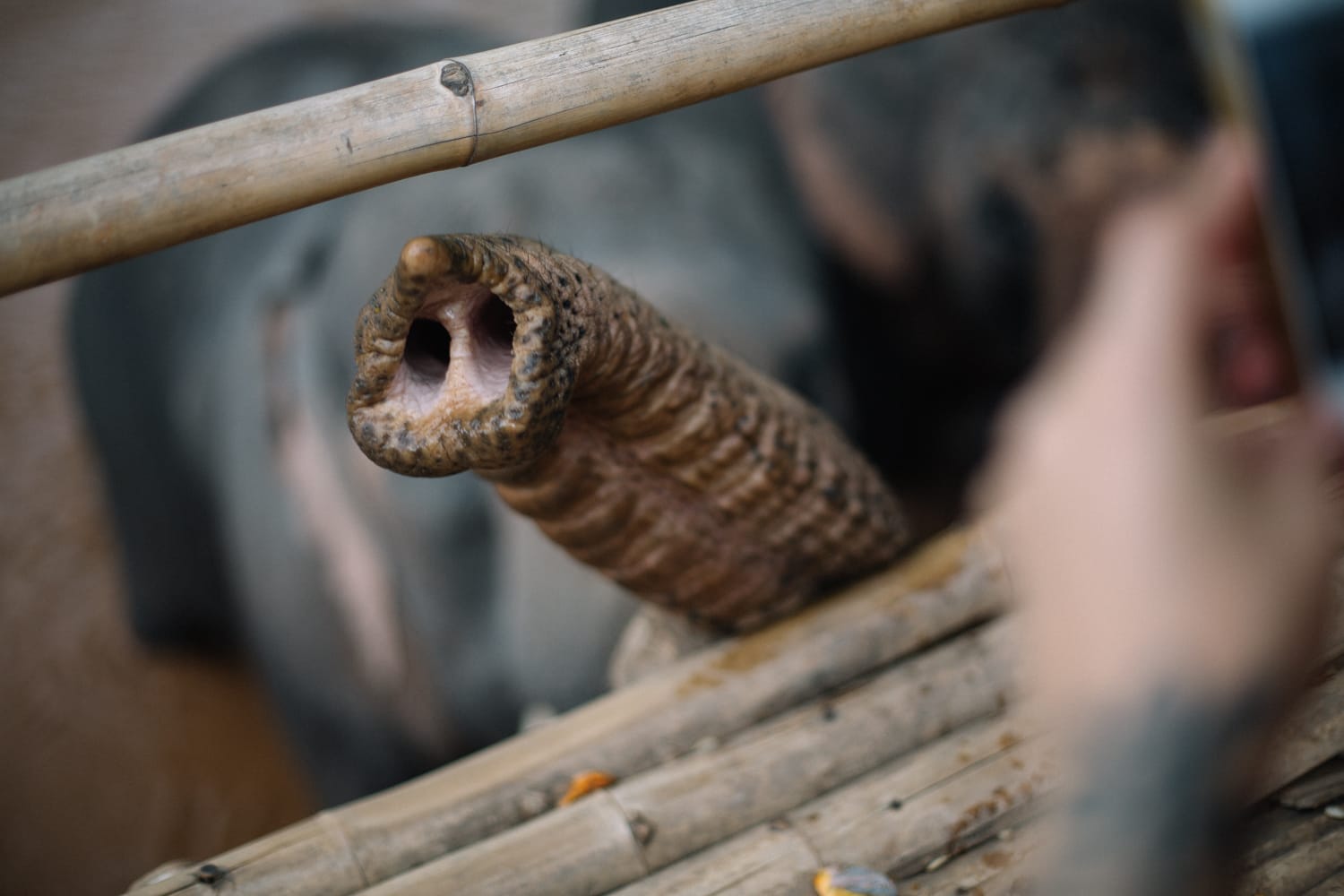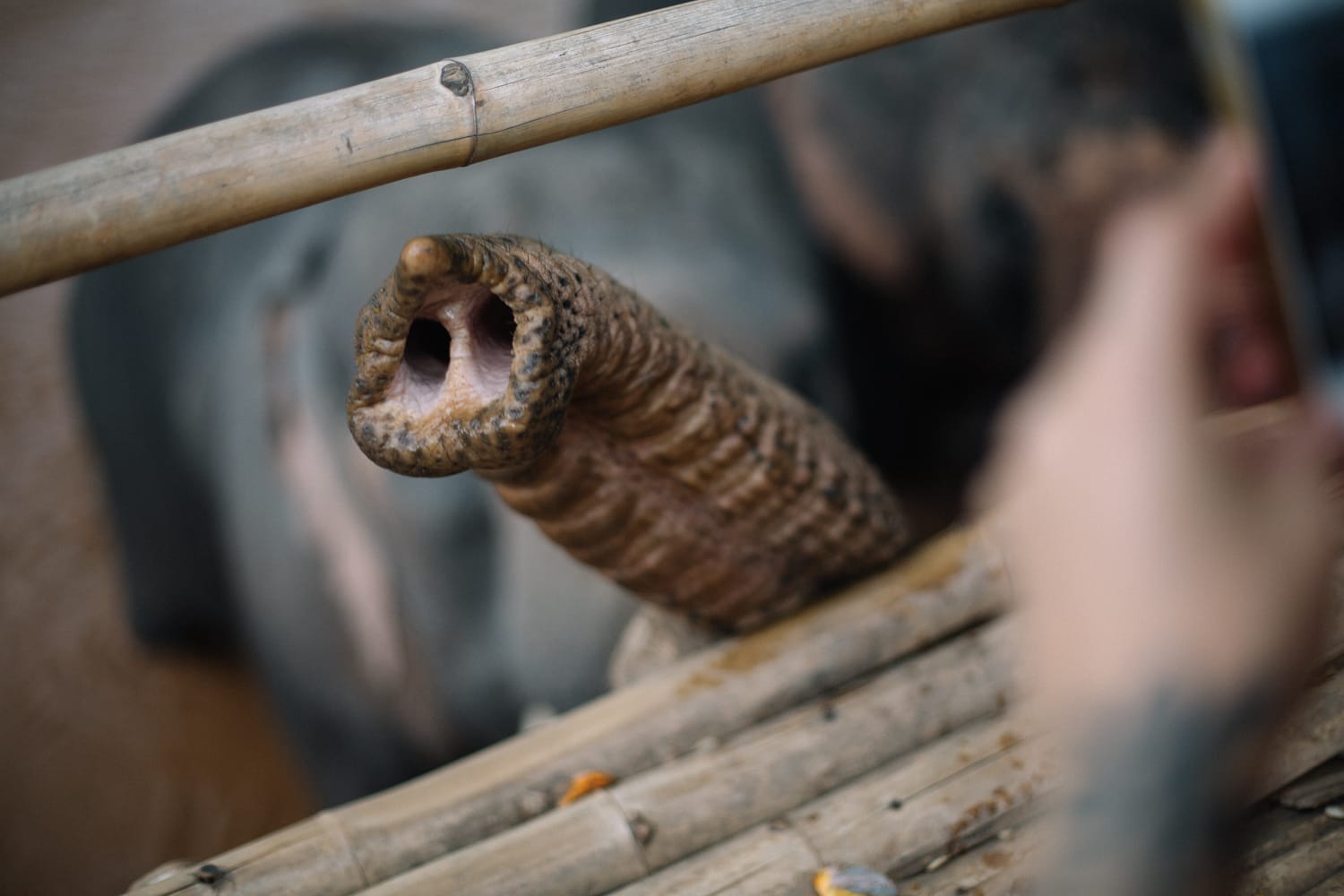 There was also an adorable rescued woodpecker there, who enjoyed feasting on passionfruit. He climbed on David at a moment – I think he caught our attention just as much as the elephants (if not more). Such a beautiful creature!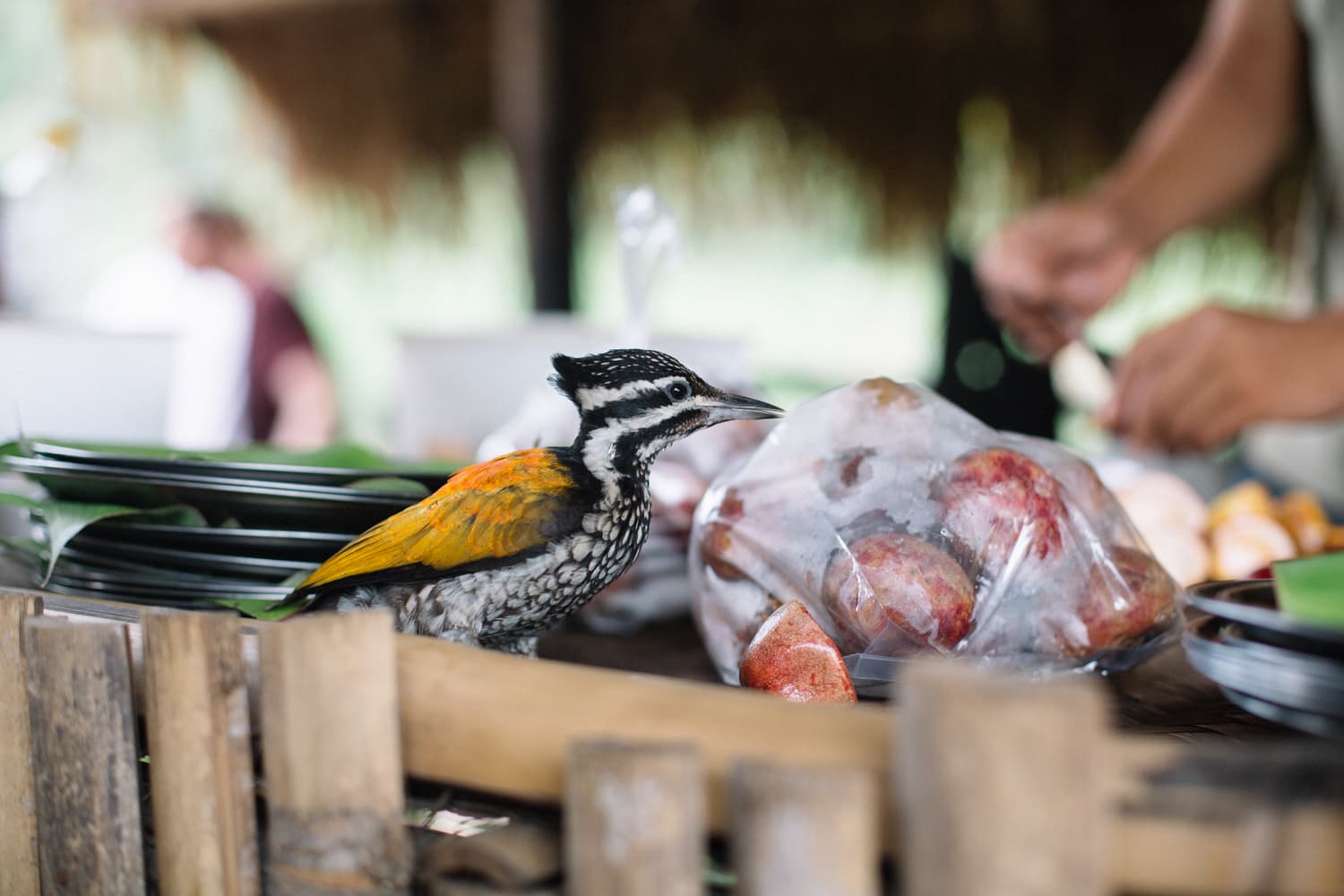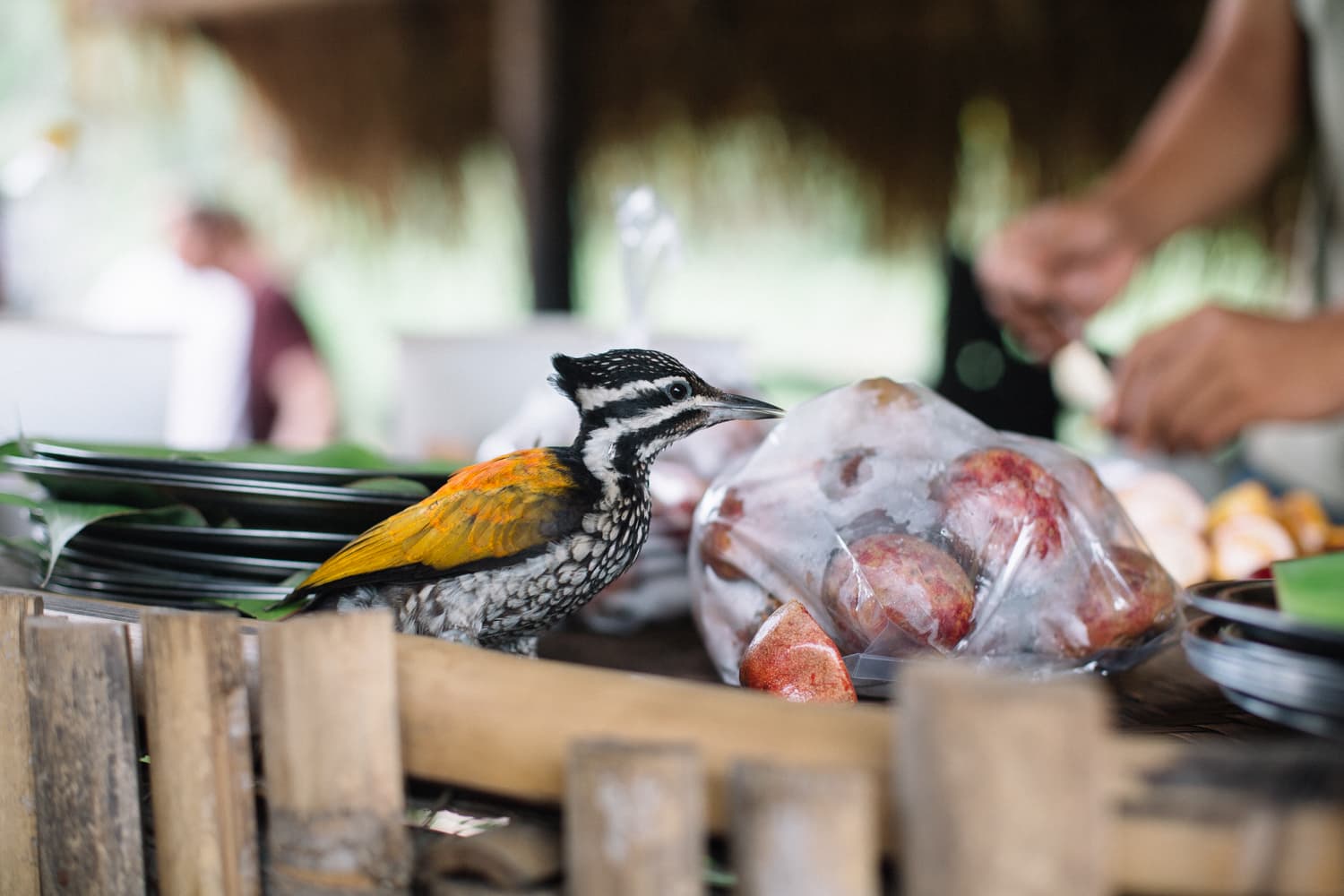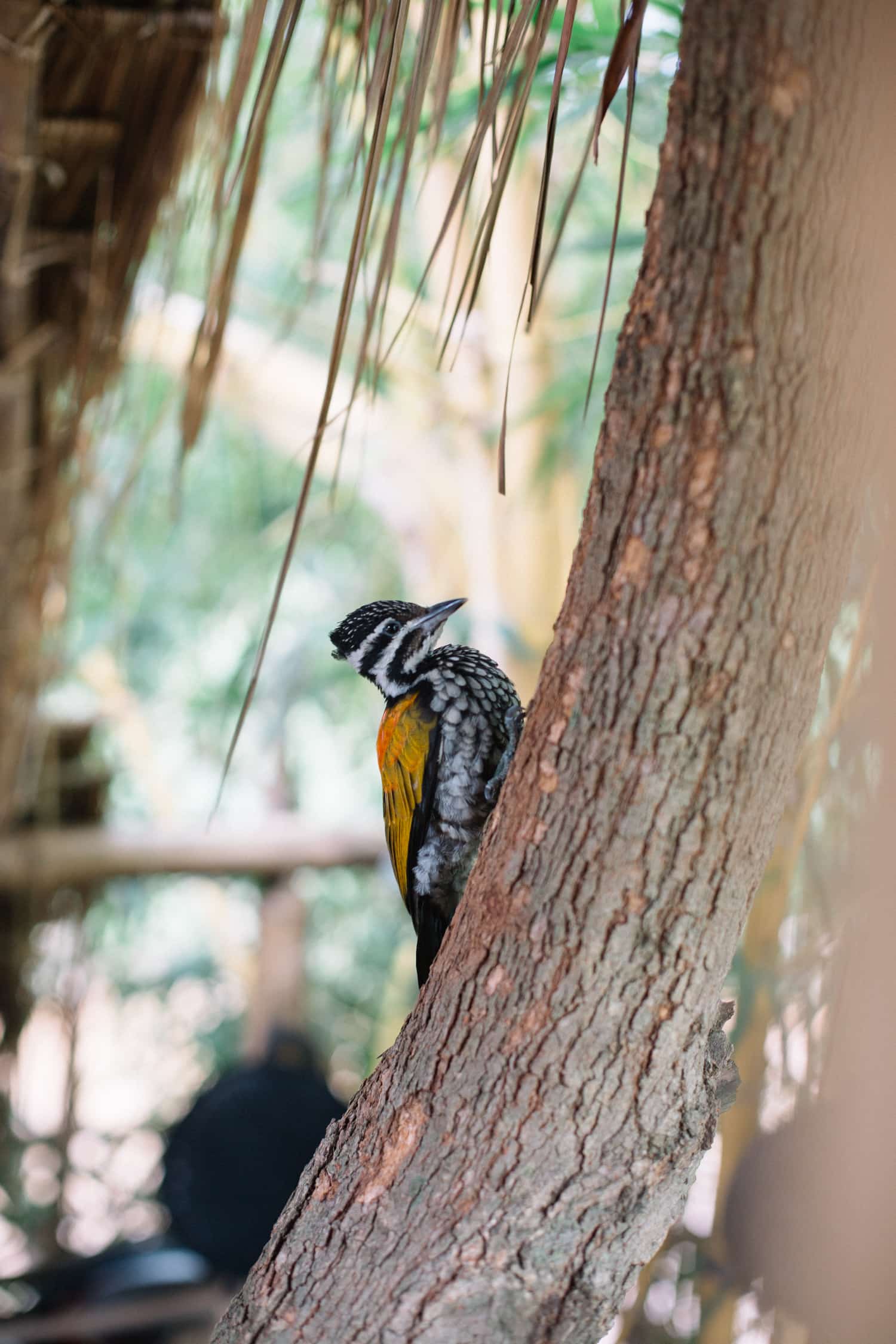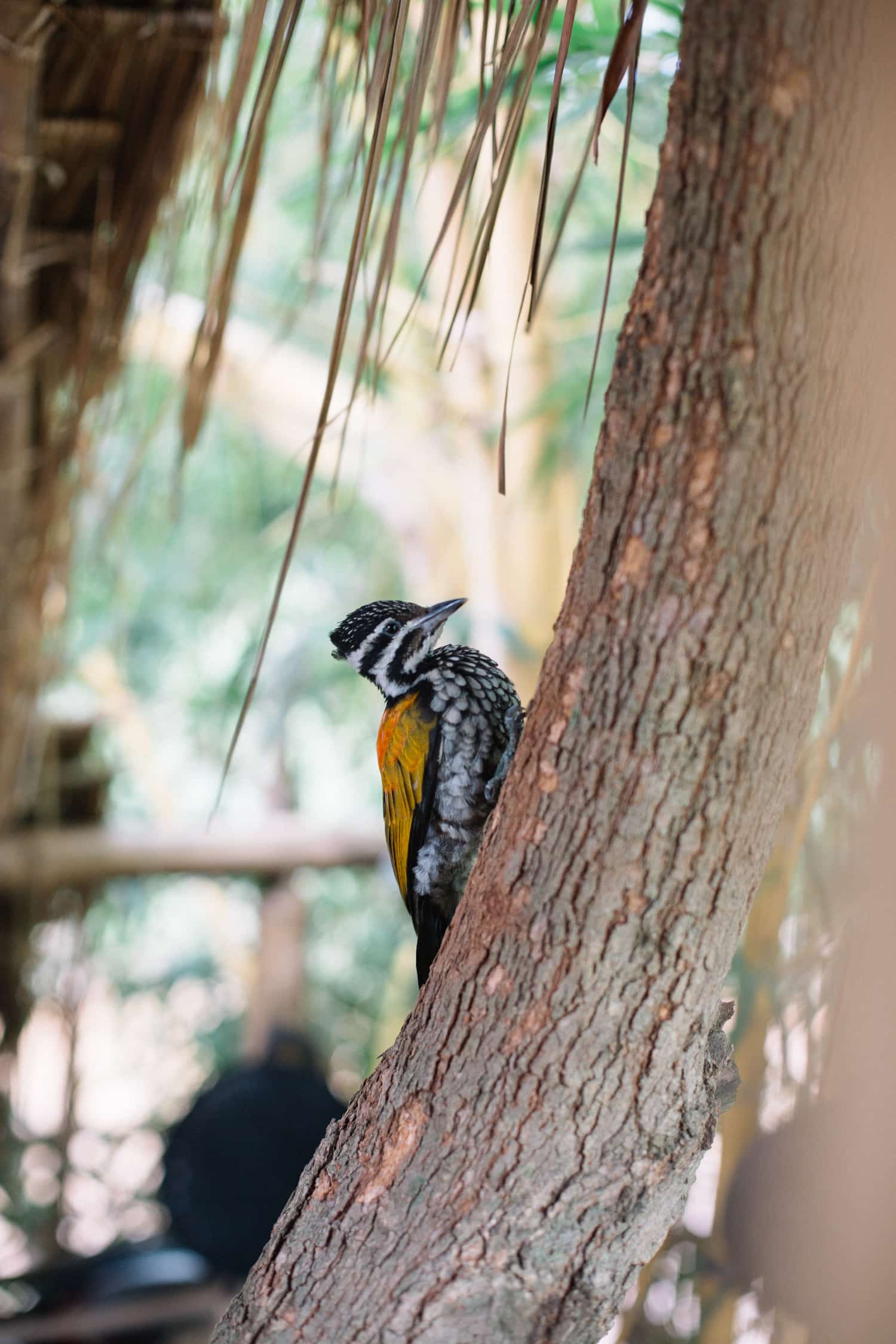 We also took part in planting some trees, as the project is involved in the re-forestation of this space which used to be a soy-field. We picked a few young trees, got our hands dirty, (also got bitten by some wild red ants, ouch). It will be interesting to see how this environment will evolve, the more volunteers help in this initiative.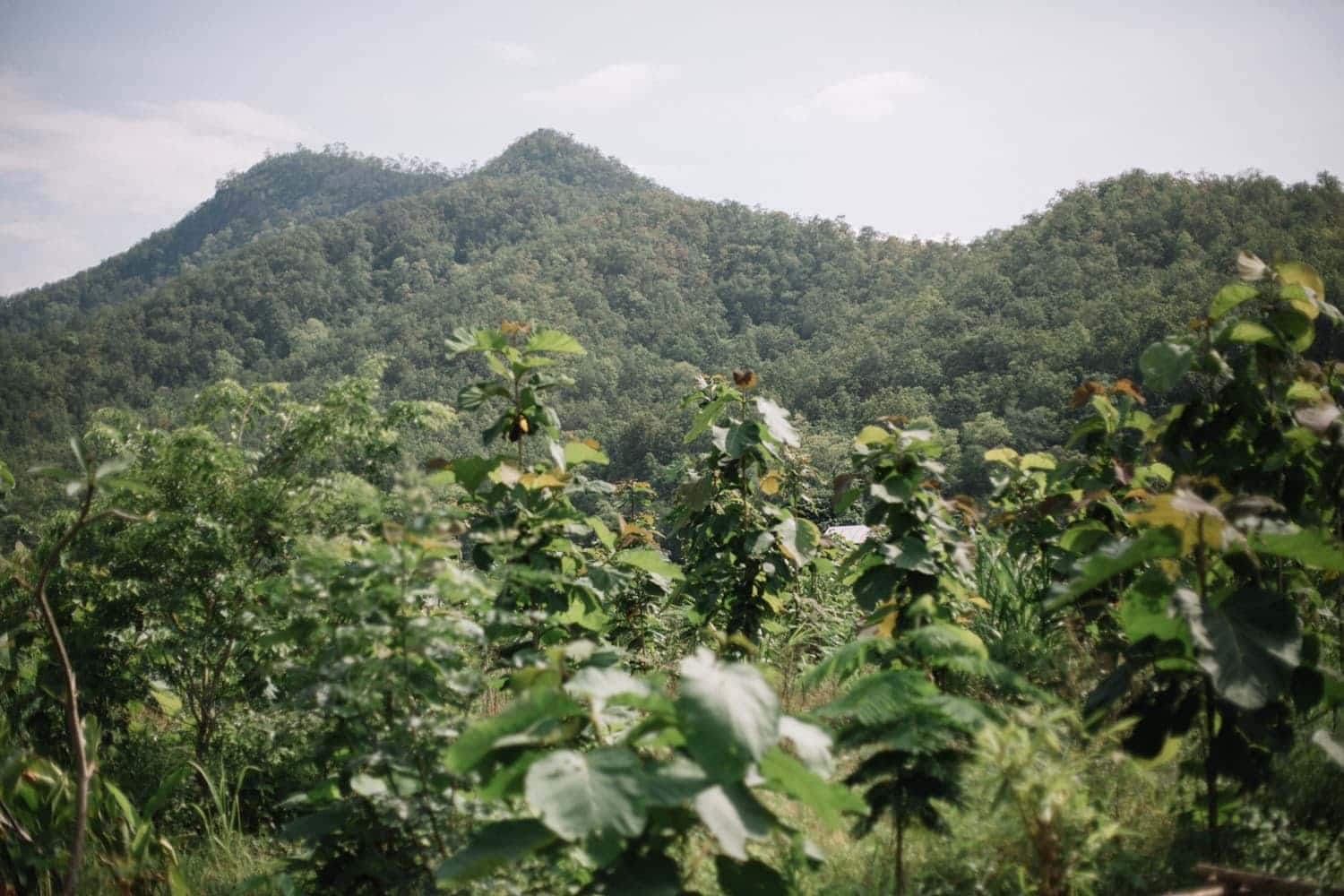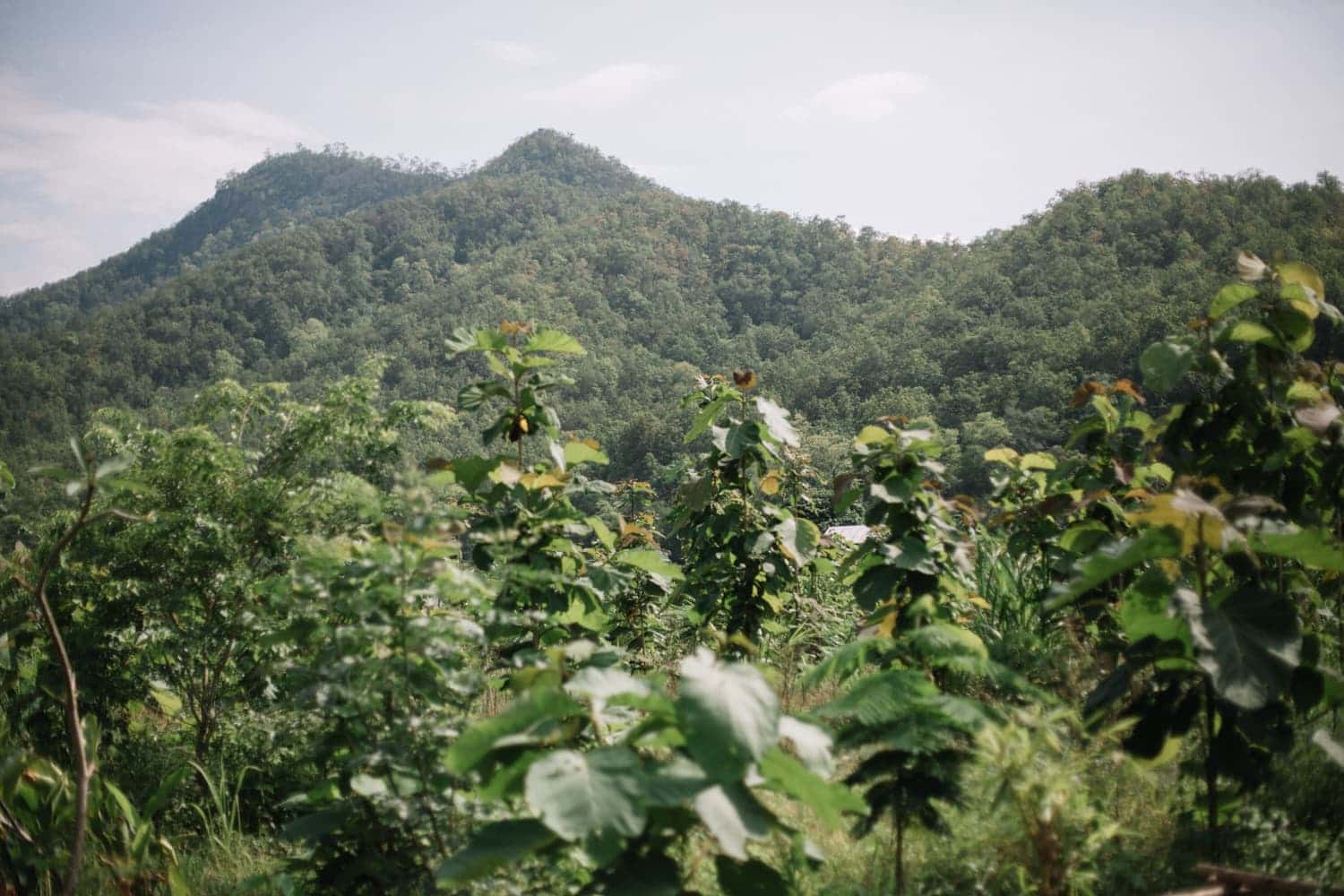 Overall, Pai was a very refreshing experience for us. I know many backpackers go there to party on the cheap – but it's the mindful, hippie-side of Pai that I really connected with. It was exactly what we were missing from our previous weeks living in Chiang Mai. Now we're back in the city, but our minds are more calm and we're more eager to keep working on our projects, while feeding this more mindful side of our lives during our free time.
I'm currently reading many more things about fermentation, preserving herbs and making things like healing smudge sticks – something that I'm definitely looking forward to try when we'll be back in Europe this summer. This will all feed a whole new project we'll be working on later in the year 😉
By the way, if you guys want to visit Pai, let me know if you need any tips – this post was more meant as a "journal" but I'm very happy to share some of our favourite spots with you.
---