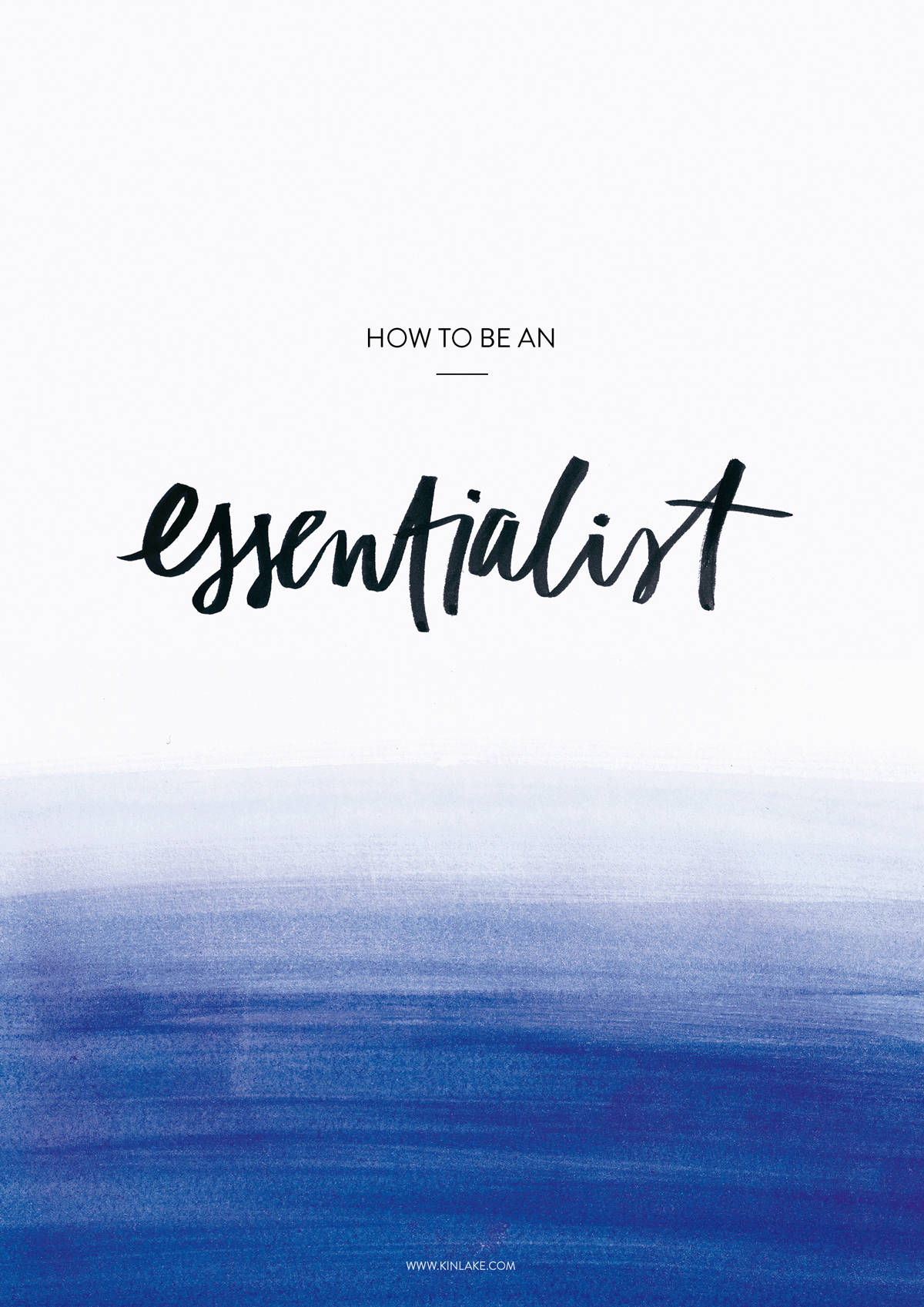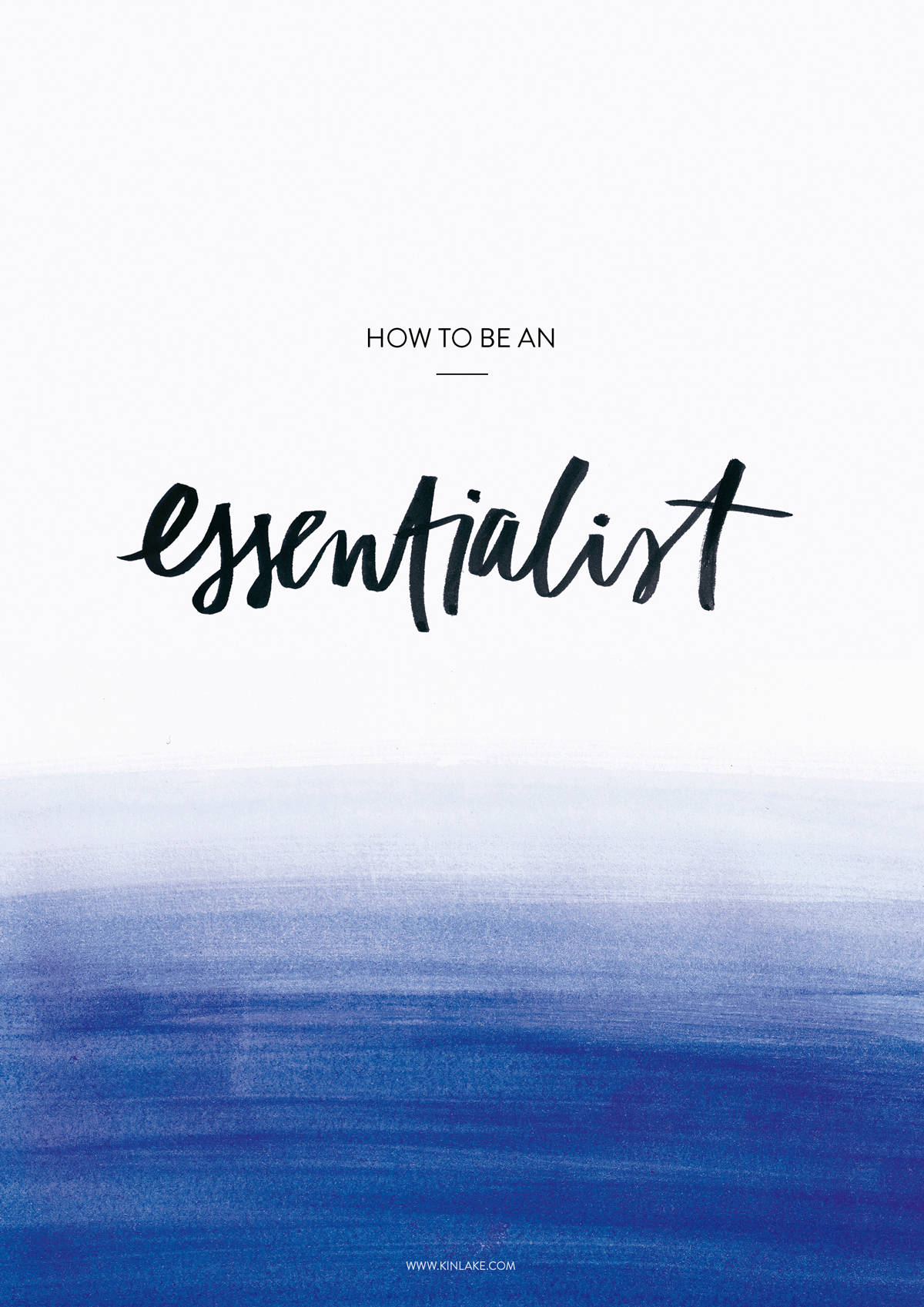 You might remember my obsession with the book "Essentialism", mentioned in previous posts like this one! Well, guess what? I FINALLY finished it!
I was supposed to read (& finish) that book over the Christmas holidays, several months ago, but I guess I'm bad at reading books the way normal people do. I try to make time for reading before bedtime but I generally switch between reading different books, get distracted, sometimes I feel like reading something else like a cookbook or just browsing the internet. How non-essentialist of me. But that doesn't change the fact that I fell in love with that book and how it changed my life already.
We live in a world where it's considered a positive thing to take on more and more, to say YES to everything, to be super available and therefore ending up super busy. In fact, we glorify "busy" and we make it synonymous with "success". But as controversial as it sounds, doing more is not the solution. Doing "less but better" is. Essentialism is the art of discerning between external trivial things and your internal true purpose. It's not a discipline to teach you "time management" skills, or how to make more in less time. It's quite the opposite and it's more than that. It's a way of life.
Since finishing this amazing book a couple of months ago, I've been experimenting with applying its precious principles into my life. Honestly, it has helped so much and I've managed to find so much more quality, creativity and purpose in everything I do, so I listed a few essentialist lifestyle tips that I follow and love 🙂
Creating realistic to-do lists
It sounds geeky but I am a fan of to-do lists and lists in general. The problem is, most of the time those to-do lists magically end up expanding at the end of the day, leaving me overworked and frustrated. I end up working extra hours, and feeling busy but not necessarily more productive or creative. This is completely and utterly non-essentialist, as a true essentialist would know that they key is about putting fewer things on this to-do list in the first place. Setting realistic goals every day is very important.
Preparing rather than struggling
Talking about setting realistic goals… Do you overestimate all the things you can get done in a day? Do you often underestimate the amount of time a task will take? Do you often end up late at work or meeting up friends? Then you need to create a good buffer and practice preparation. Simply start by adding 50% to the time you estimate for something to get done. Anything from commuting to work, working on a project, cooking food for your friends… The key is to NOT rely on the "best case scenario" but to allow extra time for unexpected things to happen. You know what I'm talking about. Sh*t happens. And people who prepare well for that, end up less sh*tty-minded, right?
Focusing on one thing at a time
Multi-tasking is the enemy of true focus. When working, make time to complete one task at a time. If you really want to avoid interruption, then switch off and simply request not to be disturbed. That has worked wonders for me and although it's tough, it's the best thing to do when I want to focus on creating! It's also important to apply this into other aspects of your life so that you can enjoy them fully and not feel like you're spreading yourself too thin. Try not to check your emails when you are spending time with family. Try not to combine two events in one night. Allow yourself to be fully present in what you have prioritized, one thing at a time.
Find your priorities
What are your priorities? What things are important to you right now? What is it that you want to work on? Whatever it is, make sure you are aware of it and ask yourself if you are actually able to give it the attention you want to give it. If not, then see how you can remove the obstacles ahead of you to bring you closer to that priority. If an activity like spending quality time with family, being out in the nature or working on a creative project is important to you but you are always "busy",  see what is standing in your way and remove those obstacles or reduce them with a discipline. A non-essentialist puts "everything" in priority and progresses poorly on it all, while an essentialist selects just a few important things to focus on and give them the attention they need.
Less but better, the art of "no"
I guess we've all fallen in the trap of saying "yes" to everything, and pursuing multiple projects simultaneously. I have been guilty of that too but this is completely non-essentialist and can lead to frustration, overwhelm and burnout. First of all, start applying the art of the graceful "no" (sounds so fancy, right?). It basically revolves around one thing: when an opportunity or demand doesn't feel like a definite YES then it should be a definite NO. Don't say yes for the fear of dissapointing someone or the fear of losing a simple opportunity. It sounds harsh but saying "no" to things that don't feel essential to you will create more space for the things that are, and will give you a better quality of life. Also, they will possibly let better opportunities come along. Imagine if an amazing opportunity finally comes along but you're too busy because you've said YES to every other trivial opportunity before it. Wouldn't that be silly?
I used to say yes to everything and since I decided to only (or mostly) say yes to the things I LOVE and let go of the rest, only good stuff has happened. I promise you that!
Think of how you can pursue a smaller number of projects and get better results. Think about what projects in your life make the biggest difference and remove the rest. It might require some guts, but go for it! Embrace "no" and fall in love with less but better.
---