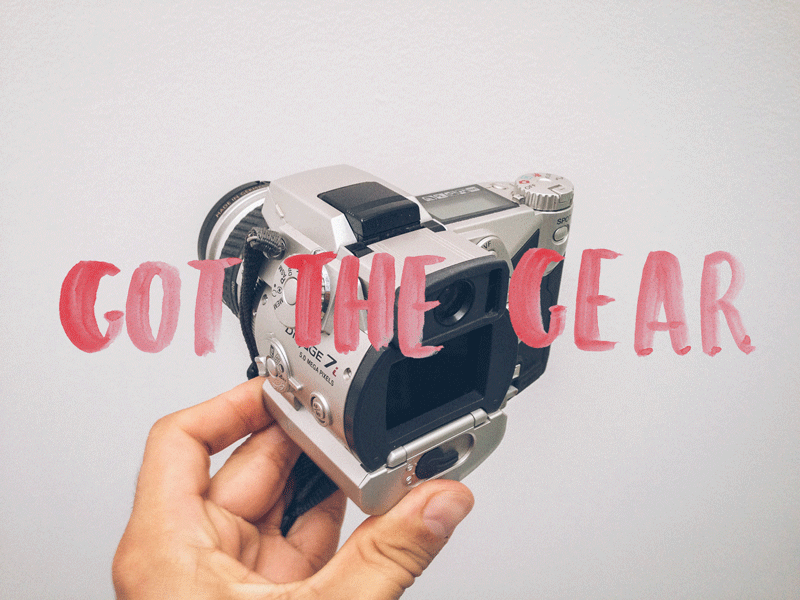 It looked so big back then and so small and light now. I bought my first digital camera about 13 years ago. This camera was designed to feel and look like a SLR cam, but it was not, it was a normal 5 mega pixel digital cam with lots of manual options. I bought it for 1000€ with a little help from my mother as a short term credit. Still payed the whole thing back; you want it, you earn it! I was a student probably in my 2nd or 3rd year of art school and I was so happy to experiment with this machine in my free time.
I recently sold it in exchange of our new Canon DSLR camera we're using for Kinlake. We somehow found an interesting deal with the shop and they gave us a little something for my old Minolta. Before I heading to the shop to buy the new one, just when I was taking my Minolta out of its bag, I was back on memory lane just by pressing a few buttons on the cam and looking trough the viewfinder. I don't like being attached to electronic equipment or any other object just because it was part of my life once. I've had a few small pocket size digital cameras, but maybe because this one was so expensive I always took special care of it. It was still looking in pretty good shape, but it was time for it to go.
Whether a small digital camera or a smartphone, these machines capture moments you'll be able to remember for life. They become the link between years of photographs and experiences. When they get old, they're replaced.
When it comes to gear, I prefer to stick to just a handful of good basics. I hate owning stuff that I would only need once in a while. I did this mistake years ago by owning tons of musical equipment. I even had to take a loan at the bank to be able to afford it. I thought that "owning more gear = doing more things", but I was so wrong! I am still trying to sell some of that stuff today. Today, I have just a tiny setup, and I actually do so much more than I used to with a fully equipped studio. In photography, you can easily get lost with that idea too and buy expensive lenses and filters you'll only use once in a while. That crap takes space, it doesn't help in living a minimalistic, essentialist lifestyle, and it sure makes it confusing creatively. Most of the videos we have created so far were shot with the Canon 600D and I love the flipped screen option on that model, as well as its weight which is quite light. It is perfect for video work!
After we watched Francis Mallmann, an Argentinian cook on the amazing documentary Chef's Table created by David Gelb, we were so mesmerised at the end that we clearly wanted to develop our skills on filming documentaries. Having a second cam was a great idea to be able to shoot steady with one and close ups with another one. We fell for the Canon 5D Mark iii, an amazing (and heavy) camera, that has excellent quality for photography and video.
I didn't get the chance to experiment a lot with the 5D, we only had it since less than a week when having to shoot at the "Eat it festival". Experimenting is the key in developing skills but it's also very important to get confortable with your gear, that's why I love the 600D for the ease I have to work with it. It's all about finding tools which feel natural and make your creative work something easy, pleasant and fun. I guess it's fair to say that this applies to pretty much everything, from cooking, to sewing, to designing and so much more. To express yourself creatively, you don't need to be surrounded by lots of gear, but the just the gear that feels right to you. Less is more!
---