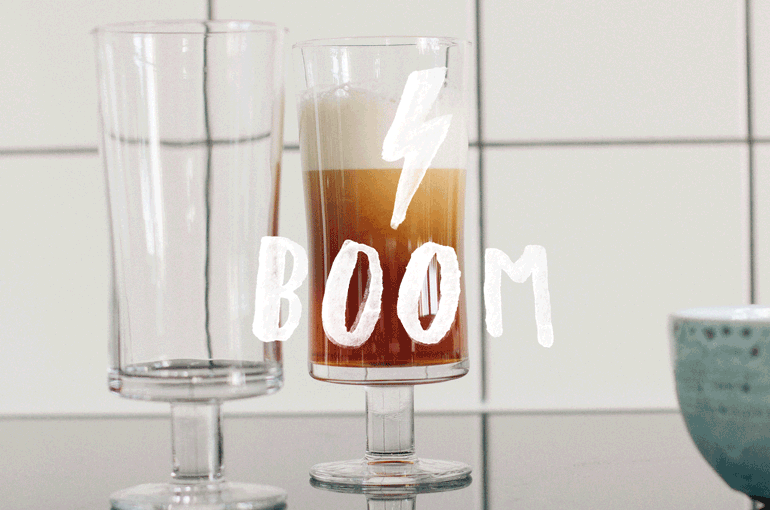 Summer in Luxembourg is always quite unpredictable, so I always feel like I'm not really ready with anything when the heat's already full on. I look at my summer clothes and hesitate a lot before getting inside these "old" short pants and I'm in a rush to order my lenses for the summer so that I can wear my wayfarers and clearly see the beauty of this world with style.
We live and work in a small cosy apartment on the 4th floor facing North West, so in the late afternoon, in summer time, we get full sun power on our desks and that can really become hot. With only a fan that blows hot air on our back the whole day it's good to be refreshed with some drinks. Beers are a good thing but not always a solution when you need to get shit done, and a warm coffee sounds just like a good tea in winter, so forget about it! That's maybe not the way you want your caffeine to run trough your veins and keep you alert, but what if it's cold? Yeah baby, ICE COLD?
When I was a kid, my older brother and I used to have coffee with cakes at four. Yes, it sounds cliché but that's a personal story. In summer though, we hung around playing soccer with friends so we skipped mum's afternoon snack and prepared our own coffee on the go. It was basically just water with a bit of coffee and few spoons of sugar. Yes, plain white sugar, the real non-healthy shit. Not so long ago I still used to drink my coffee with sugar but I slowly reduced the quantity, and I now drink it black as night. But I do know there are many ways to sweeten up drinks without using the processed white stuff: Agave sirup, honey, maple sirup and so many more. When it comes to cold coffee, I also like the "Greek Frappé" but you got to be a real greek or you won't know how to prepare it properly. So this summer I simply decided to tune my old recipe a little bit and have it as refreshing as possible.
Of course, you will have ice cubes in your freezer during summer's high temperatures, otherwise you must be some sort of Hero out of a Marvel Comic. So just keep some of these frozen cubes on the side and prepare a normal coffee on the machine, or with your Aeropress (that's what we've been using so far for our coffees), or how ever you want to do it, I mean, you need coffee right?
Keep your coffee for half an hour to one hour in the fridge so that it's cool before preparation. Mix the ice cubes with the coffee in your blender on high speed. Ours is super loud, I guess it freaks out my canary birds every time I use it, but that means it's fast and powerful. Maybe check twice if yours has an "ice crusher" option because I don't want to be blamed for that. Here's the link for ours on amazon. Pretty cool stuff.
So you got that mixture of ice and coffee blender together? Quickly pour it into a glass to the funkyness happen and enjoy your foamy frozen iced coffee on a warm day. Yes, those still happen even if summer is almost over! I'm not an expert but I guess that 100% arabica coffee doesn't foam as much as robusta, so maybe on summer you'll do a little exception and buy the "organic" robusta one. 😉
---