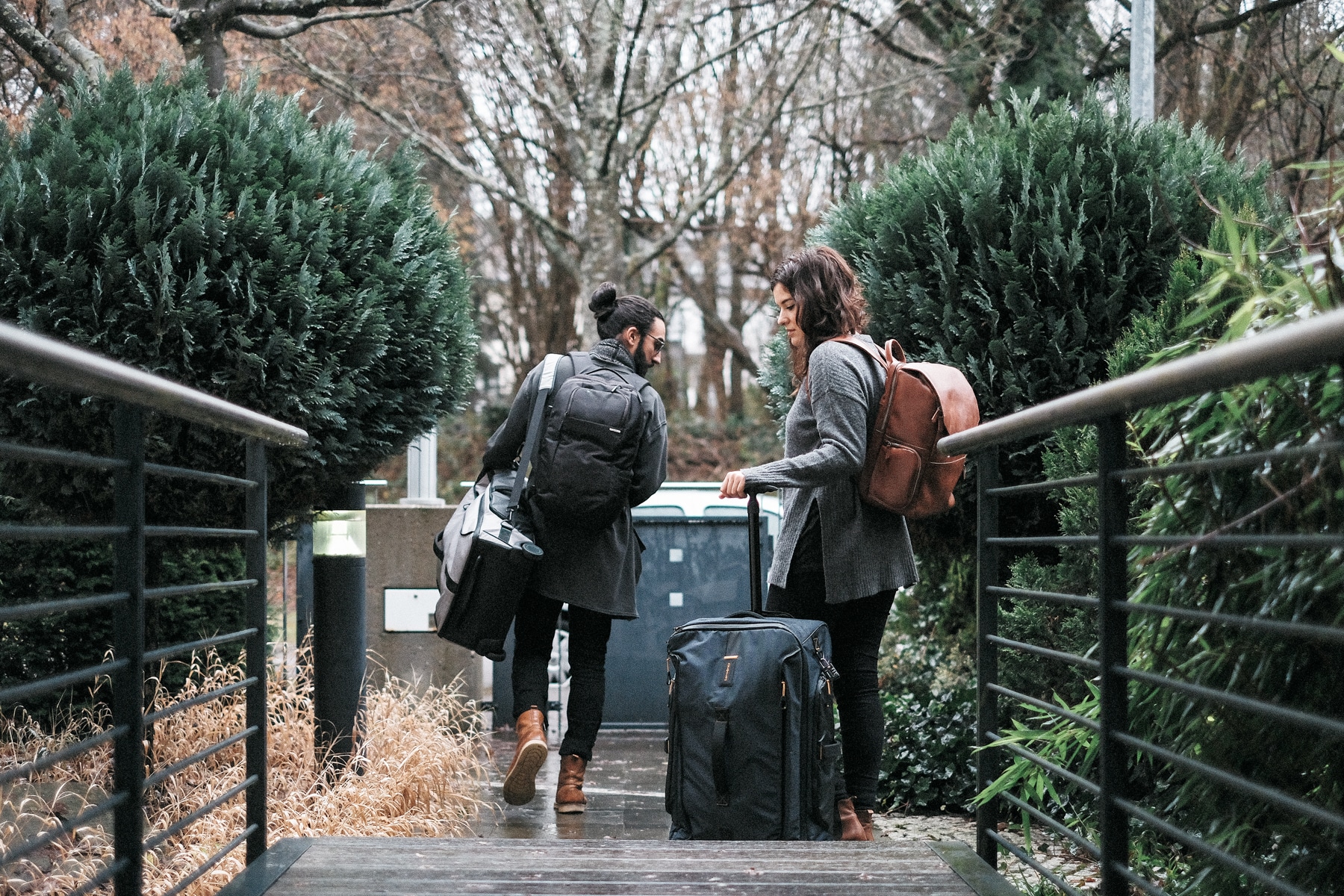 Here we go, time to take it on the road again! Oh you guys – we are SO excited because this time, we will be going back to Japan …for a full six months. We are counting down these last few days and hours – just can't wait to be on that plane, and can't wait to fit our whole life (and our creative studio) into a couple of suitcases once again, wandering off like a couple of free spirits into the magical serendipity of new places.
This is always so much fun and to be honest, it keeps getting better and better every time we do it. Last time, when we had gone out for 8 months all around Asia & Australia, the setup was a little bit bulky – but this time we managed to really narrow things down and we are SO happy of the setup that we decided to share that with you guys.
So in this post, you'll get to see what & how we packed for this kind of long term travel & nomadic lifestyle. Since we're going to Japan, our choices also reflect a variety in weather as we're going to need to stay warm in the winter and cool when those first summer days will start rolling in. So although it's definitely more minimal than the last time we travelled, it's not as small as it could be if we were to stick exclusively to tropical climates.
So for me this is our "ultimate" setup – which could take us around the world for …an indefinite amount of time!
Have a look – maybe it will provide you some clarity & inspiration if you too, are interested in taking your life "on the go" for a while 🙂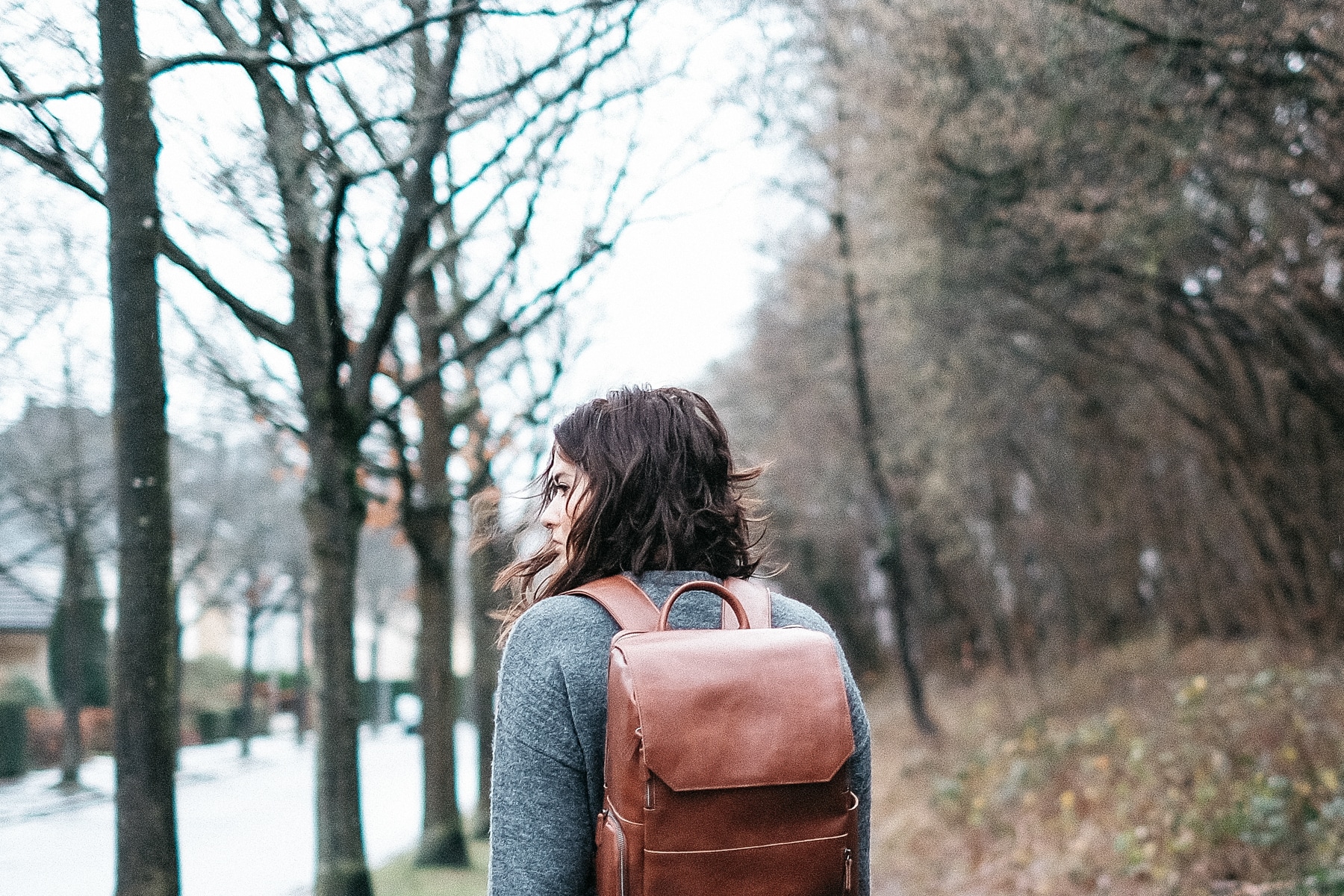 One thing we learned by living like this is to put a whole lot of attention to the quality of our bags. Especially our "carry-on" bags which we'll take with us on the plane, but who will also turn into "day bags" as soon as we land, and that will follow us everywhere – from the coffeeshops, to the temples and forests, to the grocery store and beyond.
So we've been looking into the topic for a long time and realized these bags need to be 01) durable 02) functional 03) stylish. Additionally, things to really look out for are lots of pockets (so that you can easily take your gear with you) + proper cushioning (so that gear doesn't break when you're commuting and dropping your bag to the floor in a hurry – trust me, this has happened to me before. Just not cool).
David has a superb black Incase camera bag and I have an awesome bag from Atlas Supply – a small brand specifically designed for the location-independent creatives like us! Both of these are full of storage options without looking bulky, they hold our laptops safely and they even have removable liners for creating separate spaces in the bag (imagine, say, you want to keep your cam on the top and your chargers at the bottom – or just have the whole thing open).
Linda's
Phone & Card Wallet
Scarf – always useful when it gets chilly on the plane or on the way to somewhere
A Kindle – nomadic essential if you like to read books – a lot of them!
A water bottle which we refill to stay hydrated & avoid buying plastic bottles.
Foldable shopping bag – another zero-waste travel essential that takes no space and that allows us to shop on the go without needing plastic bags.
A go-girl. – Something useful for us girls to pee standing up and not to have to squat over filthy toilets. Thankfully, I never had to use it, but you never know.
Earplugs – VERY useful in many situations. The not-so-quiet airbnb, the crying baby on the plane… sometimes you just need to block the noise. I have some really basic foam ones always handy, but thinking of upgrading to heavy duty ones (the only reason I haven't yet is because I hate sticking things in my ear…)
Bag of on-the-go wellness goodies – deodorant, coconut cleansing wipes, mini moisturizer, eye-drops
Sunglasses!
David's
Phone
Topo Wallet – with hook (that he attaches to his jeans) – with our usual credit cards and our "travel" ones such as the awesome N26 Mastercard which includes basic travel insurance, allows us to see our spendings on mobile, and saves us a ton of money as we can take unlimited cash without fees at foreign ATMs.
Passports & travel documents
Our power bank by Anker – sleek & stylish lifesaver to quickly charge our devices on the go.
Earphones – we also have a duo plug for them so that we can listen to music/movies together!
Tiny travel umbrella
Deodorant
On-the-go medicine kit – aspirine for headaches, charcoal tablets against bloating, probiotics for immune defence + digestion. Yup – travel makes our tummies upset.
Sunglasses
2 x books – we normally would choose not to carry "physical" books if we'd be travelling for an indefinite amount of time, but since we know we'll be coming back to our home base in Crete, it's fine to have a couple of them! David is currently reading "Talent is Overrated" & "On the road".
Linda's
Laptop & Charger – David and I each use a 15" Macbook Pro
Wired Mouse – because I can't be bothered to use that damned trackpad to get anything serious done 😉
Little bag with sketching essentials – a few pens, pencils, brushes… Could explain it all in detail in a future post if you're interested!
Two small notebooks – One for our client notes and one for our personal projects/blog notes. We also keep a lot of notes online via Dropbox Paper, but sometimes the old school way is the best to keep track of doodles and such things. We're still transitioning with that sort of stuff.
Portable scanner – I have this one by Brother and I LOVE it. I use it to scan & digitize my drawings and lettering on the go!
David's
Laptop, charger & mouse
Moleskine notebook – to record those ideas on the go & make crazy doodles.
Camera – We love our Fuji XT2 and use it for anything from documenting our travels to taking pictures for our blog, to shooting our courses.
Camera lenses – a 35mm fixed lens for lifestyle/portrait & his botanical photography. And a flexible lens of 18-55mm for the rest, as well as video.
Octopod – as a portable tripod for our camera
Mini synthesizer & little microphone – David uses these for making music on the go, but we also use them to record soundtracks & voices for our videos.
Cort Earth Mini Travel Guitar – technically not something we keep it in our bags, as it counts as an extra item of hand luggage – but this guitar is not an issue as it's very small, light and airlines never bother us about it. On the side of our shared creative work, David likes to work on his music – and it would be a pity if he wouldn't have this instrument with him when he feels inspired in new places. 
Another thing that will be joining this list soon is an iPad Pro!
For many years, we used to have an iPad which we'd use as a second screen when I do our accounting or when David is recording music, watching movies in bed (without the heat or weight of a laptop). But I was also using it as some weird tracing pad to trace over images (for illustration work) which was extremely tricky to be honest as it was very hard to setup and still required digitizing. We recently sold it, and that upgrade to a pro model along with the apple pencil will allow us to use it as a major creative tool, to create quick illustrations, elements and patterns for our design projects. Oh my gosh. So excited to finally try it!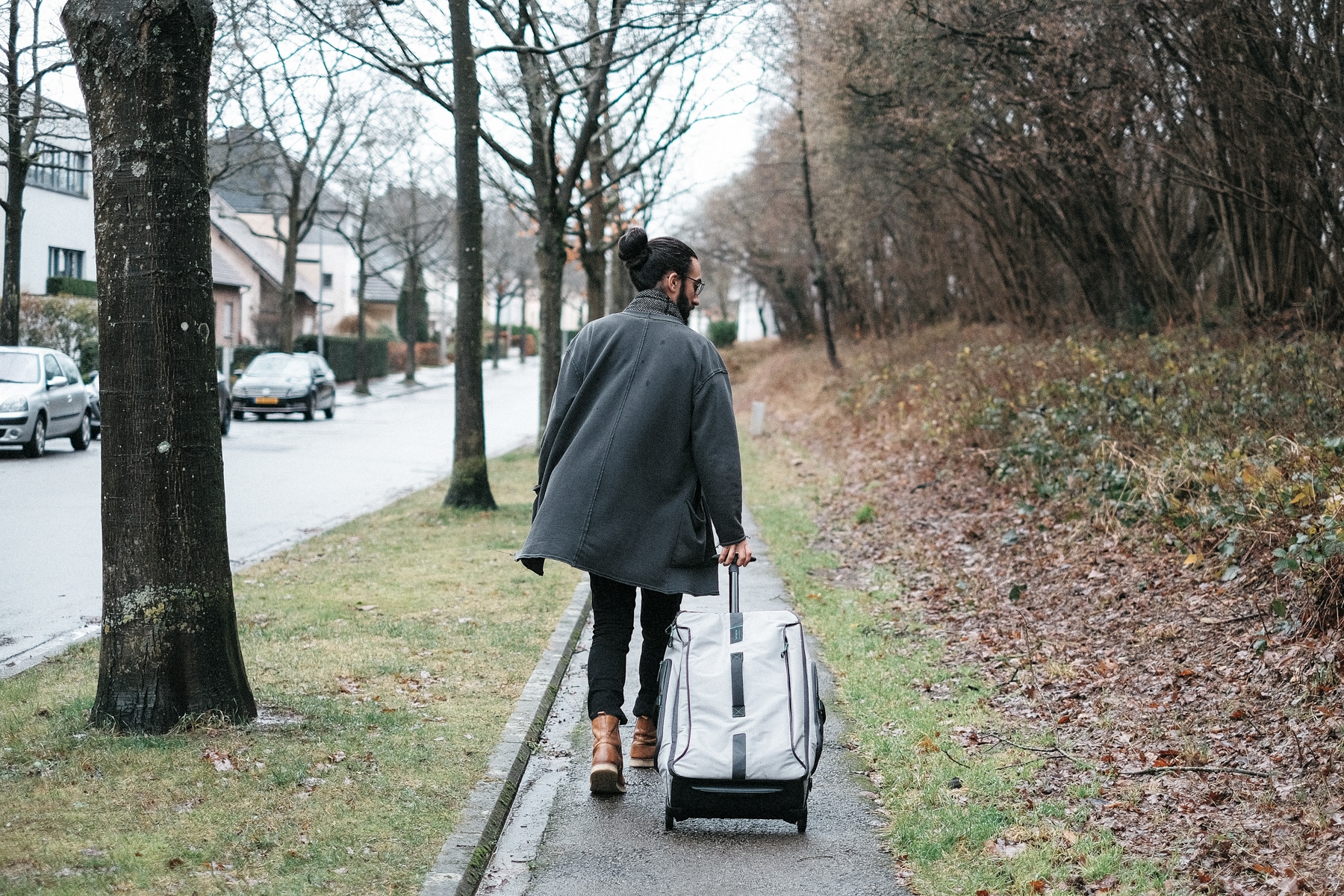 Our "big" bags are also something we are quite proud of. We were just about to go to Japan with a couple of our old 70L backpacks (which we used the very first time when we went to Thailand, years ago).
Then recently, we decided that it's simply NOT functional – so we sold them, did our research, and got ourselves a couple of proper, durable, multi-use Samsonites. One for each, at the volume of 75L – which seems to be a little roomy for us right now but will be handy if we buy groceries and move them from place to place (we'll live in 6 different places in the next 6 months, so I'm sure that a few bottles of olive oil or soy sauce will transfer from one airbnb to the other!)
These guys are great. They've got the wheels so we can roll them across the airport, but they've also got the side strap and the handles so we can wear them on our body when going up and down the tube. In order to be very flexible with that, we're doing our best to keep them as light as possible, so the only things they will carry are our clothes, toiletries and little extras.
Linda's
4 basic t-shirts – two of these are very simple black ones, so I can easily wear them all the time. The two others are white & bordeaux red for variety.
1-2 black undertops – as extra layers to keep warm
A winter jacket with warm lining – necessary for very cold days. Since it's bulky, I simply wear it on our travel day.
Light waterproof jacket – I have this one from Rains and I like to wear it on milder days.
Beanie
2 long sleeved jumpers – that are warm but not too bulky
2 cardigans
2 shirts – that never fold (perfect, because ironing is not so cool when living nomadically) and that I like to wear on more fancy occasions
Black denims – basically the one pair of pants that I wear ALL the time.
Denim shorts – I either combine with tights in the winter, or wear bare in the summer.
Black sneakers – so simple & comfy. I wear them on our travel day, walking around the city and even for hiking.
Light ankle boots – as the more stylish option.
Flip flops – for the home, the onsen (japanese baths) or for the beach.
Bag of 5-6 undies
Sleep / workout clothes – basically old leggings, yoga pants, an old tee and a black workout bra
As you may have noticed, I haven't packed any swimwear. What I do in that case is a sneaky minimalist conversion of my existing underwear: using a pair of my undies (black hipster briefs) + my black workout bra. Given that the two are very simple and synthetic, they have the looks and the feel of a swimsuit. No one ever notices I'm wearing underwear. And they dry well, too!
David's
2 pairs of denim pants
4-5 t-shirts – most of which are minimal + black
3 long-sleeved tops
Long-sleeved cardigan
Sweatshirt
2 long-sleeved shirts 
Warm winter jacket – also quite bulky so he wears it on our travel day
Foldable waterproof jacket – easy to put in his day bag in case there's torrential rain!
Beanie & chunky scarf
Leather Boots – good quality, stylish and will last a lifetime
Sneakers
Flipflops
Shorts – which are waterproof, so they can also be used for swimming
Sleep outfit – pajama bottoms + a spare top
Bag of 5-6 undies
Bag of socks – just 5 pairs of black socks which we share!
Linda's
A small makeup bag – I honestly do not have that much of it and I do not wear makeup every day. But when I do, a little blush, mascara, eye-liner & eye-brow pencil is perfect to have. Plus the occasional bit of concealer for when David and I have under eye circles or zits!
Menstrual cup – an easy, minimalist & zero-waste way to handle those days of the month.
Nut milk bag – probably the oddest thing, but I LOVE to use it when we make our own almond milk (as it can be quite expensive in shops). Sometimes it is also helpful as a tea strainer. Just one of these strange things that can actually be very handy in a foreign kitchen.
A couple of tote bags – useful for groceries or storing our dirty laundry!
Phone stand – I love to exercise with my phone. Practicing yoga with youtube videos, or exercising with fitness apps. When I do that, I just place it on a little stand that keeps it upright and then I'm ready to get started.
David's
Our shared toiletry bag – a shampoo bar (which also doubles as body wash to save weight/space), bamboo toothbrushes & natural toothpaste, face wash from Acure (which I also use as makeup remover), multi-purpose argan oil from the same brand (great for moisturizing our faces, our hair and David's beard). Plus tweezers, small grooming scissors, nail clippers, razors (with heads that we can get anywhere in the world). I also pack some single packets of face masks – to refresh our faces after long haul flights 🙂
Portable hair drier – not very happy with this one as it's kinda crappy. We bought it in a hurry when we were in Thailand. Don't do the same mistake as us – be prepared & invest in quality. Most guesthouses & airbnb hosts do supply hair driers but we never know (so we still take it with us as it's better than going without it!).
Health supplements – aside from the ones mentioned above in our "wellness kit", we also take vitamins, MCT oil and a small bag of Dandy Blend which we love to use as a detoxing substitute for coffee after a heavy evening. If we don't have Dandy Blend, we like to buy herbal detox blends wherever we go.
Tech, extra gear & other stuff
Linda's
A5 watercolor pad & sketchbook for larger sketches – they are not a necessity, but I feel like I'm going to want to do a lot of artworks while travelling Japan this year. I kept things as light & easy as possible to avoid bulking up my bag. 🙂
Pocket Japanese-English dictionary – I couldn't resist getting one and I KNOW it will be useful for Japan. Also, it is really "pocket" size as it is tiny. I'm currently learning Japanese on Memrize (a learning app) and I will keep this little book in my bag to understand words on a day-to-day basis.
David's
Camera battery charger
HDMI Cable – always handy so we can connect our laptop to a screen when watching Netflix!
UE Boom – the best portable speaker (which we also featured in this post). Not so light, but it has amazing sound.
Travel scale – helpful to keep an eye on our luggage weight.
A couple of international travel plugs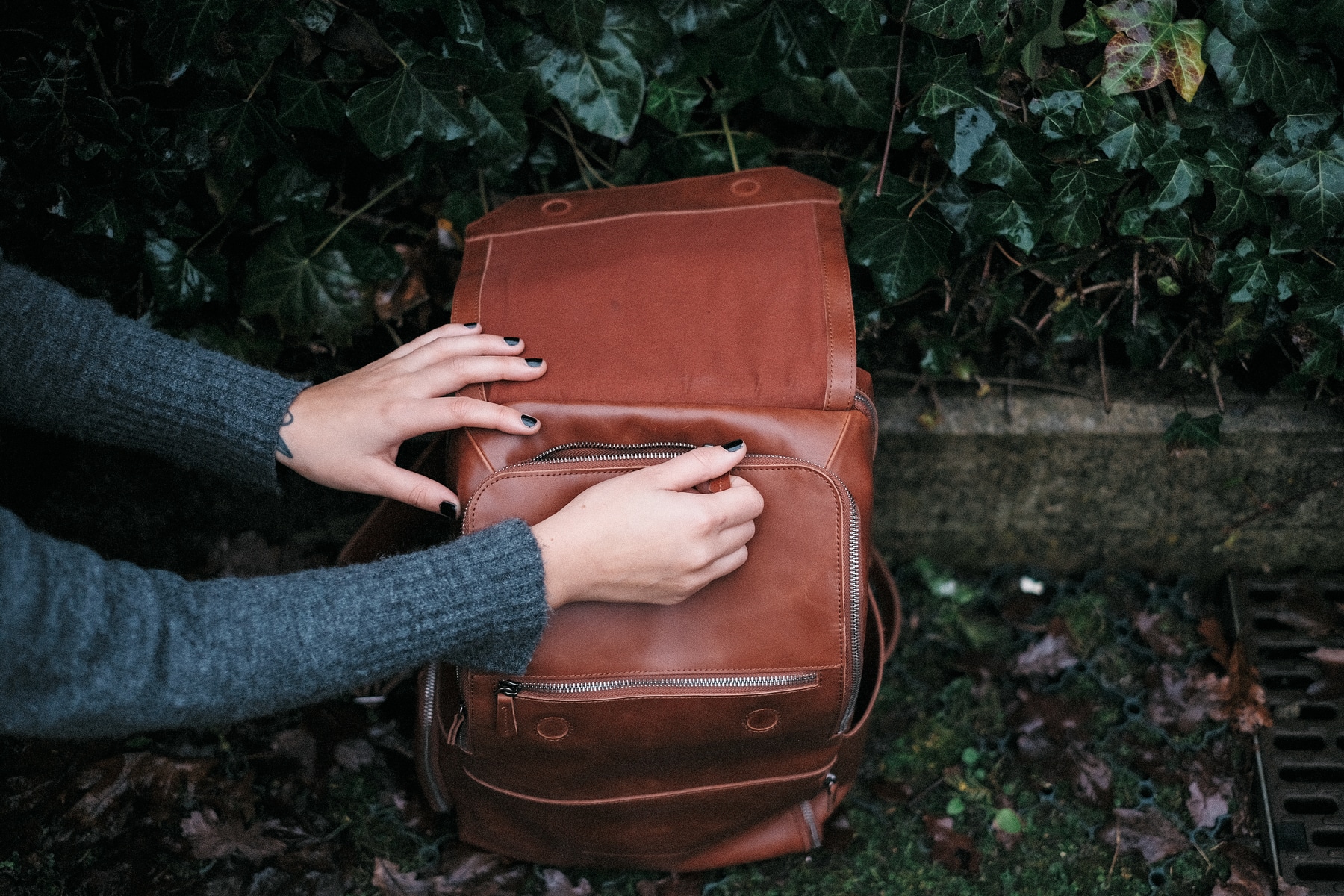 Living nomadically, travelling long term, or running a business on the go is quite the learning process. At first, some mistakes are made, and those mistakes can be a little bit frustrating as they typically involve extra weight, clutter and chaos. Luckily, things get better with time – especially when you can take a step back and review the setup. Which is essentially what we did this time and what we'll do every time as it's a fun, eye-opening process too!
Here are some useful things we've learned out of our own experience, that can truly help make nomadic life a breeze, and that can improve your packing.
01 – Think Multi-use
As a traveller, you must embrace minimalism. And one of the principles of minimalism is to ensure that most of the things you pack can be used for multiple purposes. From simple & multi-functional clothes for all kinds of occasions (black sneakers all the way!), to toiletries that are all-in-one (yes to argan oil!) to gear that is light and that you can do many things with. A good idea is to also look at the cables/chargers you pack, as one USB charger can typically be used for multiple devices.
02 – Packing cubes
Yes, almost every traveller on youtube is raving about them – but it's for a reason. Packing cubes do not necessarily save space, but they help to make organisation (and finding your stuff) easy. Especially interesting if you'll be moving around quite often!
03 – Comfortable work setup
Many nomadic people have a really minimal setup (literally just a macbook air, and I do envy them) – and although it's important to reduce weight & clutter, if you'll be working on the go it's also crucial to consider what you "do" need to perform your work properly & feel productive. Hence the mouse for me. That simple thing just changed the way I design on a laptop. And the good speaker, because there's nothing like blasting some good sound while working. If you have back pain when you use your laptop, consider getting a roost stand to elevate it to eye-level. Do what you need to do, to make your "portable office" as comfy as possible!
04 – Don't neglect your health
The same goes with staying healthy on the go. Some things are just not easy to find on the road, so before long travels, or when I'm at a good place (like when we were in Australia), I always like to stock up on quality supplements. Basically I just try to replicate my healthy routine (from back "home) as much as possible – because I simply do not want to get ill on the road. I also know some health geeks who travel with a mini blender so they can make their smoothies wherever – hey, whatever floats your boat!
05 – Invest in quality
When travelling, it's just not cool to be faced with broken stuff. And honestly, shopping for replacements is not my idea of a good day. So pay particular attention to the things that matter: your gear, your bags, your shoes – get the good stuff that will last you for years. Needless to say, it's also way better for the planet.
06 – Valuables on your carry-on!
Got things that you really could NOT afford to lose? Or just do not want to, ever? Keep these in your carry-on. This is because your checked bags might arrive late or even get lost. If you put things like your laptop or expensive camera in there, that might be quite the hassle. Whether you do or don't have an insurance – it will still be a shitty situation and I don't wish that to anyone. Keep that stuff with you when you're travelling.
I guess I could think of plenty more of these tips, but if they do come to mind, I will make sure to include them in an upcoming Nomadic Life post of ours further focused on the topic. I would also like to tell you a little bit more about our wellness kit, as well as our creative tools as I saw that many of you are wondering how we handle different things (lettering, illustrations, design work, communicating with clients, creating courses & blogposts) on the road 🙂
If you have any particular thing in mind that you'd like me to talk more about, please let me know! And …tell me what you think of this packing list. What would yours look like? Do you have any specific essentials that you just couldn't live without? Feel free to share.
You can follow our upcoming posts via our newsletter + our japanese adventures on our instagram account. Lots of exciting things coming!
---