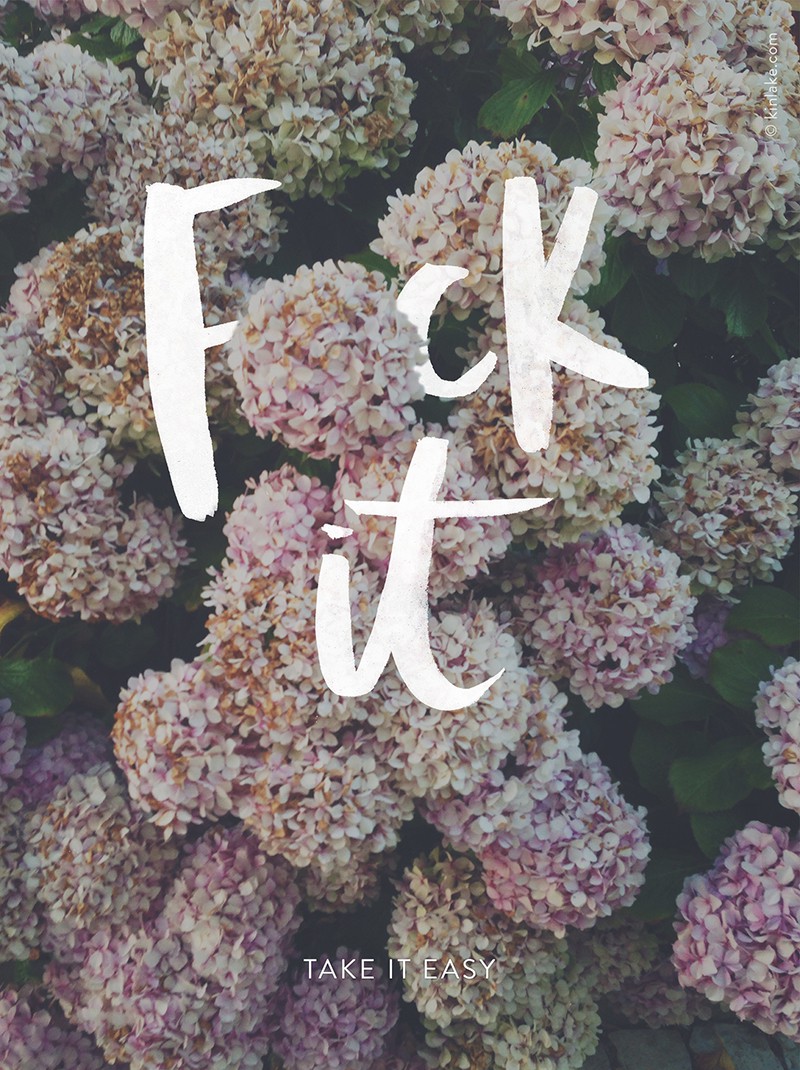 Yeah, you read right. Sometimes it's just what you need to tell yourself.
In this fast-paced world, it's tough keeping it all together sometimes… We feel like success comes hand in hand with productivity and productivity is a matter of being everything at once: a great listener, an observer, a hustler, an artist and a maker. Whatever you do in life, you will start to feel overwhelmed about it one day or the other,  as they will always be a busier, more "successful" version of you to look up to, that you admire and eventually want to become. Energetic business-owners who got it all under control, top notch influencers who rule instagram, bloggers who post amazing content every single day, creatives who never seem to do anything else but create amazing things around the clock. They might seem like superheroes, and sometimes you may even be wondering if these people ever get any sleep. Or eat doritos. Or watch silly cat videos from time to time. Are these people REAL?!
Because of that, and a good amount of peer pressure, our own standards to get shit done are set high. We live in a world where "DOING" feels more important than "BEING". So we give into that and start to challenge ourselves to break our records and to push ourselves, sometimes even forgetting our own limits and our own delights in life. We end up chasing success by forcing ourselves. And eventually losing ourselves.
But sometimes it's important to just stop this madness for a minute and give yourself a little slap on the face (or a pat on the back, if you're ever so gentle): you are not a machine.
Yesterday, at 10:00pm, after a long day of work, I started working on a really cool illustration, which I was hoping to finish a little past midnight so I could post it today. It didn't work out, because I was exhausted. But I beat myself up for it. It was even hard for me to go to sleep. I felt so miserable, simply because I could not fulfill this stupid "deadline" and expectations I put on myself. It was the perfect example of forcing creativity and turning your passion into something sour and hateful. But why?!
Sometimes you try to do some things, but they just don't work out. You may be tired. Uninspired. Maybe a little distracted. Maybe you just don't feel like it. Who cares? It's all human, and it's part of the process.
Yes, life can get a little shaky even when you do the things you love. Learn to say "fuck it", leave that shit on standby for a moment (as long as nobody dies in the meantime) and just breathe it out. Get back to it later. Or not at all. Maybe it's not meant to be, and that's ok.
I don't know about you, but that seems like a perfect little thought for the weekend!
Ps.: I made this little quick photo-montage using my hand-lettering and a flower photo we took in Portugal, years ago. Do you like it?
---